**Thank you so much for your response to my pattern tester request! I used the first ones that responded with the requirements and put the rest on my email list for next time! You guys rock!! Here is finished pattern!**
………………..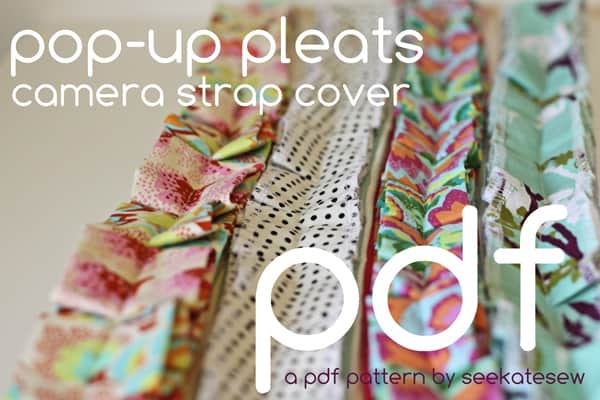 Unlike ordinary camera straps, this camera strap cover is built to hug your strap, no more fussy strap covers! The cute pop-up pleats feature on the top guarantees that you will be the cutest photographer on the block! This 17 page pdf file comes with instructions for two variations, with full-color photographs and measurements! This strap cover will make your neck strap comfy and super cute!
-Suitable for the intermediate to advanced beginner.
-This camera strap has been designed to fit snugly over your existing camera strap. Has been tested on standard Canon and Nikon straps with great results!
-Pattern will be emailed to your paypal email address within 24 hours of purchase. 
-One variation of the camera strap uses a serger, the other one simply requires a standard sewing machine.
This pattern is for personal and home use only. Do not share, copy, duplicate, distribute or reproduce in any way. Copyright see kate sew 2011.
Production licenses are also available for a flat rate of $10 and will enter you into a contract with me for the production and sale of pop-up pleats camera strap covers. License AND pattern must be purchased. One license is required for each person selling the items. Once license is purchased and contract is emailed, licensee can produce and sell as many camera strap covers as she or he can make by hand, in a home setting by his or herself. License does not authorize buyer to share pattern. Under no circumstance shall this pdf tutorial be used for commercial production. 
CLICK HERE TO PURCHASE
………………
My 5 amazing pattern testers made some really cute strap covers! I selected testers from all sewing levels and they all did a great job! Check them out: