You asked for it, you got it! A FREE PATTERN from the studio of see kate sew! Hot off the press! 
I'm so thrilled with this cute little tote. It's just so happy.  
Materials:
1/2 yard home decor weight fabric
1/2 yard quilting weight cotton for lining
1/4 yard of 7 different quilting weight prints or solids
free pattern pieces


make the scallops
Let's start with the fun part! For the scallops, raid your fabric stash for 7 prints and/or solids that look good together. Then print out the free pattern pieces. Cut out the scallop pieces and tape them together along the dotted line.
Sew the bottom edge at 1/4." Leave the straight top part open.
 Now stack your scallops. The scallop pieces is longer than the bag's front, so you can vary the placement back and forth.
 Arrange them kinda like this:
 Like this!
 Top stitch the very top one at about 1/8″.
Sew all the way around the outsides of the lining and outer pieces, leaving a 4″ hole at the bottom of the lining.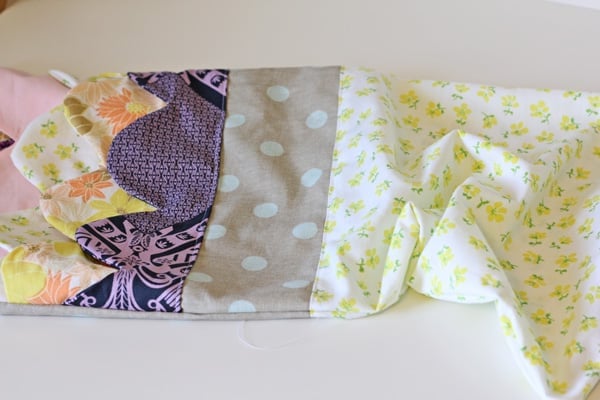 Press the opening closed and stitch it up.
Now your bag is finished! We just need to add the handles!
 Fold it in half like this. Pin in place.
 Topstitch both sides all the way up.
 Fold over the bottom edge about 2″ and pin onto your bag, about 2″ in from the sides.
 Sew a square around the end of the handle and repeat for the other side.
That's it you're done!
"Sew together" details coming later….