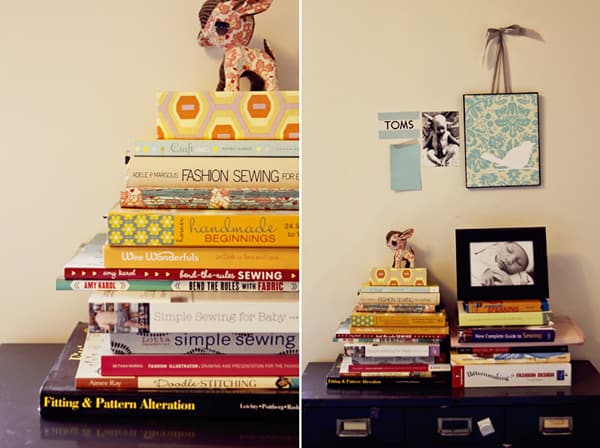 Here's a close up of my book shelf from my sewing room tour. I have a little collection growing. The only thing better than a crisp new book is a crisp new sewing book!


The books on the shelf:
Left side, top to bottom:
1 handmade book
2 Craft, Inc.

3 Fashion Sewing For Everyone

4 Handmade Beginnings

5 Wee Wonderfuls

6 Bend-the-Rules Sewing

7 Bend the Rules with Fabric

8 Lotta Jansdotter's Simple Sewing for Baby

9 Lotta Jansdotter's Simple Sewing

10 Fashion Illustrator

11 Doodle Stitching

12 Fitting and Pattern Alteration





right side, top to bottom:
1 Graphically Speaking

2 Amy Butler's Little Stitches for Little Ones

3 The New Complete Guide to Sewing

4 Inspiration File (my prehistoric Pinterest)
5 Editing by Design

6 The Art of Fashion Draping

7 Patternmaking for Fashion Design



I have a sewing + design book weakness! Do you have a favorite that's not on the list?