Learn how to make a rice heating pad with this DIY rice heating pad pattern! Download the templates and add a cheeky phrase for extra fun!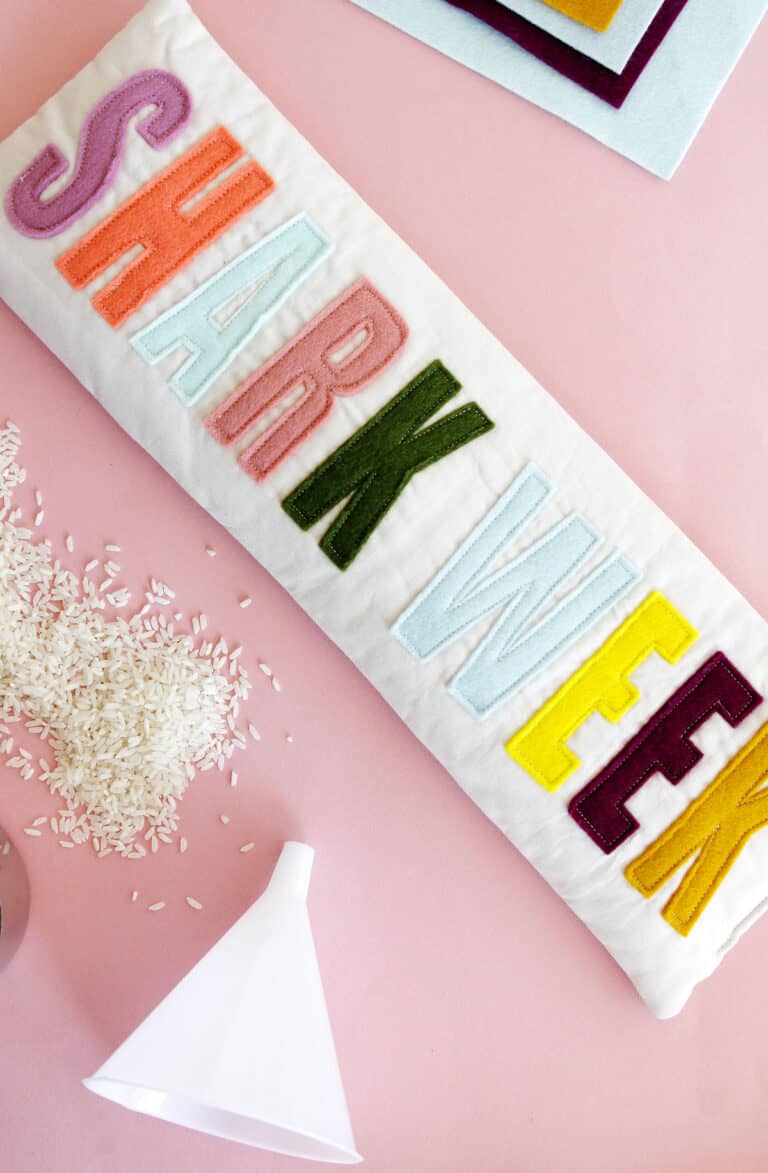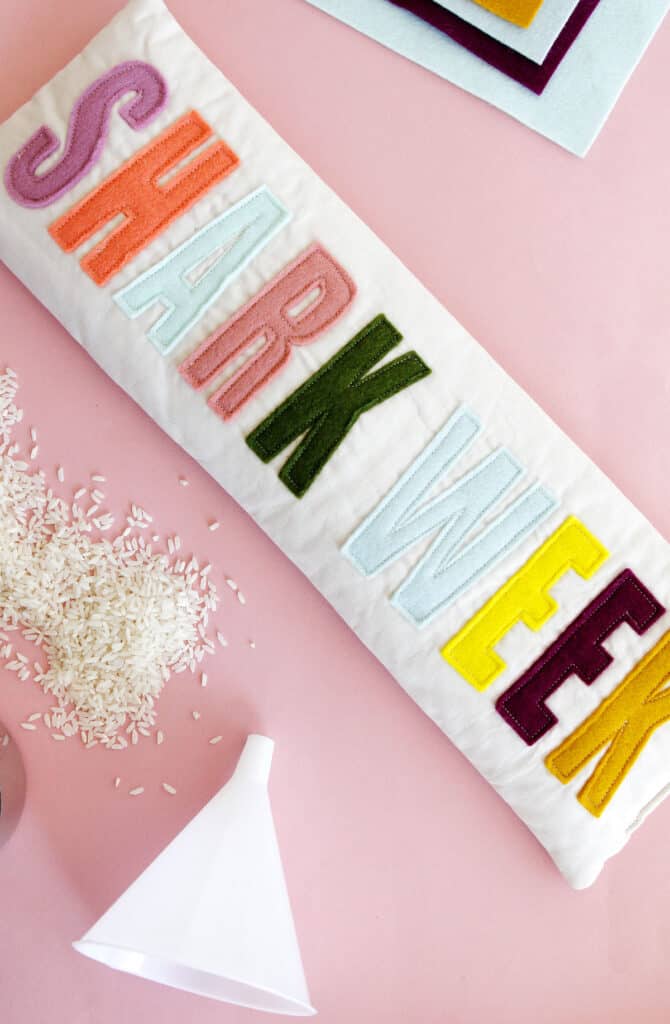 Choose a funny phrase to appliqué with wool felt to personalize the microwave heat pad for a sassy and useful gift!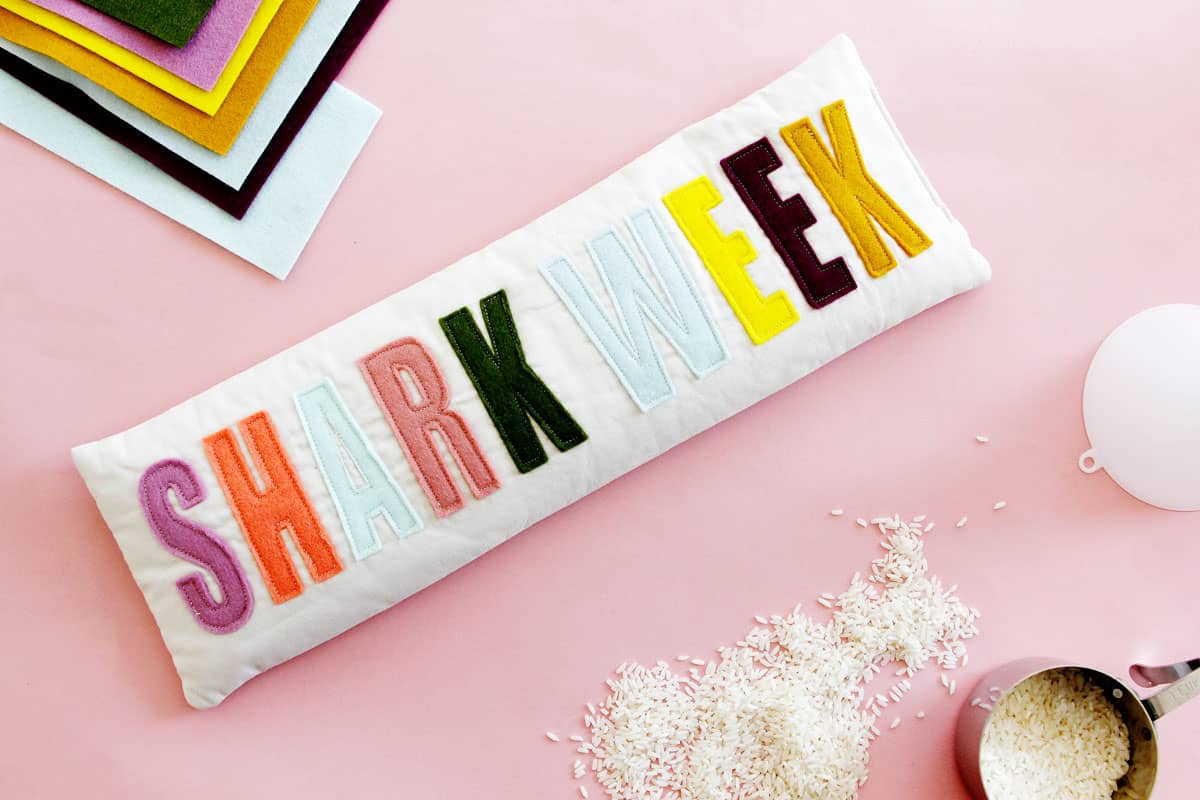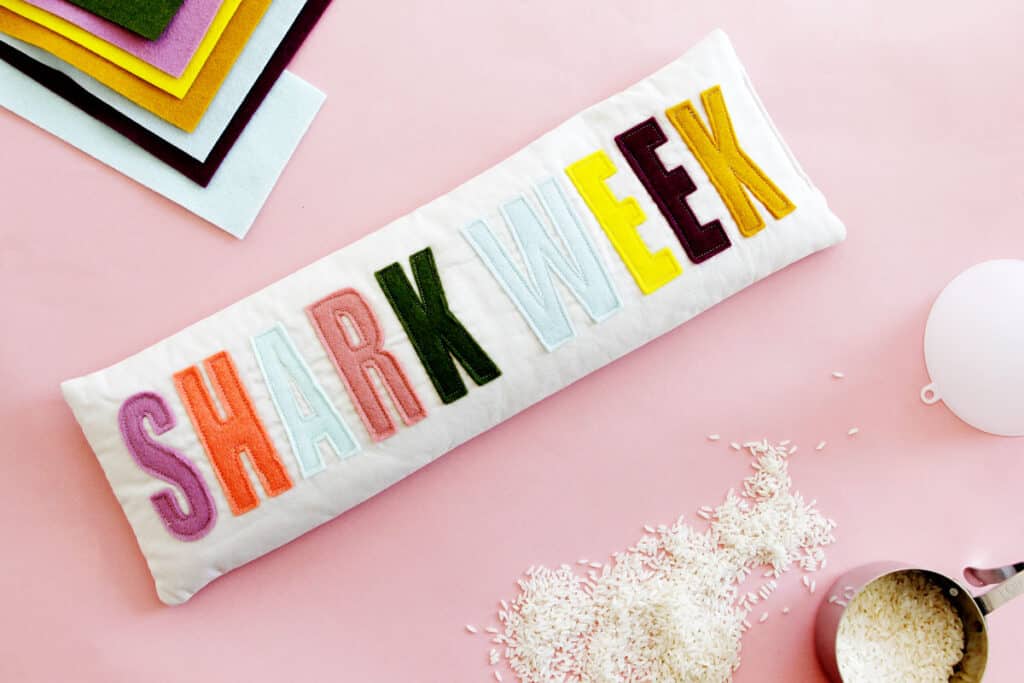 This homemade rice heating pad is great for pain relief. I love these heat packs for headaches, neck pain, and menstrual cramps. Use them on sore muscles or gift to an athlete.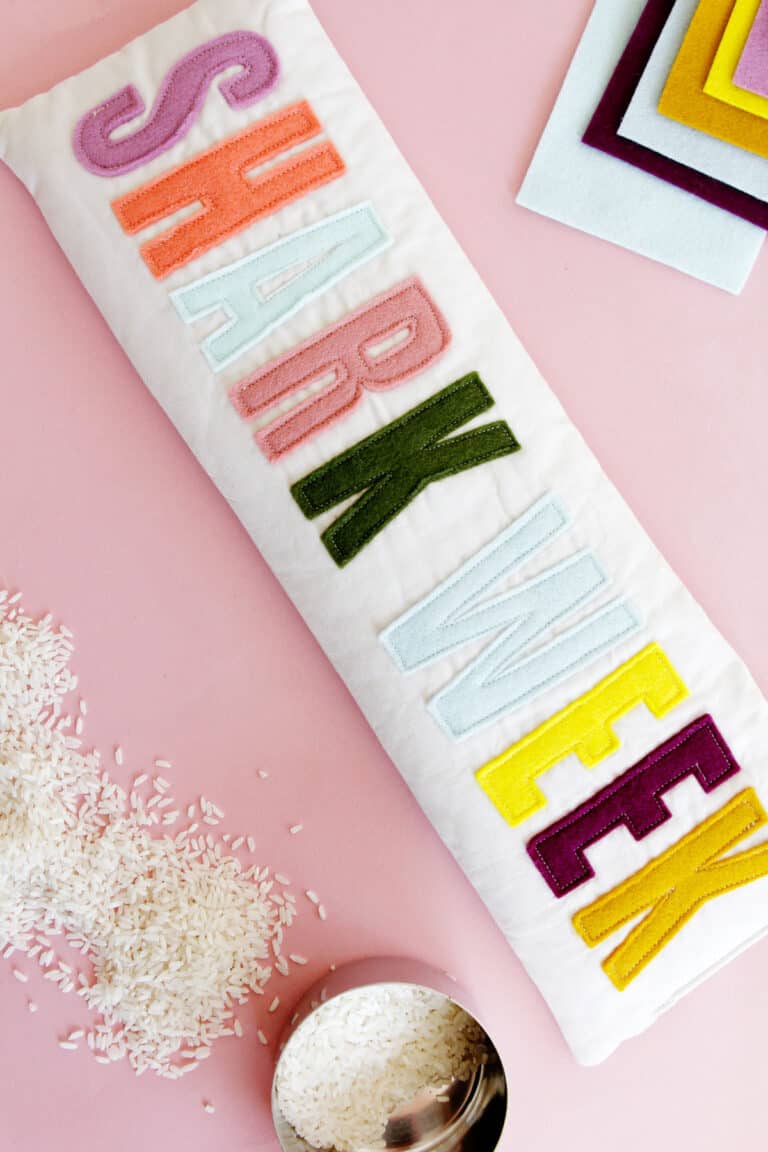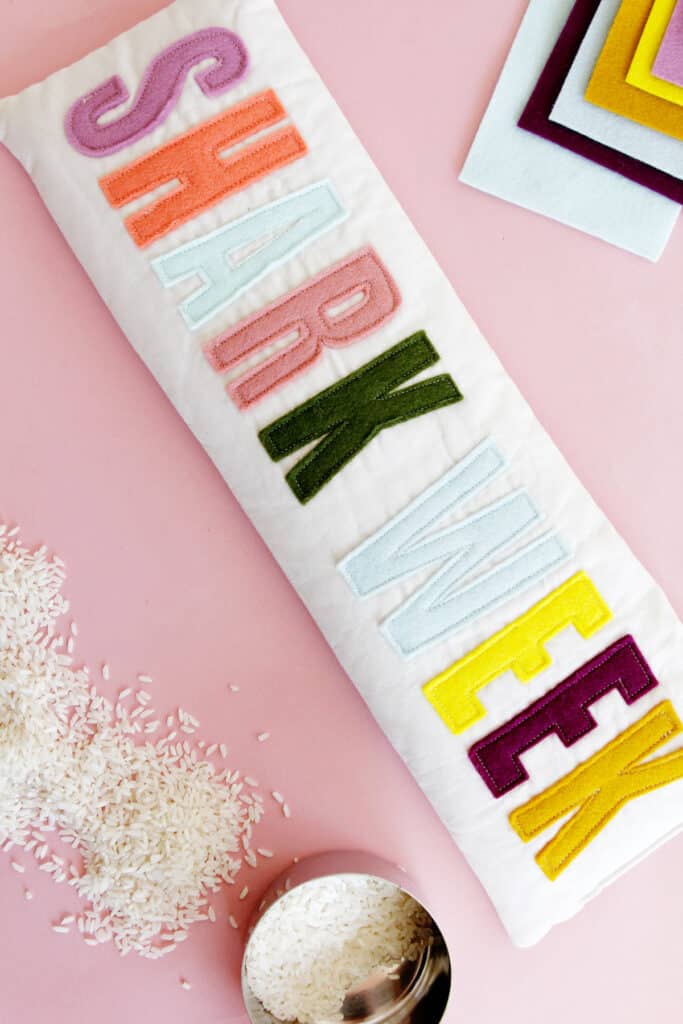 Homemade heat packs are really simple to make and so fun to customize. Adding lavender or essentials oils makes these rice packs extra relaxing after a long day.
This heat pack should be used with caution. Be sure to verify your own materials are microwave safe before using. Heat packs can also cause burns so use with caution and supervision.
Homemade Heating Pad with Rice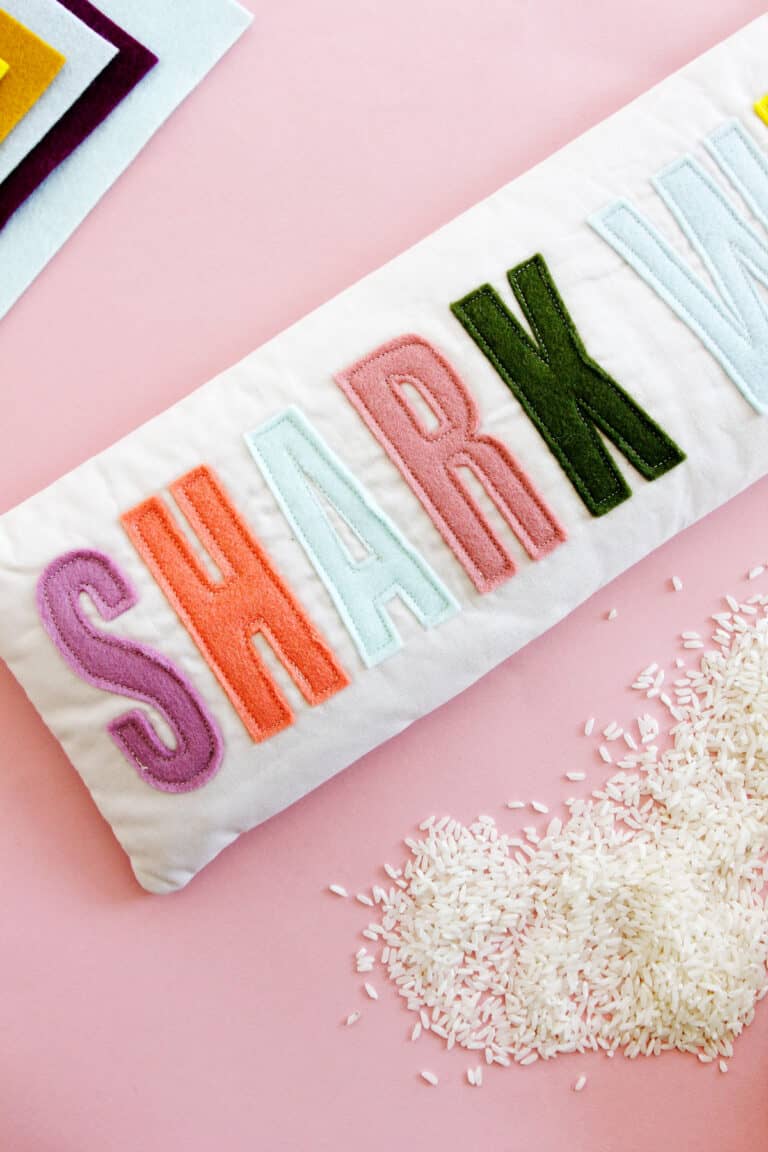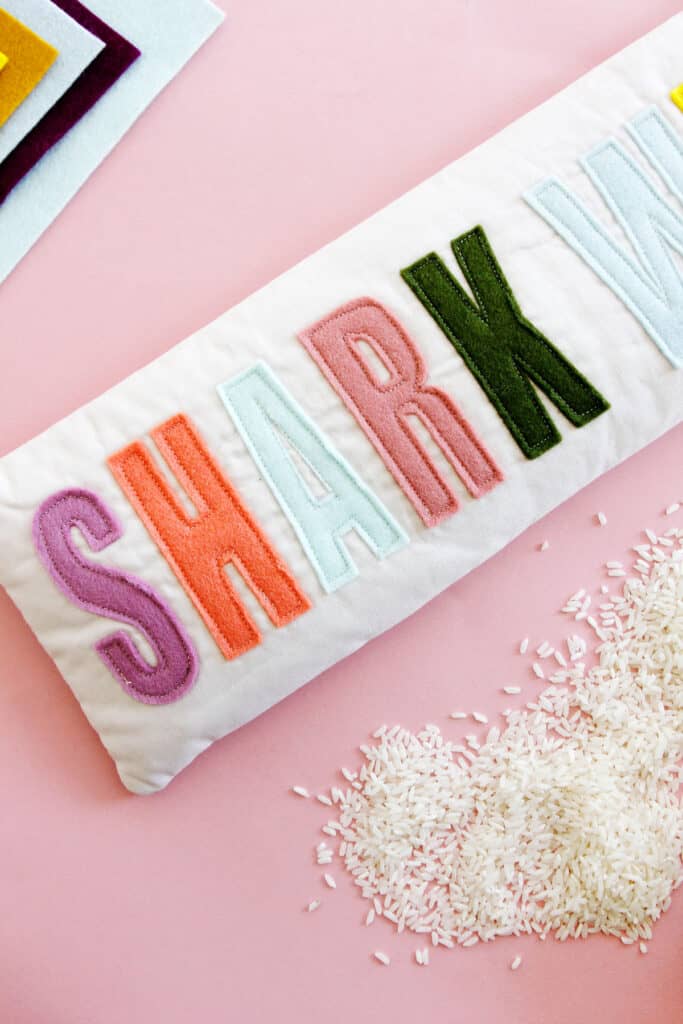 This microwaveable heating pad is full of rice and made with totally microwavable materials. Make sure you only have natural materials and hand wash it before using. Fiber blends should not be used. If you are nervous about using it in the microwave you an always heat it up in the dryer or use it as a cold pack by putting it in the freezer for about 2 hours before use.
Rice Heating Pad Materials
Cotton fabric

100% cotton flannel can be used

100% wool felt for letters
Cotton batting
A few cups of rice for filling and a funnel for filling, dry and uncooked rice only
Optional: dried lavender or other flower for added aromatherapy scent
Sewing machine, scissors, rotary cutter, cutting mat, ruler
100% Cotton thread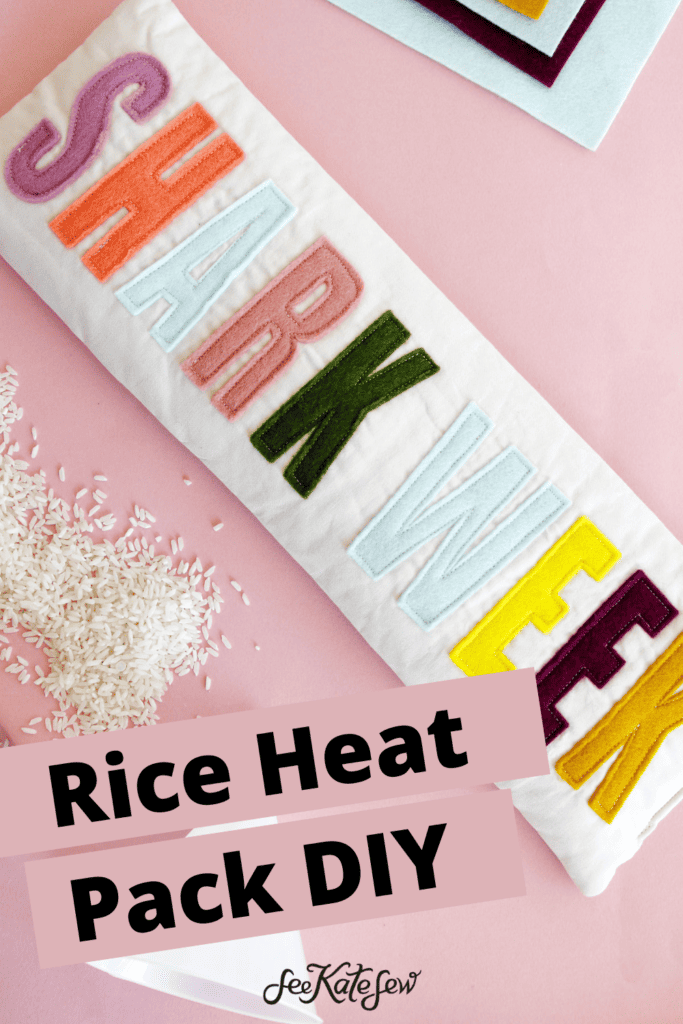 Downloadable Pattern for Rice Heating Pad
Download the free pattern below.
The download includes the appliqué shapes for the phrase SHARK WEEK which is funny and cute for helping period cramps.
You can also make up your own by printing out letters to use as your template. Pick a phrase that matches your gift recipient's aches and pains! You can even personalize it with a name.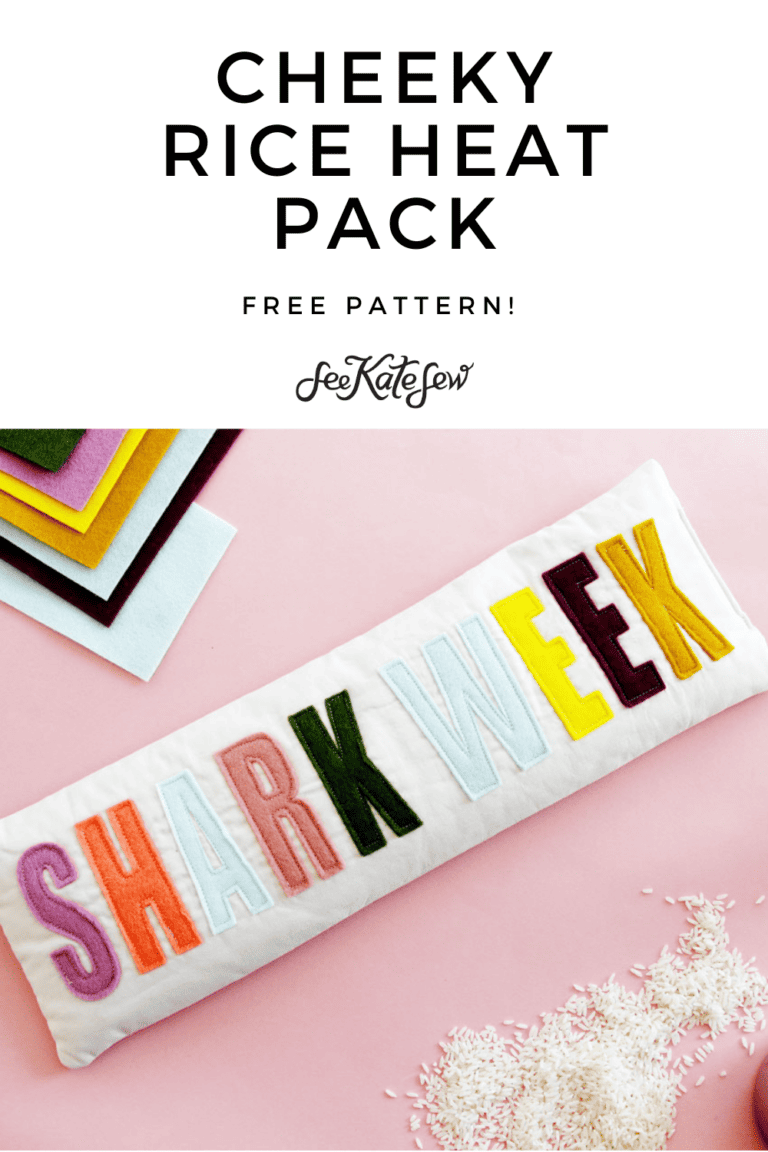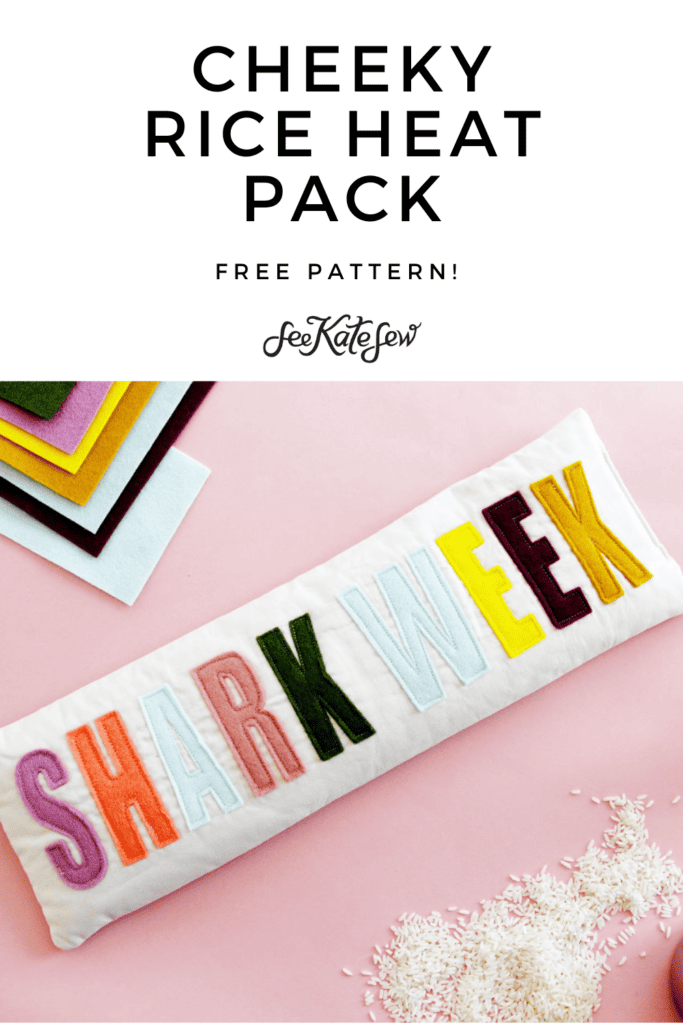 DIY Rice Heating Pad Sewing Instructions
Start by cutting out 1 main piece from the pattern piece with your cotton fabric and 1 piece with your cotton batting. If you prefer measurements, this piece measures 12″ by 18″ and seam allowance is included.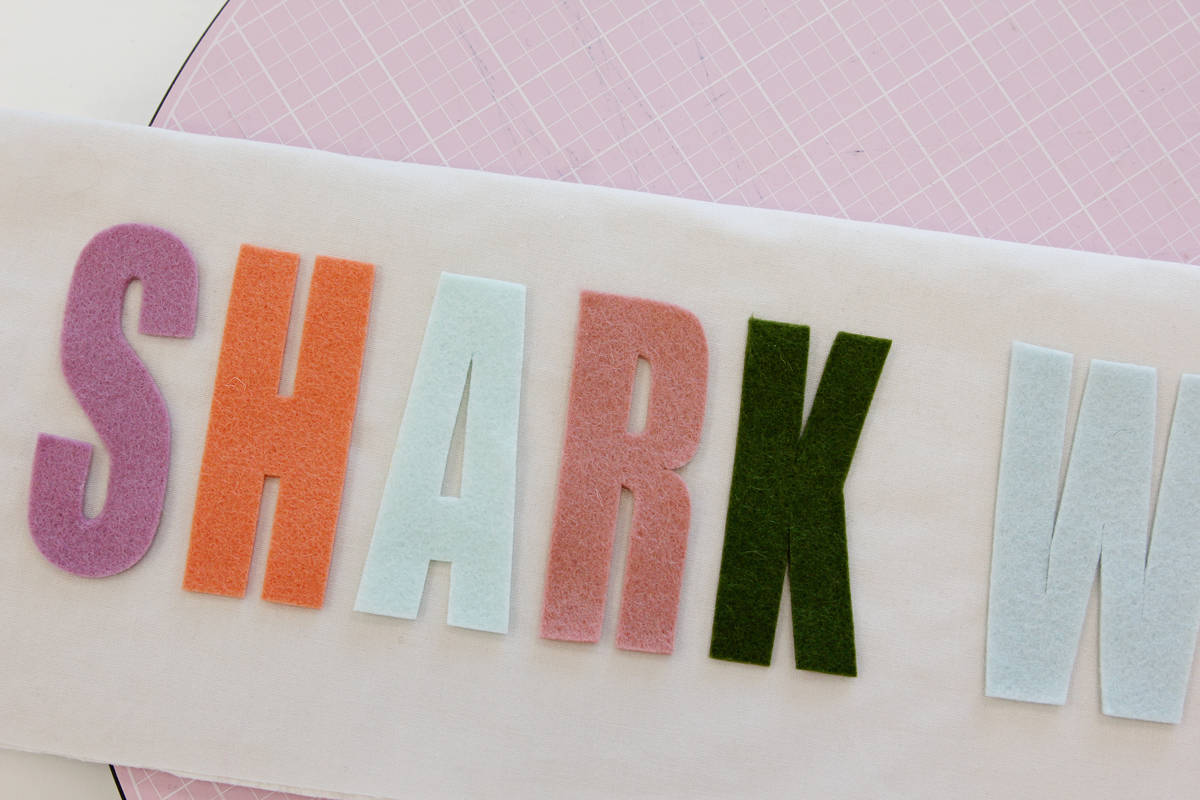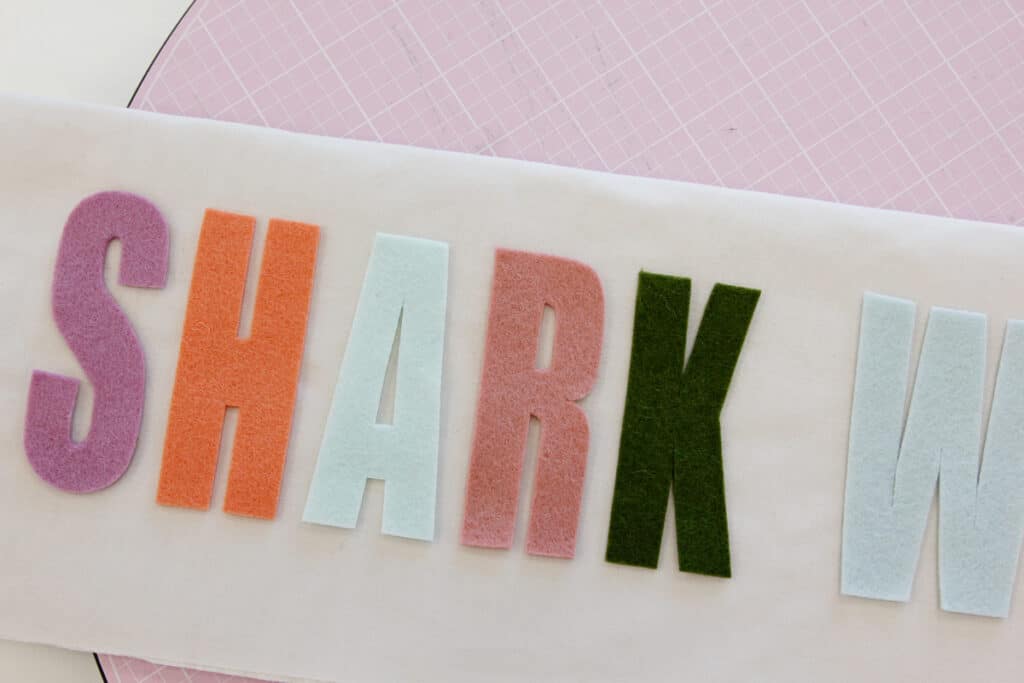 Cut out your letters with the wool felt. You can cut them by hand or use a cutting machine like the Cricut. For the cutting machine, the letters are approximately 1.25″ wide by about 3.5″ tall. I used the font called Impact and stretched the letters to make them taller.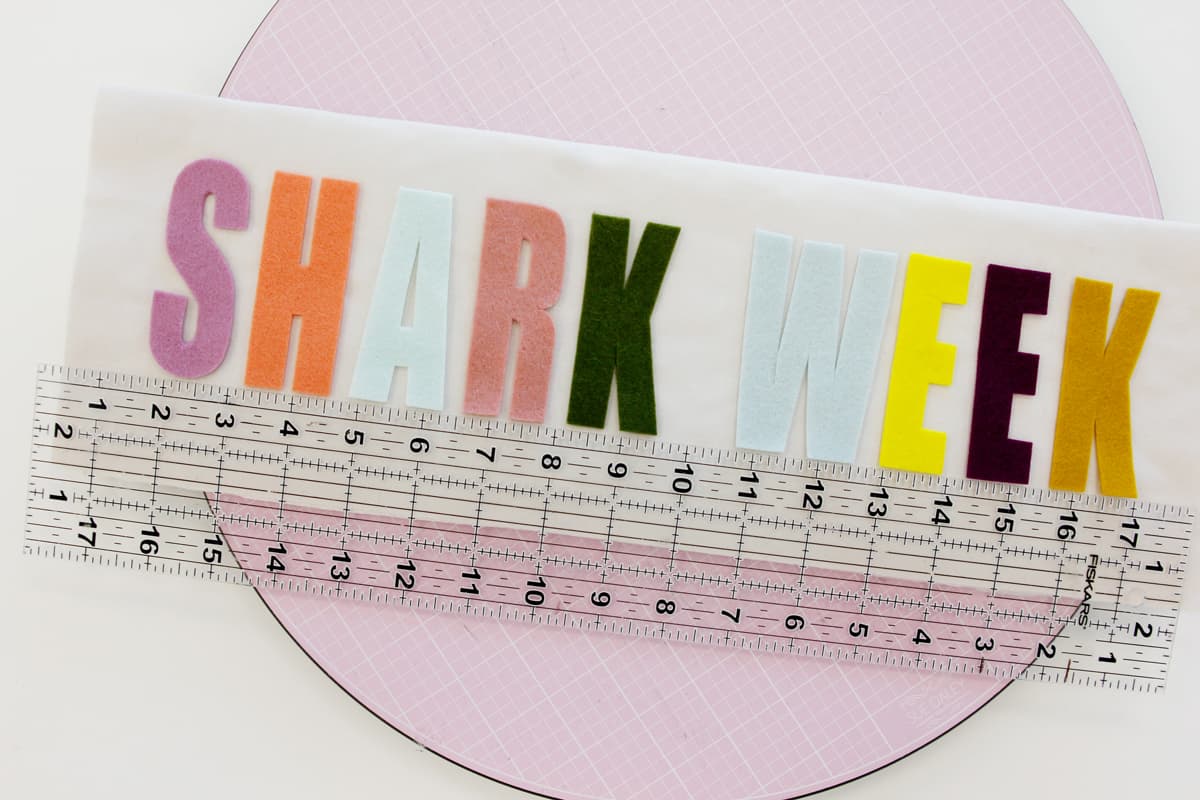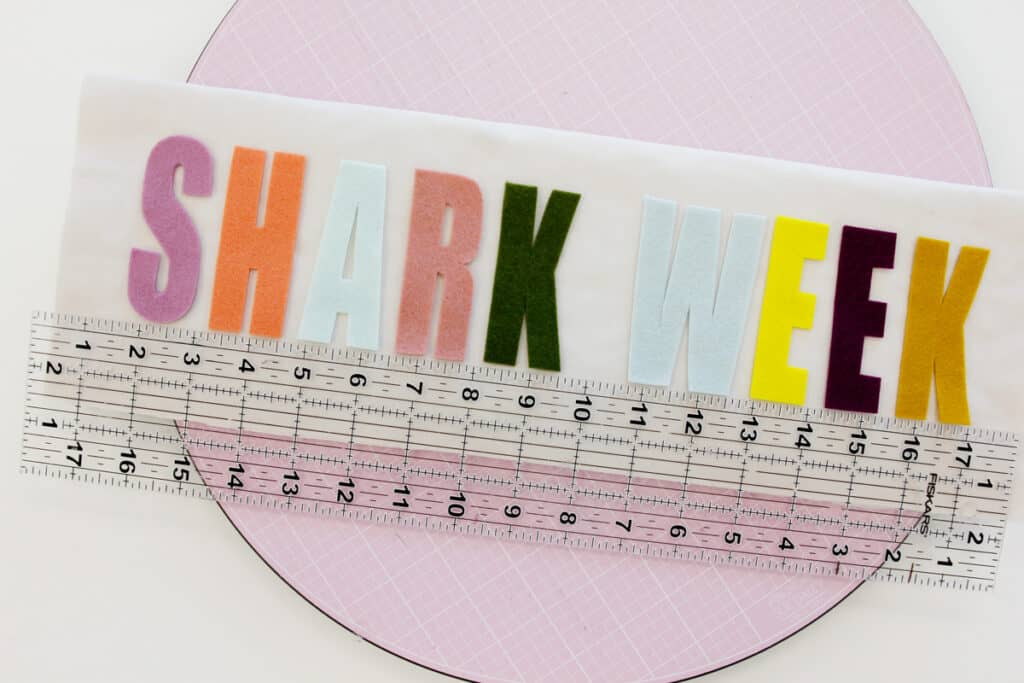 Pin the letters to the pouch to hold. Don't use any spray baste or fusible materials as they contain residue and chemicals that shouldn't be microwaved. If you have high quality wool felt it should hold it's shape well as you sew them on. Sew slowly for best results.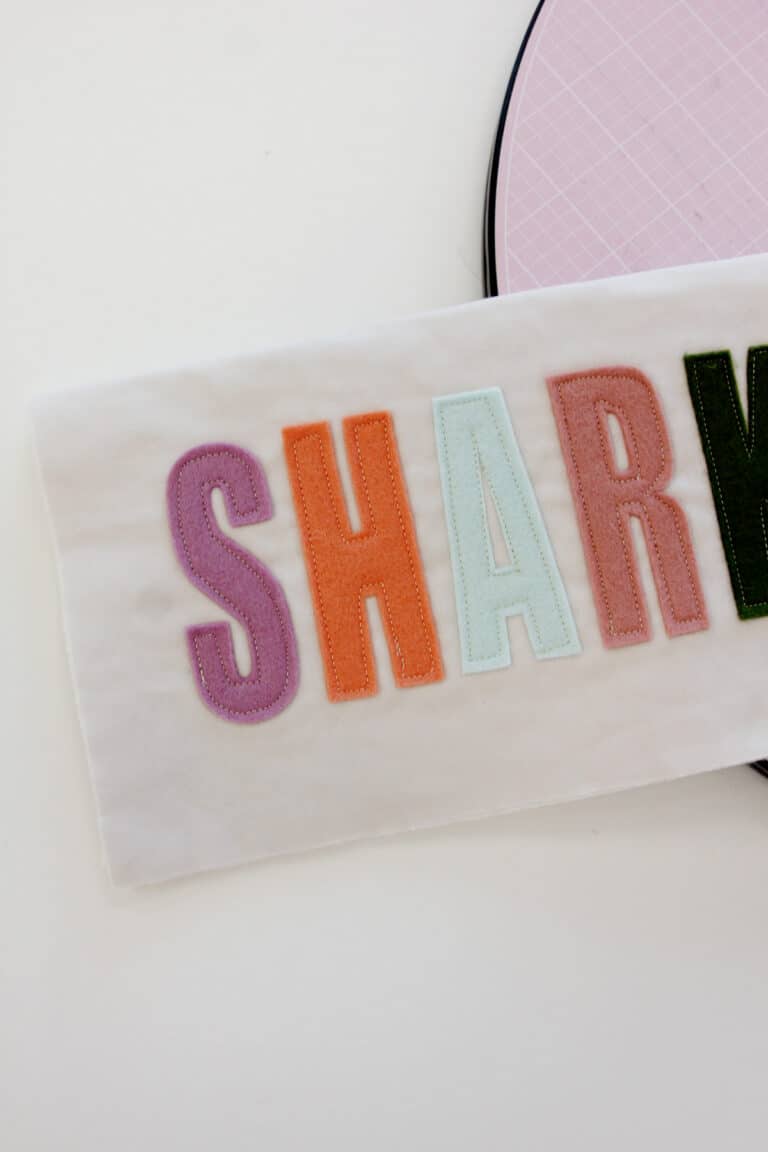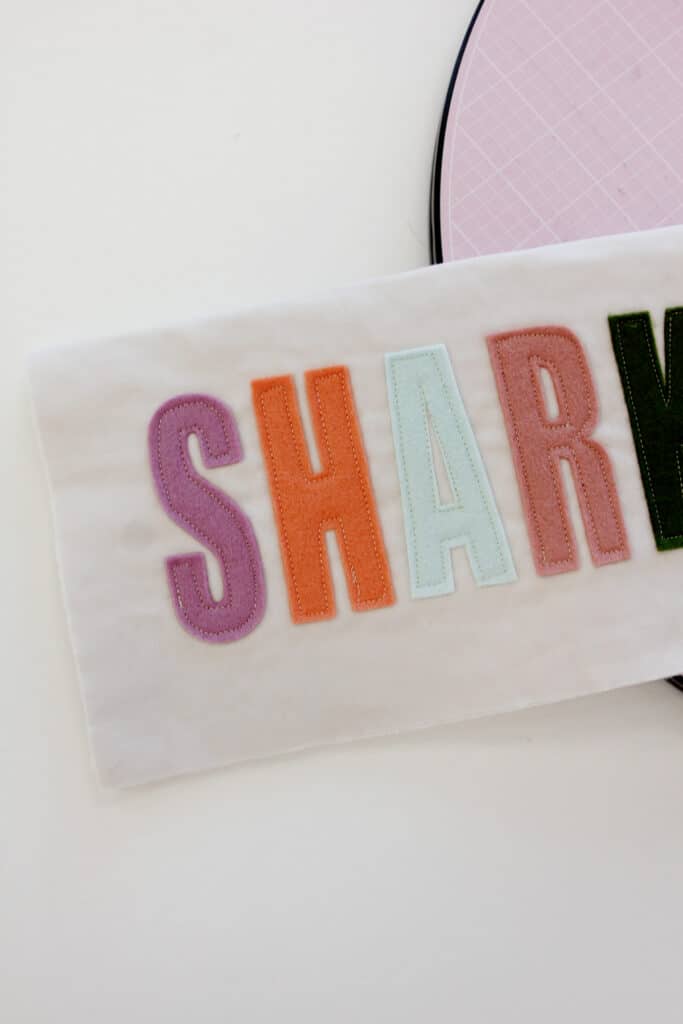 Then topstitch around each letter, about 1/8″ from the edges. Pivot your needle at every turn and sew slowly around curves. Backstitch and clip threads after each letter is secure.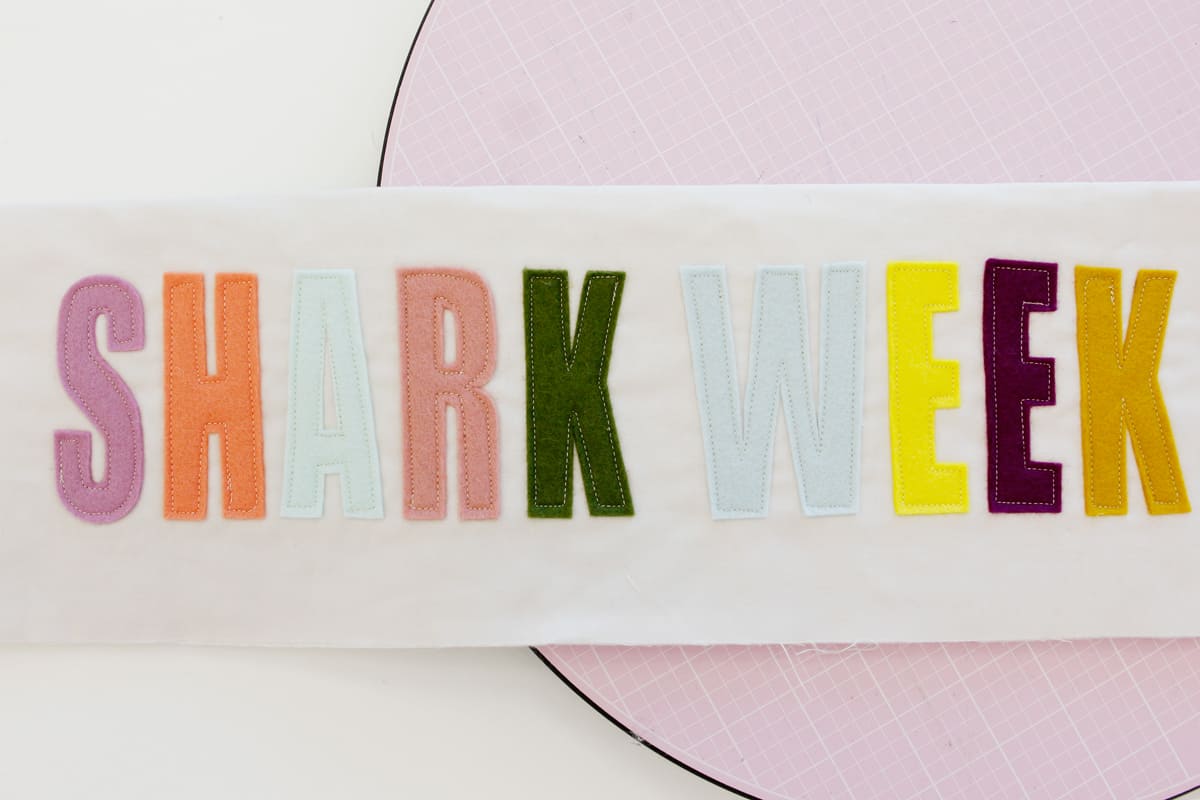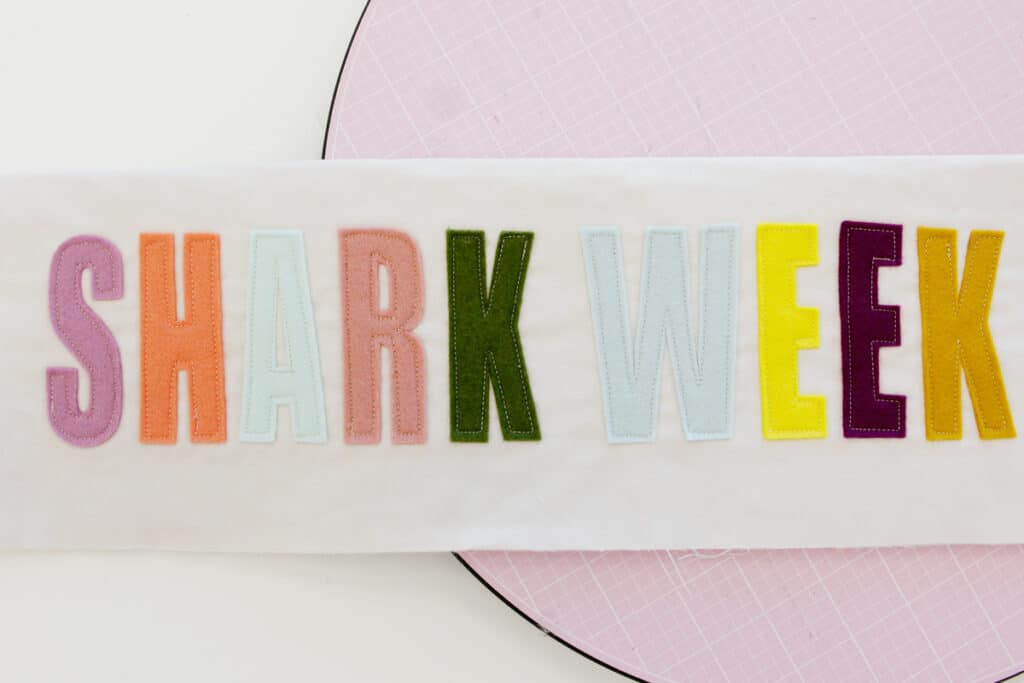 Fold fabric in half lengthwise and pin the corners and edges.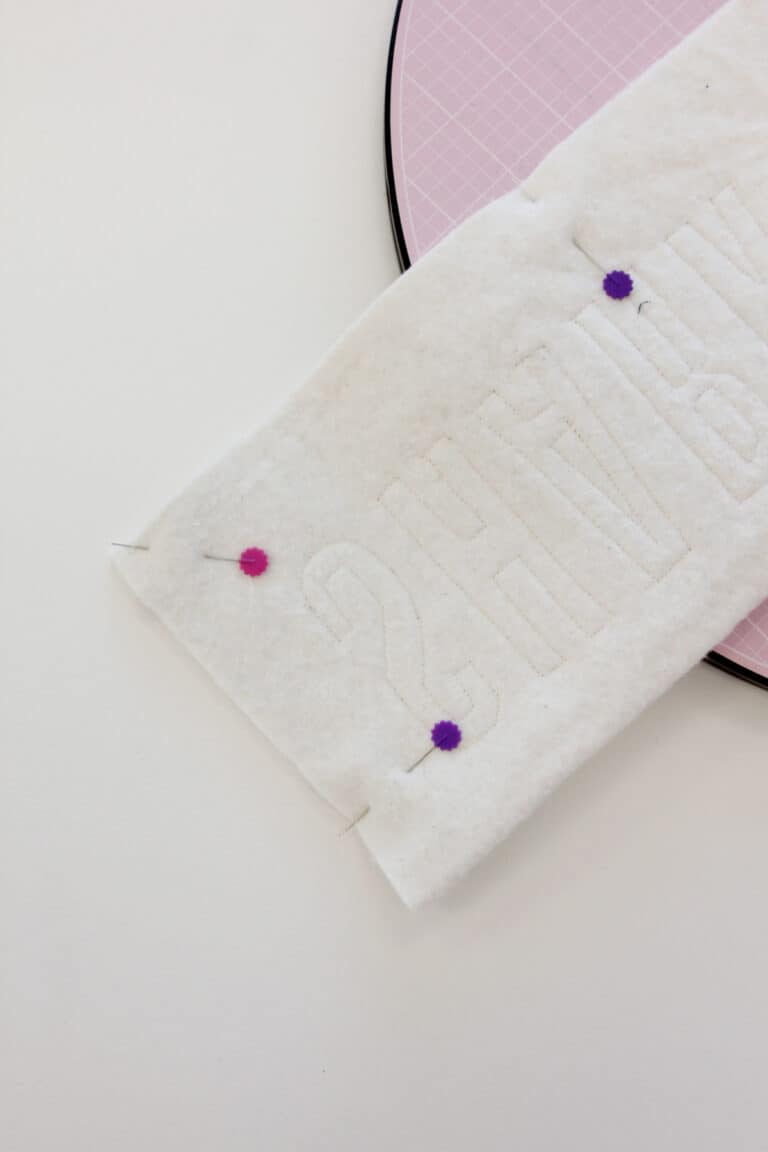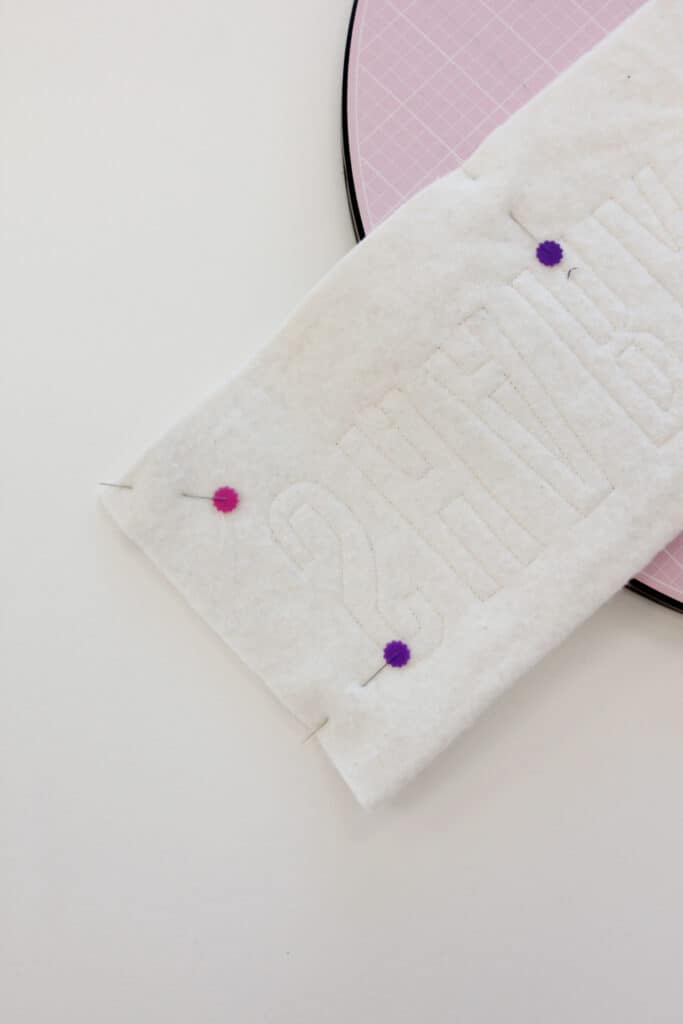 Sew around the pouch with a 1/2″ seam allowance, leaving about 2″ open at one of the short edges.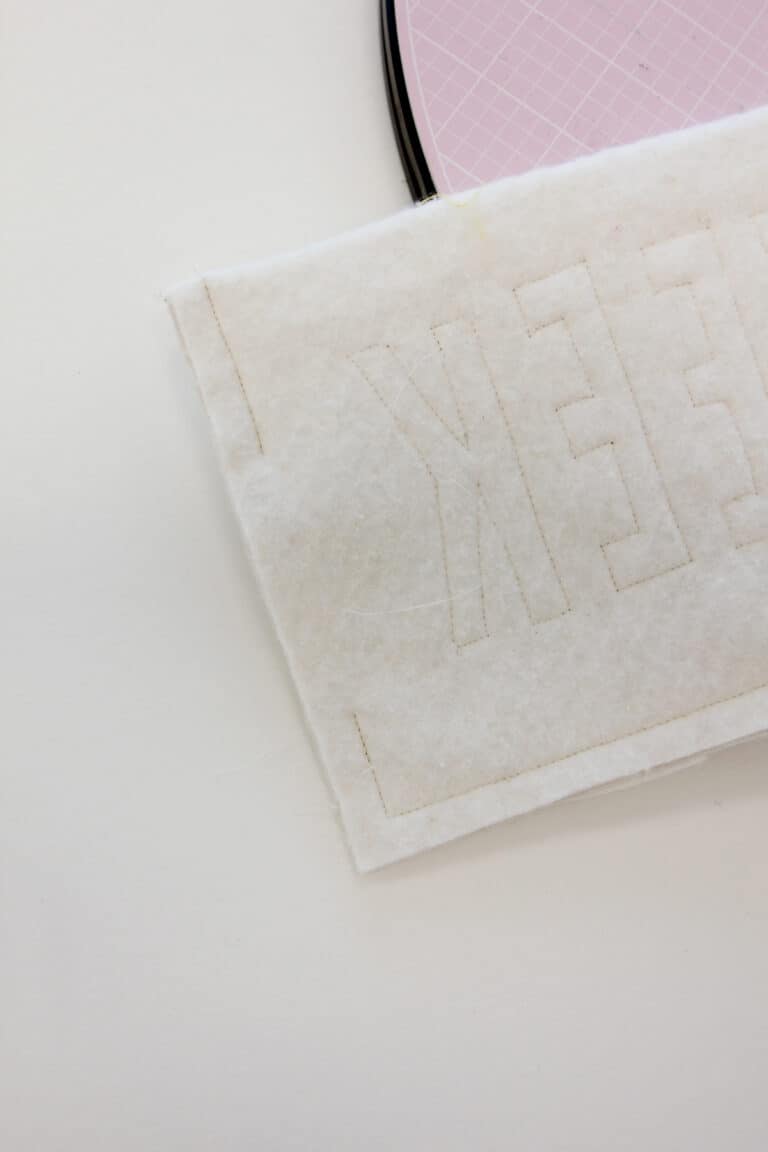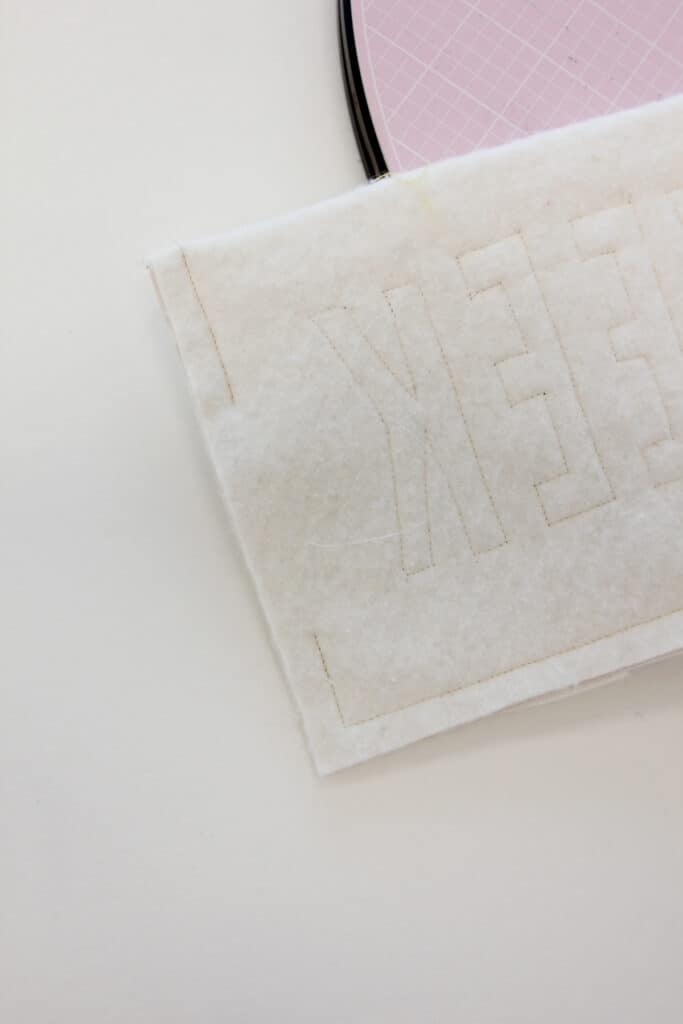 Clip seam allowance corners and turn right side out. Press again with a low heat setting.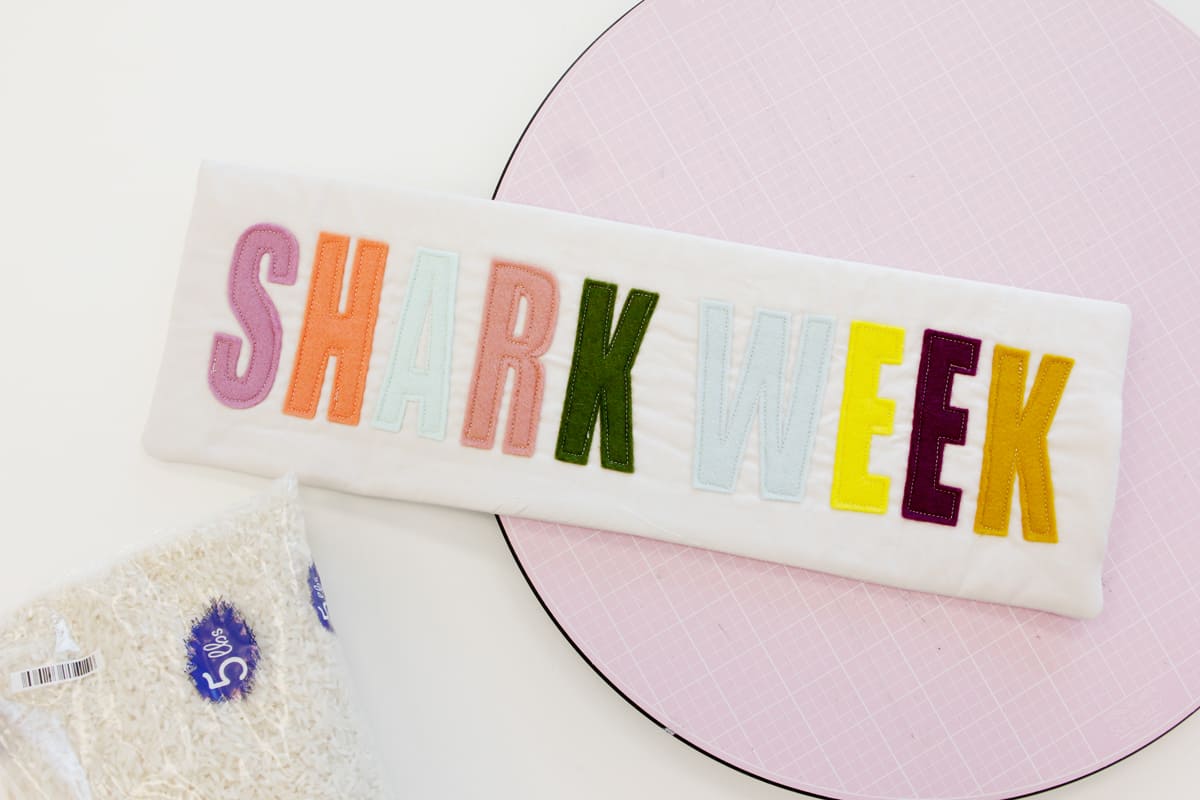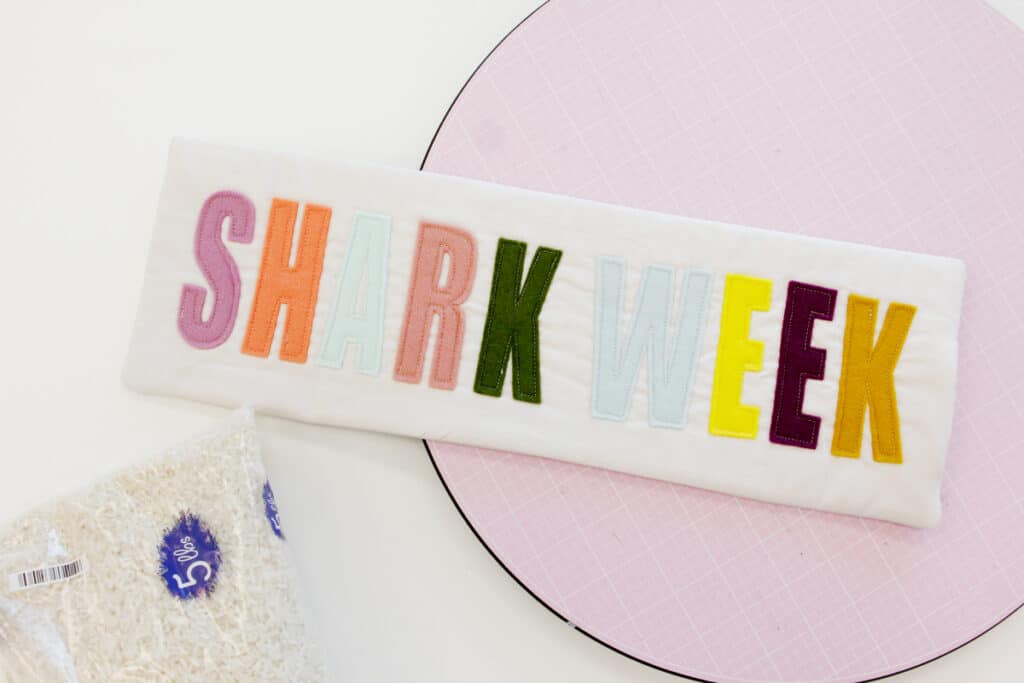 Fill with Rice
Use a funnel or rolled up paper to funnel rice into the pouch. You don't want to over fill it. Add rice until it is between 50 and 75% full.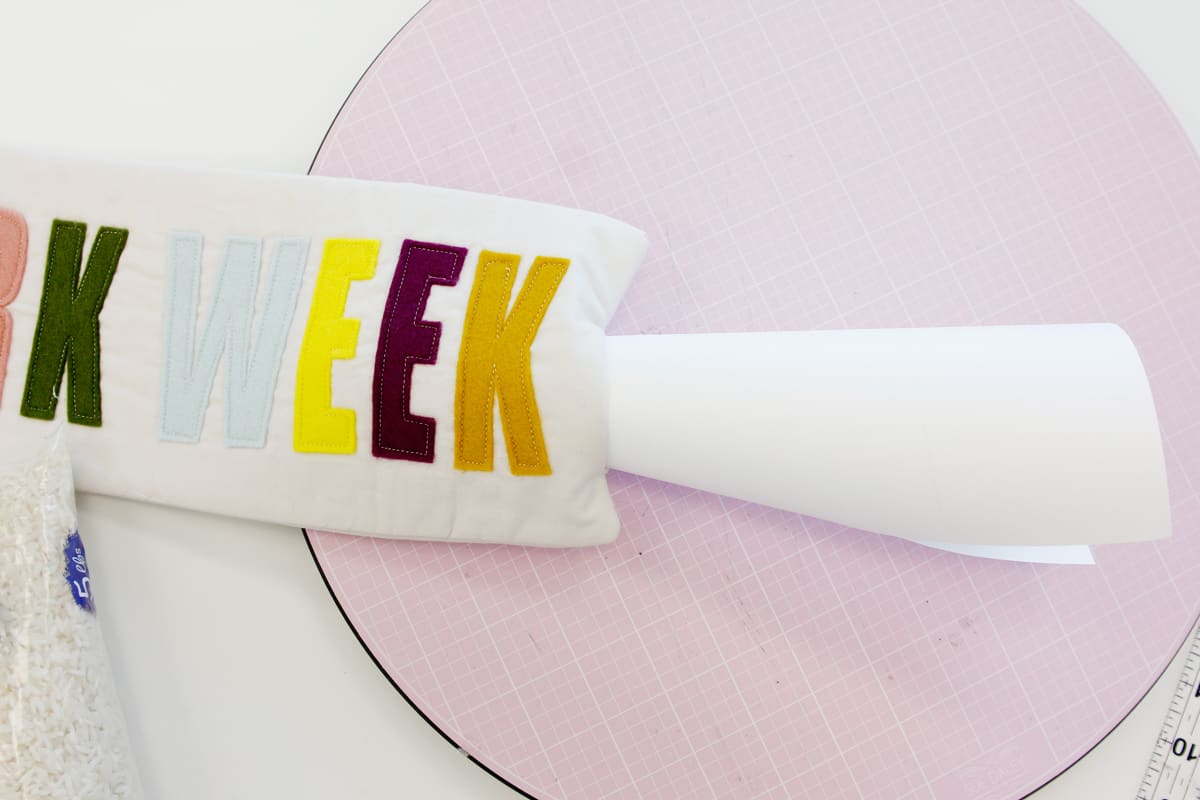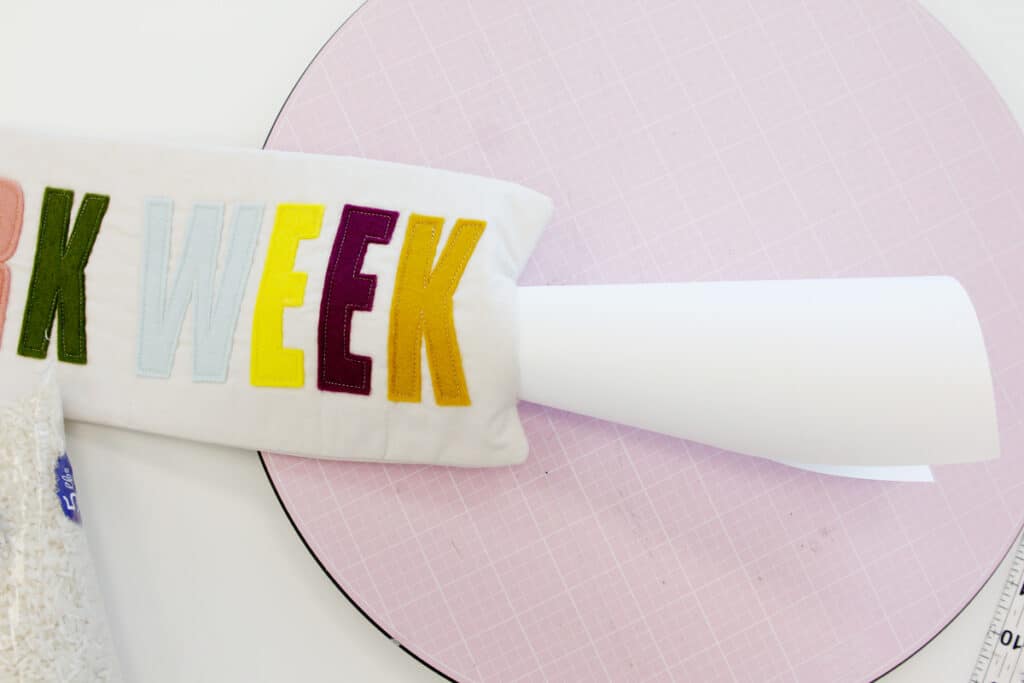 Stitch the opening closed with a topstitch 1/8″ from the edges. Backstitch to hold.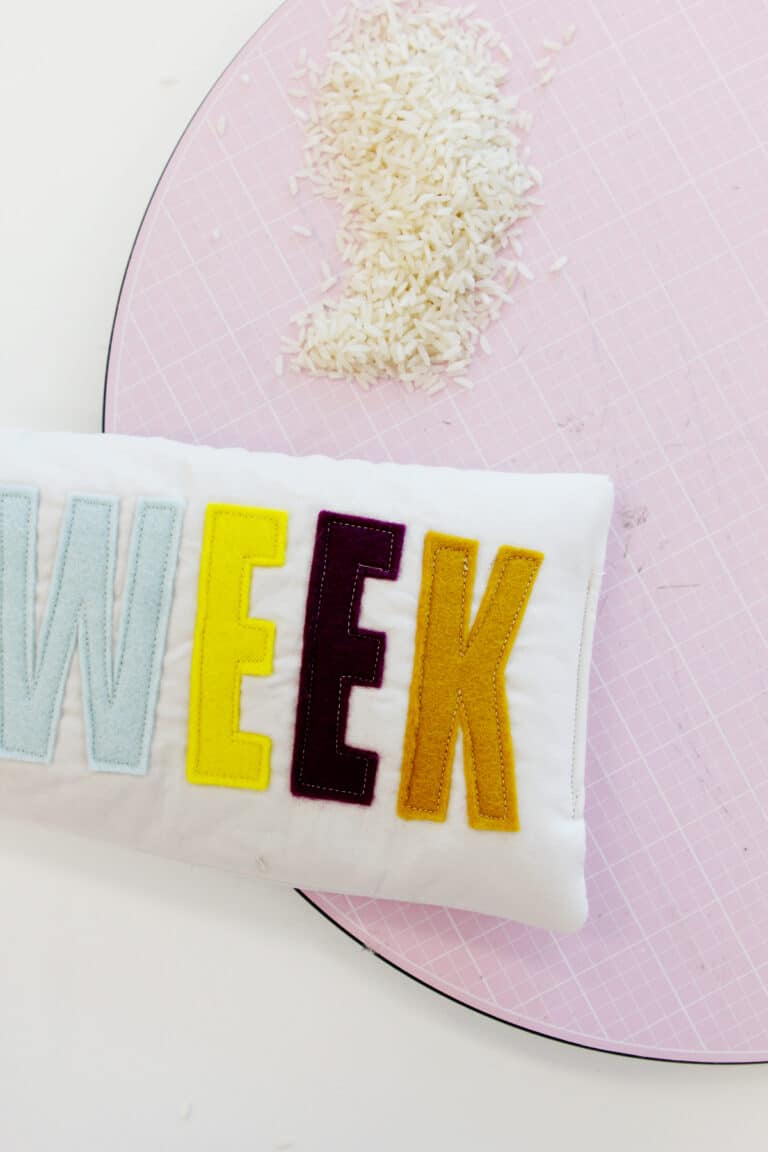 With this heat therapy pack you are ready to conquer shark week! Tie it up with some chocolate and it is the perfect gift!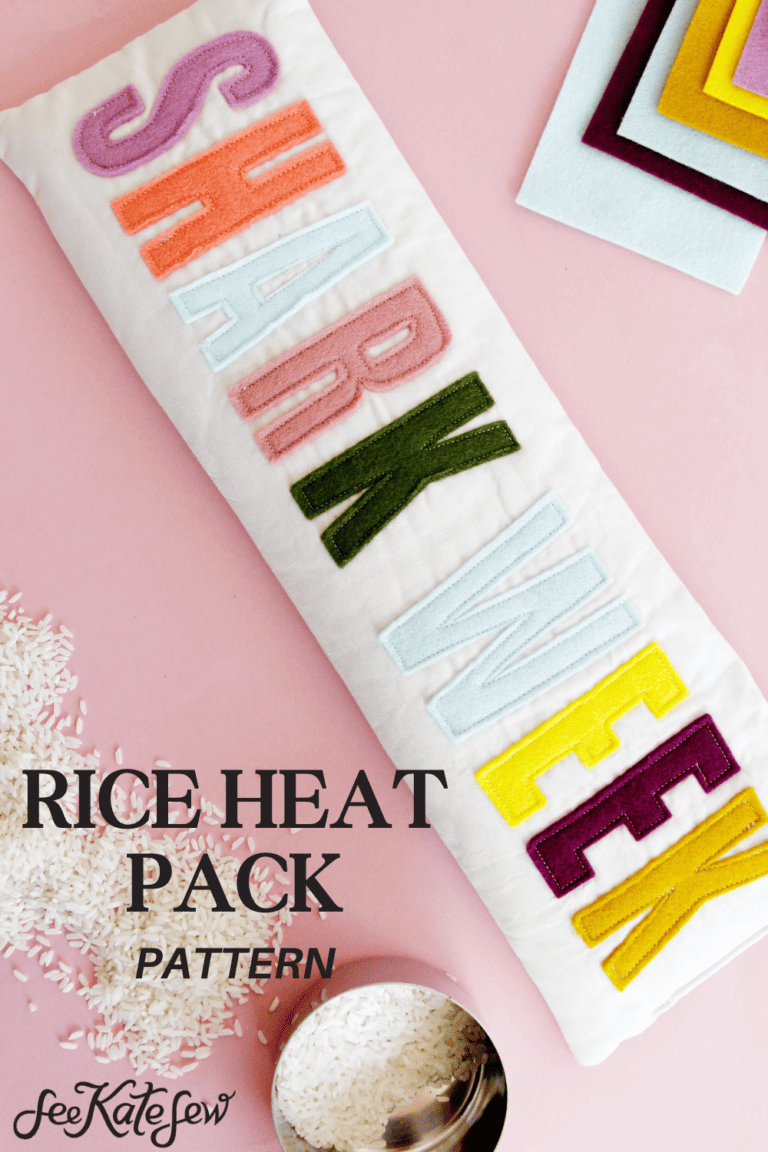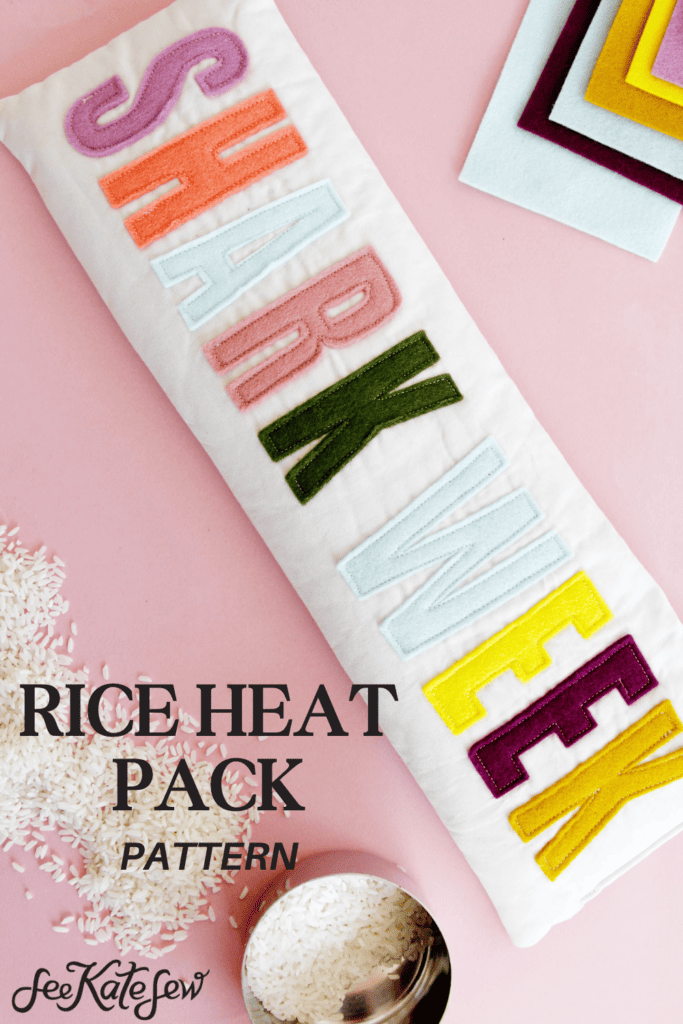 Share your heating pad in the See Kate Sew Facebook Group!
More DIY Gift Ideas