Learn to Quilt the easy way with my new video course! You'll learn to make 3 versatile quilts with skills that build on each other! By the end of this course you will go from beginner to capable quilter!
Sign up here! Use code QUILT for $20 off Learn to Quilt!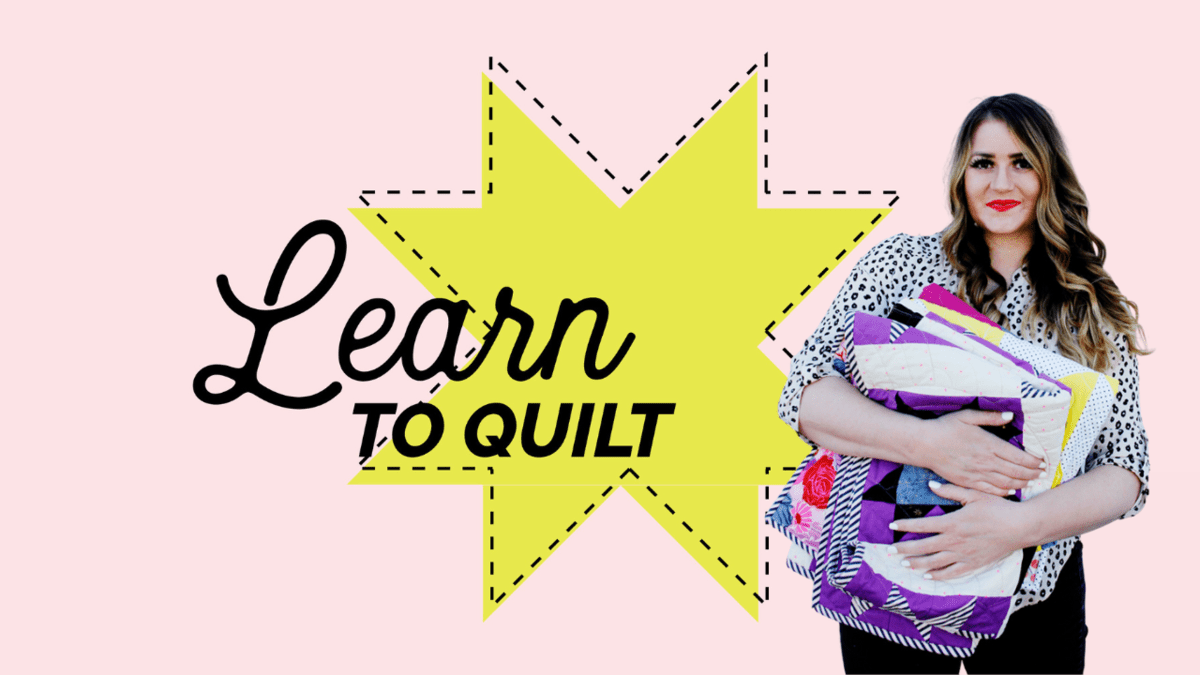 Learn to Quilt Course
Did you know, I used to be scared of quilting?! It just seemed so overwhelming to create something SO BIG and intricate. Mental blocks for days.
It seems so crazy now, because I can't imagine my life without quilting! It is my favorite form of therapy, where I can zone out and create something gorgeous!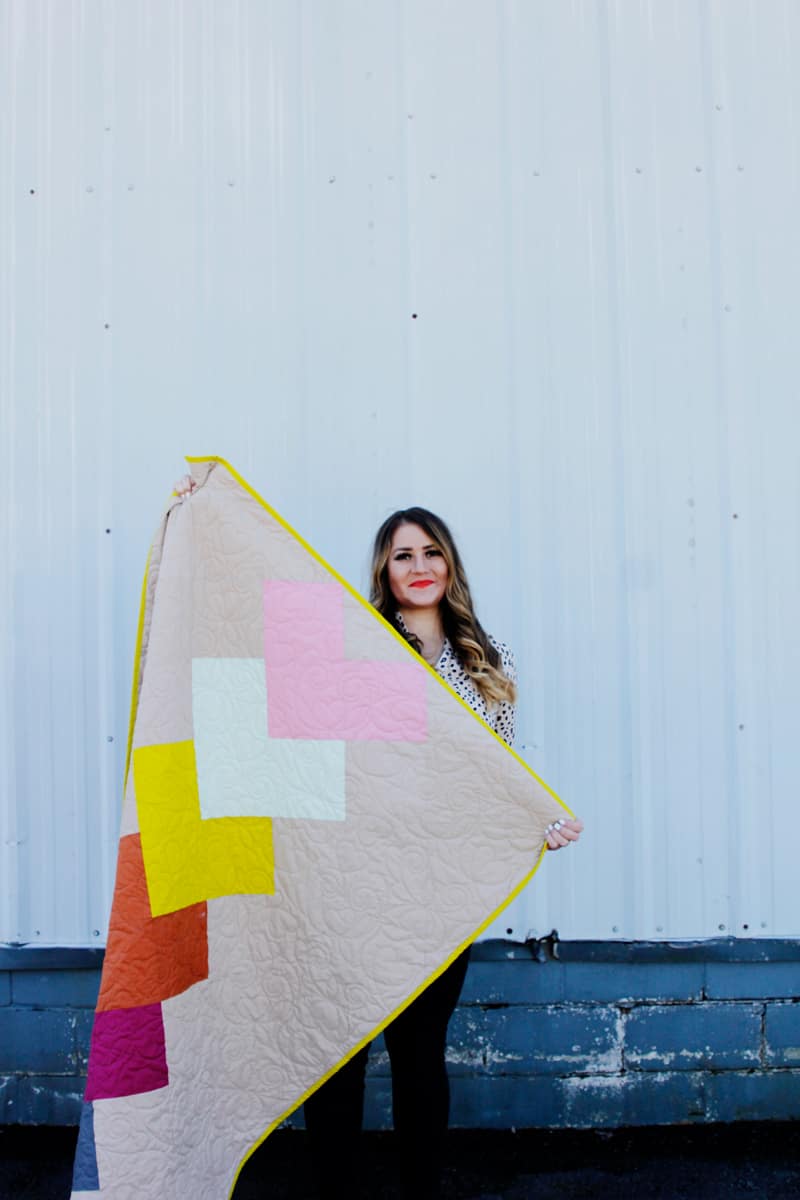 This no-fear course breaks down all those barriers. I'll show you there is nothing to be scared of!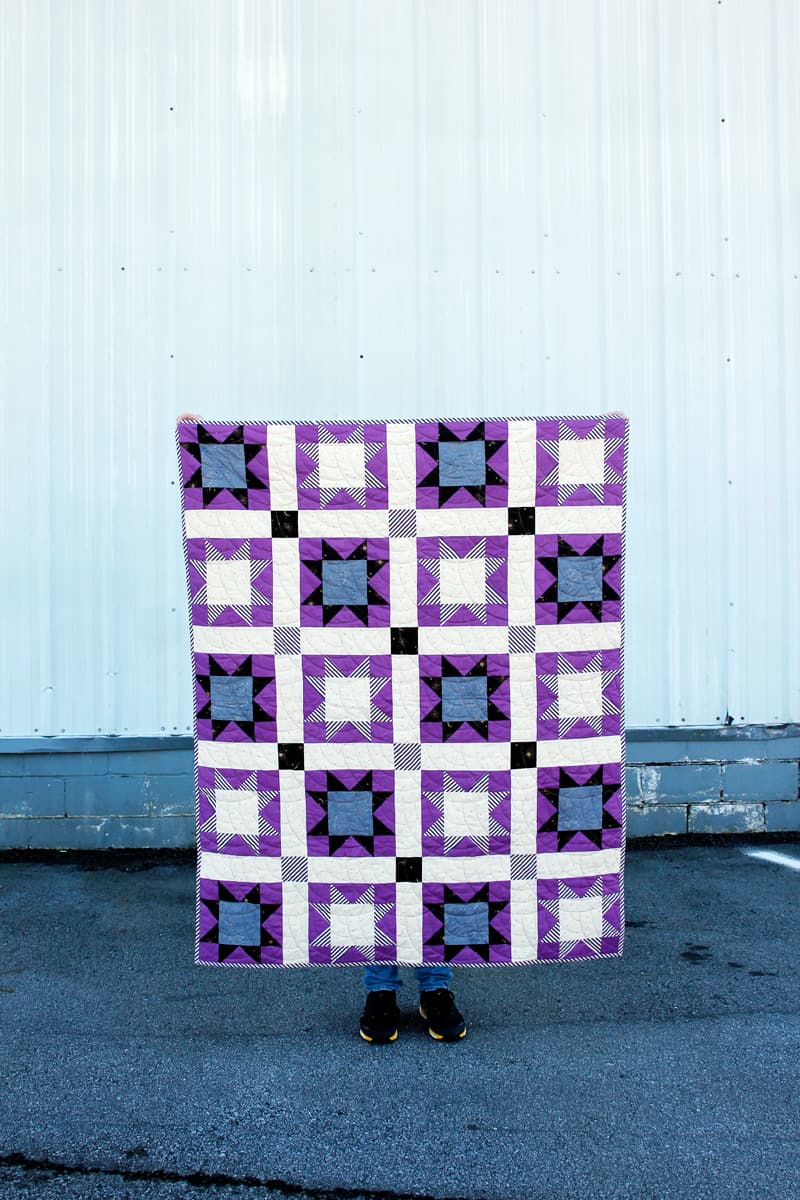 I've even thrown in a bunch of tricks for precise quilting – to feed any perfectionist instincts you may have!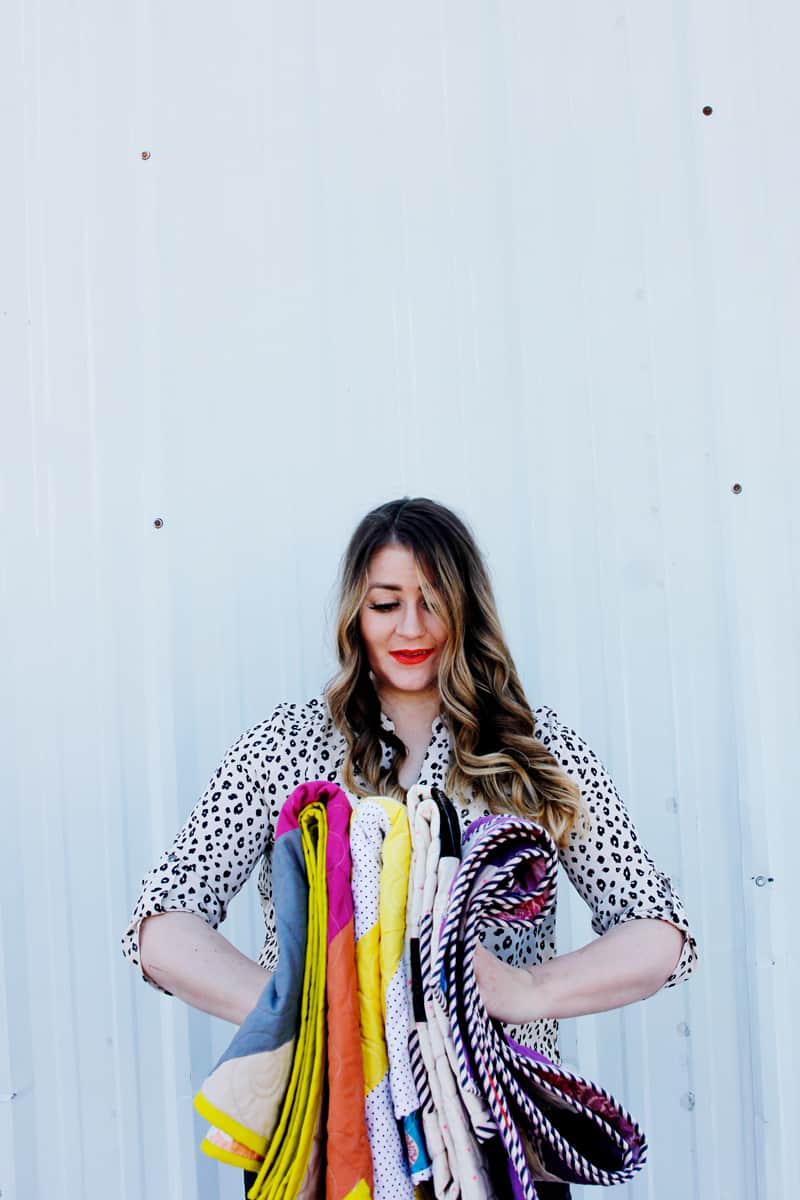 We'll address ANY FEARS you have about quilting and throw them out the window!

What's included in this video course?
Self-paced curriculum in simple to use interface
3 printable quilt patterns
Exclusive Facebook Group – sew with a supportive community
BONUS – Printable Sewing Room Art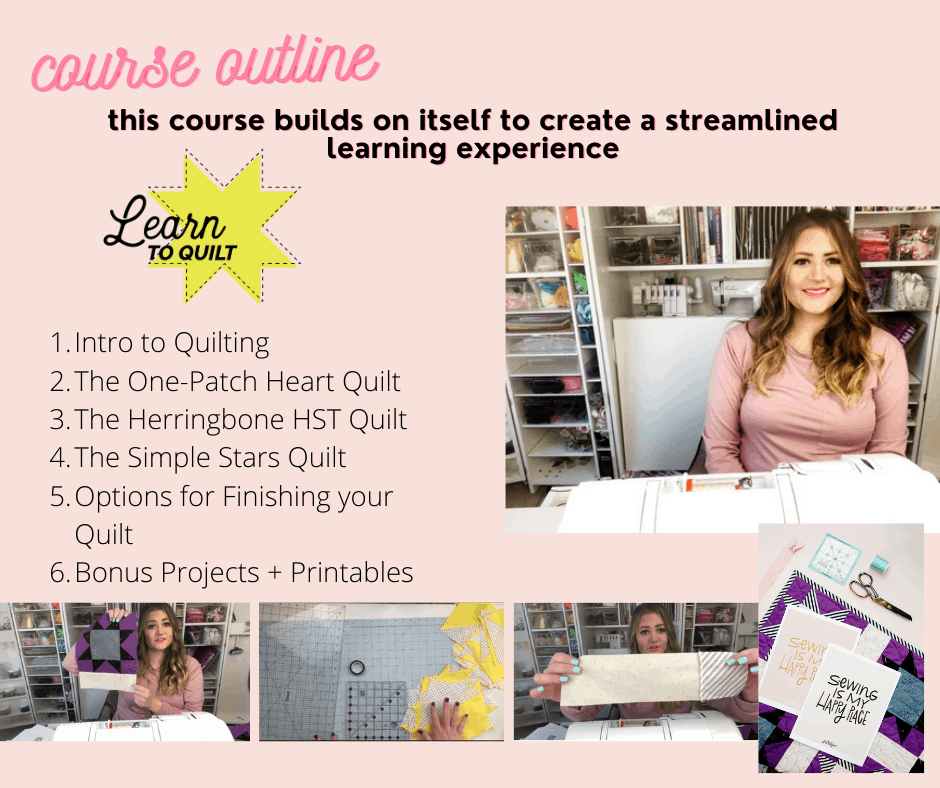 In this course you'll learn basic quilting skills that build on each other! All the mystery is taken out of quilting and we're left with only a whole lot of fun!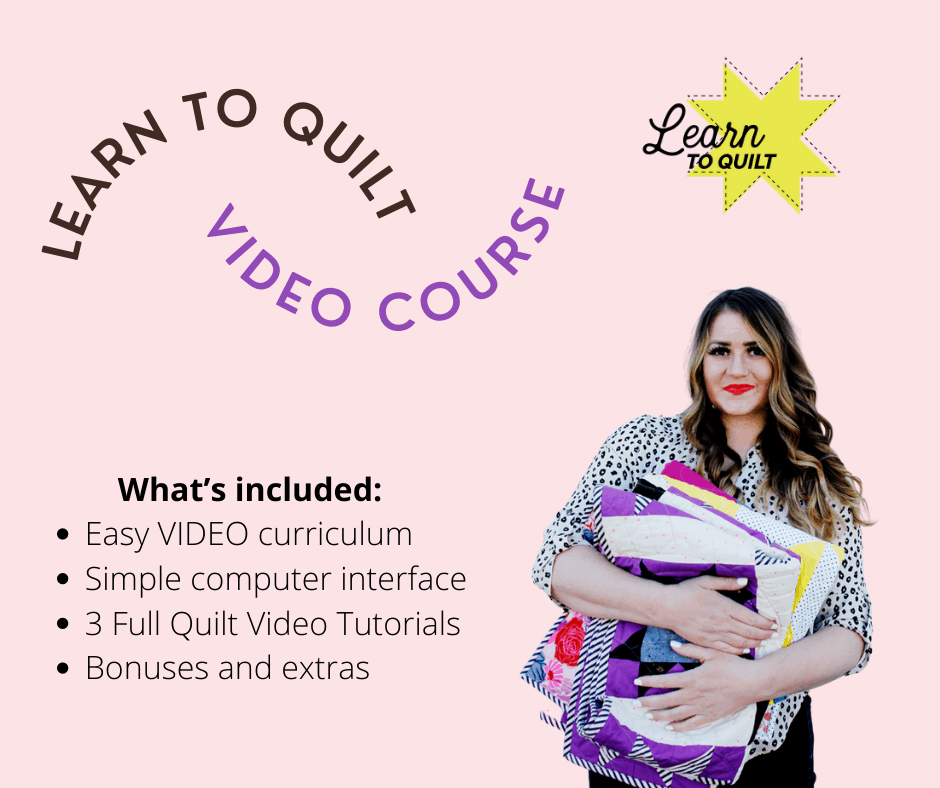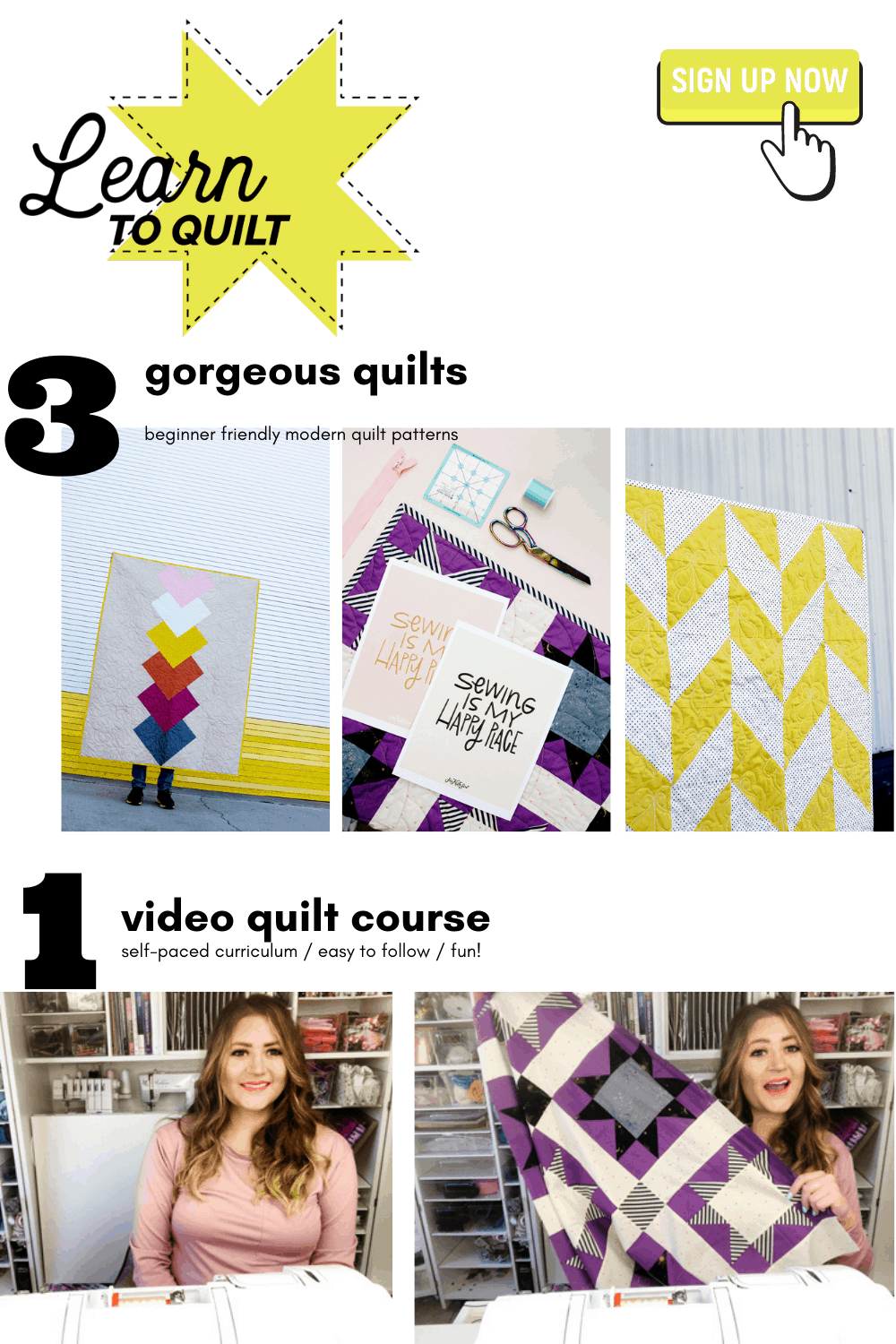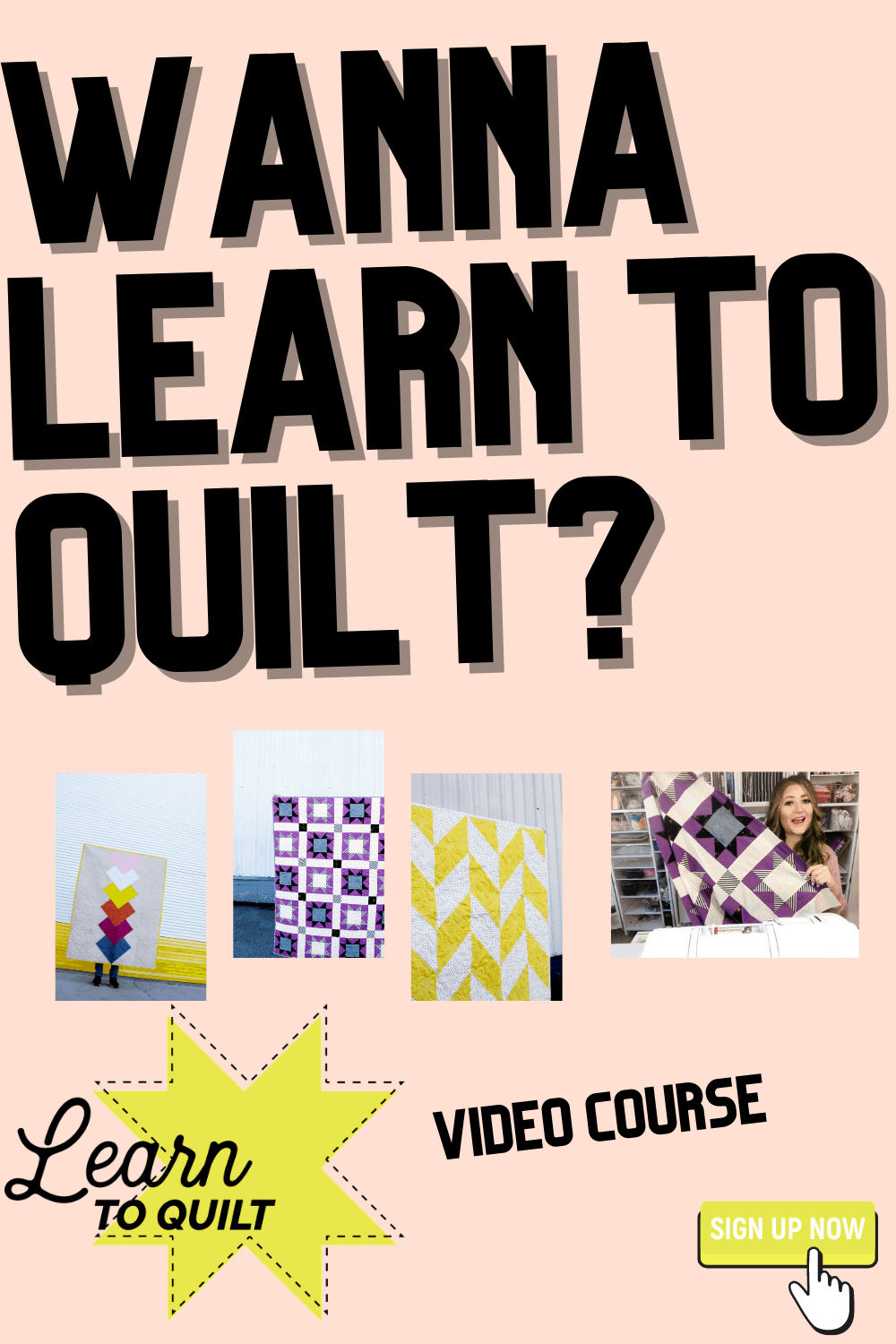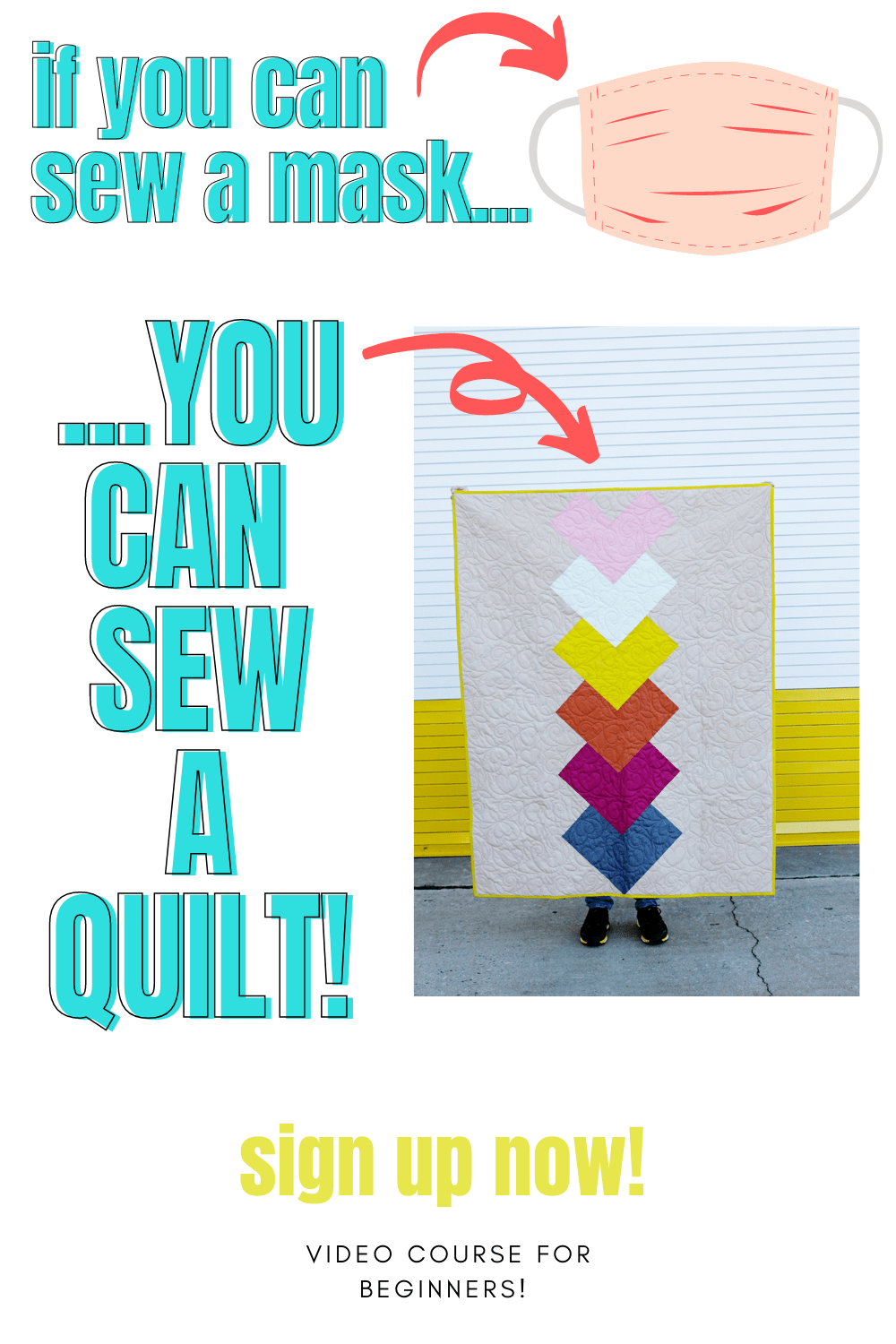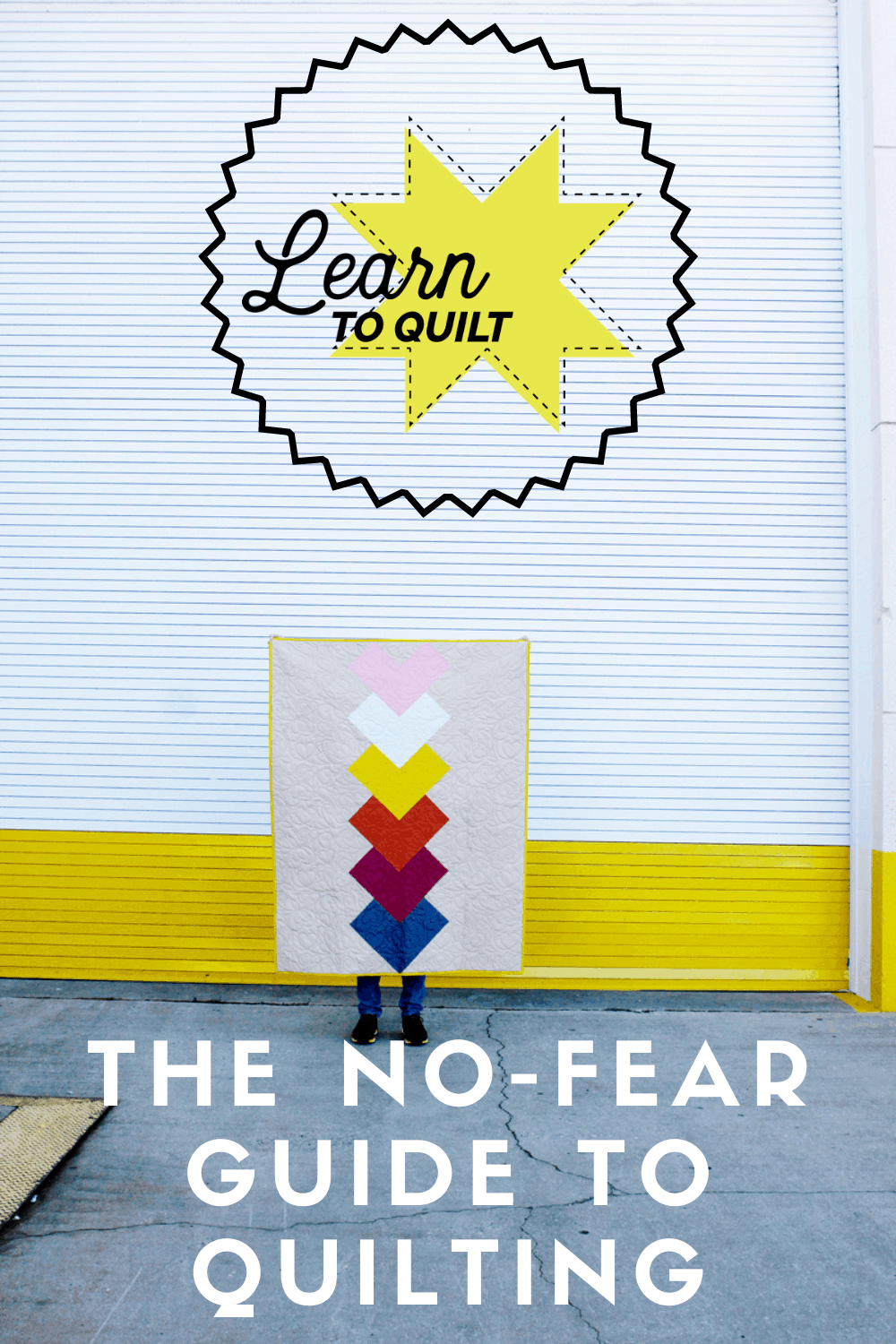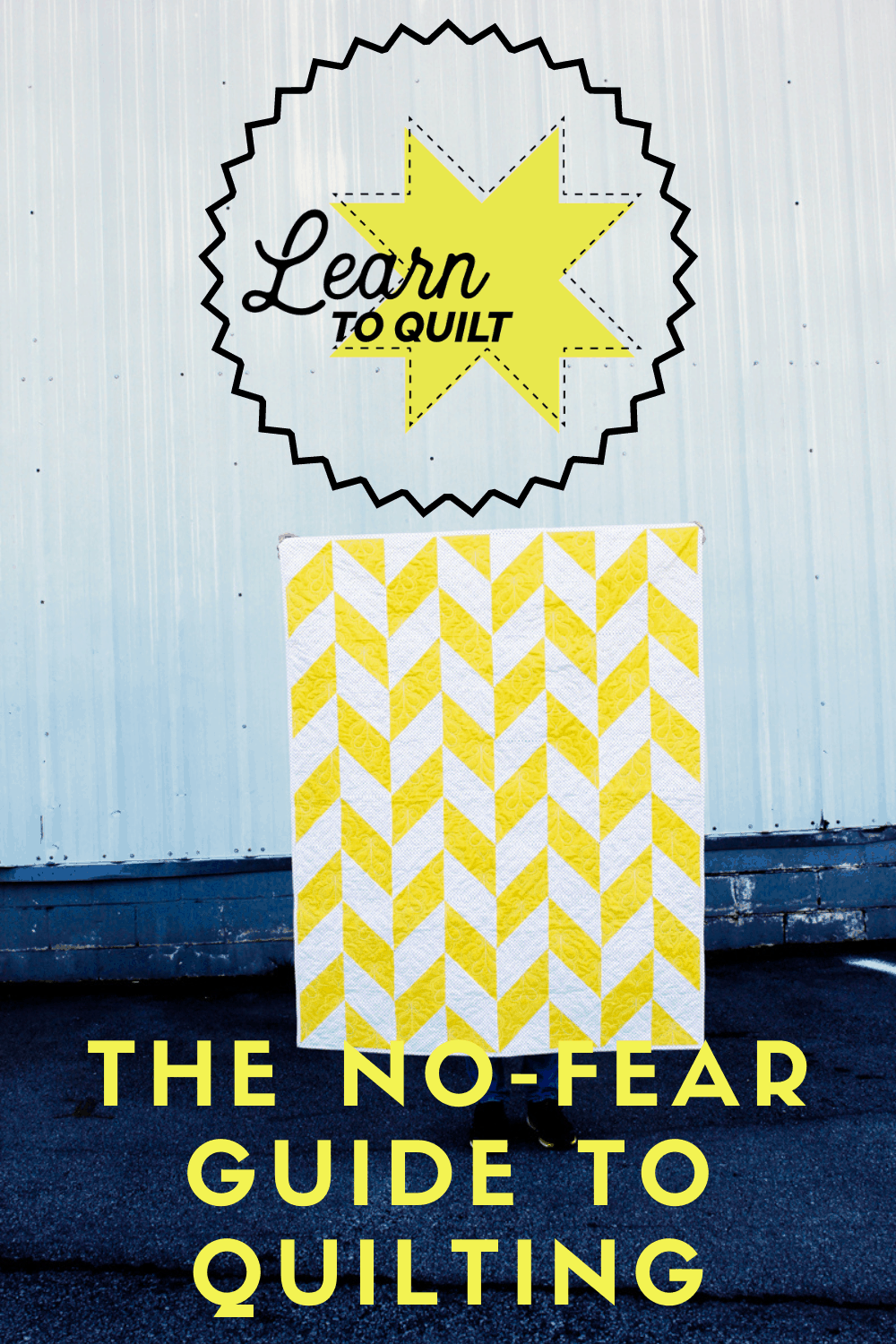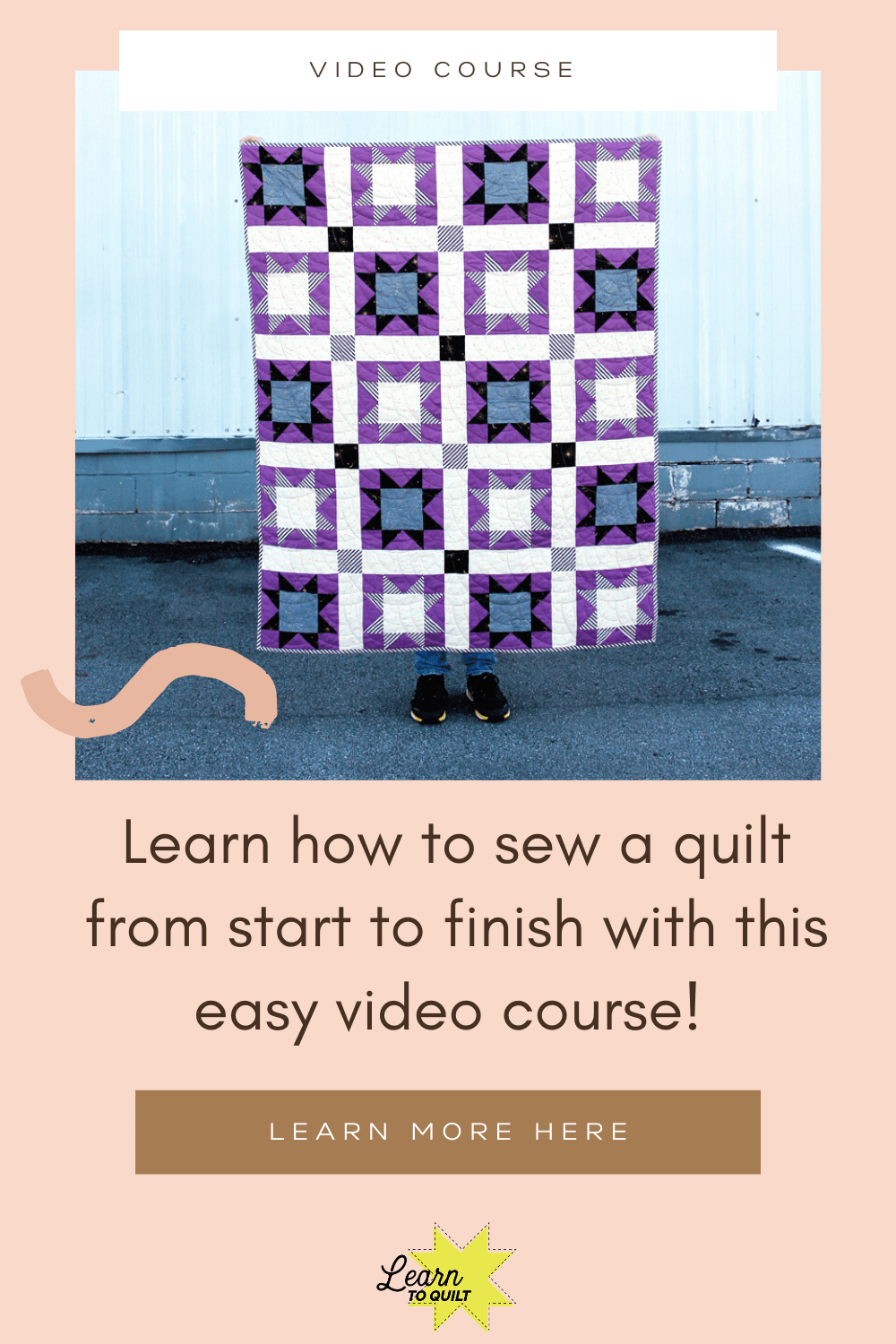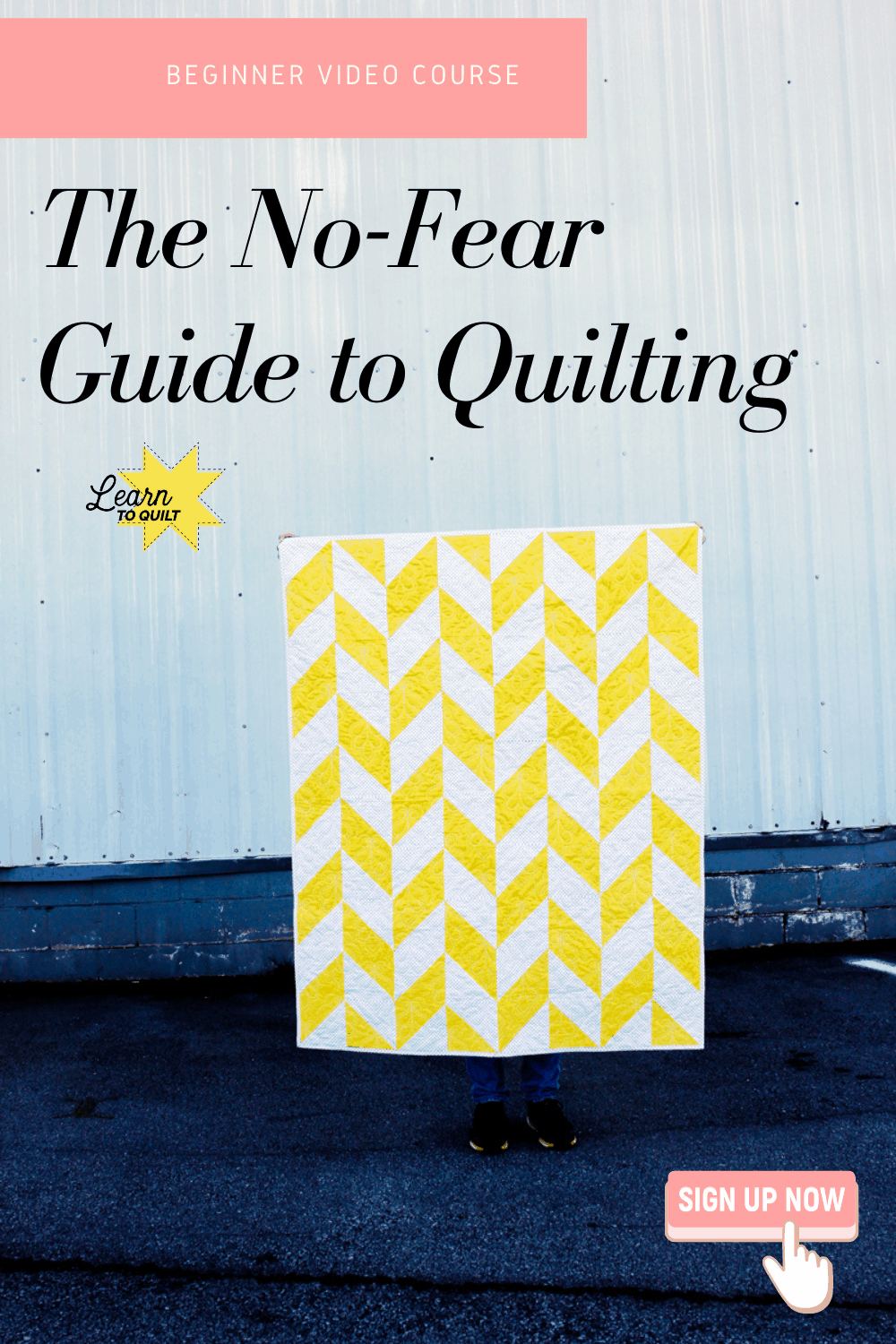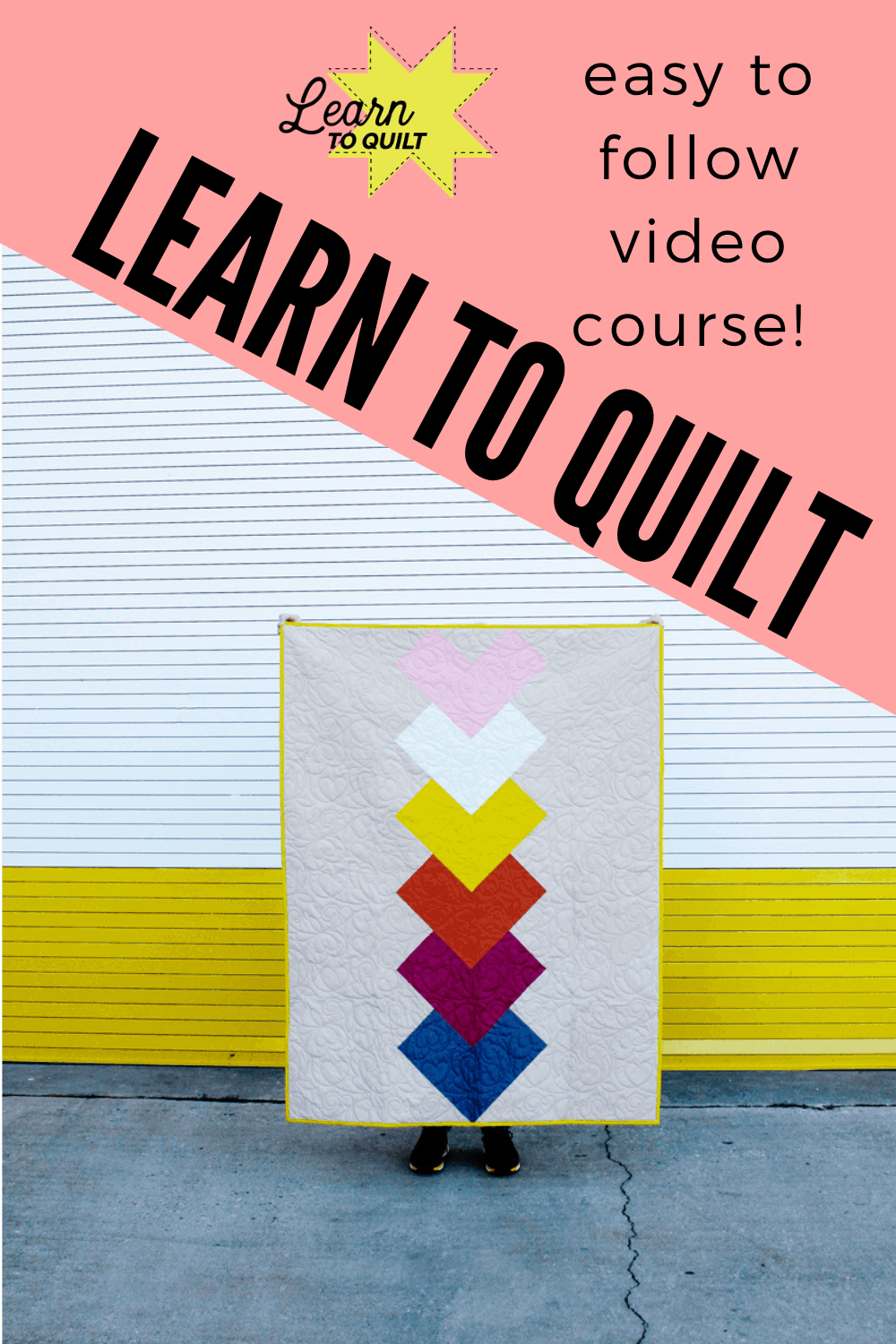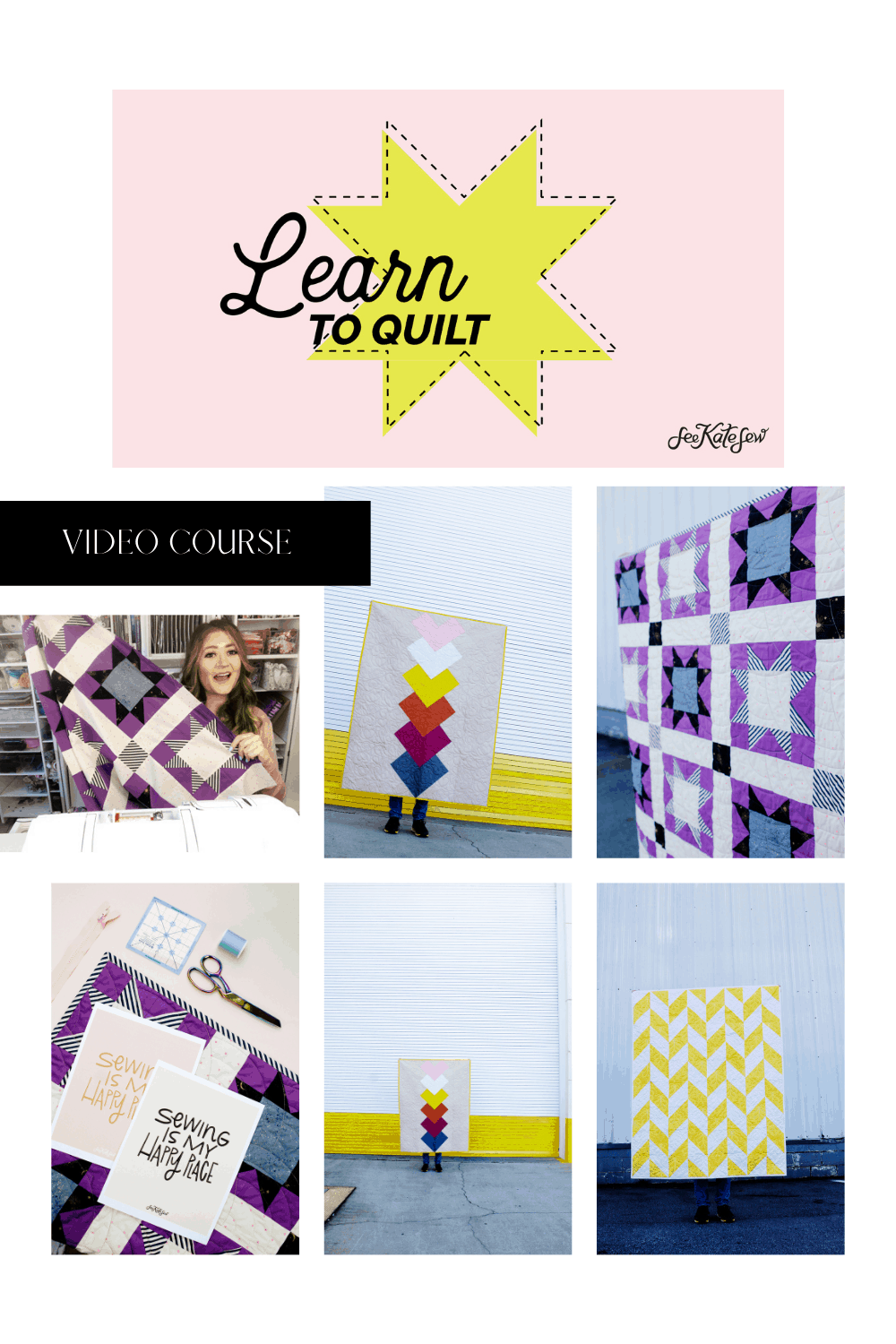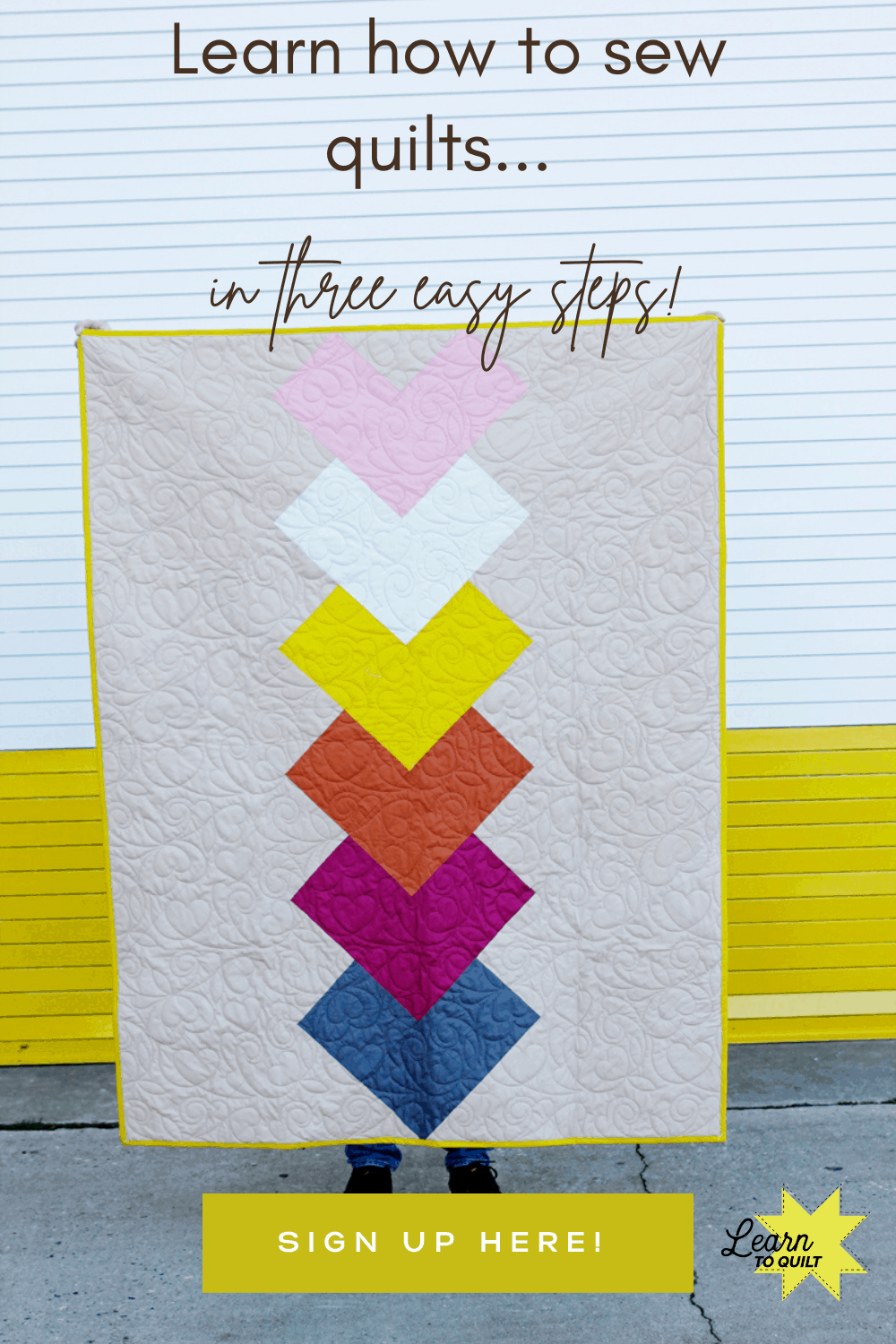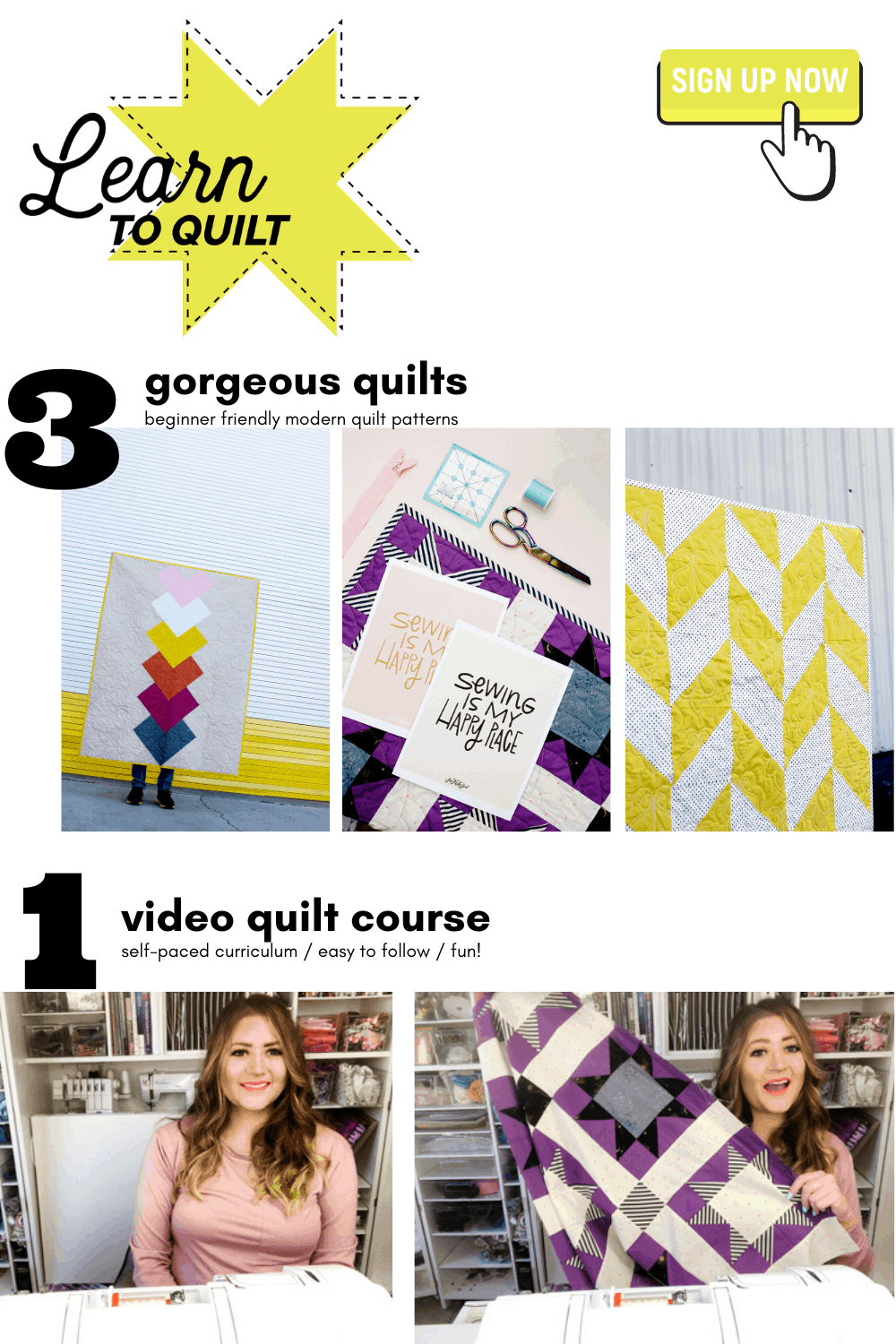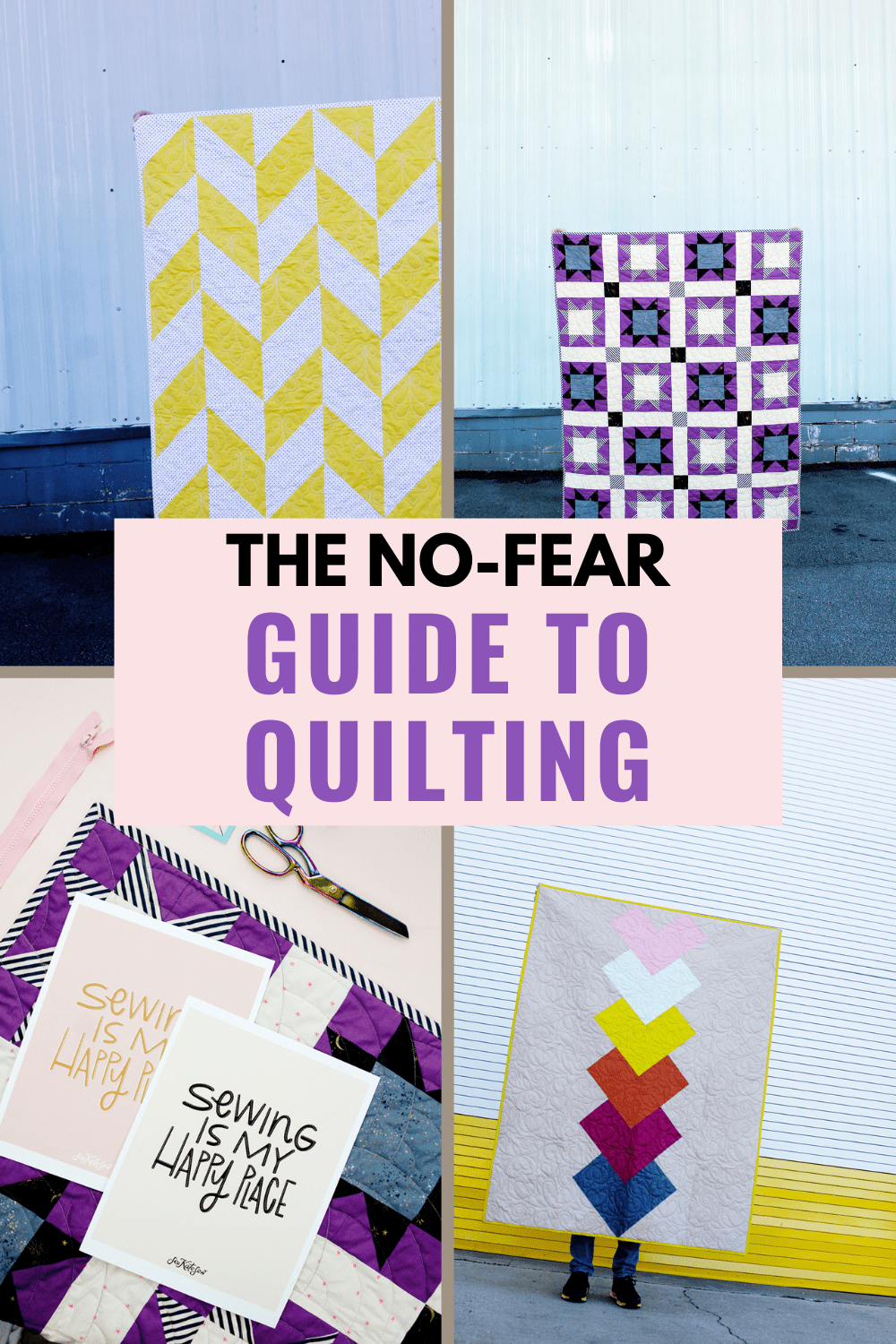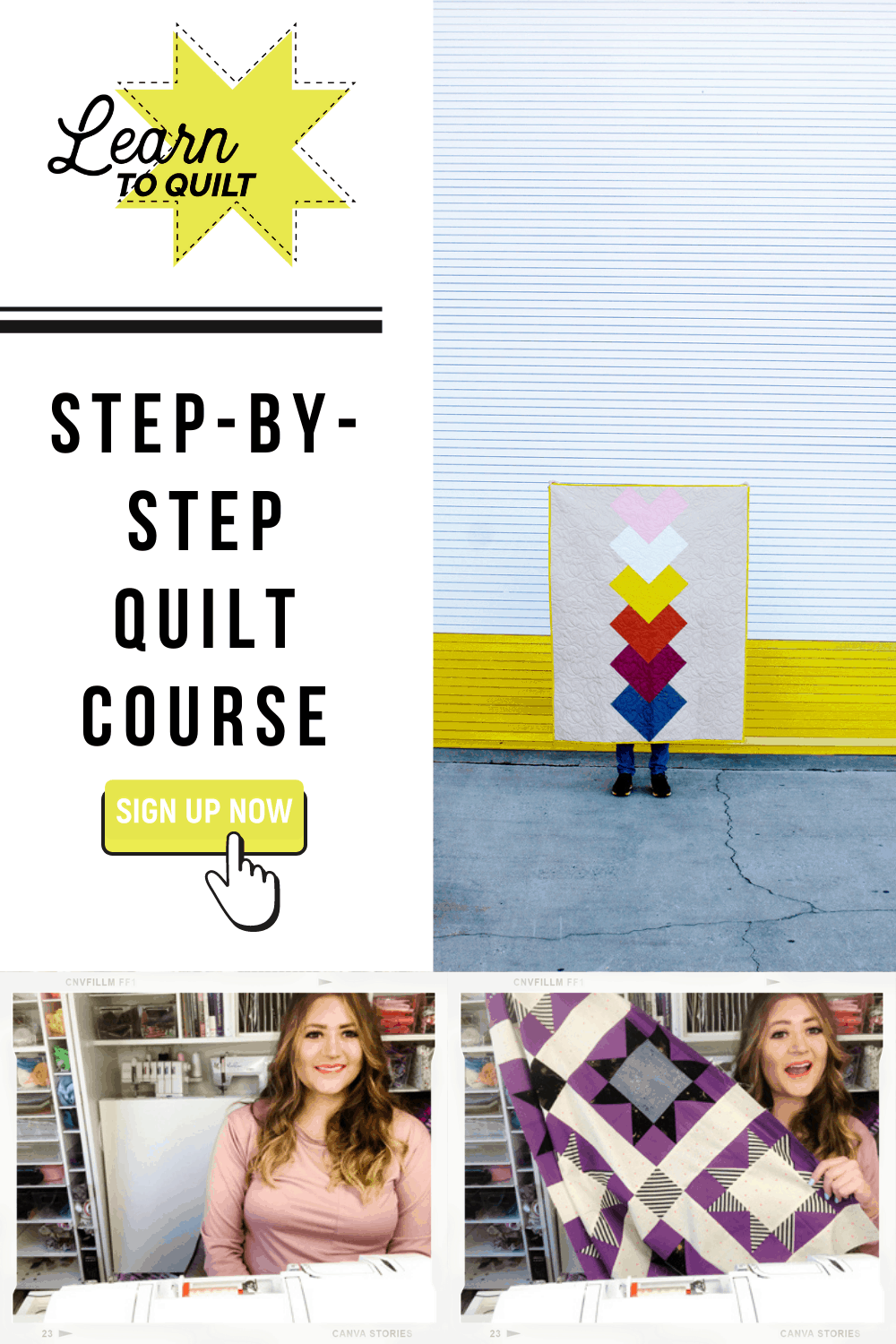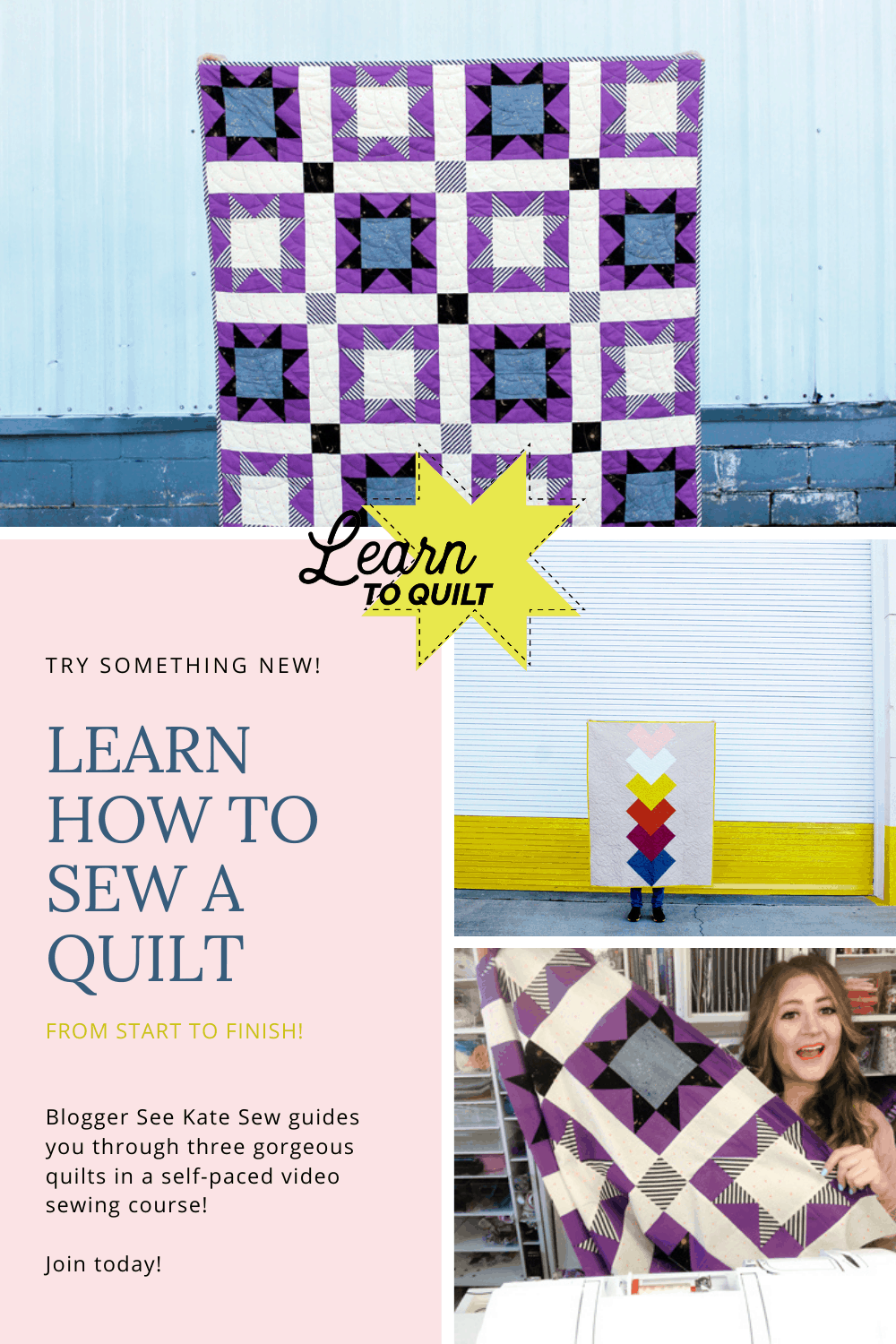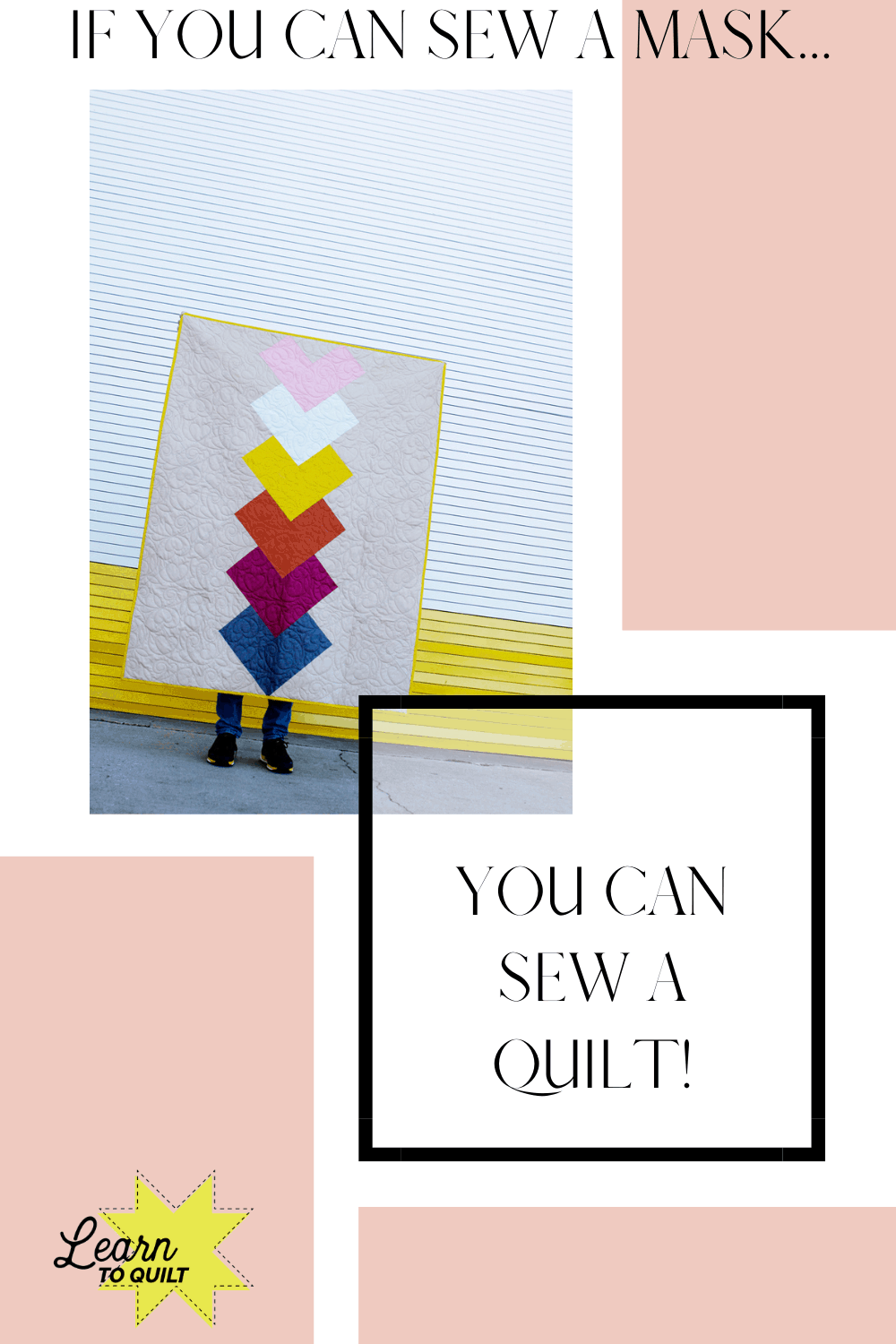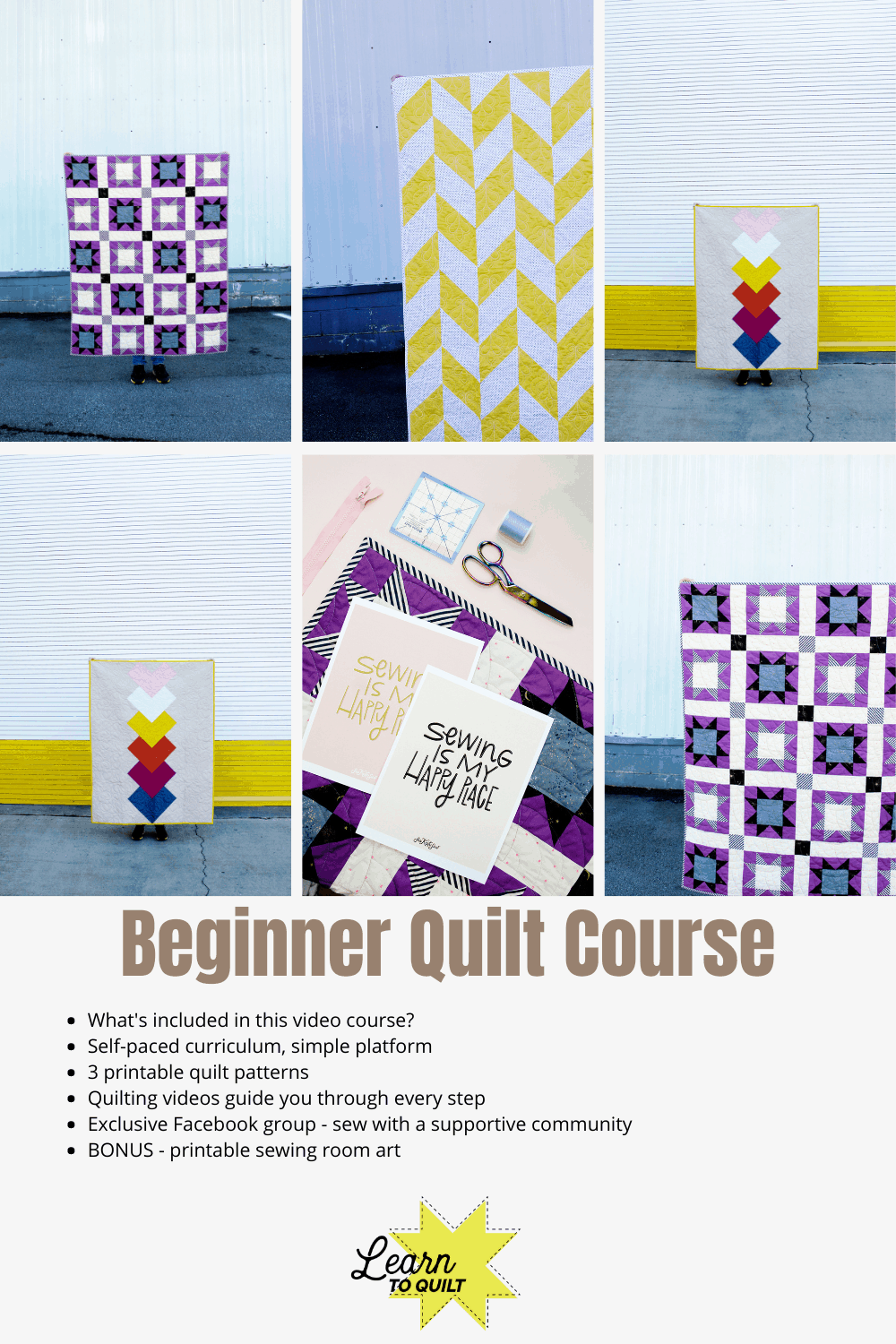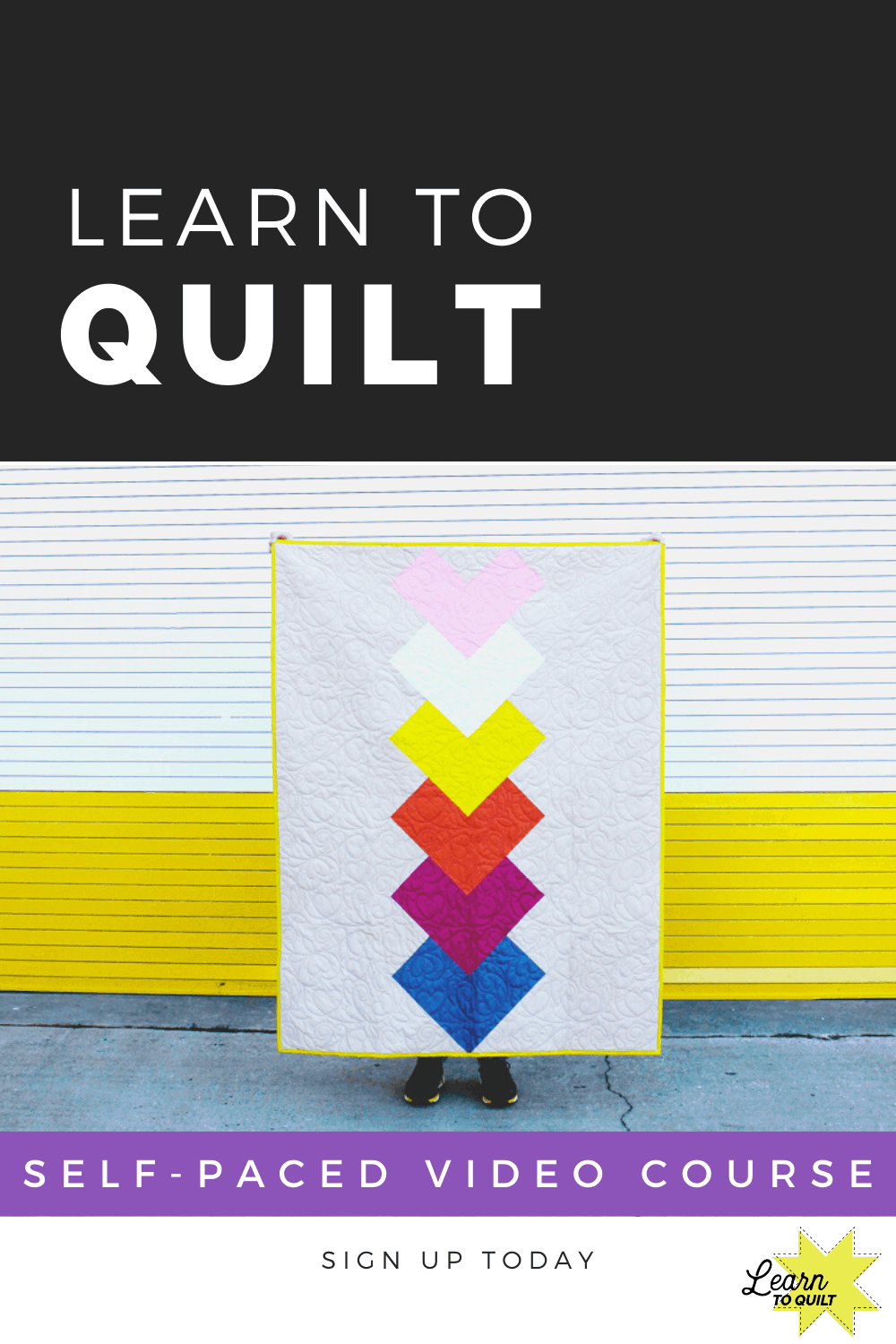 Learn to Quilt Class Outline:
Learn to Quilt is broken down into 6 sections with all the information you need in each one!
Intro to Quilting
The One-Patch Heart Quilt
The Herringbone HST Quilt
The Simple Stars Quilt
Options for finishing your quilt
Bonus Projects + Printables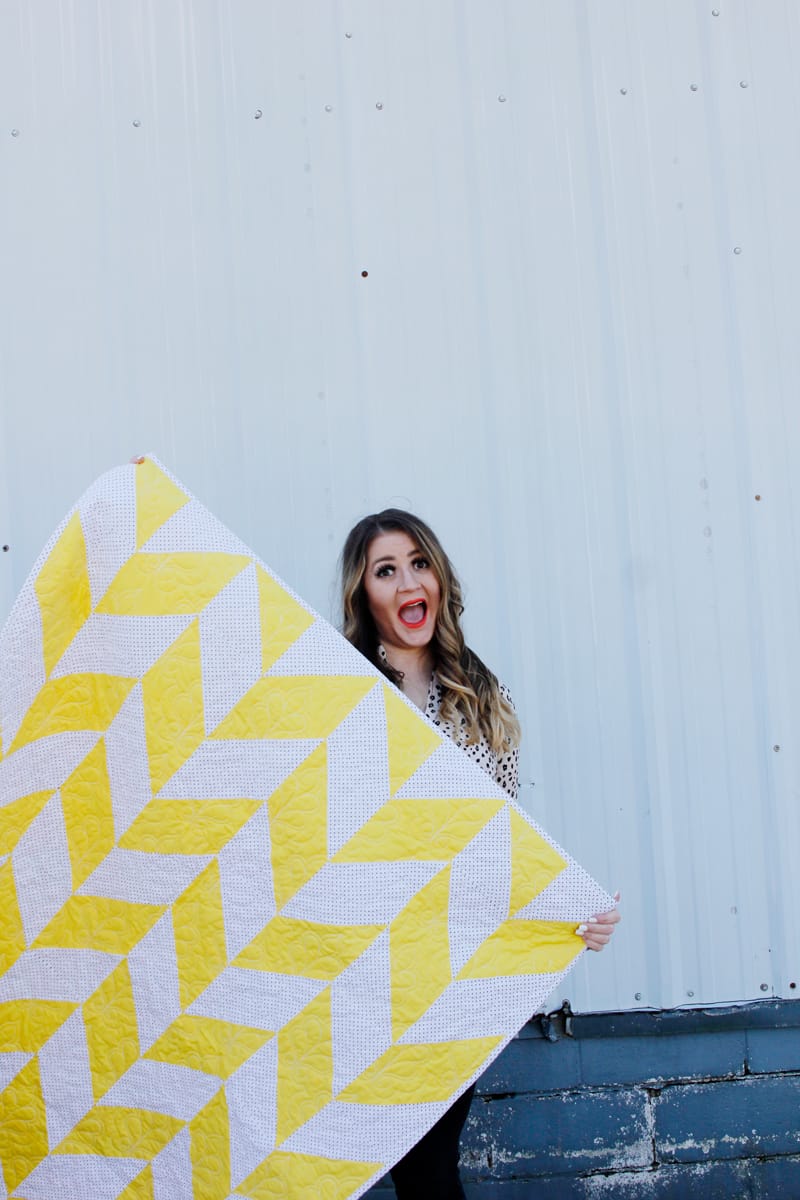 The non-quilter's guide to quilting
You don't have to have any quilting experience to enjoy this course! We'll start with the most basic techniques. I'll explain EVERYTHING. You'll love it, I promise! You'll be planning quilt retreats in no time!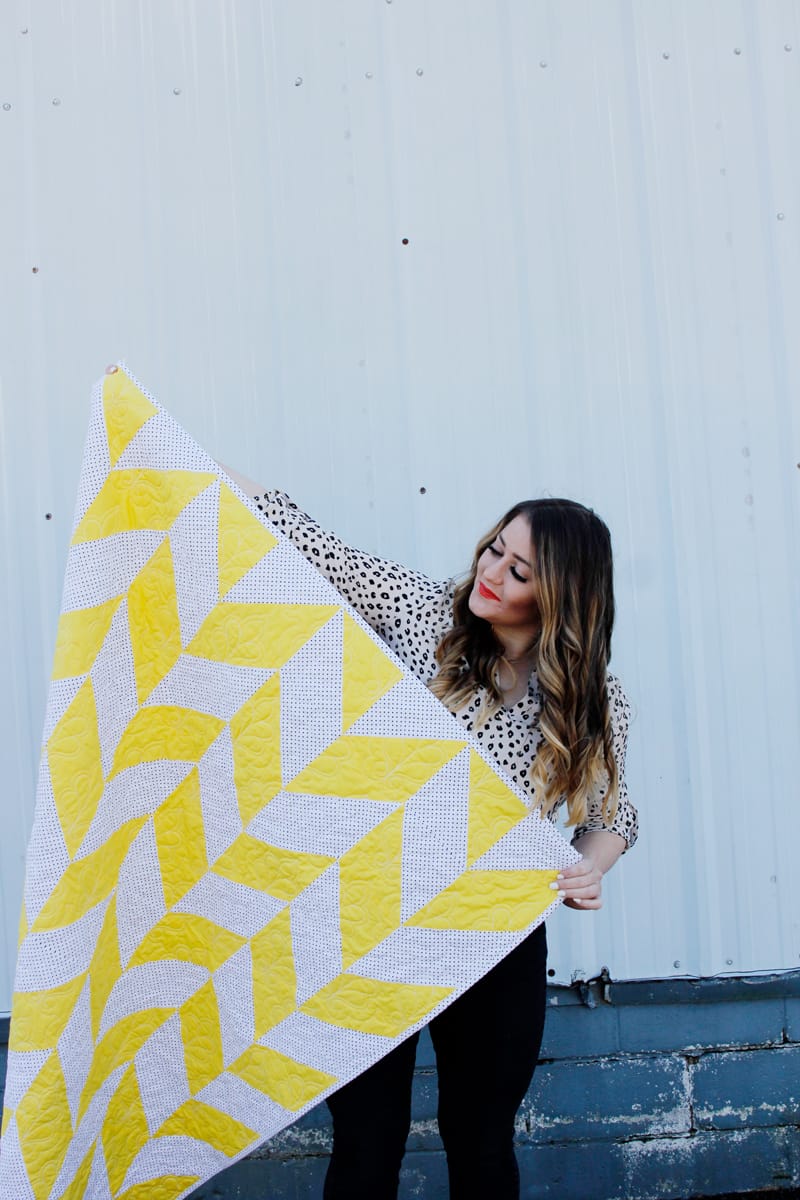 YES, I want to sew a quilt!
Sign up for the course here and print off your supply list! You can sew whenever you want with this self-paced course and you access DOES NOT expire!

Learn to Quilt FAQs
Are these patterns hard?
Nope! This course is designed for the sewist that doesn't quilt – but wants to! I'll hold your hand as I introduce basic quilting skills. Each quilt pattern introduces a new skill – they build on each other! You'll love your quilts and newfound confidence.
What if I don't think I can sew perfect enough for quilting?
Learn to Quilt is full of quilting secrets to make your points sharp and your squares straight!
How do I access the Learn to Quilt videos?
Learn to Quilt is hosted on a super simple interface – even the non-techy can figure it out! Everything flows easily and the course will guide you where to go!
How long do I have to finish?
There is no deadline and you get unlimited access to the course and videos!
I'm so busy, will I have time to make these?
No worries…this course is self-paced! Sew a little when you want or devour the course in a week! The techniques and skills in this course are quick and easy to make your quilting experience simple and fun!
What if I'm not a total beginner? Will I enjoy the Learn to Quilt course?
Yes! You'll learn something new and enjoy sewing socially in the Facebook group!
What kind of sewing machine do I need?
Just a basic machine! You'll also need a quilting ruler and rotary cutter. Oh..and FABRIC!
What if I get lost?
The Facebook Group is here for you! Join and ask your questions – or simply email me!
What do I do with my quilts?
Snuggle up on your couch, hang them on your wall as decor, gift them to friends and family or even donate to worthy charities!
How do you know I'll like Learn to Quilt?
I put my heart into this course and developed the curriculum I wish I had had when I started quilting! I know you'll love it but… If you are unsatisfied with your purchase, return it for a full refund. *Within 14 days