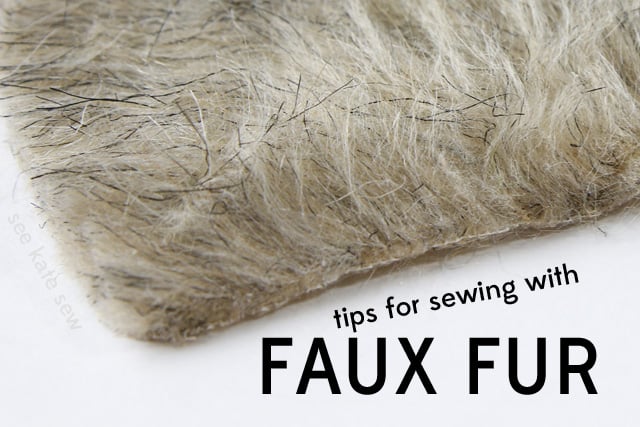 //Pay attention to the direction of the fur as you cut your pieces. It will act like a one-way design, so you may need extra yardage to compensate.
//When sewing a seam, brush the fur away from the seam to prevent it from getting too caught in the seam.
//After you sew the seam, make it look more natural by gently pulling the fur out of the sewn seam with the dull side of your scissors.
//Faux fur can get thick really quickly, so be gentle as you guide it through your machine. Using lots of pins will help compact it. You may have to lift the presser foot to get it in there. Once it's in if you're having trouble maneuvering, just sew slowly.
//Check for pins when you're finished. And check again! Especially if you're giving the item to a child. Faux fur is so hairy which makes losing pins really easy.
//Faux fur is messy!! Make sure to vacuum right after. You'll inevitably cut off chunks of fur and it will float all over your room. It also sticks to other fabrics, so watch out! Cohen got some in his mouth and he did not like it!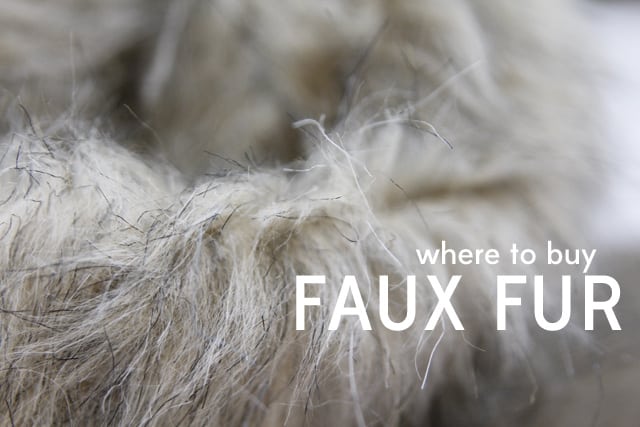 //Fabric.com has a lot of different types of faux fur in every color you can imagine. faux ostrich fur
 Got it. Siberian tiger?
Yep. How about dalmation
, husky
or mink
? Check, check, check. And in case you really need some purple luxury shag fur
 (because why wouldn't you!?), they have that, too!
//Joann
 actually has a decent selection this year! They have about double the colors and styles I saw last year and they aren't too expensive. The fur I used in the trapper hat tutorial is from Joann. It was 14.99 a yard, but I used a 60% off coupon so it was WAY cheap! And one yard of fur goes pretty far.
//I also saw some unique faux fur, including faux sherpa at Hobby Lobby.
//If you're looking for a large yardage of faux fur, check out places like Target for faux fur blankets. I saw a few on the clearance rack a few weeks back and was tempted to buy one for a fur coat or something. The yardage for the price is usually pretty decent when buying blankets to cut up.
//I saw tons at Britex this summer, but alas it was dang expensive (but SO soft!). The price made me wonder if it was actually real. At least it was fun to touch. So if you're in SF, check out the top floor!
//And if you want some real fur, check out estate sales! (Or the middle of the road!)
If you need a faux fur project, check out the little fur vest or trapper hat! I have one more furry project coming next week!
Have you spotted faux fur anywhere else? Have any more sewing with fur tips? Would you ever sew with real fur? I'm not sure I could do it!