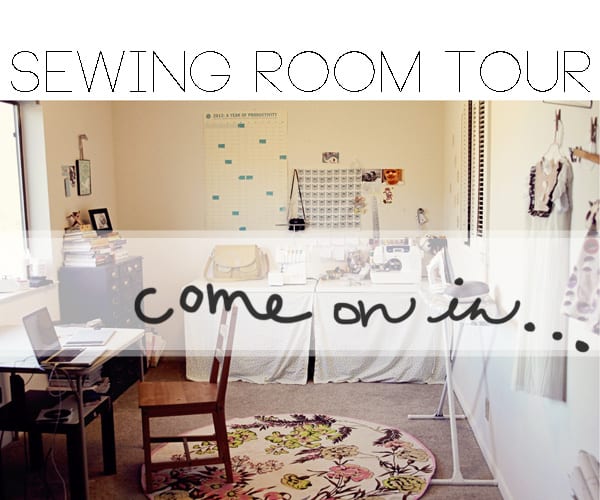 I feel like I've been trying to clean up my sewing room enough to share pictures of it for about a year! But as soon as I get close to having it all clean, I start sewing again. And then…stuff is everywhere! I'm not a tidy sewer. Those people with pristine sewing rooms make me wonder. Crafting is messy, right? I love surrounding myself with supplies, things I love and..well stuff! So, it's a clean space, but it's usually full of crafty clutter.
My sewing room is our dining room. When we moved, we knew we needed a separate space for my sewing. It's too hard to contain so many art supplies on one table. I need my sewing machine out at all times. When we found this apartment, the dining room was huge! I knew it would be great! We ended up blocking off the room with a long piece of plywood (tacky, yes) to keep the baby and the pins separate. 
So enough talk, here's where I spend most of my time: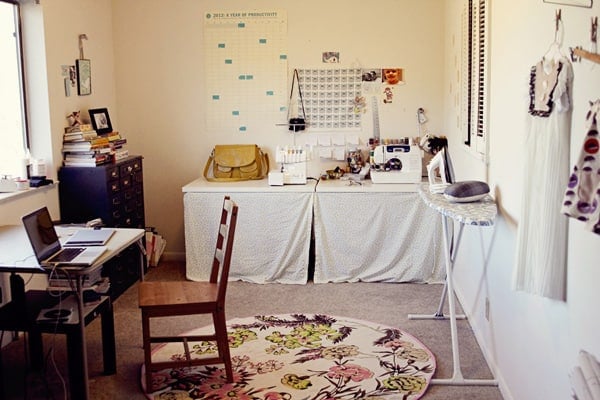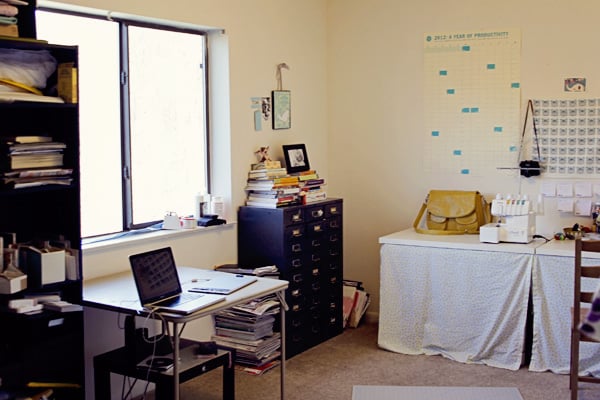 My favorite room full of all my favorite things! I don't have any expensive furniture and really just worked with what I had for the most part. The wall decor is ever changing. I try to use my sewing supplies as most of my decoration–they inspire me everyday!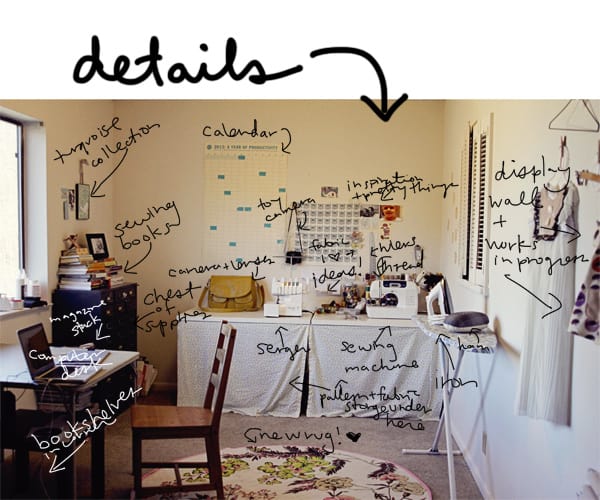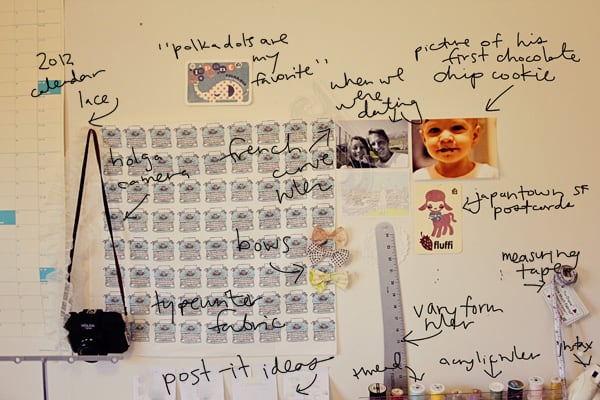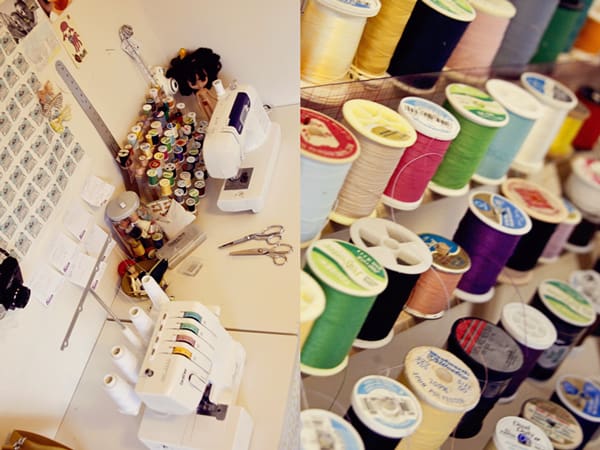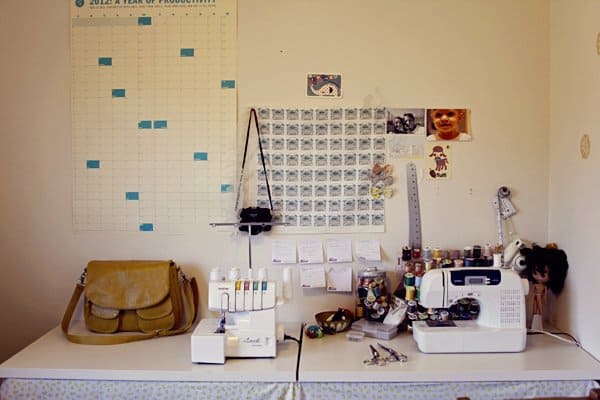 I used a vintage sheet to cover up all the storage space underneath my sewing tables. It really made the room look a lot less cluttered.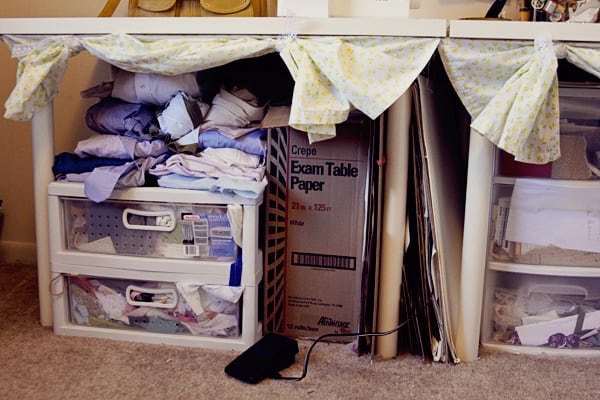 Those plastic bins on the left are full of scraps. On top is my men's shirt stack waiting to be refashioned. My pattern paper, and on the right, all my commercial patterns and silkscreens.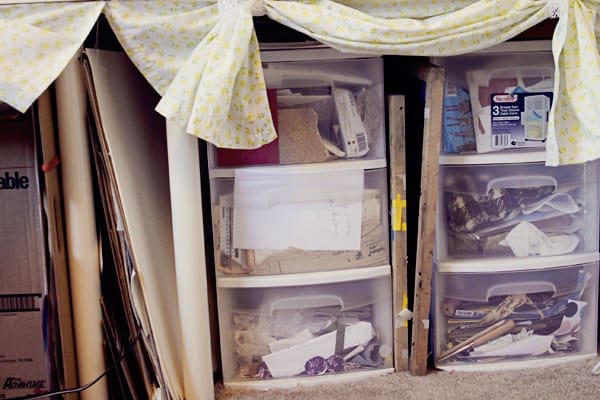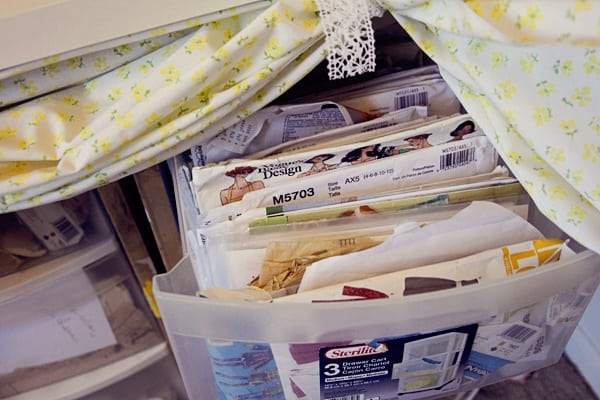 I keep my larger lengths of fabric on a bookshelf in the corner.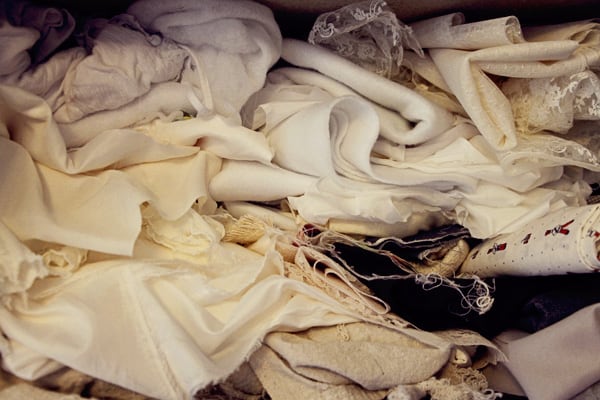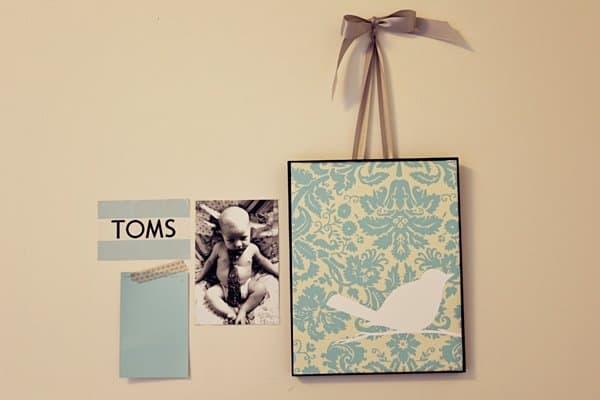 (a turquoise+grey collection above.)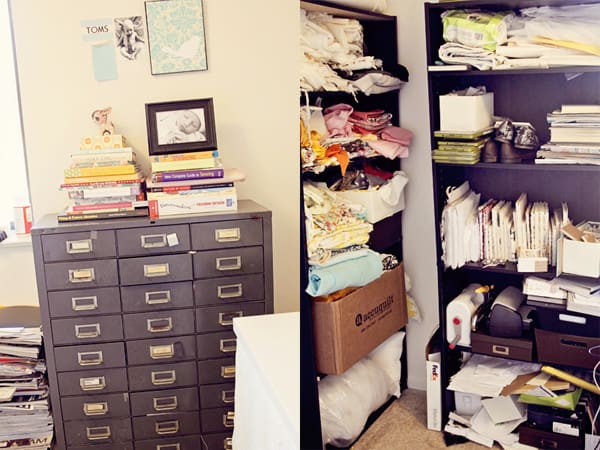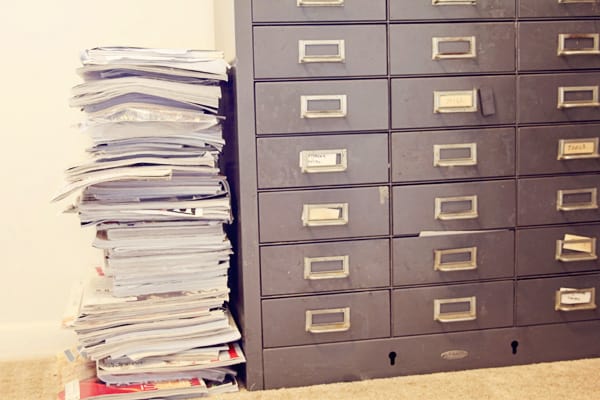 I love magazines, great for inspiration! But I have a hard time getting rid of them, too.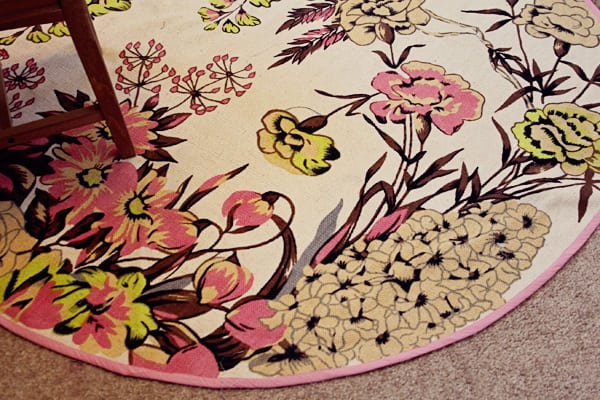 a few sources:
-white sewing tables: IKEA($20/each)
-chest of metal drawers: vintage (more details soon!)
-my new rug: Urban Outfitters I found this on sale for $25! I just got it a few weeks ago and I love it!! I didn't feel like this room was "done" until this rug arrived. It was a total impulse purchase. And a note about having rugs in a sewing room…it is a great idea! Pins can sink themselves into carpet, but with this kind of rug, they just sit right on top!
–typewriter fabric: c/o aubreyplays


I'll tell you more about my metal chest and all those books on top soon! I've never given a room tour before and I feel like I left out lots of details…so if you have a question about anything, feel free to ask! 


Thanks for taking a peek at my sewing space!