Friday morning we woke up to a blanket of white snow. I'd been enjoying the snow-free weather, but then I remembered how pretty snow is. So pretty. I love the quiet that comes with it, too. 
To celebrate the first snow I made a hat from an old sweater. One of my goals for this new year is purge my closet so that it is full of only things I love. I liked this sweater when I got it, but it has a hole now, which I could fix…but I also washed it with a brand new sweatshirt and it has sweatshirt specks all over it. I could get them off, but I never really liked the way this sweater fit anyways. It felt so good to cut into it!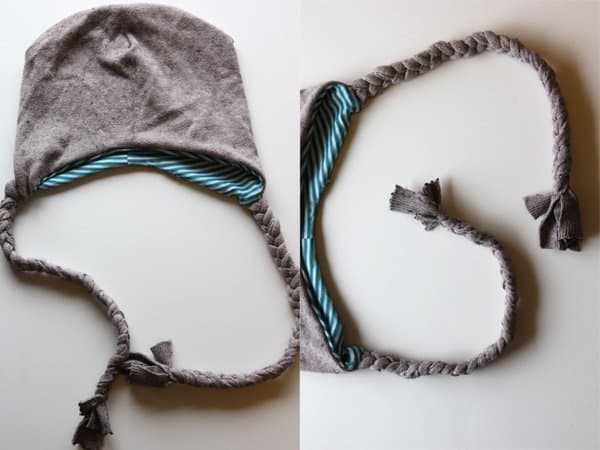 I made a printable pdf for you! Happy first snow day to you! 


Materials:
–snowy day hat pattern download (free!)
-1 old sweater
-1/4 yard stretchy knit fabric for the lining


-stretch needle
-needle + thread 


Start by cutting open one side of the sweater, along the side seam. Keep the other side seam intact. You can also cut off the sleeves so they don't get in your way.
Fold your sweater back along the side seam so you have the front and back layers on top of each other. Then print out the pdf and pin it on the fold.
Cut along the pattern piece, adding about 1/2″ for seam allowance. If you're making this for a child, you don't have to add any seam allowance.
You'll have a big pattern piece. Sew the top notch together, folding it with the right sides together.
 Fold it on top of itself with right sides together and sew where indicated:
Repeat with your lining fabric.
Then sew them together at the top and braid until you are almost finished. When you are almost at the end, stitch and backstitch to keep your braid in place. 
Now unpin the earflap part where your lining and outer fabric meet and stuff in the braid. Leave just a little poking out. It's pretty thick, so when you sew it, just go slow over these.