This post is sponsored by Ford as a part of the Switch it Up campaign. Ford has challenged me to "switch it up" and try something new!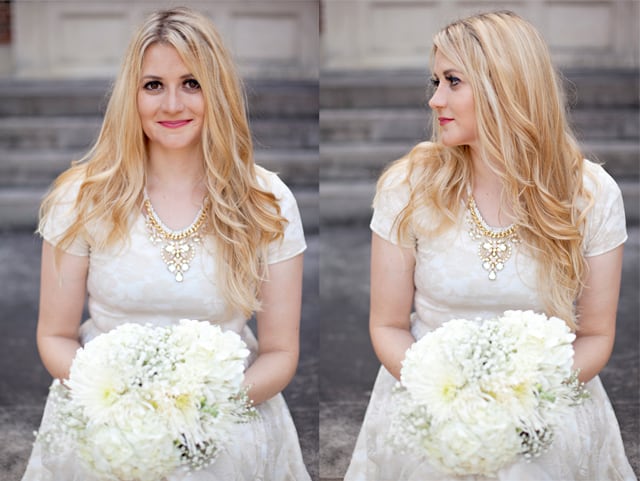 I didn't make my own wedding dress, which I don't necessarily regret. But I always thought it would be fun to make one, so I took this challenge as an opportunity to do it! It was the first thing that came to mind when I thought of doing something I had always wanted to try, just for the sake of doing something new.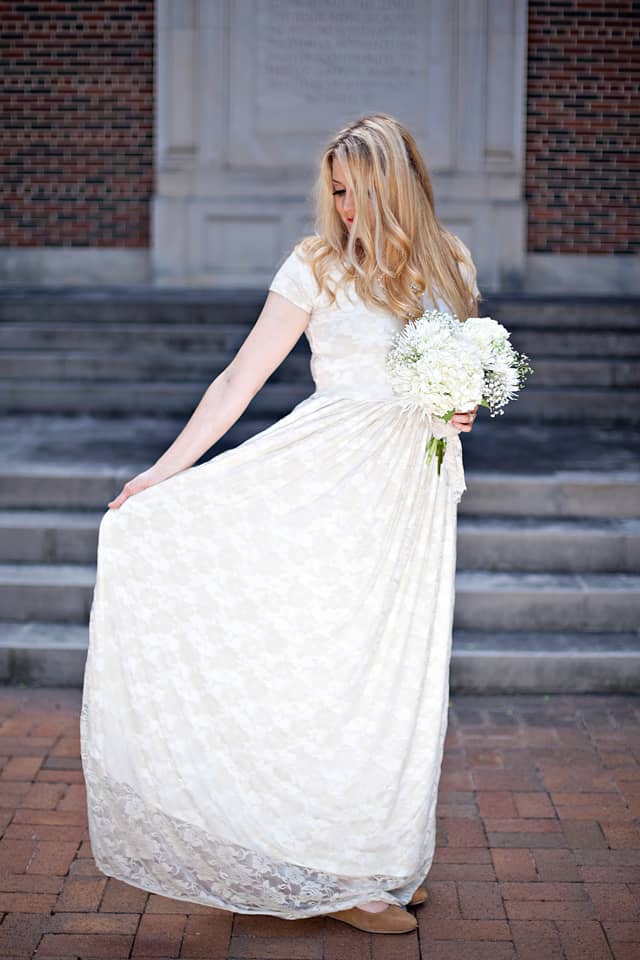 I've had the idea in my mind to use the Penelope Peplum pattern as a base for a wedding dress. This dress is actually pretty simple, it's just a Penelope Peplum with the dress add-on and extra length. Really, that simple! It took me about 3 hours of sewing, including cutting the pattern pieces. I used a stretch lace as an overlay and I'm pretty happy with it! It was fun to make, an one of those "sewing bucket list" items that I can check off.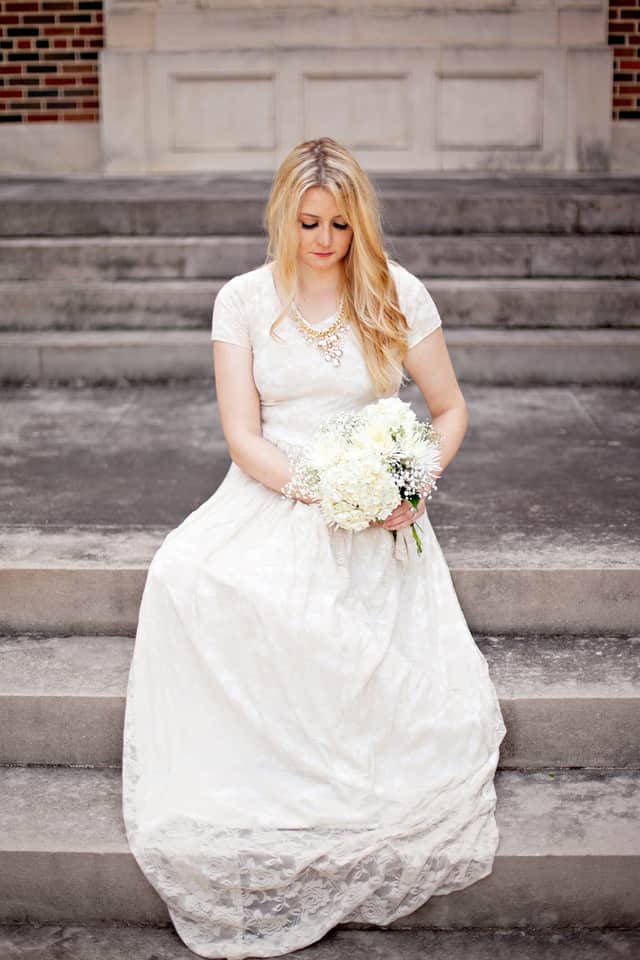 And who has ever heard of a KNIT wedding dress?! But I really love the drape of a heavy knit and it's super comfy. I think there should be more knit bridal wear! I'm actually pretty excited to wear it as a maxi dress for special occasions. I used a stark white knit and an off-white lace.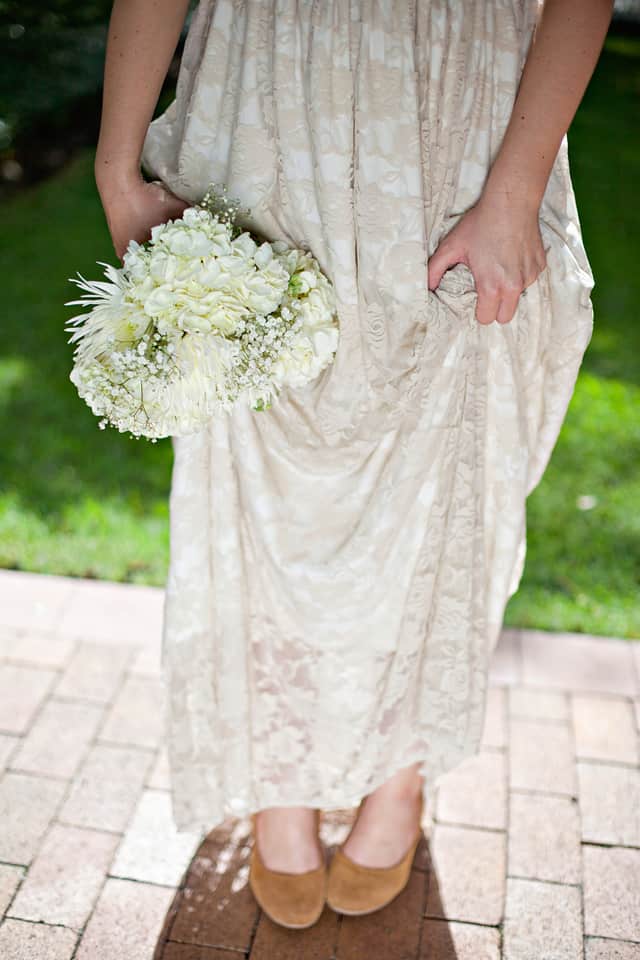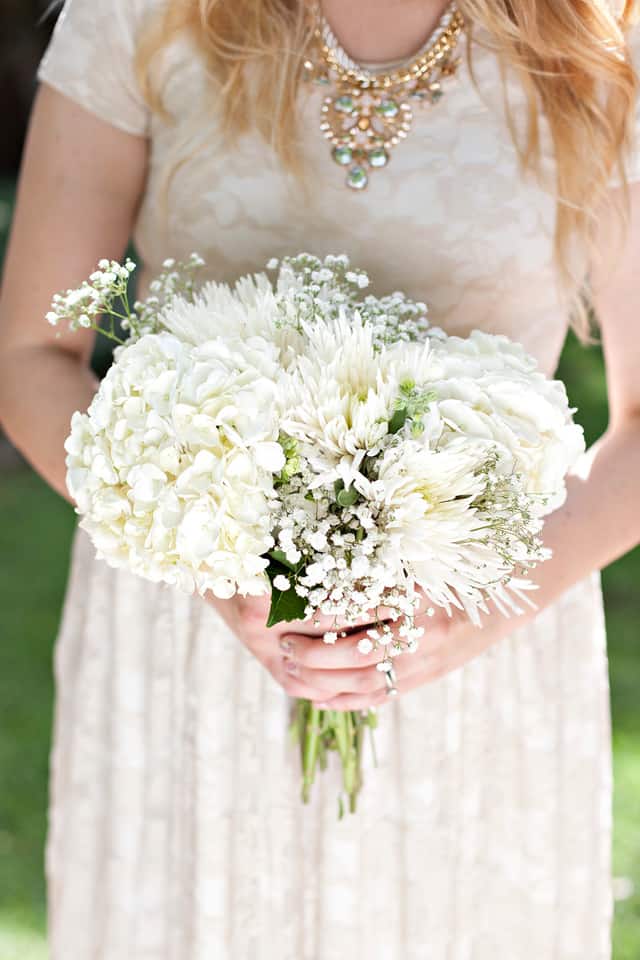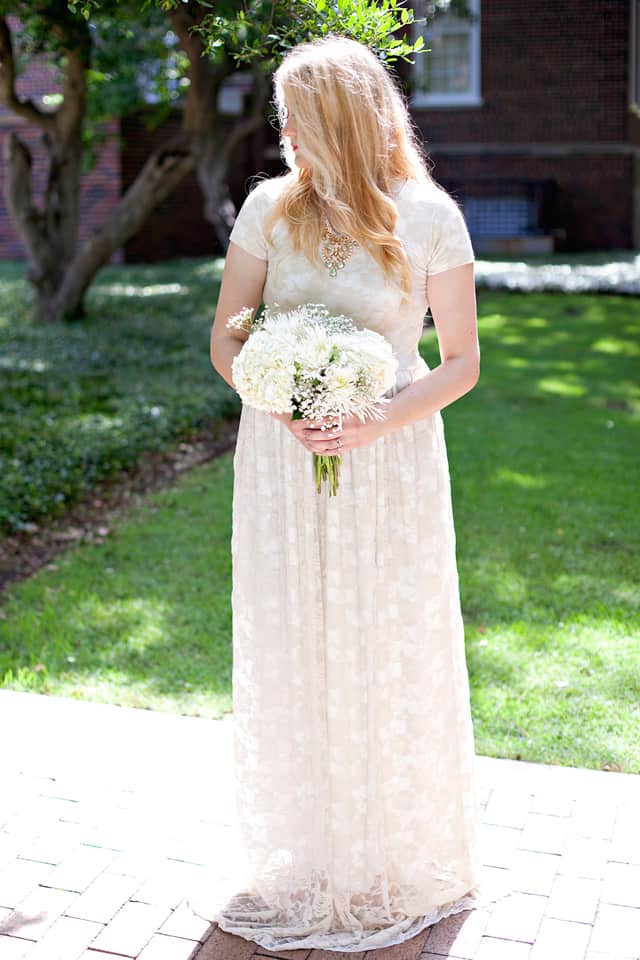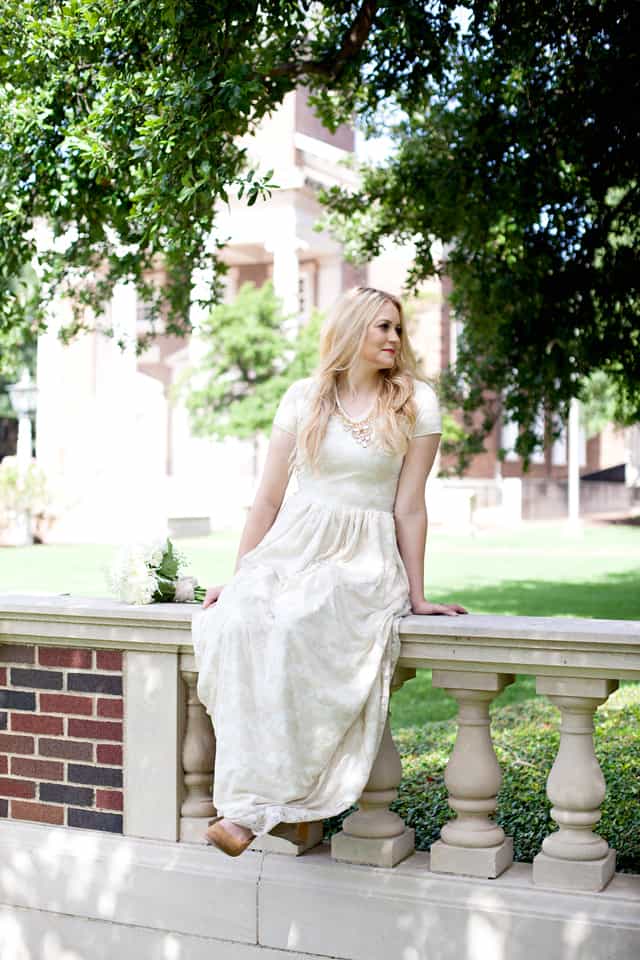 Ford has put together a series of videos with experts Switching it Up and trying new things on their YouTube channel. This one includes a PS, I Made This DIY, it's so cute!
It was really fun to get all dressed like a bride, if only for a photoshoot. I got the flowers at a grocery store and picked up a necklace at Target. It was all the thrill of planning a wedding without all the stress! I'm so glad I made my first wedding dress!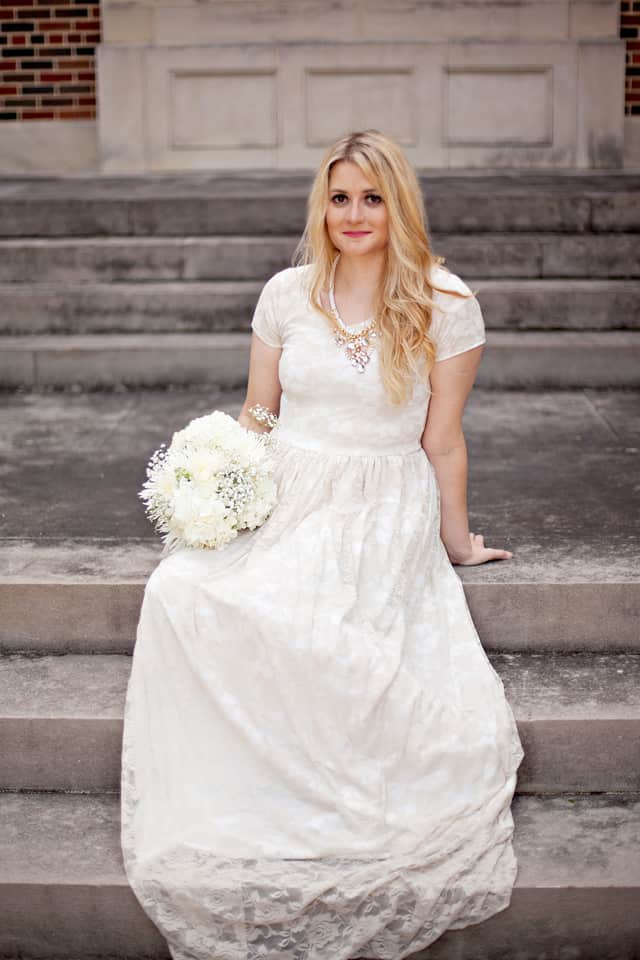 DIY lace wedding dress//
Materials:
-3-4 yards white ponte knit, mine is from Girl Charlee
-3-4 yards stretch lace
–Penelope Peplum + Add-on
-walking foot, optional.
A walking foot it a good foot to use with knits and also with thick fabric. Since we are gathering a few layers of fabric together, it's a good option! A regular presser foot works fine, too.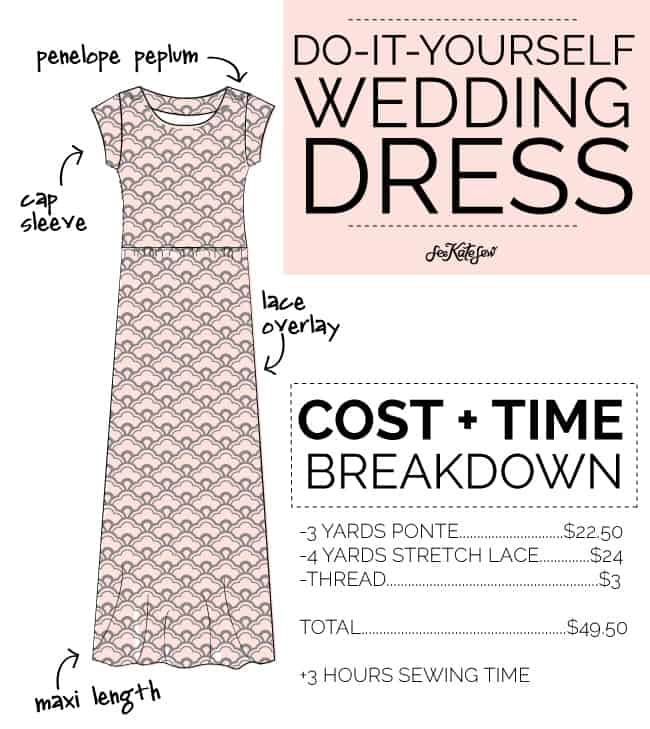 To start, you'll need to calculate your maxi skirt length. Use your height and multiply by .62. Then add a few inches for the hem. Use that number as your skirt length. The widths are all based on the pattern width for the dress-add on to the Penelope Peplum. Cut out two skirt pieces using these two measurements.
Now cut out the rest of the pieces from the ponte. You need all the pieces, including the facings.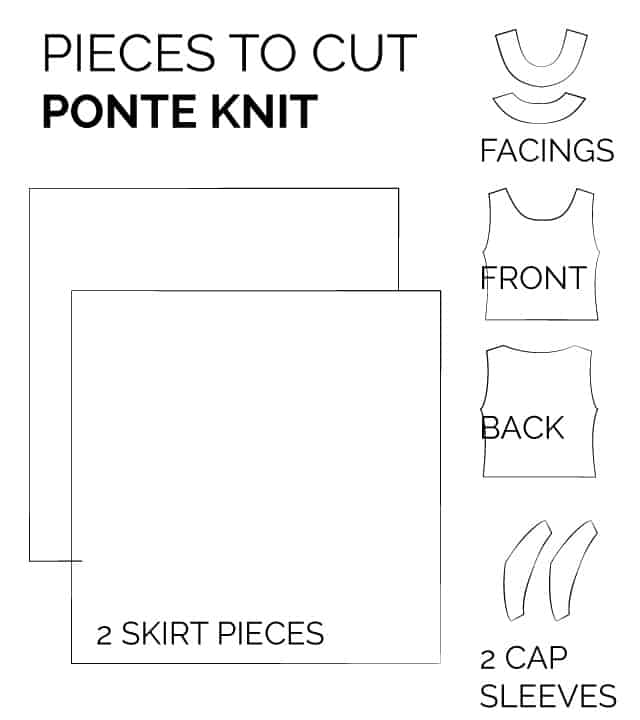 Cut all pieces EXCEPT the facings out of the stretch lace fabric.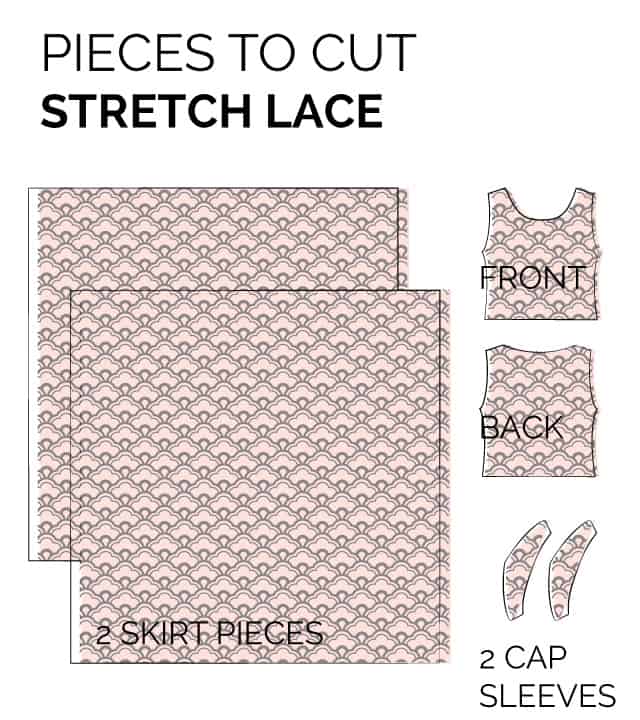 Variation: I made my ponte skirt about 6-8″ shorter than the lace overlay, so there is a little extra lace hanging down. I did this on accident because I was running out of ponte, but I like the result!
I've done lace overlays before, but never as successfully as this. Usually I baste the lace to the fabric first, but this time I just used pins to keep it together. By doing it this way, I was able to keep the overlay smooth.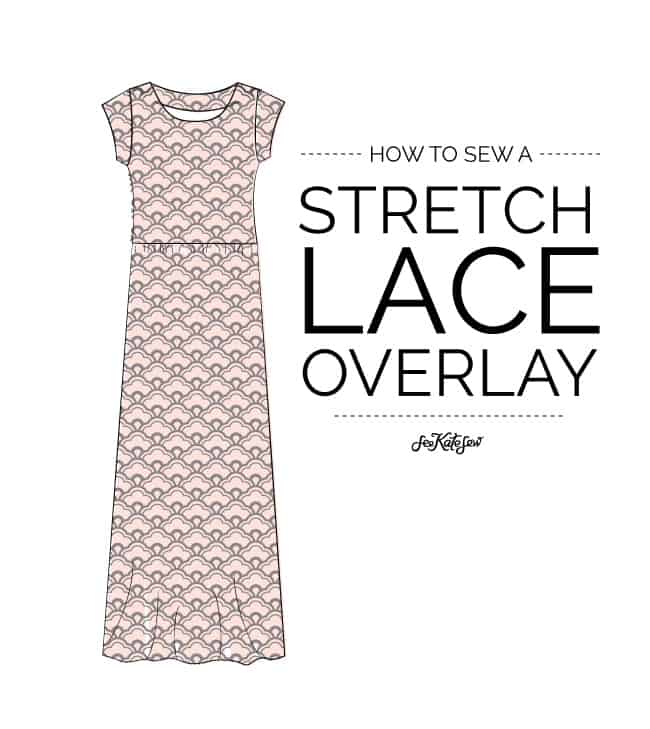 1. Use a Microtex needle when sewing with lace. This is a super sharp needle that won't snag fabric. I also use these needles for other fine or delicate fabrics.
2. Cut two pieces of fabric from each pattern piece: one from ponte and one from stretch lace.
3. Lay each piece of lace on top of ponte piece and smooth it out. The right sides of each fabric will be facing up.
4. Smooth over and pin fabrics together around edges.
5. Sew pattern pieces together according to pattern instructions. Be sure to smooth each piece of lace down as you go.
6. Hem fabric as one layer for sleeves. For hem, I prefer to keep the layers separate so they drape separately. You can use the finished edge already on the lace, or create a small rolled hem, by hand or by machine.
That's it! You're done!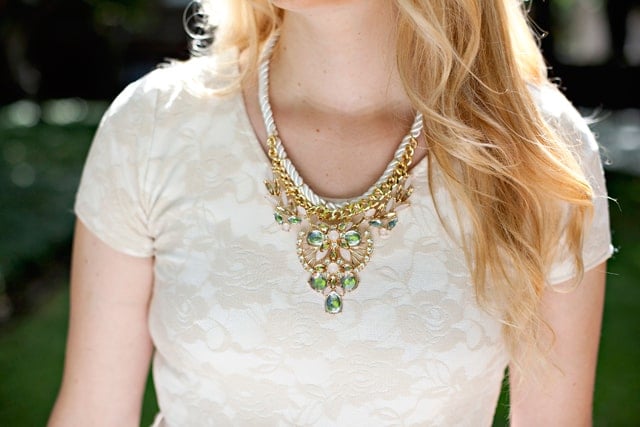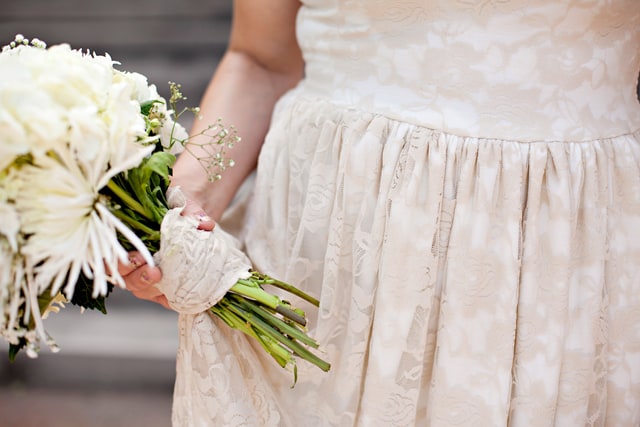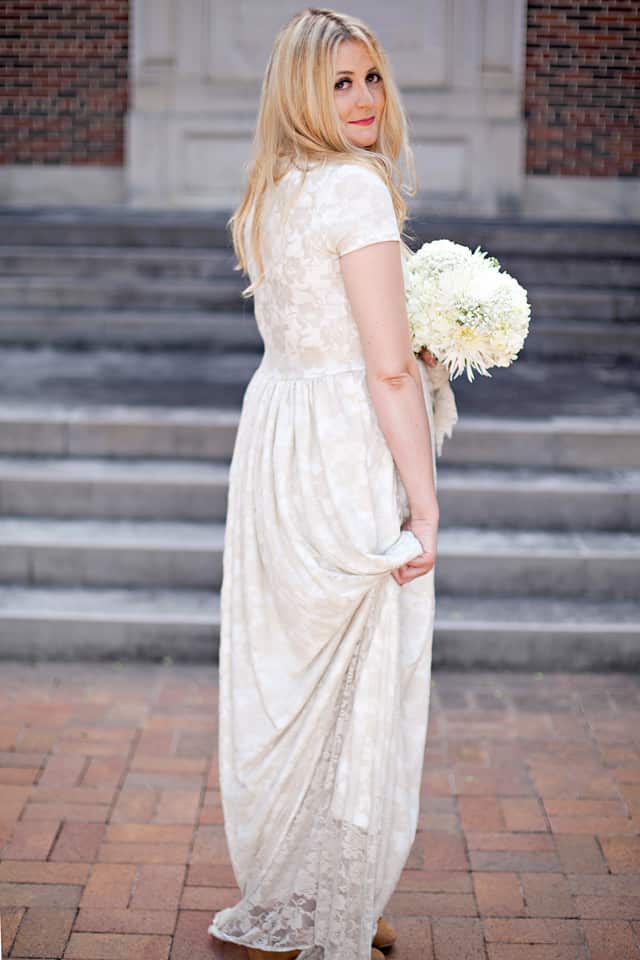 It always feels good to do something I wasn't sure I could do. If I make another wedding dress, I'd like to try a different style, maybe a ballgown skirt or a finer fabric like chiffon.
I hope this post inspired you to try something new!
Have you ever sewn a wedding dress?
SaveSave