I'm really excited to release the Aztec Hooded Vest pattern today, this pattern is SO fun to make(at least I think so!). The Aztec hooded vest is a reversible zip vest with an oversized hood, suitable for boys and girls size 12-18m to 8! (12-18M, 2T, 3T, 4T, 5, 6, 7 and 8!)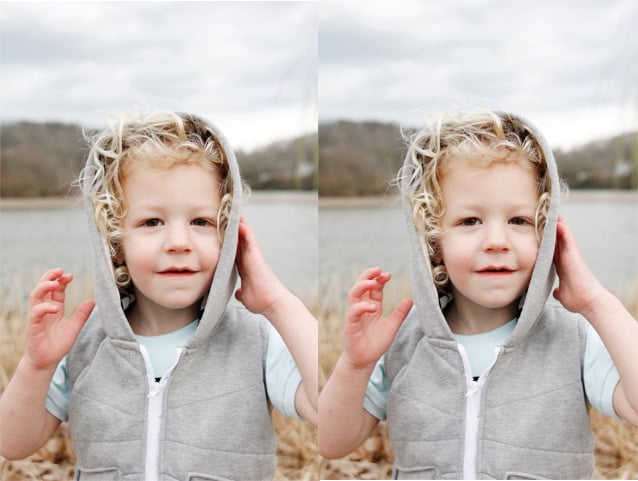 This vest was originally part of my Aztec Spring look. I changed it up a little to make it fully lined and reversible. The hood was really the starting point for the vest, it's really big!
I really love the layered look and this vest is perfect for that, especially in the springtime! But I am excited to make some thicker ones(maybe with a layer of batting in the middle?) when winter comes along again.
So far I have made this vest with wool, sweatshirt fleece(seen above), coating(see below) and also lightweight quilting cotton. Some of my testers used stretchy knits, also. The fun part is pairing two fabrics, one for the lining and one for the outside. If you use a reversible zipper the hoodie is totally reversible!
The aztec hoodie is fully lined and has open welt pockets on the front for a little geometric flair. It is fairly quick to sew and includes instructions for the chevron topstitching.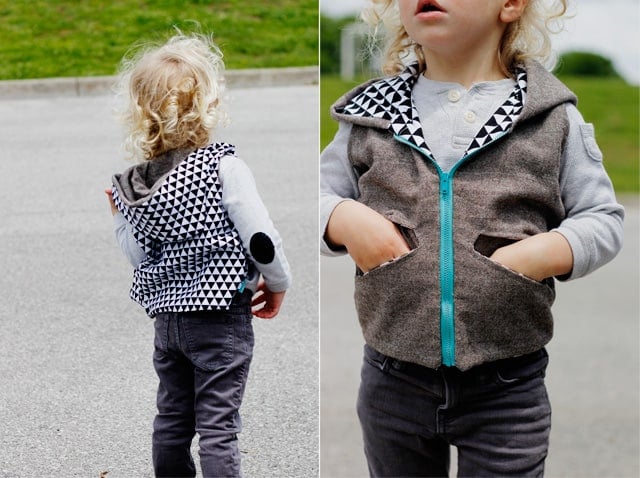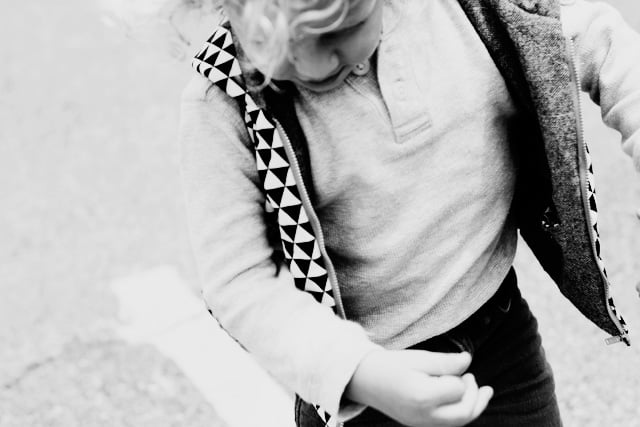 This pattern is available in my shop!
I have another Aztec hoodie to show you on Wednesday, it's my new favorite one…and a fun summery series to kick off, too! See you soon!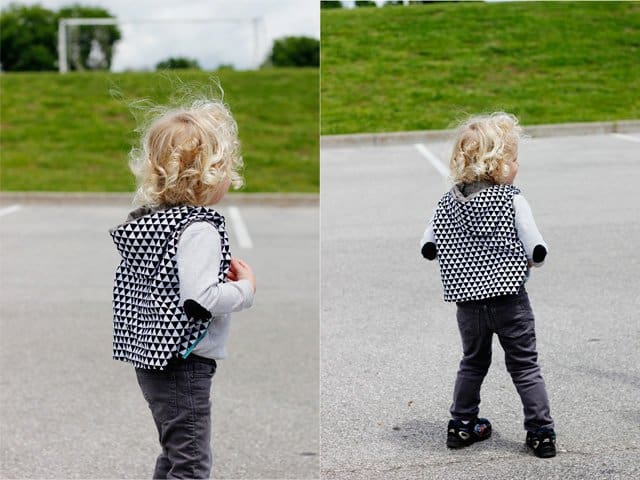 P.S. This post has a big hint on my fabric from the Fabric Match-Up Giveaway! My fabric was the black and white triangles, I just love it! I thought it was kinda obvious, I used it in the envelope clutch sew-a-long and my recent boy fabric round-up, but some of you were stumped! The first person to match all the fabrics was Teagan and the random pattern pack winner is Mae! Thanks for playing, I thought it was so fun to see all the fabrics, though I didn't even try to guess!