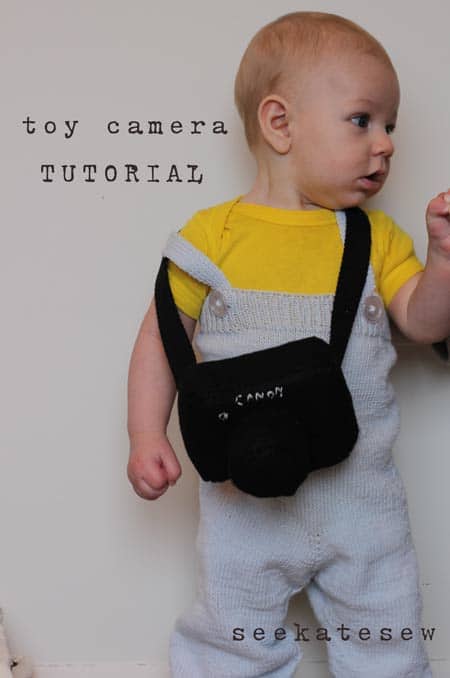 This year's new year's resolution is to take up photography. It's not a traditional resolution, more of a long-term project. I saw a cute toy camera somewhere and had to make one for baby
. Had to. So cute. Since he stares at my camera most of the day (what else do you take photos of??), I thought I should get him excited about our resolution.
He wasn't too sure about this idea at first.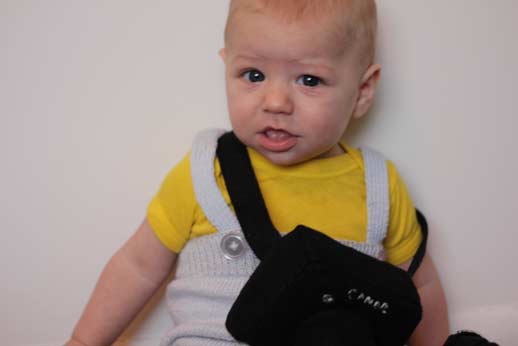 But I think he changed his mind. Or he got hungry.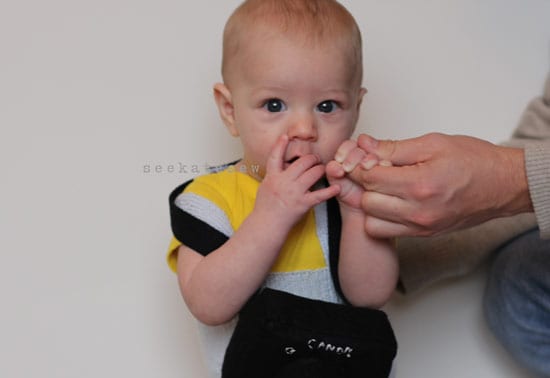 Want one??? Here's a tutorial. You need about 1/4 yard of black felt, a little bit of vinyl and some embroidery thread.
Lens top: 1 circles 2.5" diameter
Controls: 1 circle 1" diameter, 
1 circle 3/4" diameter
Strap: 3/4 yard belt like something for strap
embroidery floss for accents
photograph cut down to 2.75" by 2"
I used 1/4 yard of felt and had plenty left over.
Step 1: Sew the "viewfinder," "navigation circles," and "LCD screen" to the camera like so. Make sure you only sew 3 sides of the LCD screen down, leaving the top open so you can slip a photograph in it. Backstitch ends of stitch on the vinyl.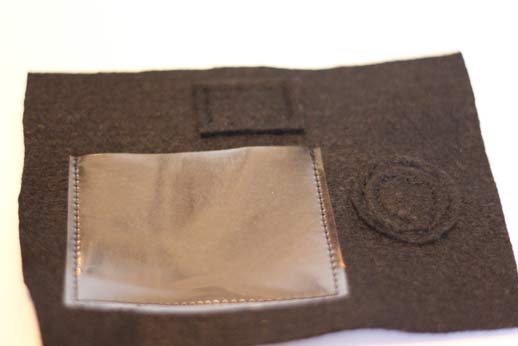 Step 2: Sew the long strip into a circle to make the lens.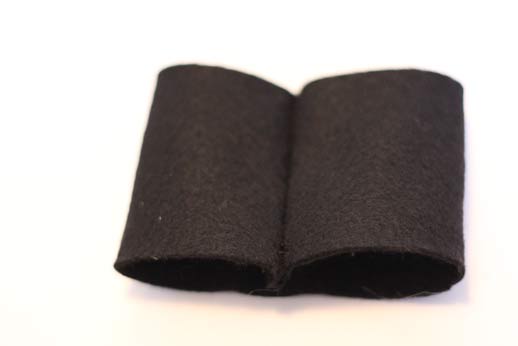 Step 3: Pin the 2.5″ circle to the lens with wrong sides facing out. Using lots of pins will make it easier to sew.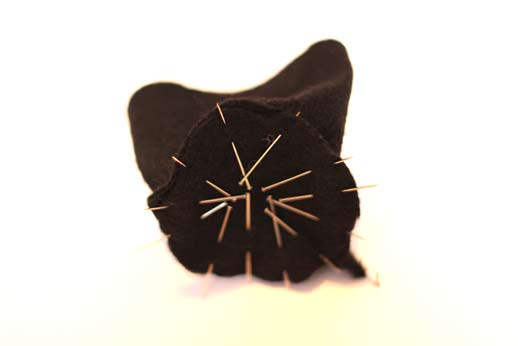 Step 4: Turn lens inside out and stuff with fiberfill. Stuff it halfway full. Then fold over and pin the open edge.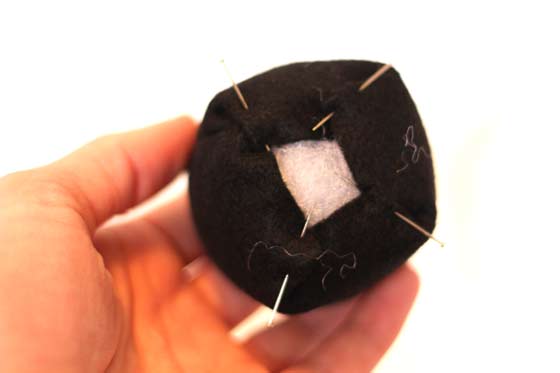 Step 5: Sew the lens to the front piece of the camera using a needle and thread. (If you want to add little things like buttons or logos with embroidery thread or regular thread, do it now. I didn't do it until later and it was harder that way!)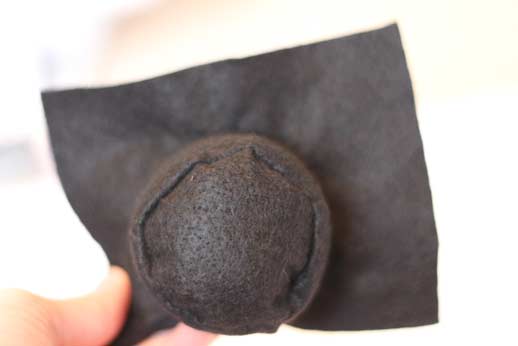 Step 6: Sew sides of camera to back, inserting ribbon or belt material to make the camera strap.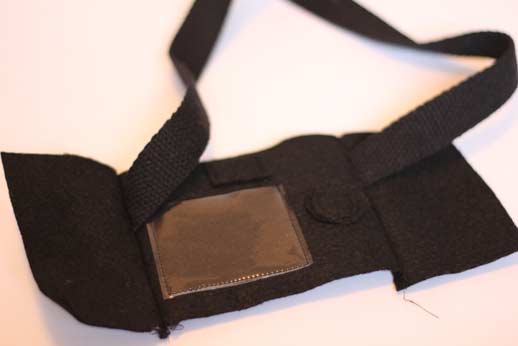 Step 7: Sew the top and bottom onto the back and then onto the sides.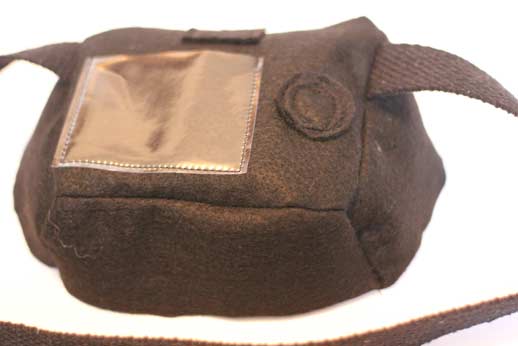 Step 8:  Next, pin the front(complete with lens) onto the rest of the camera. Everything you want on the outside of the camera(LCD screen, strap, etc) needs to be on the INSIDE of this little sandwich: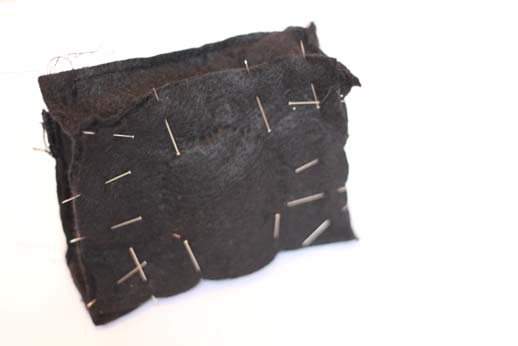 Step 9: Sew around the edges, leaving a 3″ hole. Backstitch where you stop sewing and turn the whole thing inside out.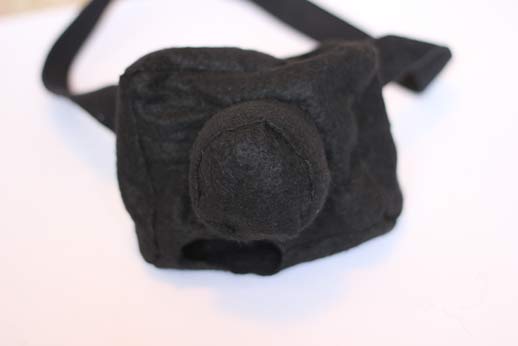 Step 10: Stuff it with foam and/or fiberfill.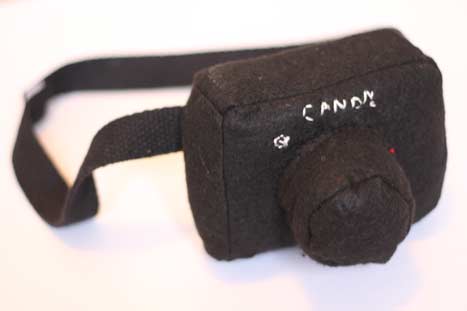 Step 11: Cut a photo down to size and slide it under the vinyl. Cut the ribbon or belting in half and sew on velcro.