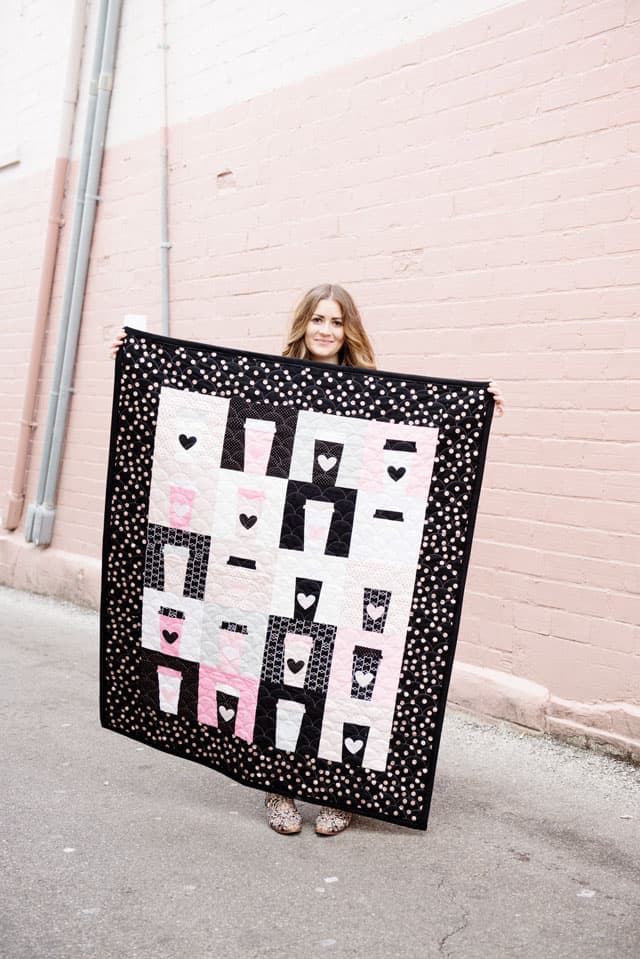 It's finally back! I sent my Coffee Cup Quilt pattern off for quilting with Crinklelove and it's back and quilted! I love how novelty this quilt is. I designed it around Christmastime when I was drinking a LOT of hot chocolate with peppermint. Haha.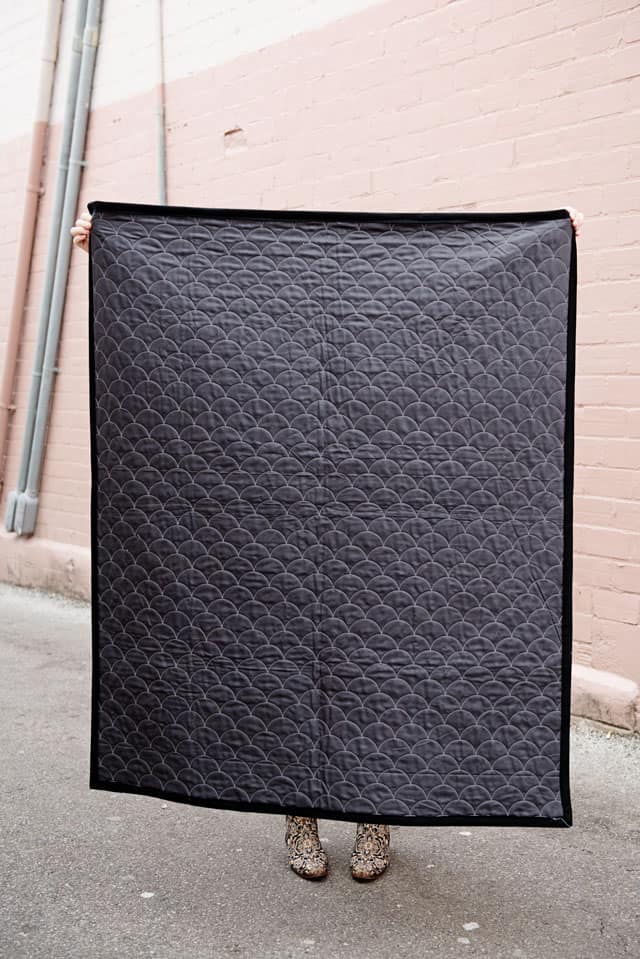 That cup was just always sitting in my sewing room inspiring me. I don't drink coffee but I think coffee culture is hilarious. So it can also be a hot cocoa quilt. I'm thinking about making one with red cups and greens for Christmas next year!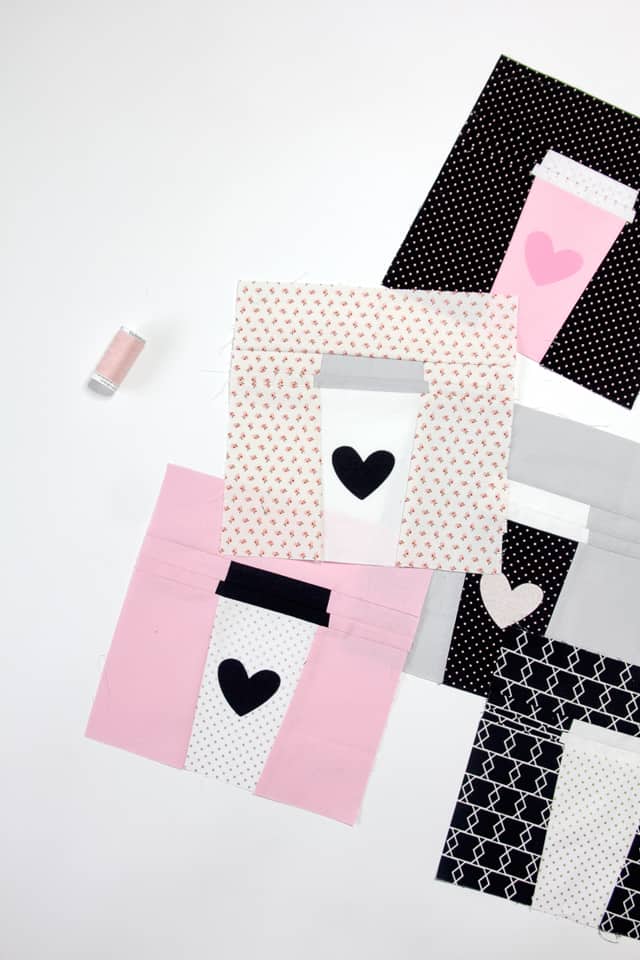 The Coffee Cup Quilt Block Pattern was a popular post and I'm so glad! It's been updated so you should be able to download it just fine now!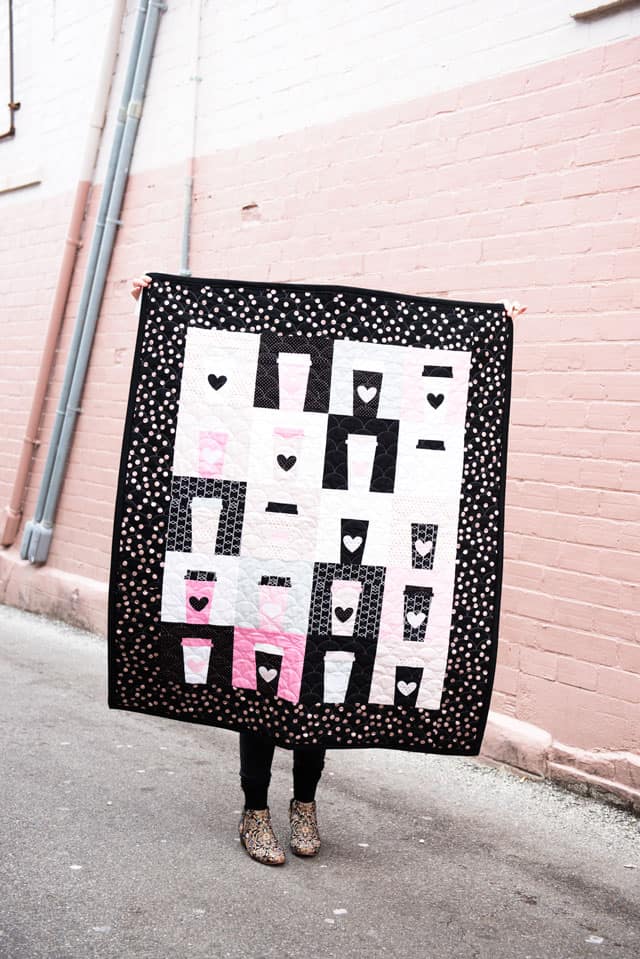 I worked with CrinkleLove to have this baby quilted, they quilted it up for me as a courtesy. I have used this service 3 times now, once for this quilt, once for the You're a Gem quilt, and a third time last month for April's quilt block of the month! I haven't received the third one back yet (turnaround time is 3-4 weeks), but Sarah shared a sneak peek on her instagram and it's MY FAVORITE.
CrinkleLove is a mail-in long-arm quilting service! Which is perfect for busy people who don't want to drop off a quilt and then go pick it up. Or if you don't have a local long-arm service, this one's for you! The process is incredibly streamlined…Here's how it works!
-Finish your quilt top + put it in a box with your backing material
Pick your batting. You can either send your own in or just choose an option
Send it to CrinkleLove!
In a few weeks you'll get an invoice and shipping info. And a few days later you'll have a quilt, finished, trimmed and ready for binding. It's magic! I usually rip open the box and don't look at anything, but with the Coffee Cup Block, I noticed this cute note enclosed. It tells you how many stitches were used on the quilt which I thought was fascinating.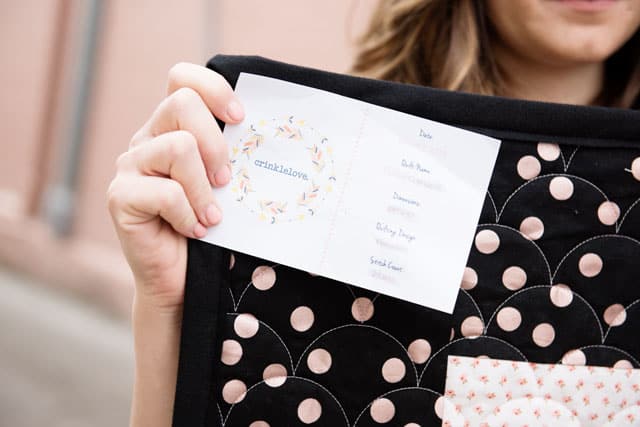 This quilt pattern makes a finished quilt about 48″ by 57″ which is a great lap quilt size for your favorite coffee lover!
Here's the quilt pattern and all the fabrics I used. In the coffee cup quilt block tutorial, I show you how to cut out the pieces on the Cricut Maker. It's super fast and my recommended way to quilt! But if you don't have the Maker, but have another model, the SVG file can be used to make a template out of card stock! The card stock will make the templates last longer. I've quilted using computer paper many times (triangle quilts!) but a thicker template yields straighter pieces for me.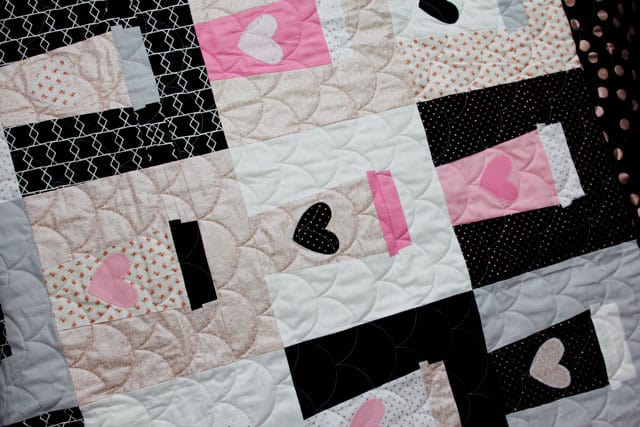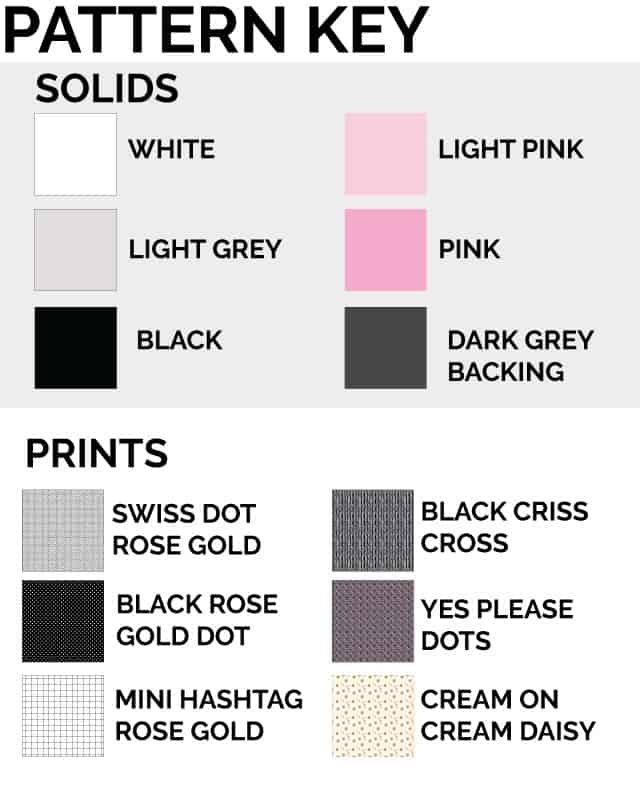 Coffee Block Quilt Materials
-2″ Binding, I used this brushed binding which is remade and soft. 
-applique backing for hearts, I prefer fusible
Solids-
–1/3 yard Solid White Cotton
–1/3 yard Solid Petunia Cotton
–1/3 yard Light Grey Cotton
–1/3 yard Black Cotton
–1/3 yard Rose Cotton
–2 yards 108″ dark grey backing
Prints-
–1/3 yard Black Criss Cross
–1/3 yard sparkle Rose Gold Metallic Hashtag
–1/3 yard cream on cream daisy 
–1/3 yard Swiss Dot Black/Rose Gold
–1/3 yard Swiss Dot White/Rose Gold
–2 yards Yes Please Dots for border
Each block is unique. (Crazy quilter!) But you'll just end up cutting the whole block out of most prints and then scrambling them up.
Coffee cup quilt instructions
Cut 3 full blocks (all pieces + heart) from:
-Hashtag
Cut 2 full blocks (all pieces + heart) from:
-White
-Black
-Grey
-Petunia
-Swiss Dot Black
-Cream on Cream Daisy
-Criss Cross
Cut 1 full block from:
-Rose
Extras:
Black: 1 set extra lid piece
1 swiss dot white/rose gold heart
1 light Petunia Heart
Border fabric: cut strips 6″ wide

two 6″ by 40″ for top and bottom
two 6″ by 58″ for sides
sew shorter strips together if needed.
Follow this chart to figure out which fabrics to put where: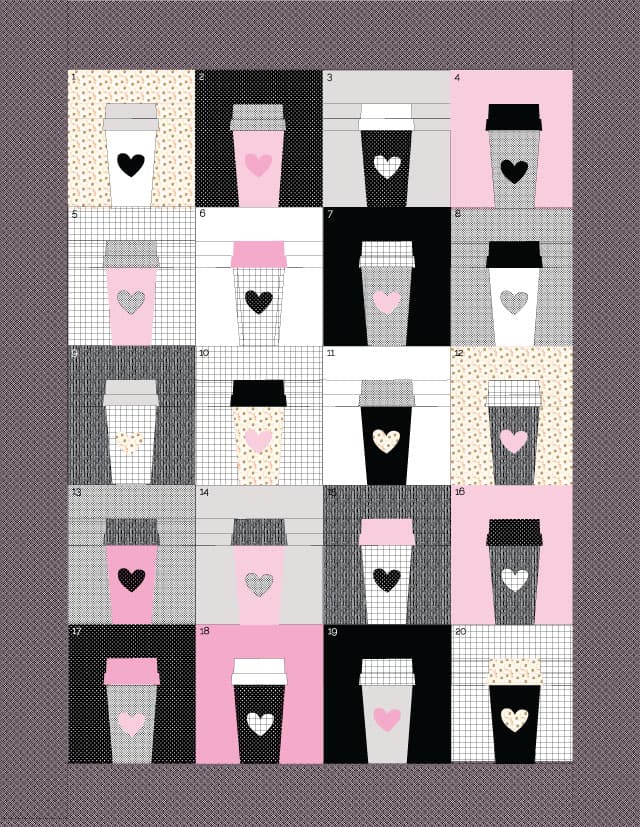 Assemble all the blocks using this tutorial. 
Once each block is done appliqué the heart to the coffee cup using a blanket stitch.
Assemble blocks 4 in a row.
Sew rows together and press seam allowances.
Add border to the top and bottom first.
Add border to sides.
And your quilt top is finished!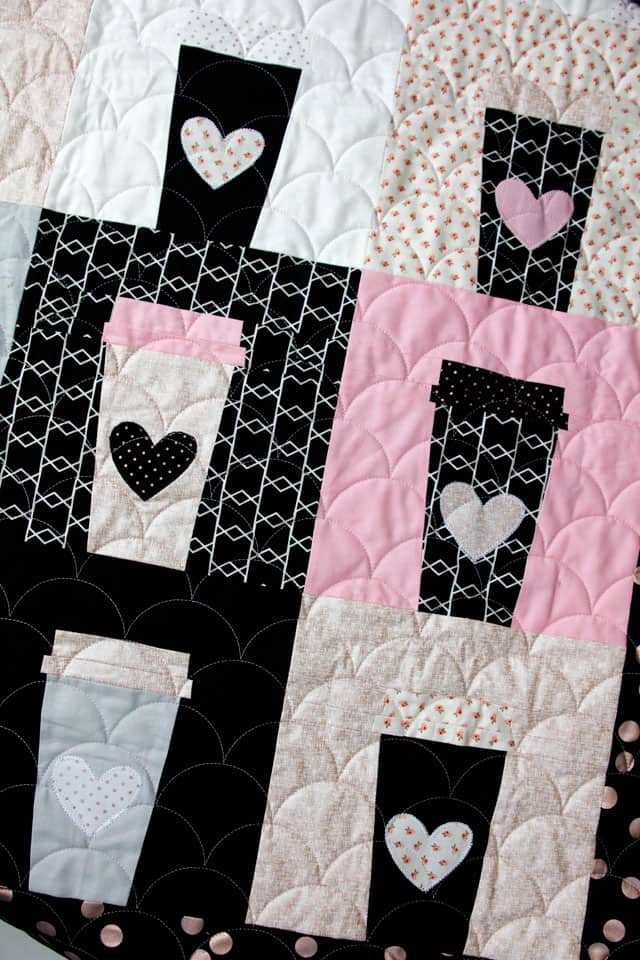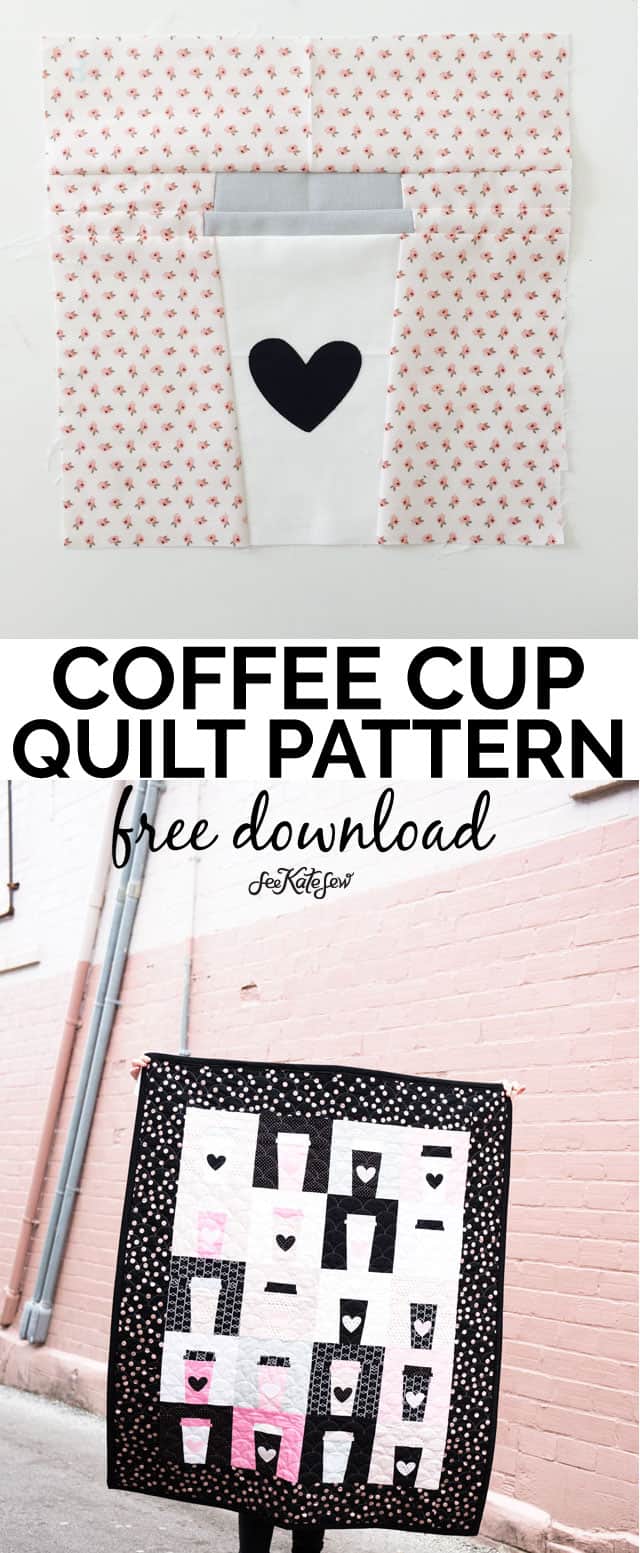 If you liked this post, be sure to check out QBOM #1 and QBOM #3! 
Love quilting? Join Pattern of the Month and get a new modern quilt pattern emailed to you EVERY SINGLE MONTH!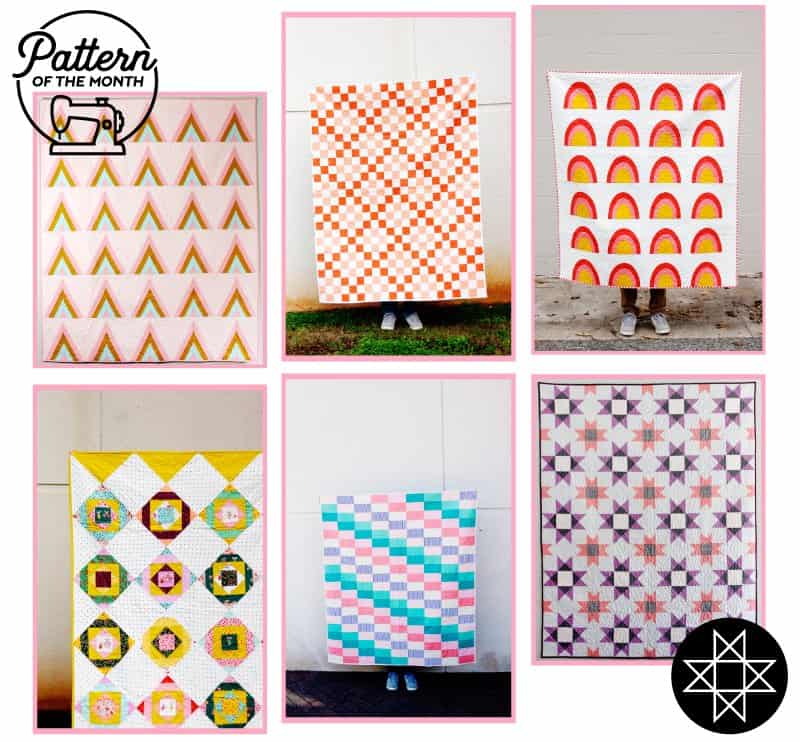 SaveSave