I'm on a clutch kick and I'm using the Cricut Maker to make all sorts of fun clutches! I just want to try everything in this awesome machine so clutches are a fun and fast way to do that!!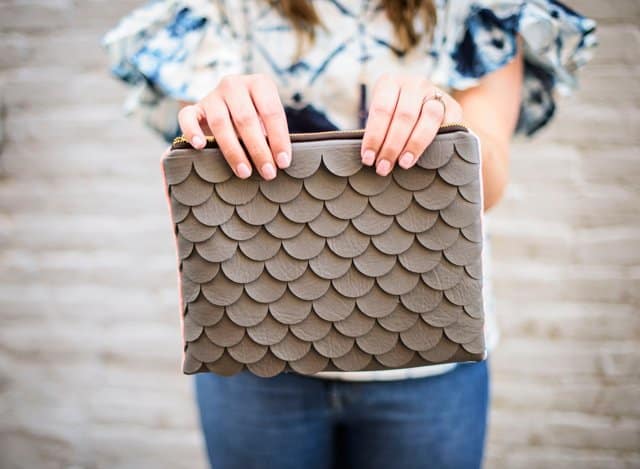 This one is made of thicker vinyl. I love scallops but can never cut them perfectly myself! The Maker made these ones FLAWLESS and so fast. I'm thrilled with how this turned out! The scallops are so gorgeous and the project was so easy! Wins all around! It has the perfect hint of mermaid scales, too! How fun would it be with shiny leather?
I think this is a fun girl's night out clutch. Below is a file for the scallops and clutch pieces. It's really just a zipper pouch with extra frill on the front, so the project is a simple one but you'll still feel super hardcore for using leather and for the perfect scallops!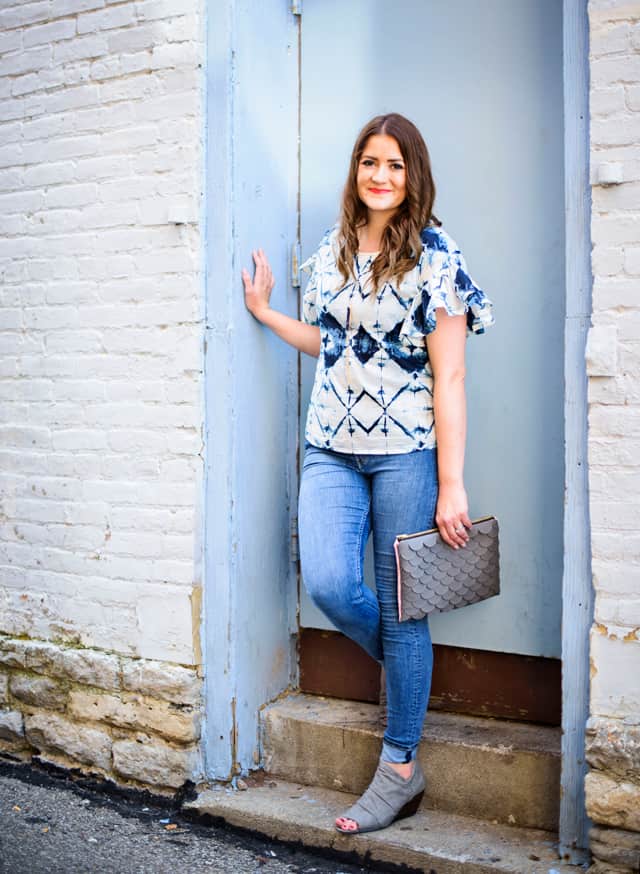 Materials //
-1/3 yard faux suede or pleather, vinyl material etc
–upholstery velvet for lining and back
-SVG files, scallop 1, scallop 2, scallop 3 (downloads in a .zip file!)
–the Cricut Maker
–FabricGrip cutting mat
-Metal Zipper, I love to get mine in bulk on Amazon!
–wonderclips
Instructions // 
Upload the file to Design Space. Design Space is Cricut's free design interface.
Once it's uploaded, don't change the size of the files. Just hit MAKE. You'll need a 12″ by 24″ mat for this project. I didn't have the FabricGrip at the time so I used StrongGrip, but either work for pleather or vinyl material.
Cut out the scallops. You will need two sheets of them. They alternate to create an offset brick pattern.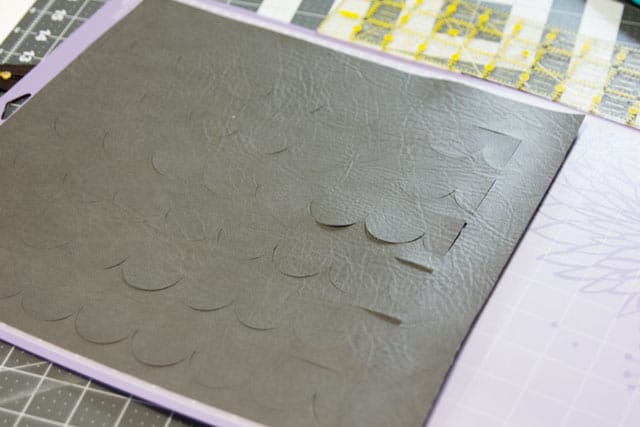 Pull the excess vinyl off. Magic!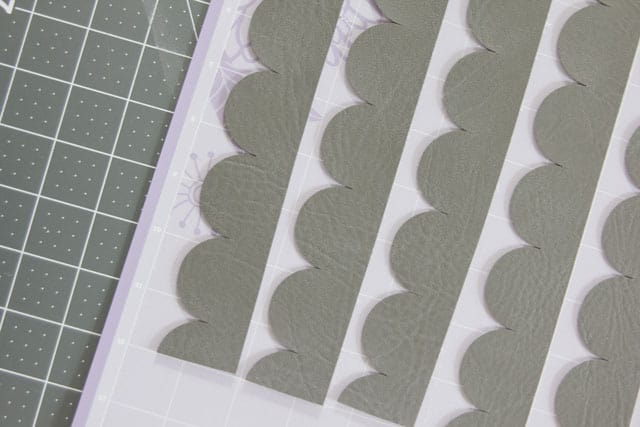 Then peel each scallop off. Since the mat is adhesive they hold until you're ready to use them. Because of that, the cuts are always super precise.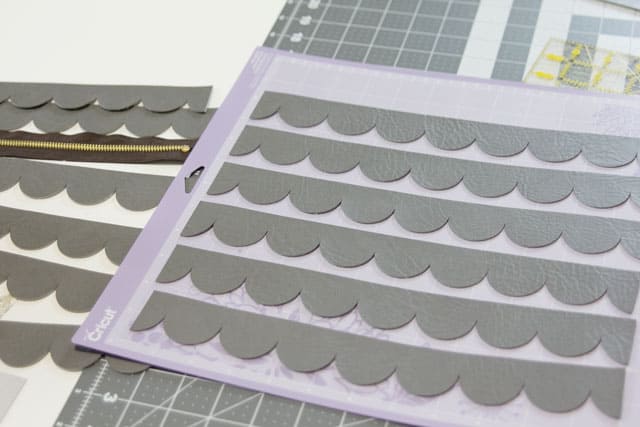 Cut out two main pieces from leather or vinyl and 2 from cotton for the interior lining.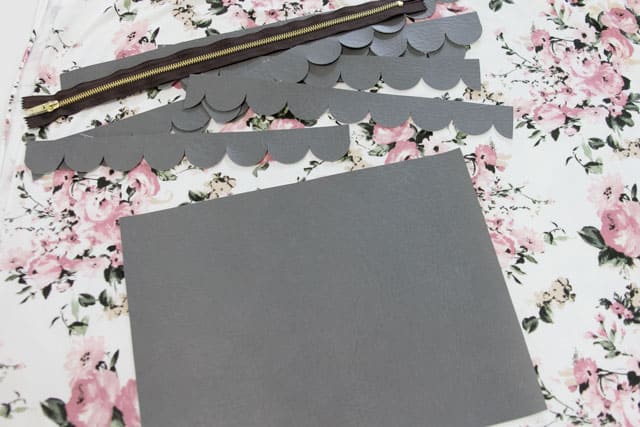 Since the material is so thick pins won't work to hold it in place, so use clips. If you don't have wonder clips around you can use paper clamps. Start 3/4″ from the bottom of the top clutch. Clip in place.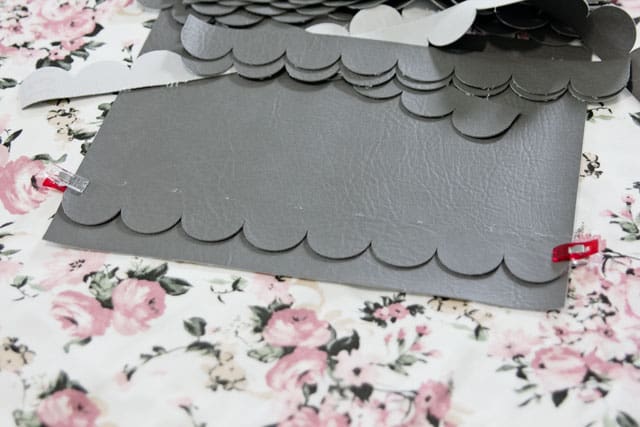 Sew along the top with a straight stitch. You may want to use matching thread.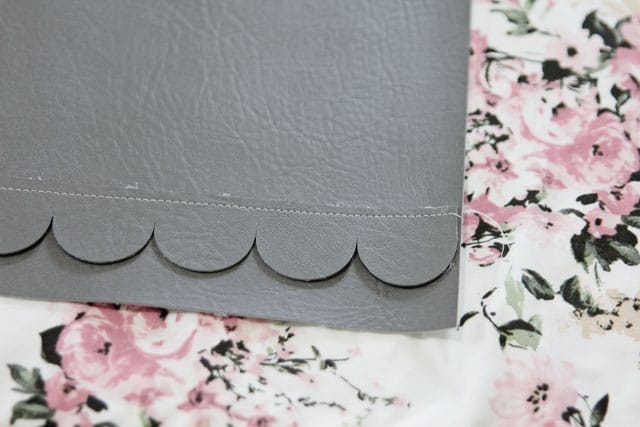 Keep going all the way up, alternating the scallops they create a scale pattern. Use an acrylic ruler to keep each scallop row straight.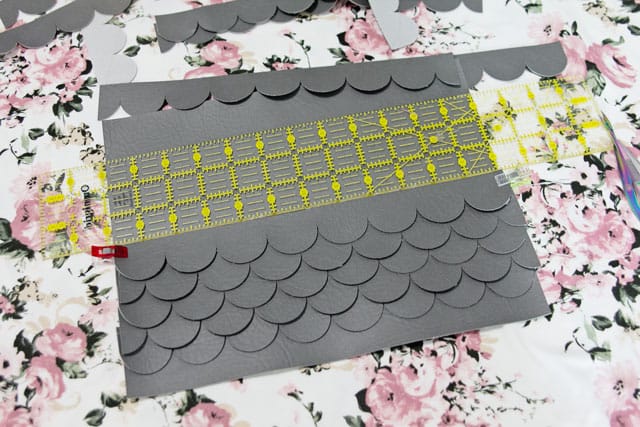 The very top scallop will line up with the top of the pouch. When you've completed the top, sew the zipper pouch up using these instructions.