Anyone else feeling frazzled from mask sewing!? It gives me such a good feeling but I also feel panicked trying to pump them out! Since these are so needed and RIGHT NOW I have streamlined my production process to make them quicker. So this post will tell you how to sew faster when mass producing! These tips are specifically for mask sewing but the same principles can be applied to other batch sewing projects and also to quilting projects.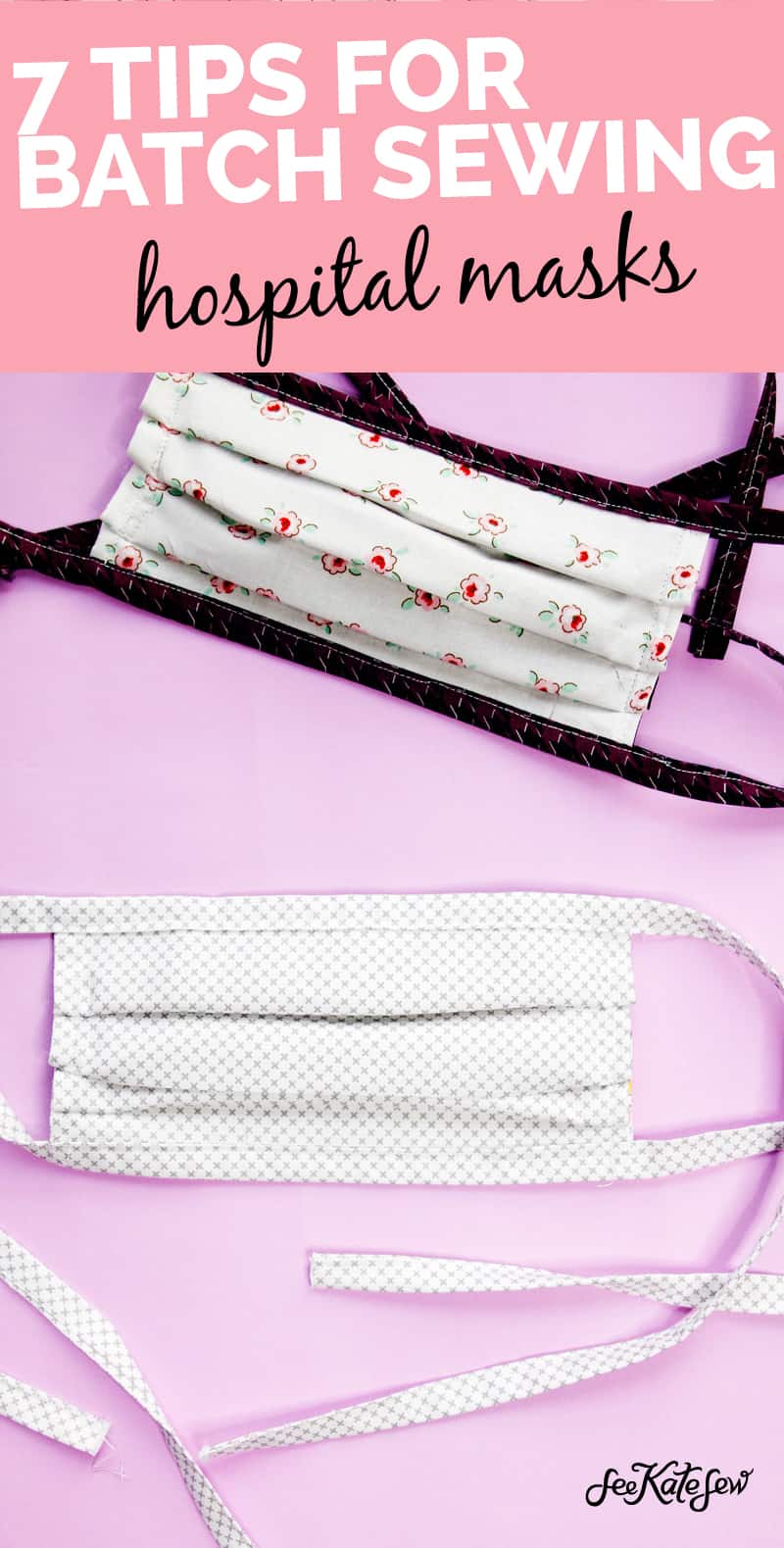 Helpful Supplies for Sewing Faster:
–Best Steam Iron
–12″ by 24″ Acrylic Ruler
–Cardstock for templates
Patterns for face masks:
–3 ways to make a Face Mask
–Hospital Filter Mask Pattern
–Kids Mask Pattern
Also check out my new Surgical Cap Pattern.

7 tips and tricks for sewing lots of the same thing!
Here are 7 tips for sewing a batch of masks! There is also a video included in this post with more details and visuals of these tricks.
Sew in batches – cut all of one piece at a time
Cut multiple layers with template
Delegate non-sewing tasks
Quick cut binding strips
Sew in batches without stopping
Clip threads at the end
Don't hurt yourself /Don't run out of supplies
#1: Cut all of each piece at once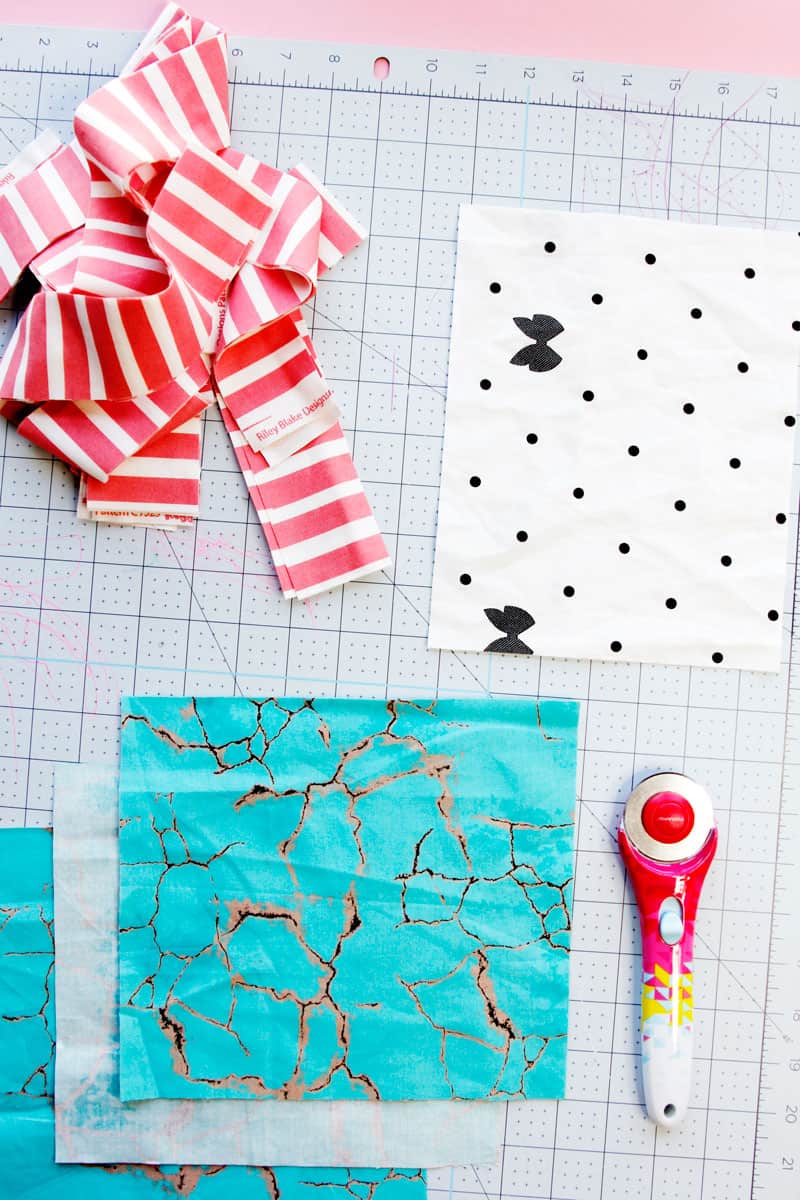 Instead of cutting all the pieces for 1 mask and sewing it up, cut ALL the pieces for a set number of masks at once! Choose a number so you stay on task, like 10 or 20 masks. Then cut all the fronts, backs and binding pieces for that number. By cutting all the same piece, your hands will get used to the motions.
#2: Use a paper template for cutting lots of layers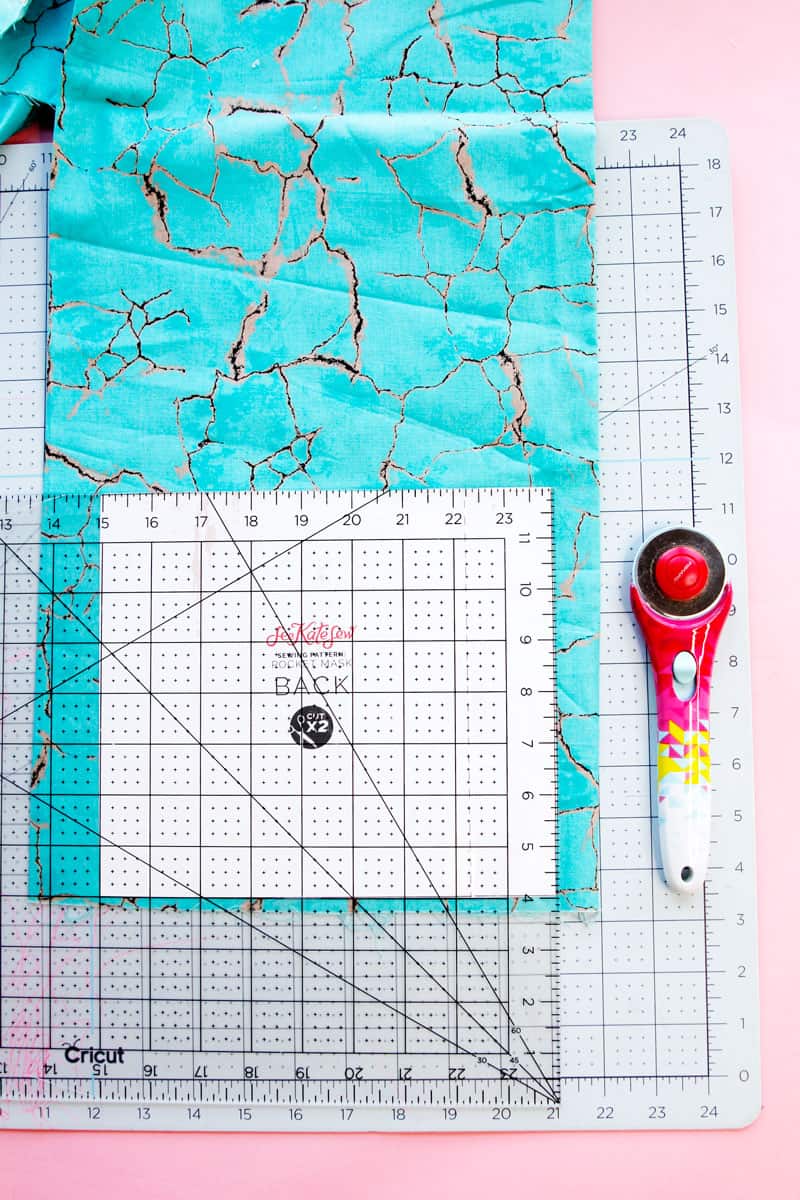 Measuring out rectangles isn't really that hard, but using a card stock template underneath your ruler makes it mindless! You won't be worrying about getting the placement right, or turning the ruler correctly. Just fold your fabric a few times and put the template on top. This way you can cut multiple layers easily.
#3: Delegate non-sewing tasks
A few of my neighbors offered cut fabric for me since they don't sew! I took them up on it because I knew they wanted to help with the mask making effort. It has made my production so much faster and it's always fun working with a team! Things non-sewers can do include cutting fabric pieces, cutting binding strips and ironing binding. Later they can also pin pleats and clip threads.
#4: Cut binding strips like a pro
To cut strips faster, cut them like this! Fold your fabric yardage so the selvedges met. Then fold the rest of the yardage over and match up the other raw edges. You'll have 4 layers of fabric.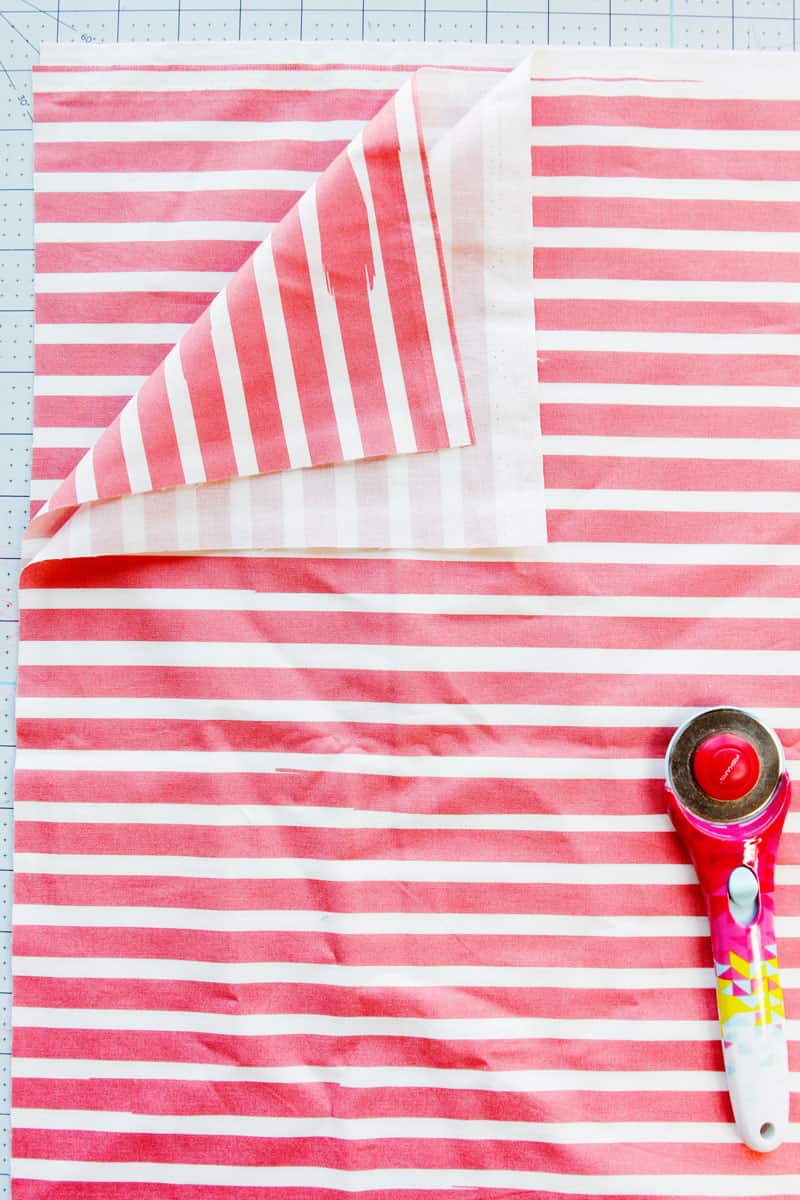 Then, cut 2″ strips. Move your ruler over and do it again! A 12″ by 24″ acrylic ruler is great for this! If you are right handed, keep the fabric on the right and just slide your ruler over 2″ each time and slice. You don't even have to move the fabric you've already cut.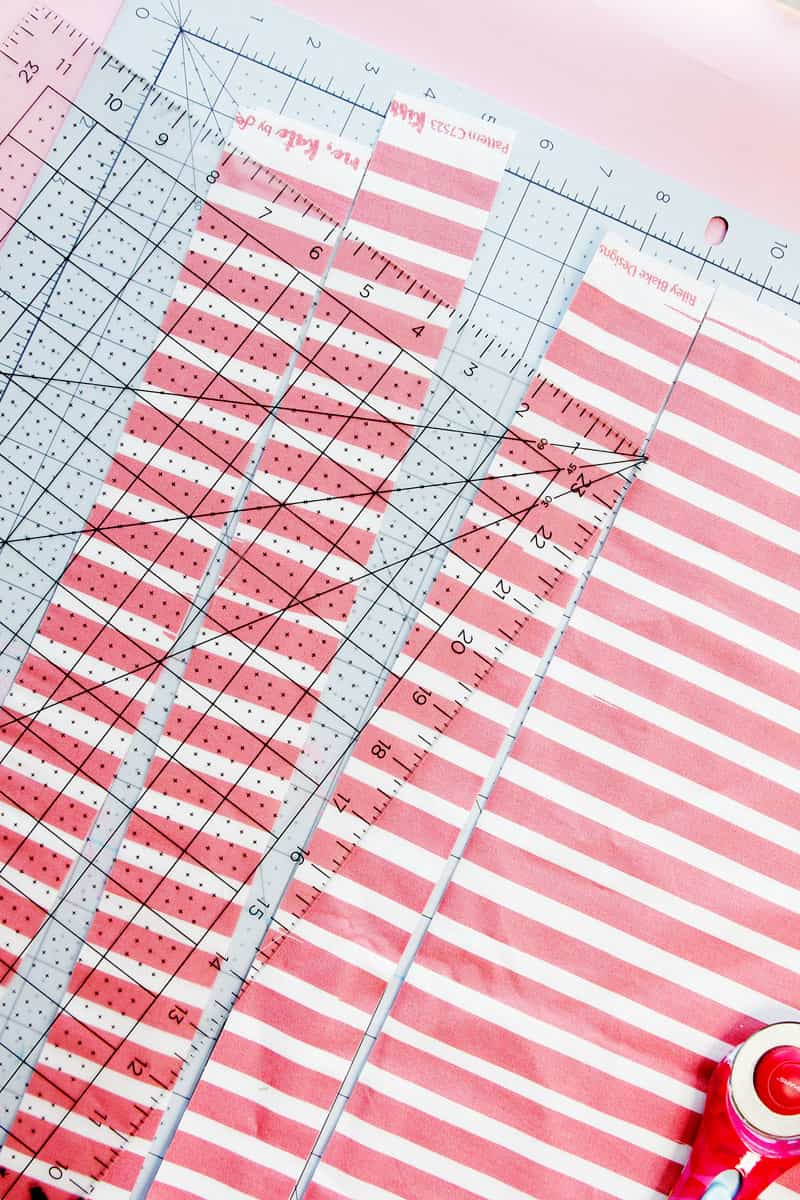 #5: Feed through machine without stopping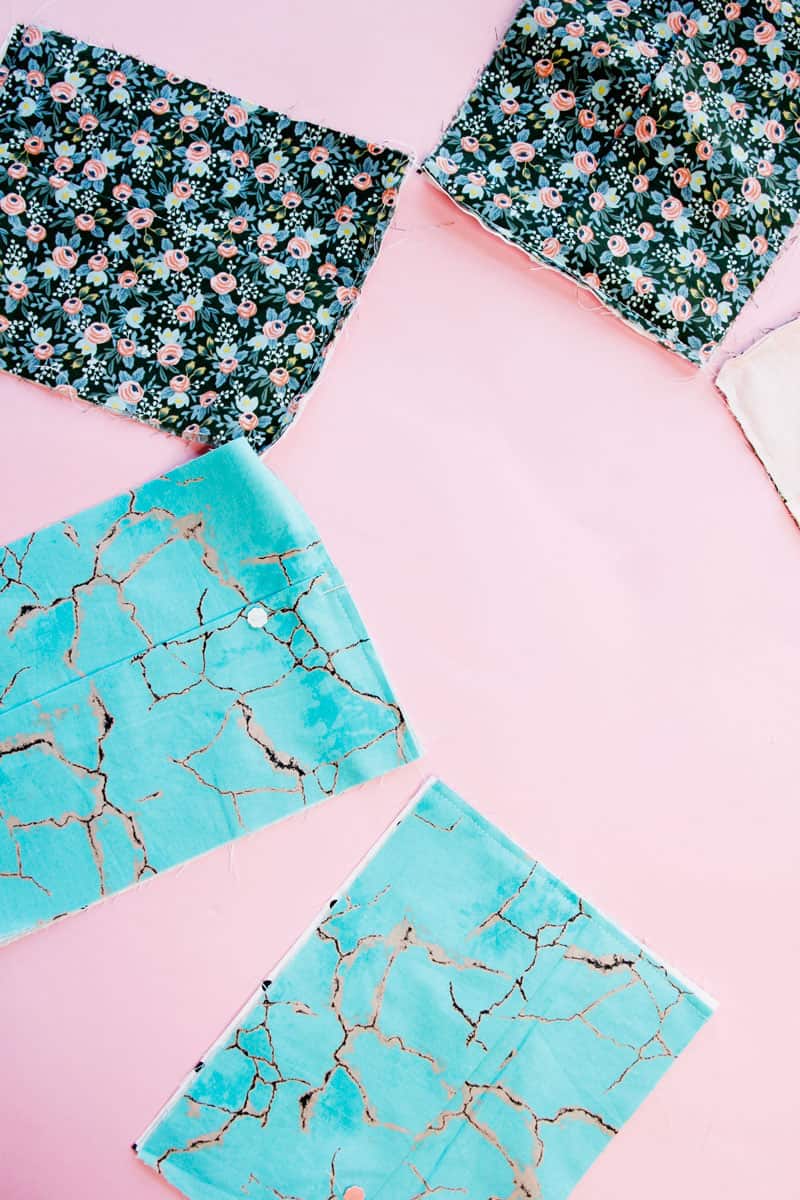 Instead of sewing one side of a mask and then taking it out, sew all of the right sides of all the masks first. They will be strung together with thread like a banner. Then do the other side. Less stopping and maneuvering fabric will mean faster sewing!
#6: Clip threads when you're done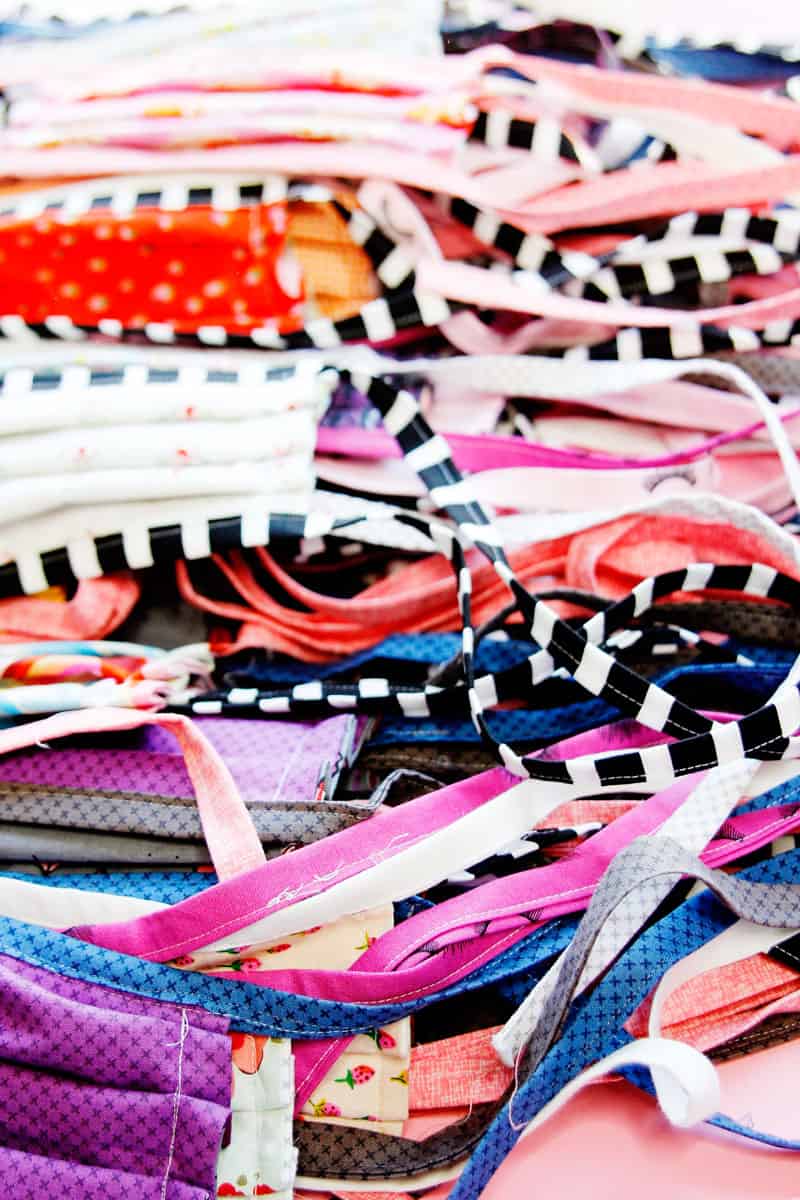 Instead of stopping to clip threads, leave them all until you're done! Then, sit down with a movie and clip away! Again, less stopping means more sewing!
#7: Don't get hurt or run out of supplies
Don't hurt yourself! And don't run out of bobbin thread! Both of those will cause a big upset in your production line and it's no time to visit the ER! So, make sure you are safe with your sharp and hot supplies!