I'm so excited to share my new Quilt Coat Pattern and video course today! This course will take all the scary parts out of sewing a garment AND a quilt! By the end, you'll have a piece of art you can wear!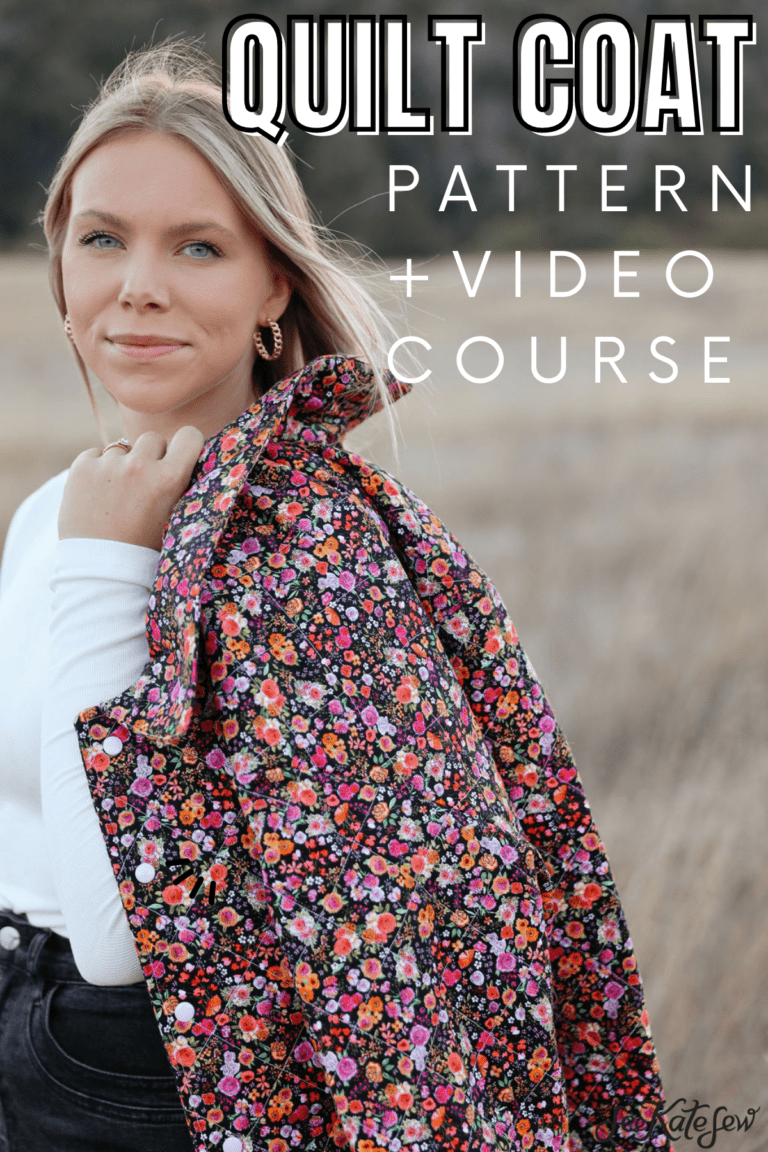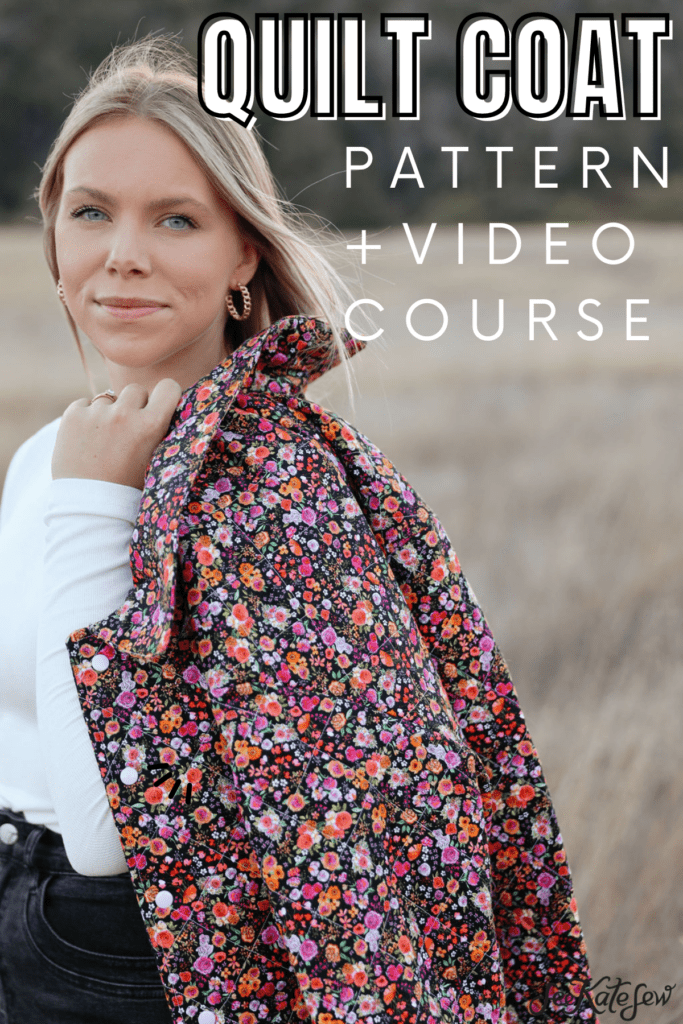 This Quilted Coat Pattern is so fun to sew and the course includes 3 gorgeous variations! Sew something new for YOU!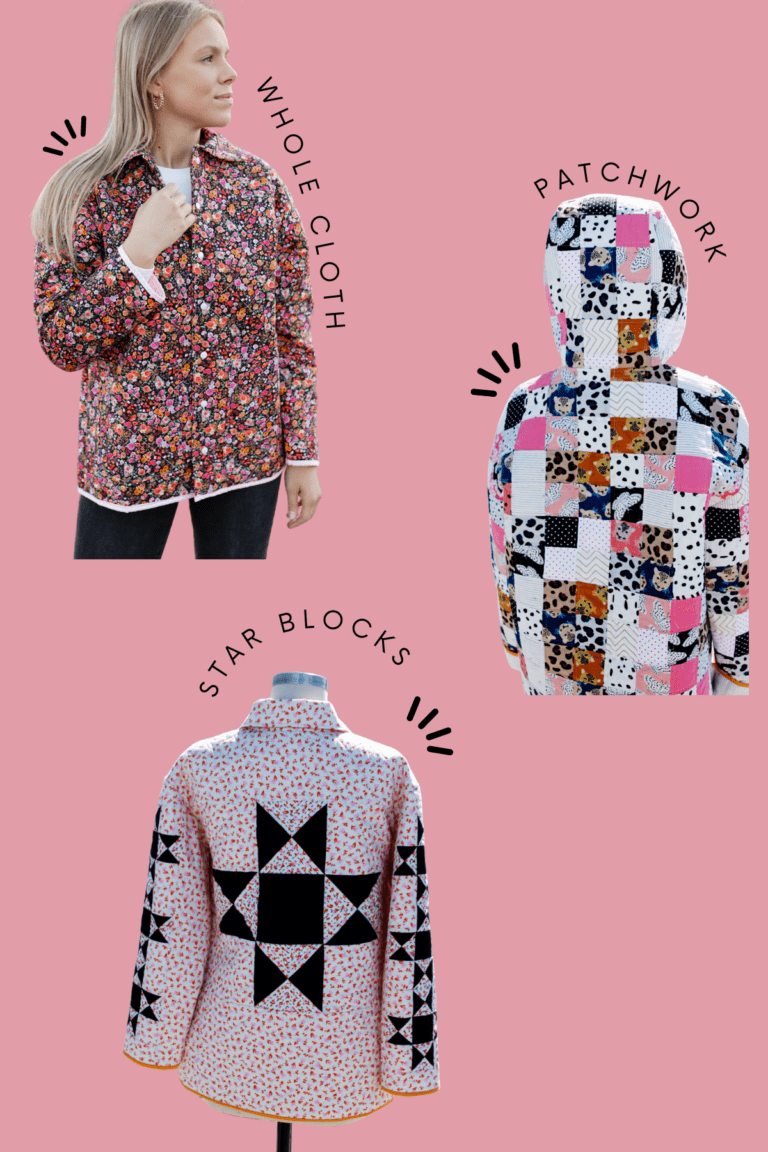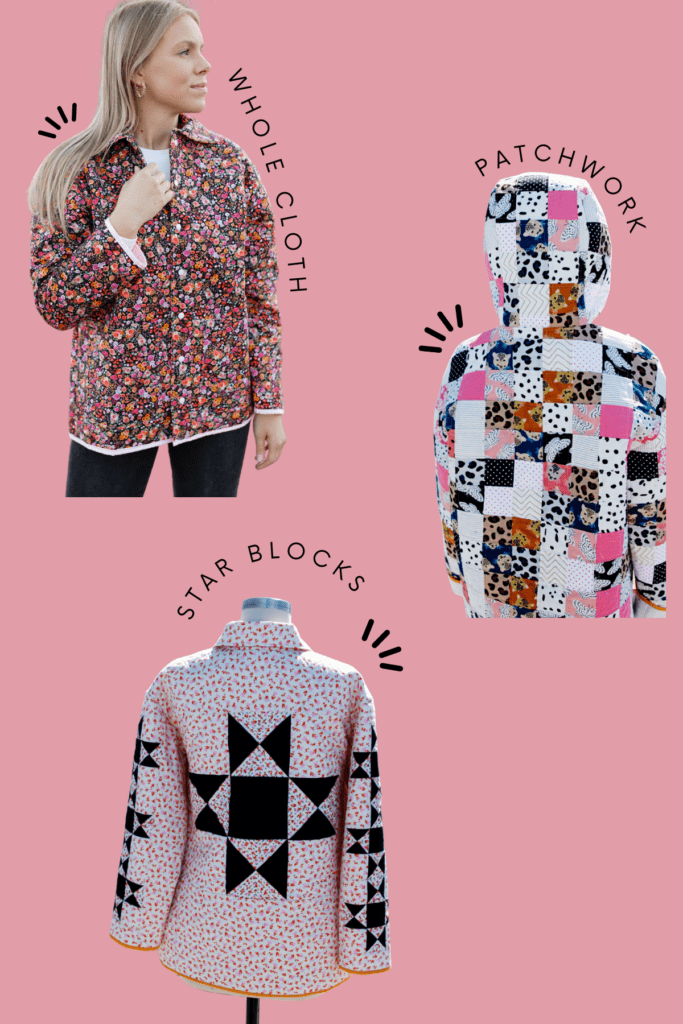 Quilt Coat Course Early Bird Pricing
It pays to be early! Sign up now and get the BEST PRICE. From now until March 31, get Early Bird Pricing! $199 Just $99 – no code needed! Early Bird Pricing Link
Never sewn a garment? No problem!
The Quilt Coat is actually a fairly simple project and the thickness gives you some wiggle room for imperfections that you can't see! You'll learn a few things and walk away with confidence to tackle more garment sewing!
Never sewn a quilt? No problem!
You don't need any quilting skills to make a Quilt Coat with my course! I'll show you everything you need to know, including supplies to get, the easiest ways to do things and more!
Come on in to my sewing room and let's sew a coat together!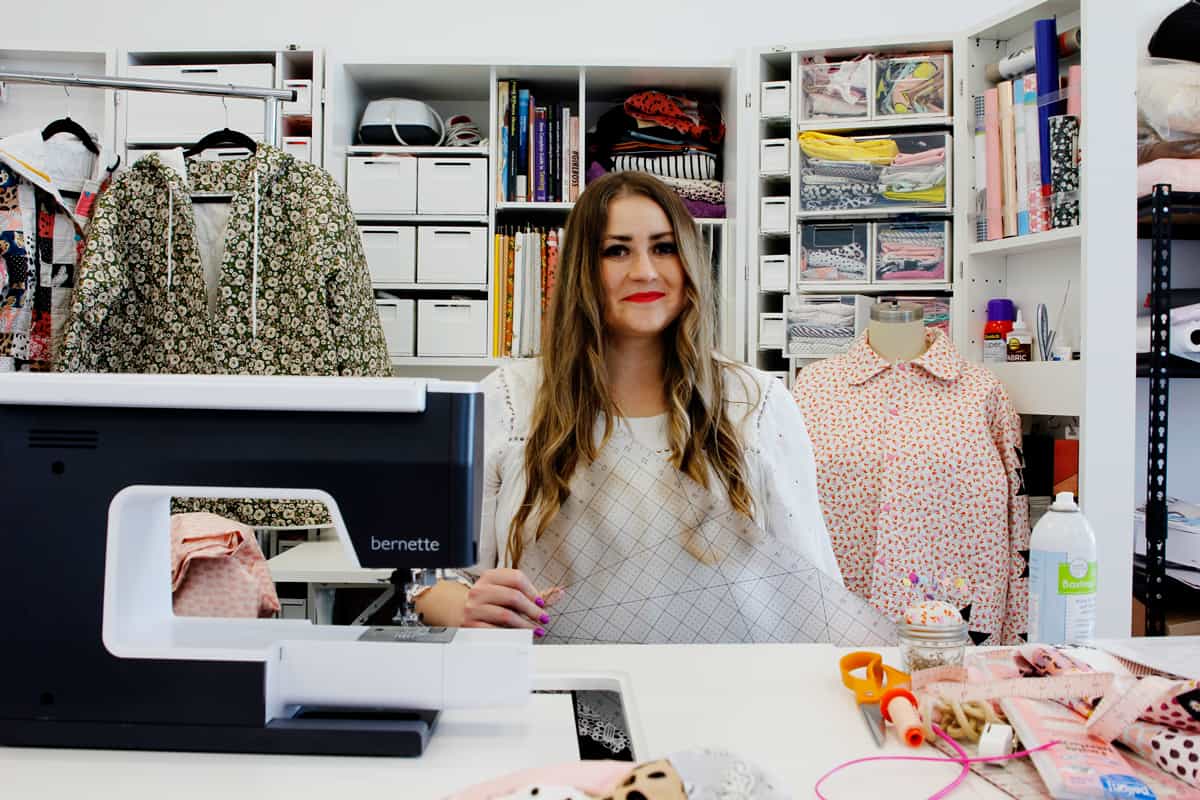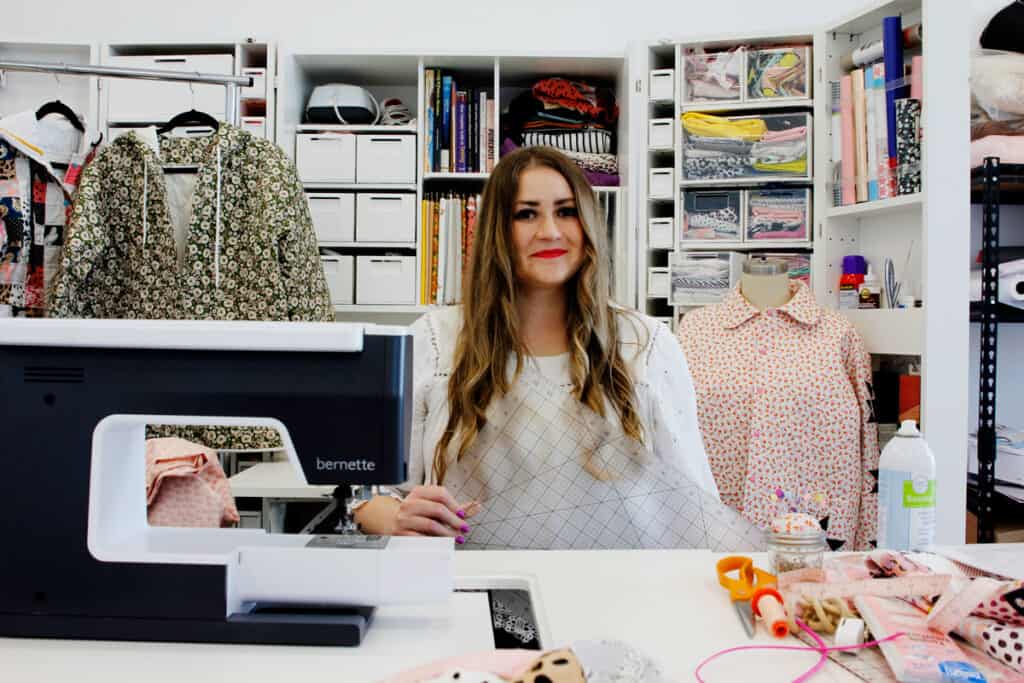 Choose your options
The hardest part of this course will be choosing with one to make! Choose one gorgeous fabric for the whole cloth version.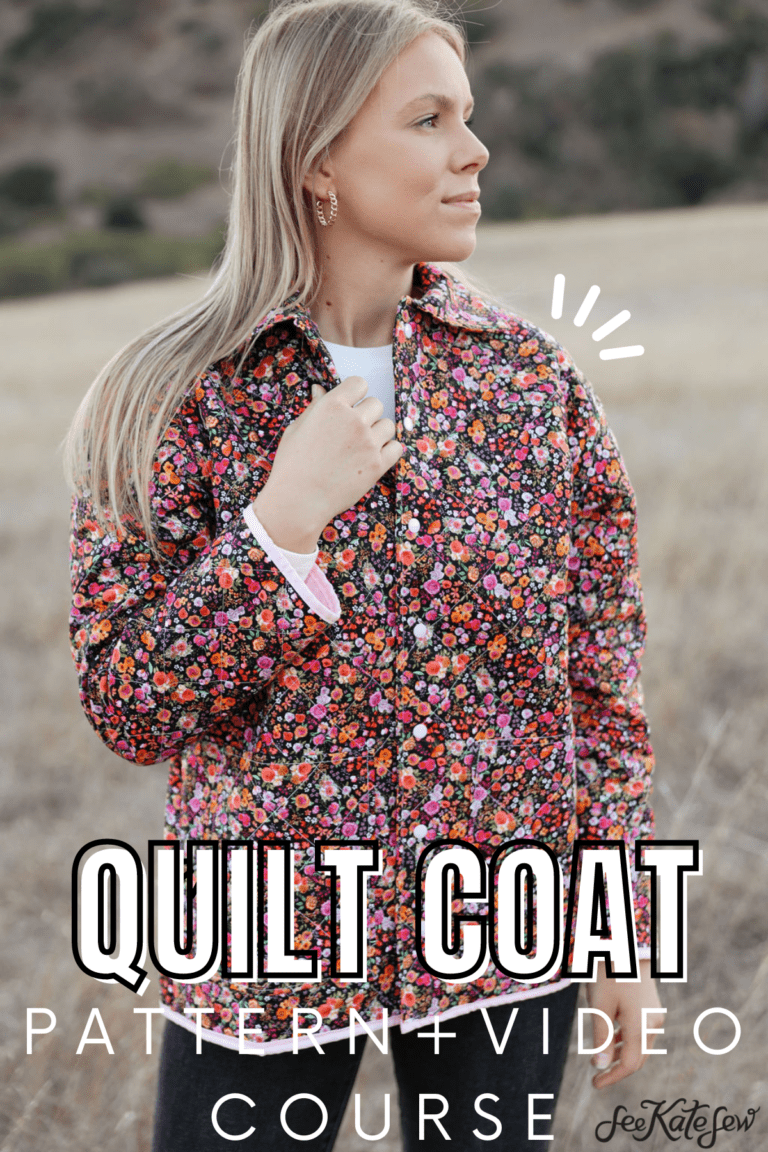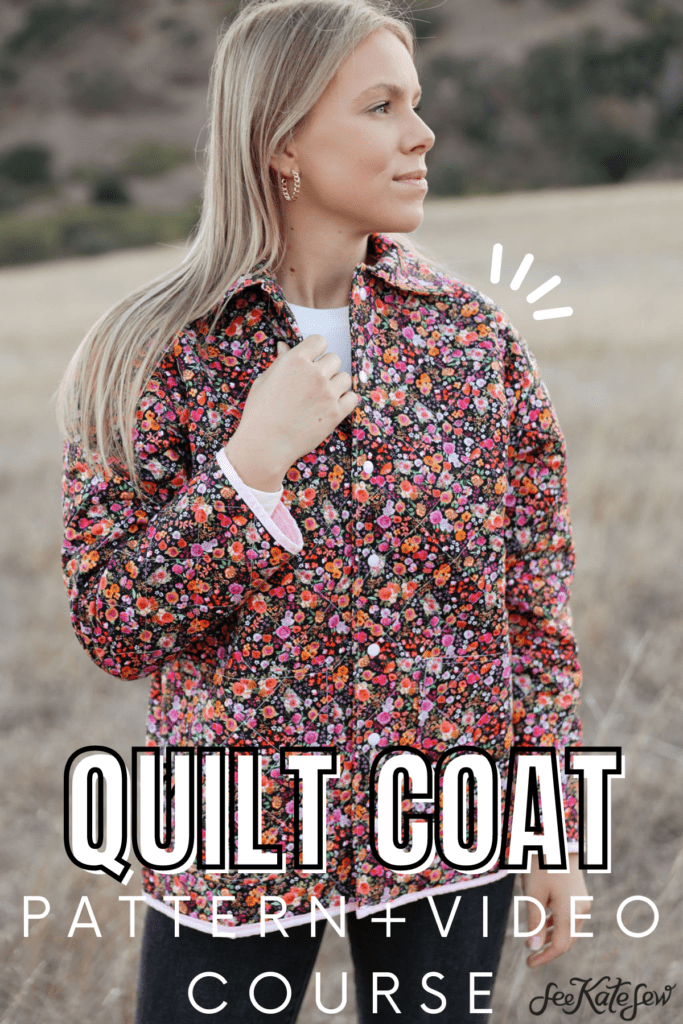 Want it super quilty? Sew the Star Blocks version for an edgy take.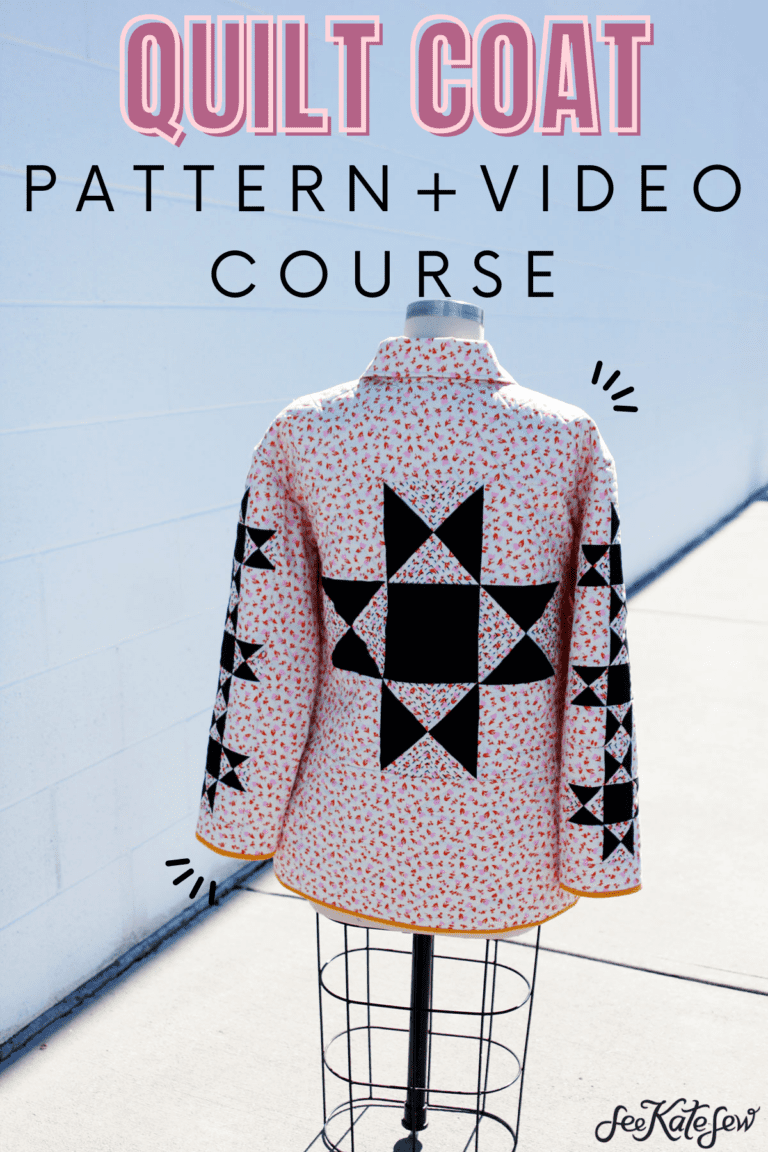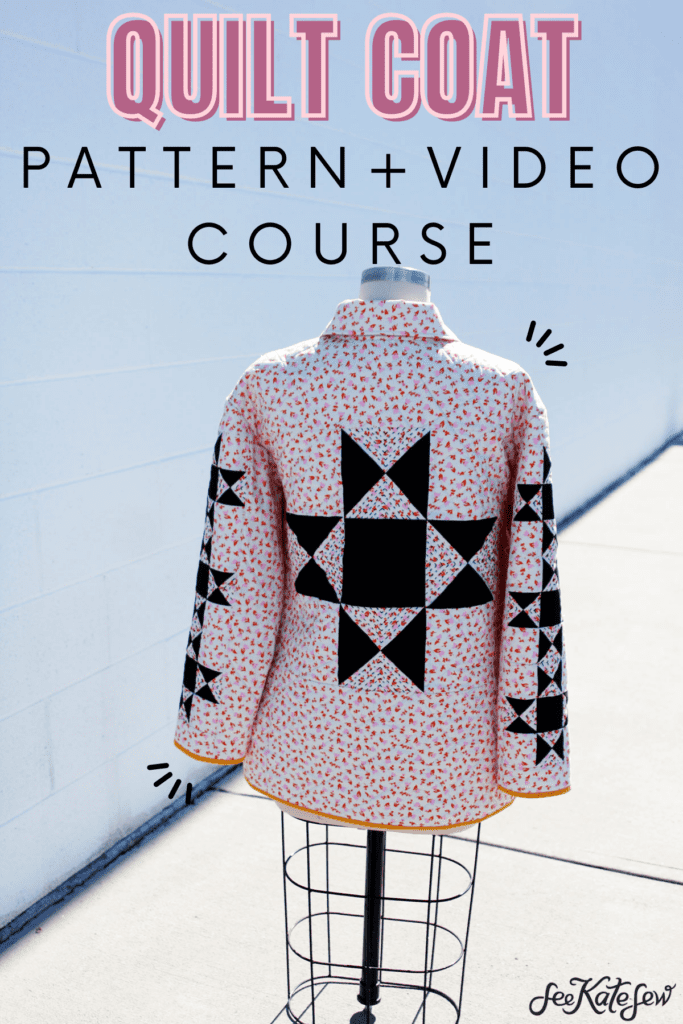 And finally, the Patchwork version has all the quilty vibes! All three variations are included in the course!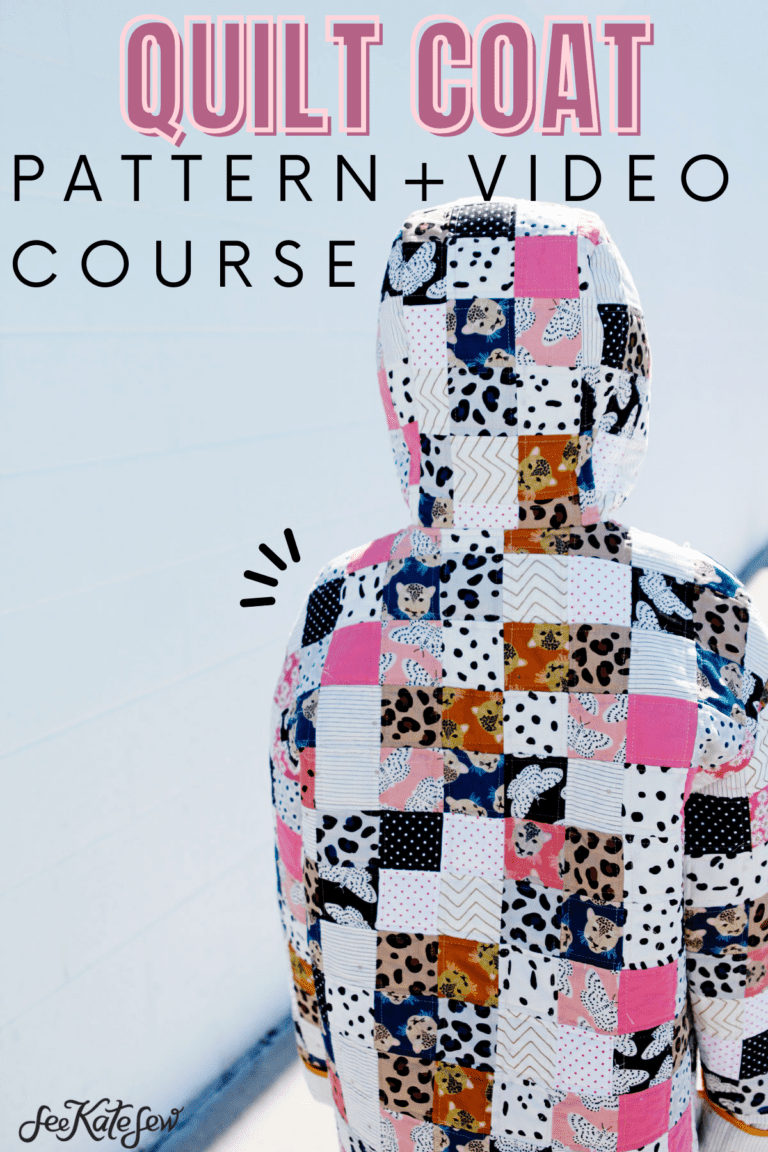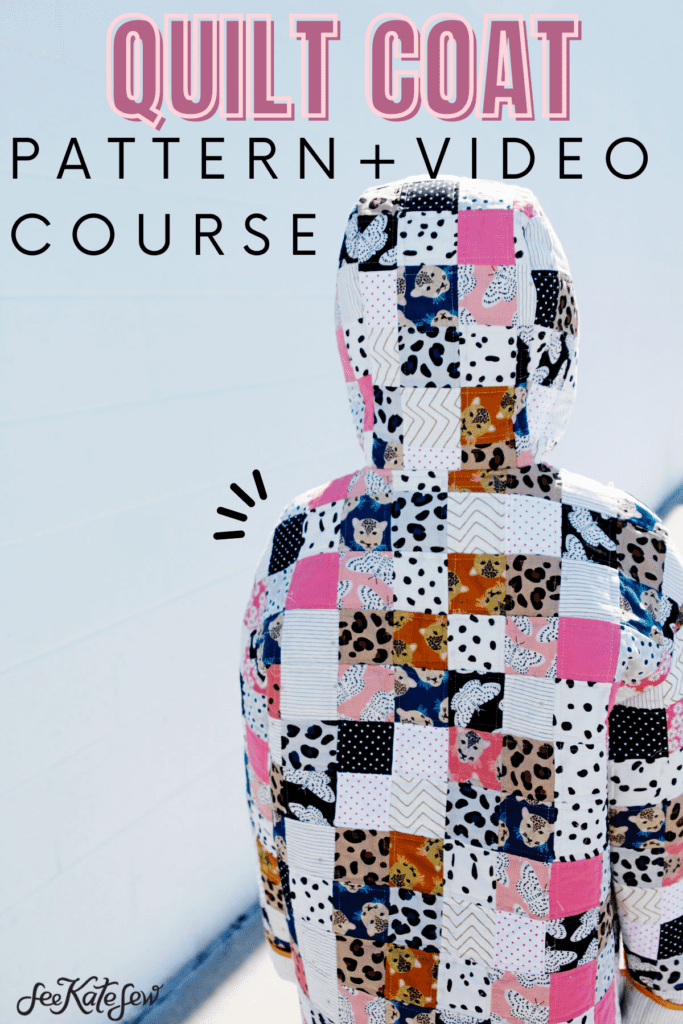 Quilted Coat Sewing Pattern Video Course
The Quilted Coat course is self-paced. Sew when you want! The course is housed on a super easy online teaching interface, so you don't need any tech skills to get started! Enroll now!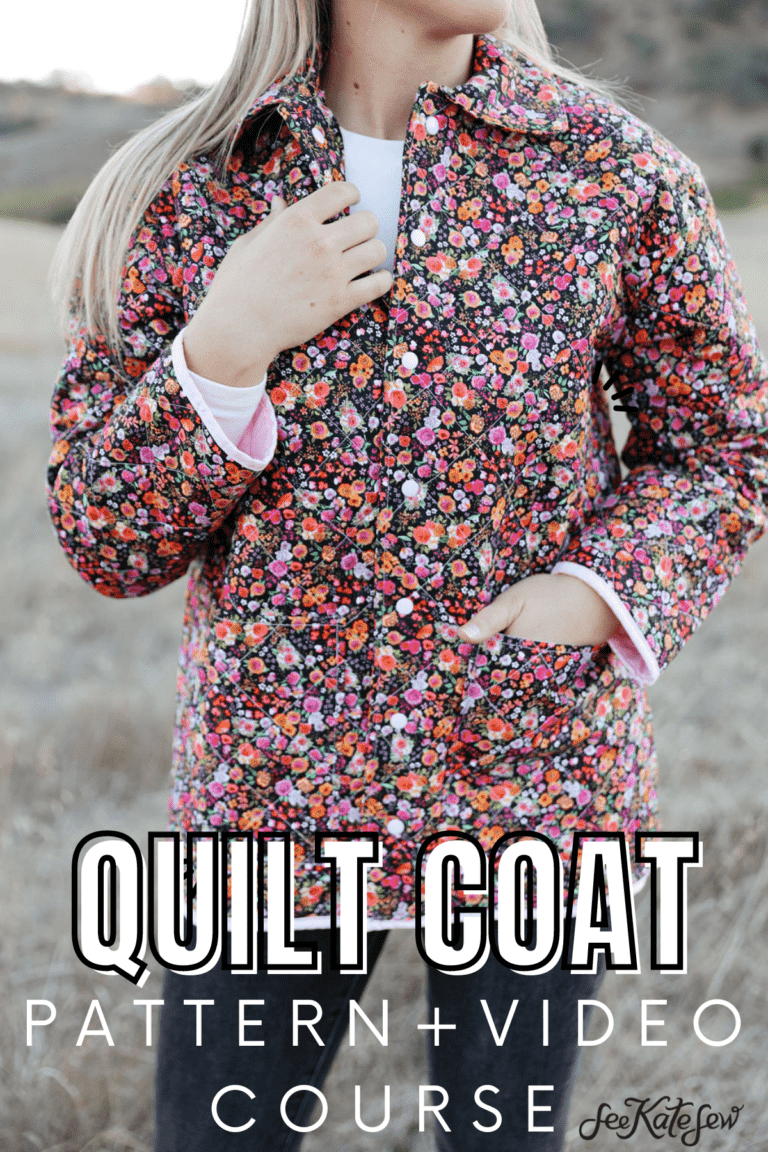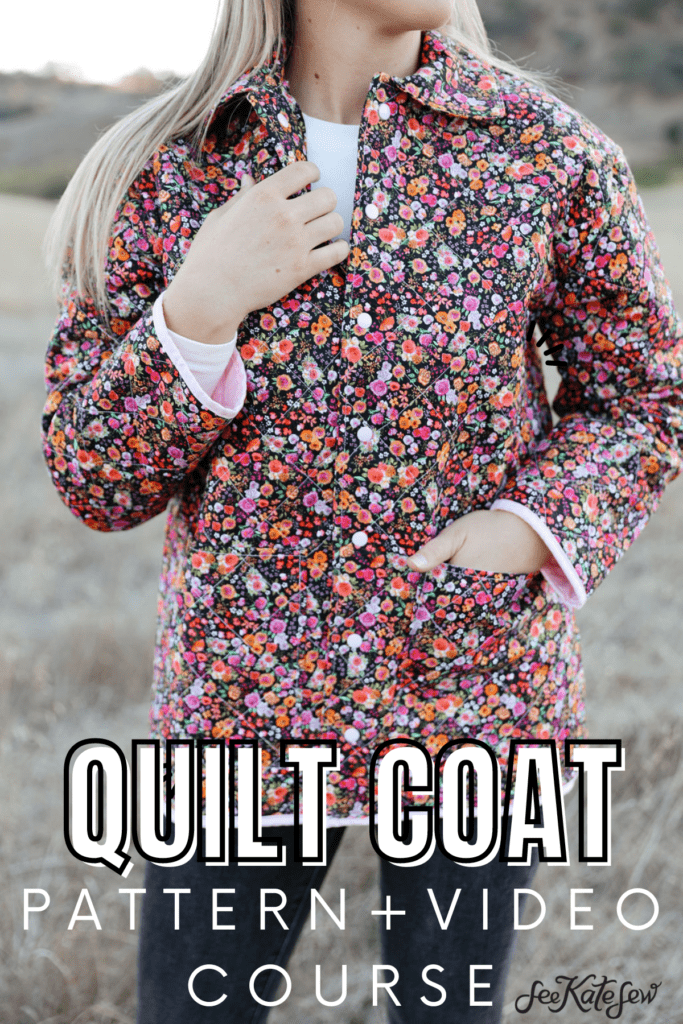 Quilt Coat Pattern Details
Includes 8 women's sizes: XXS, XS, S, M, L, XL, 2XL and 3XL
Includes two neckline finishes: a collar or a 3-piece drawstring hood
Easy instructions suitable for a garment beginner
Print from home (Letter and A4) or at a Copyshop (Blueprint Size/A0 PDF)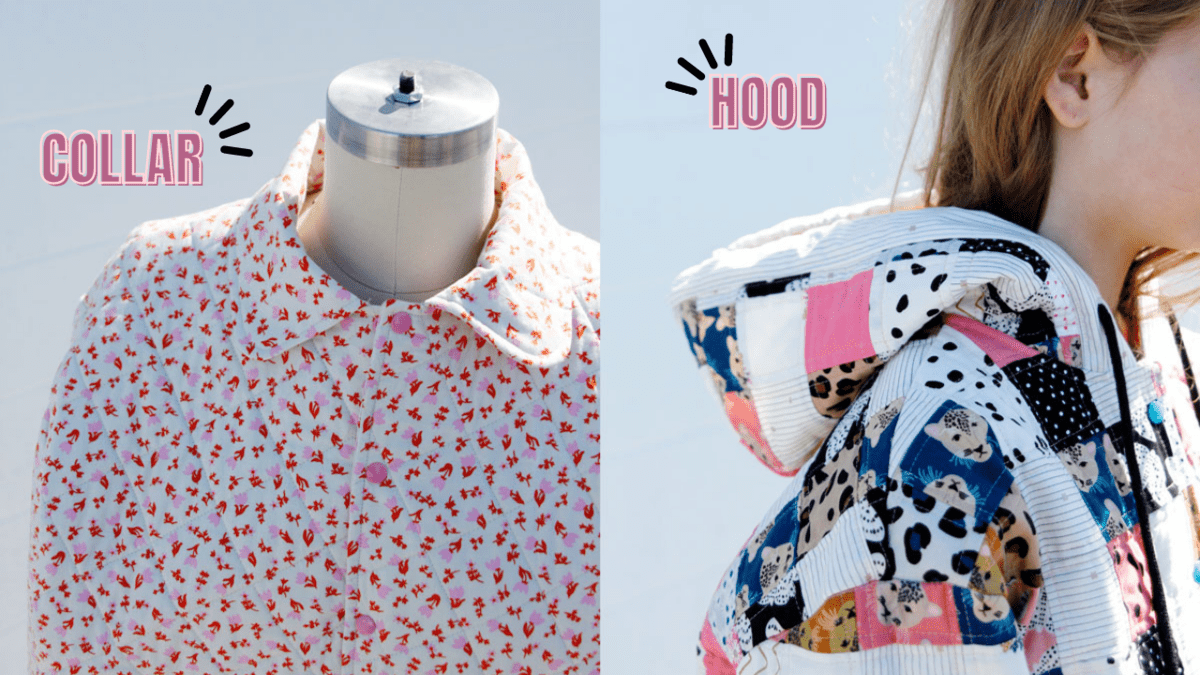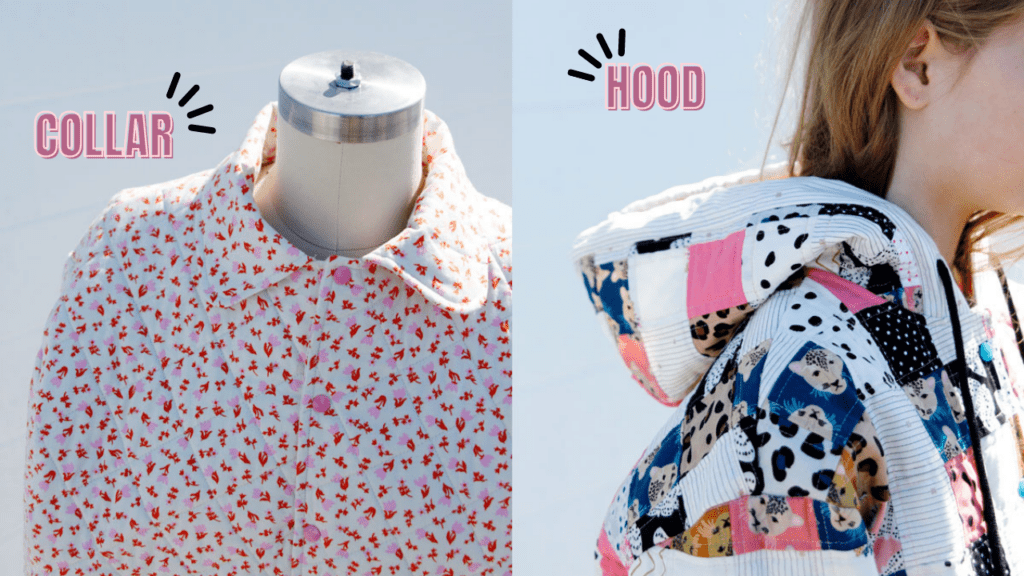 Over 20 in-depth videos – you will never be alone!
Instructions for the Star Block and Patchwork Variations
Cheat sheets, printables and more
Your own personal sewing cheerleader (me!)
Private online community with Sew-a-longs, giveaways and endless support (plus a place to show off your fabric!)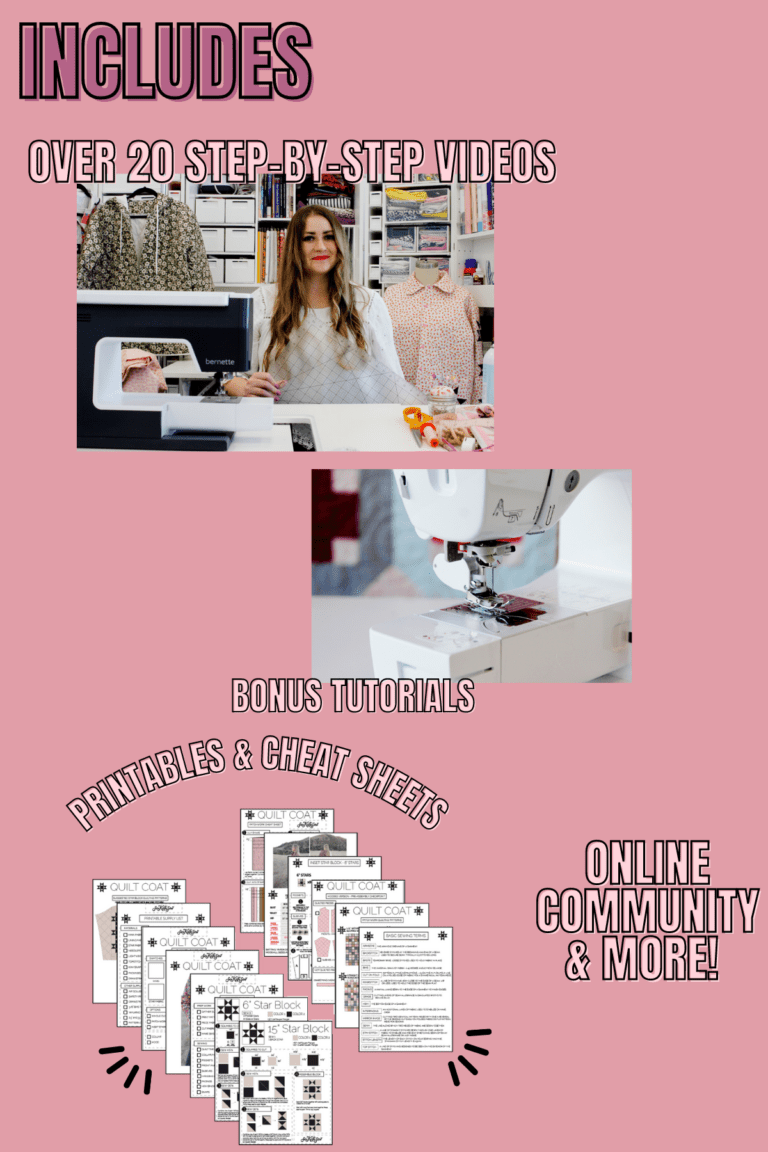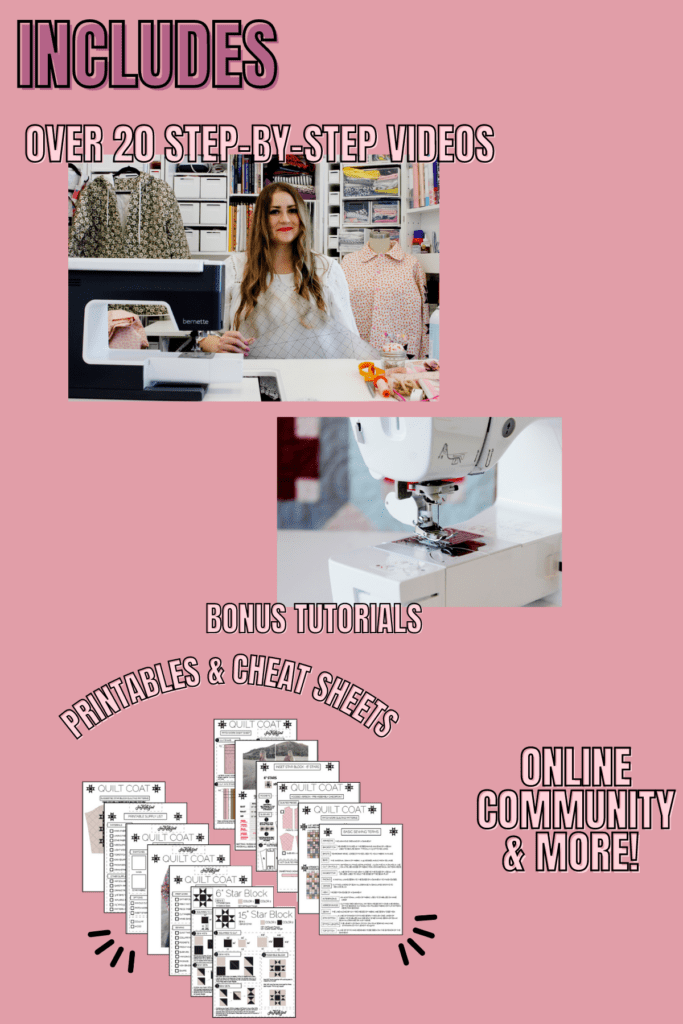 Quilted Coat Course Outline
What's inside? This course has a total of 6 sections and over 30 lessons – it's all broken down into bite-size pieces!
Intro, Printables, Pattern Prep and Supplies
Patchwork Version
Star Block Version
Quilting the Fabric
Coat Assembly
Bonus Tutorials, Discounts, and more!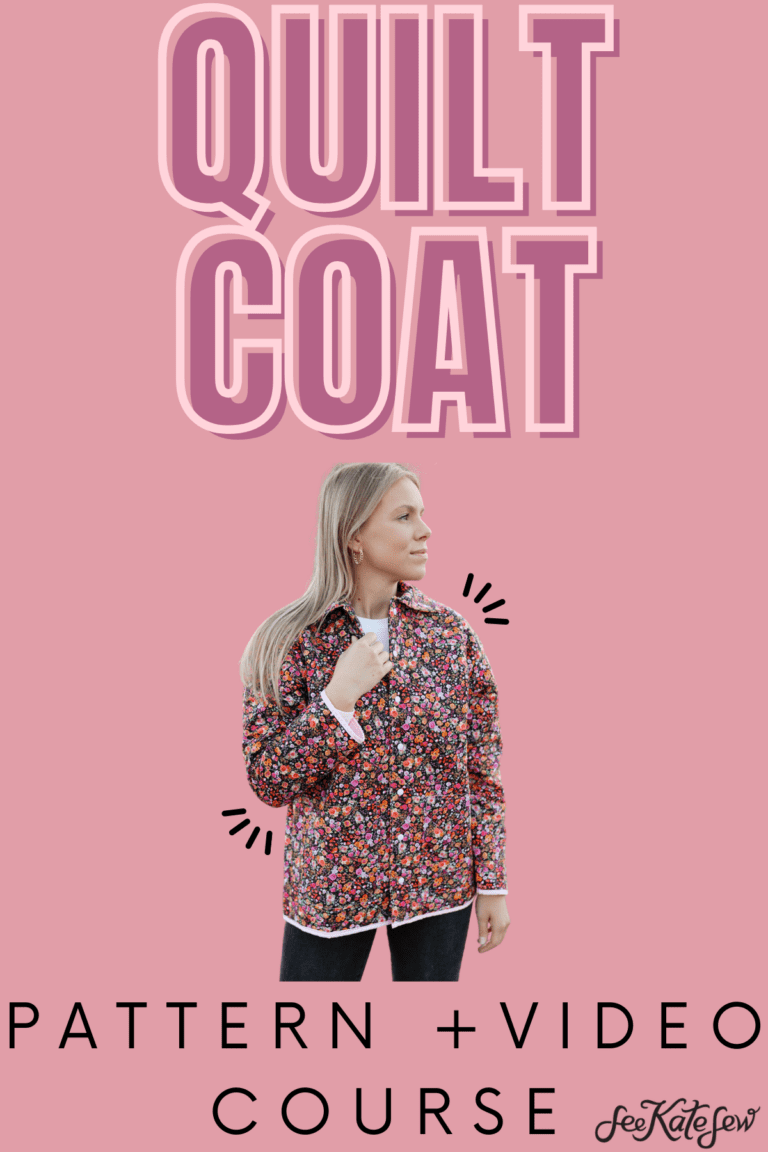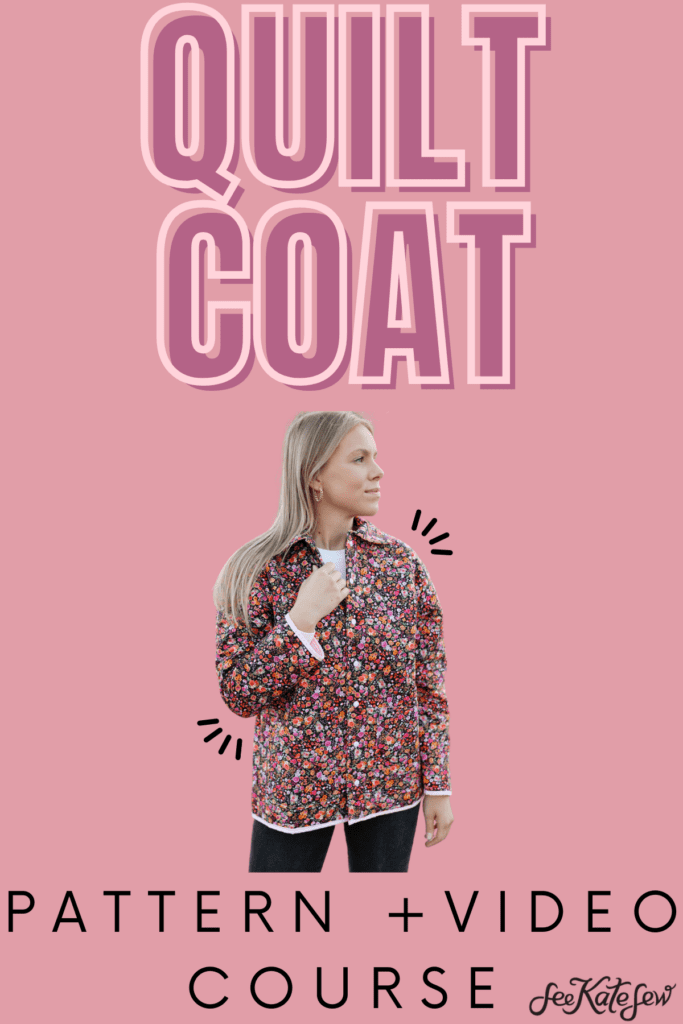 Quilt Coat Pattern Course FAQs
What size does the Quilt Coat Pattern come in?
This pattern comes in 8 women's sizes: XXS, XS, S, M, L, XL, 2XL and 3XL.
Is the Quilt Coat Pattern available without the course?
The Quilt Coat Pattern is exclusive to course students until April 7, at which time it will be available in my pattern shop! The Quilt Coat PDF Pattern does not include the Patchwork or Star Block versions since those are best with video.
Do I need to know how to sew to make this?
Prior sewing skills are helpful, but not necessary! This course is broken down into bite-sized lessons. Everything is explained clearly and if you're still lost you have access to a private Facebook community (and me!) to help you! You'll learn something new in a fun, relaxed way!
What kind of fabric do I need?
I recommend making this coat with quilting cotton for both the main and lining. However, there are lots of other options :
Pre-quilted fabric that includes a lining and batting
Use cheater fabric (fabric printed with a faux pieced quilt design)
Use any quilt top
Find a vintage quilt and cut it up
Similar non-stretch fabrics such as lawn, pima cotton, or lightweight linen
What other supplies do I need?
You'll need basic sewing supplies plus a few others including; snaps, batting, interfacing, spray baste, bias tape and topstitching thread. You may need a walking foot, depending on your machine. The hood option also requires a drawstring.
There is a full supply list in the course, including a printable shopping list you can take with you to the store. You may have a lot of the supplies already.
How does the Quilt Coat close?
The Quilt Coat has 7 KAM snaps down the front. Plastic snaps are super easy to install and so fun to pick out. The course includes instructions on placing KAM snaps.
You can do buttonholes with buttons if you prefer.
How much is the course?
This course is $199, but $100 off during the Early Bird Enrollment period. That's just $99and includes the full PDF pattern, over 30 lessons with 20+ videos, more than 15 cheat sheets, a free quilt pattern and more!
Do I need a coupon code for Early Bird Pricing?
Nope! Just click here and you'll be taken to the enrollment page.
When does Early Bird Pricing end?
Early Bird Pricing ($99) is available until March 31. After that, this price will go away forever.
More See Kate Sew Sewing Courses
Read more about Learn to Quilt – a great course for wannabe quilters!
Need a weekend project? Enroll in the Quick Quarter Square Triangle Quilt Course.