There's gnome body like you! Make an adorable gnome pillow for a neighbor or friend this Valentine's Day! This gnome sewing pattern is so cute and easy to sew and includes printable gnome puns!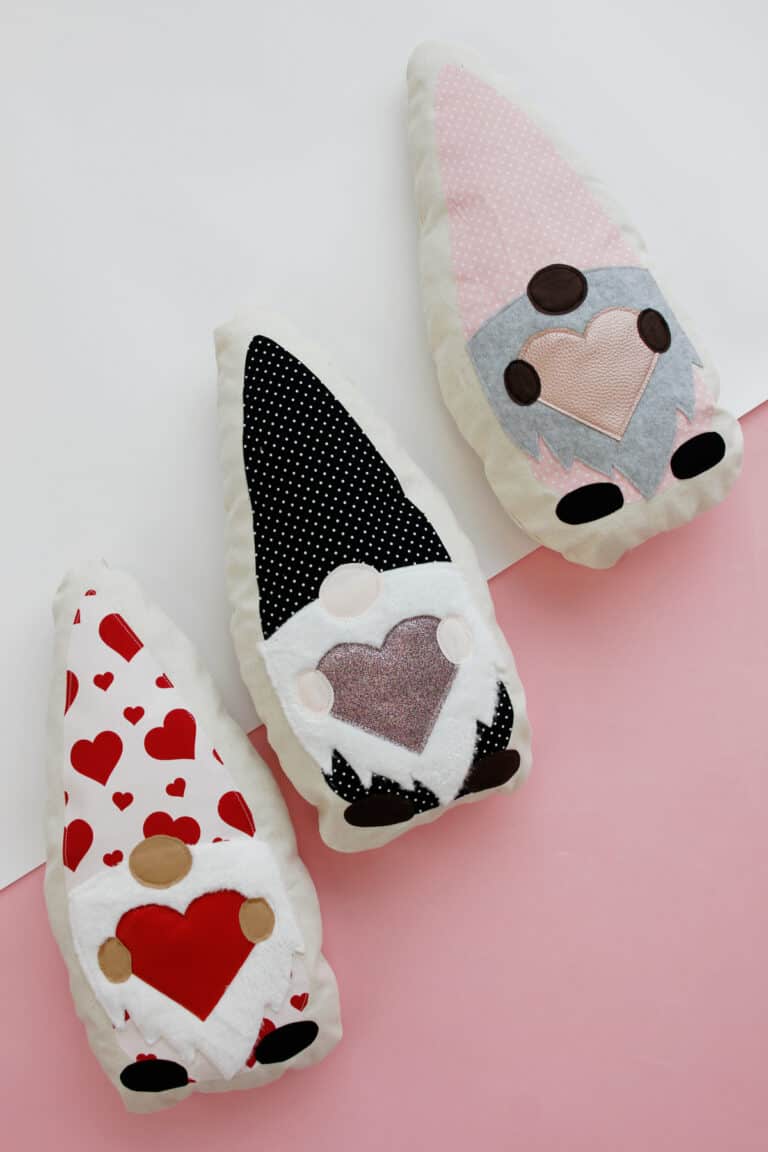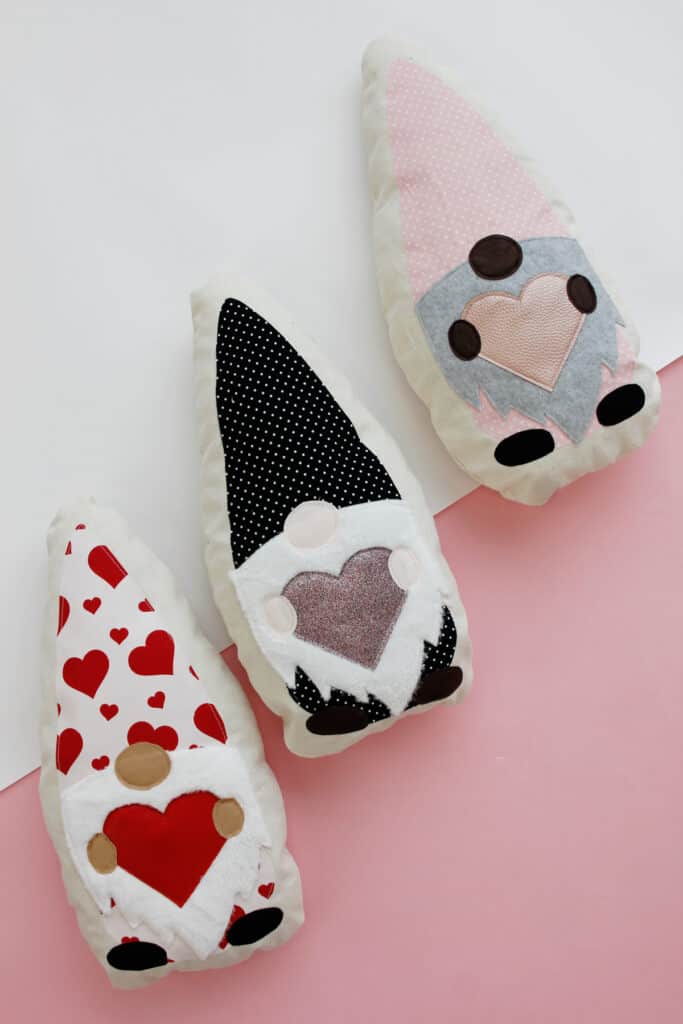 I'm so glad to gnome you! This cute stuffed gnome pattern has free templates to download. Making DIY gnomes is so easy and you can use so many fabric scraps! Use holiday fabrics for any celebration.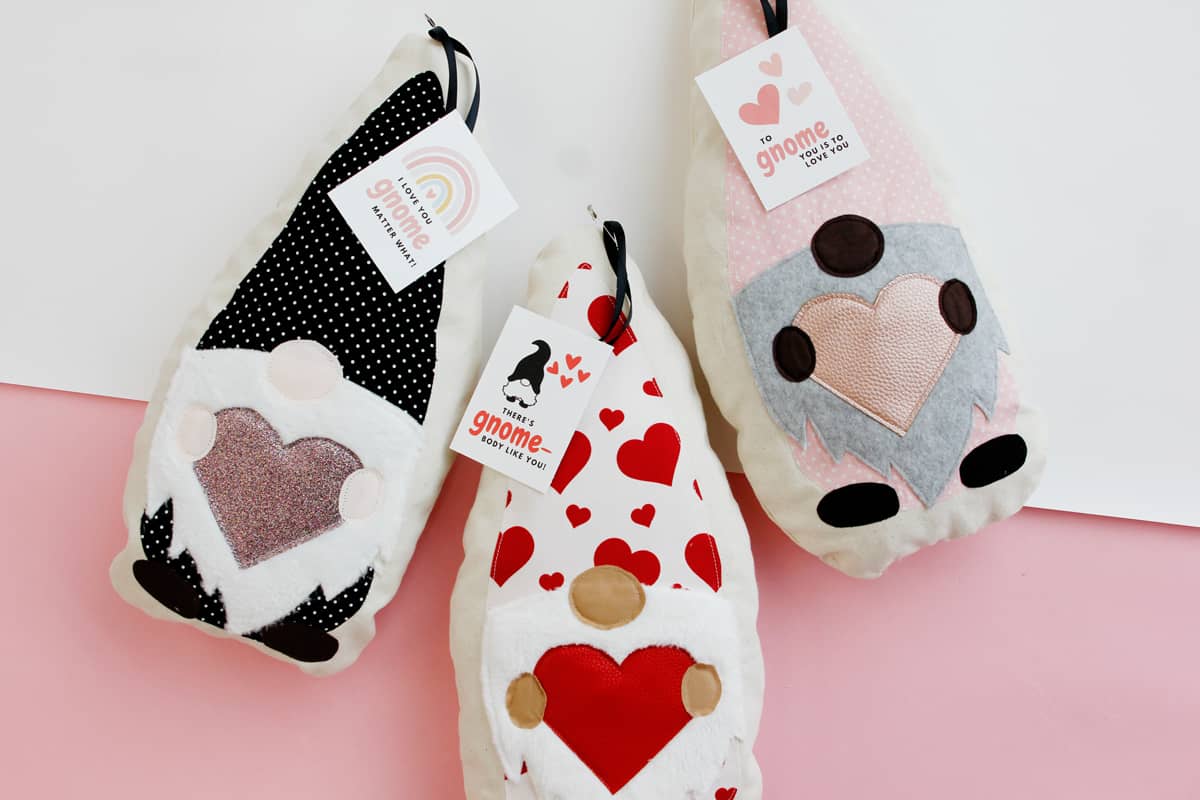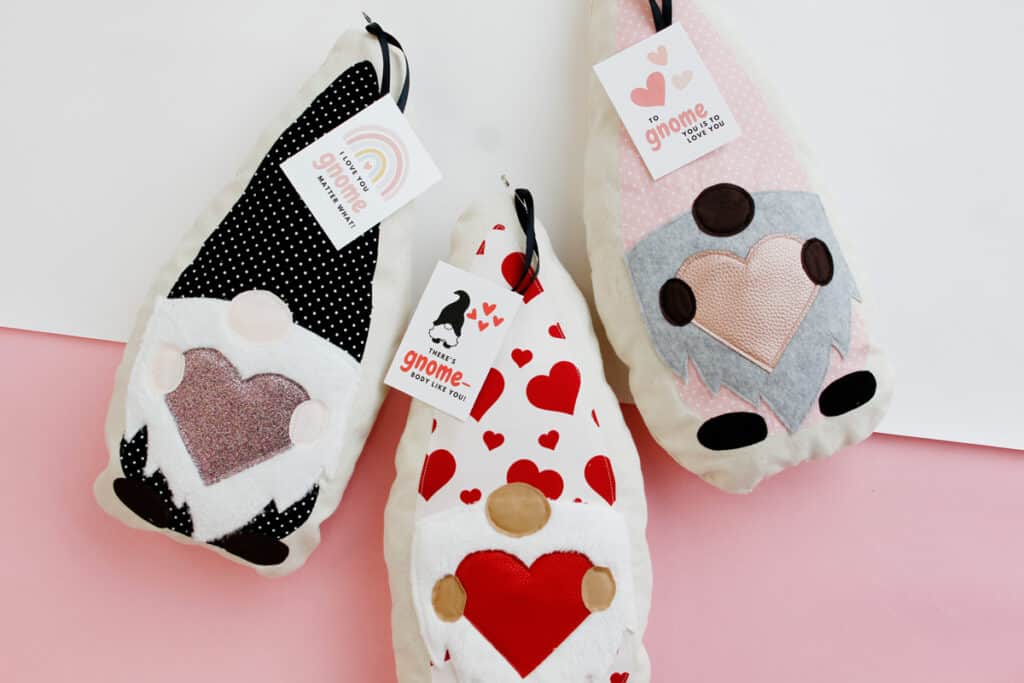 Make it a valentine gnome with a cute little card with a gnome valentine pun! There are 6 little cards to choose from and they are available to download below!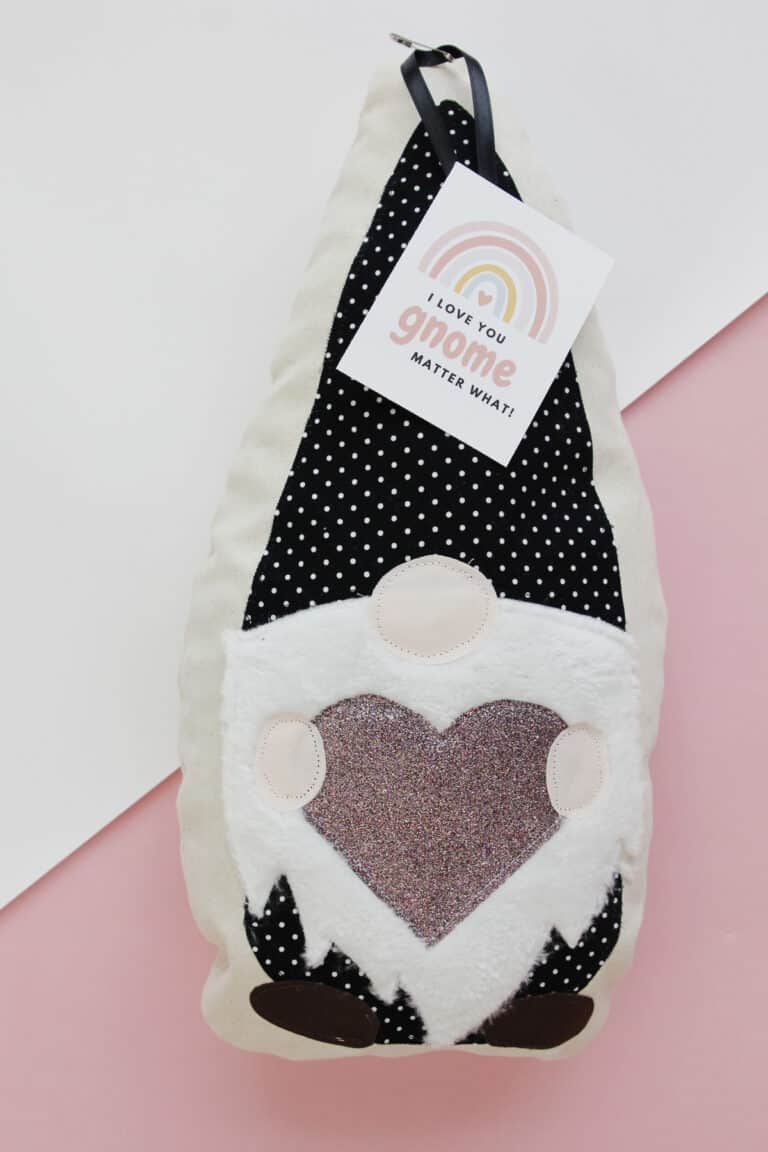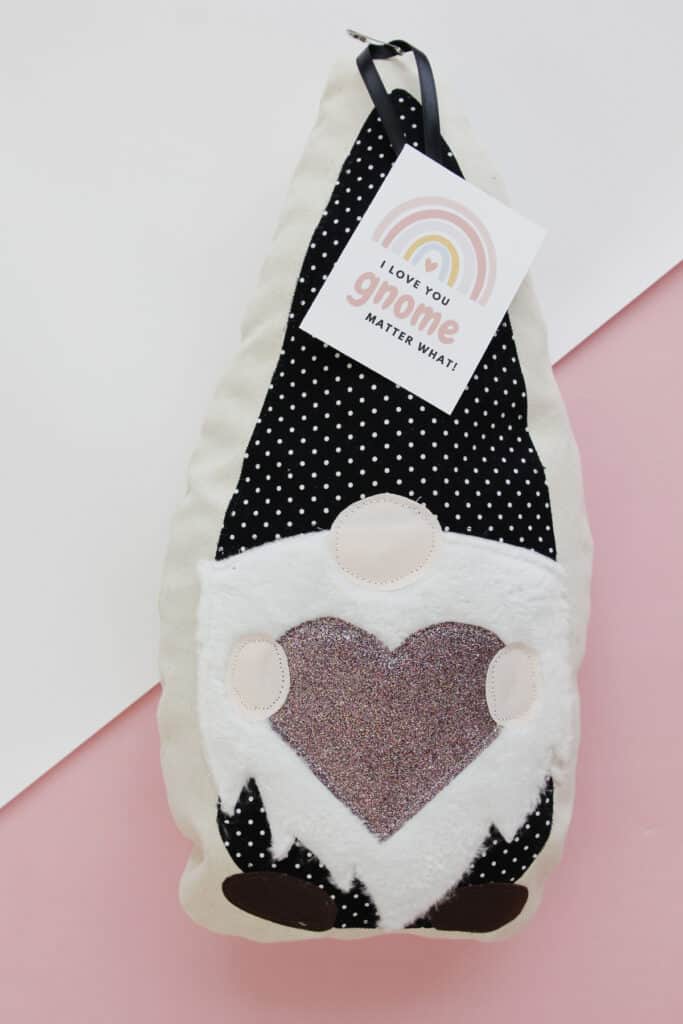 There's gnome-body like you!
I'm so glad to gnome you!
There's gnome one like you
I love you gnome matter what.
To gnome you is to love you.
Download the DIY free gnome sewing pattern below and share your gnomes in the Facebook Group!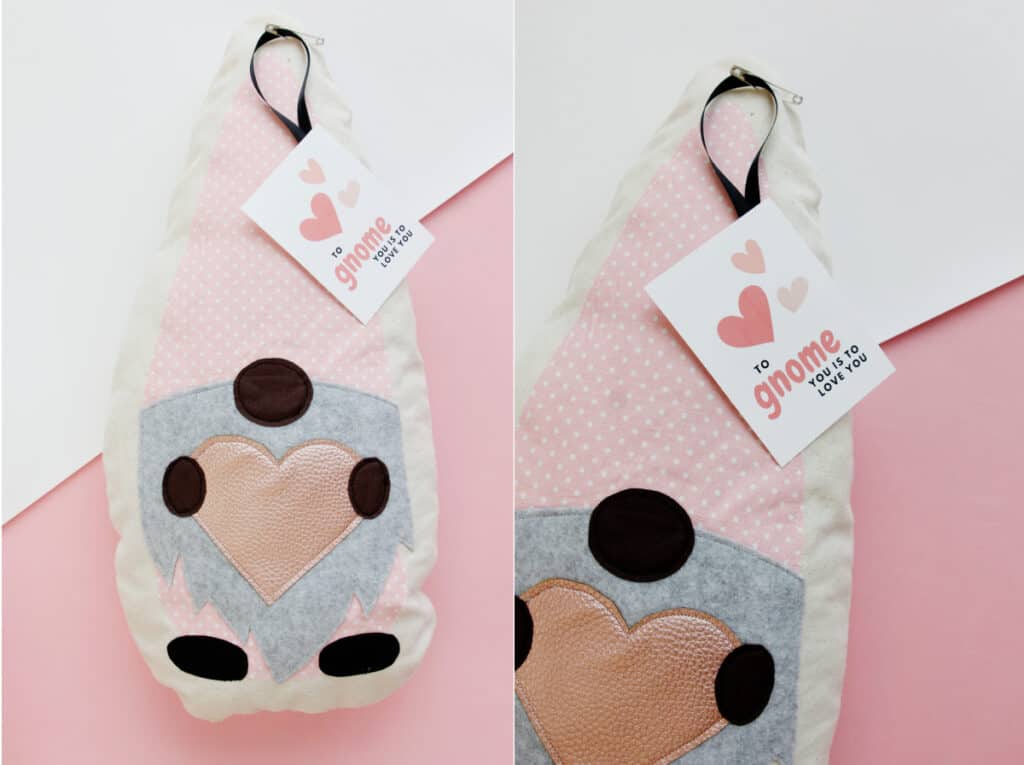 Sew these gnomes and stuff them up to create a gnome pillow for your home decor. Change out the heart for different holiday motifs!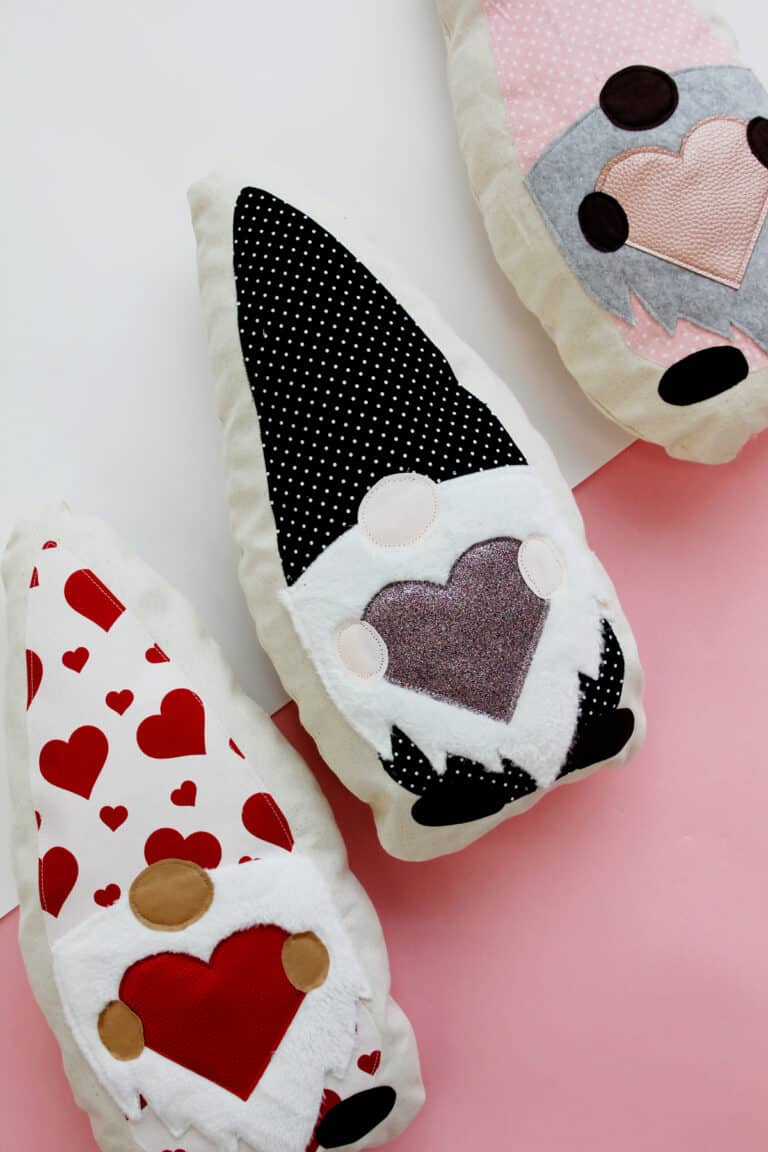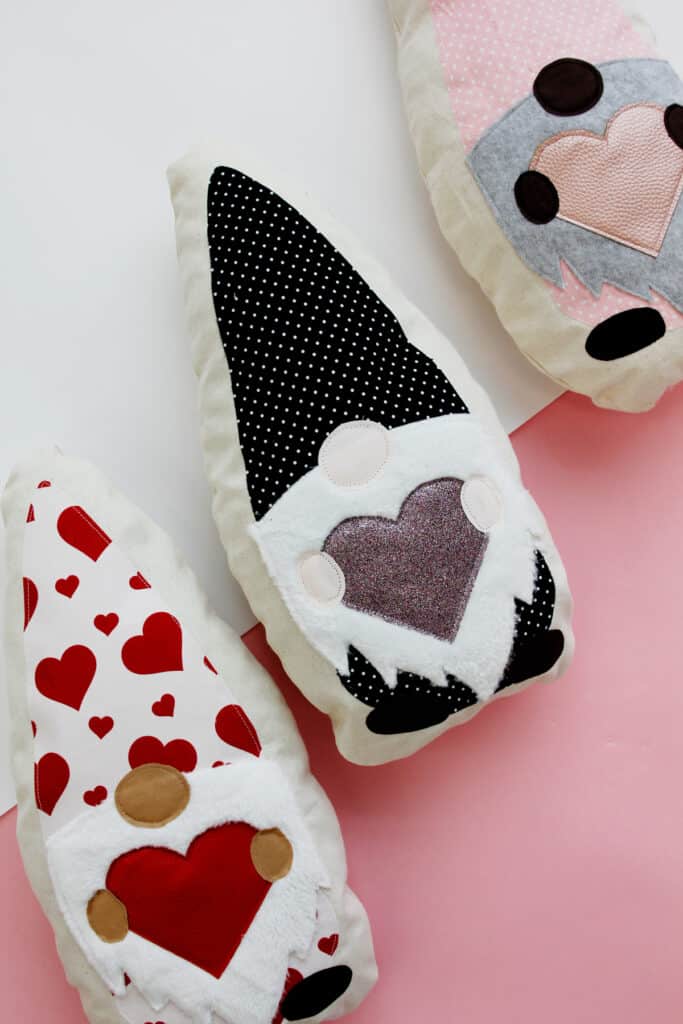 The finished size of this easy DIY gnome is approximately 8″ wide by 17″ tall so it's a nice size for home decor!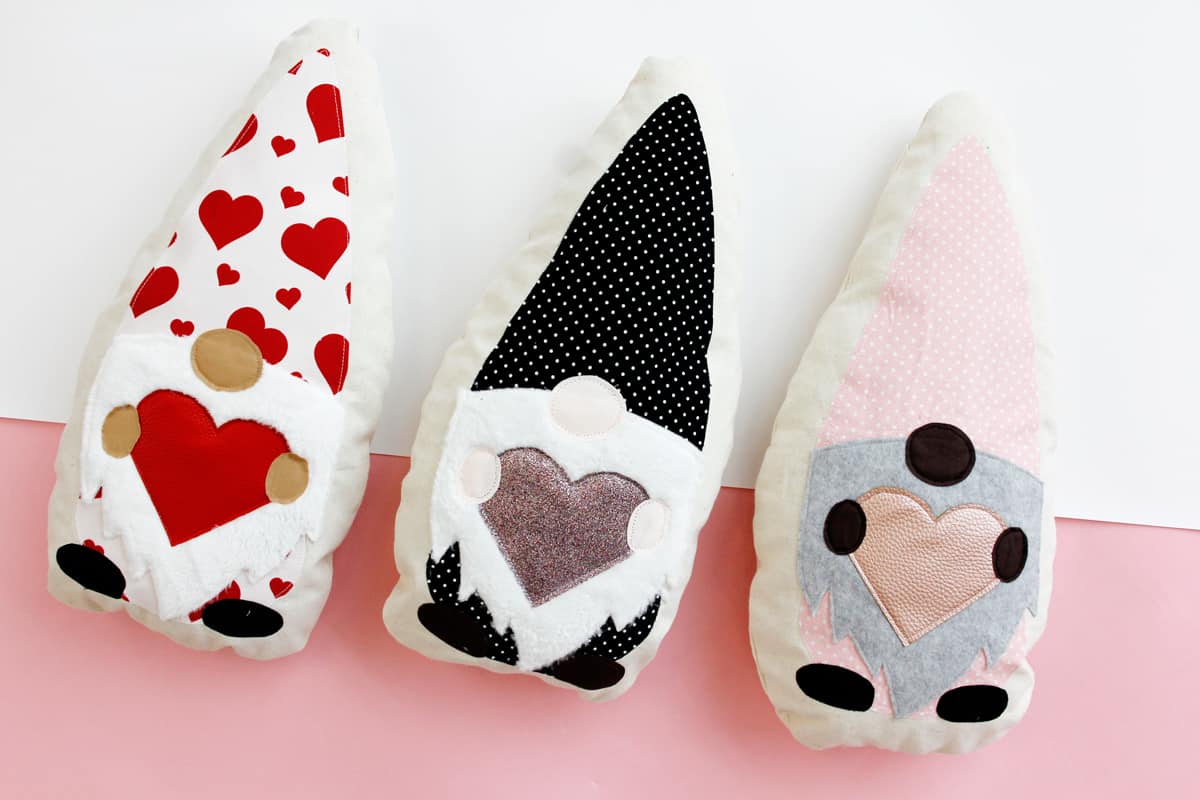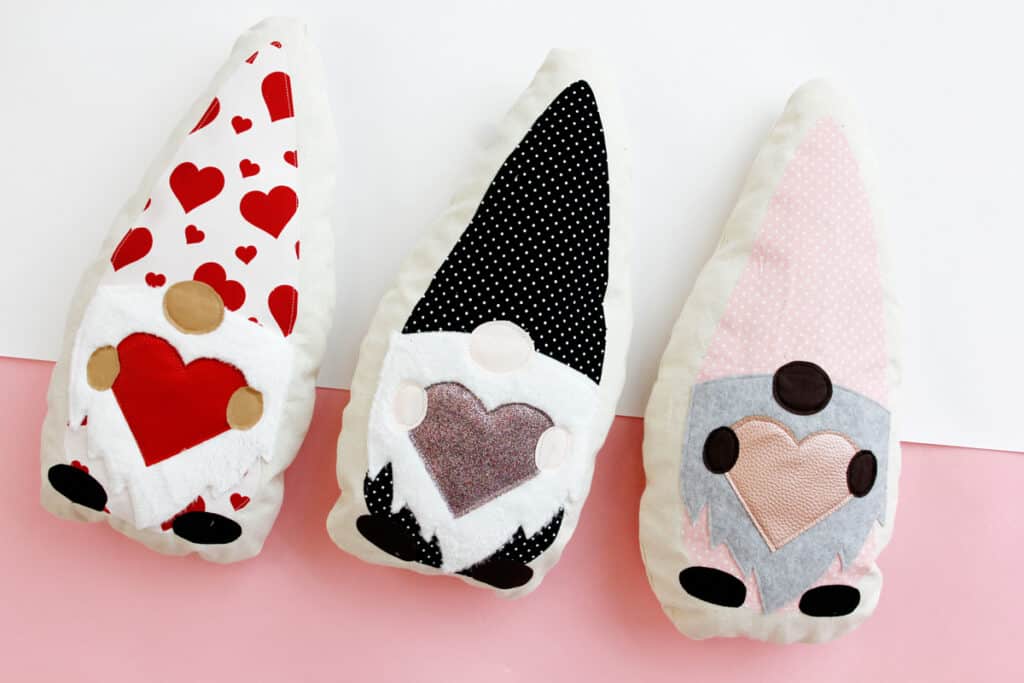 Gnome Pillow Materials
1/2 yard canvas fabric
Scraps of fabric for body/hat, boots, hands and nose, 100% cotton or quilting cotton works best
Matching thread for fabrics
White or grey fleece or fur for beards

Super fluffy furs may be tricky since we are sewing a heart on top of the beard
Minky fabric, plush fleece or felt are some other options

Heat N Bond Ultra (affiliate links) (red package)
Fiberfill stuffing like poly-fil

Cluster fiber recommended. Cluster stuffing creates a smoother finished product because it doesn't clump up as much.

Basic sewing supplies: sewing machine, pins, scissors, iron, etc
Optional: scraps of pleather, glitter fabric, felt, etc for heart

I used faux leather and a glitter sheet. Just make sure this material isn't too thick.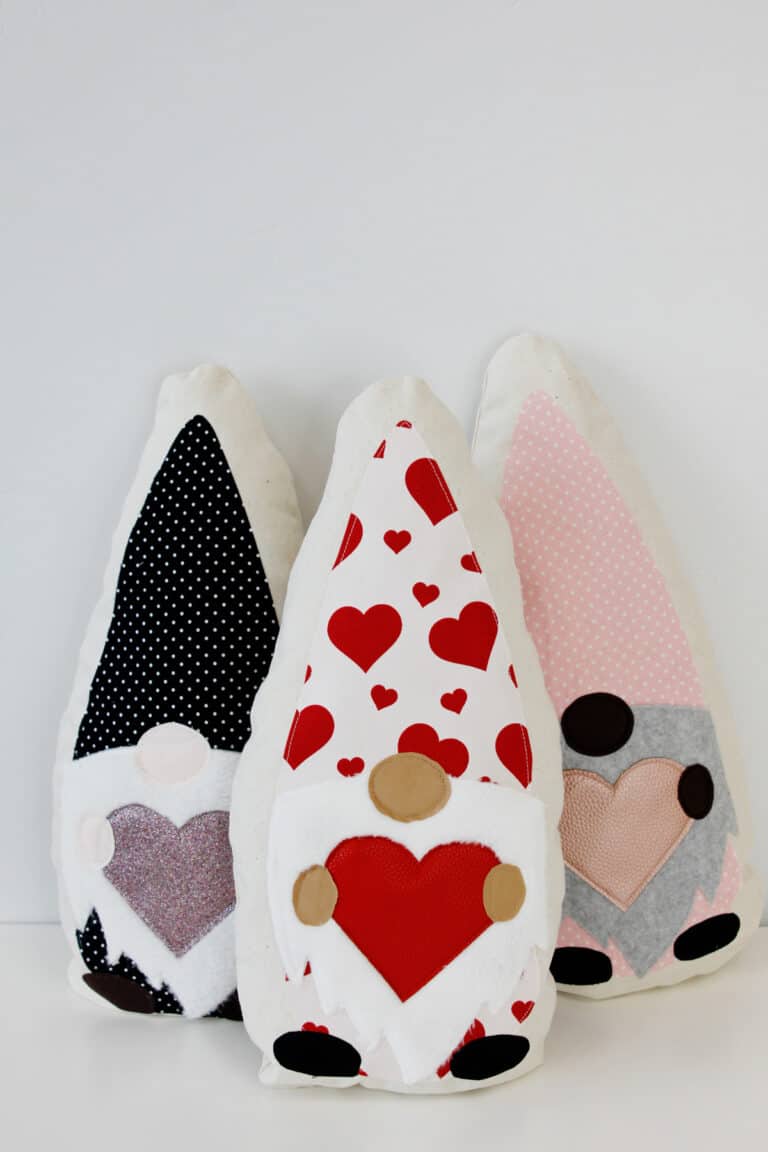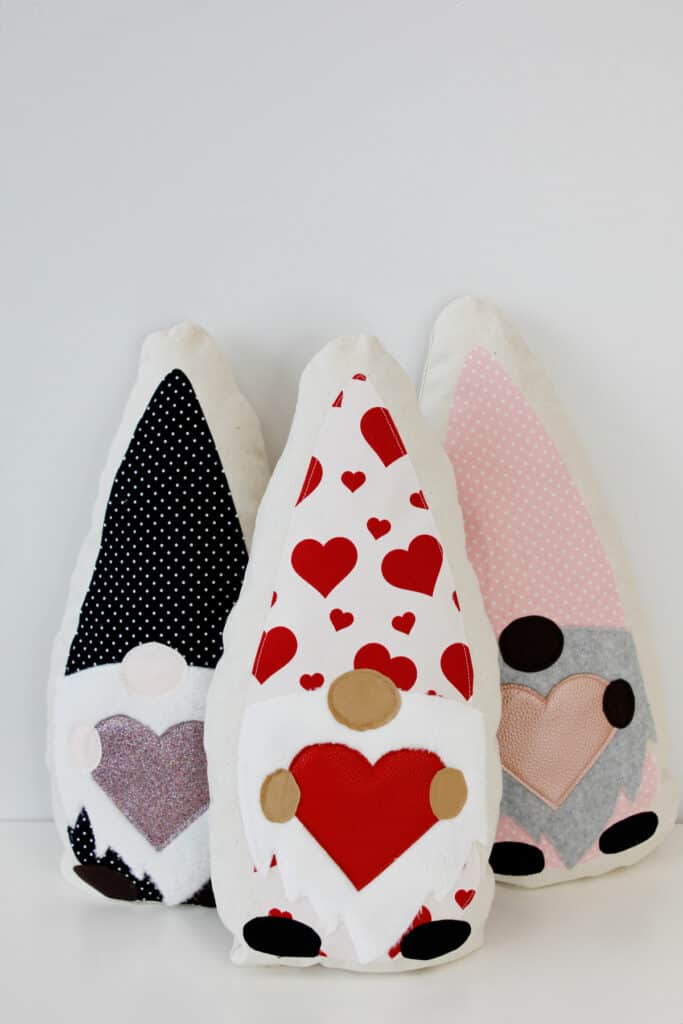 Gnome Pattern Download
Download the PDF pattern below by signing up for the email newsletter.
This free gnome pattern will print on 6 pages. Print at 100% or DO NOT SCALE. Trim along the dashed lines and tape together as shown: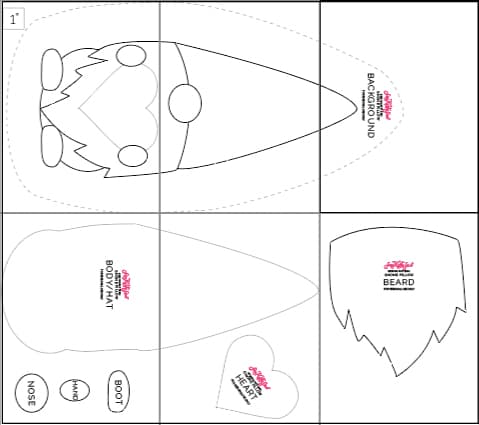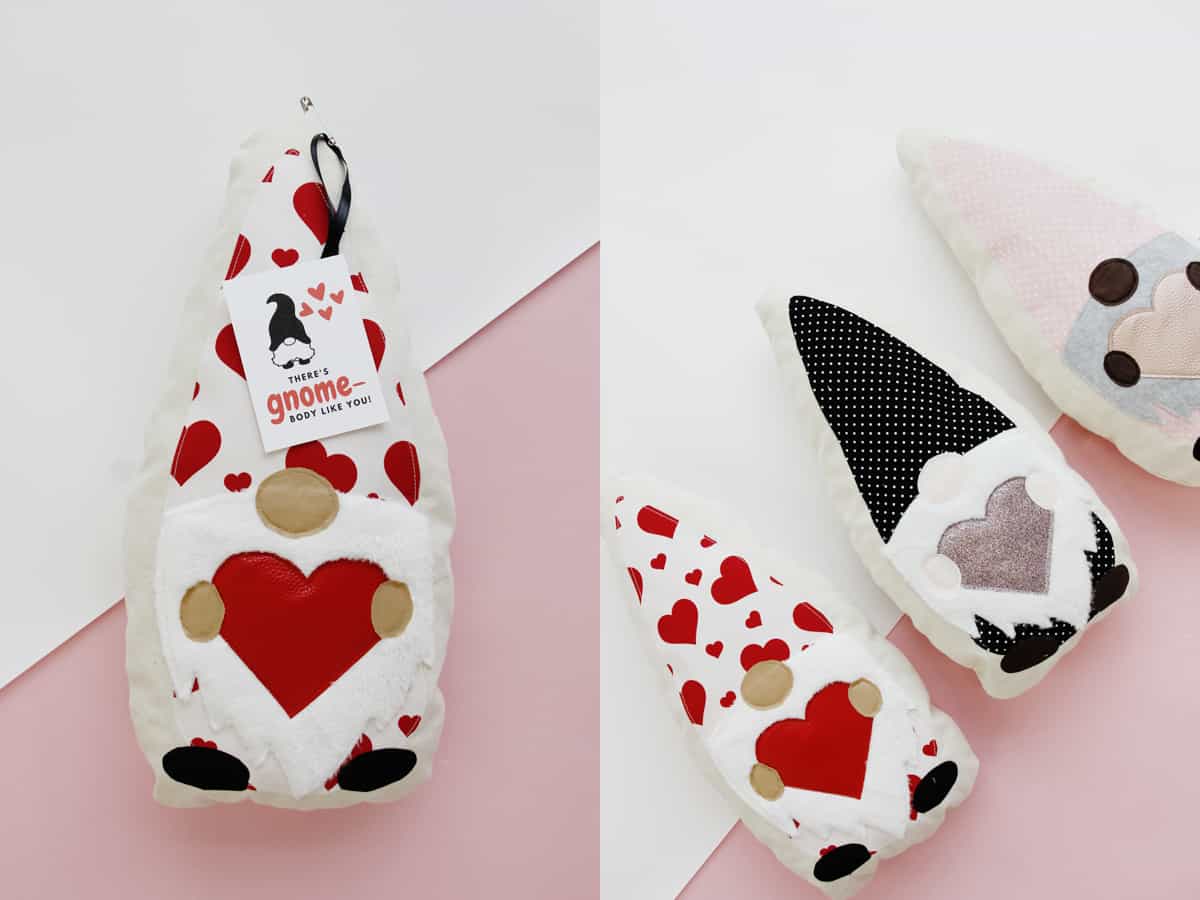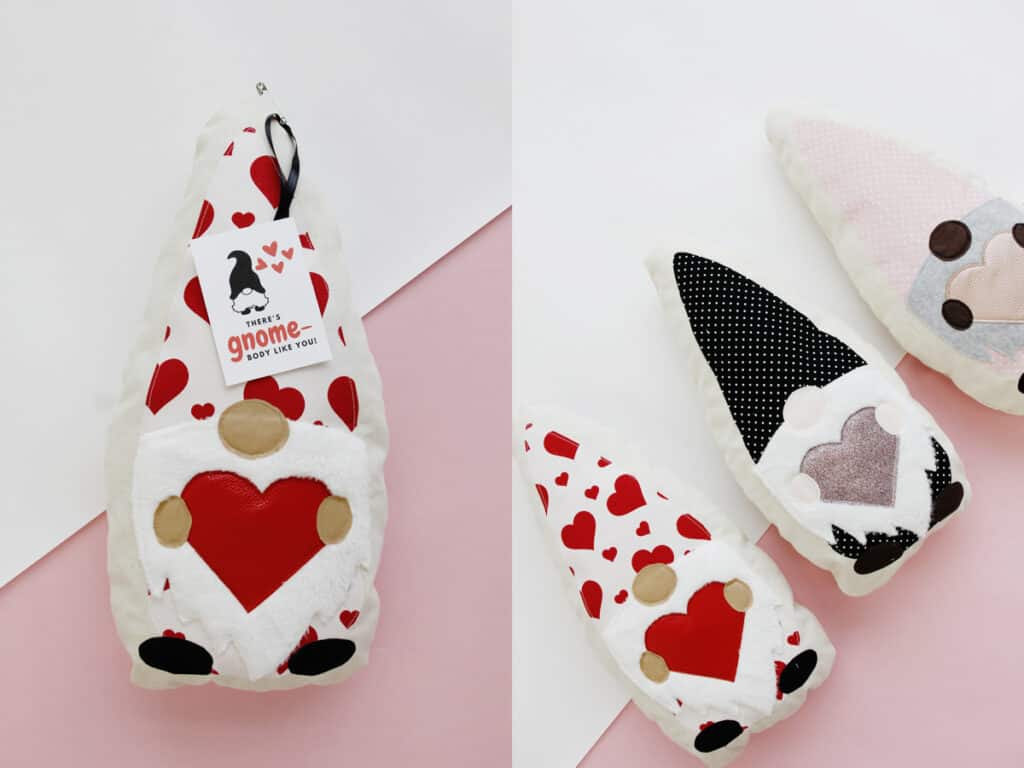 Gnome Valentines Printable with Gnome Valentine Sayings
Download and print these gnome puns cards to go with your project! The free printable gnome valentines print on one sheet of paper and there are 6 included. I recommend printing on a thicker card stock for best results!
This is a sweet gift for a neighbor to brighten their day!
Applique Gnome Sewing Pattern Instructions
Let's get sewing! Follow these step-by-step instructions to complete your stuffed gnomes. Cut out two background pieces from heavier fabric such as canvas or duck cloth.
Back your appliqué fabrics with Heat N Bond Ultra. Peel off the paper backing and cut out the following pattern pieces:
1 gnome body piece with hat

You can split this piece in half if you want to use a different fabric for the hats and bodies. Just cut in a spot that the beard will cover so you don't see it.

2 boots, cut mirror image of each other
2 hands and 1 nose
1 beard
1 heart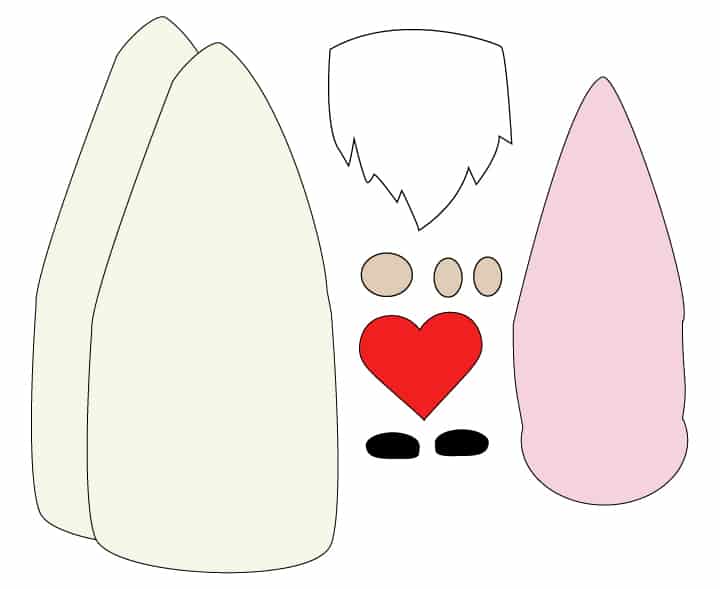 Start by applying the gnome body/hat piece centered on the background fabric. Iron to secure then topstitch around the fabric 1/8″ from the raw edges.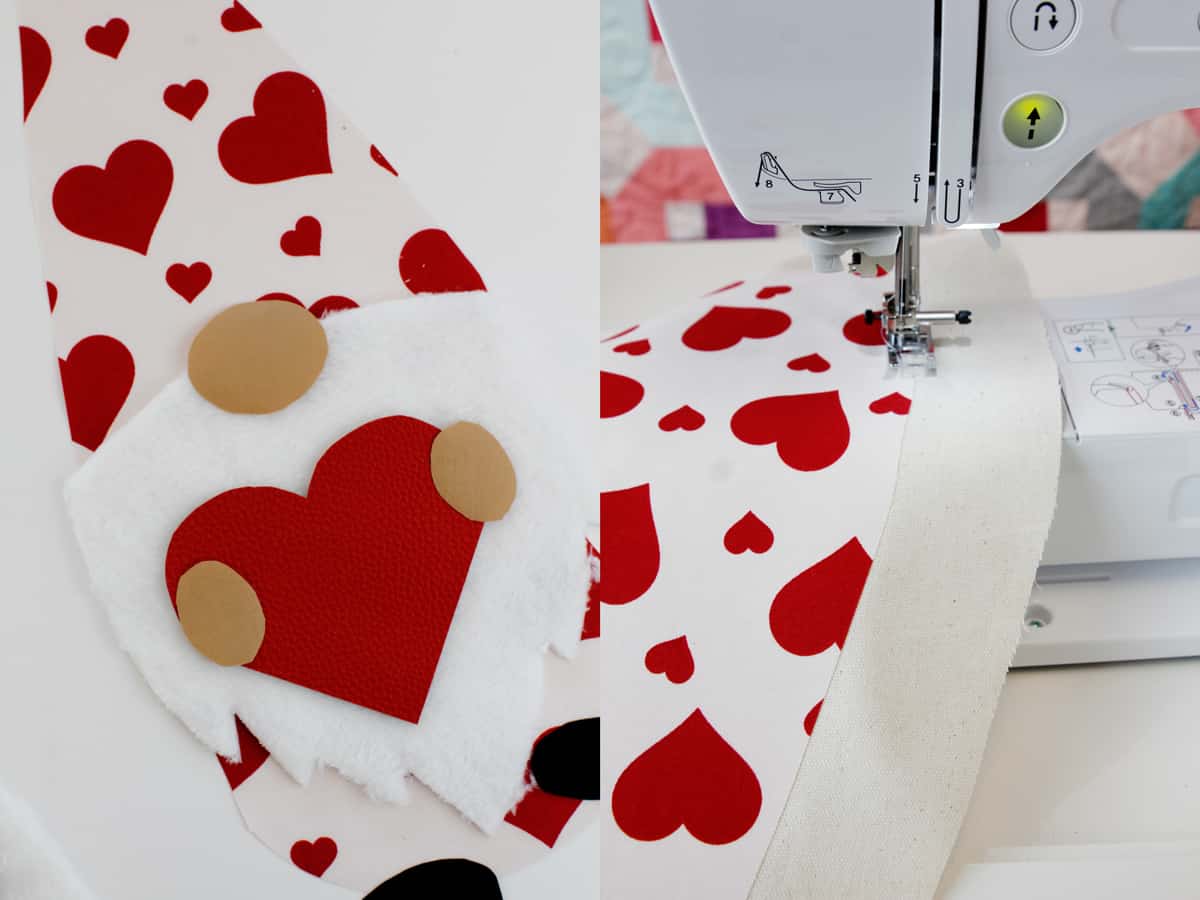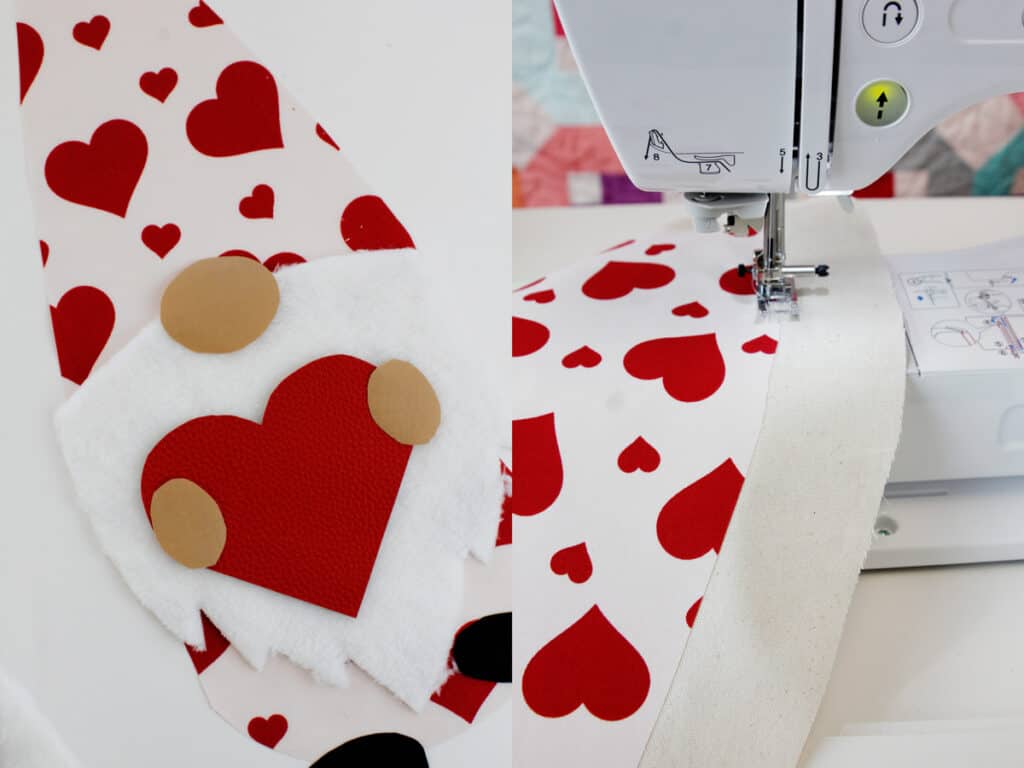 Next apply the gnome's boots and topstitch.
Next attach the beard. Depending on your material it may be tricky to get the Heat N Bond to attach. You don't need it for faux fur but I do recommend it for fleece since fleece can stretch. Topstitch in place.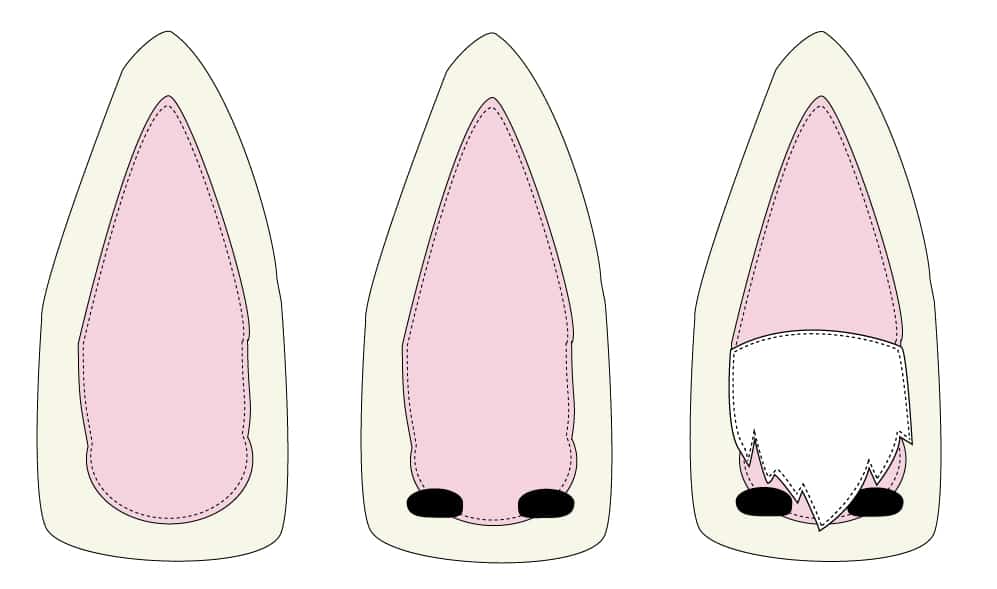 After the beard, put the heart in place. Again, depending on your material you may skip the Heat N Bond here but if you need help keeping the heart in place while you sew you can use a hot glue gun to dab a little bit of glue in the middle of the heart. Don't put the glue anywhere you will sew though!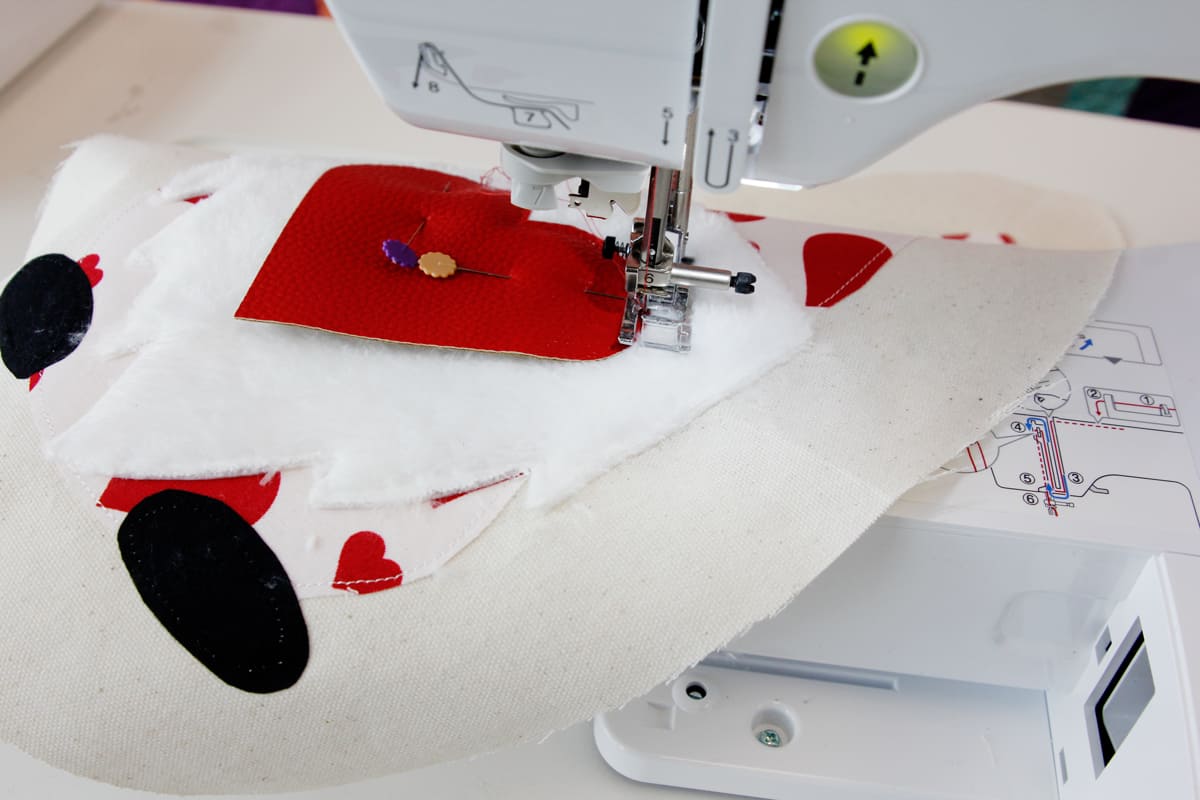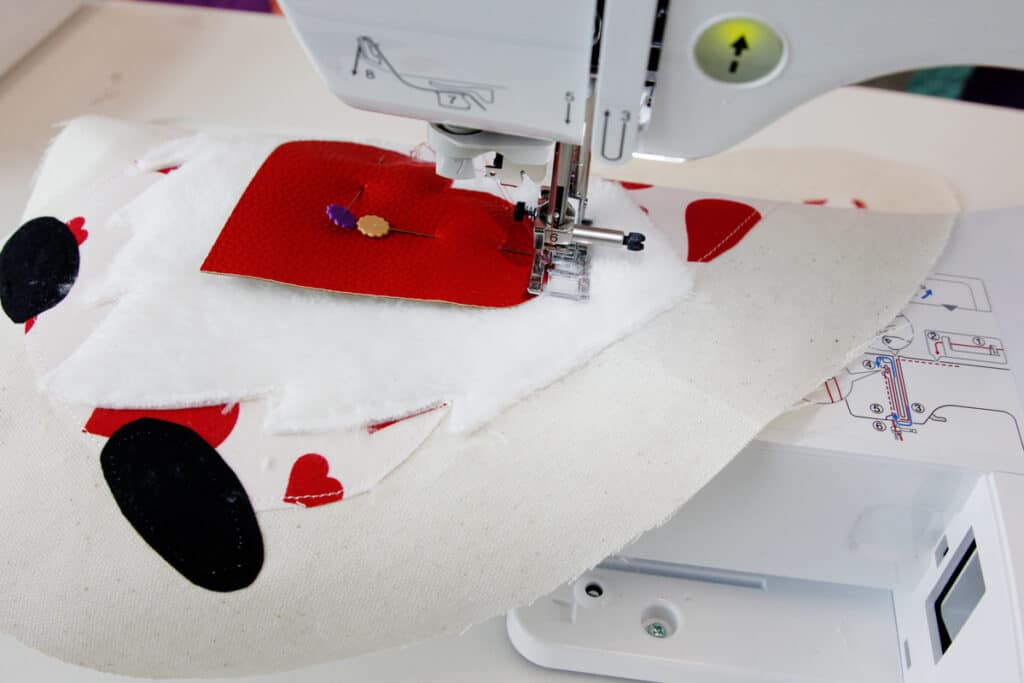 The gnome's hands will overlap the heart. And the nose will overlap the hat and beard.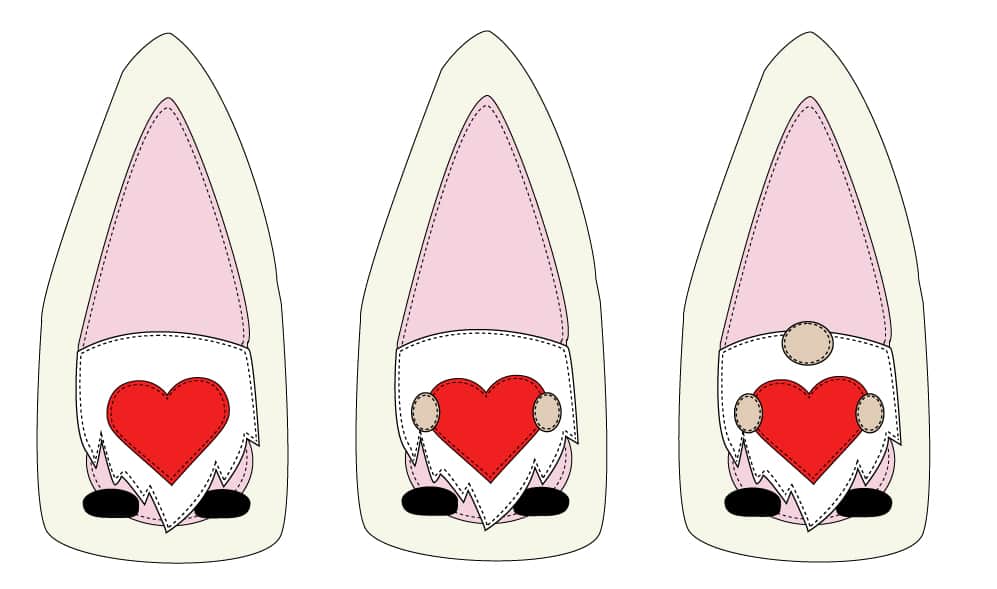 Sew the Gnome Plushie
Use 1/2″ seam allowances when sewing together.
Lay the second background piece on top of the gnome with right sides of the fabric together. Sew together, leaving a 3-4″ opening at the bottom of the gnome stuffie. The layers of fabric and material can get thick, so I recommend leaving this larger opening at the bottom.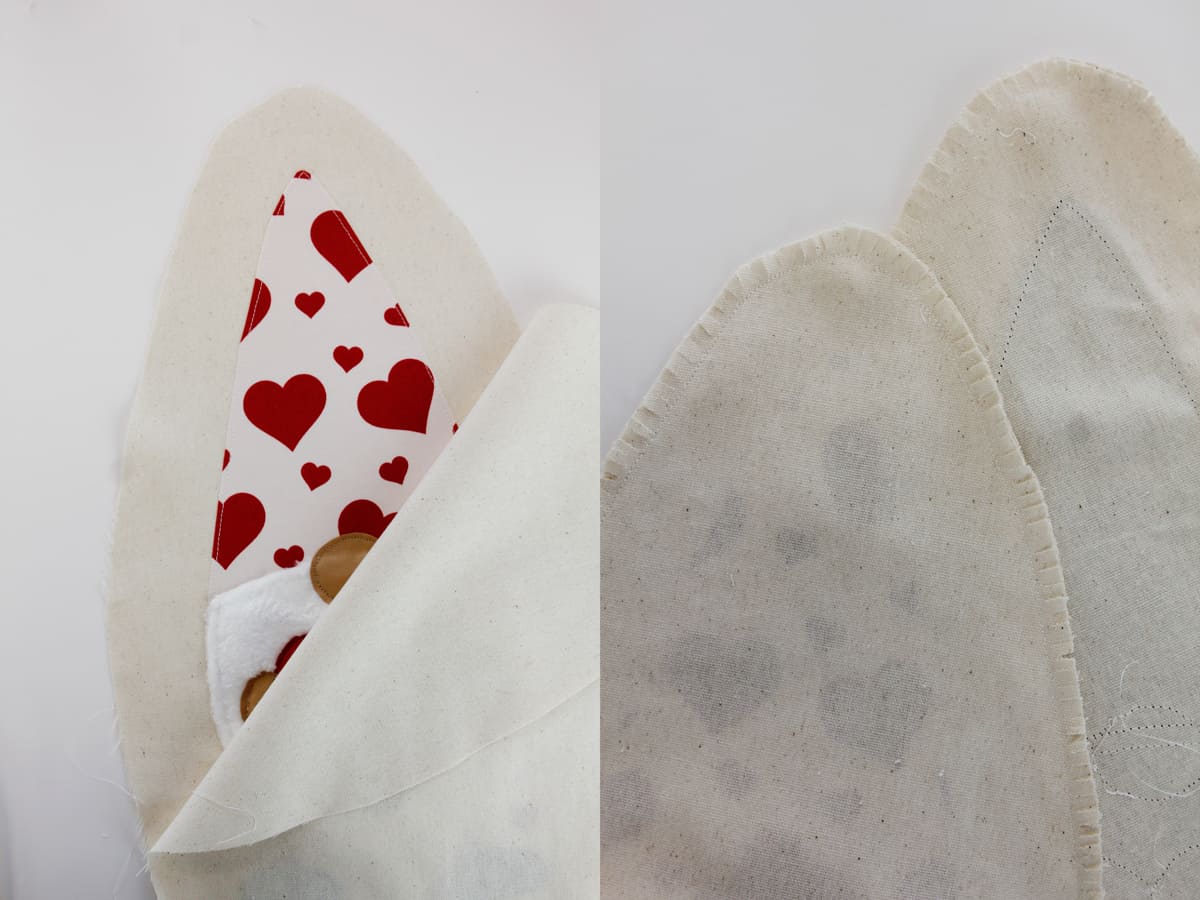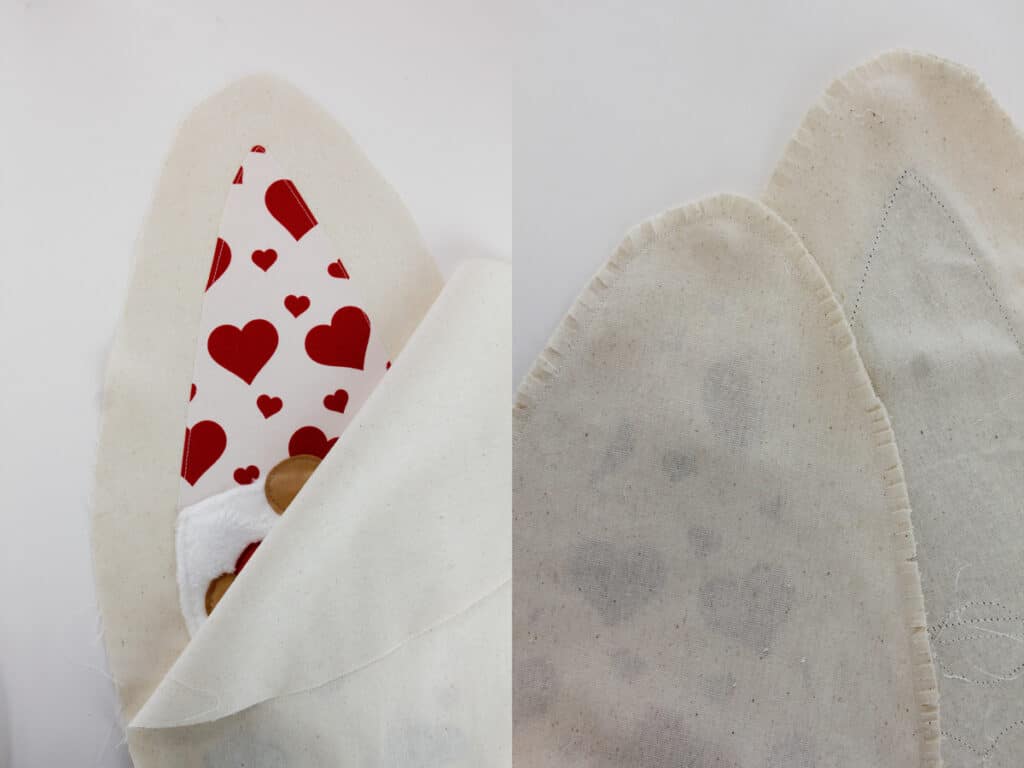 Clip the curved edges of the seam allowance. Turn right side out and press. Then stuff to your liking. Sew the opening closed with a hand needle and thread using the ladder stitch.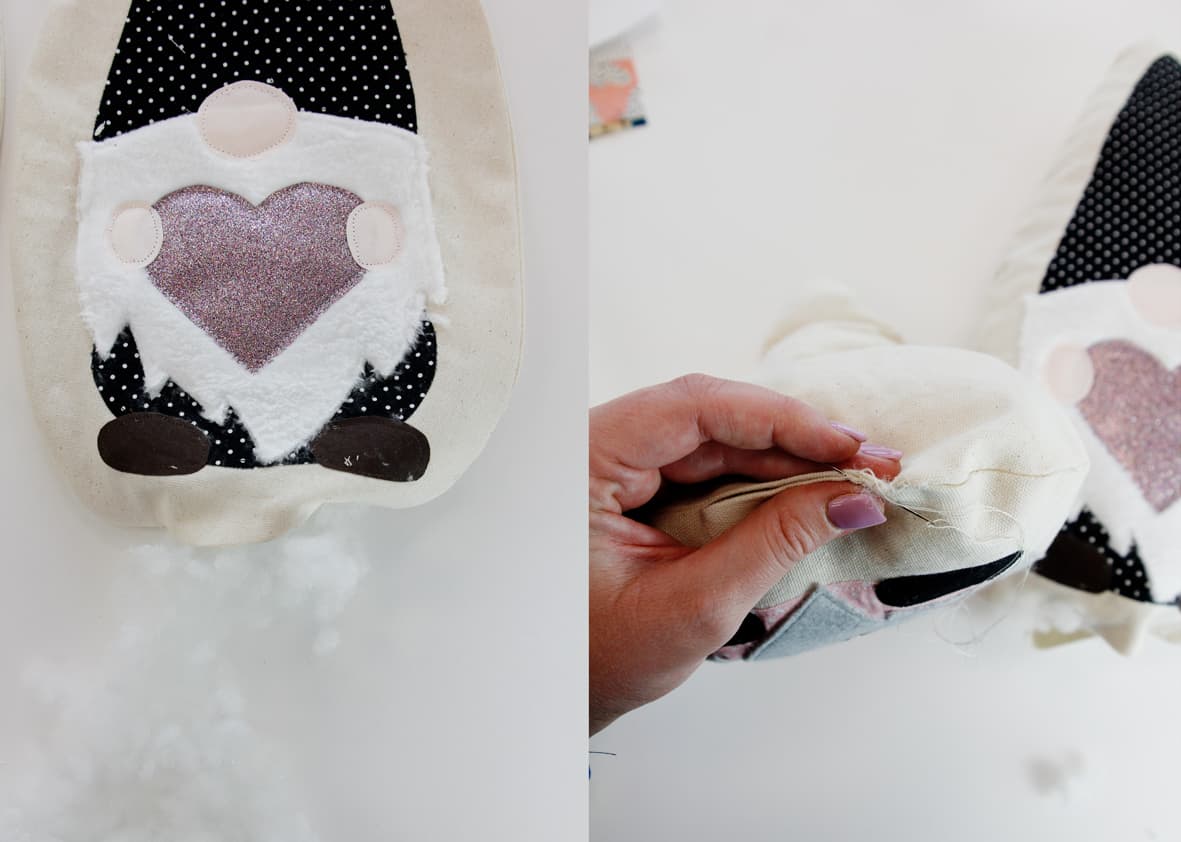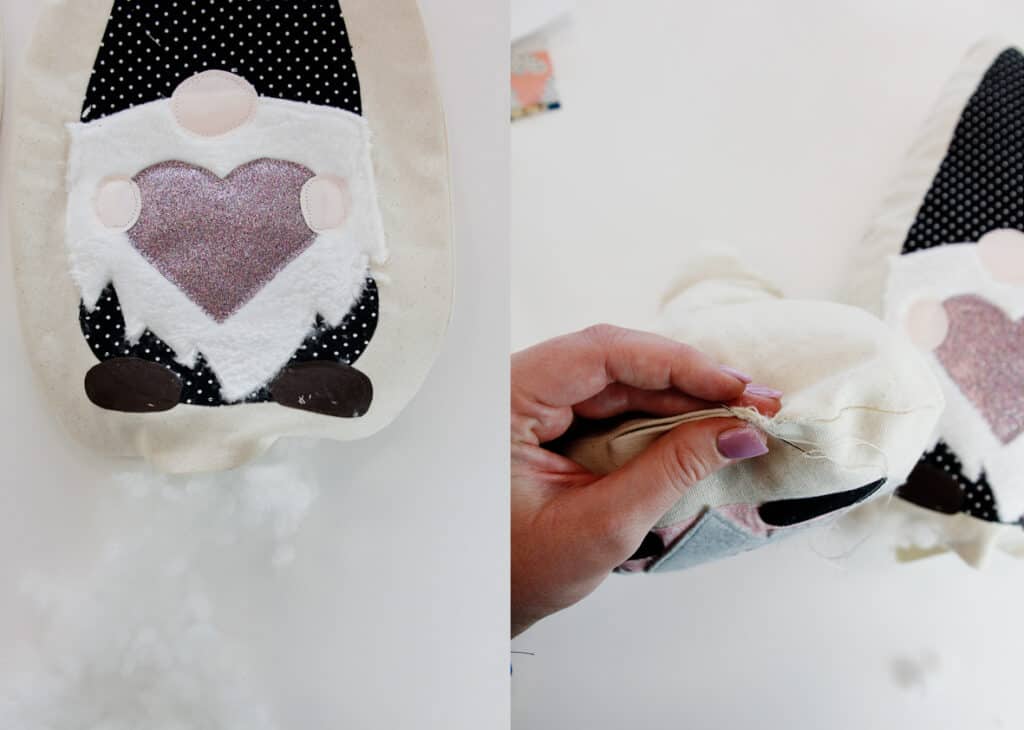 Print out some valentines and use a safety pin and ribbon to attach them to your gnomes!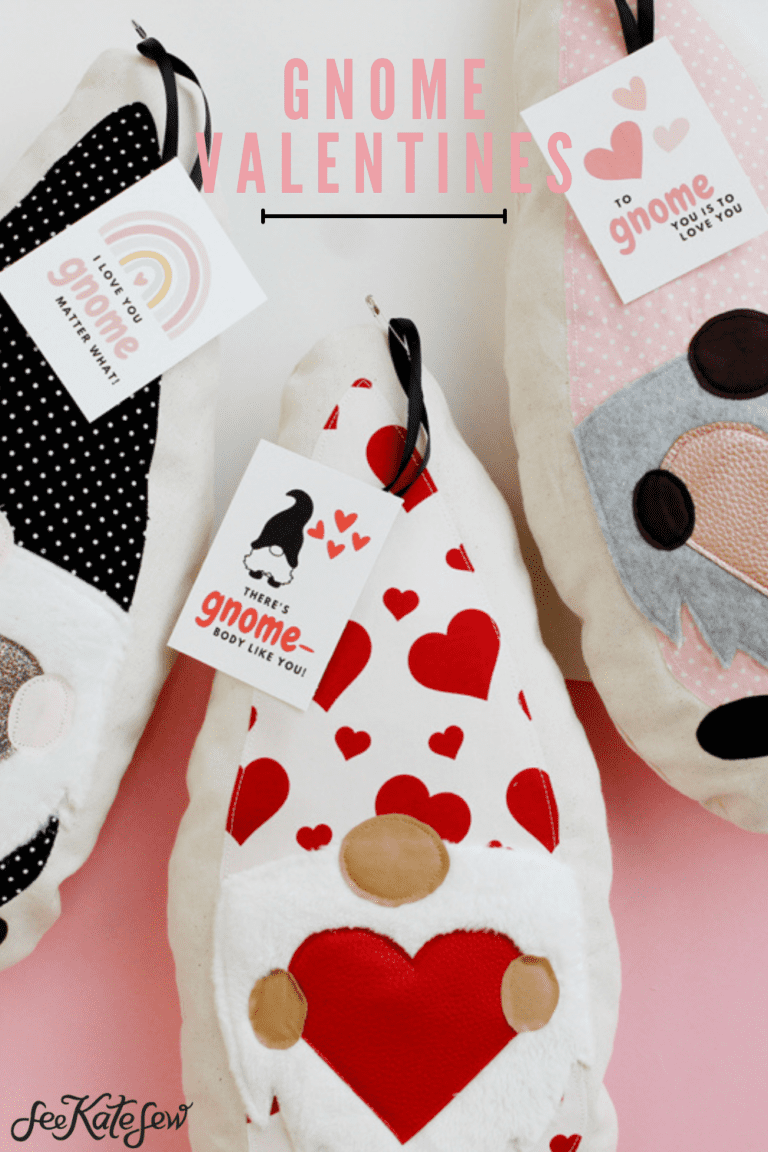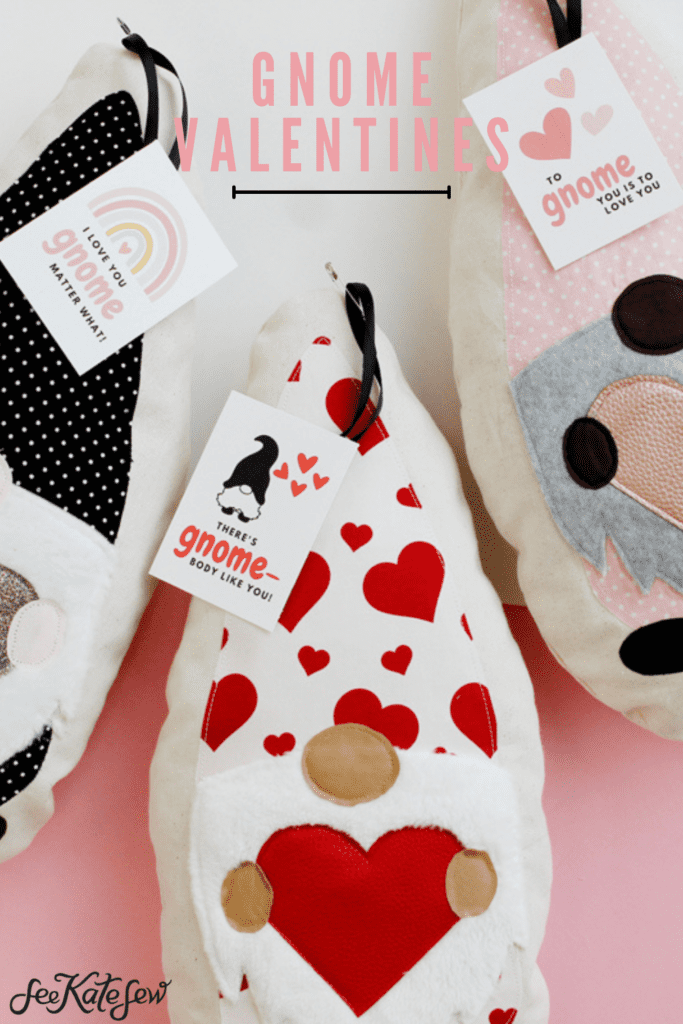 Gnome Making Tips + Inspiration
Use printed Christmas fabric for DIY Christmas gnomes. Leave off the heart or make it a square "present" instead.
Use any holiday or seasonal fabric to make holiday gnomes for holiday decorations: Easter, 4th of July, Birthdays etc!
Apply iron-on vinyl designs to the gnome hats
Instead of machine sewing, use an embroidery needle and thread to hand stitch the piece in place for a fun thread touch
Attach decorations such as a buttons or ribbons for extra creative gnomes
Add beans, rice or poly beads at the bottom of the gnome to help your pillow stand up on it's own a little better.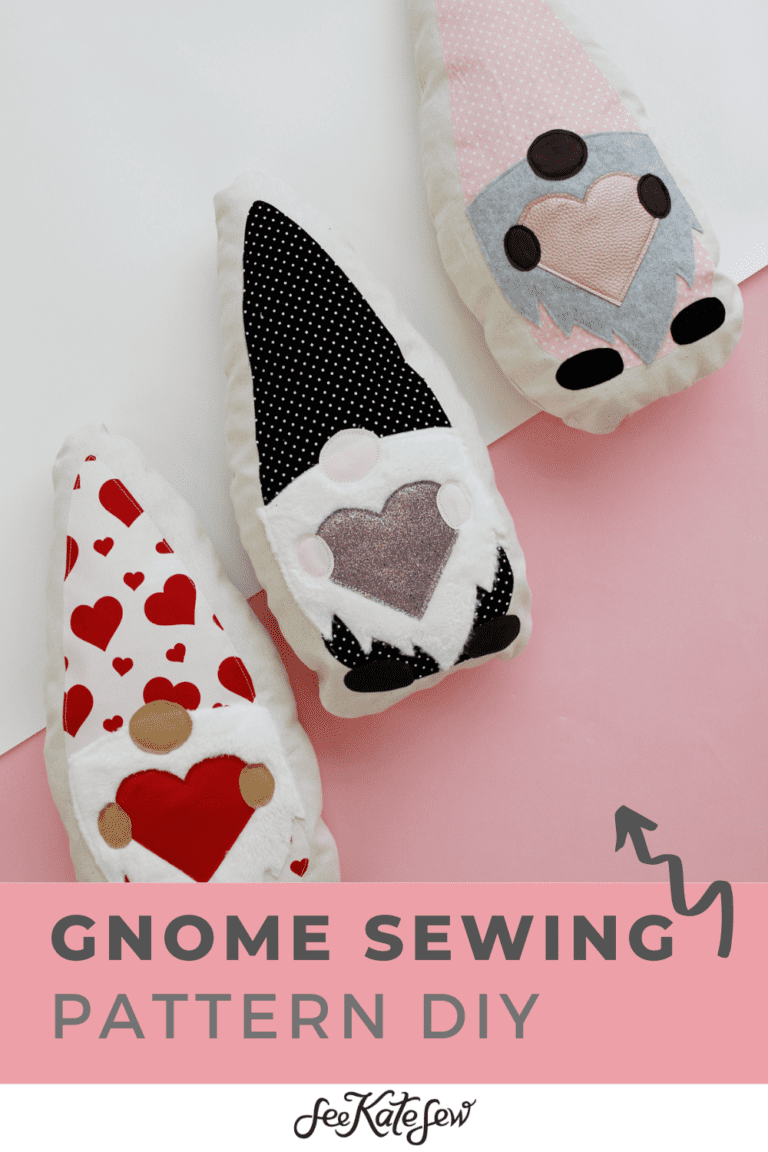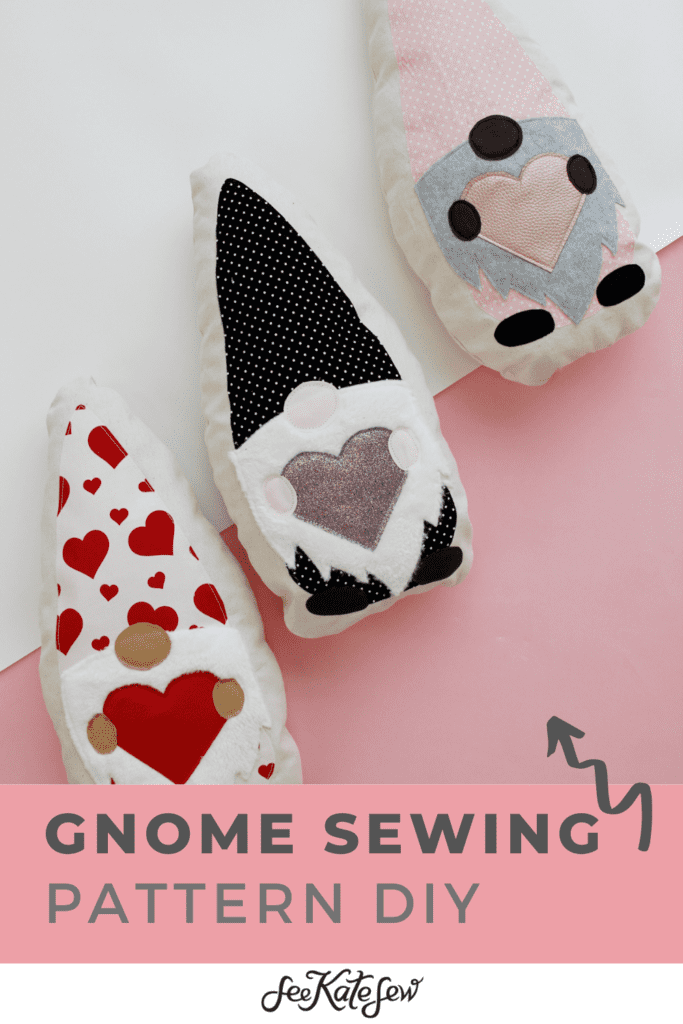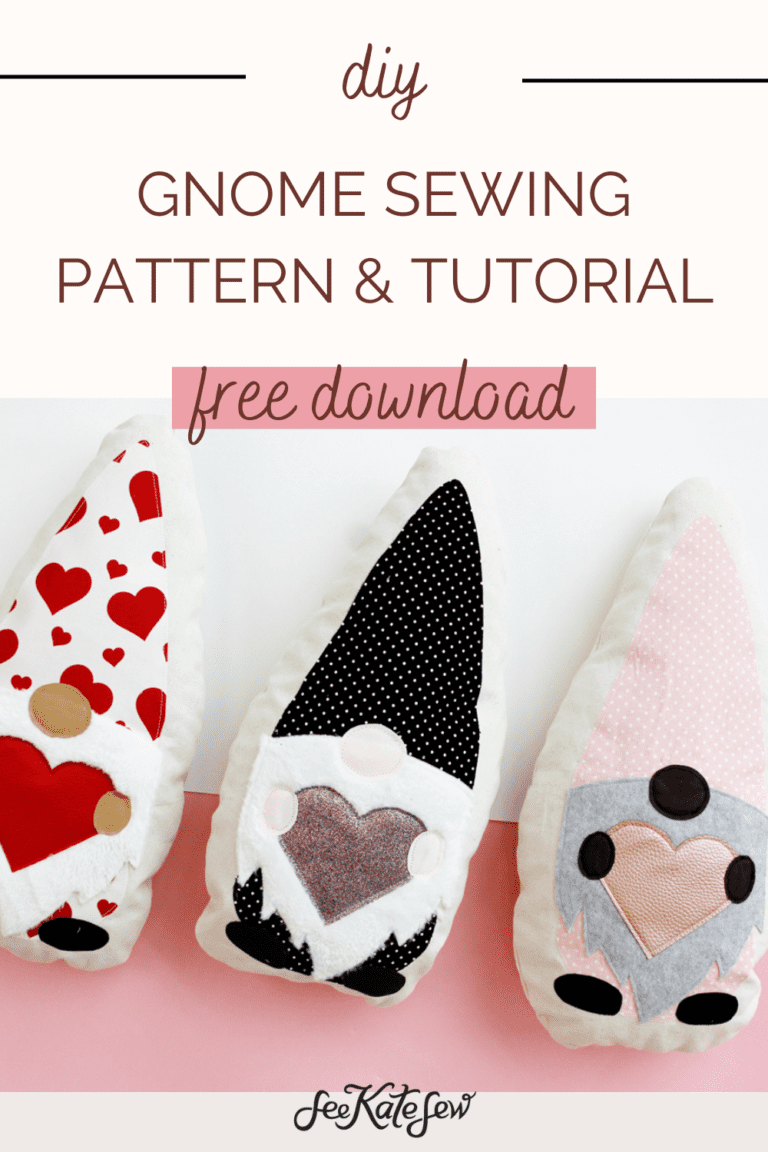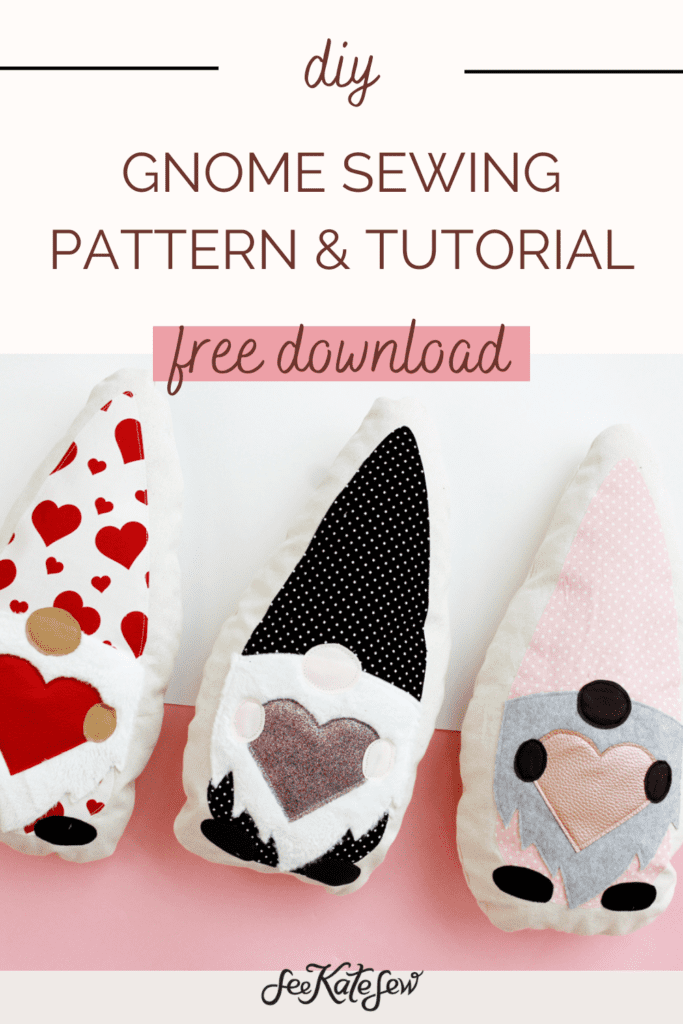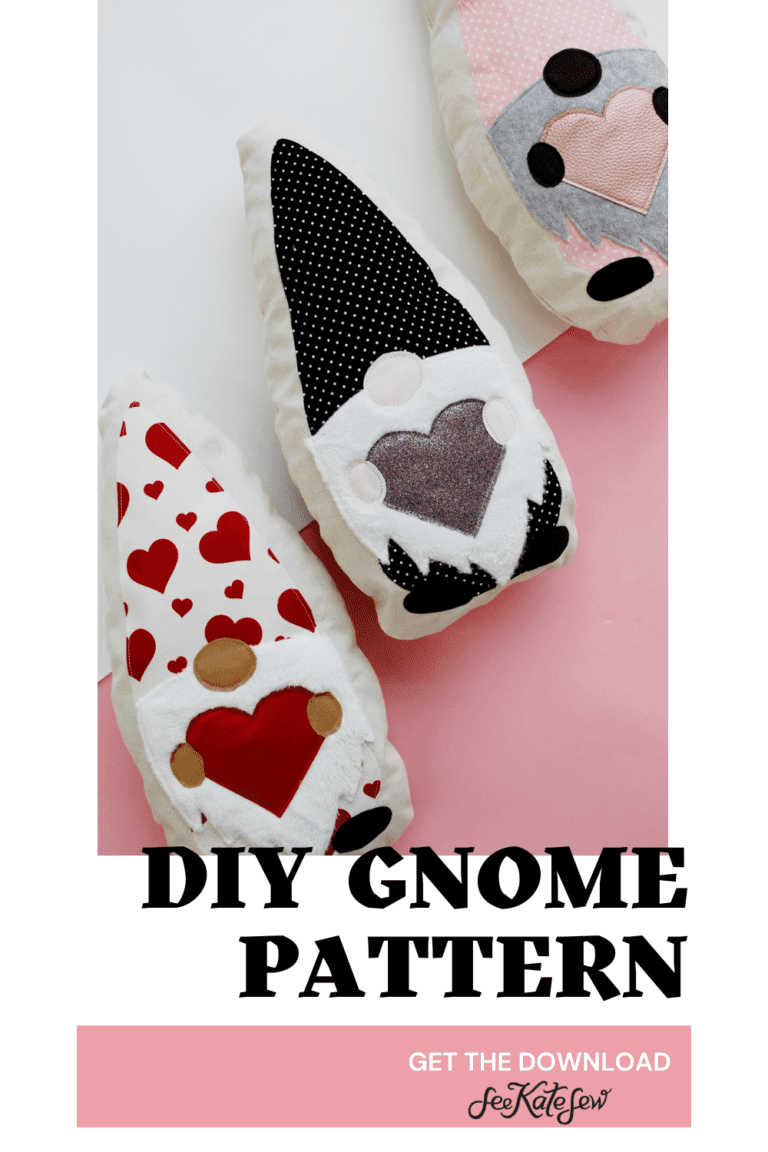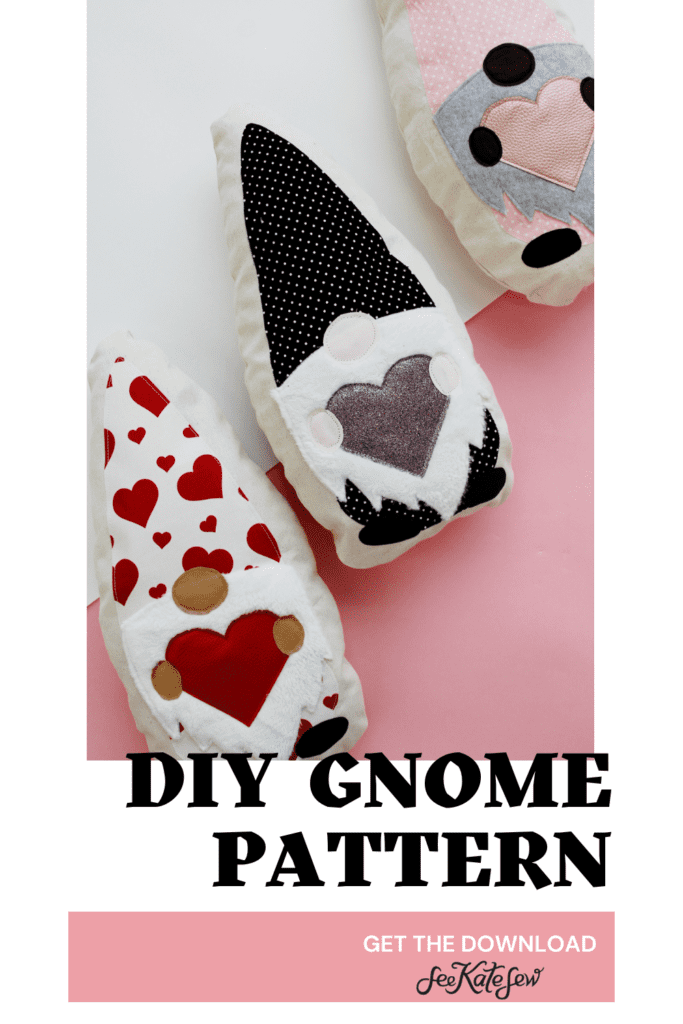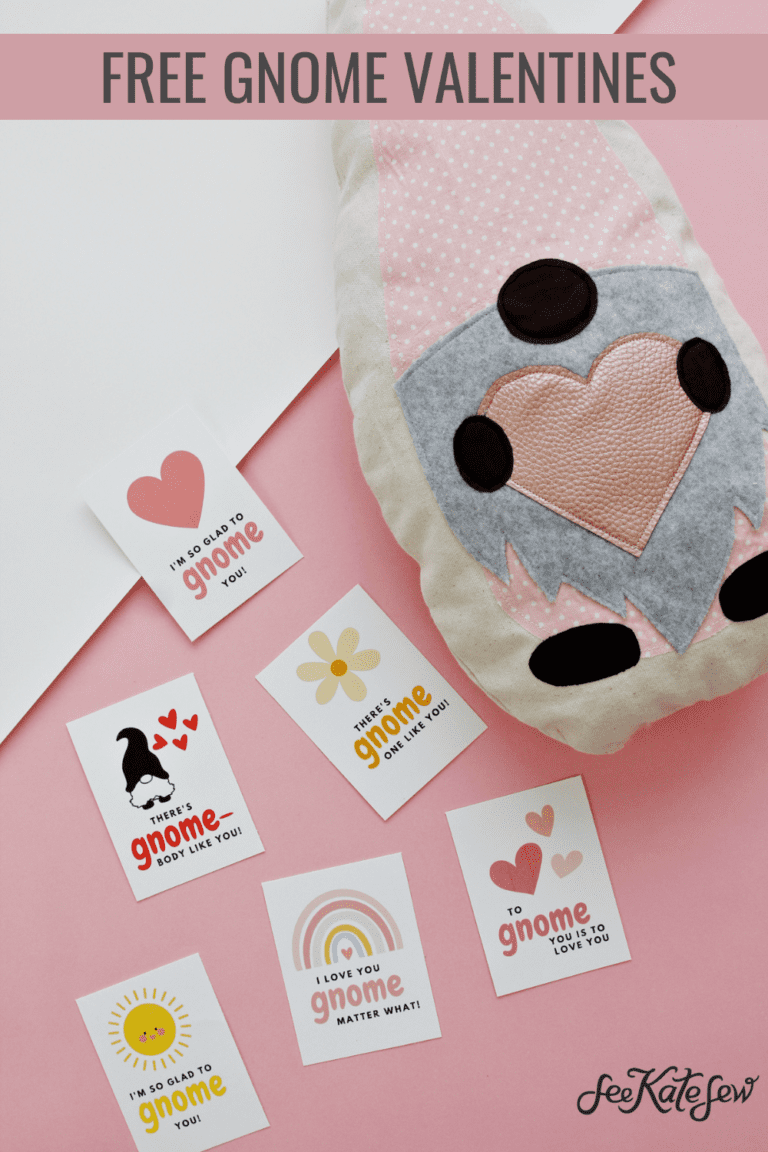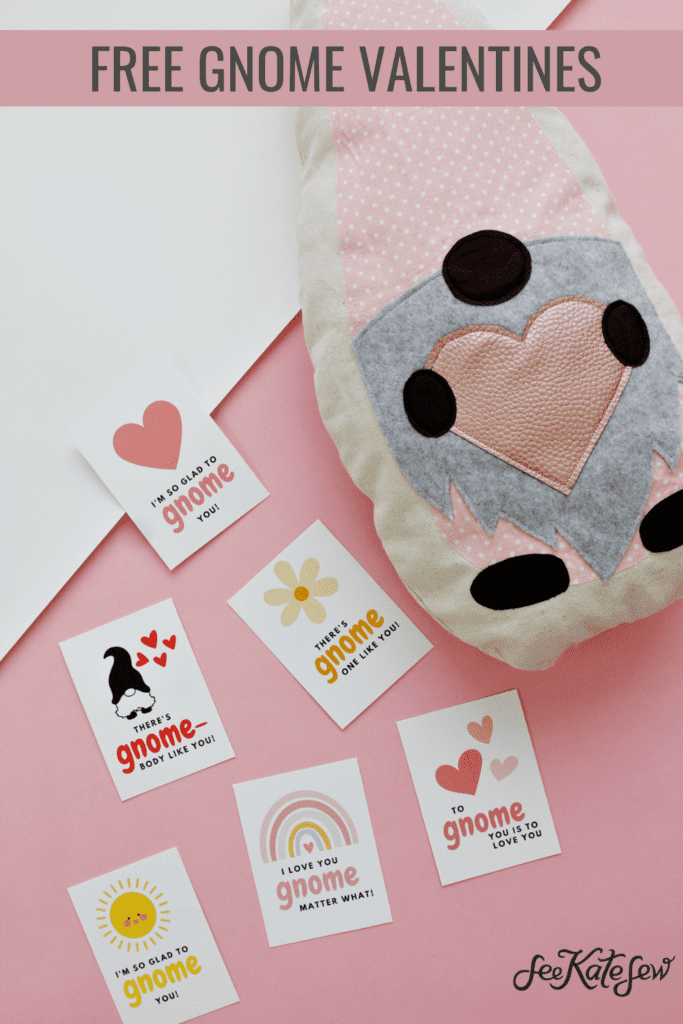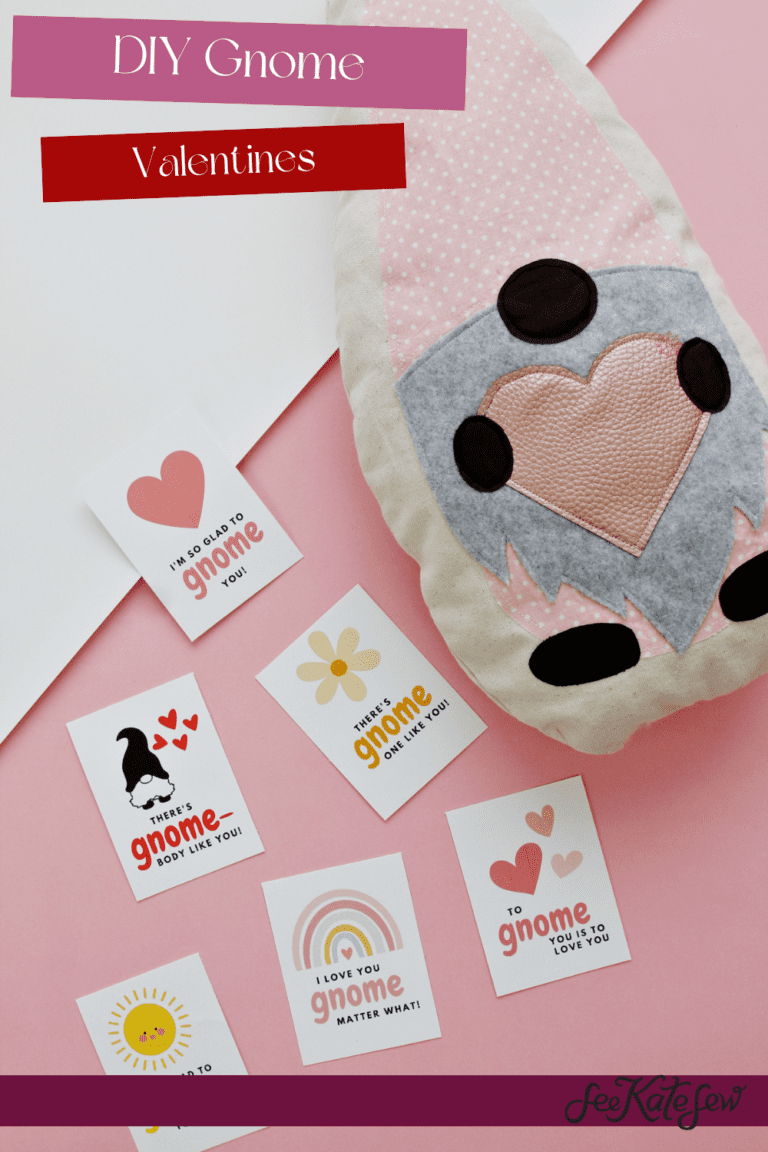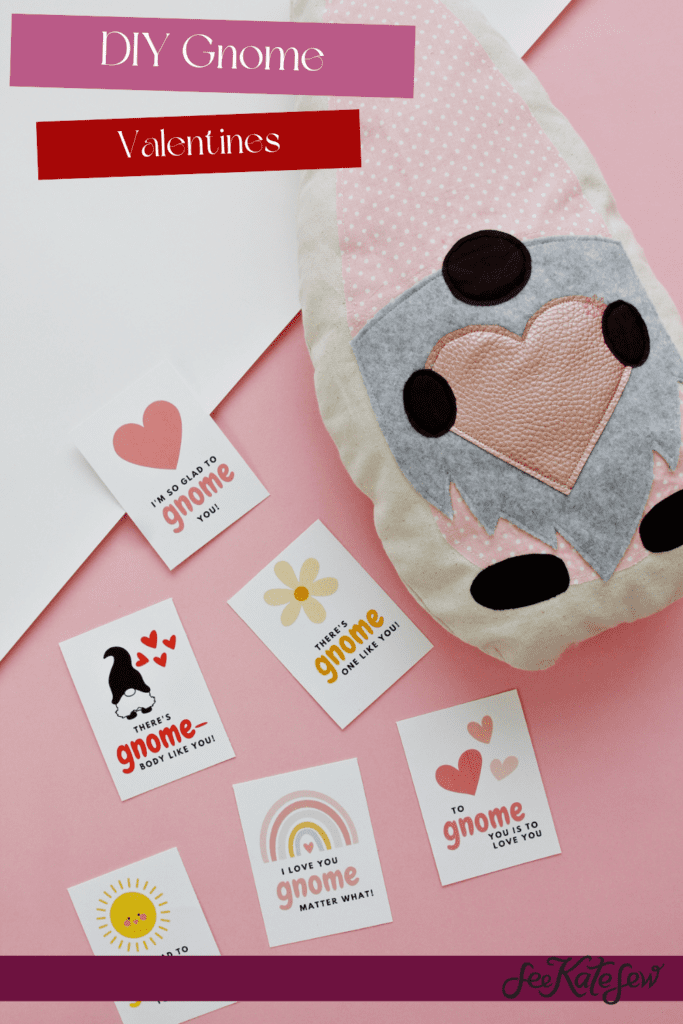 More tutorials you may enjoy