Make your own beaded friendship bracelets! These are so easy and so fun to give and exchange at the Eras tour and movie! In this post I will show you how to make bracelets from beads with a Taylor Swift theme!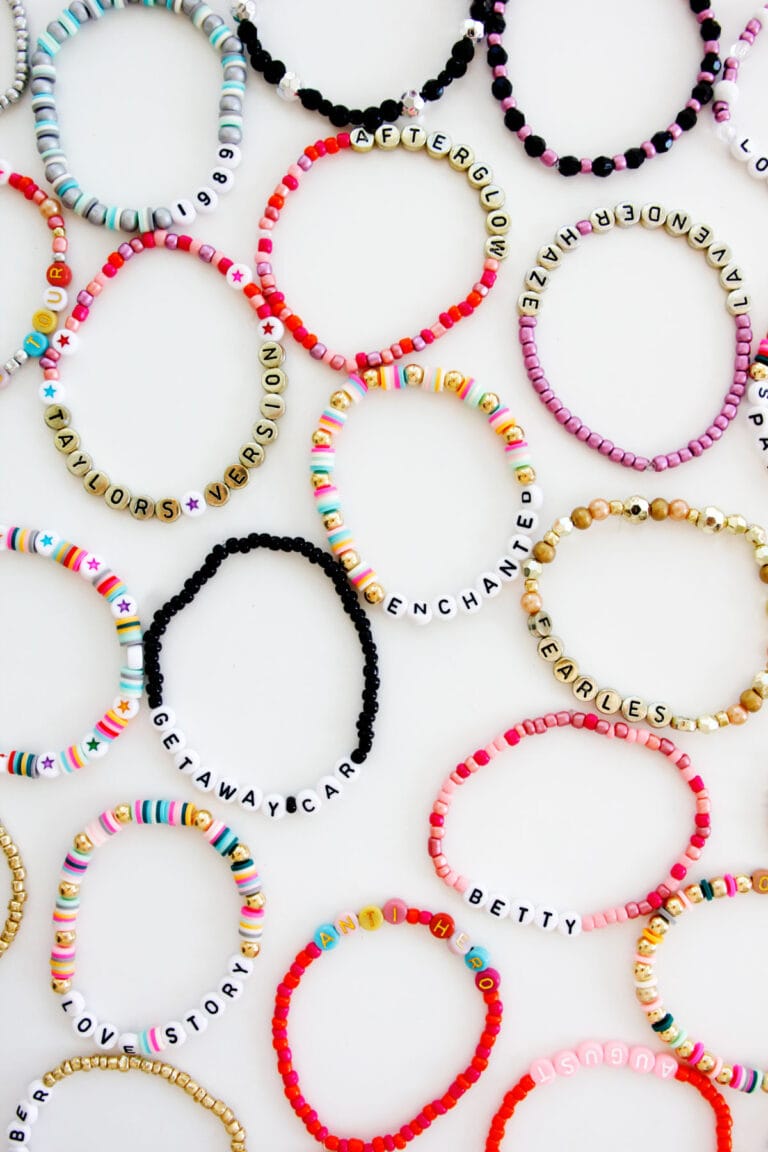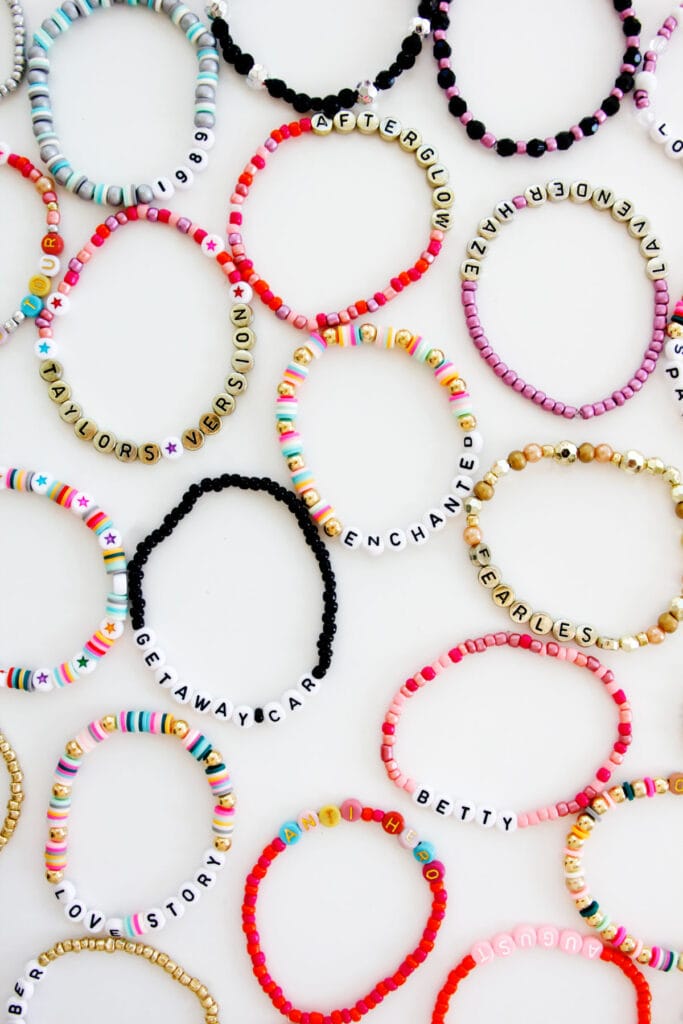 There are so many types of Taylor Swift friendship bracelets you can make! Make sure you pick up LOTS of beads for these because you'll find that making beaded bracelets is so fun and easy!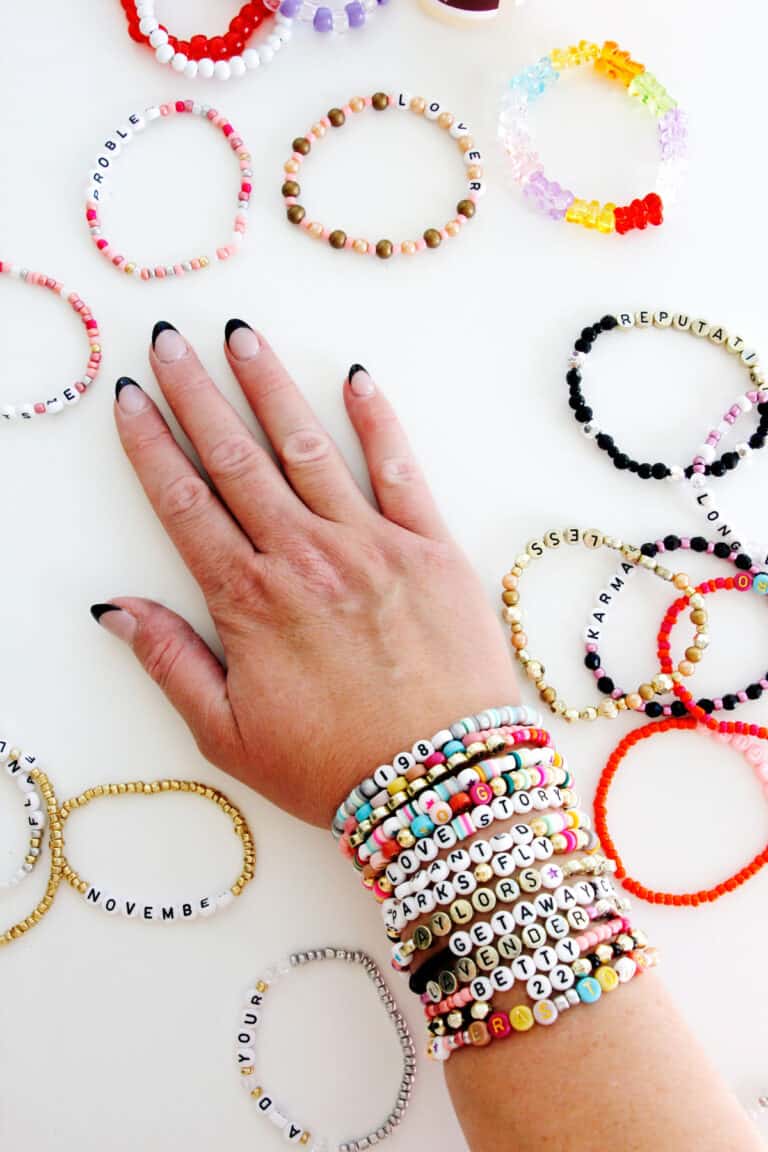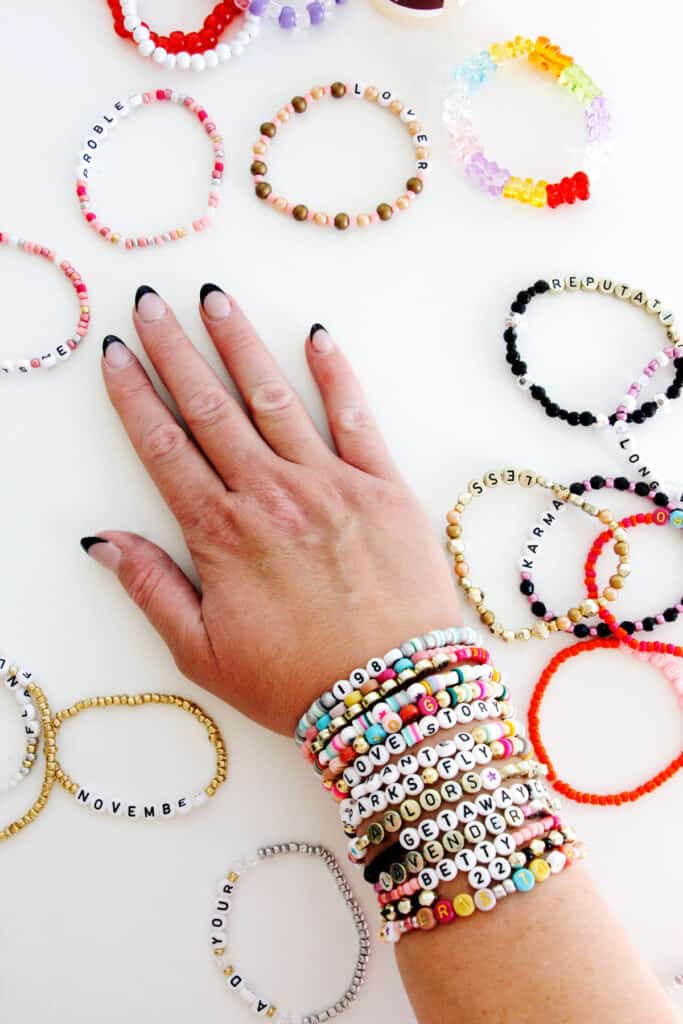 See my bracelet length cheat sheet and favorite beads to look for below! I'm also sharing how to make the perfect mini bracelet stack!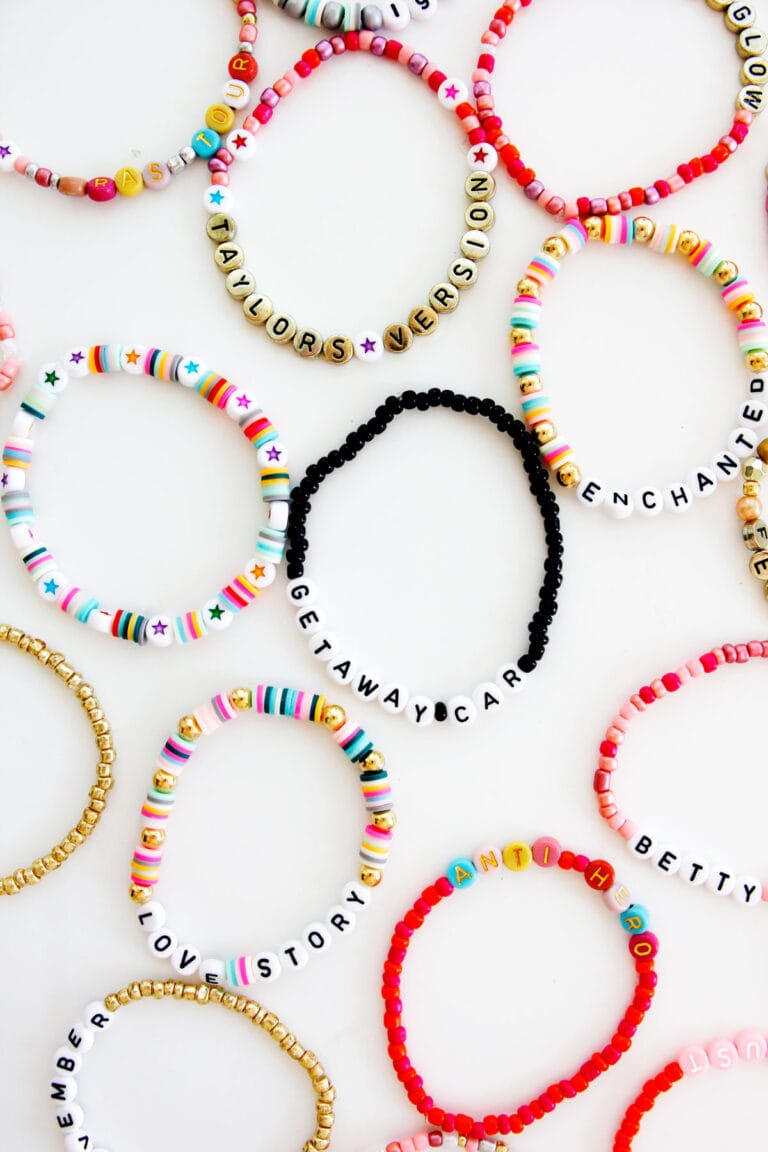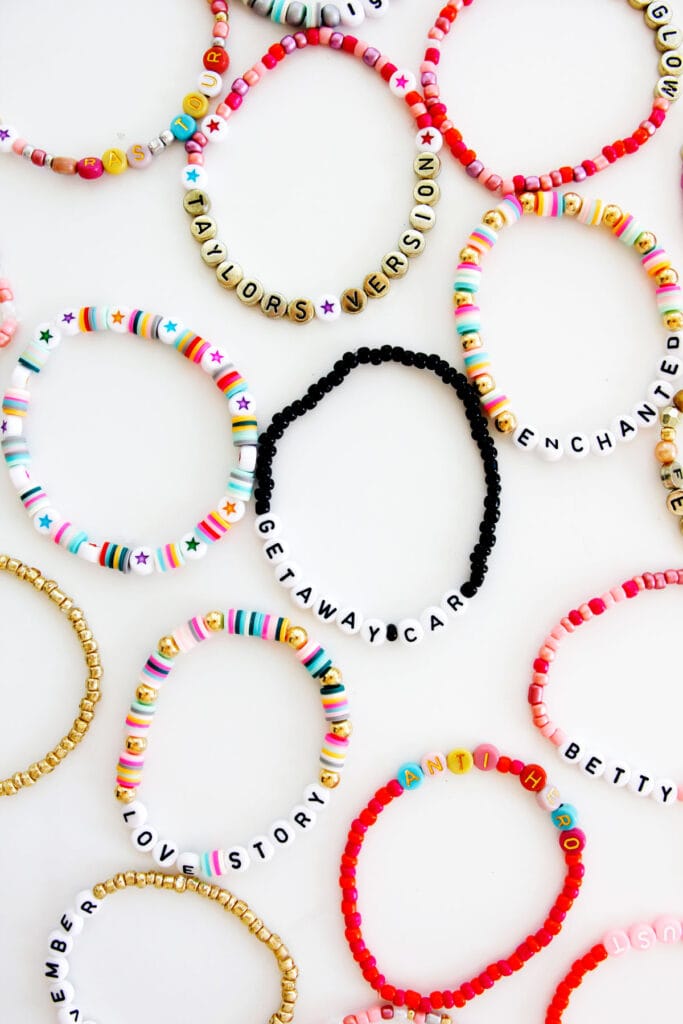 Gather a few besties and have the best day making these DIY bracelets!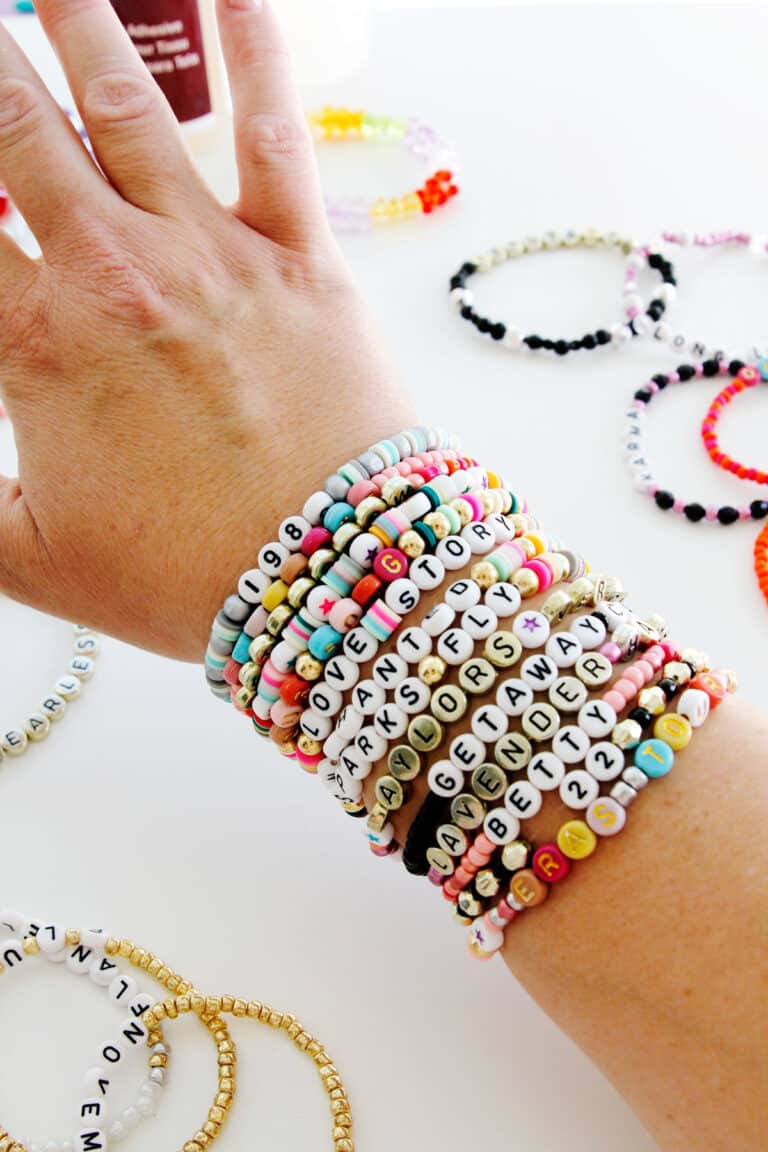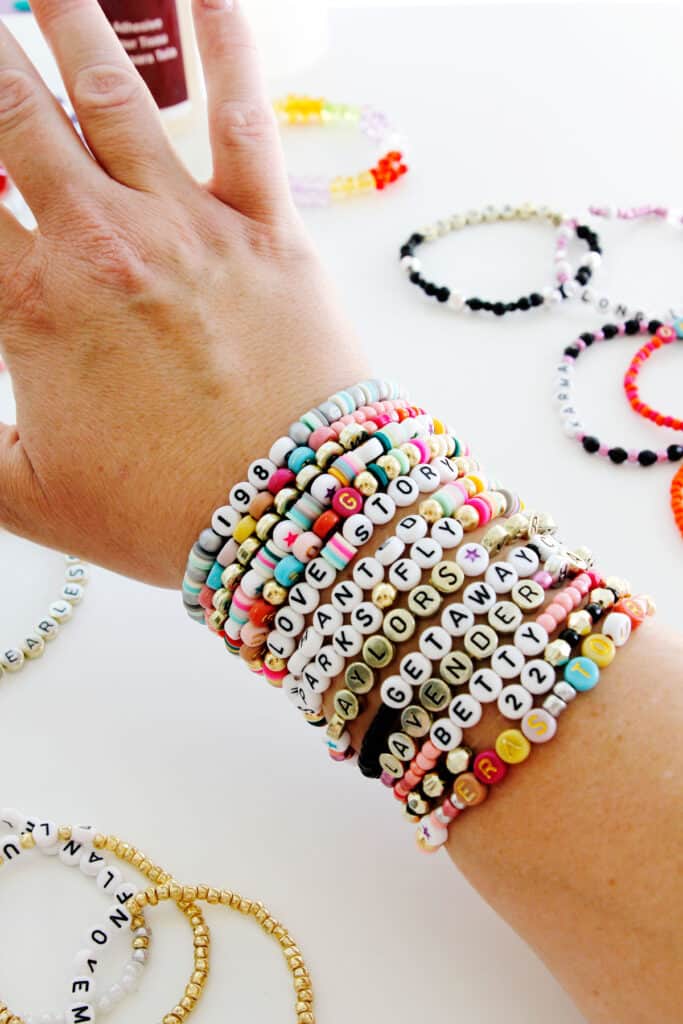 Taylor Swift Eras Tour Friendship Bracelets
It's unofficial but basically official that every Swiftie needs friendship bracelets for the Eras Tour and the Eras Tour Movie. Taylor told us to "make the friendship bracelets" in her song You're on Your Own Kid. Bring a whole bunch to share and trade and wear with your Eras tour light-up bracelet! Friendship bracelets are a great craft to do with a group of friends to mark a special occasion.
Taylor Swift Friendship Bracelets Materials List
Elastic thread, my favorite width is .7mm (affiliate links)
Beads including letter beads, number beads, album color beads, shiny things, charms, etc!
Scissors
Needle, optional
Printable length template, see below
Friendship Bracelet Size Chart
Download and print the free friendship bracelet size guide below! This printable chart will help you create bracelets in the right sizes for all your friends! Click on the button below to access the file – just put your email address in to sign up for the newsletter and you'll be taken to the download page. Print it out at 100% or DO NOT SCALE.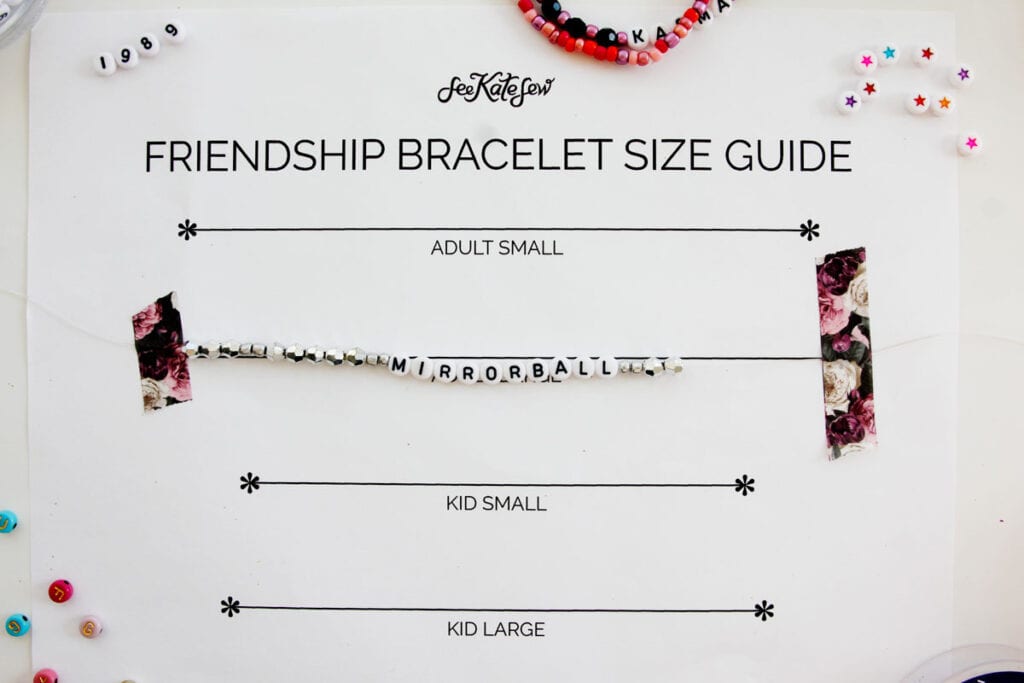 Recommended Bead Types for Friendship Bracelets
As you start shopping for beads, here are my favorite kinds!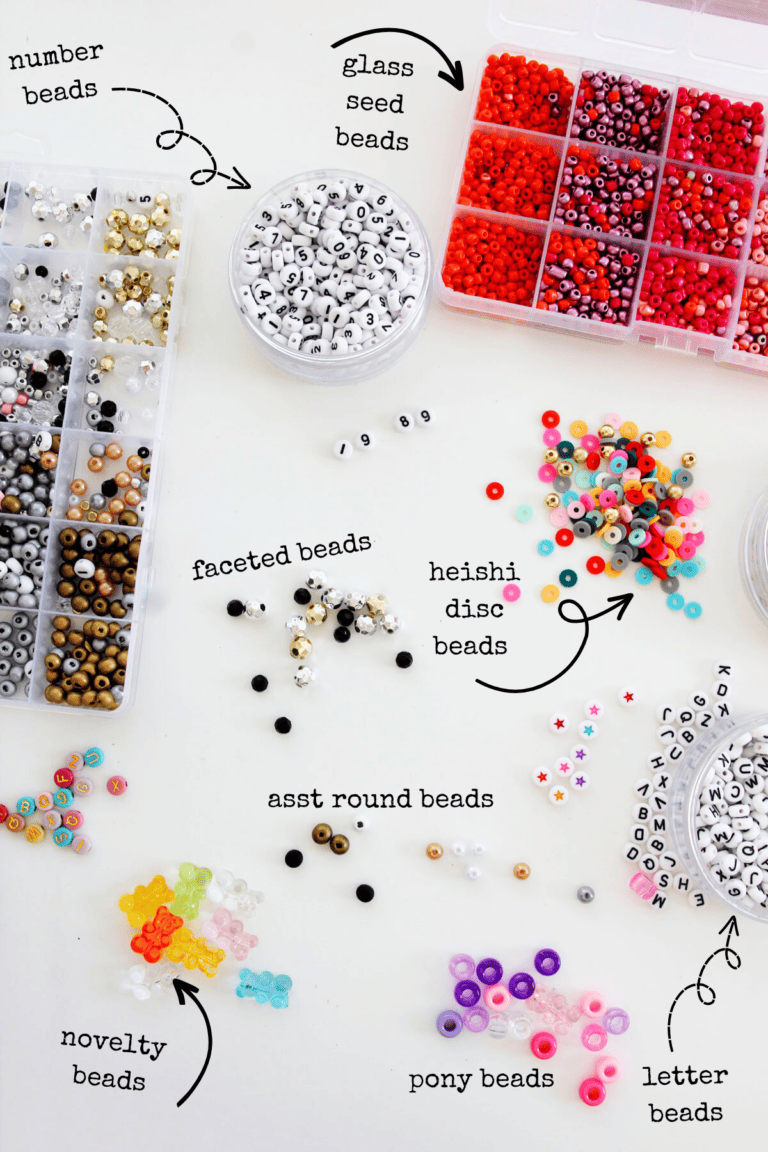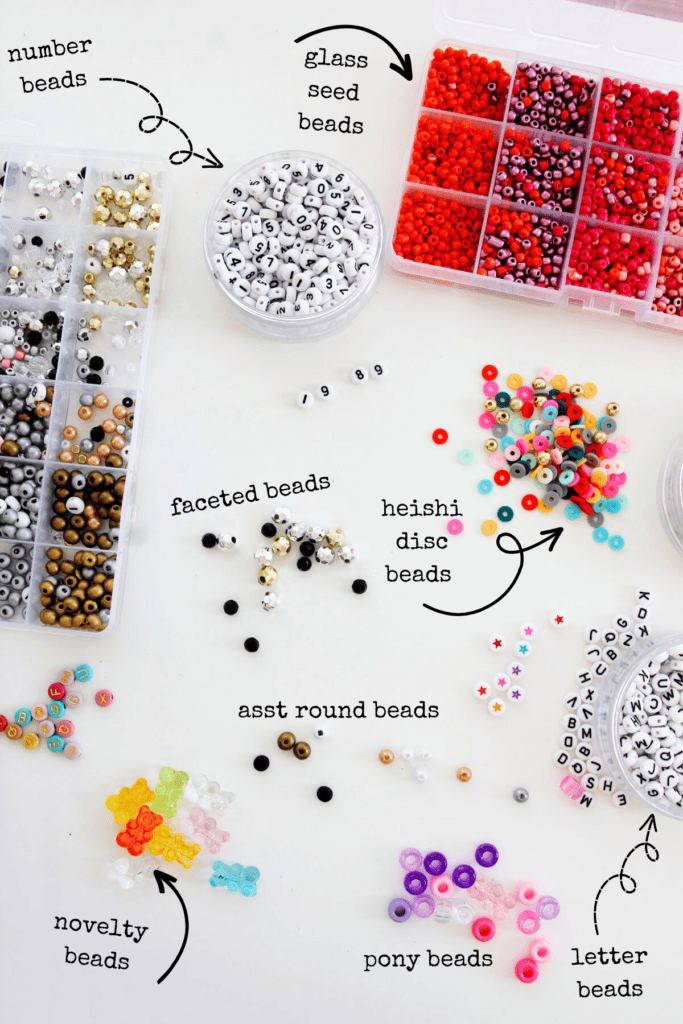 Glass seed beads are small and make a super smooth bracelet. There are so many patterns you can make with these and they look so classy.
Letter beads are the most important!

Grab them in white and black, multicolor, pink and white and so many more! There are a few different sizes of alphabet beads, my favorite is small round white and black variety but the gold ones are cool too!

Number beads (affiliate link)! These were harder for me to find in stores but they are so necessary for Eras Tour bracelets! You definitely need the numbers: 1989, 22, and maybe 13 and 87 ;)
Pony beads are faster to string since they have a larger presence. It's fun to mix a few solid pony bead bracelets in and they are great if you are in a time crunch. These are also great for kids to use because they are easier to grab and string.
Faceted plastic beads adds a snakeskin-like texture or get silver for true mirrorball vibes!
Heishi disc beads have an upscale flair. These come in clay or a rubbery plastic and are easy to stack together.
Novelty beads like stars or gummy bears are fun to add.
Assorted round beads look great between heishi discs and seed beads. Grab a variety pack so you have lots of options!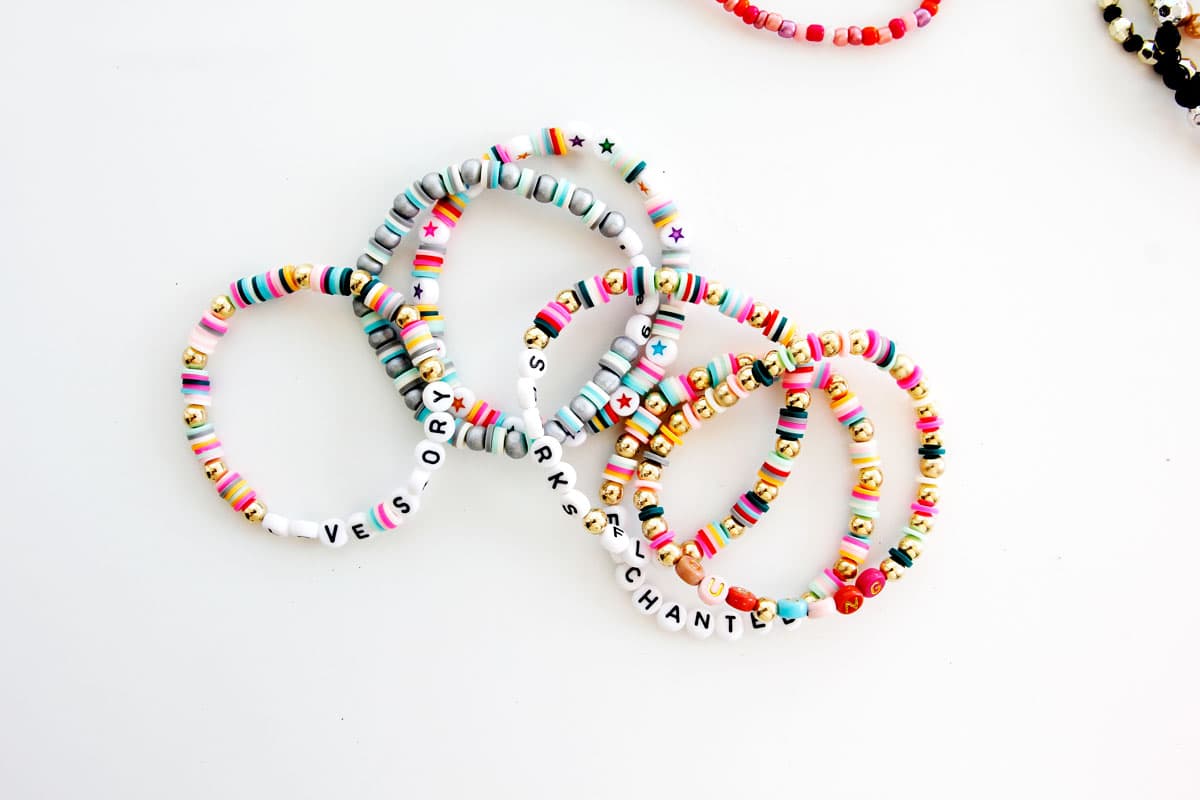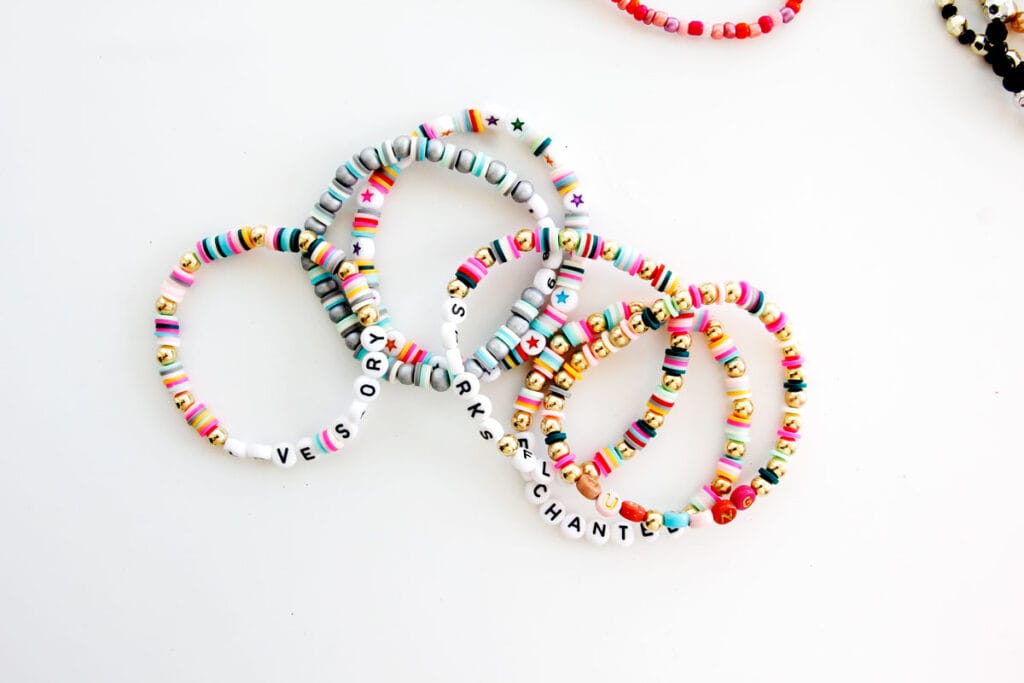 Heishi disc beads have such a fun look especially with gold round beads in between!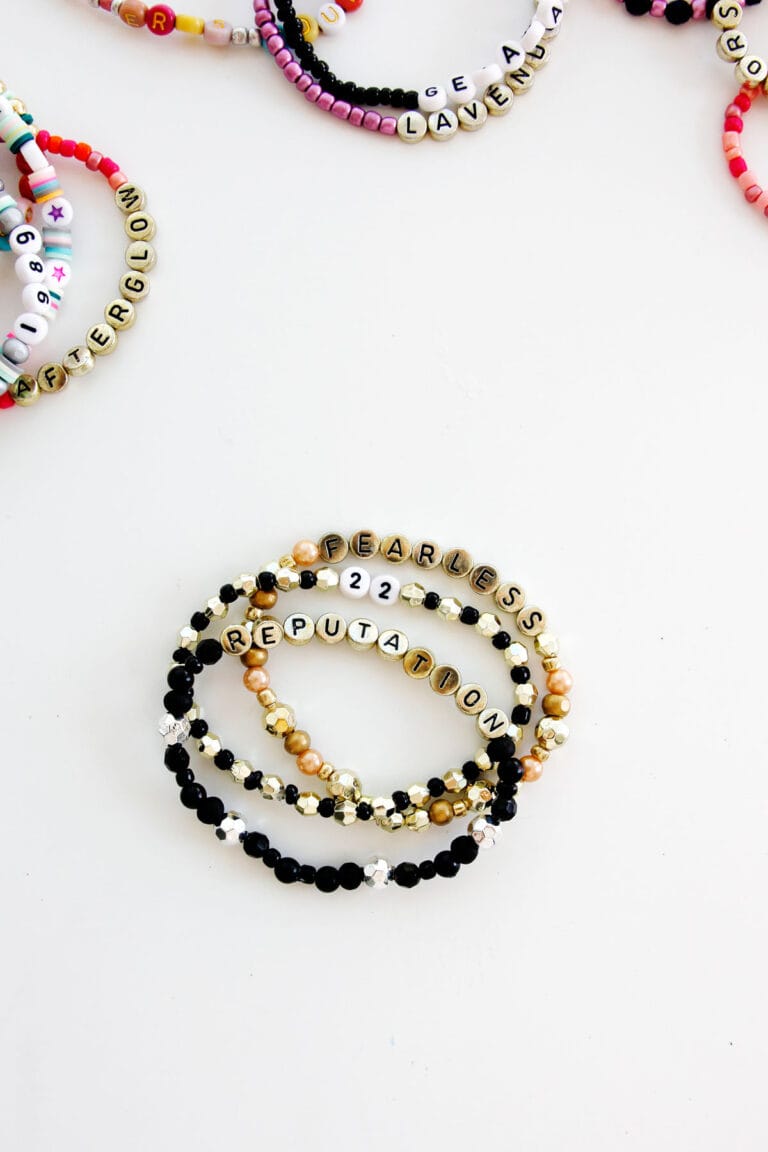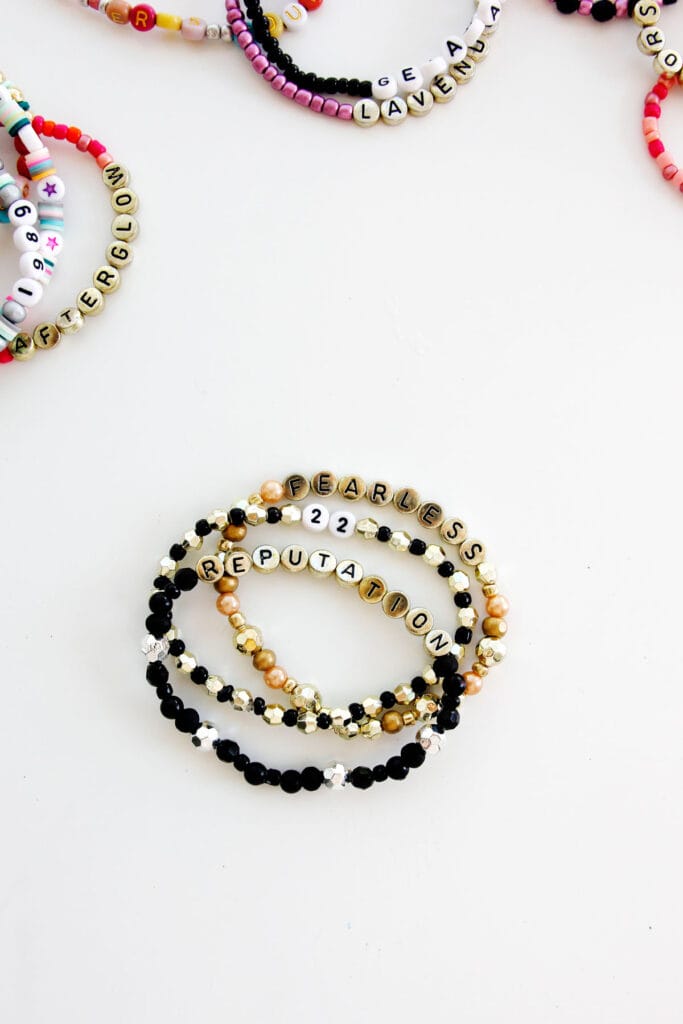 The snakeskin feel of faceted black beads are perfect for the Reputation era!
How to make beaded friendship bracelets
Use the friendship bracelet size chart printable to guide you as you make your bracelets.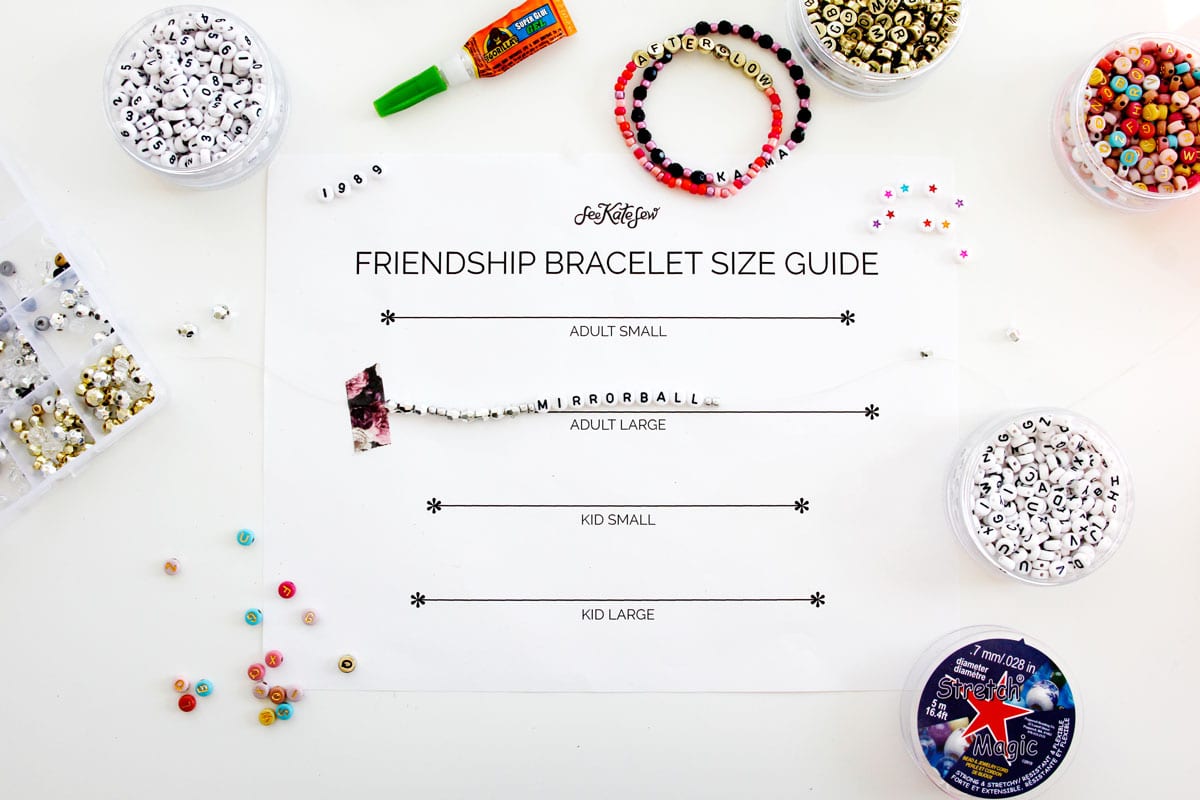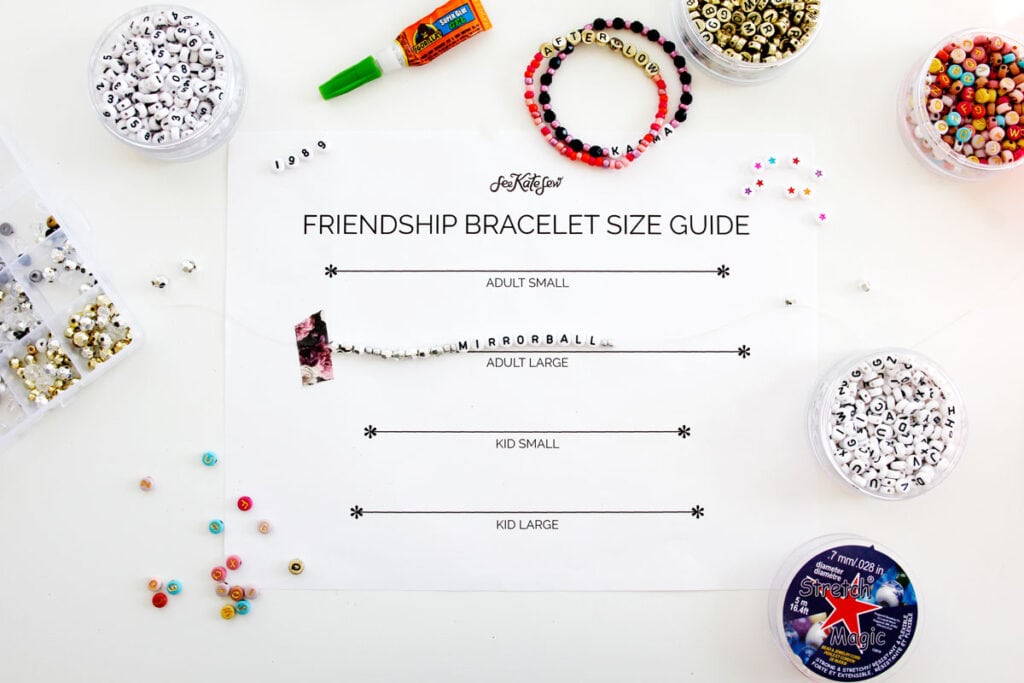 Use the marks at the ends of each line to start your bracelet design, leaving about 2-3″ of cord on each side for tying. String enough beads to fill the design section of your bracelet. If you have to leave your bracelet before you finish, just tape the other end down on the paper.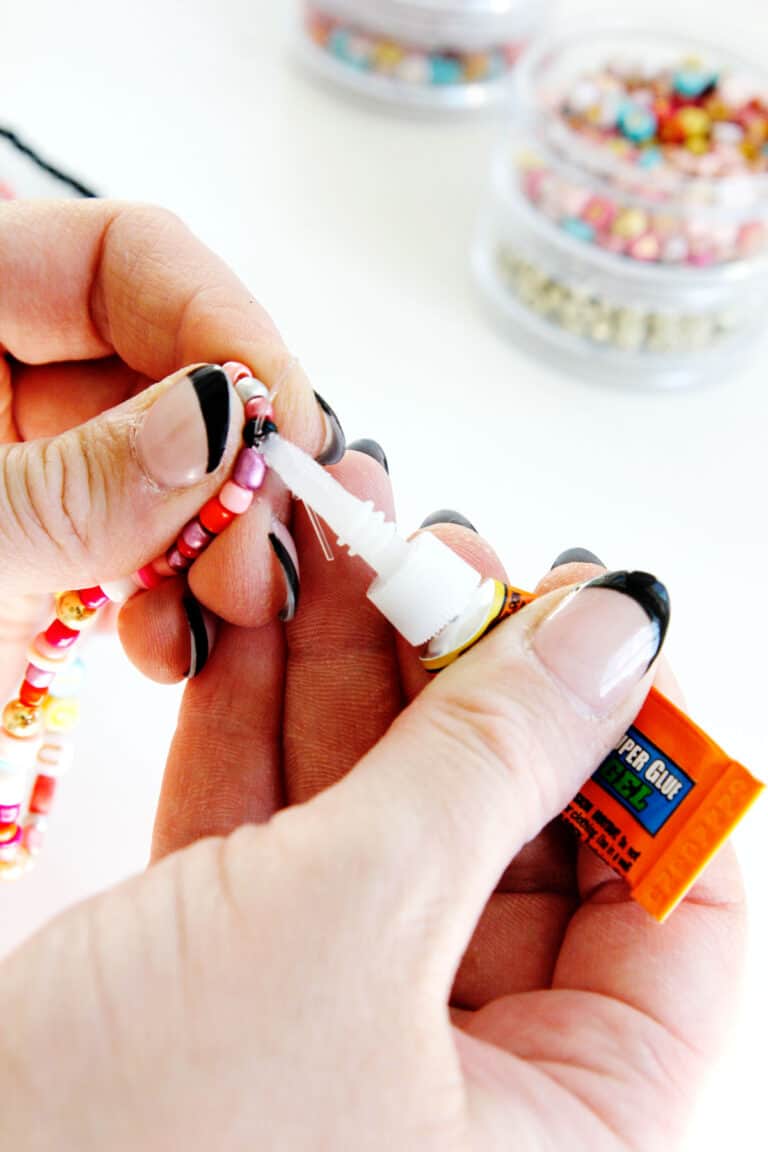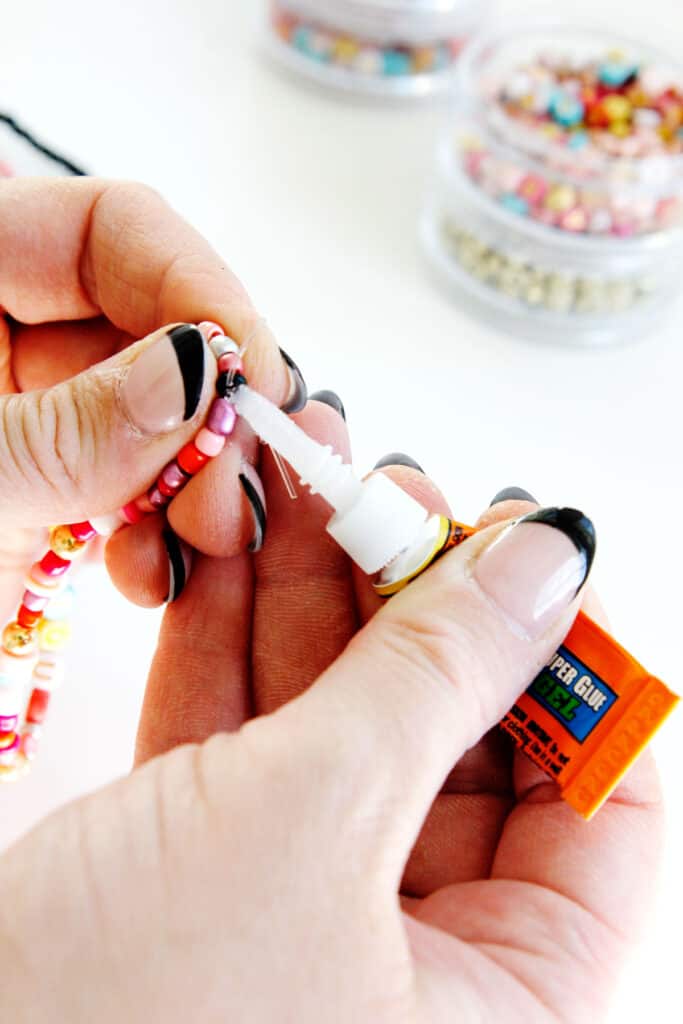 Double knot the ends of the elastic cord. Then dab a dot of superglue on the knot. Let try and trim elastic. The glue should prevent your bracelets from breaking so you can keep them evermore!
Make a mini stack with your favorite lyrics
Some song titles and lyrics are too long for one bracelet or too long to show on the face of your bracelet. Break them up into 2-5 beaded friendship bracelets to be worn together! These mini stacks are cute to wear on their own for everyday Taylor wear!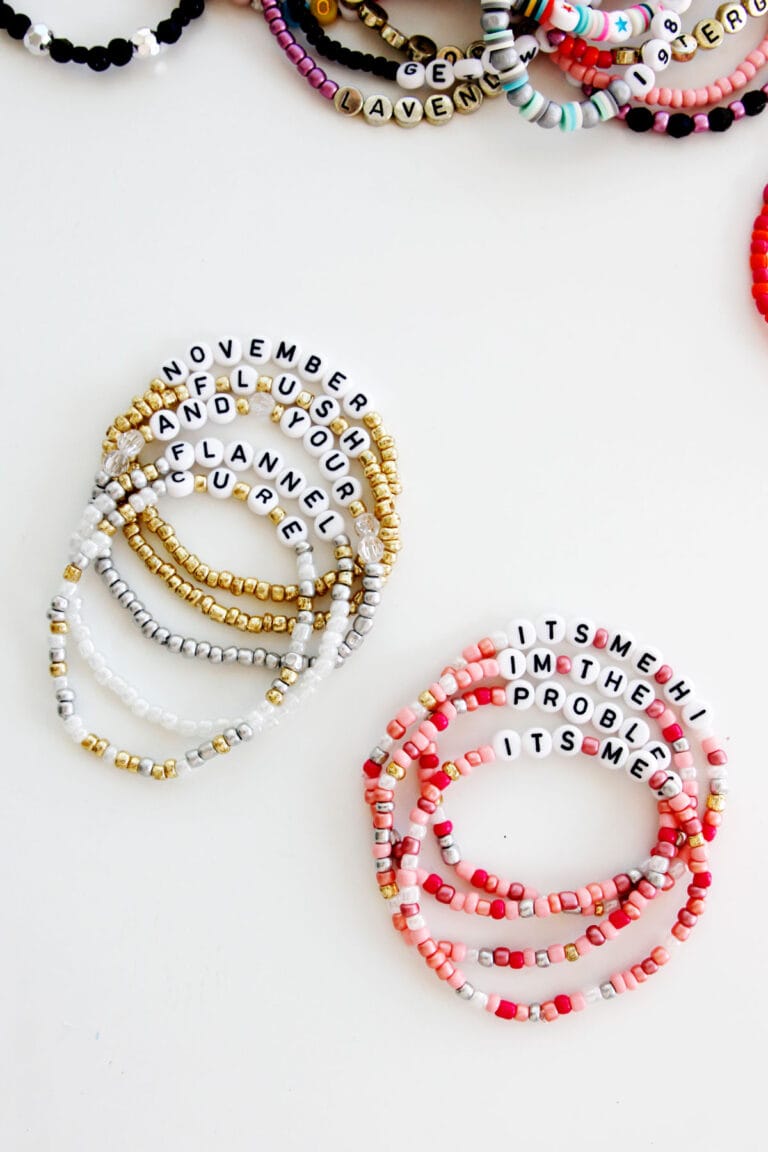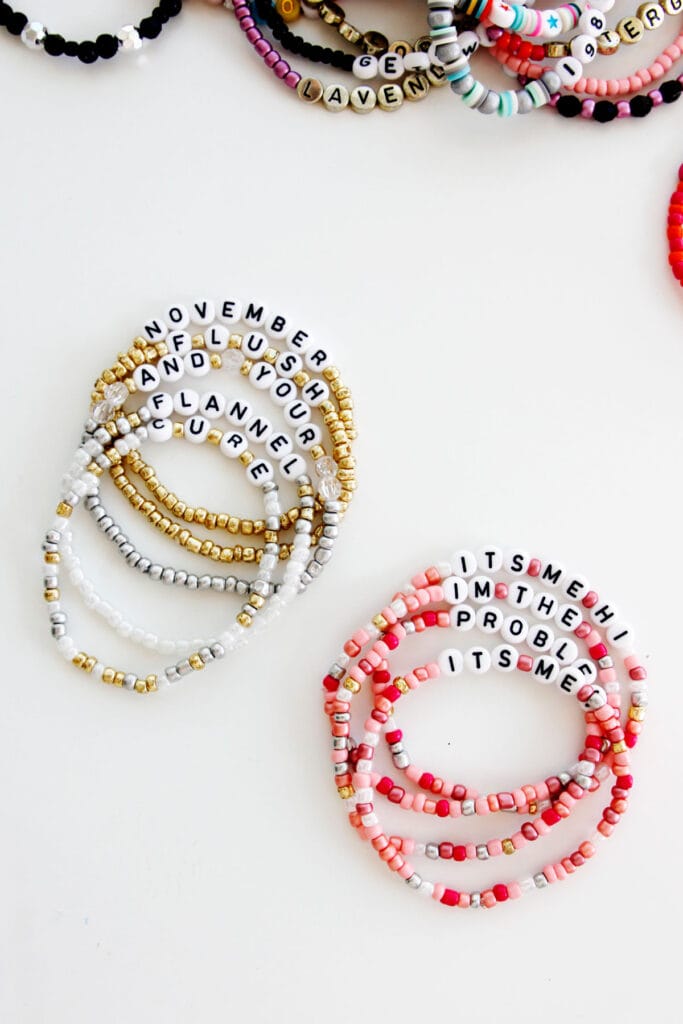 They make me happy everytime I see the clever lyrics!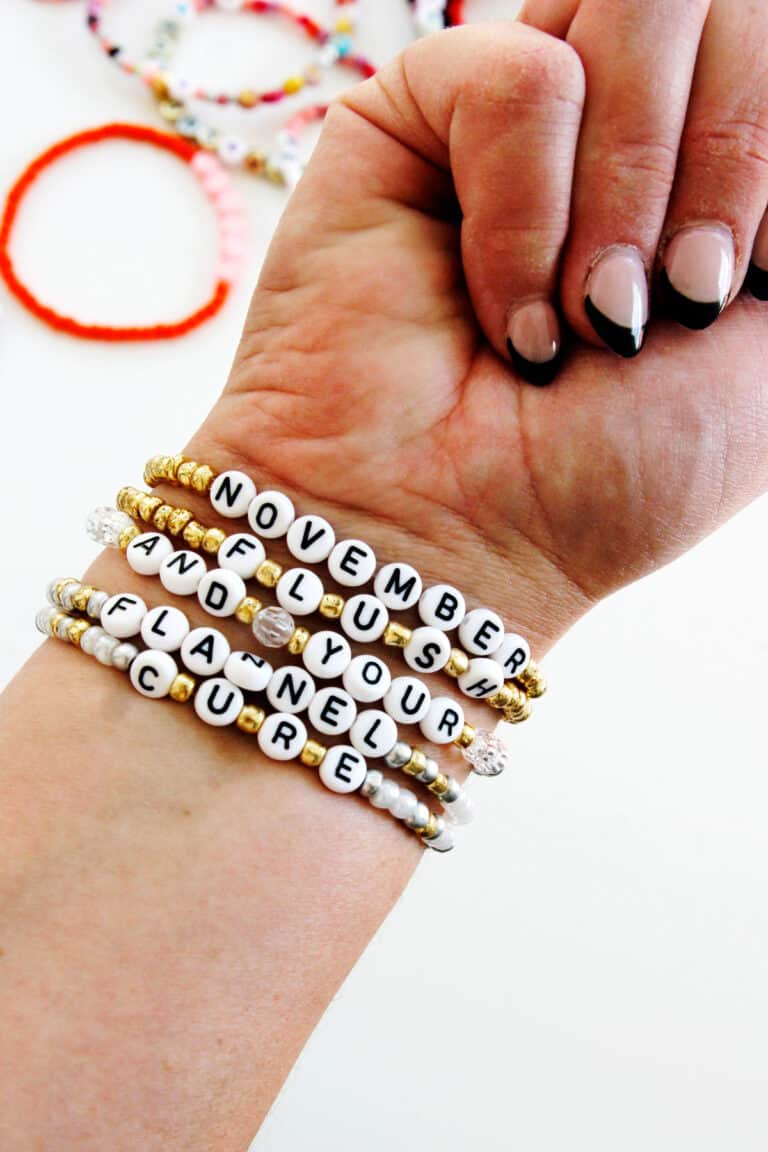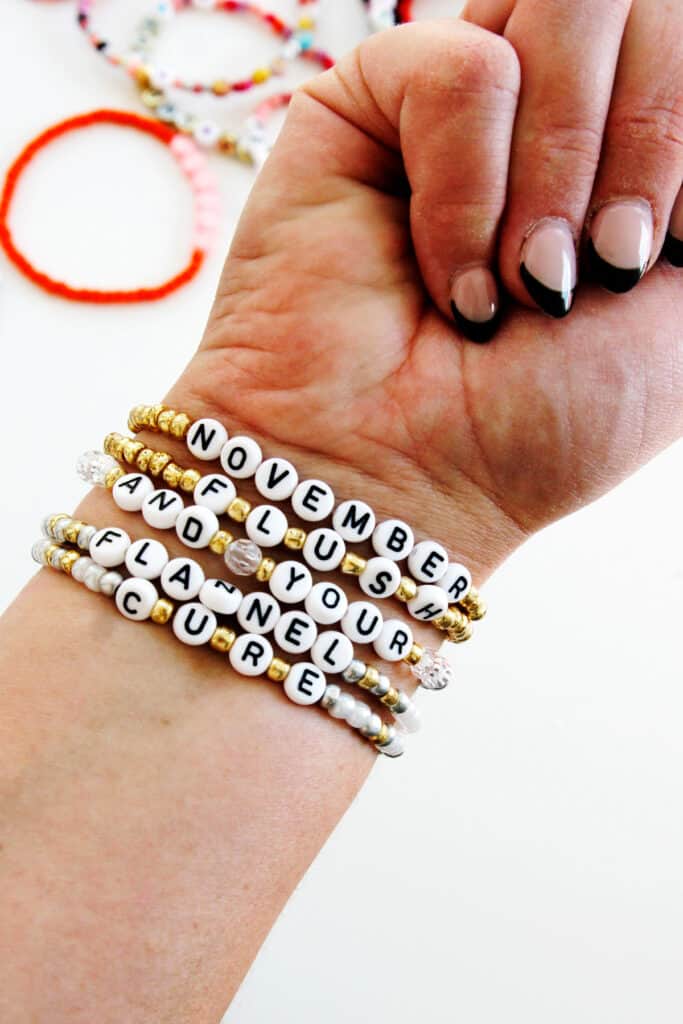 Tie a mini stack together with a ribbon for an adorable stocking stuffer!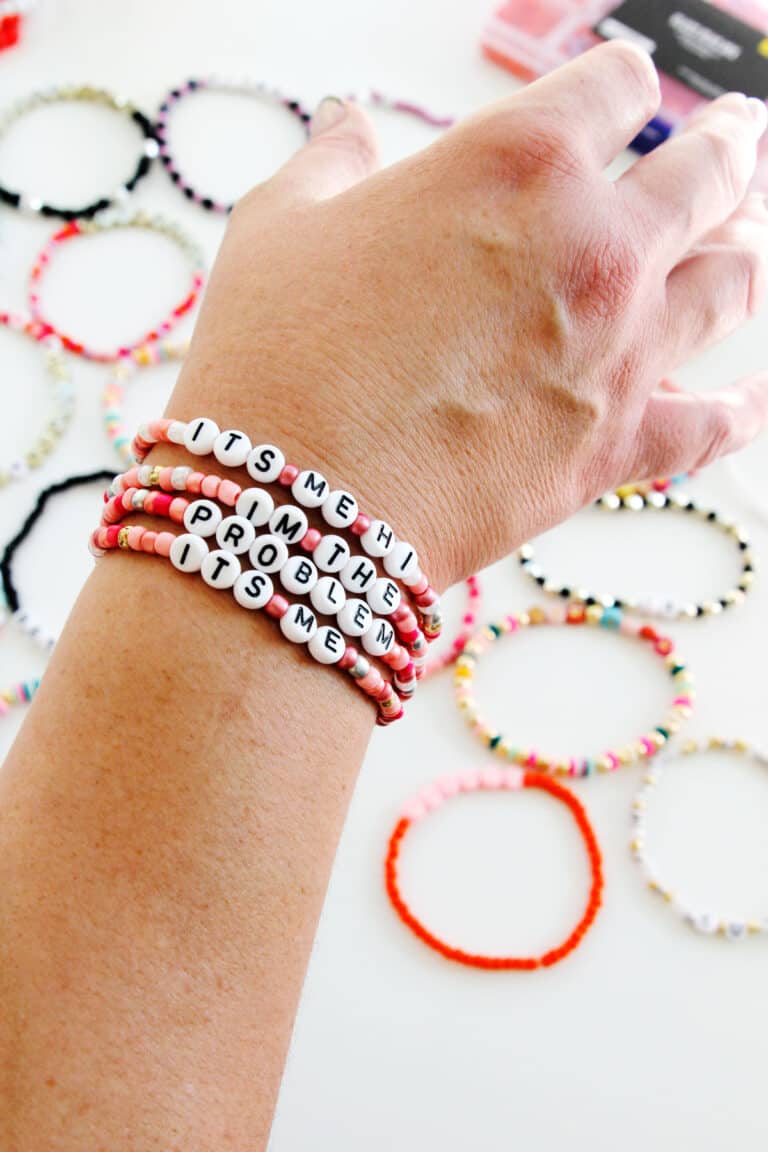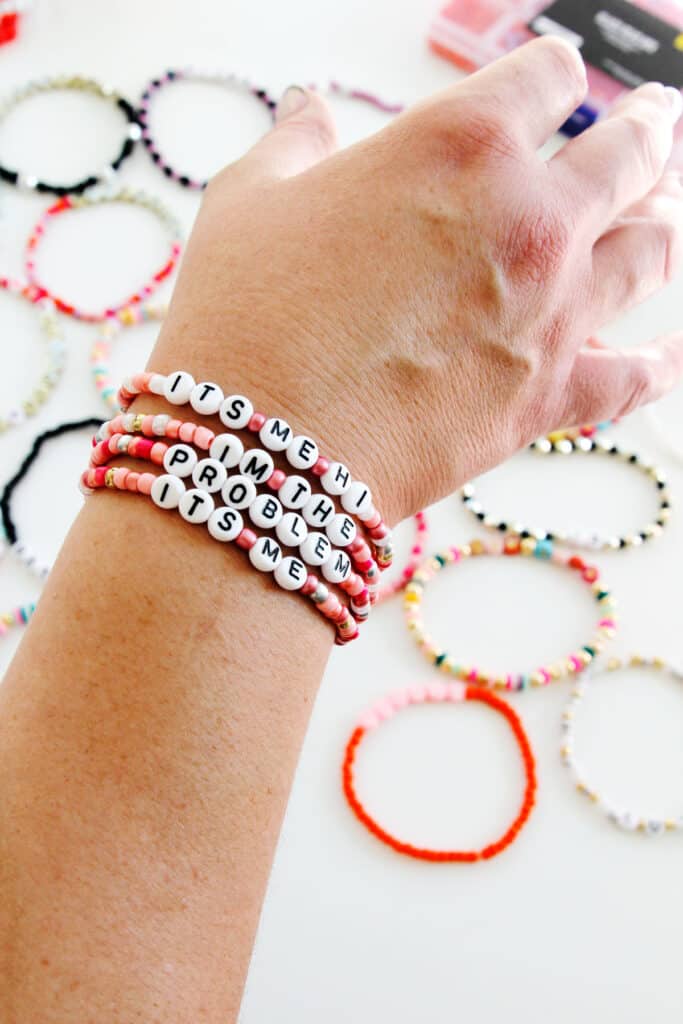 Friendship Bracelet Tips & Ideas
If you're not using tape, don't cut the elastic thread off of the elastic roll until you have finished your bracelet. That way if you drop the end of the cord, you are less likely to lose all your beads!
Put spacers in between the letters of short words for a different look.
Use a variety of bead sizes for added dimension.
Make some bracelets longer if you plan to wear a big stack – that way it will fit further down on your arm.
Don't skip the glue! This will hold the bracelet so it doesn't come undone.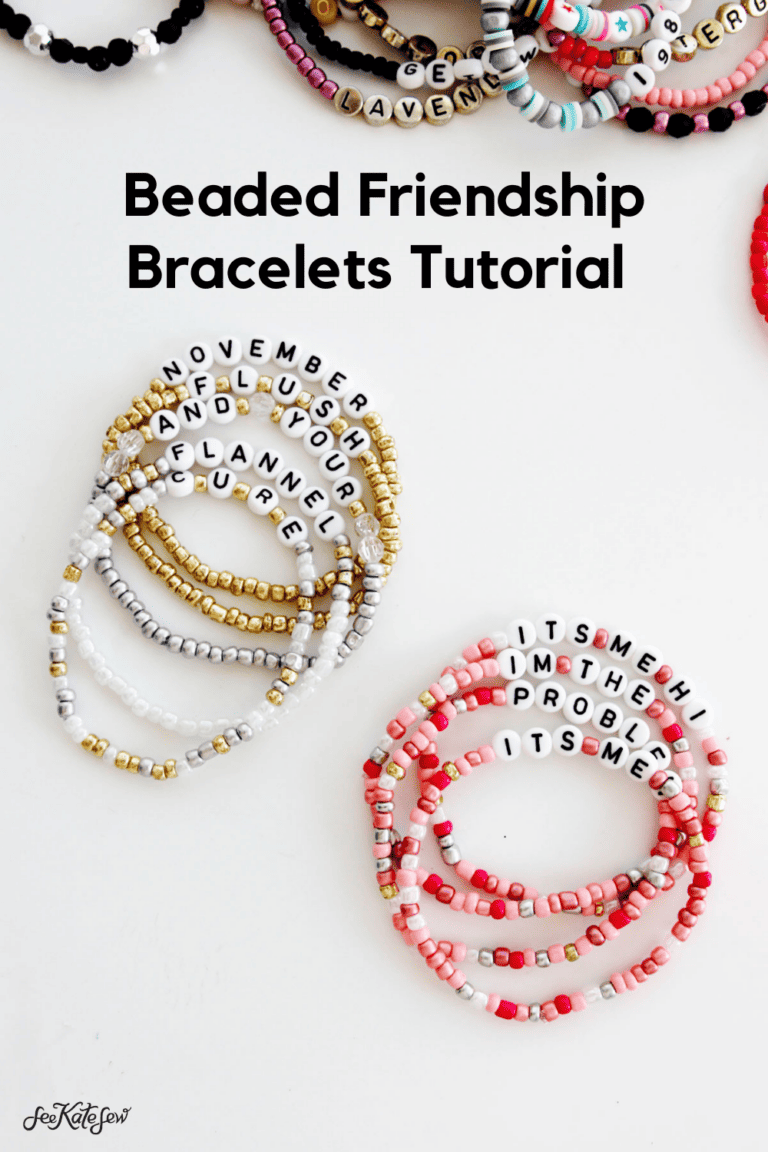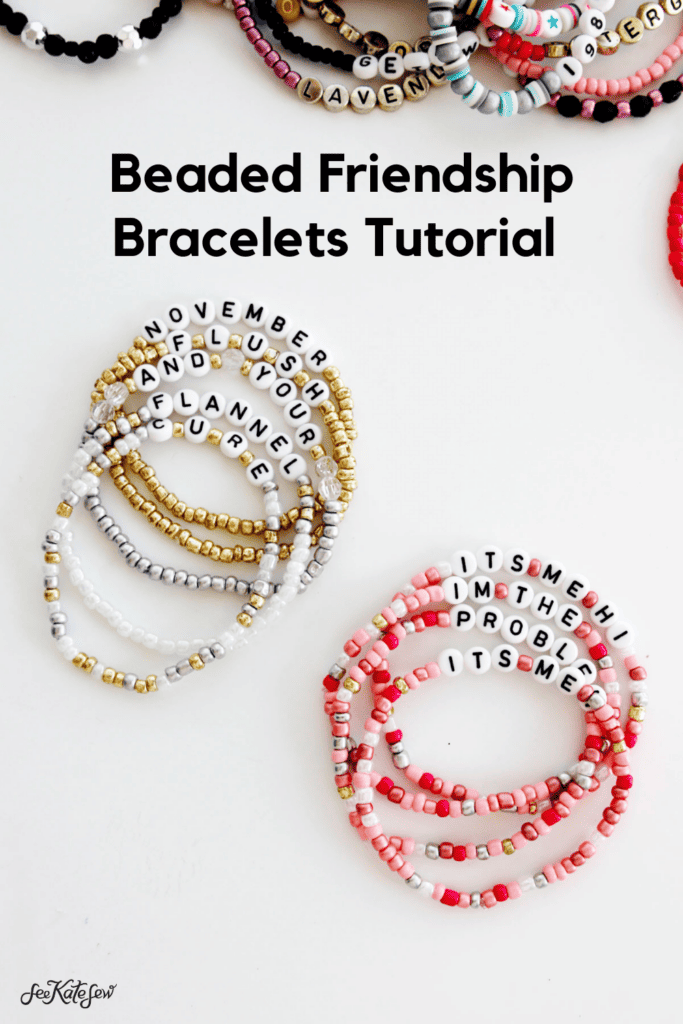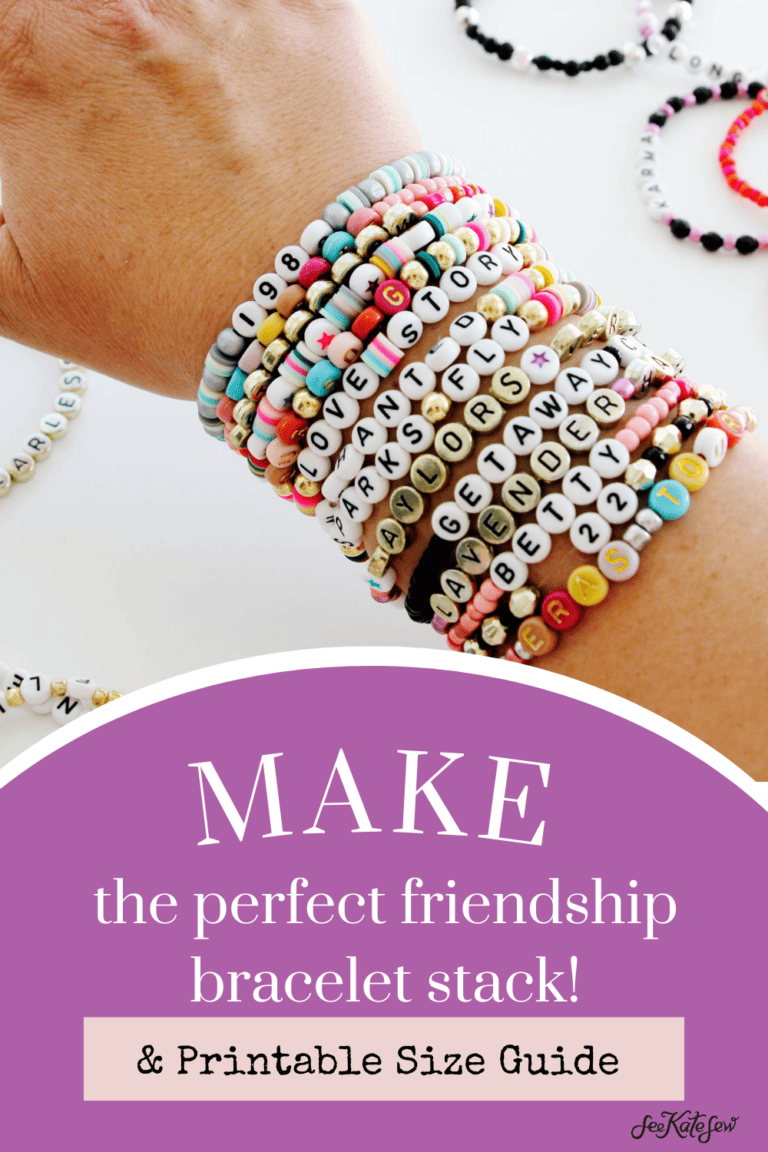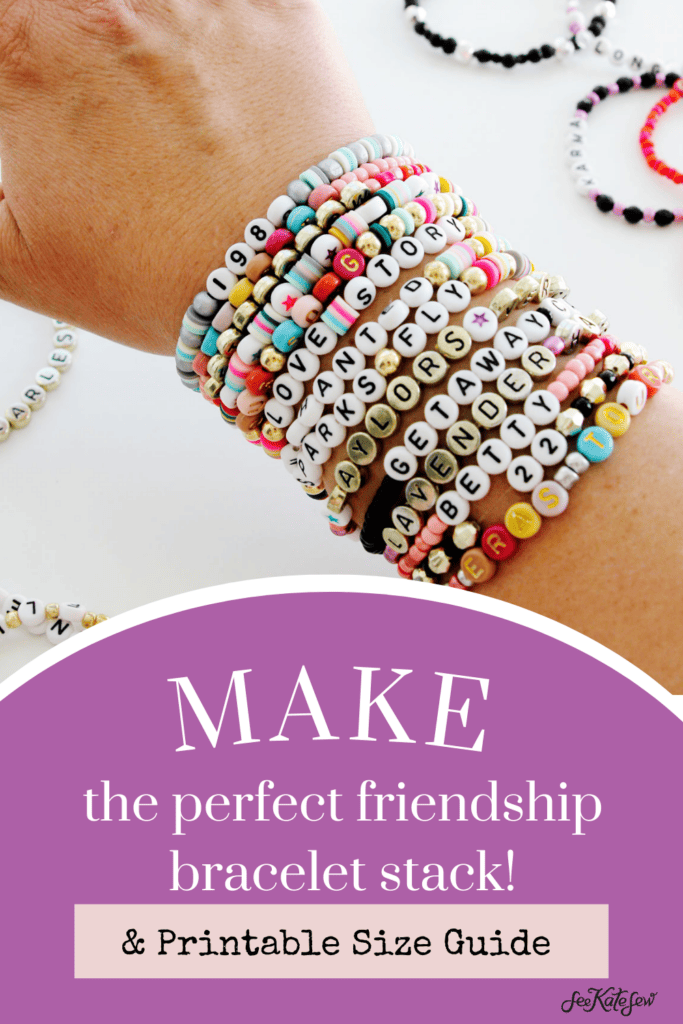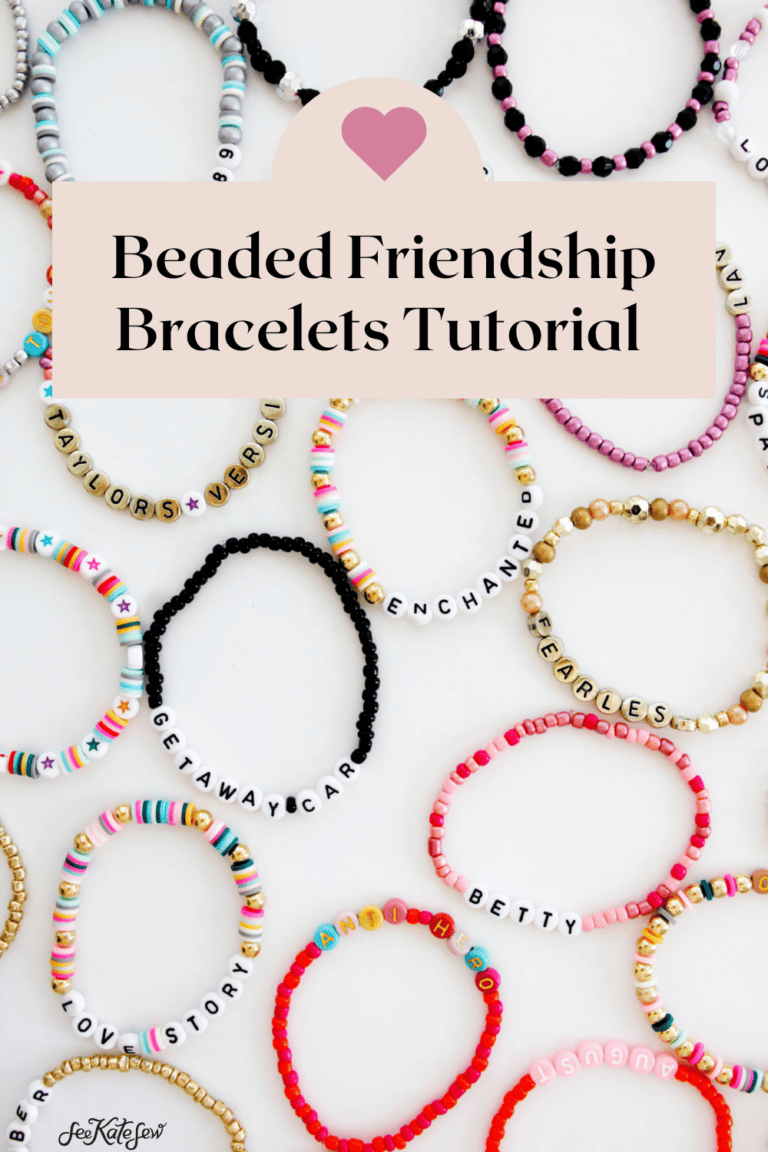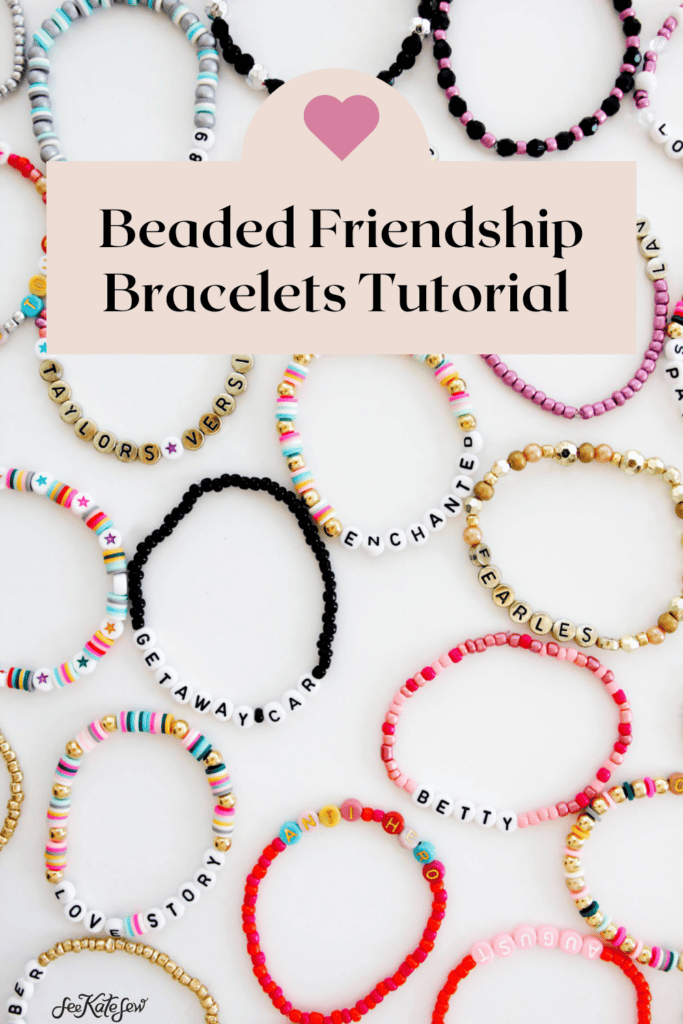 More Crafts That Shimmer
I like shiny things :)