I'm excited to tell you about the Grace Company Cutie Quilt Frame – it's a quilt frame that fits on a table! This revolutionary quilting frame is great for the home quilter that wants to try free motion quilting quilts at home – the Cutie frame is just 4′ wide!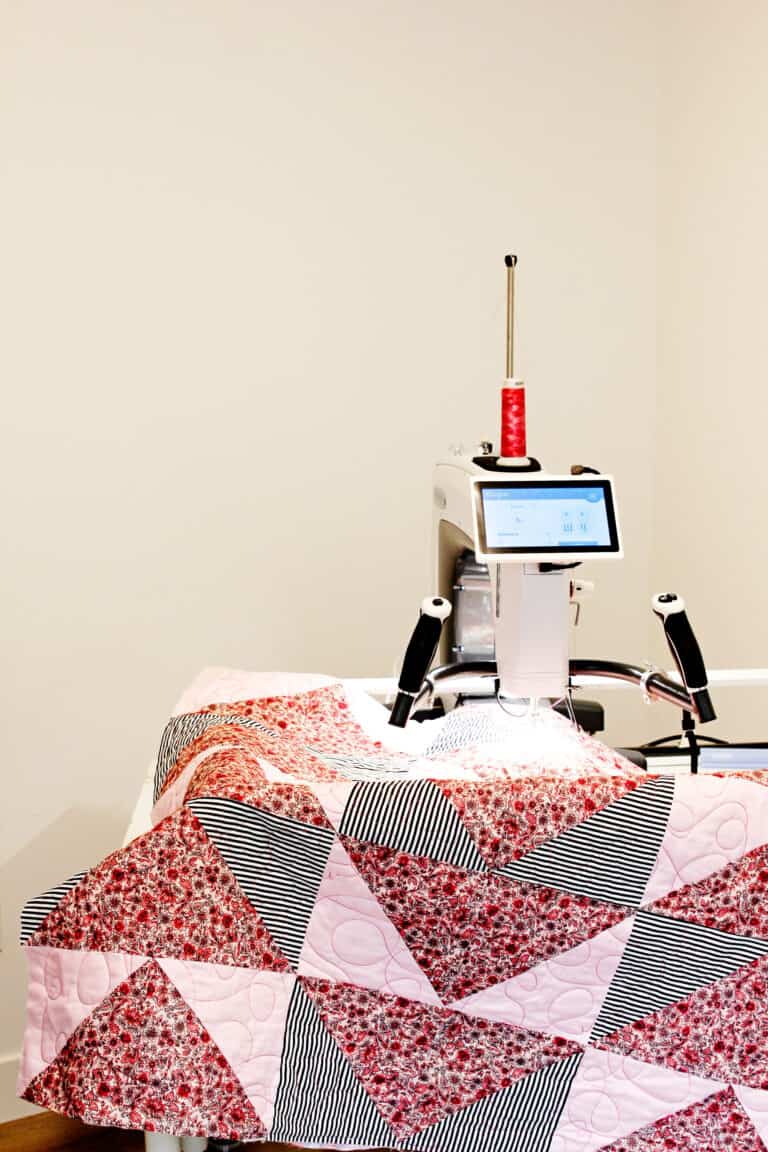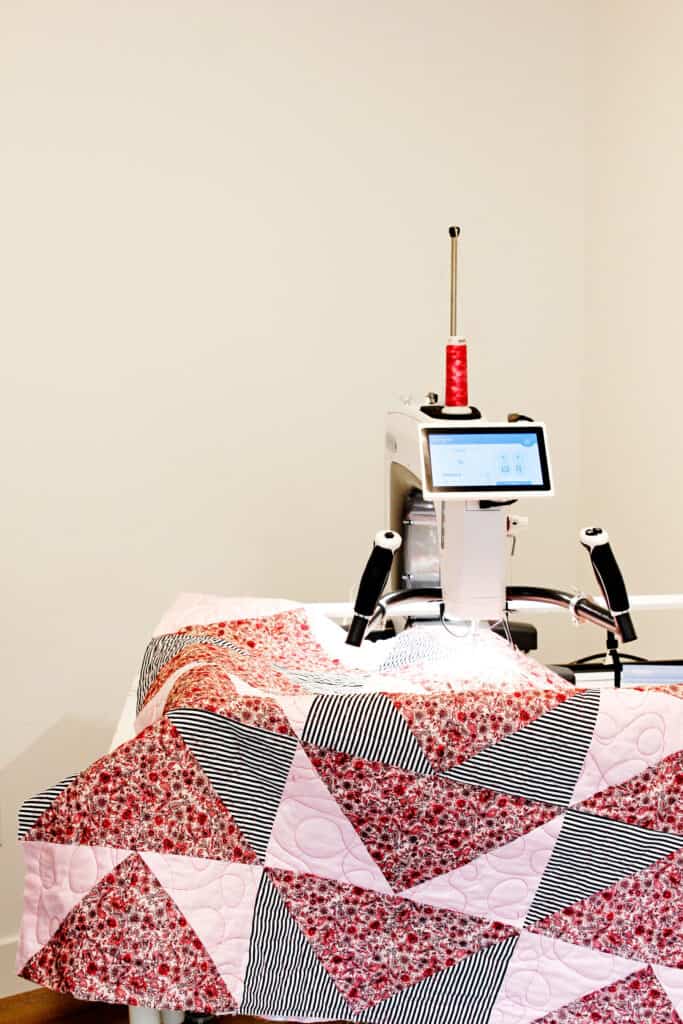 This product was sent to me by Graco Company and Joann. You can see my video about the Cutie Frame here.
Because it is small it can fit in your home, unlike most longarm machines that need a whole room! I have always been interested in longarm quilting but always wrote off having my own machine because of the space (and price!) of longarm machines. The Cutie Quilt Frame by Grace Company fixes both of the problems. I didn't realize how quickly I would love this – it's super fun! It fits right on the top of a table.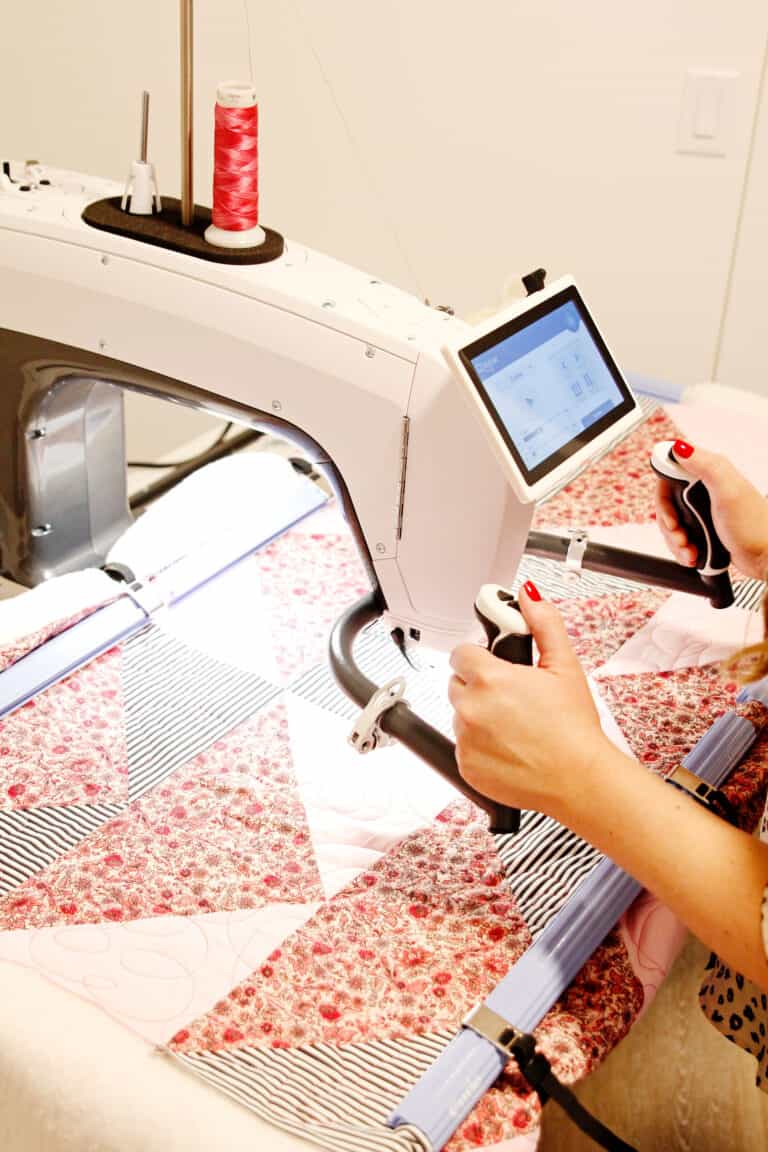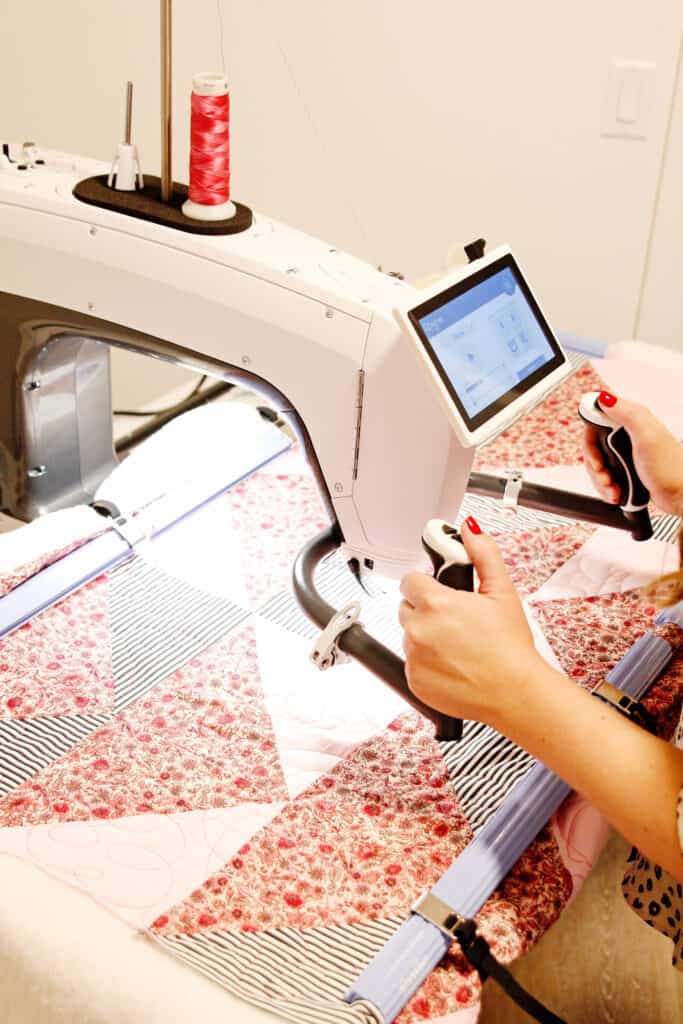 Q'nique 16X Elite Quilting Machine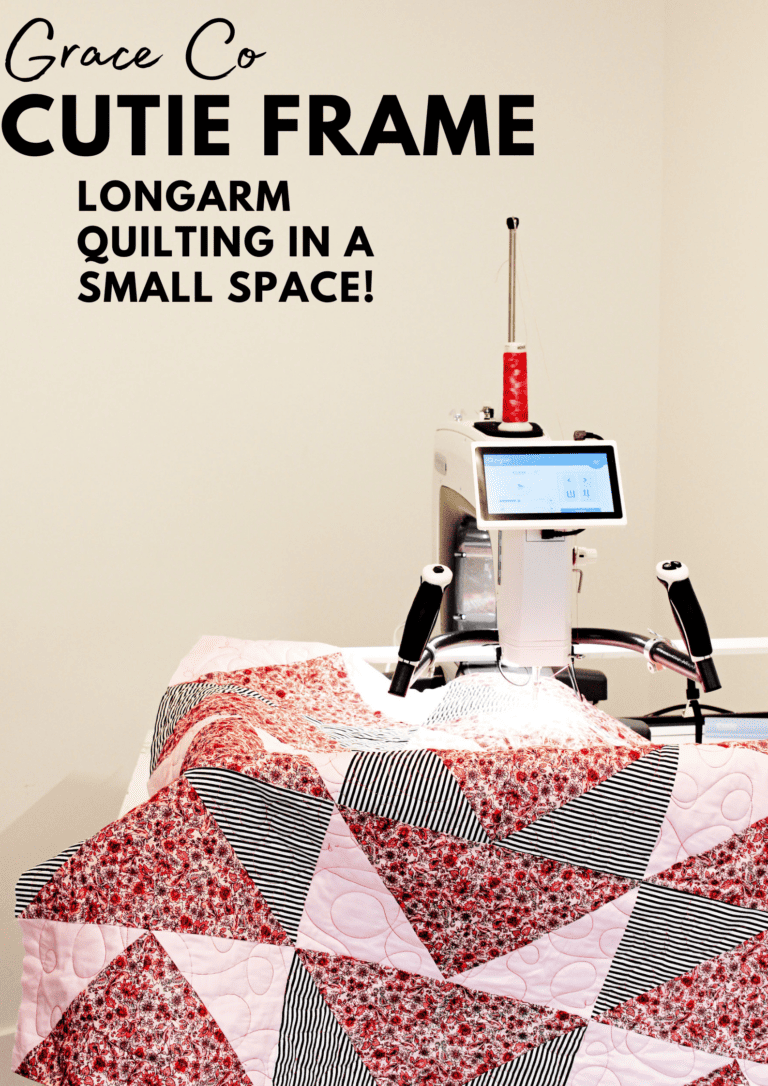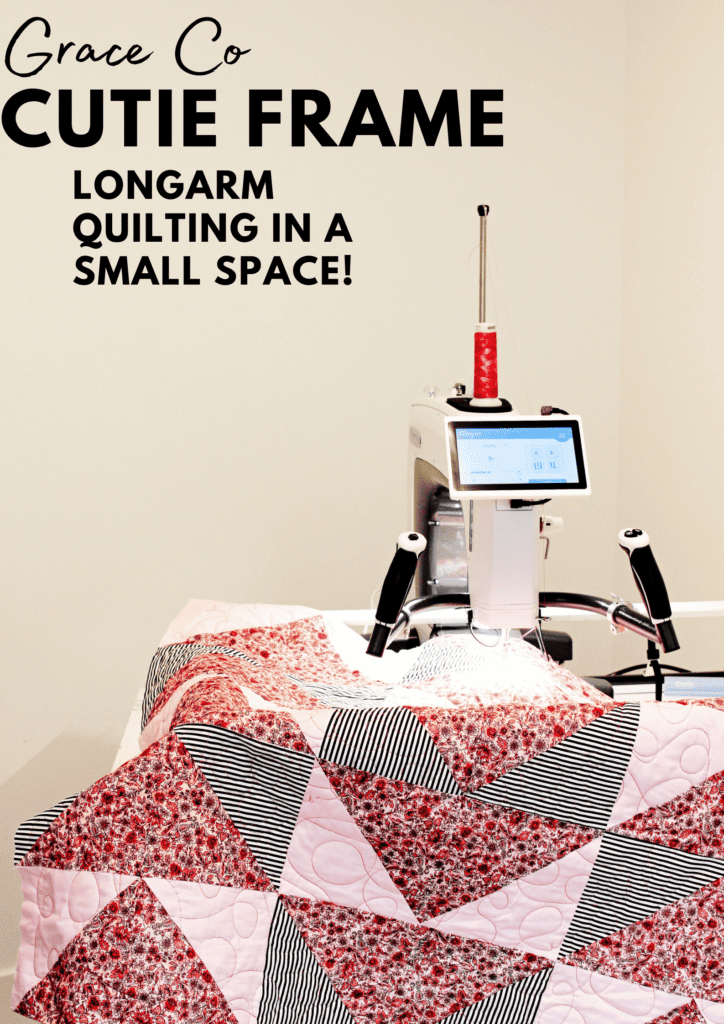 Another cool thing about this quilting frame is that you can use a machine you already have with it! However, Grace Company also sent me the Q'nique 16 Elite Quilting Machine to use with it. The throat on this machine is 16″ so I was able to finish a quilt top fairly quickly with a large space to work at once.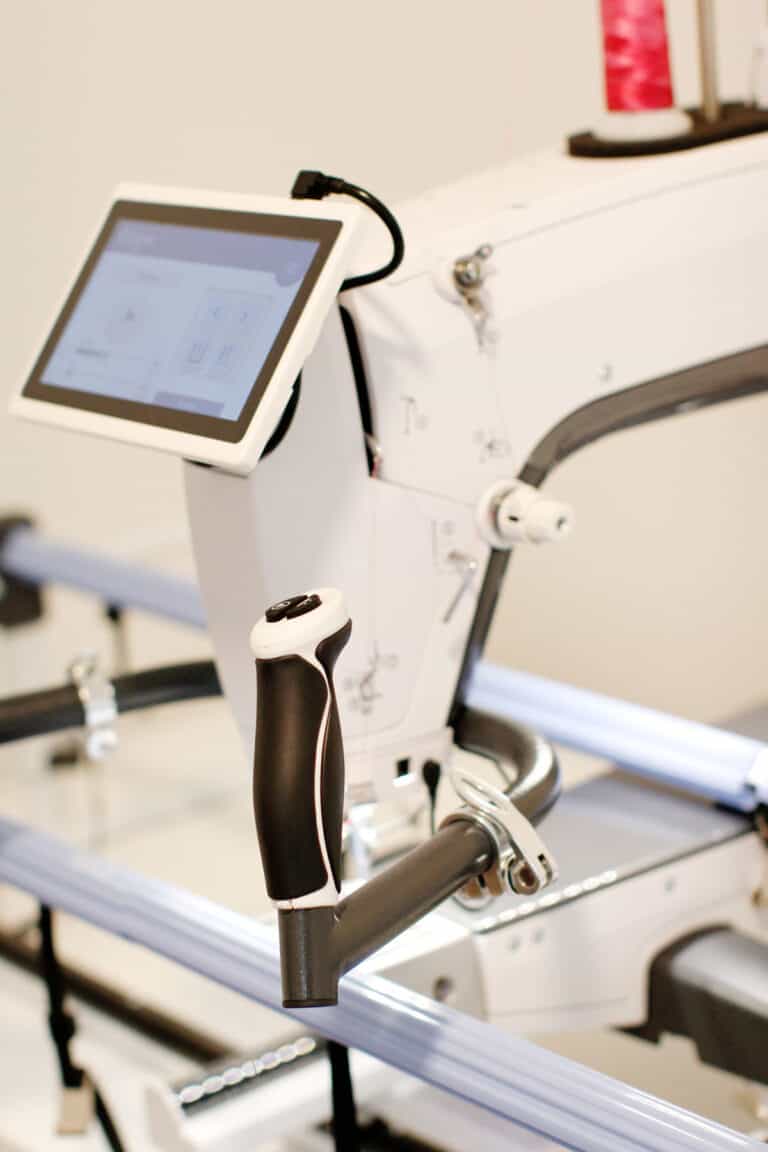 The throat space is probably the biggest reason to invest in a quilting machine versus a home sewing machine. It's a super heavy machine and the sewing is flawless!
The Q'nique 16 Elite has wheels on the bottom so it can roll on the Cutie Frame's premium dual-track system.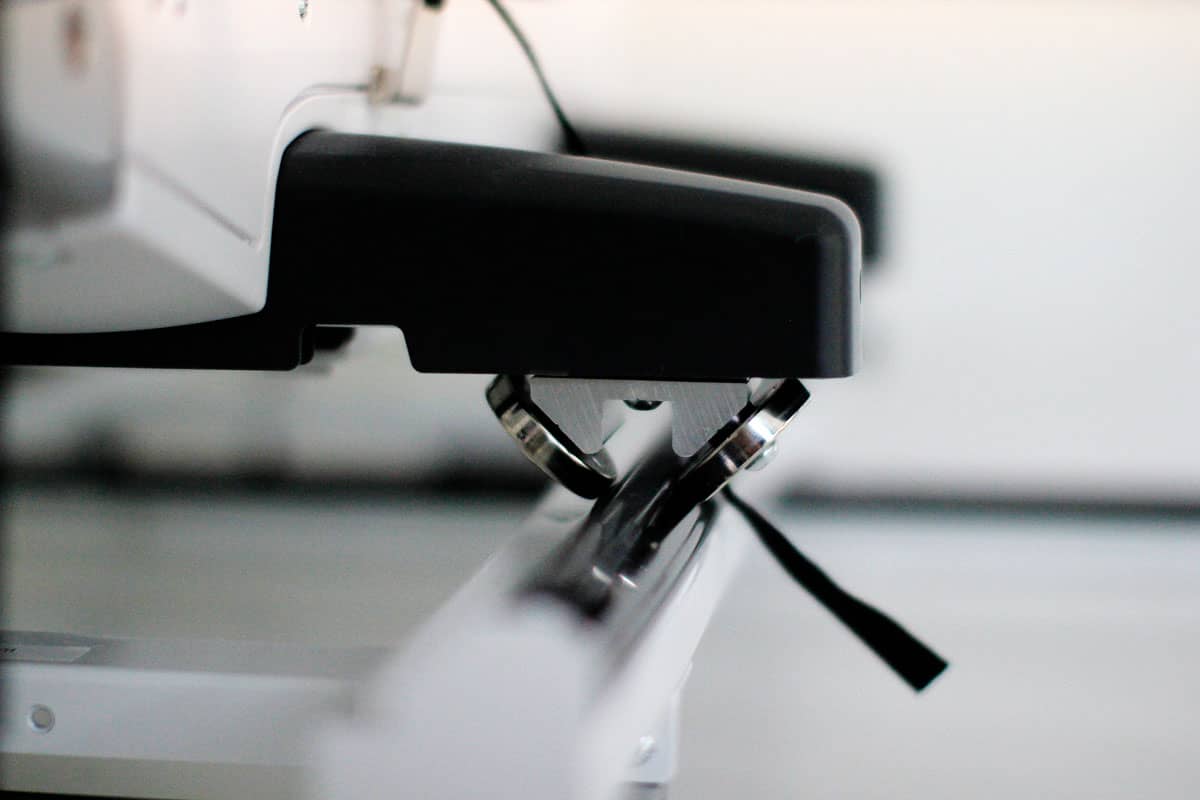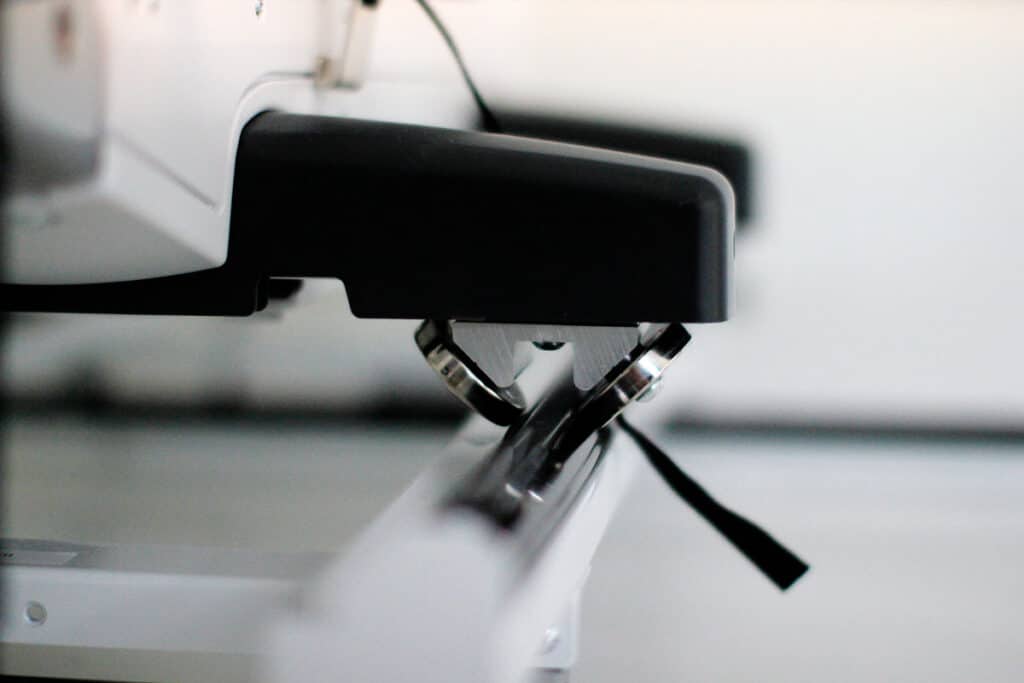 The machine was easy to hook up and start. I love the screen that shows you the modes and options.
Graco Company Q'nique 16 Elite vs. Q'nique 16
What's the difference between these two machines? The Q'nique 16 Elite has the computerized touch screen and sews a little bit faster than the Q'nique 16.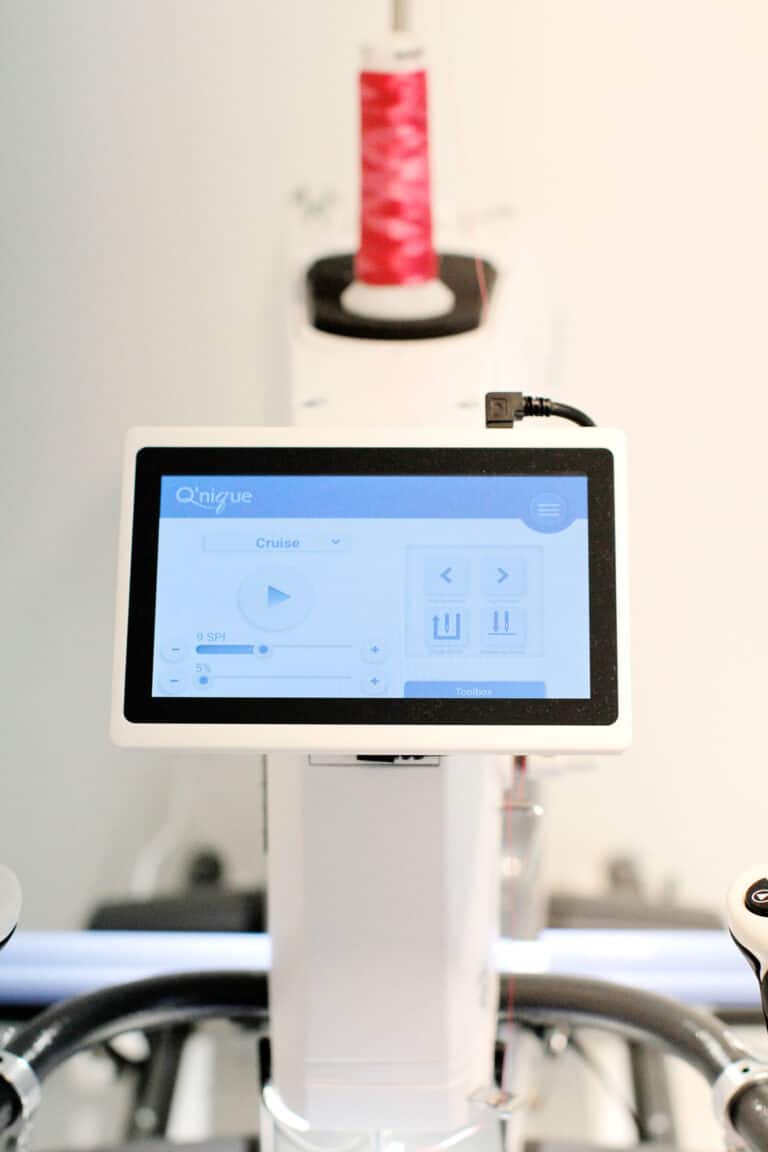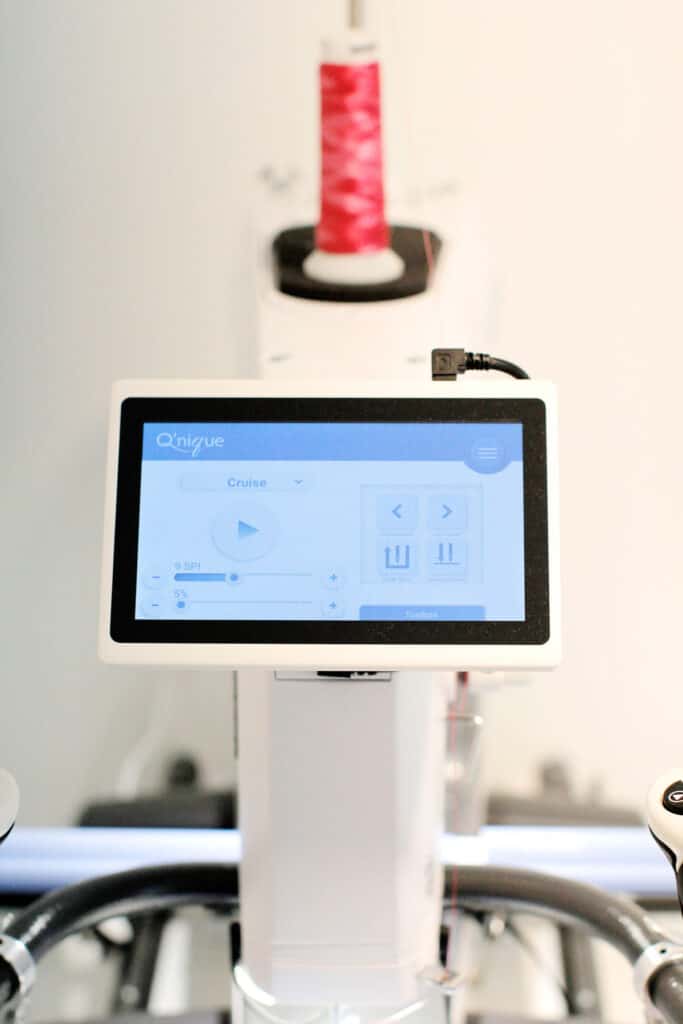 I would recommend this quilting machine because of how easy it is to use and how nice the stitching turns out! Just set it up and sew to your heart's content!
Cutie Frame with Home Sewing Machine
Using your home sewing machine is easy – just load it onto the included carriage and secure it on. The carriage moves around the tracks just like a quilting machine allowing you to control your machine with handles. It has small wheels that fit on the tracks and gives you the mobility to free motion quilt.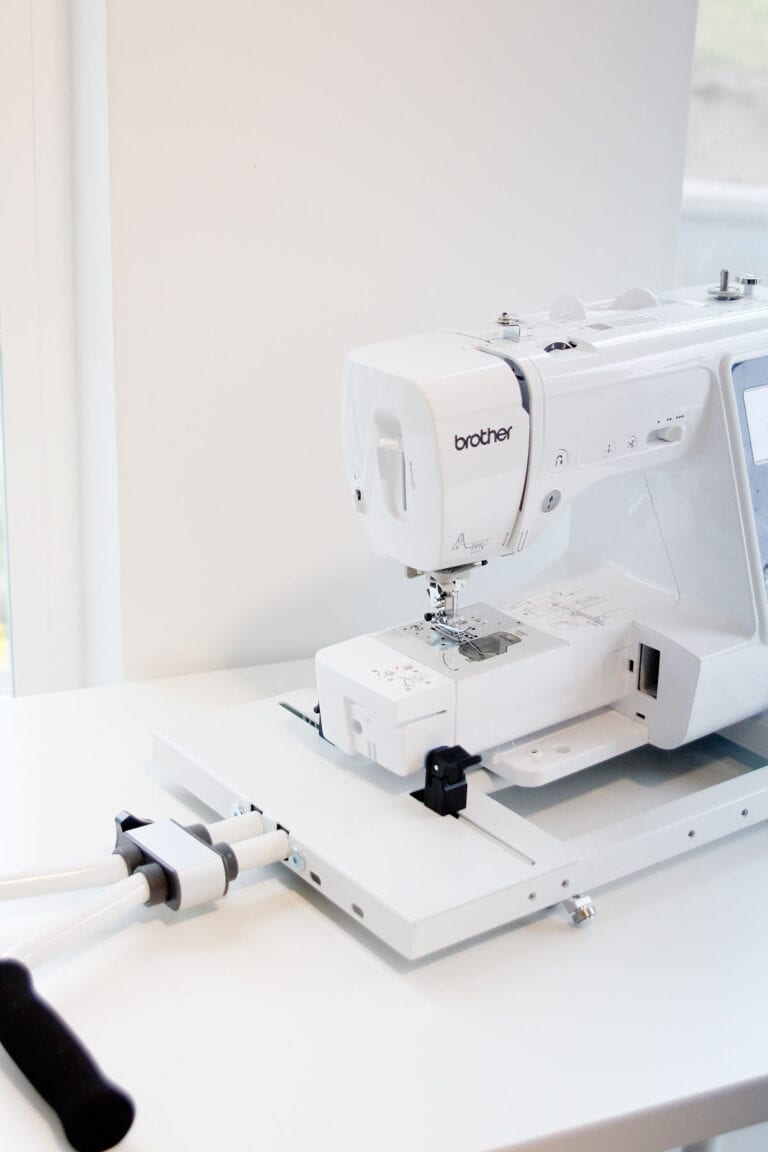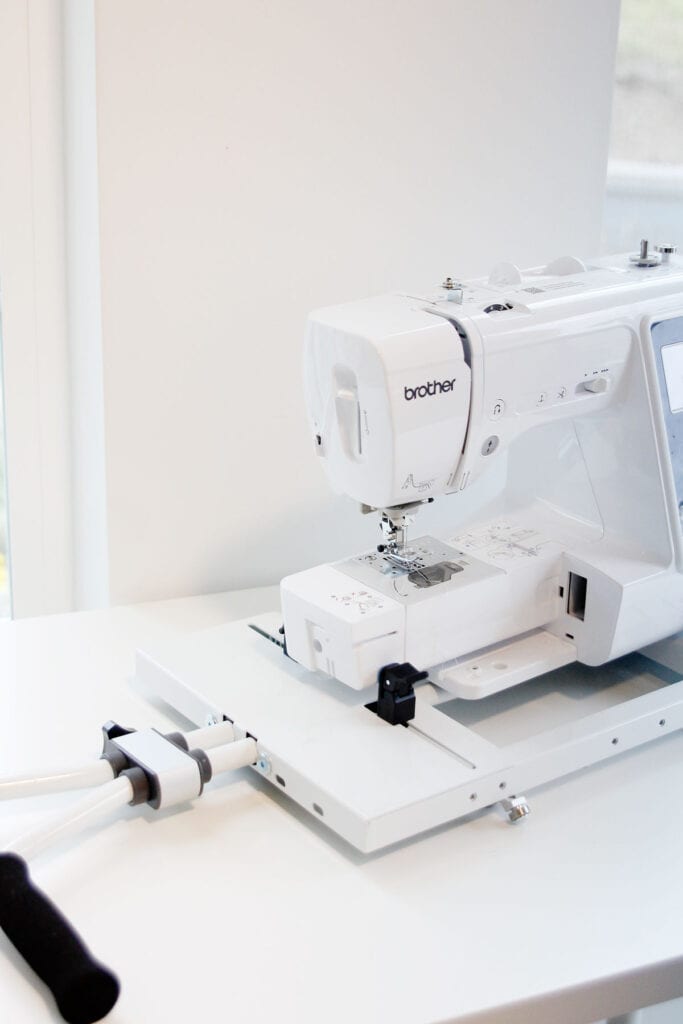 I make a lot of quilts and usually send them off to be quilted by someone with a longarm. I was so excited to try quilting myself and anyone can with this feature. The home sewing machine just sits right on the carriage that comes with Cutie Frame.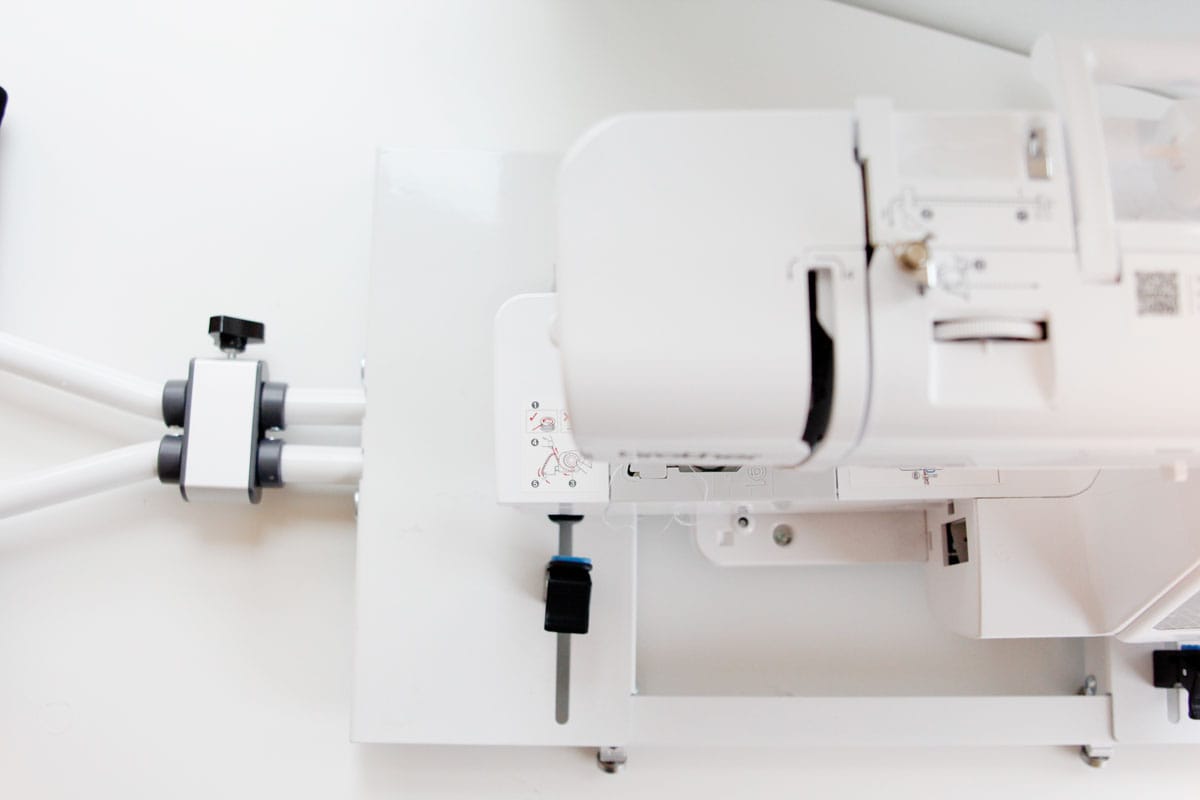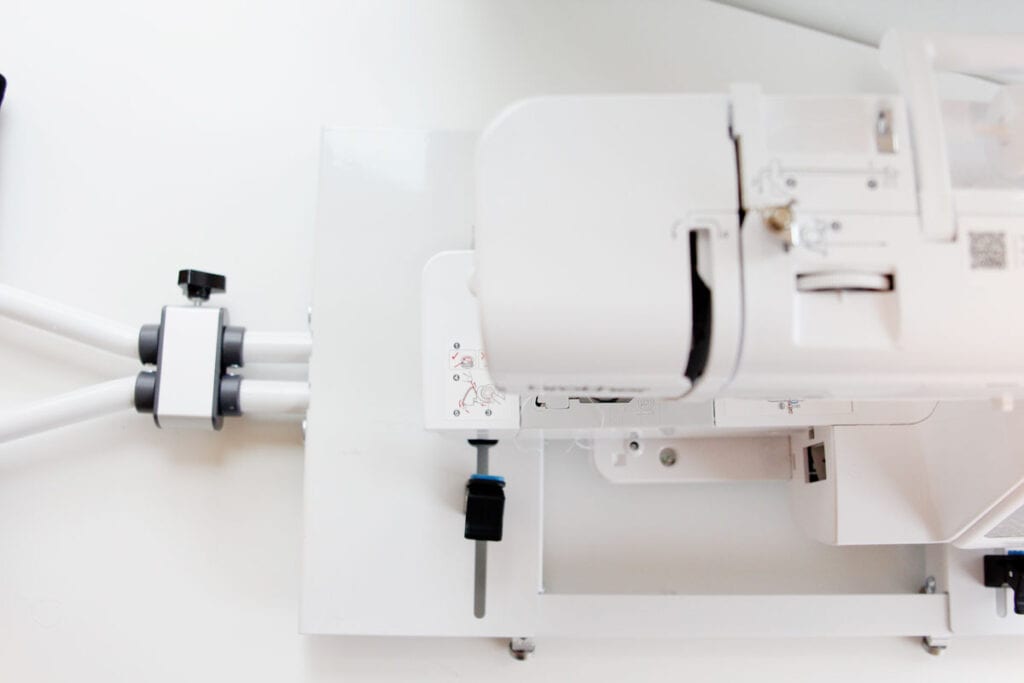 These adjusters tighten around your home machine to keep it secure. A lot of different machines will fit on this carriage.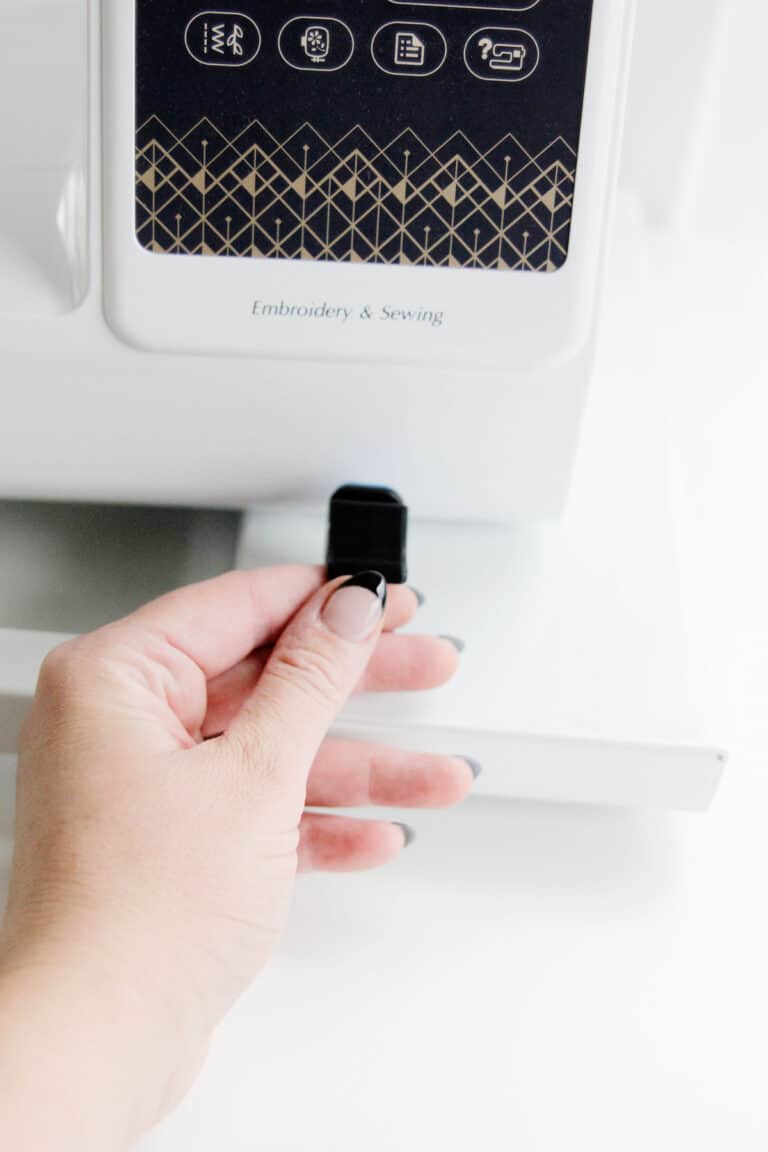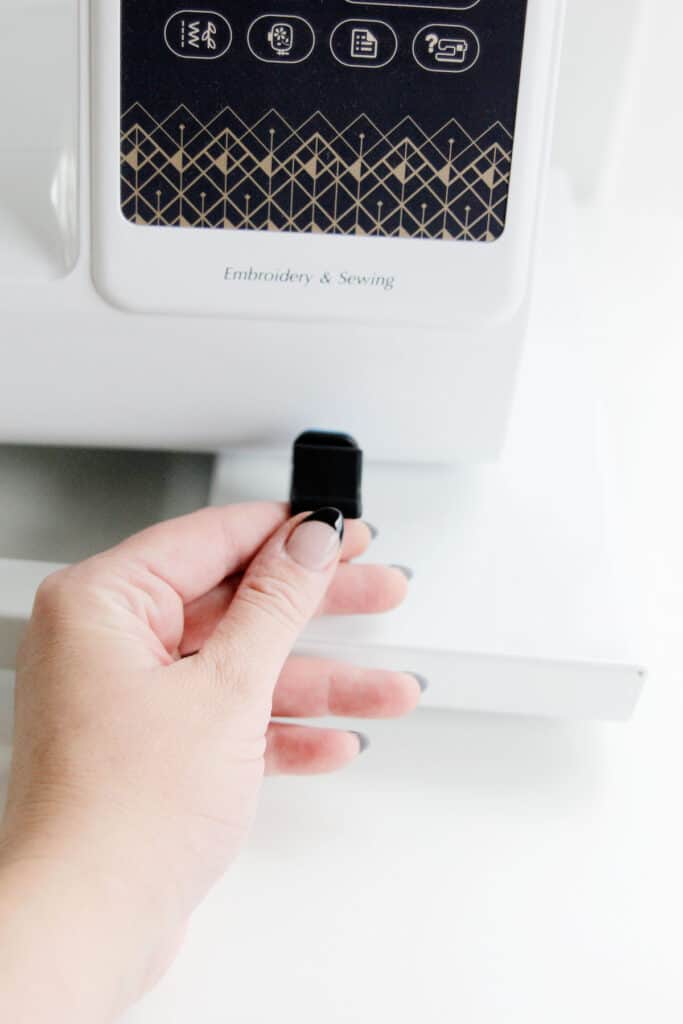 Here's my first quilt on the Cutie quilt frame! I'm going to try using a meander ruler for my next one!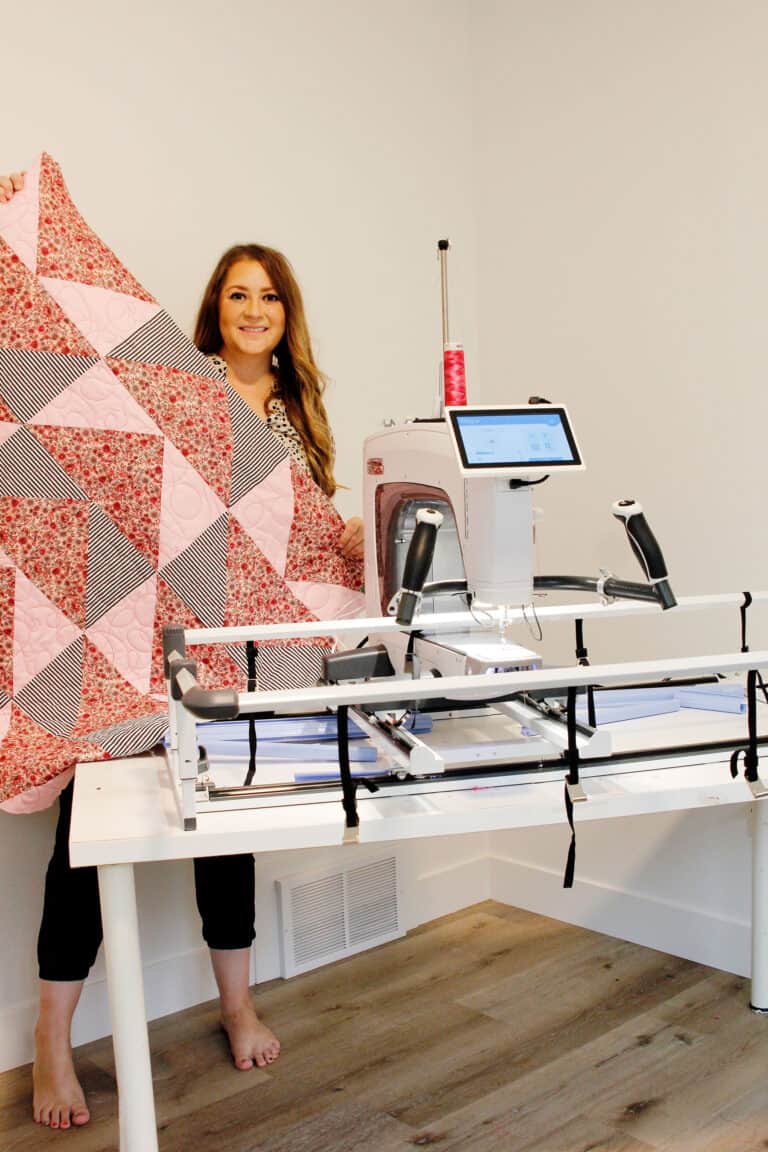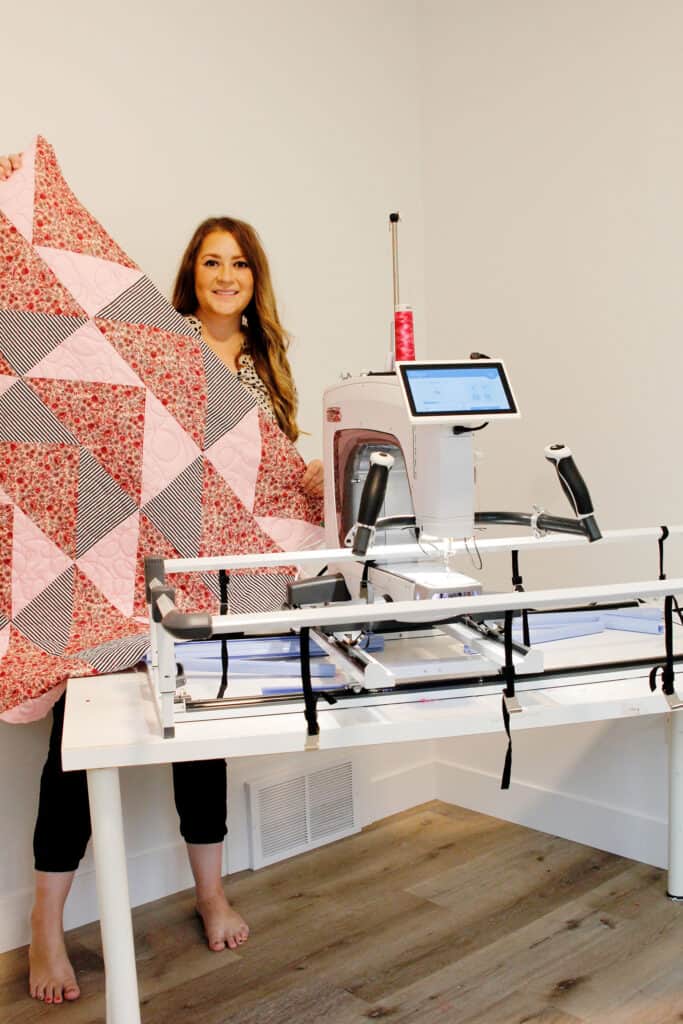 Grace Co Cutie Frame Price
The Cutie Frame has an MSRP of $1199 but Joann Fabrics has it on sale right now for $589! That is a steal compared to most longarm machines! I love how the Cutie frame is such an affordable option, making home quilting more accessible! Boundless possibilities are available at a fraction of the cost of other frames!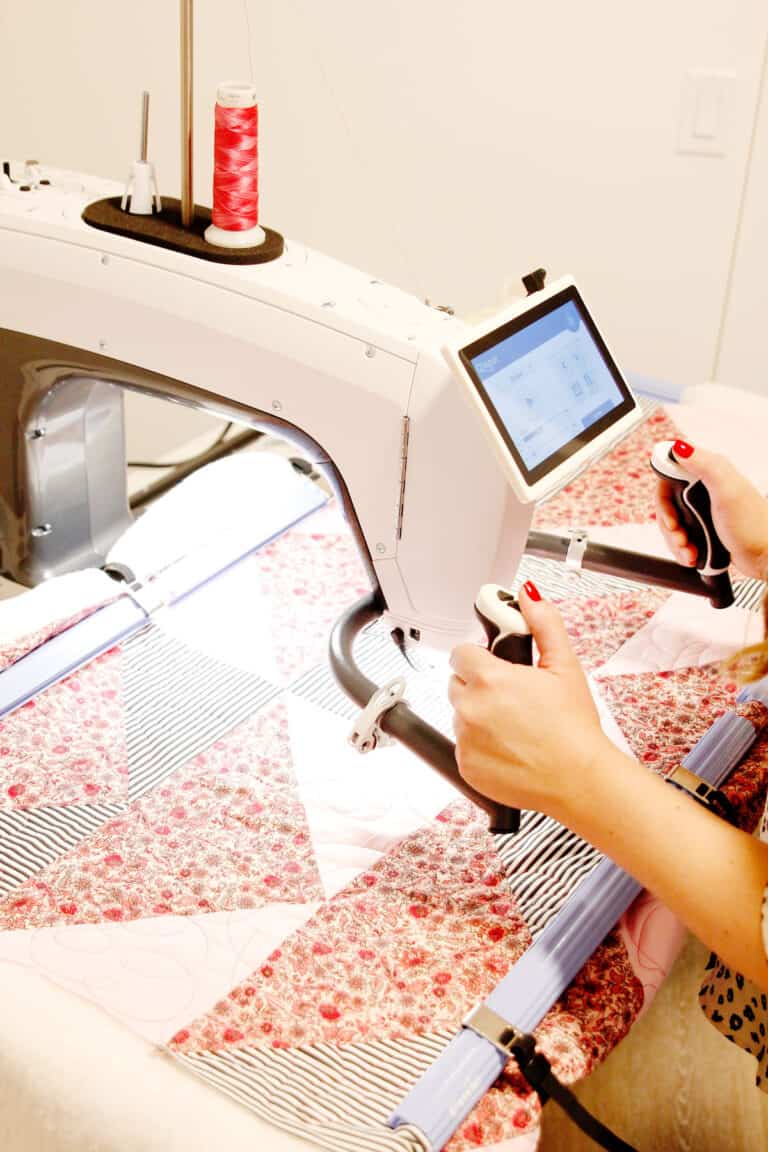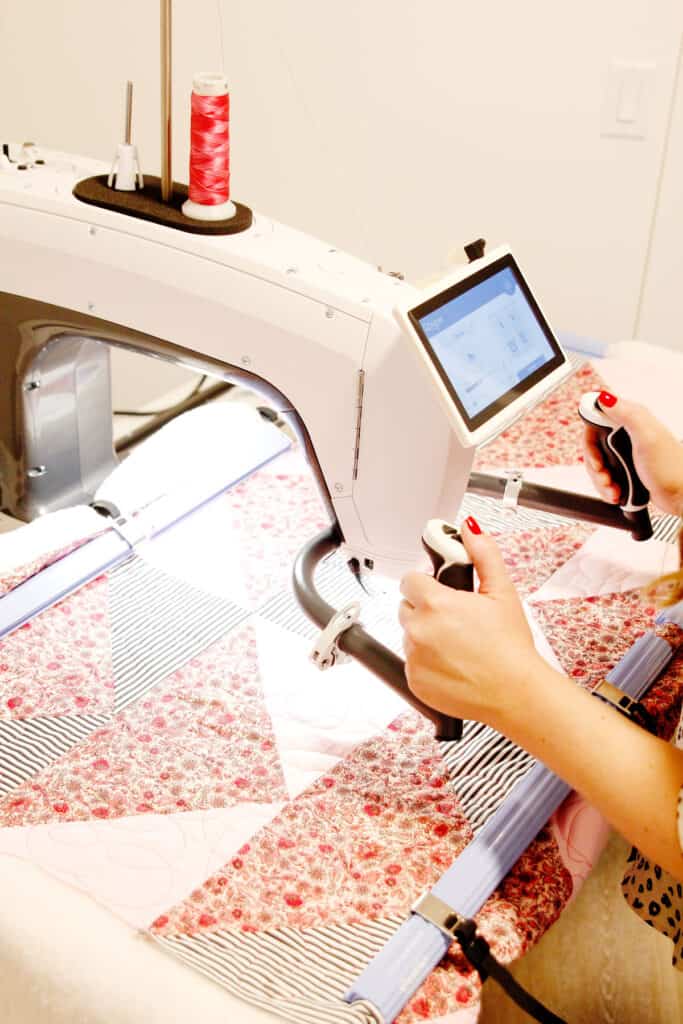 Why I love the Grace Cutie Tabletop Fabric Frame:
Just 4 feet long – set it up anywhere!

I never thought I could have a longarm machine in my house because they are just so big, sometimes up to 15 feet or more. But the Cutie frame is a space saver at just 4 feet wide and can still create any quilt size! It's a great size for a nook or corner of a spare room.

Compatible with most machines

The Cutie frame does not have to be used with a Grace Co machine. It is compatible with most machines because there is a top plate with adjustable clamps. Most home sewing machines will work on this frame making quilting accessible to you even if you're not ready to commit to a separate quilting machine!

Set up on a table or purchase the legs separately
Any size quilt

Yes! Any size! The frame has removable clamps that allow you to move the quilt around the frame to cover the whole quilt top. It's super easy to move it. I just put my needle in the down position, removed the clamps, moved the quilt and replaced the clamps. I was nervous that adjusting the quilt would take forever but it was really fast and easy. I made a small quilt at first because I was nervous but I'm excited to try a bigger quilt next!

Easy to set up

All of the pieces are labeled and the manual is really clear and easy to follow. The diagrams are super detailed so you know you are putting it together correctly.

Easy to use!

Again, the manual walks you through your first quilt – so simple to follow. I only had one issue with threading but it was easy to fix once I figured it out!

4 Quilting Modes: Baste, Cruise, Manual and Precise

I used the Cruise mode for this and also tried out Baste on the edges. I did a free motion design. I'm excited to try using rulers to create more exact designs.

Finish quilts at home

I have never done a fun quilt top like this before! I typically send my quilts off to a longarm quilter. It's nice but sometimes it takes a while to get it back and costs around $100.

Training available

I thought I would need training to figure this out but I ended up not needing any training, the manuals guided me through set up and completing my first quilt! It was very easy to set up and get going. But Grace Co has online training plus in-person training to make sure you get the most out of your machine and frame.

Collapses for easy storage

Because of the small size and lightweight frame, the Cutie frame has the convenience of easy storage. Store it in a closet when not in use!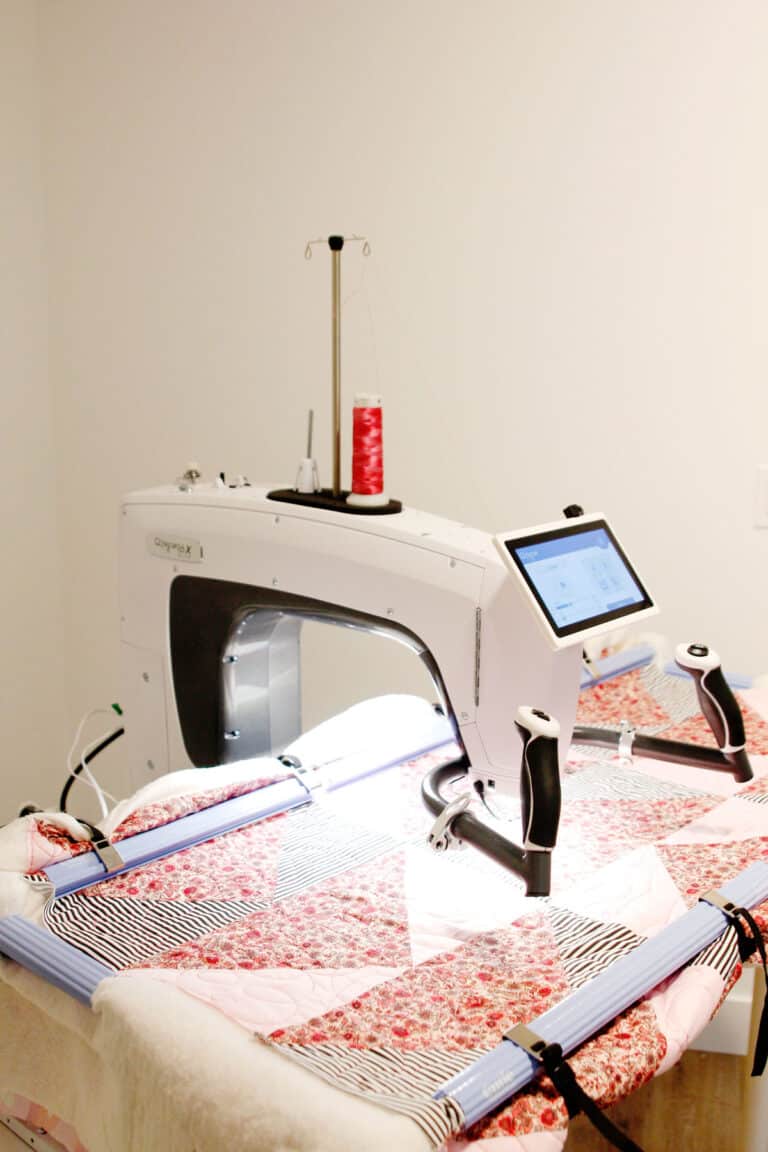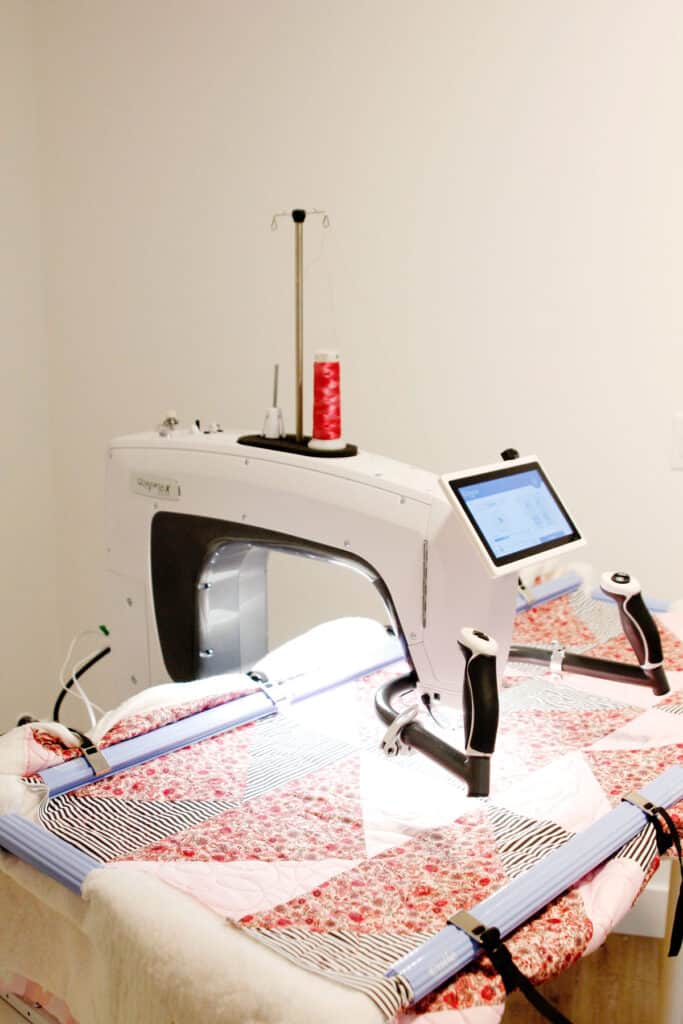 Aside from quilting, I'm excited to use this system for more fabric projects, like stockings, quilt coats and other smaller projects that are fun to quilt! Because of the low price, it's an affordable choice for the home sewer.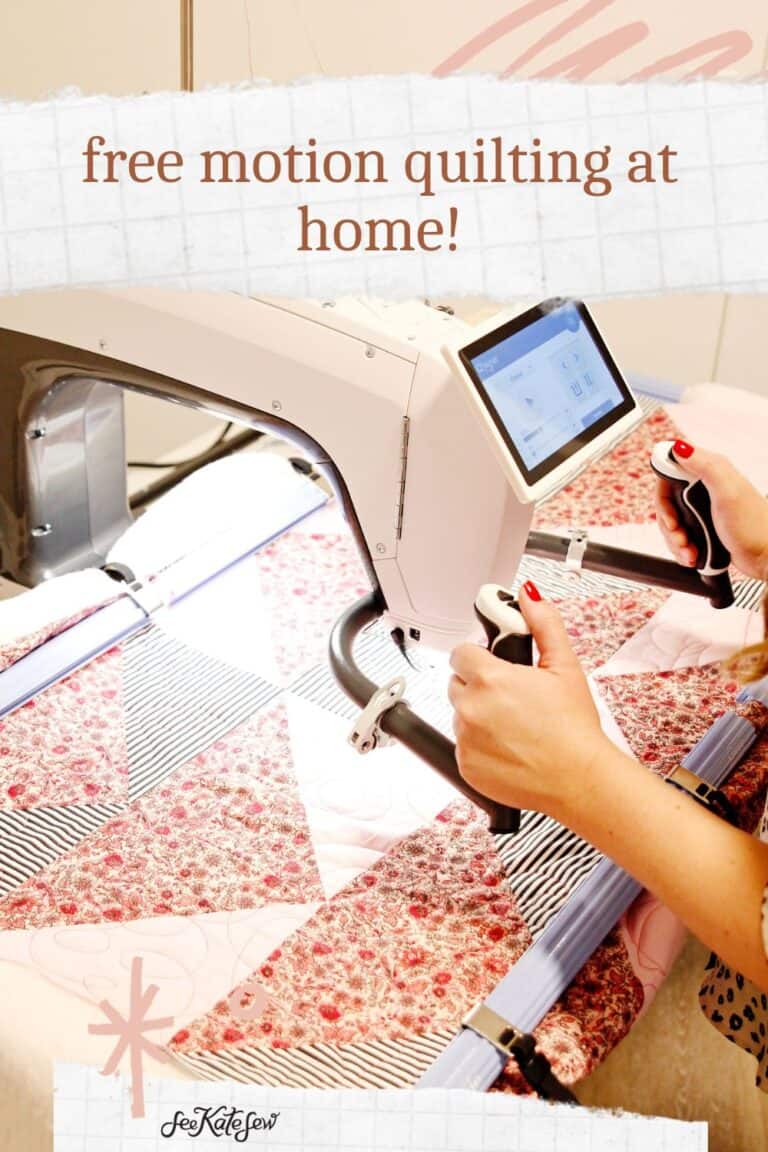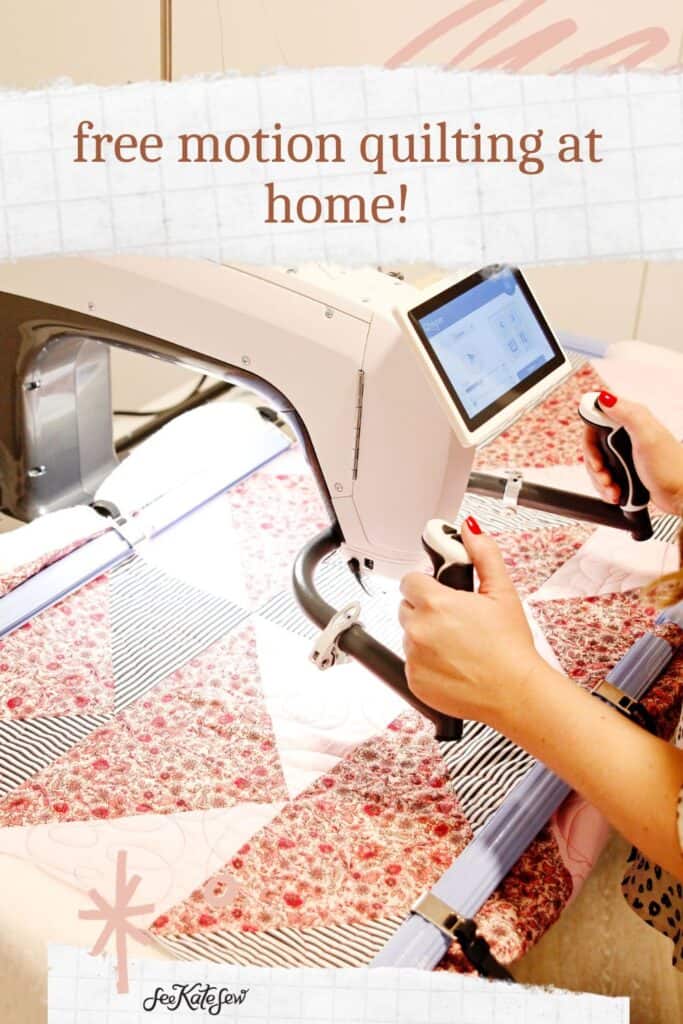 Have you seen this frame? Let me know if you have any questions about it!
More Quilting Projects