It's the mystery fabric ruffle challenge! I have been so excited for this! I teamed up with Fashionable Fabrics and 4 of my favorite bloggers: Shwin&Shwin, Alida Makes, Melly Sews and Sew Like My Mom to present 5 unique projects all with the same fabric and some form of RUFFLE! Fashionable Fabrics sent us each 1 yard of Pearl Bracelet to play with, all in different colors. This fabric is such a fun one.
I started out making something completely different, but it didn't quite work out, so halfway through I thought it was looking like a pretty cute gift bag. It's funny how projects develop differently sometimes. I just went with it and am pretty excited to gift something with this ruffle fabric gift bag! It has a ruffle top pocket on the front for cards or other little knick knacks. Gifts with knick knacks on the top are the best kind right?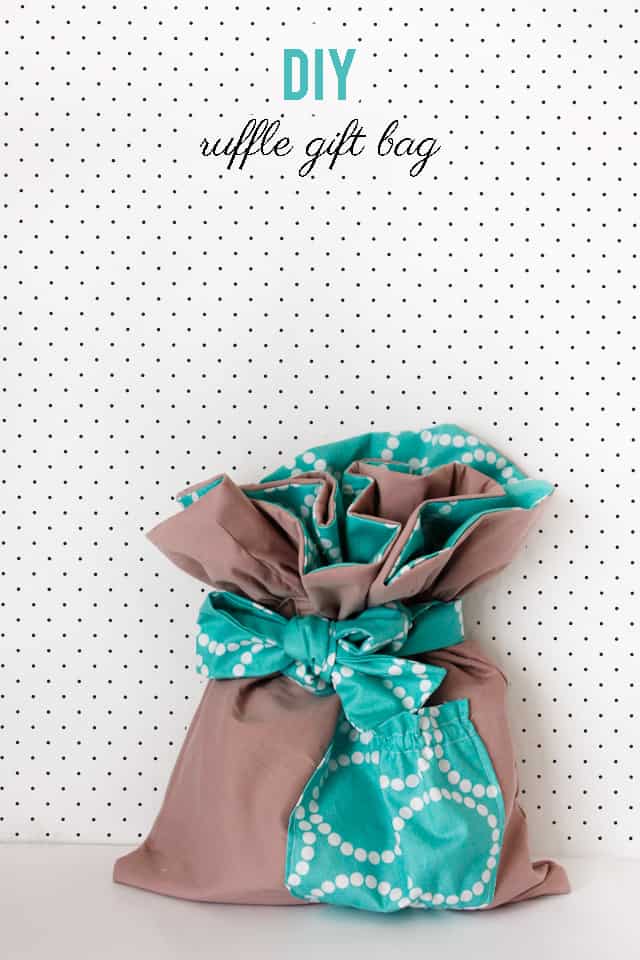 To make this bag you need:
-two rectangles of fabric 14″ by 14.5″
-1 pocket pattern from the ruffled apron
-Two long strips 44″ by 5″ for ruffle
-2 rectangle strips for sash, any size
To make the pocket, use the pocket from the ruffled apron pattern. Finish the top edge and fold over 1 1/4″ at the top. Press, then sew two lines of stitching at 3/8″ and 6/8″. Pull your elastic through (7″) using a safety pin and sew in place at each end. The top of the pocket will gather up. Now fold over 1/2″ all the way around and sew on your bag.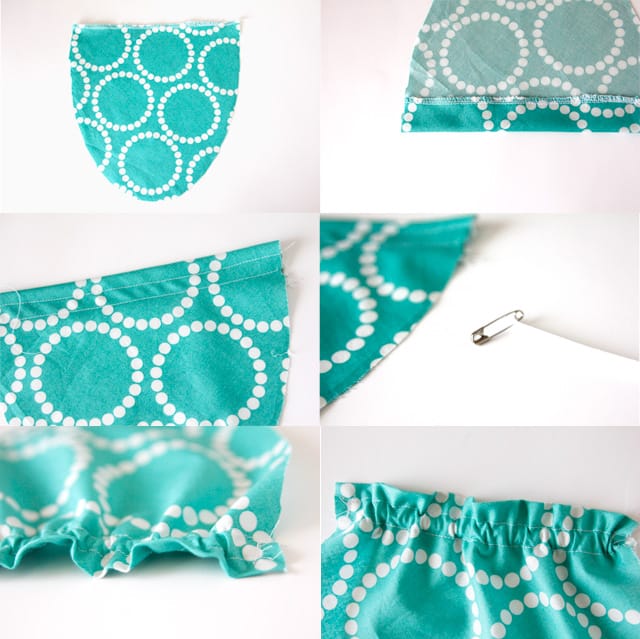 To make the ruffle part of the back, sew two long strips together at the long edge. Then sew the short edges together. Fold the strip in  half so you have a tube with both fabrics showing on their right sides. Gather the strip and attach it to the top of your bag.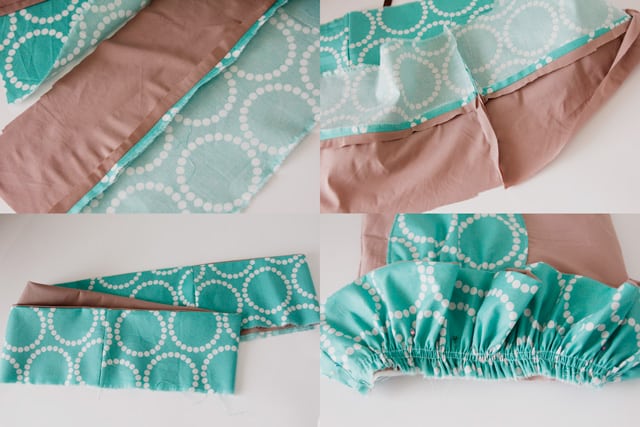 Press the ruffle up and topstitch along the edge.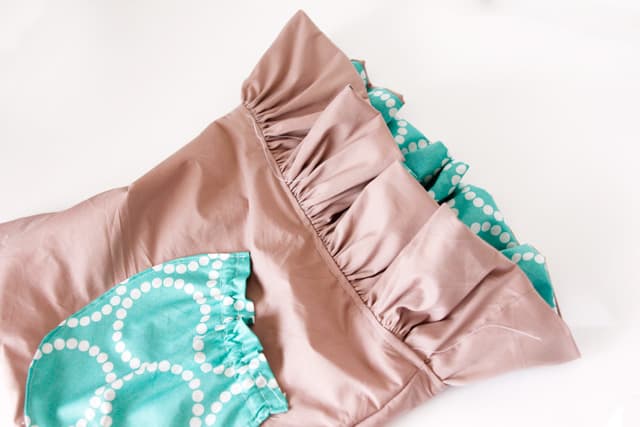 Make a sash and attach it at the back.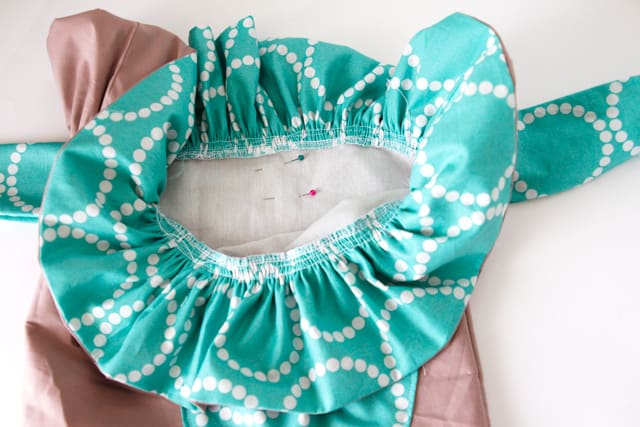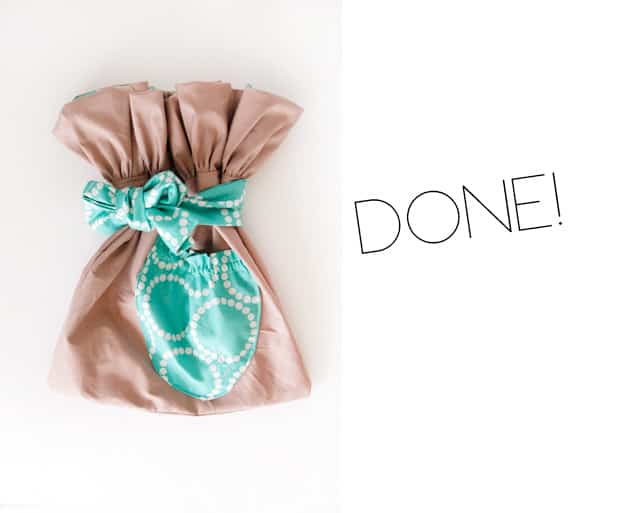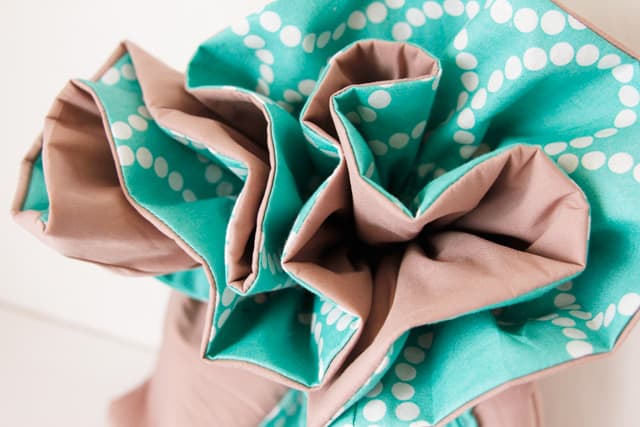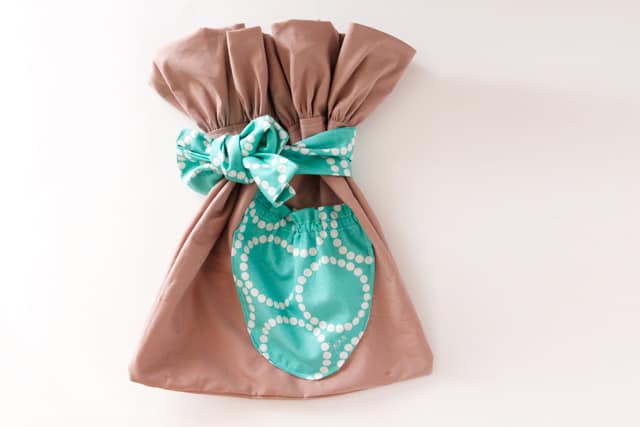 Go check out what else you can make with Pearl Bracelet! I love how different all these projects turned out! They are all so inspiring!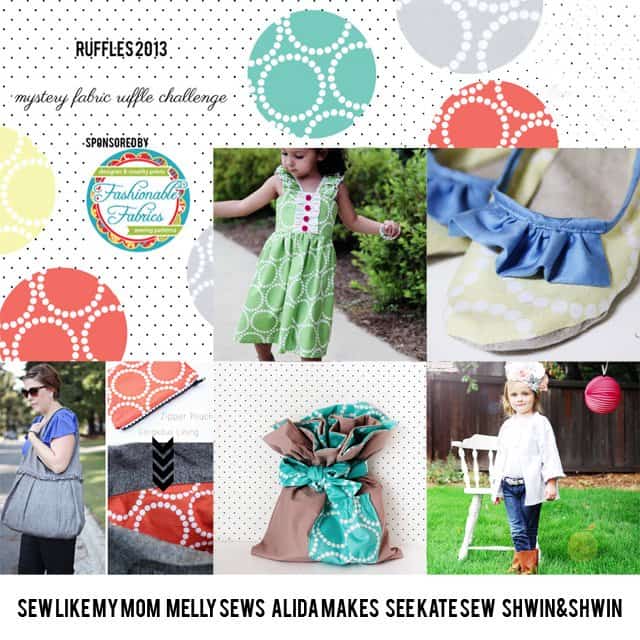 Ruffle Tuxedo Dress by Sew Like My Mom
Ruffle House Shoes by Melly Sews
Ruffle Purse and zipper pouch by Alida Makes
Ruffle Fabric Gift Bag Tutorial by see kate sew
The Ruffle Duster by Shwin & Shwin