My Neighbor Totoro is one of my all-time favorite movies! This Totoro costume DIY is super simple and adorable – it's made with soft materials and stuffing for a squishy Totoro feel!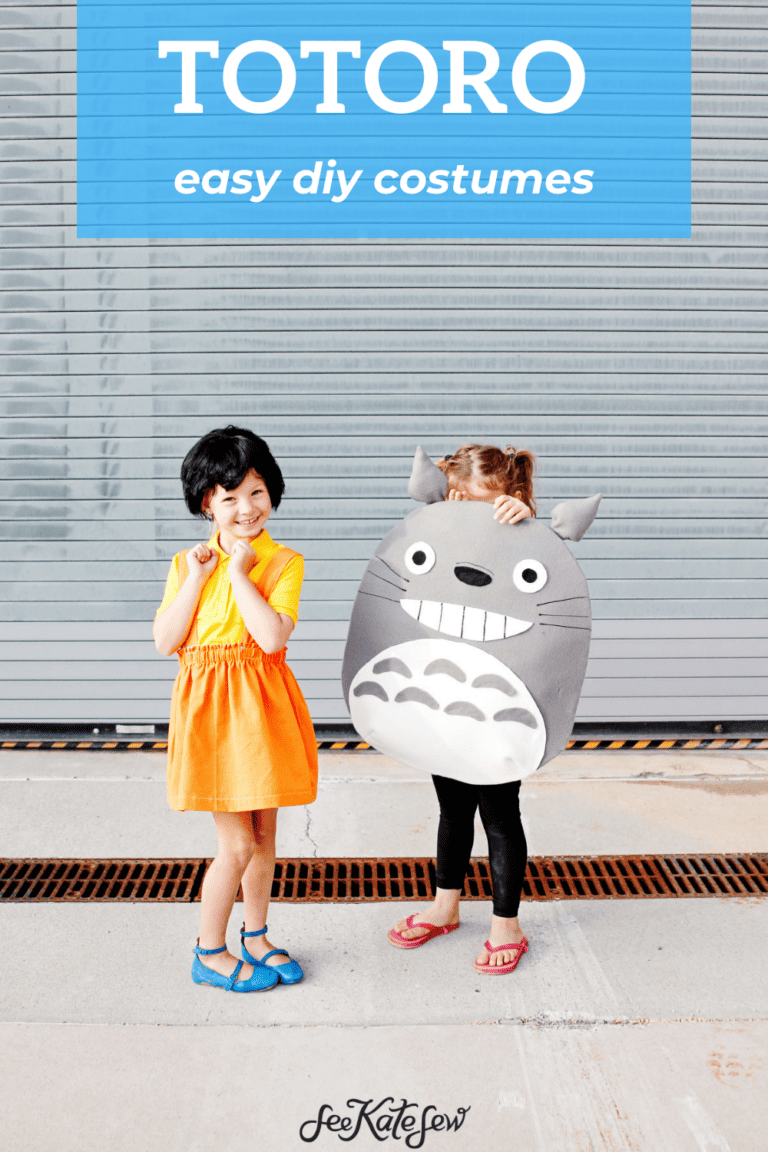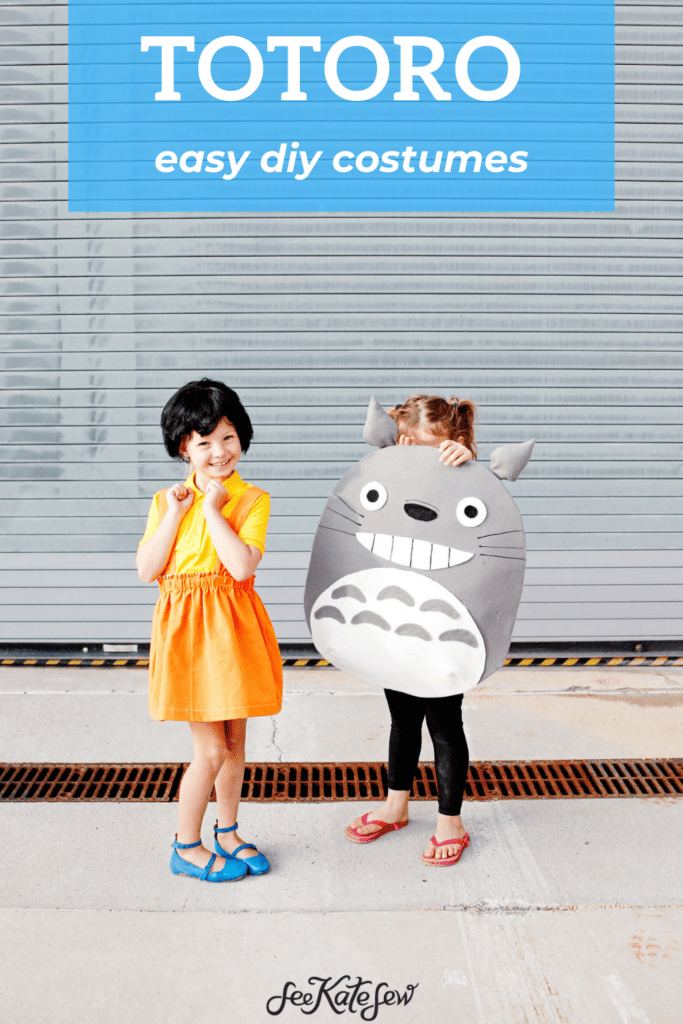 This costume is made using my cardboard Halloween costume base. I also used this template for the DIY Squishmallows Costumes and you could use it for so many more!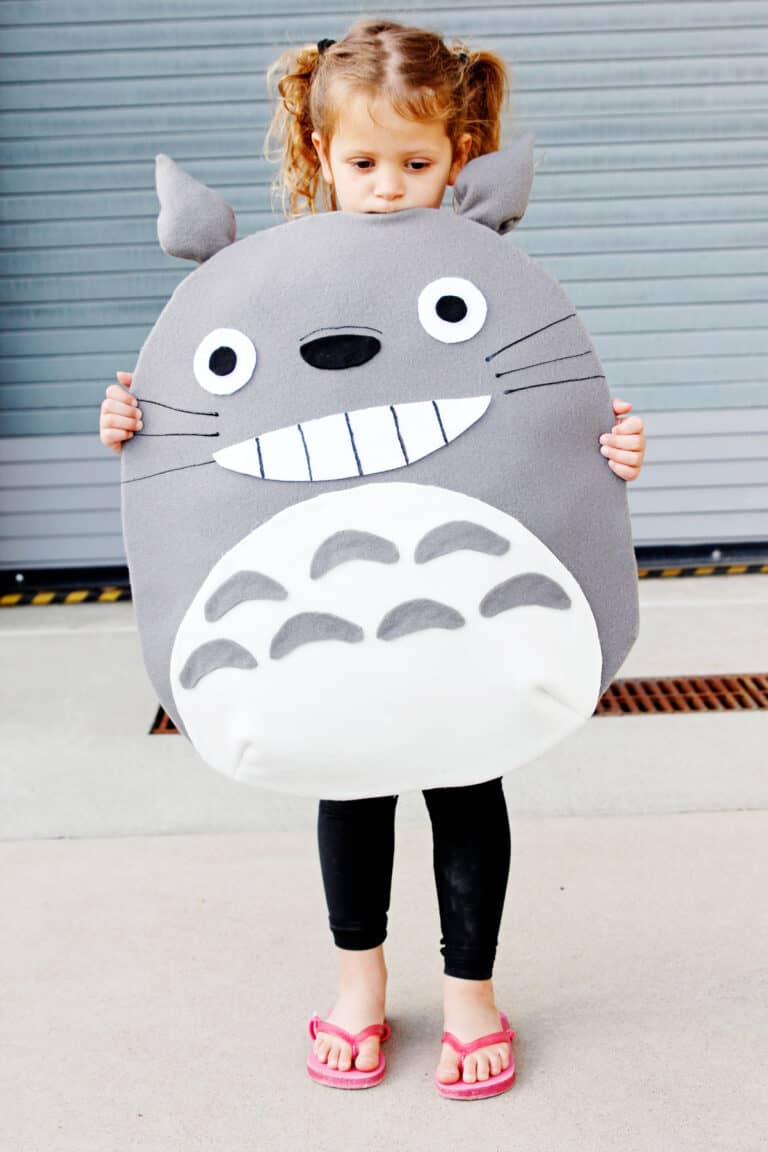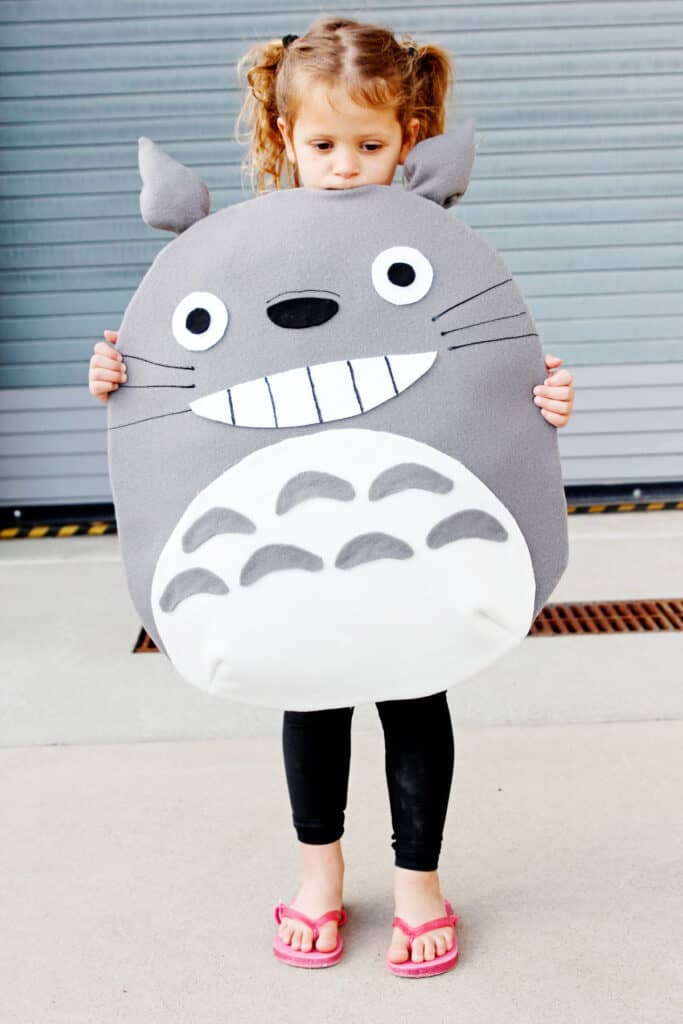 Totoro is a Japanese forest spirit – it's a vague animal like creature that is magical, fluffy and cozy. He is a comforting creature so this forest spirit costume is cozy and soft like him!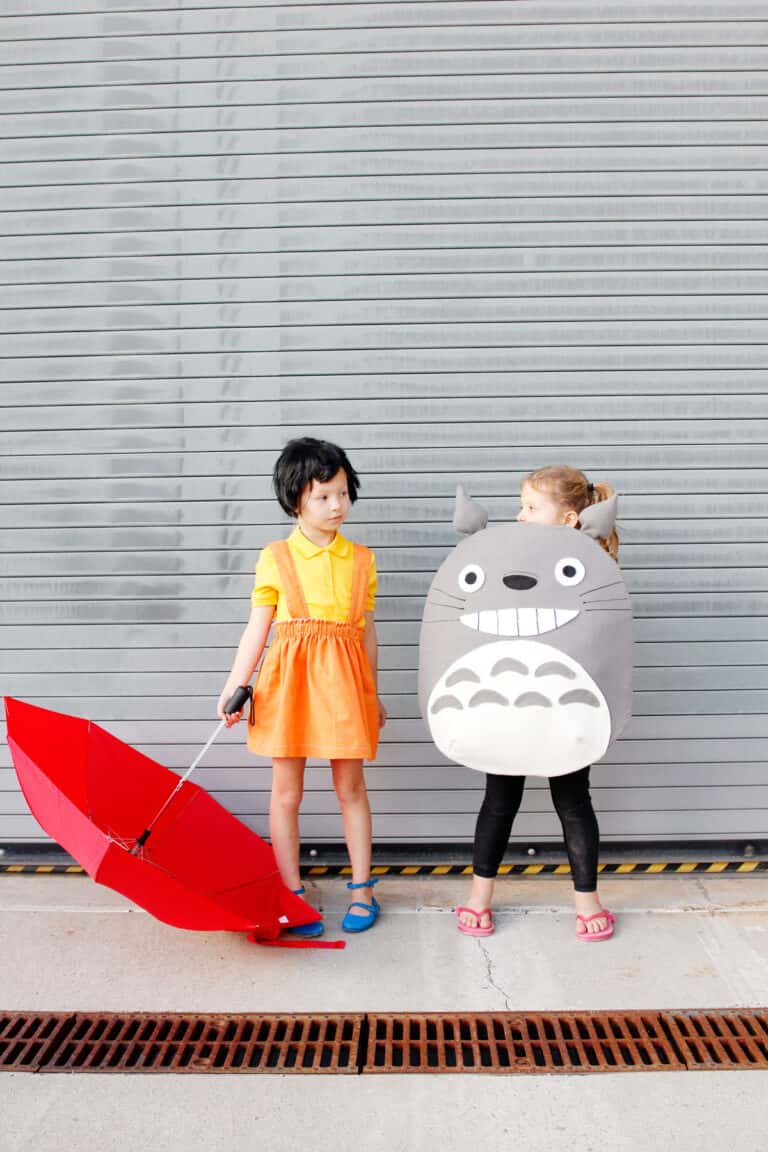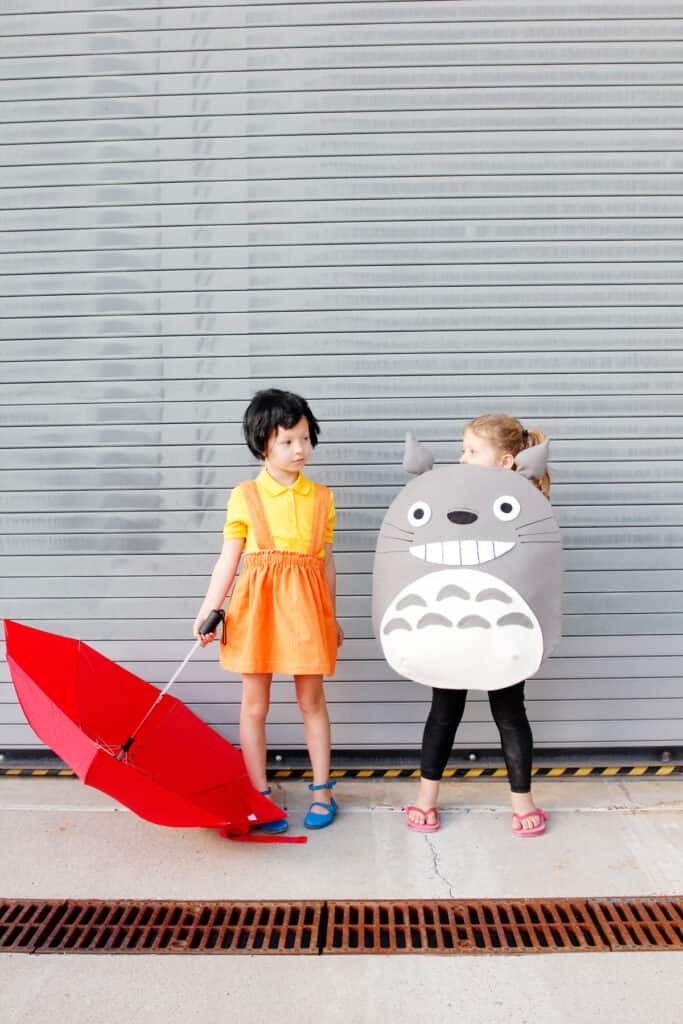 The young girls in the movie meet Totoro when they move to an old house full of spirits. This post also has info for creating the Satsuki costume to go with Totoro!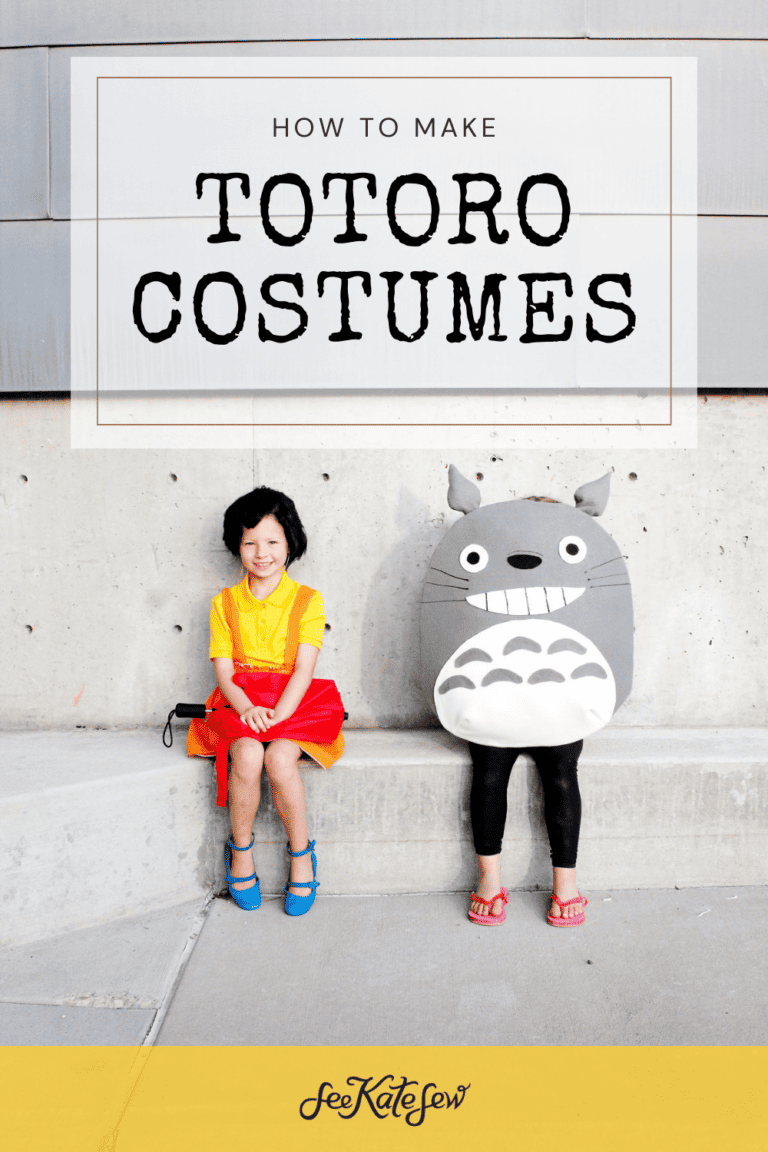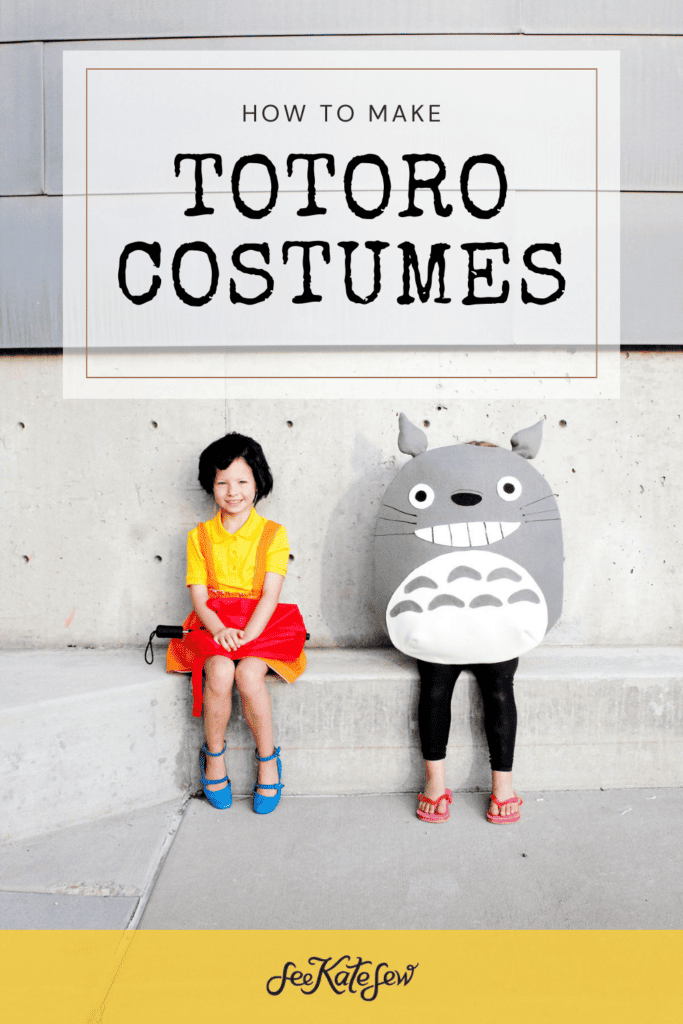 Totoro fans will love this costume and handmade pieces are always the best for Halloween!
Totoro Costume DIY Materials – Grey Forest Spirit
Cardboard or posterboard
Fleece in grey, white, black, and cream

I recommend fleece for this because it is cheap, soft and has a little bit of stretch for stuffing but other grey fabric will work too
You can also use black and white felt for the smaller pieces

Black puffy paint
Fiberfill stuffing
3″ elastic for straps
Hot glue gun
Super glue
Clamps, optional but helpful for gluing the straps
You'll also need basic sewing supplies like fabric scissors, thread and a sewing machine.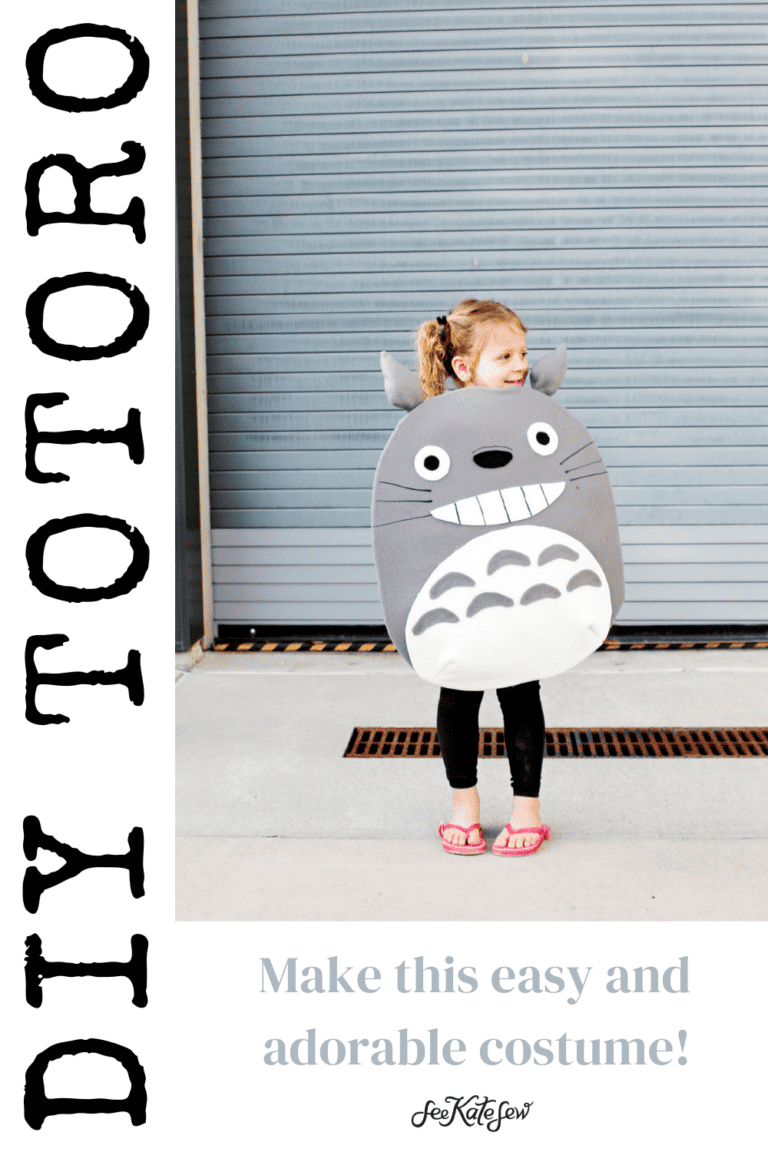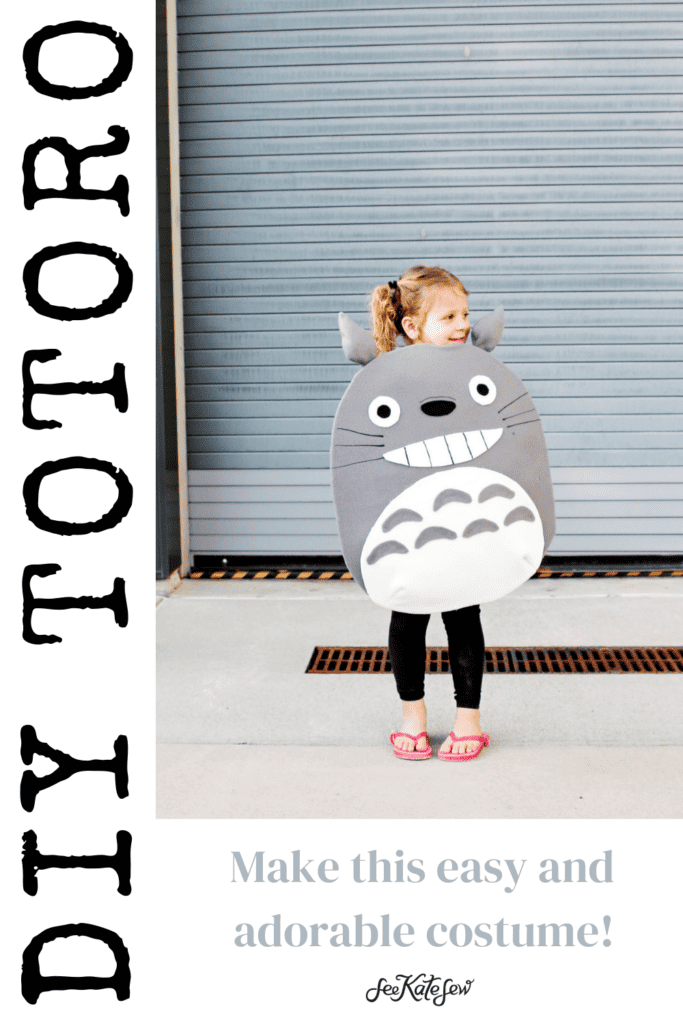 Totoro Halloween Costume Templates
Use my cardboard Halloween base shape for this costume. Just click the button below to download the template.
Then download the Totoro facial features and hat templates here:
These templates will print on 3 pages. Trim along the dashed lines and tape them together as shown: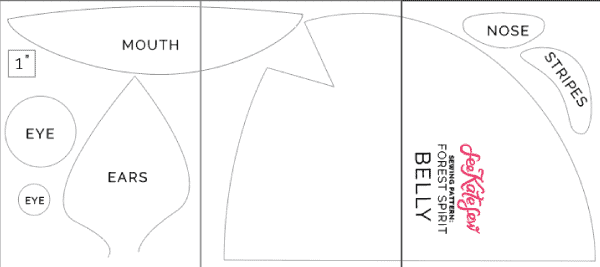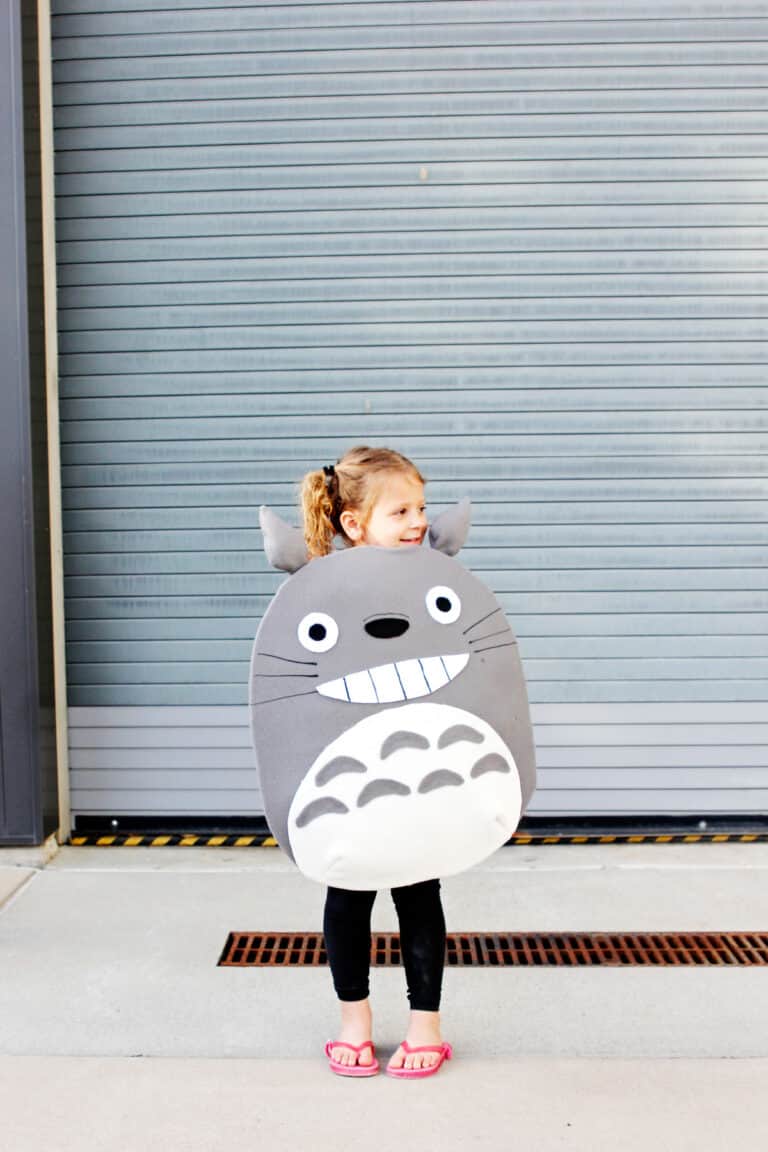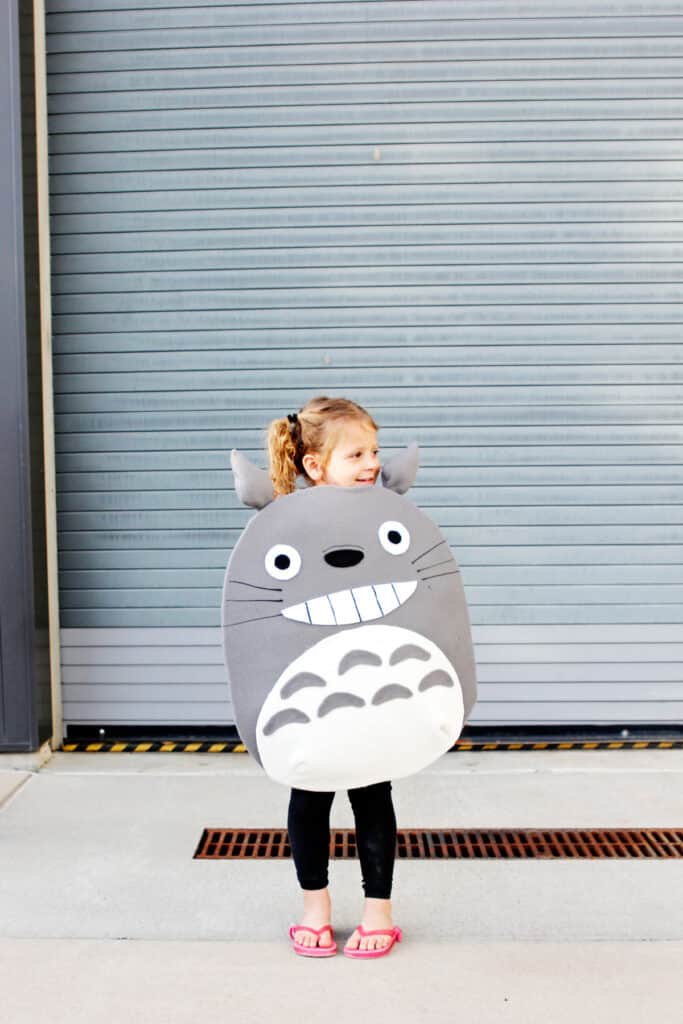 My neighbor Totoro Instructions
Start by cutting out a piece of fabric using the fabric pattern piece from the Halloween costume base. The fabric pattern is the larger pattern so cut that out first. Then use the inner pattern to cut out 1 piece from cardboard or poster board.
Cut main fabric piece, 4 ears and 7 stripes from grey fleece.
From cream fleece, cut 1 belly piece ON THE FOLD for Totoro's belly.
Cut 1 mouth and 2 large eye pieces from white fleece.
Cut 2 pupils and 1 nose from black fleece.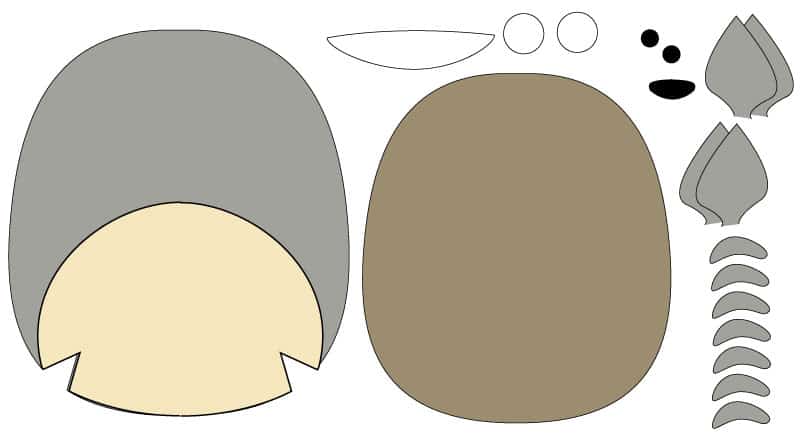 Glue the belly piece to the main fleece fabric, matching up the dart lines. Sew the darts together to create a dimensional creature.
Check out this DIY Squishmallow Costume post for photo instructions on assembling the darts, fabric and cardboard – it's the same process!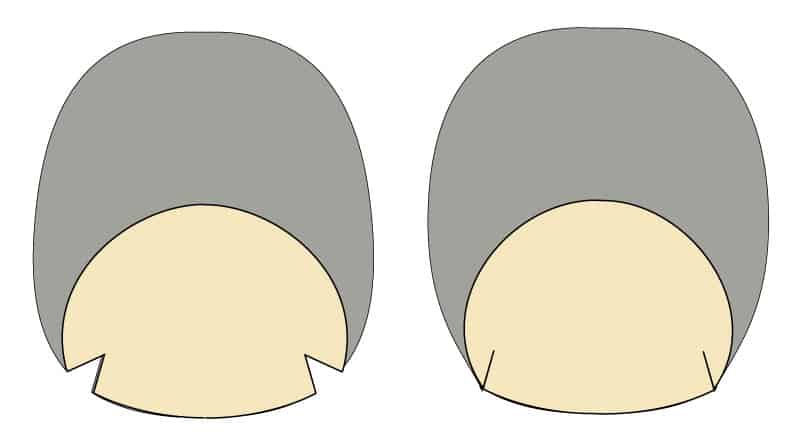 Use puffy paint to make about 5 lines on the mouth piece. These are the Totoro teeth and make the smile really funny! Glue the pupils onto the white circles. Then glue on the felt pieces for the Totoro eyes, nose and stripes as shown while the teeth dry.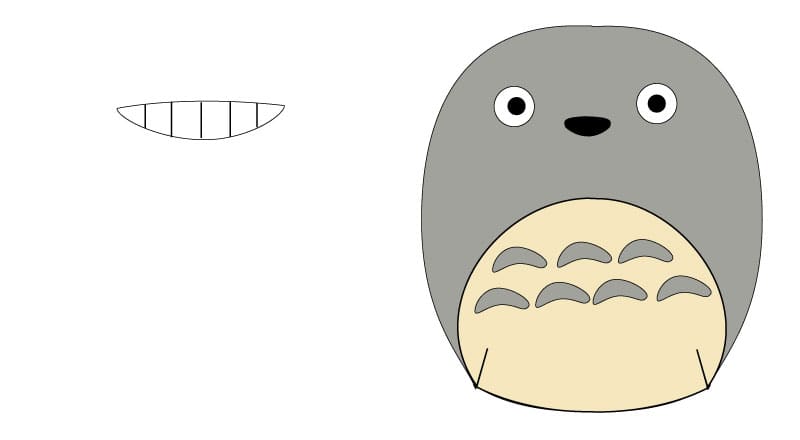 When the teeth are dry, glue the mouth to the grey fleece. Add a wrinkle above the nose and whiskers on each cheek with puffy paint and let dry.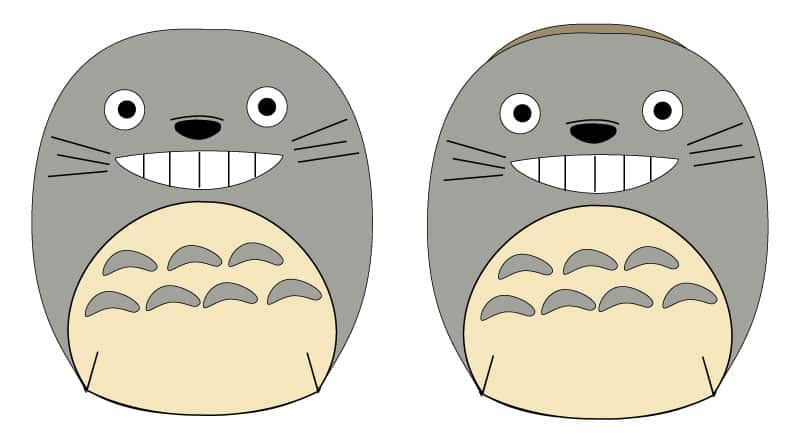 When all the paint is dry, glue the fabric to the cardboard, pulling over about 1/2″ and gluing with hot glue. Leave an opening for stuffing. Stuff and close.
Totoro Costume Ears Tutorial
Pin two ear pieces together with right sides together. Sew around using a 1/4″ seam allowance. Trim the point and turn ears right sides out. Add a little bit of stuffing to the ear, then cut a piece of cardboard about 5″ by 3/4″ and push inside the ear. This will help the ears stick straight up like Totoro's. Repeat with other ear so you have two ears.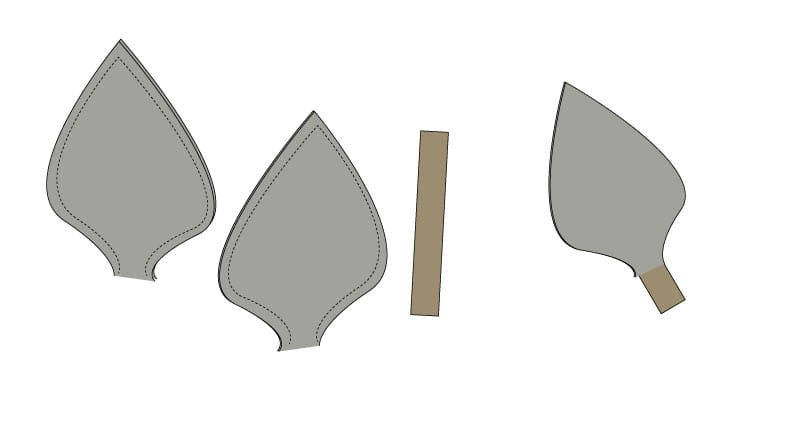 Glue ears to the back of the cardboard. Then attach elastic straps. See Squishmallow tutorial for photos of the elastic step.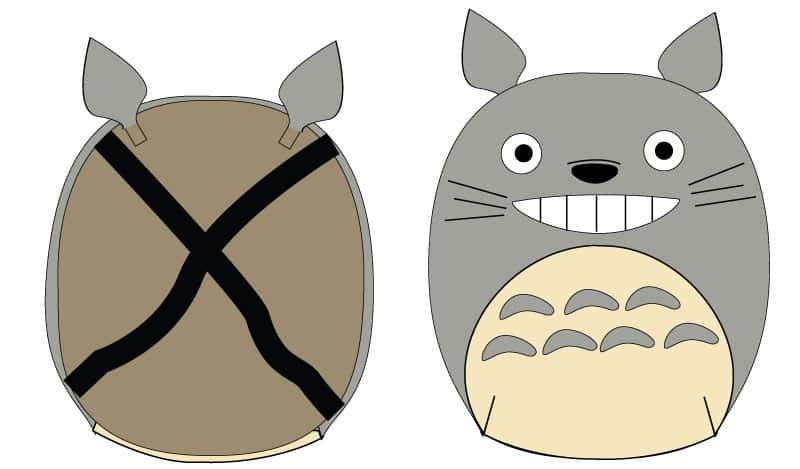 And your Totoro costume is done!
Easy Satsuki Costume – Totoro Satsuki Pair Costume
Add a quick and easy Satsuki to create a Totoro couples costume – my favorite characters! This is cute for a sibling set or friend costume set, too. If you need more characters for a group costume you can add one of the other magical creatures like the soot balls or the other of the young girls, Mei. Mei's costume is also very simple, a white shirt, pink jumper and pig tails.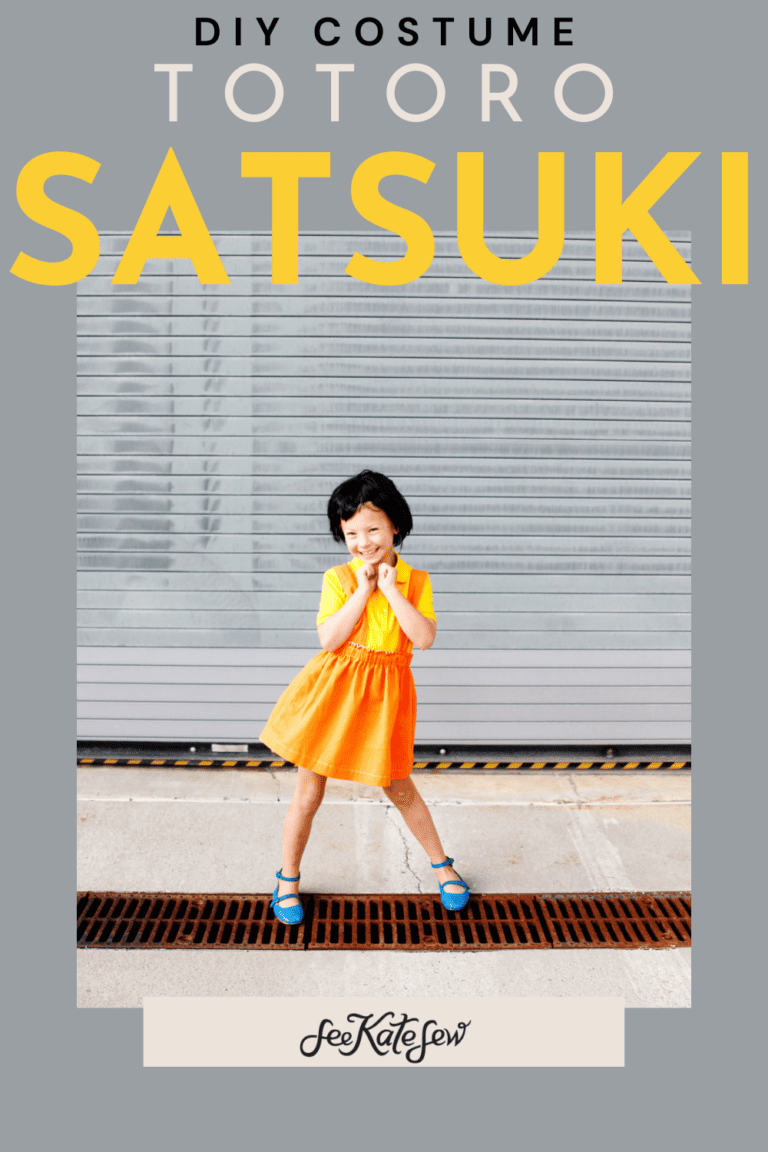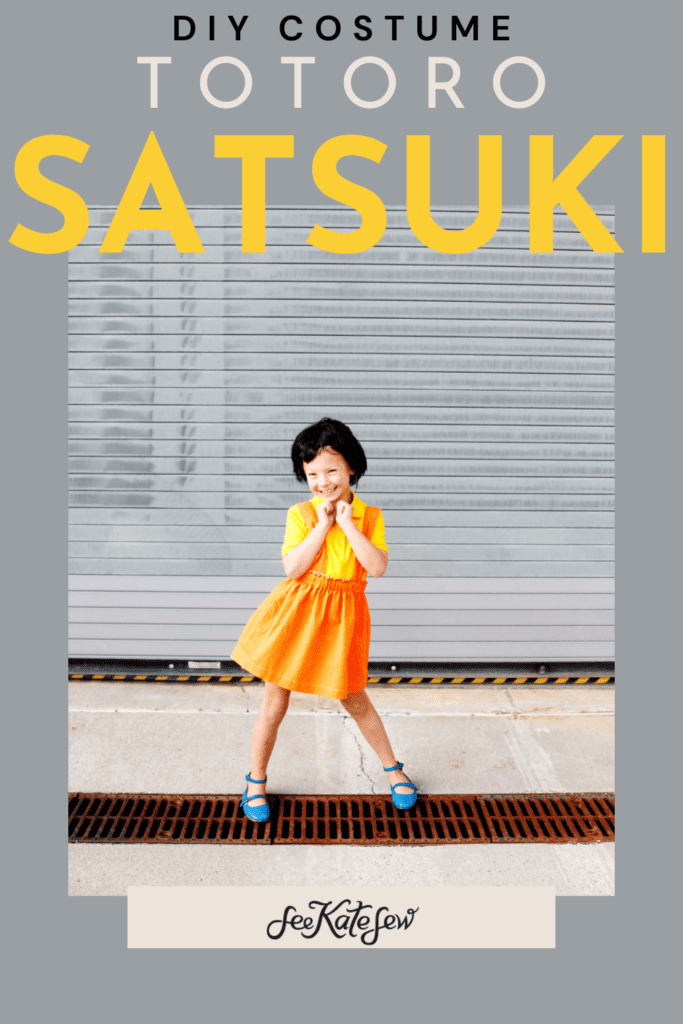 Satsuki's outfit is simple to compile. I made the suspender skirt for this costume but everything else was store bought or altered. We added a wig for Satsuki's jet black hair but that can be optional since the bold outfit really makes it look like her!
More DIY Costume Ideas
Make one? Share it in the Facebook Group! Happy Halloween!