xTool sent me the M1 machine to review and I'm thrilled to share all about it! The xTool is a laser cutting machine that opens up so many crafting possibilities. In this xTool M1 review, I will share all about my experience with the machine and materials.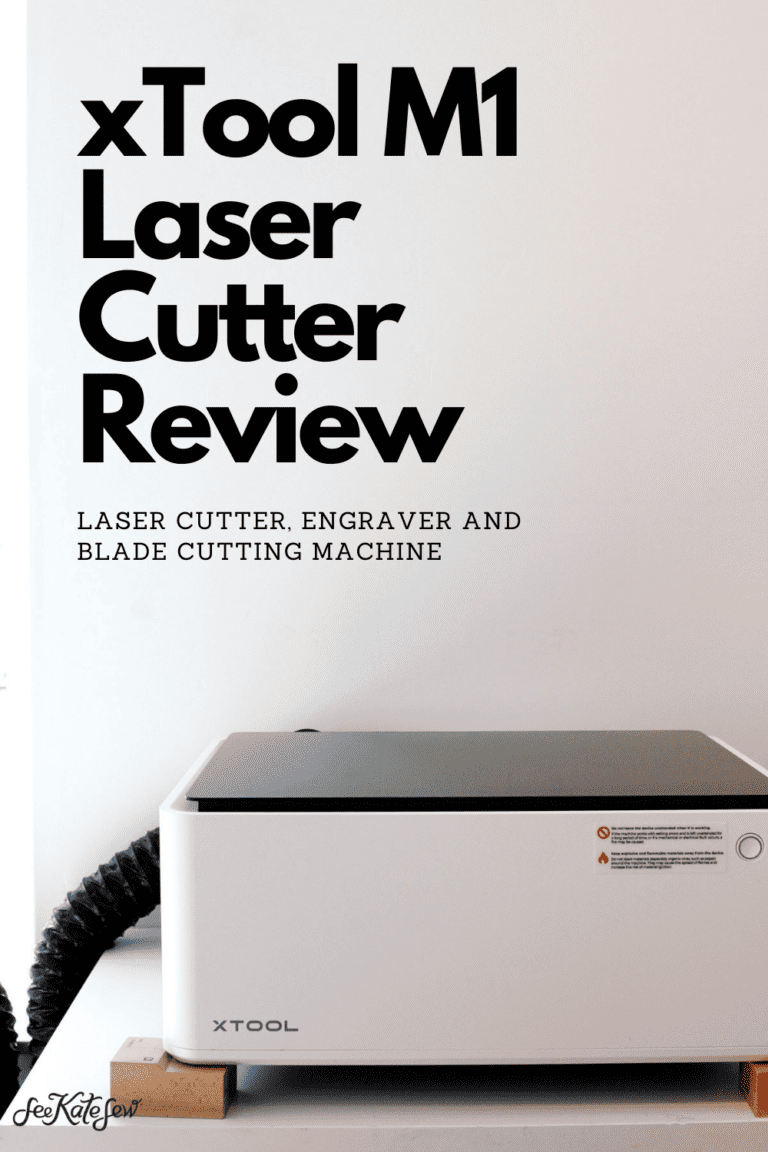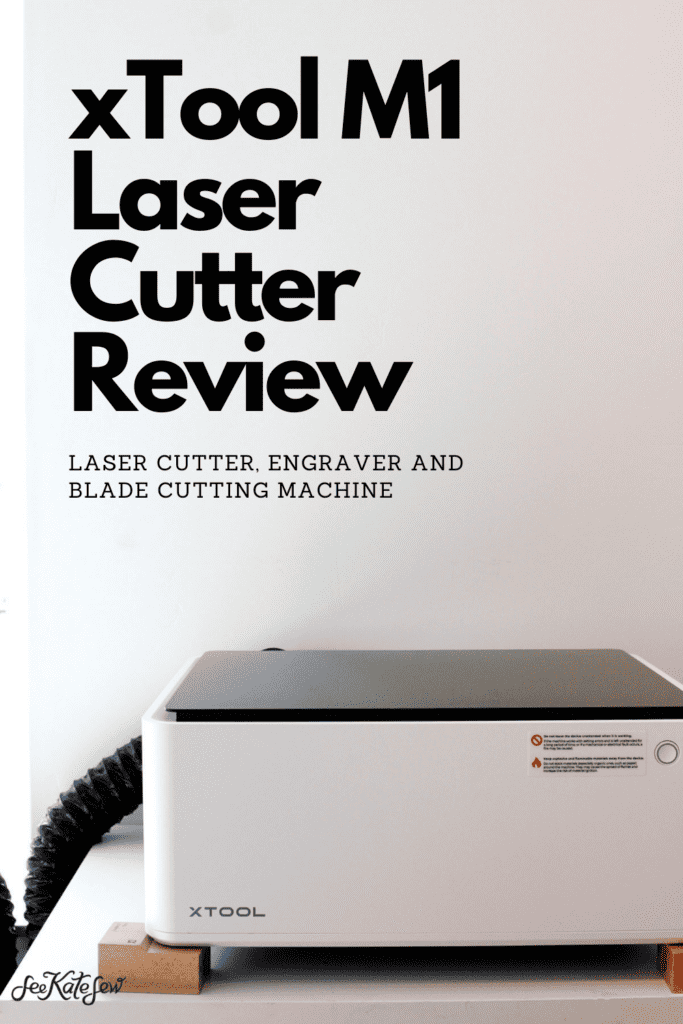 The xTool M1 Smart Laser Engraver and Vinyl Cutter is offered at a pretty affordable price compared to other laser cutters on the market. xTool actually has a few different laser cutters with the M1 being a good middle ideal for the home crafter. (This post contains affiliate links.) The M1 All-in-one Bundle is a good option if you want some useful accessories and a material bundle.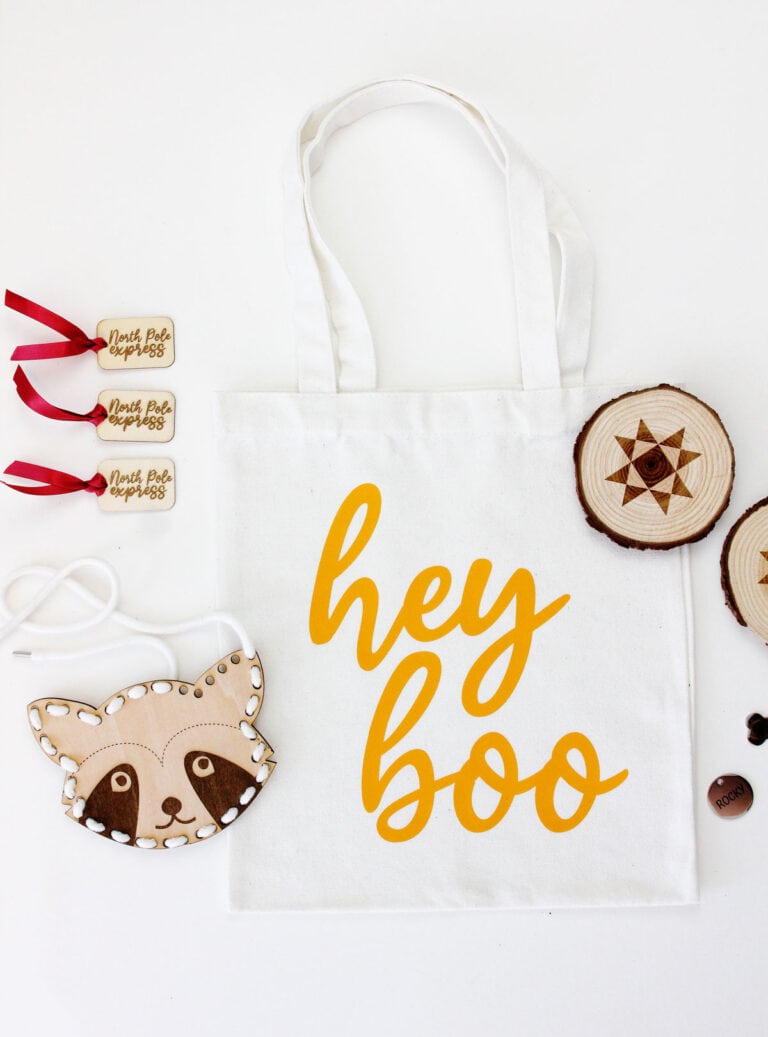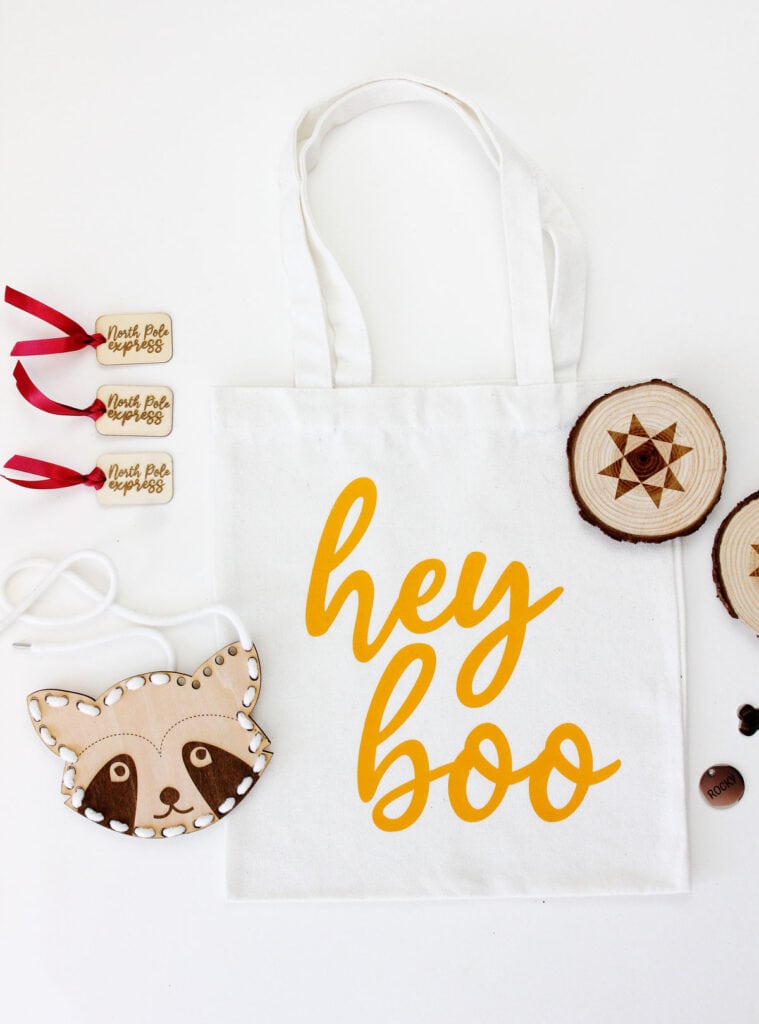 The M1 includes a laser for cutting and engraving thicker materials, as well as a blade for cutting things like vinyl, fabric and paper. Check out this Raccoon Lacing Card Project HERE!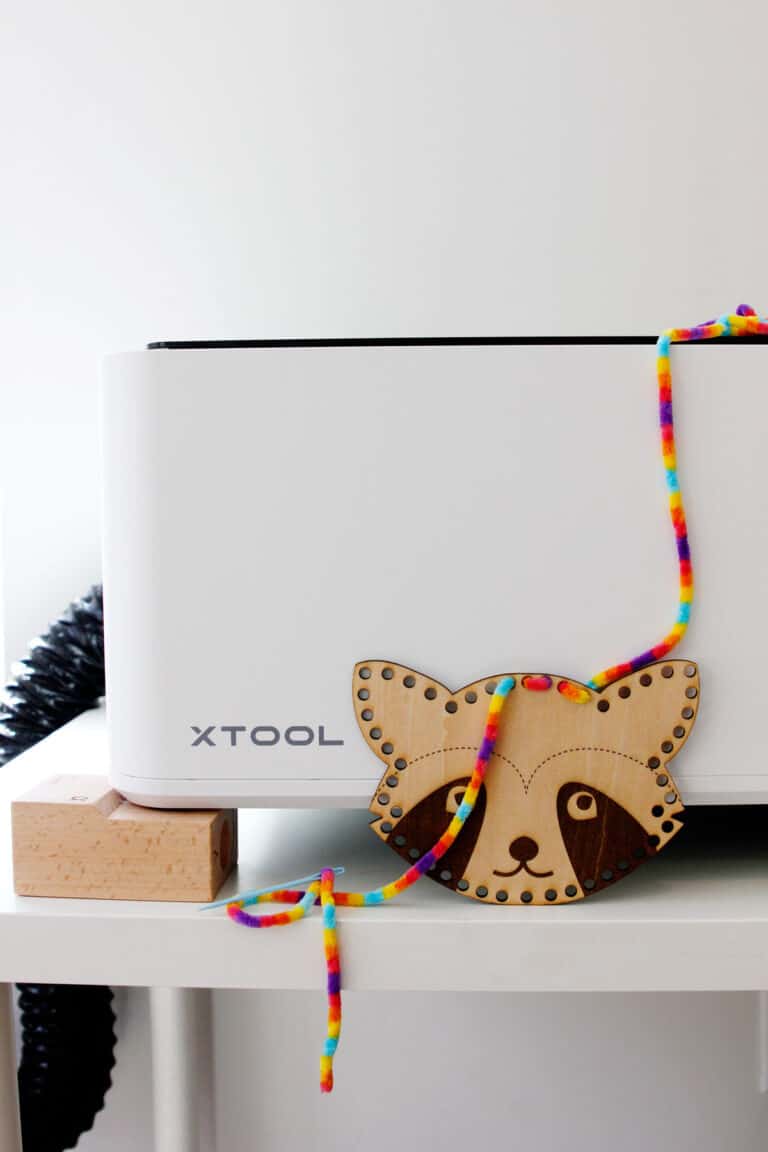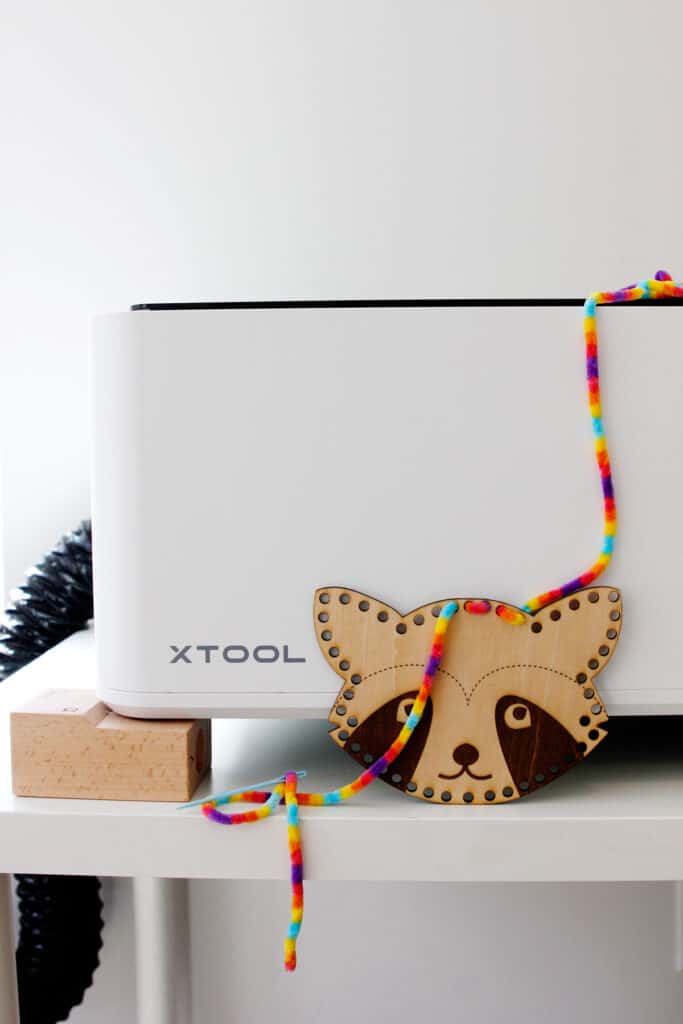 I have to admit I was intimidated when the machine came and let it sit for a week or two before diving in. Setting it up was so much easier than I expected and I got right to crafting.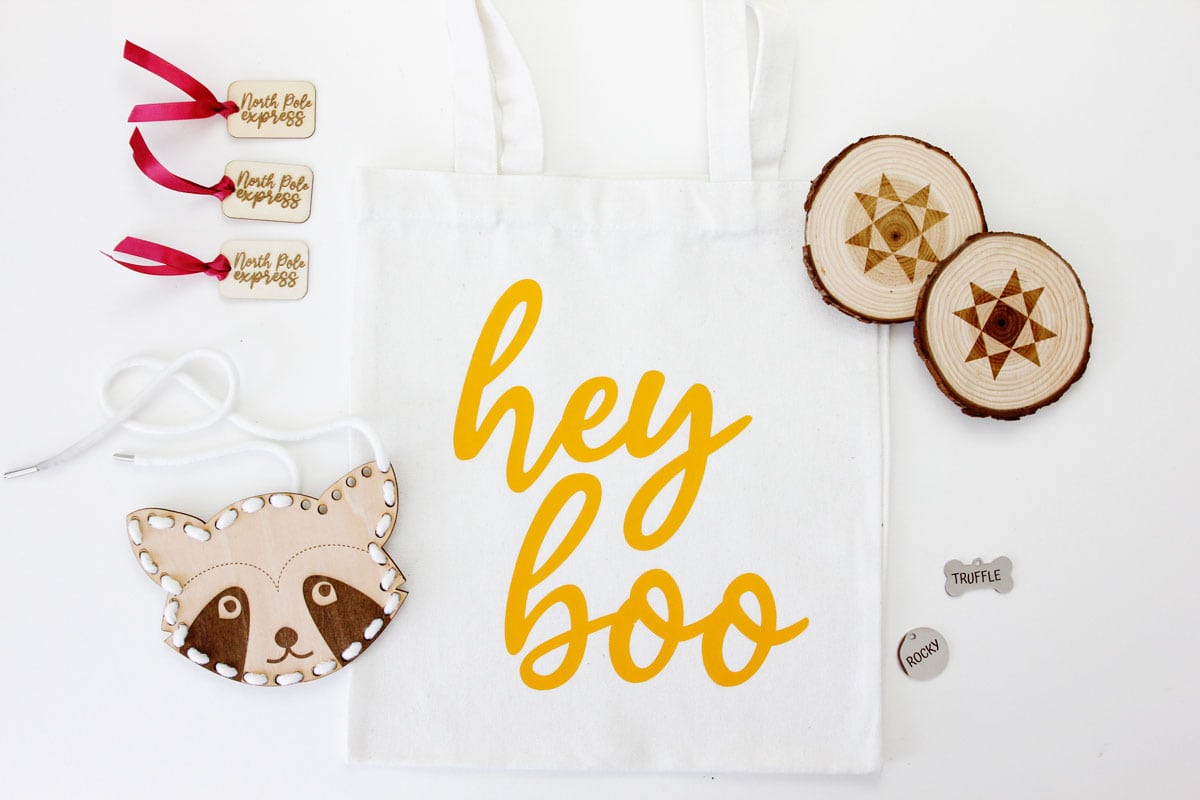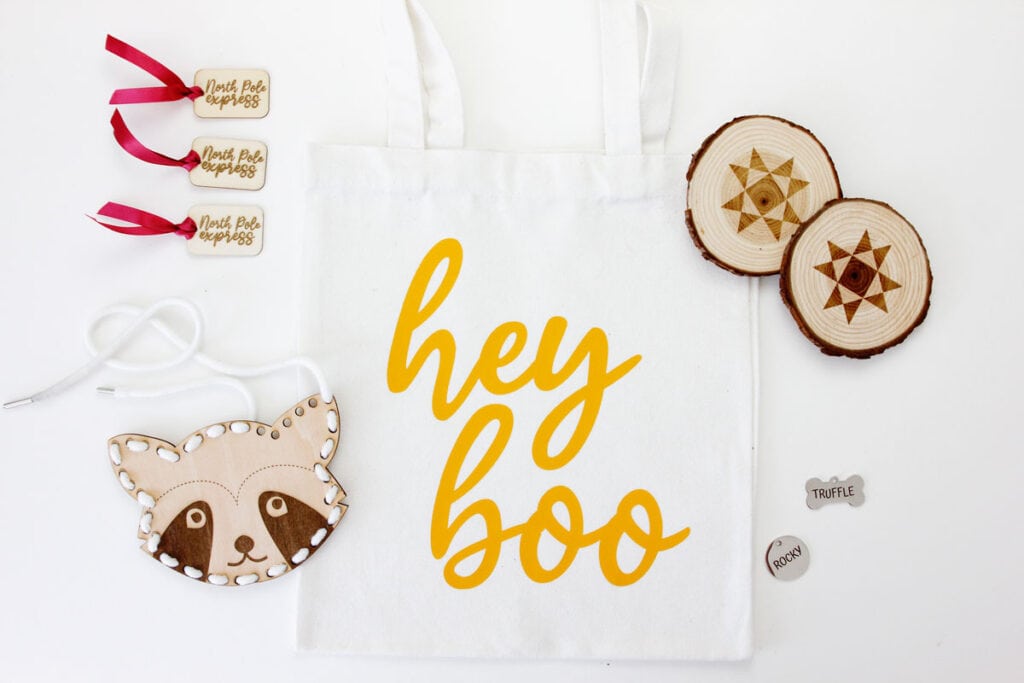 I got the Premium Materials package with my machine and it was fun to try so many different things. This variety pack included some metal items, wooden coasters, a wooden phone stand, a canvas tote and a selection of vinyls, papers and more.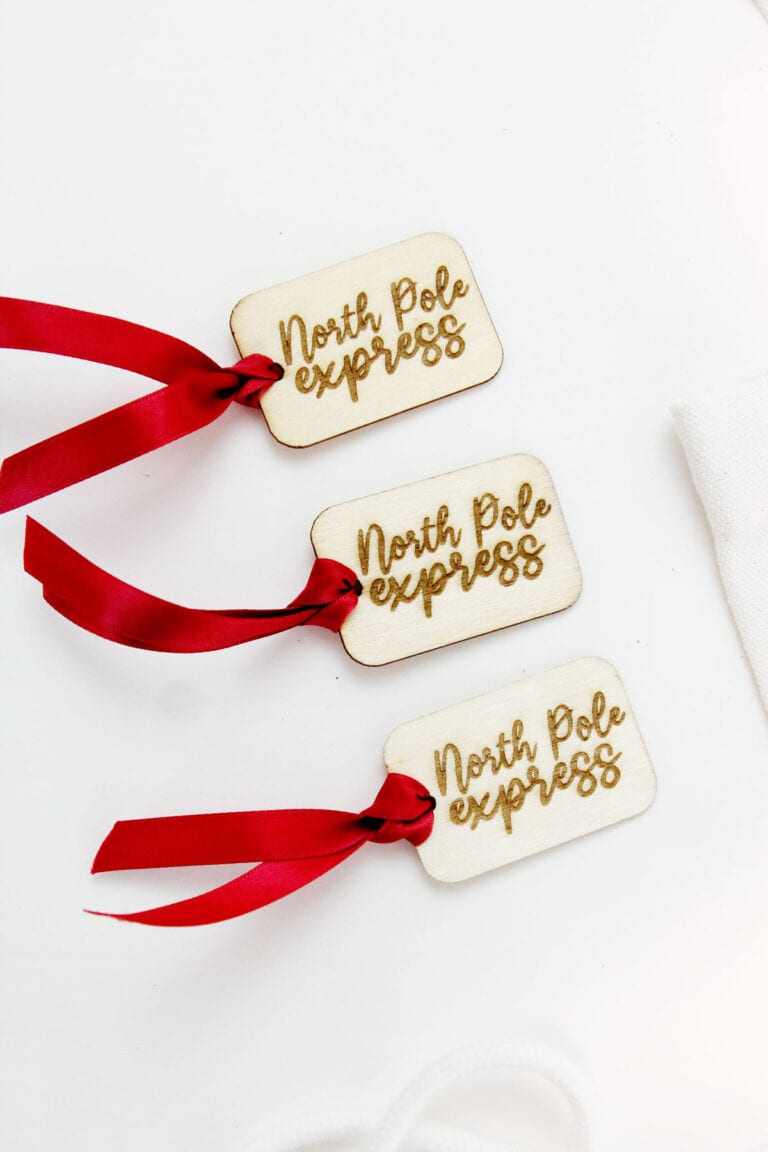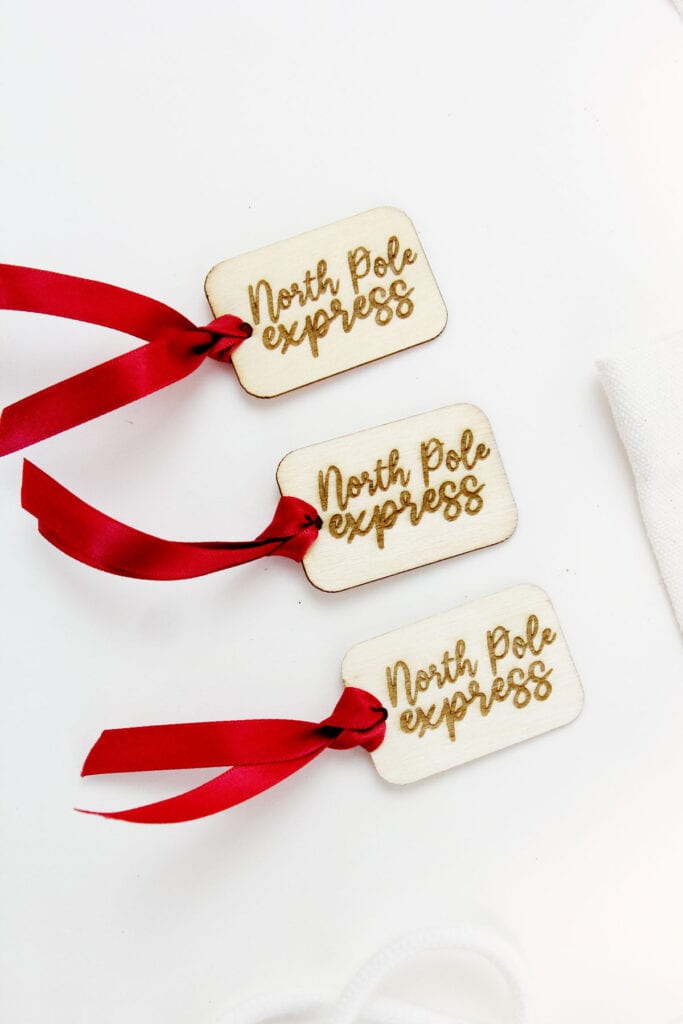 What material can the xTool M1 cut?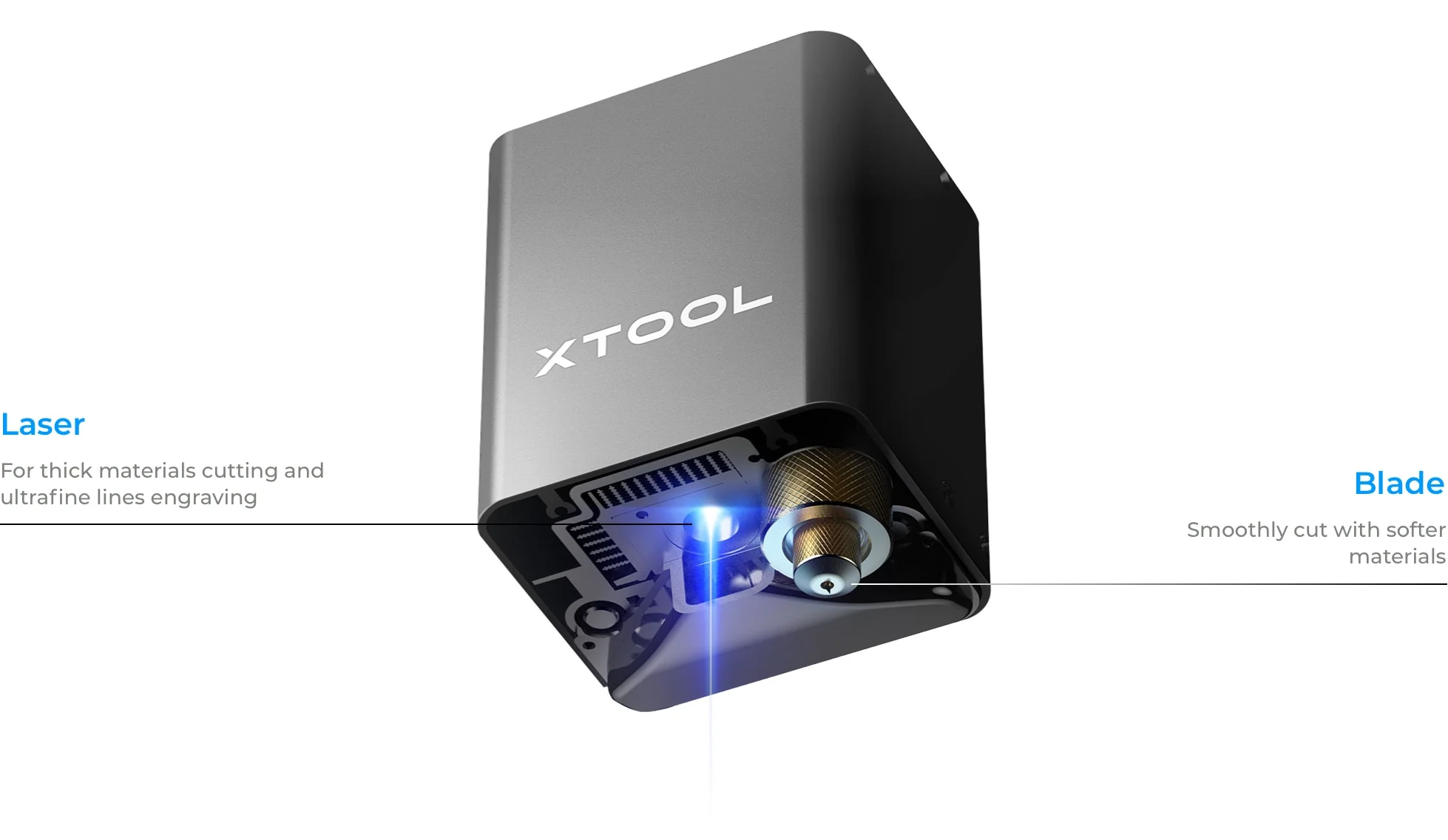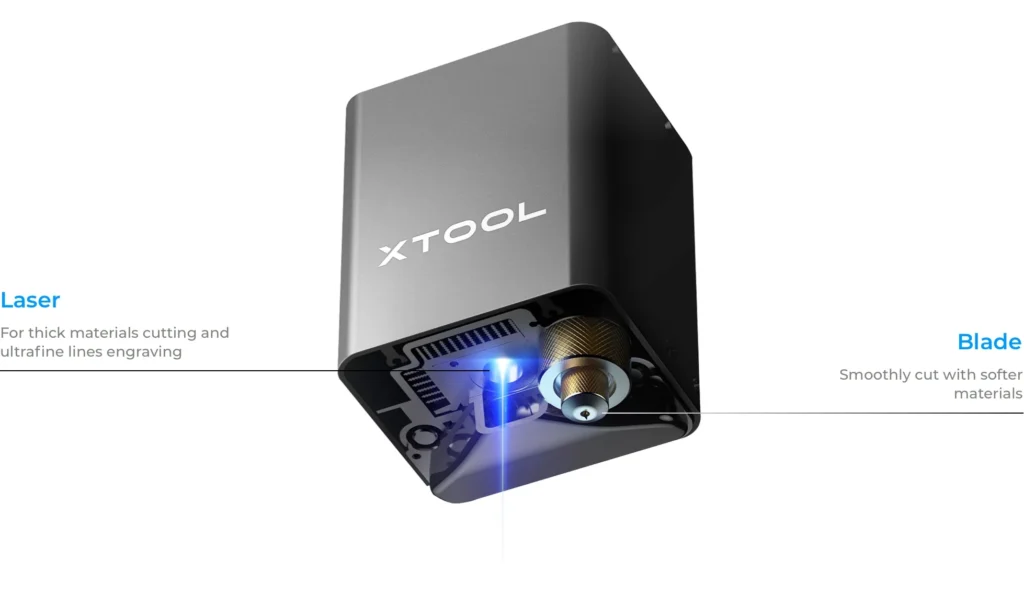 You can use so many materials with the xTool M1. Because it has both a laser and a blade there possibilities are almost endless!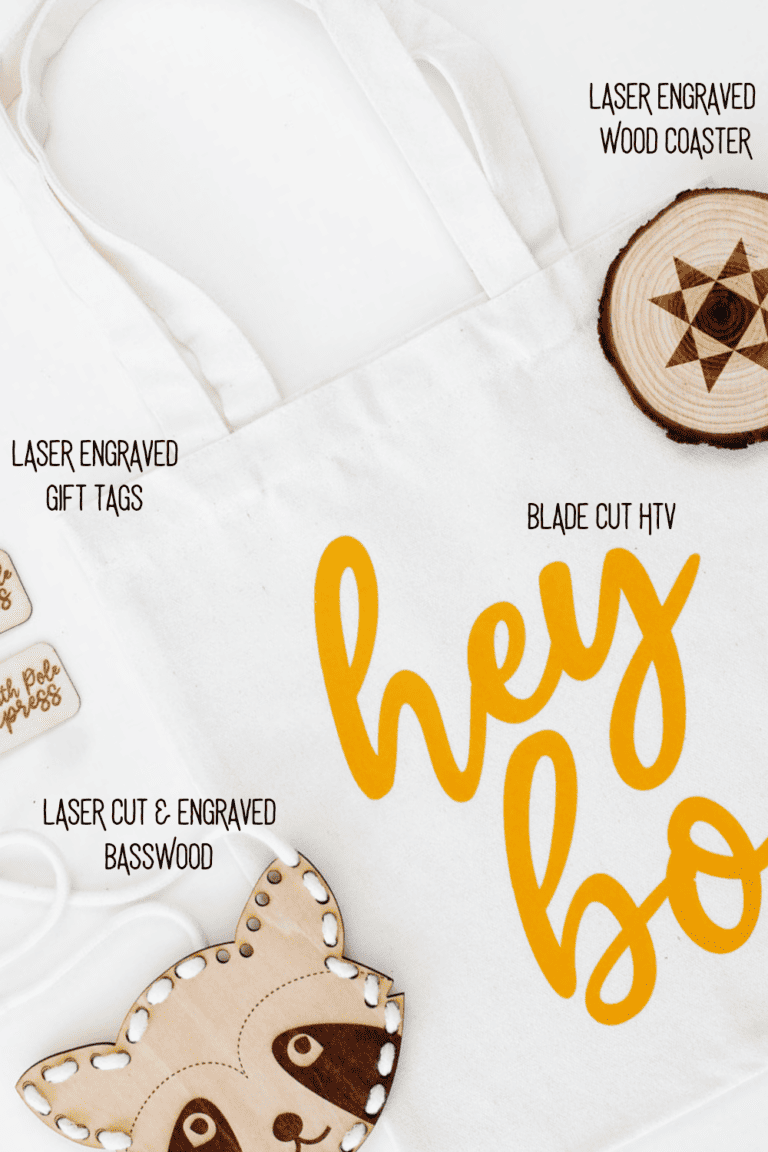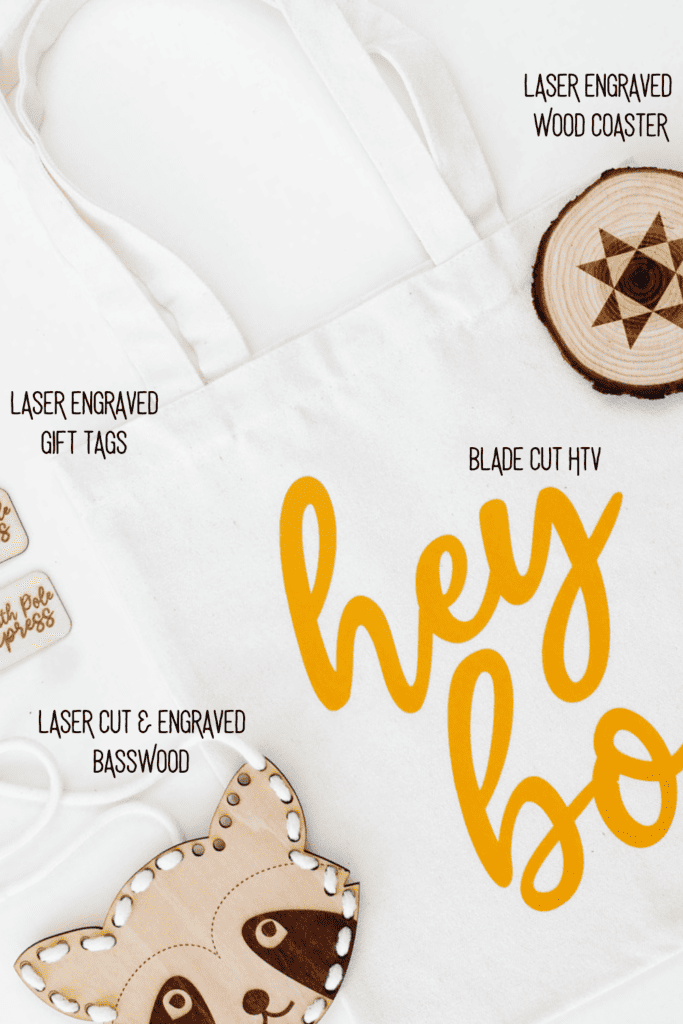 Laser Cutting & Engraving
Wood
1/8″ thick acrylic
Metal (jewelry, wallets)
Leather
Stone
Laser marking colored paper
Kraft paper
Some fabrics
Rubber stamp sheets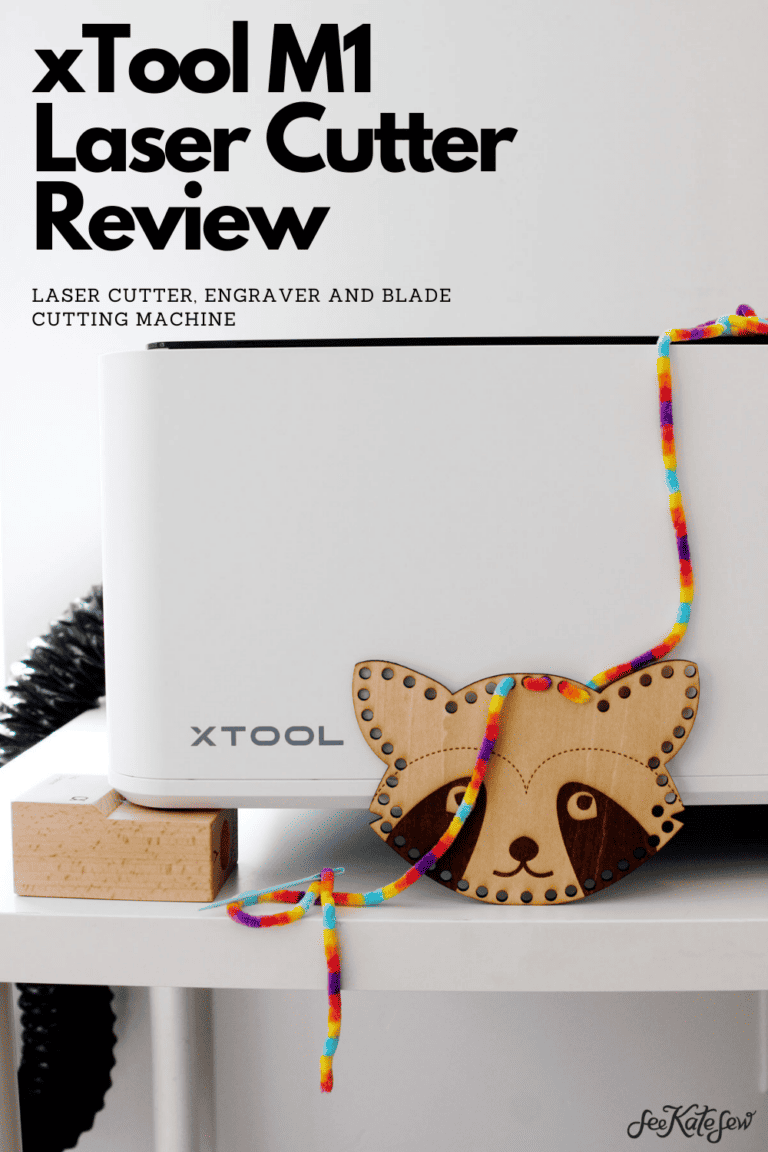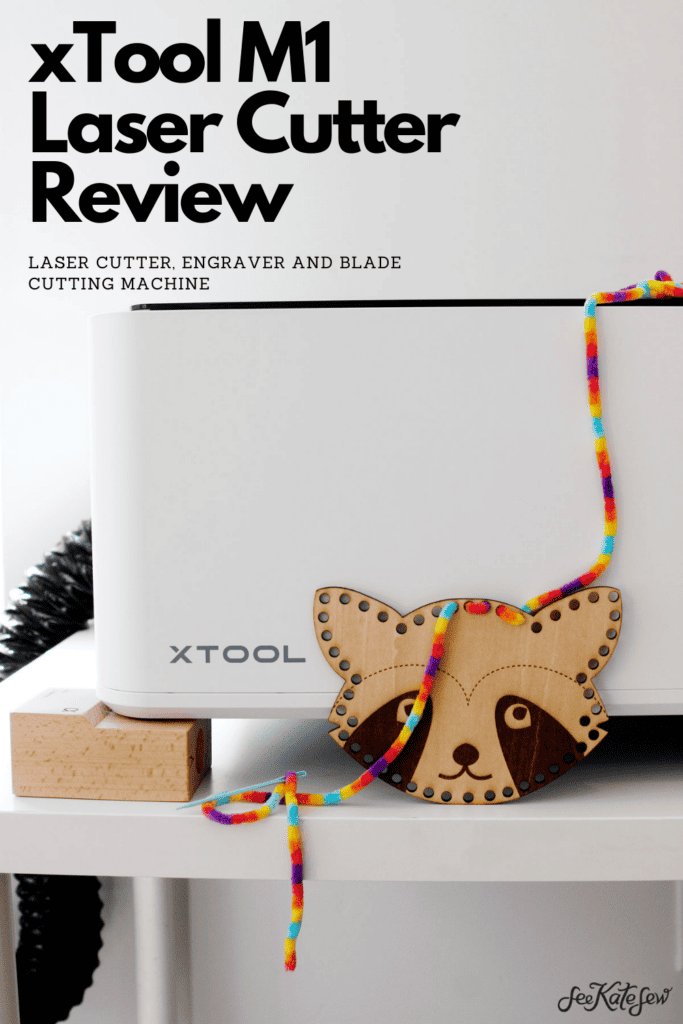 Blade Cutting Materials
Paper
Heat transfer vinyl
PU leather
PVC sheets
Sticker paper
Fabric
xTool Laser Cutter and Engraver Review
Is the xTool M1 easy to use?
Setup is super easy! There is a booklet included in the m1 box that walks you through set up one step at a time. You don't need any tools but you do have to attach the exhaust pipe. The screws are includes and a little holder.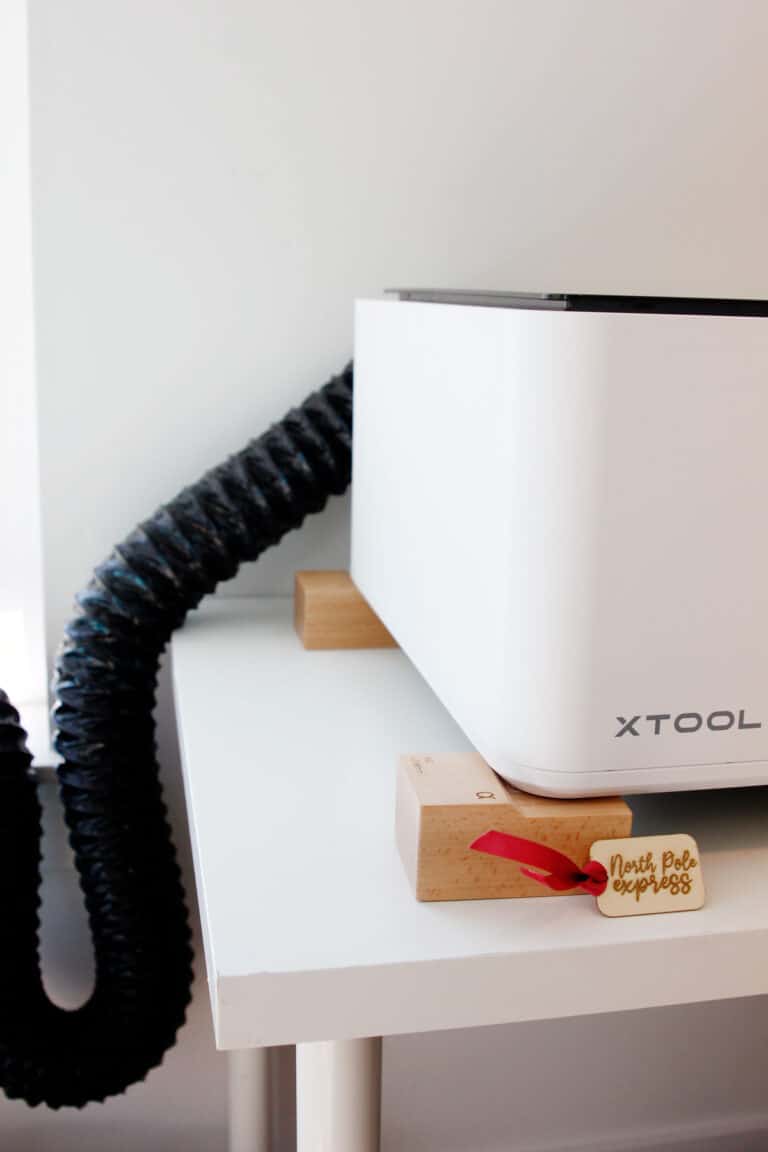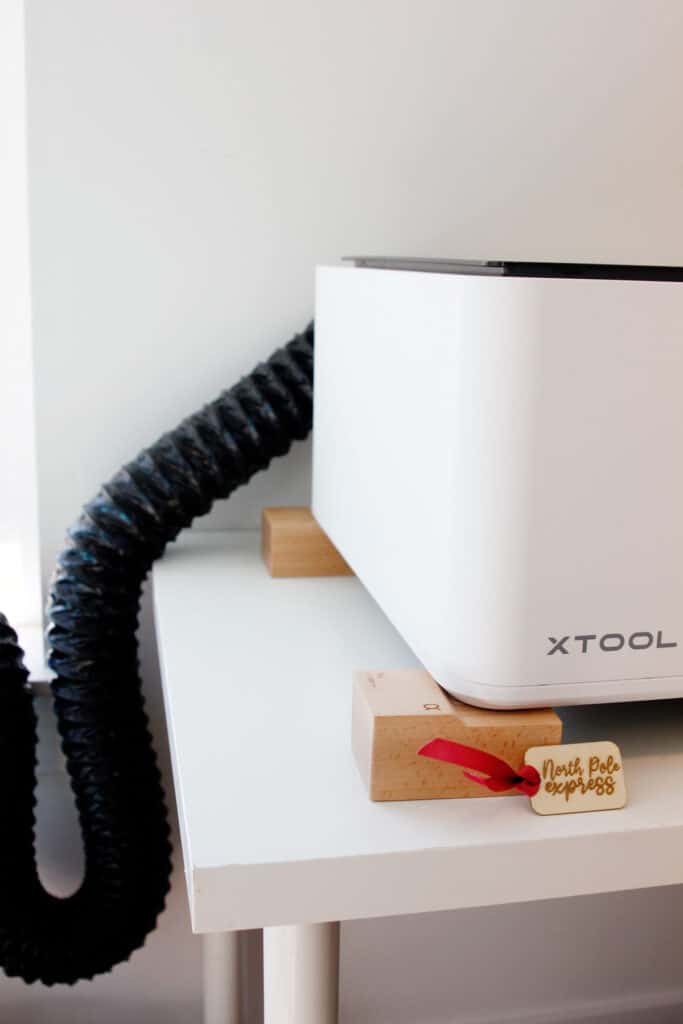 Besides the exhaust pipe, the machine comes fully assembled. Just install the blade (also easy!) and you are ready to go!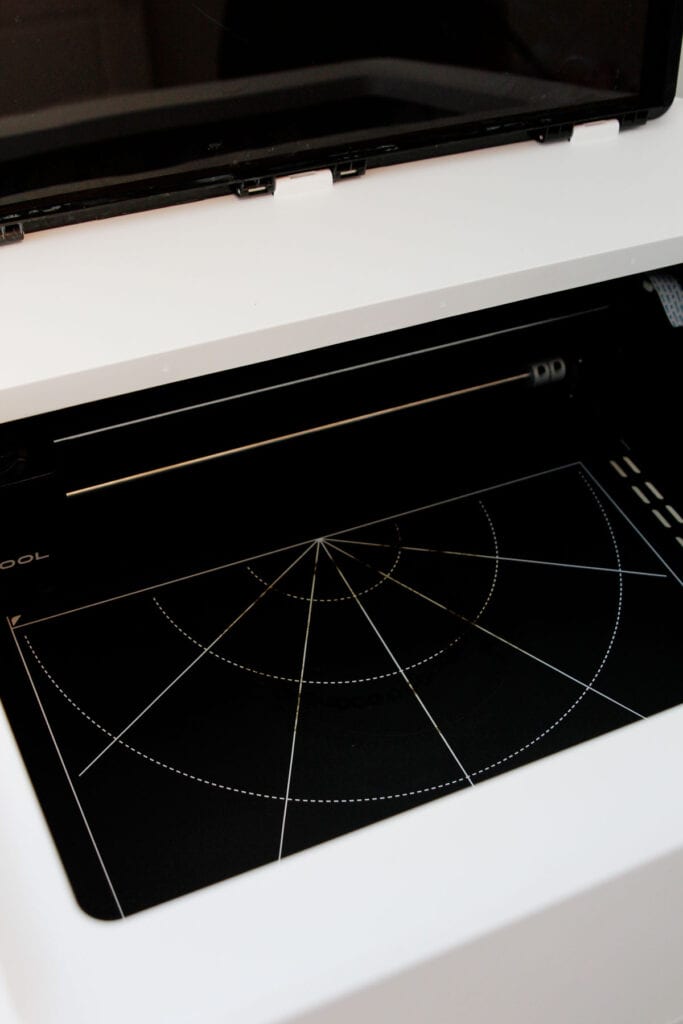 xTool Creative Space Software
The xTool has its own software that is free to download and use. I found it very simple to use. I didn't have to read any tutorials to figure out how to upload a design and start cutting! It's very user-friendly.
My favorite part of the process of cutting is that the M1 takes a photo of your workspace and uploads it right onto the Creative Space screen. You can place the design exactly where you want it without having to measure which means you get perfect placement and don't waste material!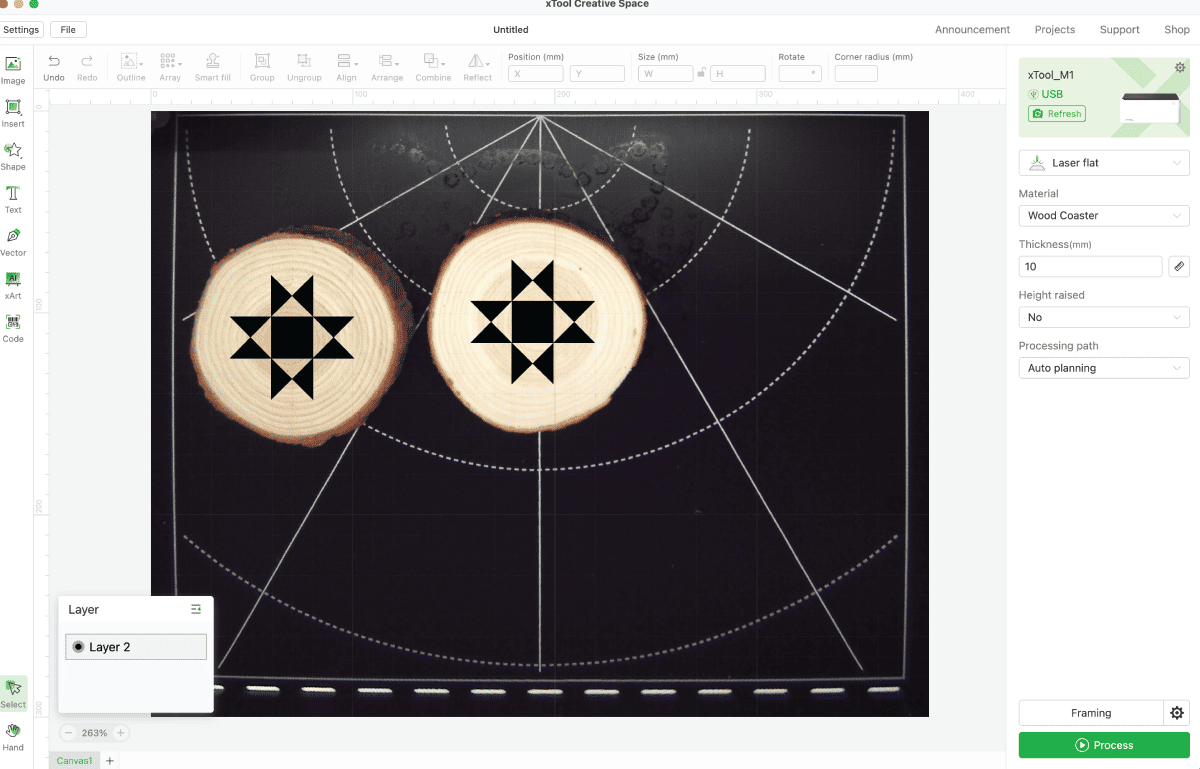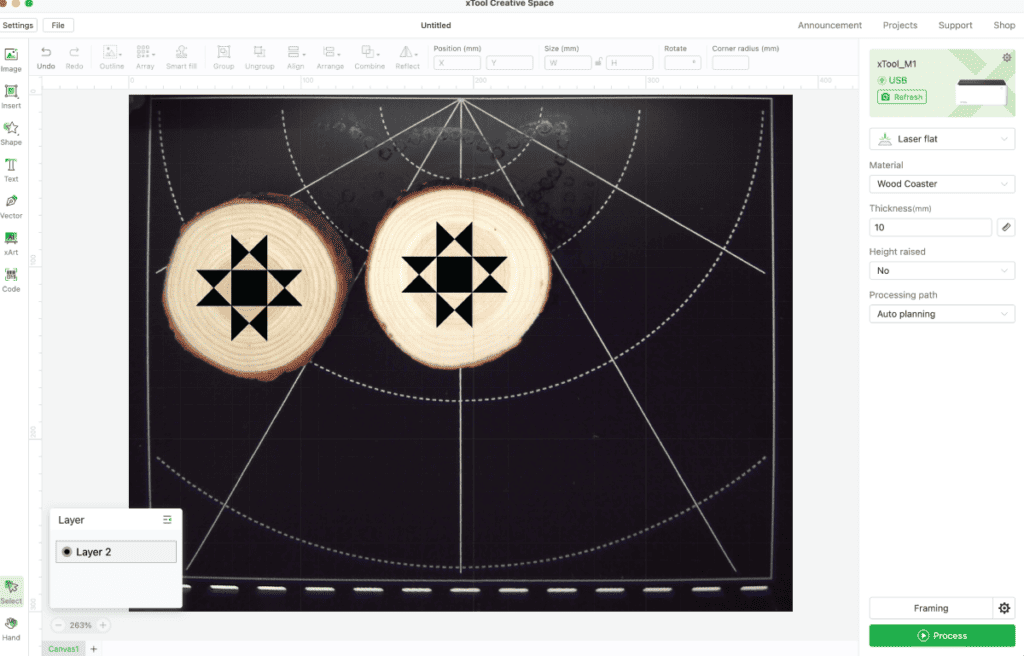 That's really all there is to it – upload, arrange your design and cut! These wood coasters took almost no time to design and I love how they turned out!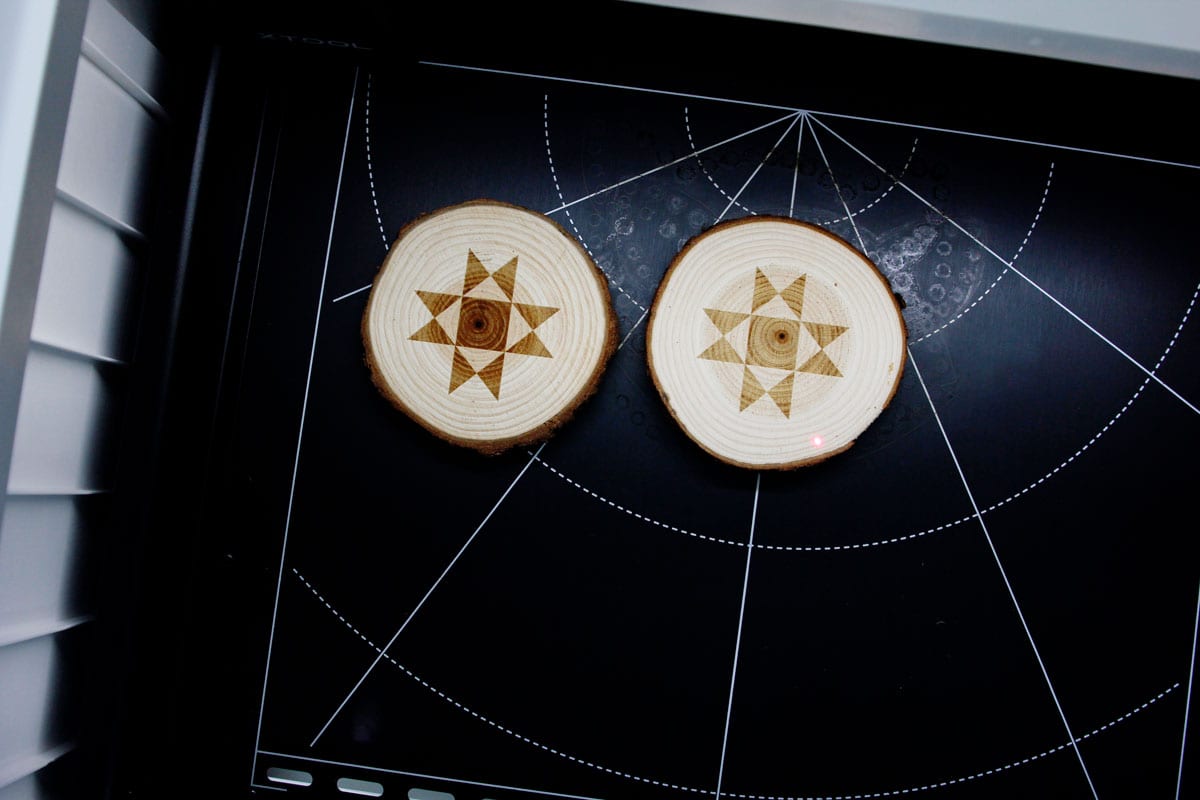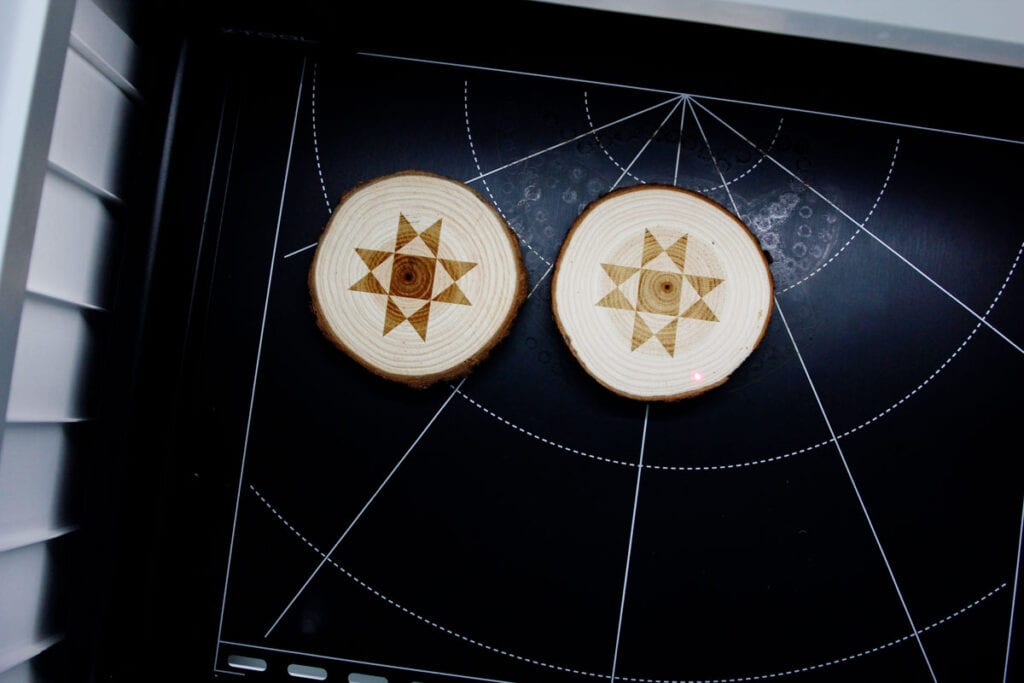 Laser cutting and engraving with the M1
Since I had never used a laser cutter before, the laser cutting and engraving were the most intriguing to me!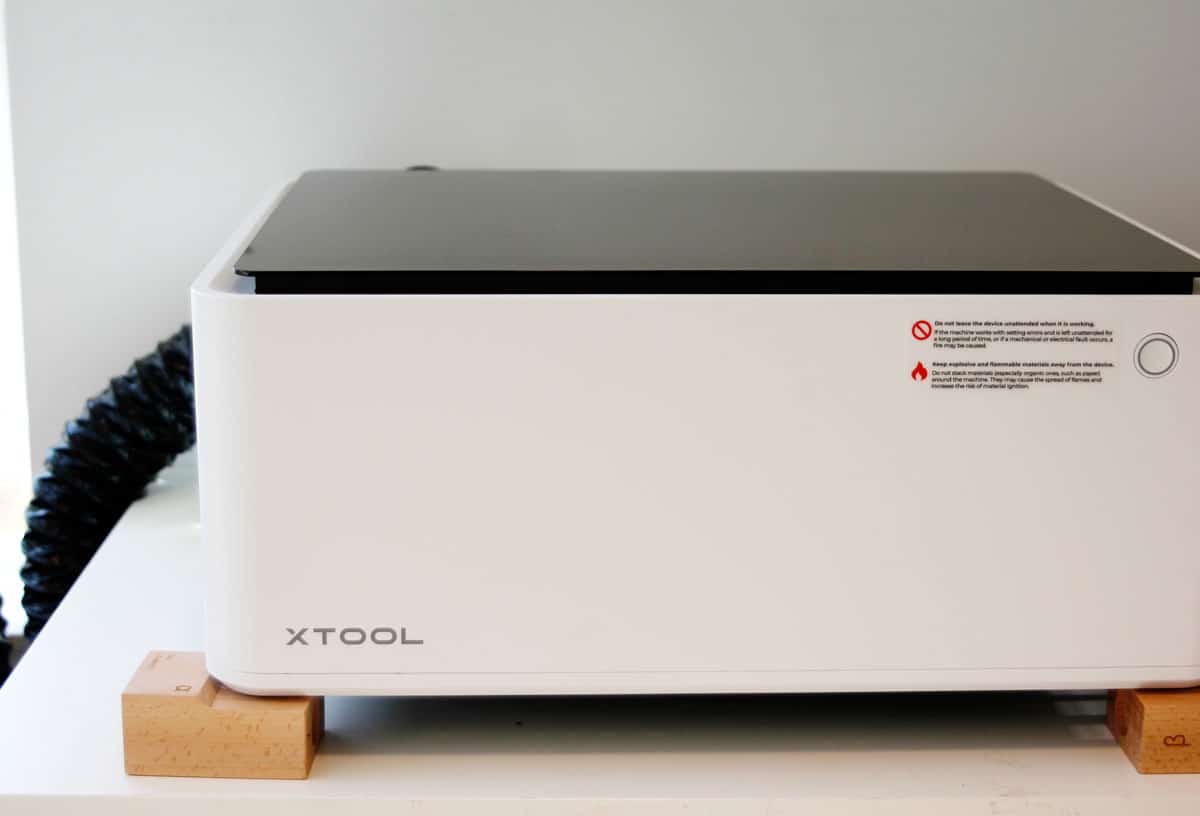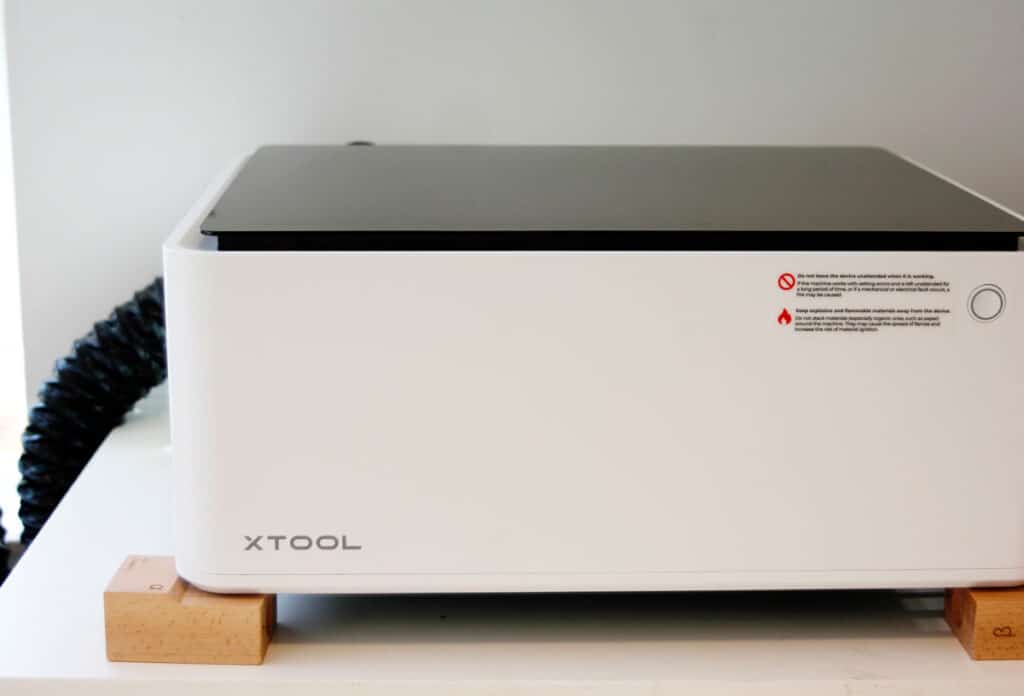 I started with wood coasters, then tried engraving metal dog name tags! I uploaded a few SVGs and also tried designing right in the software.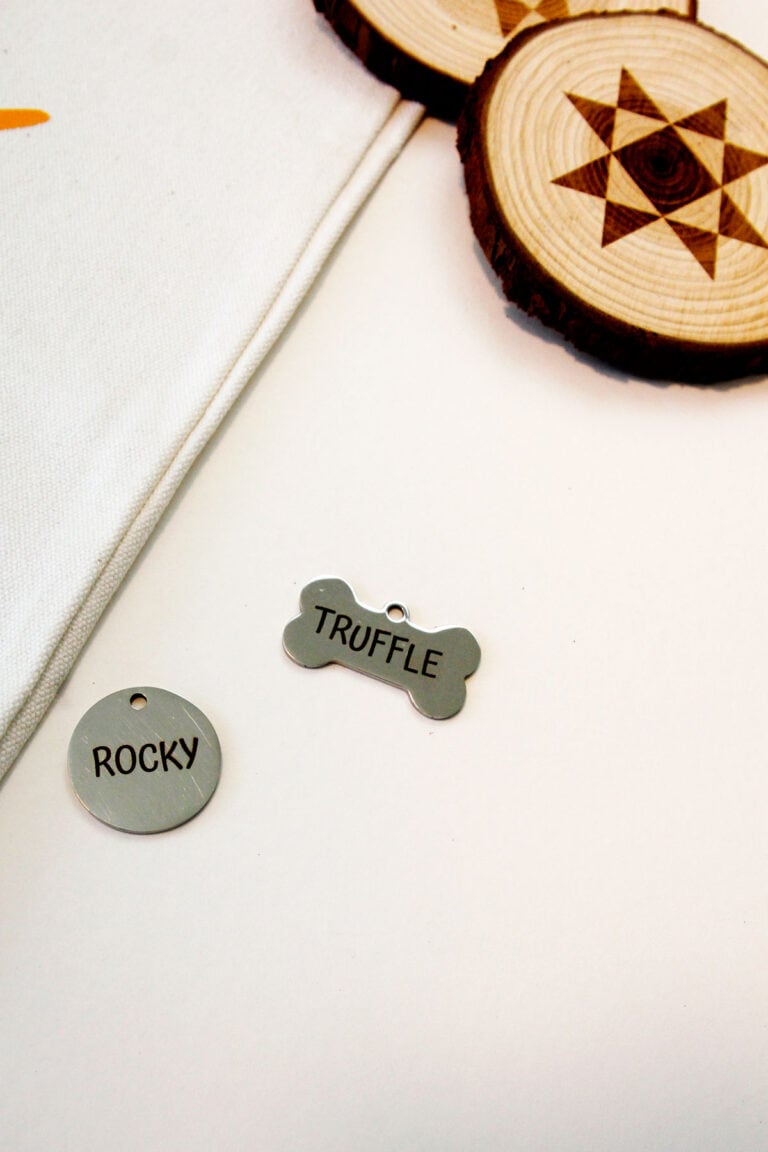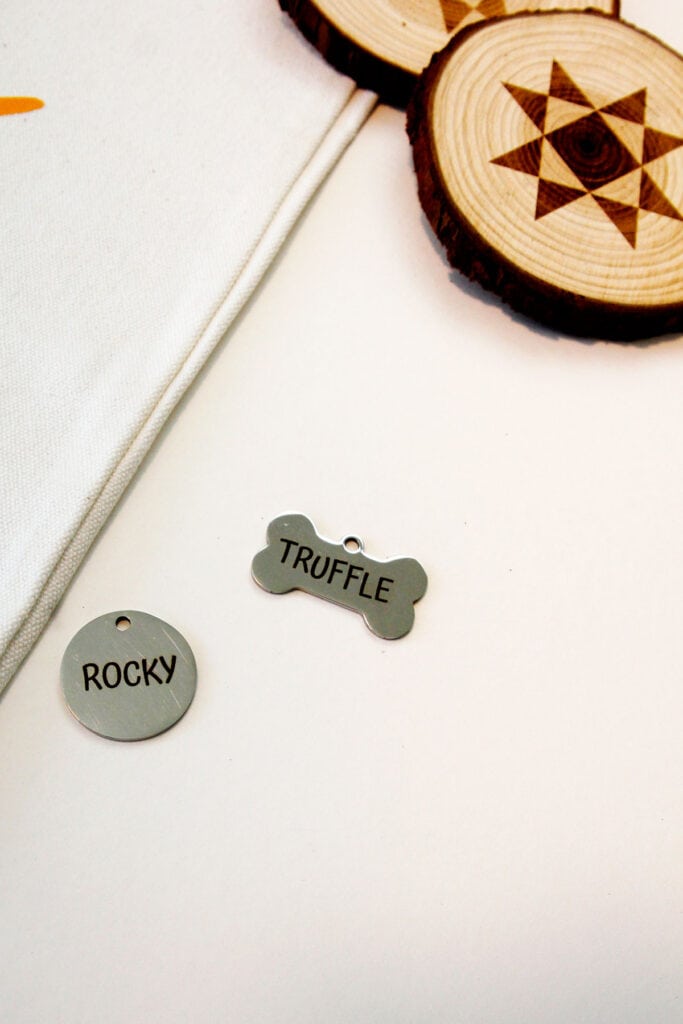 I made a few gift tags for Christmas. These tags came precut so I just used the engrave function.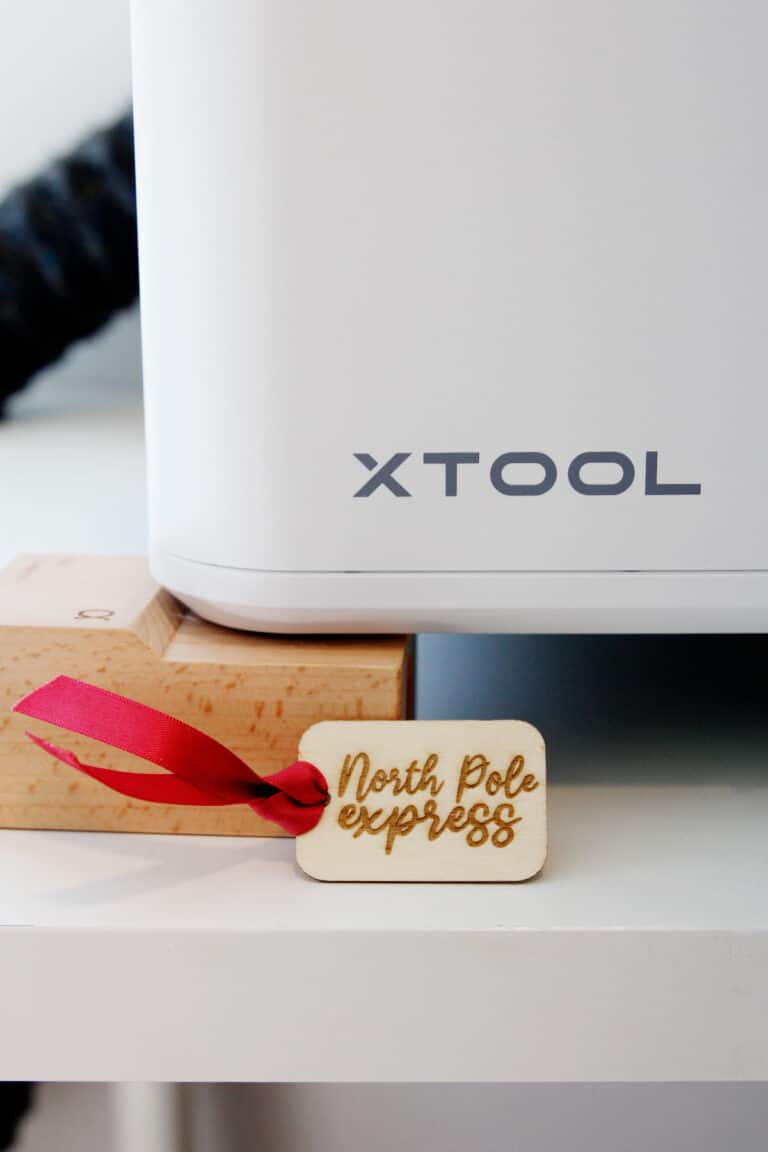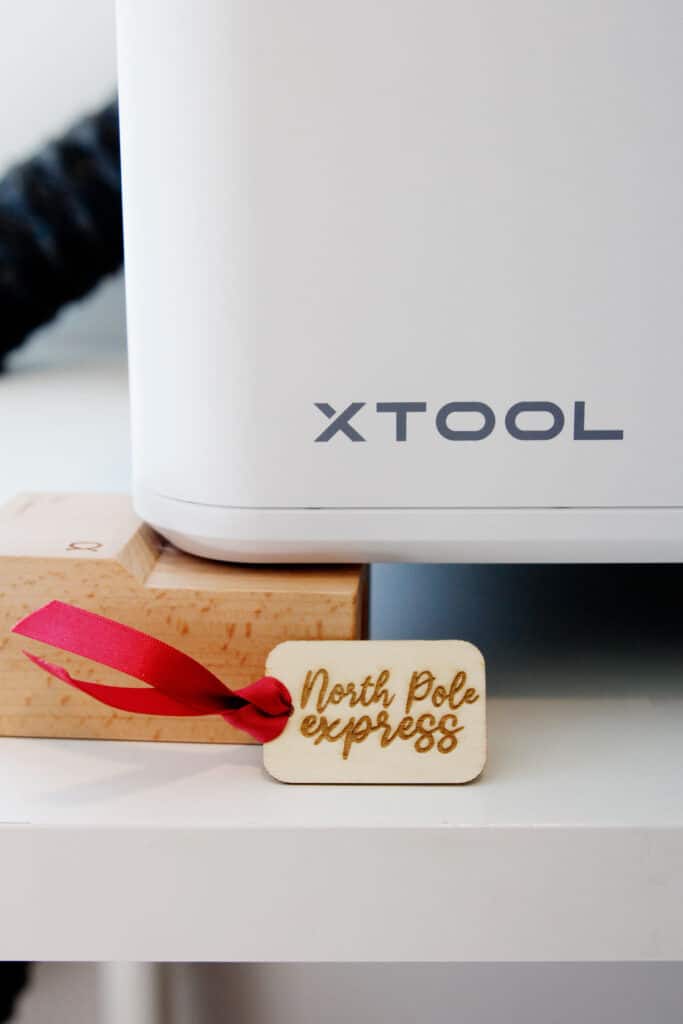 Blade Cutting with the M1
The blade cutting function works a lot like any other blade cutting machine. The machine comes with different mats with different uses, such as fabric, light grip etc. The materials list will tell you which mat to use. The mats are double stick so it sticks to the bottom of the xTool with the stick on the underside and then holds the material on the top.
It's nice to have a machine that does both and if you're looking to get a cutting machine you might consider if the laser is worth it to you! Here is my Creative Space screen when setting up the Heat Transfer Vinyl: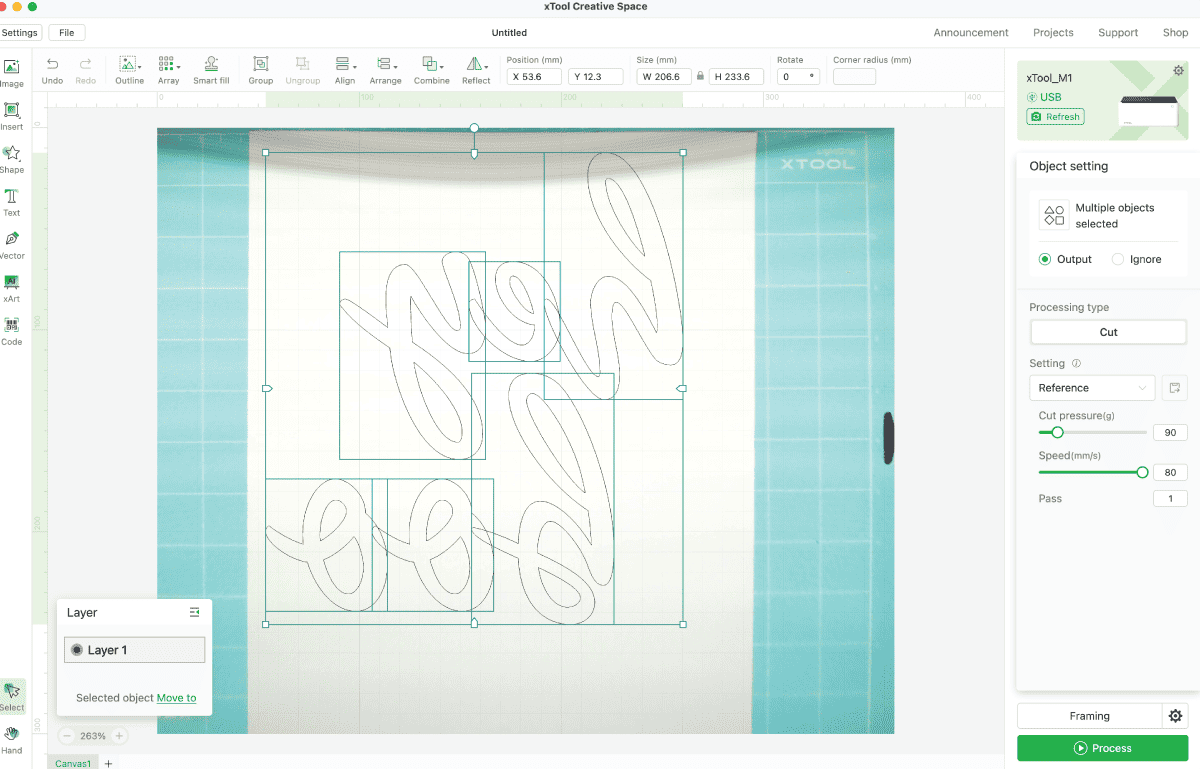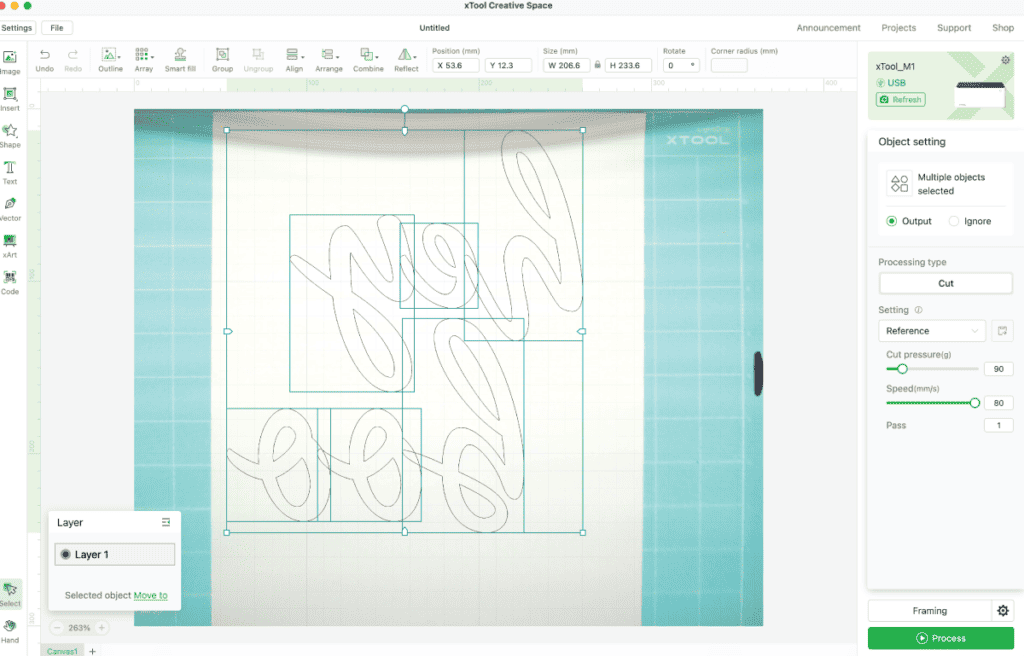 The blade cutting space is limited to 15″ by 12″ but I found it to be quicker and quieter than my other blade cutting machines.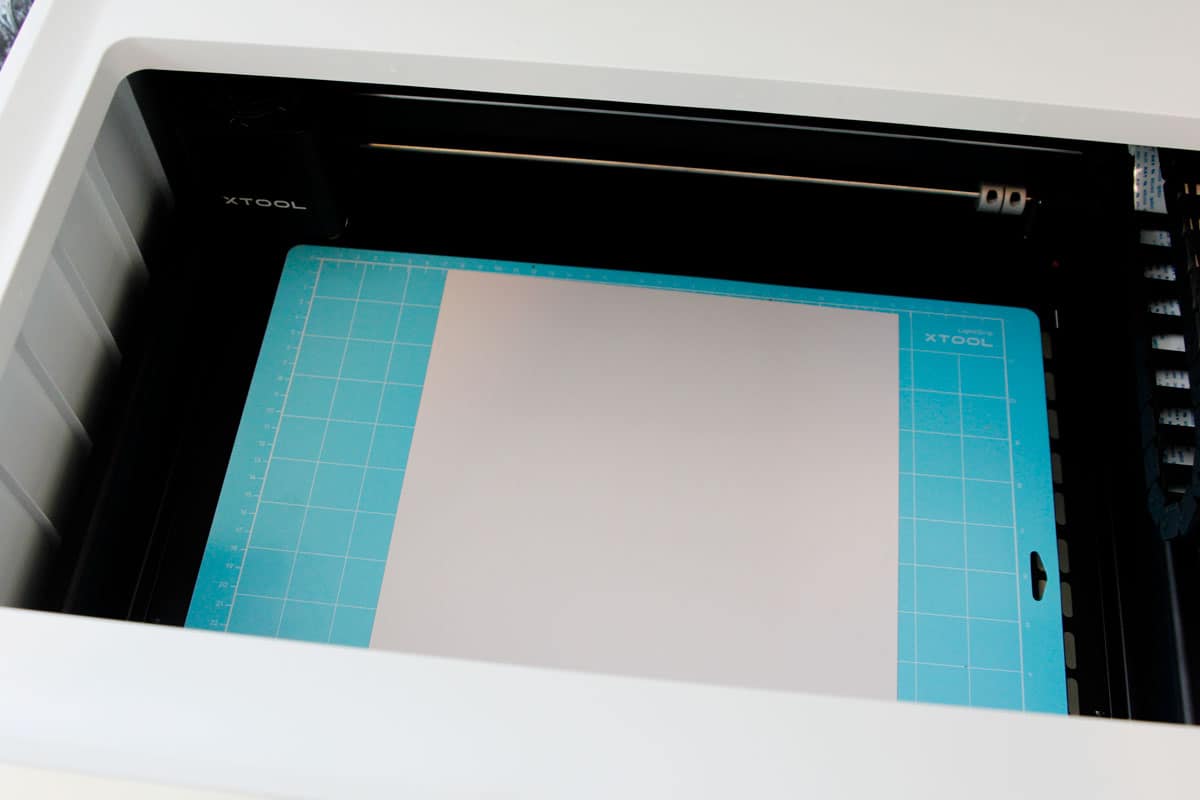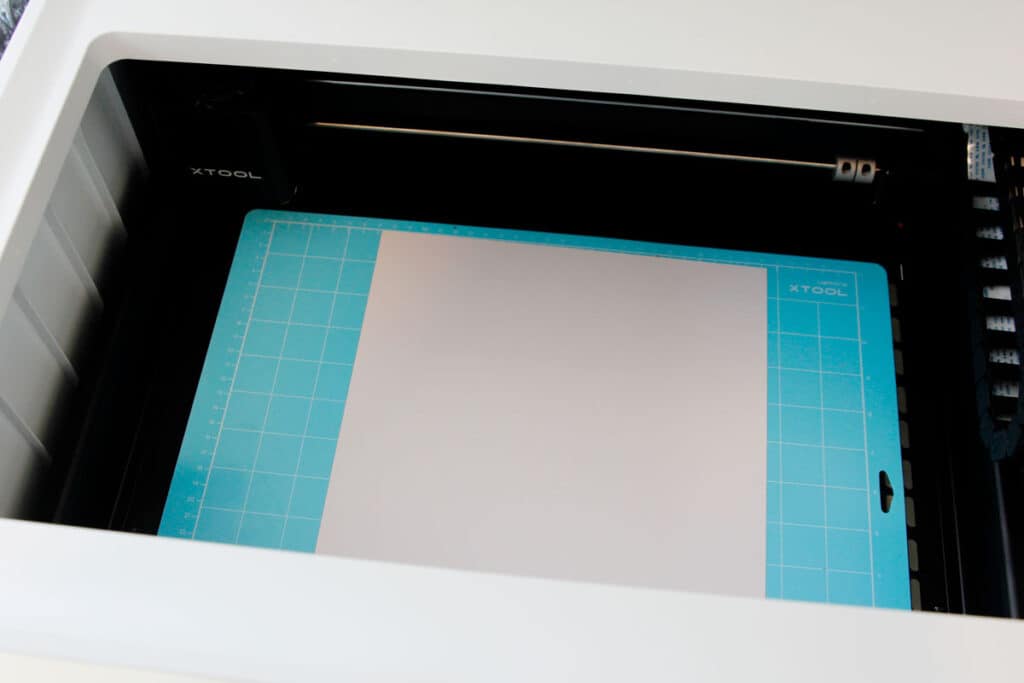 You don't have to remove the blade to go from laser cutting to blade cutting and back, which I appreciated! They are both installed and can stay there while the other works.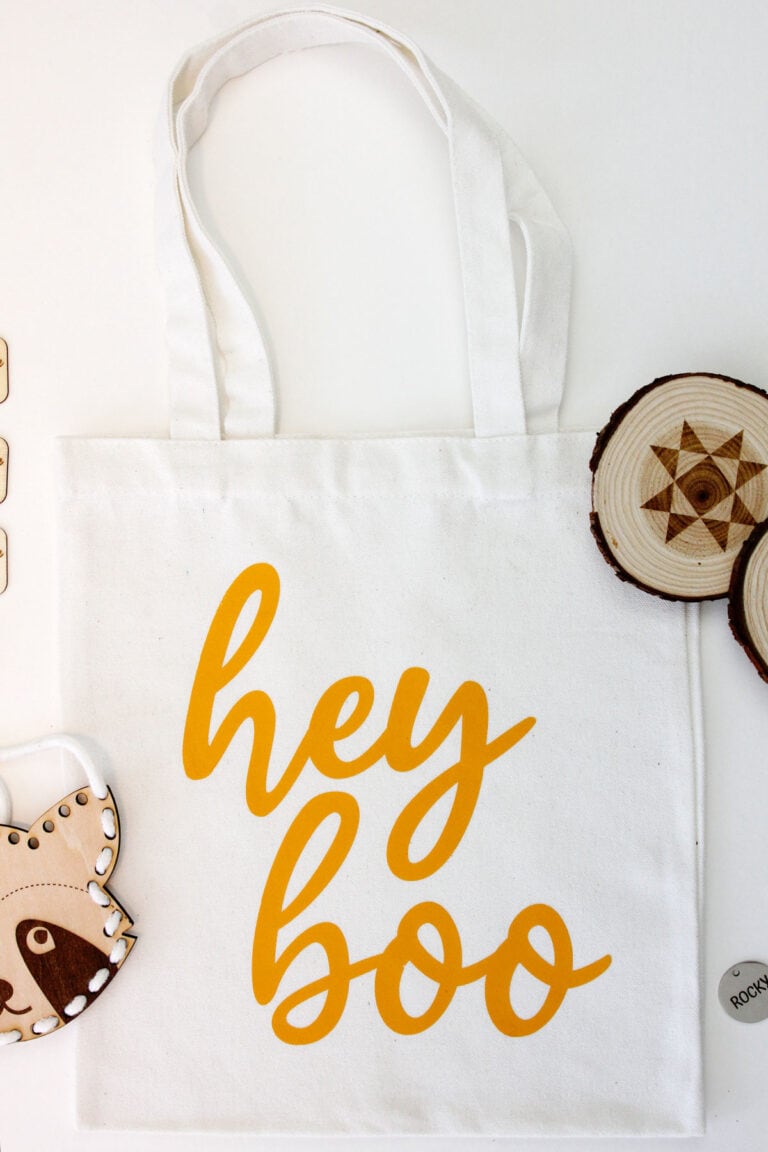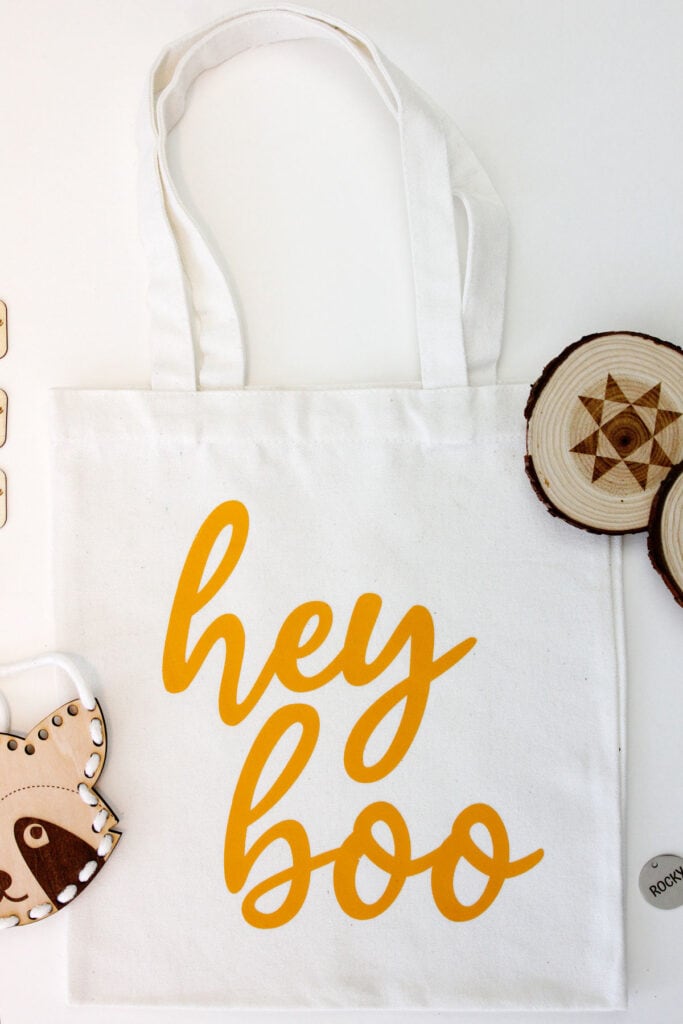 I had a harder time getting the settings right on this project while cutting heat transfer vinyl but eventually figured out how to lower the setting to cut correctly.
The machine also came with pink mats just for fabric so I'm excited to try out cutting some fabrics and felt on this machine.
xTool accessories to go with the M1
Air Assist & M1 Riser Base with Honeycomb Panel
The Air Assist connects to the machine to provide more airflow to help reduce burn marks and residue on your projects. The Riser Base also helps with this as well as lifts the xTool off the table to give you more room to work with larger items such as tumblers or other 3D objects.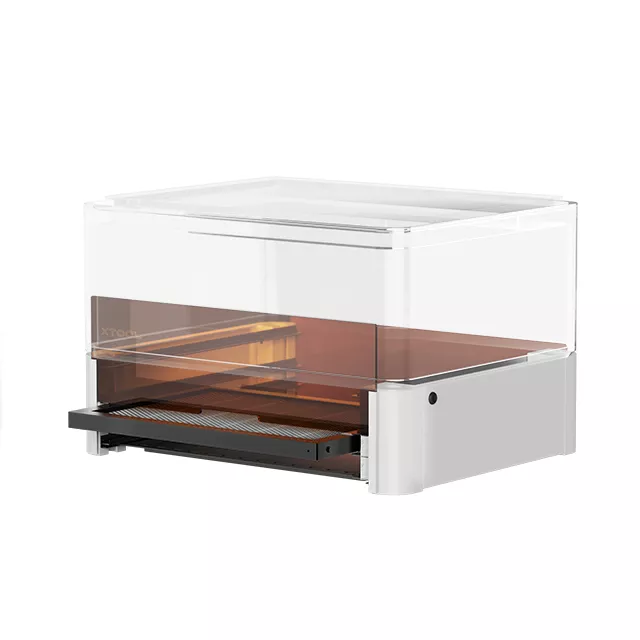 I didn't use these two accessories with my first few cuts so I could see if there was a difference later.
Rotary Pro Tool
This accessory allows you to hold and engrave 3-dimensional things like mugs and tumblers. I haven't used this yet but how cool!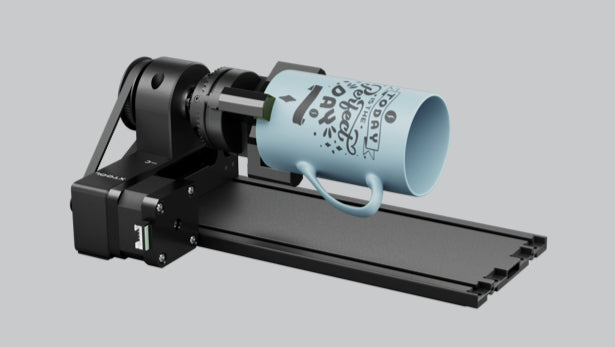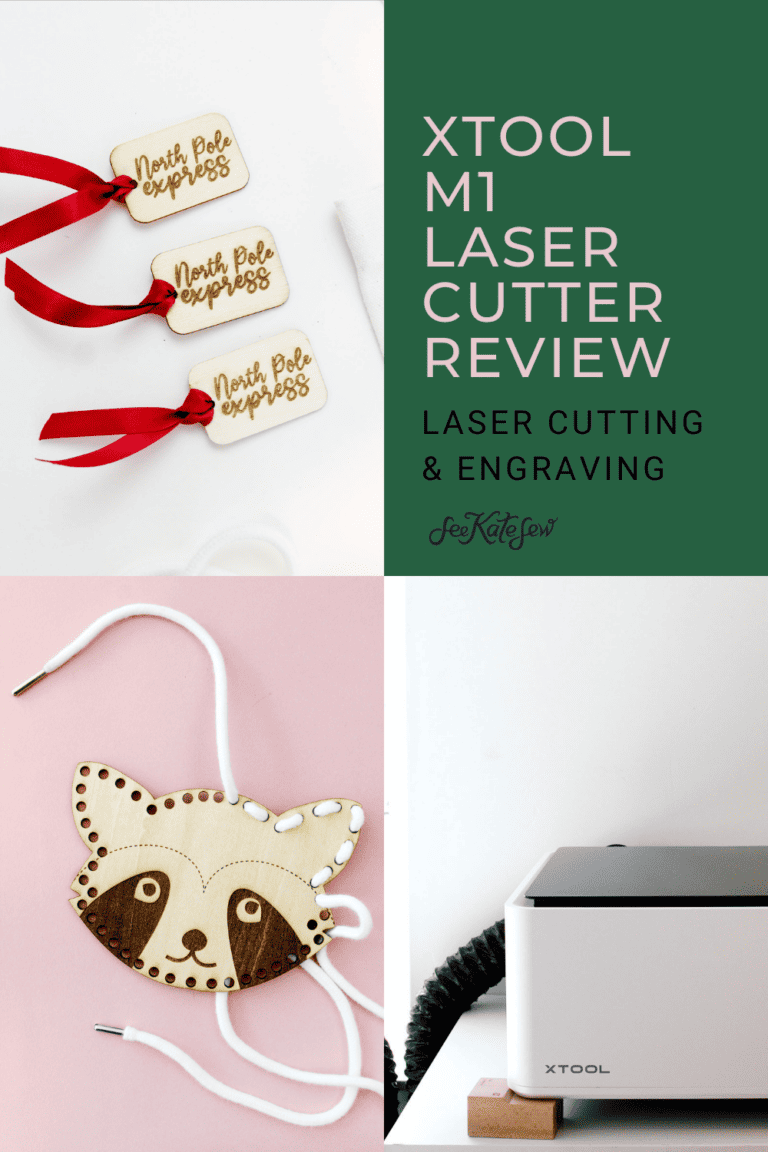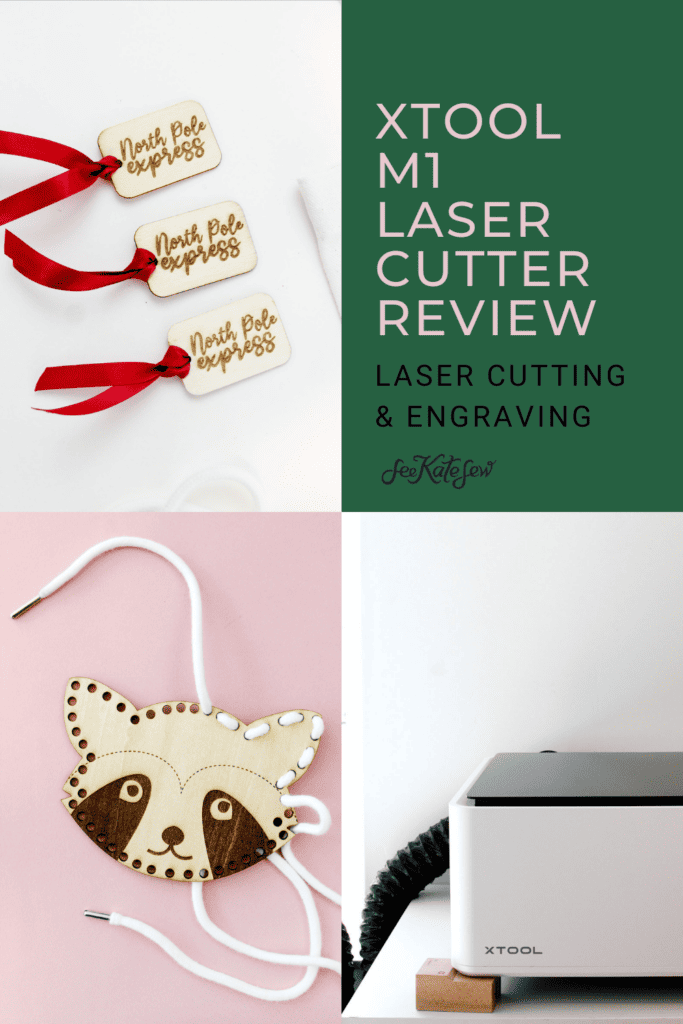 Overall Review of the xTool M1
I found the xTool M1 to be user-friendly and high quality. The set-up was simple and the software was intuitive. This product is a great tool for the crafter who wants a little bit more flexibility – to be able to customize and personalize crafts easily. Although an investment, the price point is much more affordable than other laser cutters on the market and the addition of a blade makes the xTool M1 a three-in-one machine!
It's so fun to have a new medium to work with. Look at me laser cutting wood! This adds so many possibilities to my crafting and sewing and I'm excited to make a few gifts this holiday season with it. I love being able to add special personalized touches to birthdays and holidays. This machine makes it so easy!
I haven't even scratched the surface with this machine. A few items I would love to try are engraved rolling pins and wooden spoons(I know!!), personalized engraved jewelry and more wood cut projects!
xTool M1 Pros
Easy set up
Free software with intuitive interface
Plenty of materials available
Both the laser and blade are installed together. You don't have to remove and change them out when you change projects.
Lower price point compared to other laser cutters
Ability to engrave 3D objects with Riser Base
xTool M1 Cons
Hard to set settings for materials not provided by xTool
Emits a smell
Danger warnings are a little concerning but I didn't start a fire!
There are a lot of parts to it but not all are actually required to get started
SVGs to use with this machine
See more cutting machine projects here.