Bernie's mittens and memes have been making me laugh all week long, so I had to make a tutorial so you can make your very own pair of old sweater mittens! This mitten pattern sewing printable is a free download to use with old sweaters with an easy tutorial to go with it! *This is solely a fashion post, not a political one! We can all appreciate handmade mittens!*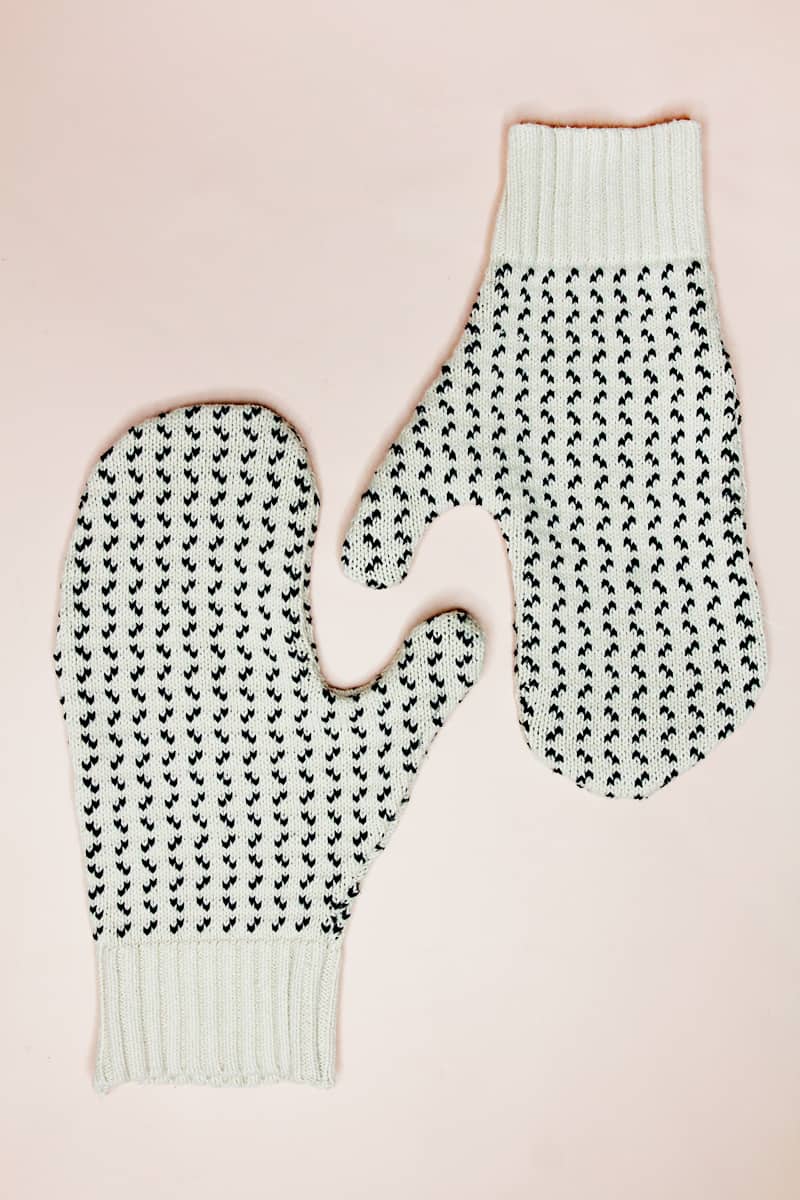 I'm sure Bernie would approve of these!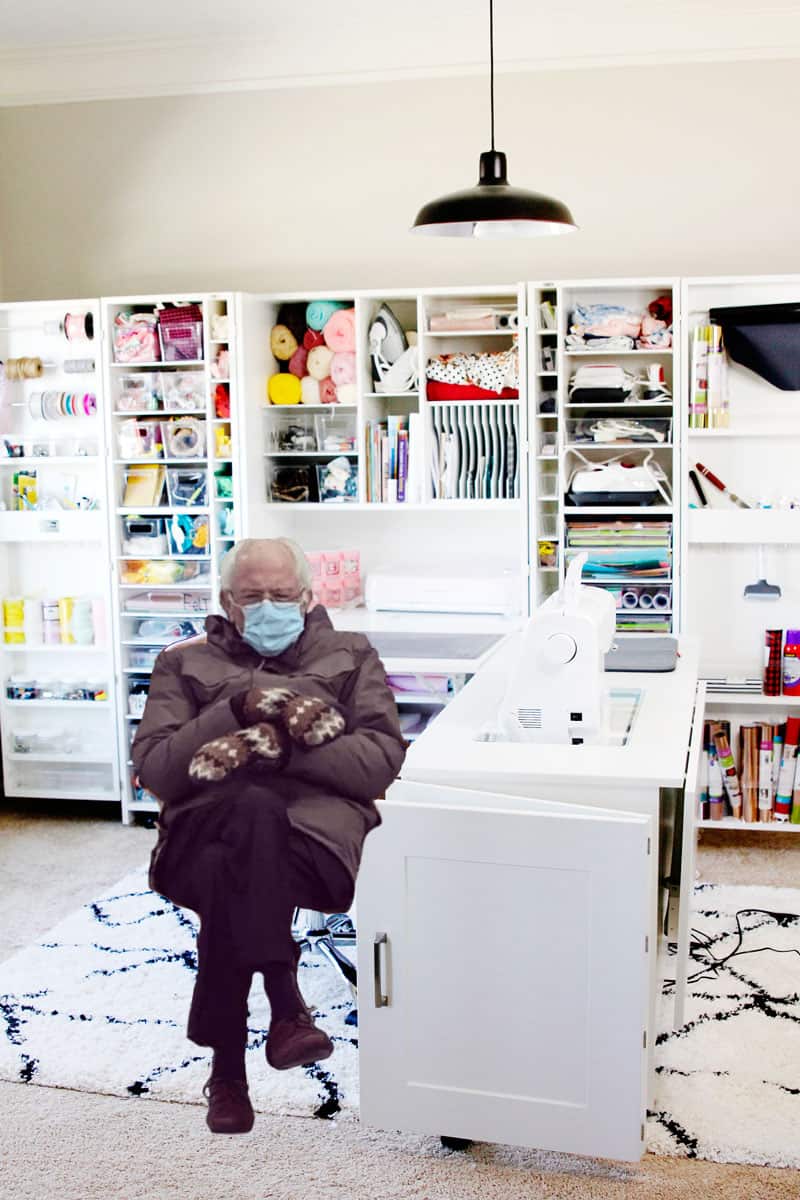 Upcycled sweater mittens are a great way to keep warm and help the environment!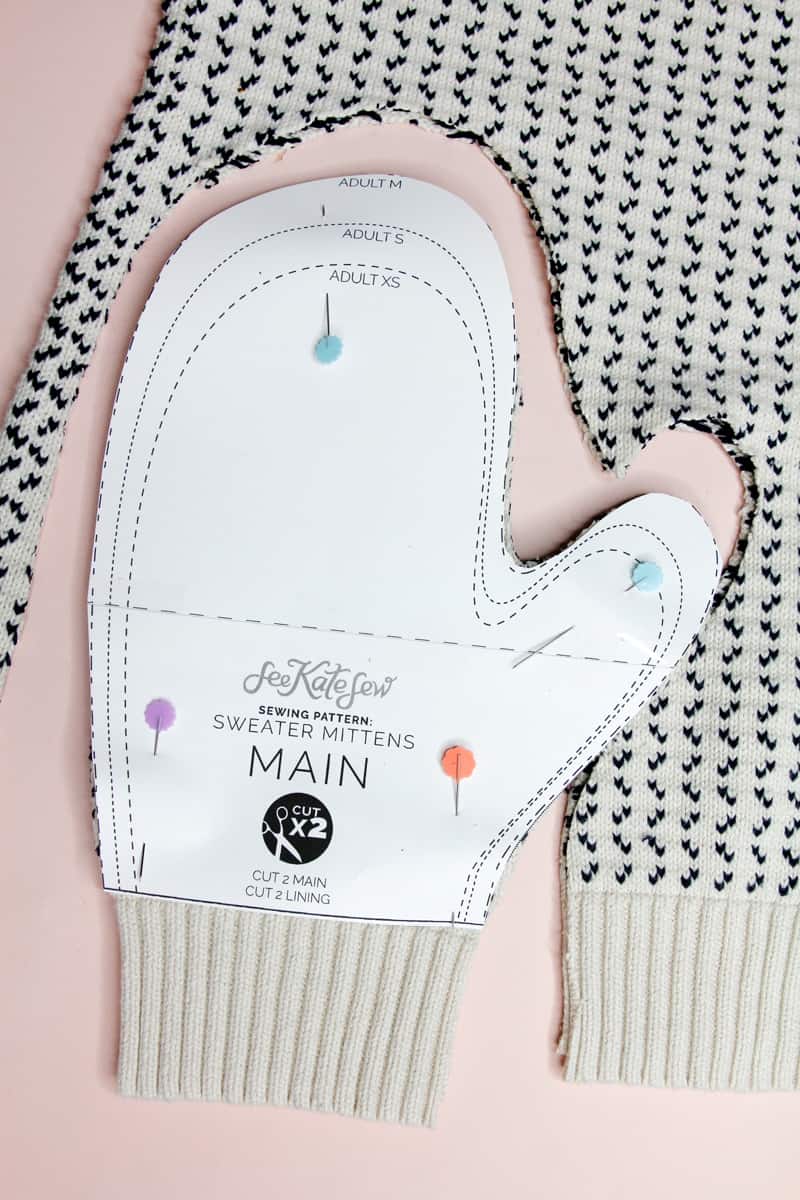 You may have a sweater you can recycle from your closet or hit the thrift store's sweater section!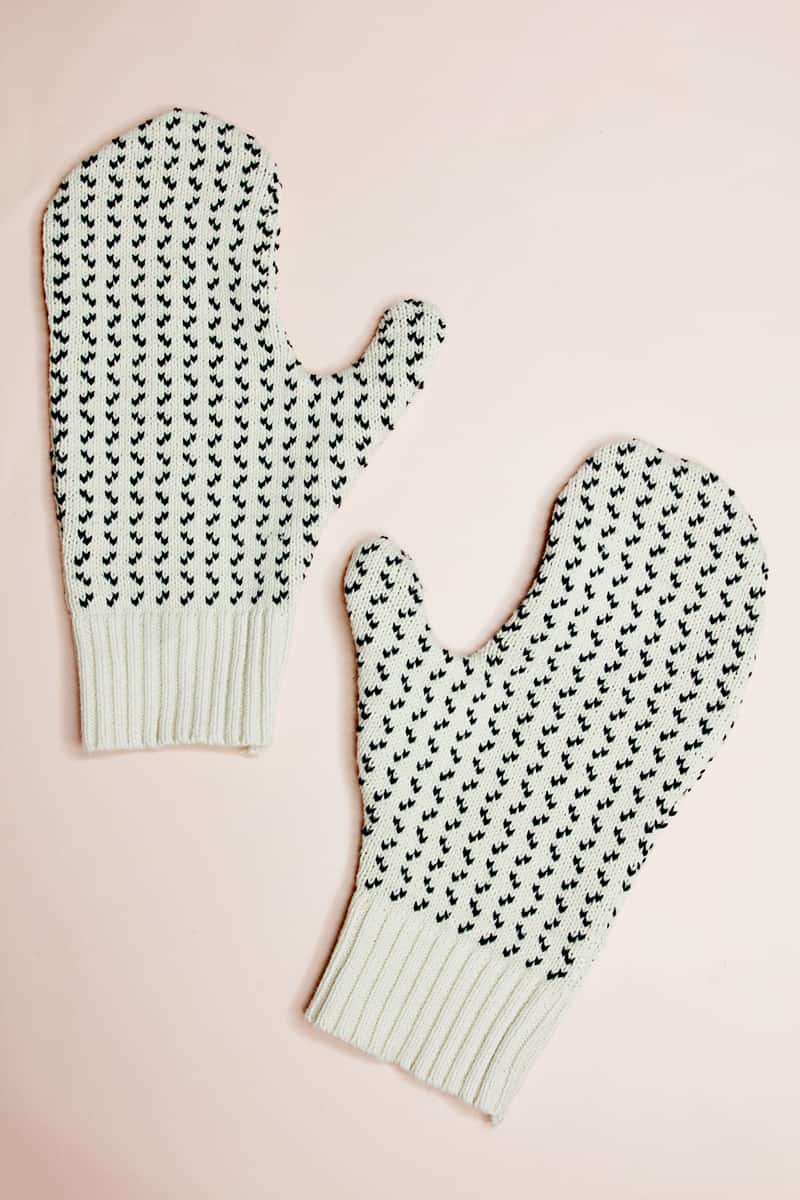 Learning how to sew mittens is really fast – you will be making lined mittens in no time. This sweater glove pattern is easy and fun to sew, even a beginner can tackle these!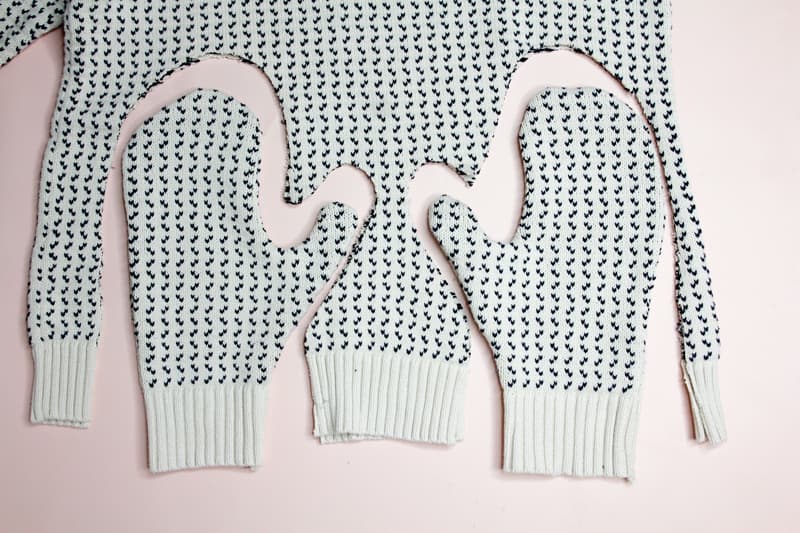 Sweater gloves are the perfect winter accessory but you can also make them with other materials.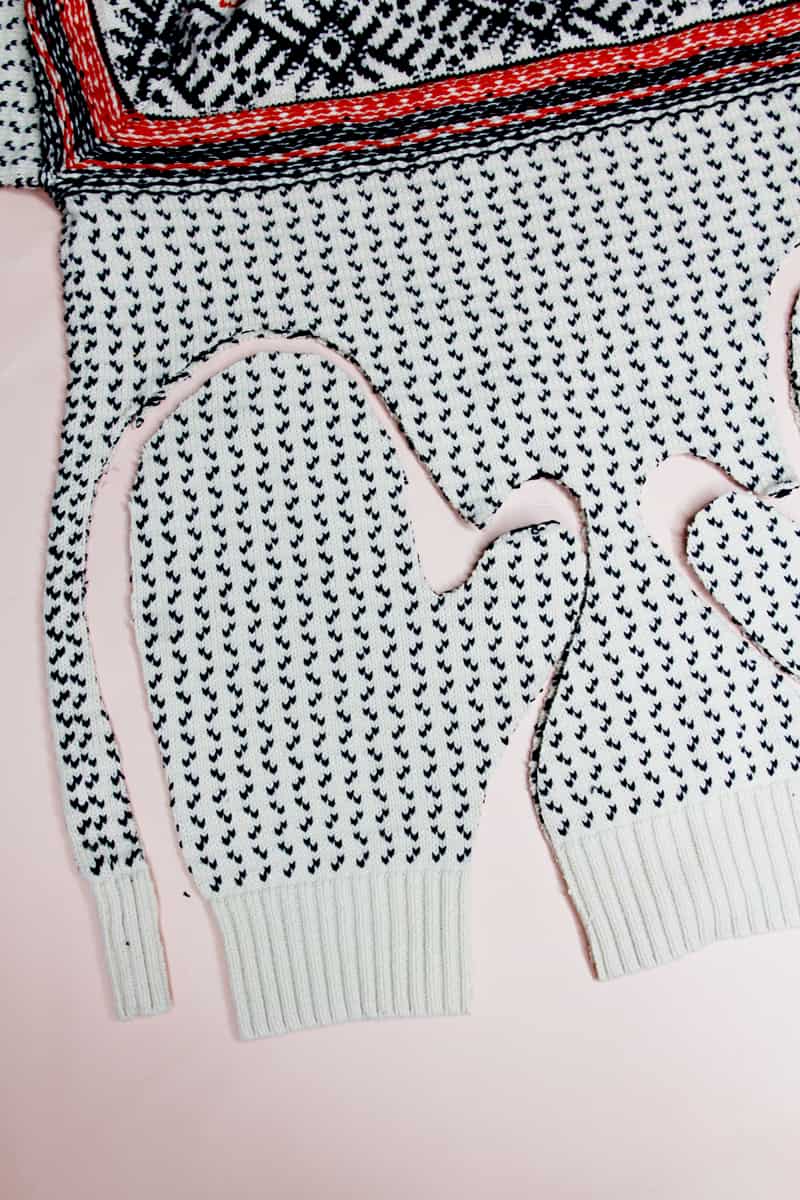 You can use a few different things as fabric for these mittens – old sweaters (recommended!), sweater knit fabric, fleece, or similar materials. The cuffs can be made from the bottom of your sweater, or the sleeve cuffs.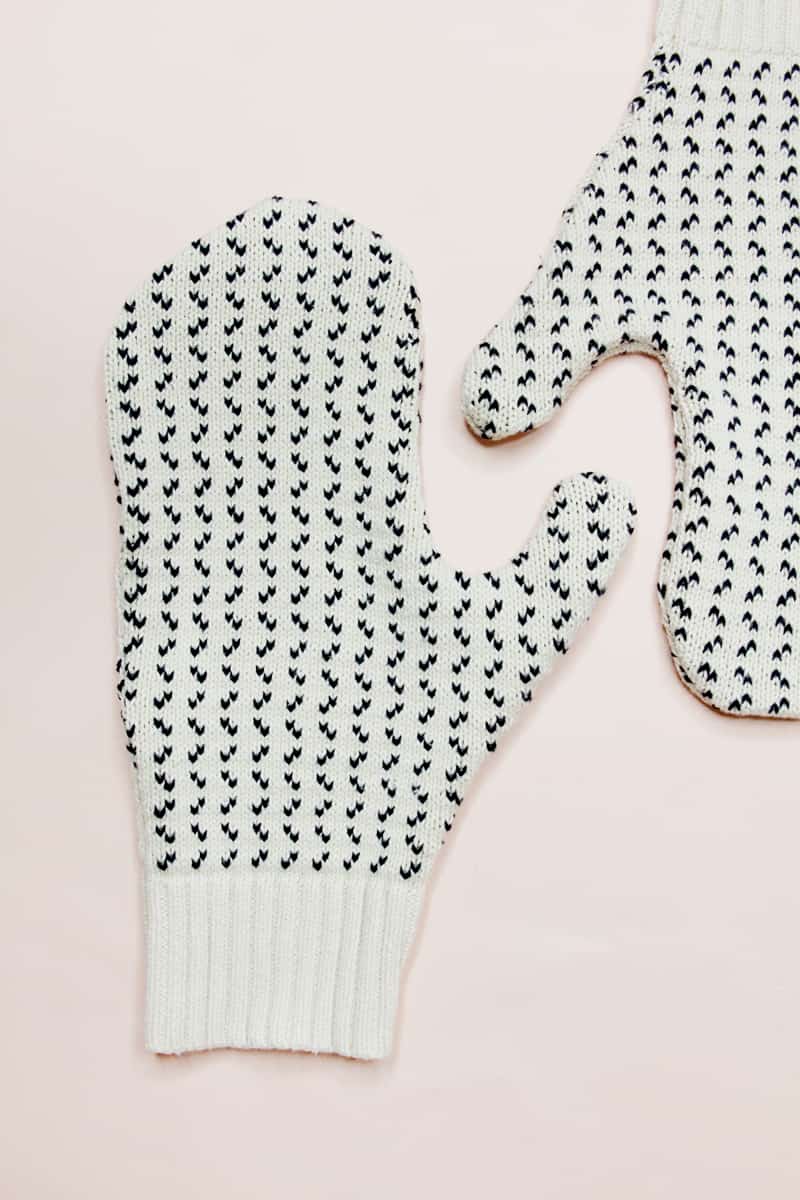 If you don't have a good cuff on your sweater, ribbed knit fabric is a good choice. Any other stretch fabric with good stretch recovery will work for the cuffs to make sure your mittens stay on!
How to make Sweater Mittens
One sweater can make a few pairs of mittens. Sweater mittens are so cute and you can even line them with flannel or fleece for extra warmth.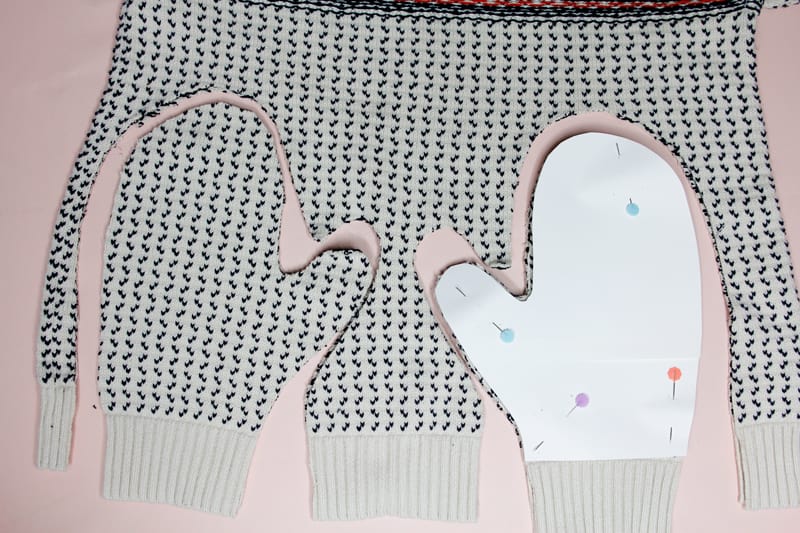 Use extra fabric or the sleeve cuff of the sweater to make cuffs for your mittens!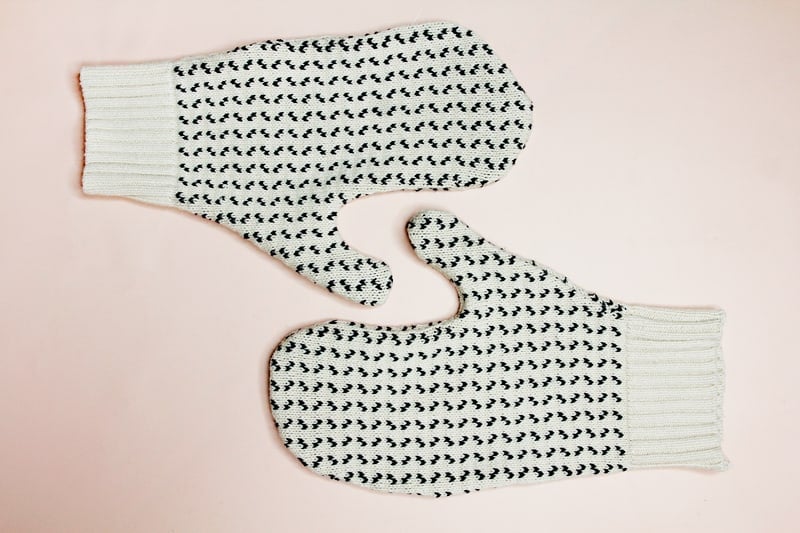 Mitten Pattern Sewing Materials
Old sweater
Lining fabric, such as flannel, lightweight knit or fleece (optional)
Cuff fabric (affiliate links) (optional)
Decorative buttons (optional)
Printable pattern, see below
NEW! Kids Mitten Pattern From Sweaters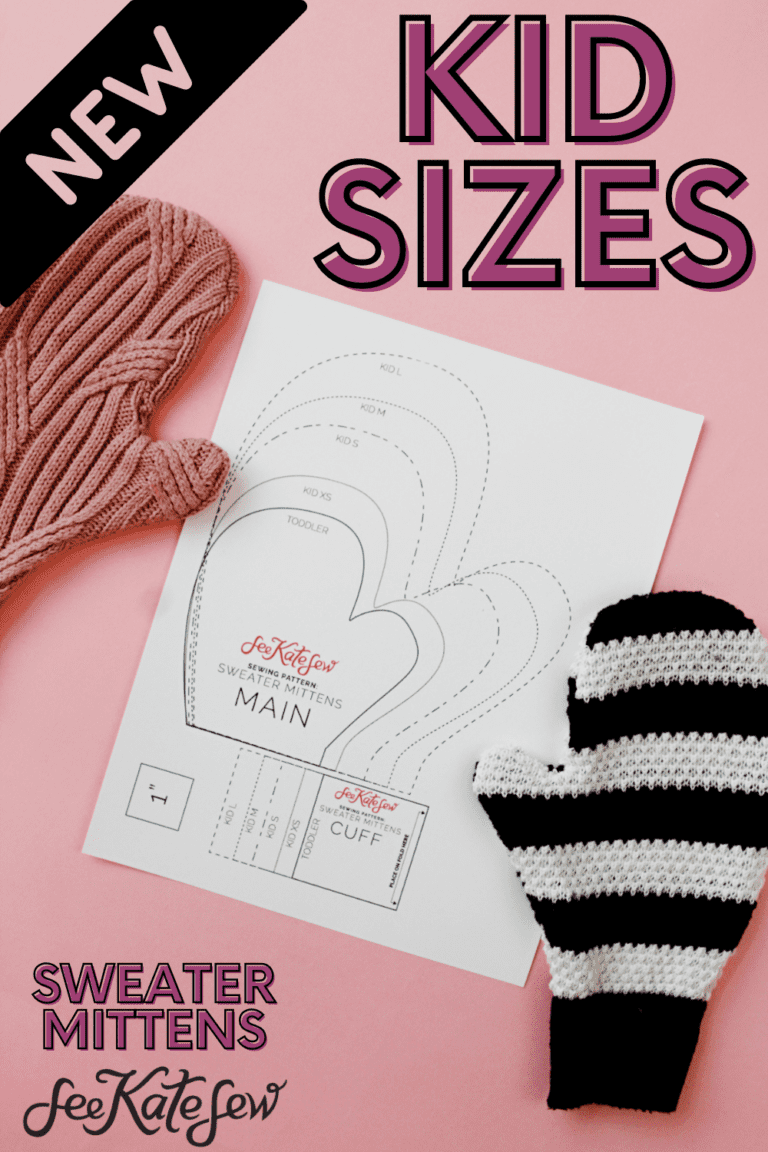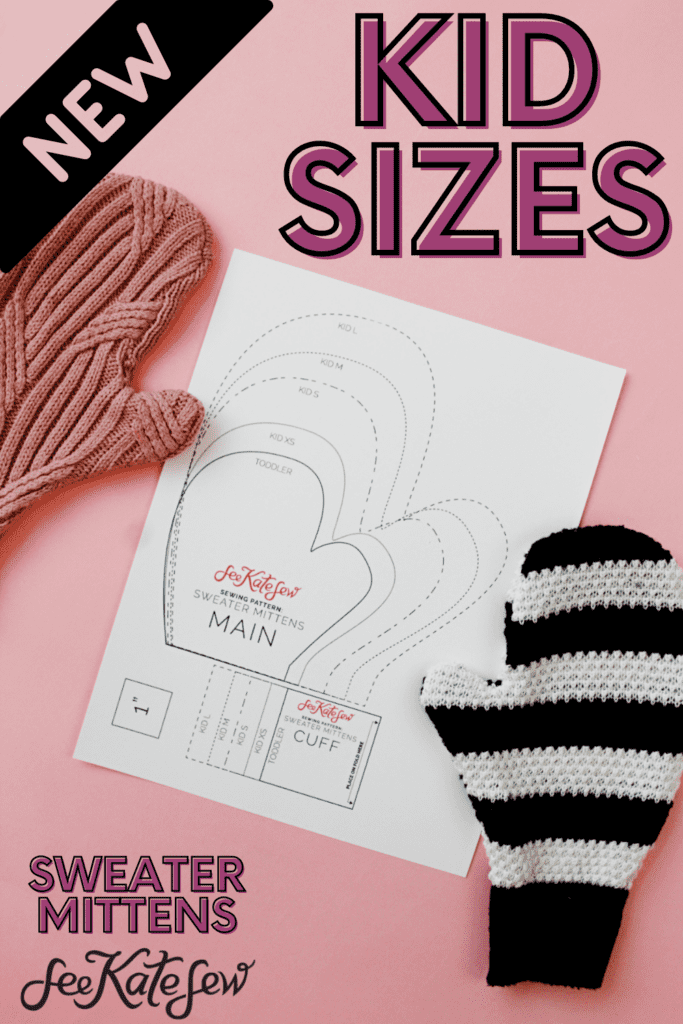 Updated! Download the new kids size mittens pattern below. This pattern has 5 sizes from toddler to big kid. I recommend using hand placement on the mittens pattern to find the best size for your child, but the approximate sizes are as follows:
Toddler, age 2-3
Kid XS, 3/4
Kid S, 4/5
Kid M, 6/7
Kid L, 8/10
Use the same tutorial to create the kid mittens, but use a 1/4″ seam allowance.
Printable Mitten Pattern to Sew from Old Sweaters
Click on the pink button below to sign up for the newsletter and get the download. The pattern has multiple sizes for adults.
Print the free PDF pattern out from your computer using A4 or letter sized paper. Print at 100% or DO NOT SCALE. If you plan on making lots of these mittens, printing on card stock will give you a nice thick template!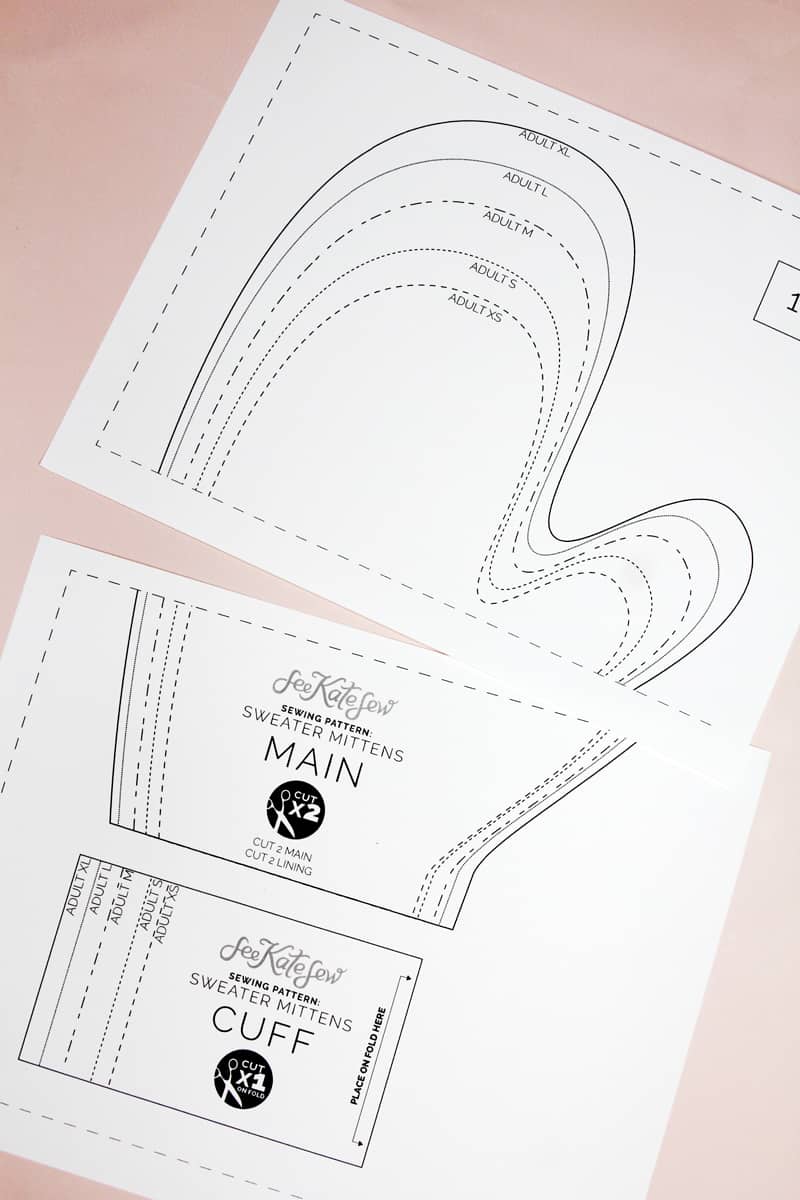 When you print the mitten pattern it will print out on two pages. Check the box marked 1″ – if it measures 1″ you printed it to scale. If not, adjust your printer settings and print it again.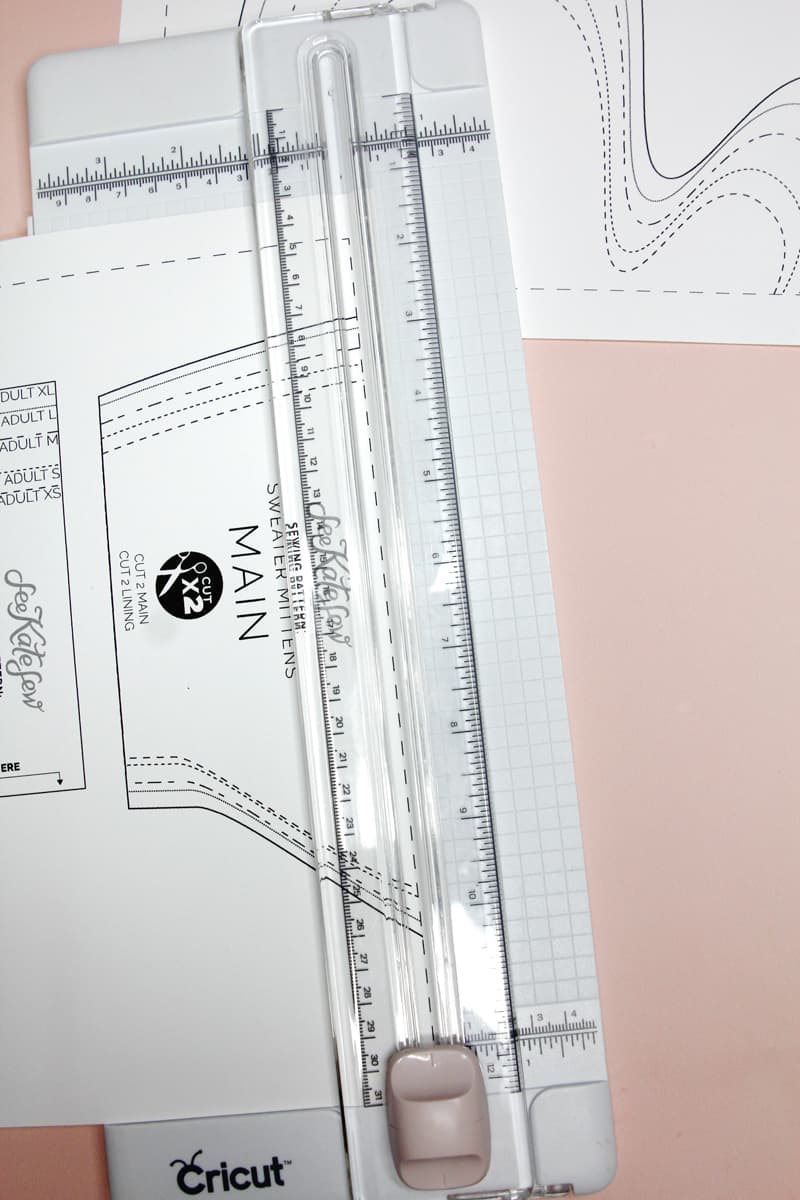 Trim around the dotted line on the pattern page.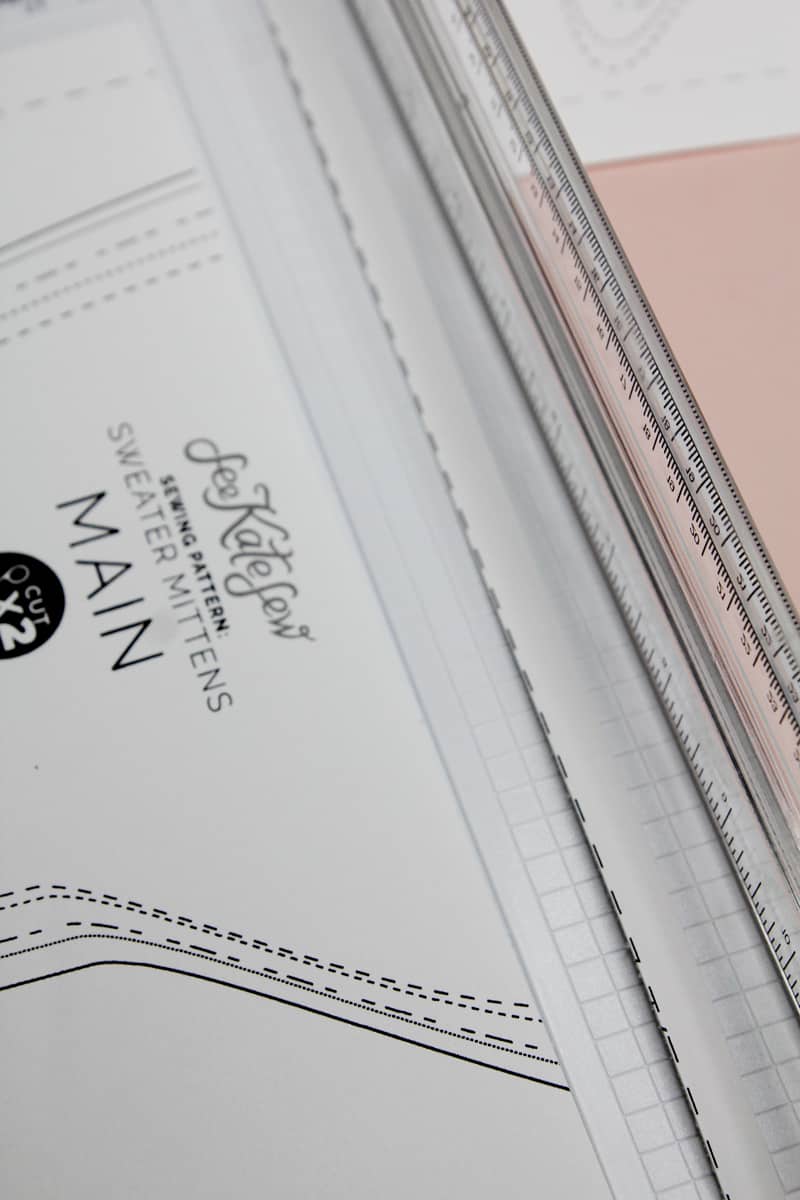 And tape pages together.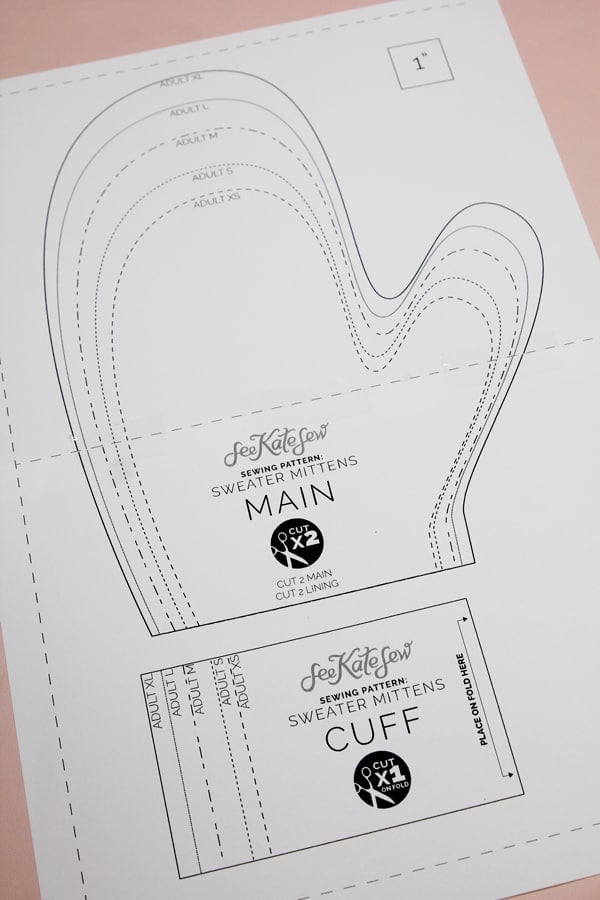 To choose your size, place your hand on the pattern and choose a size that is at least 3/4″ larger than your hand around all sides.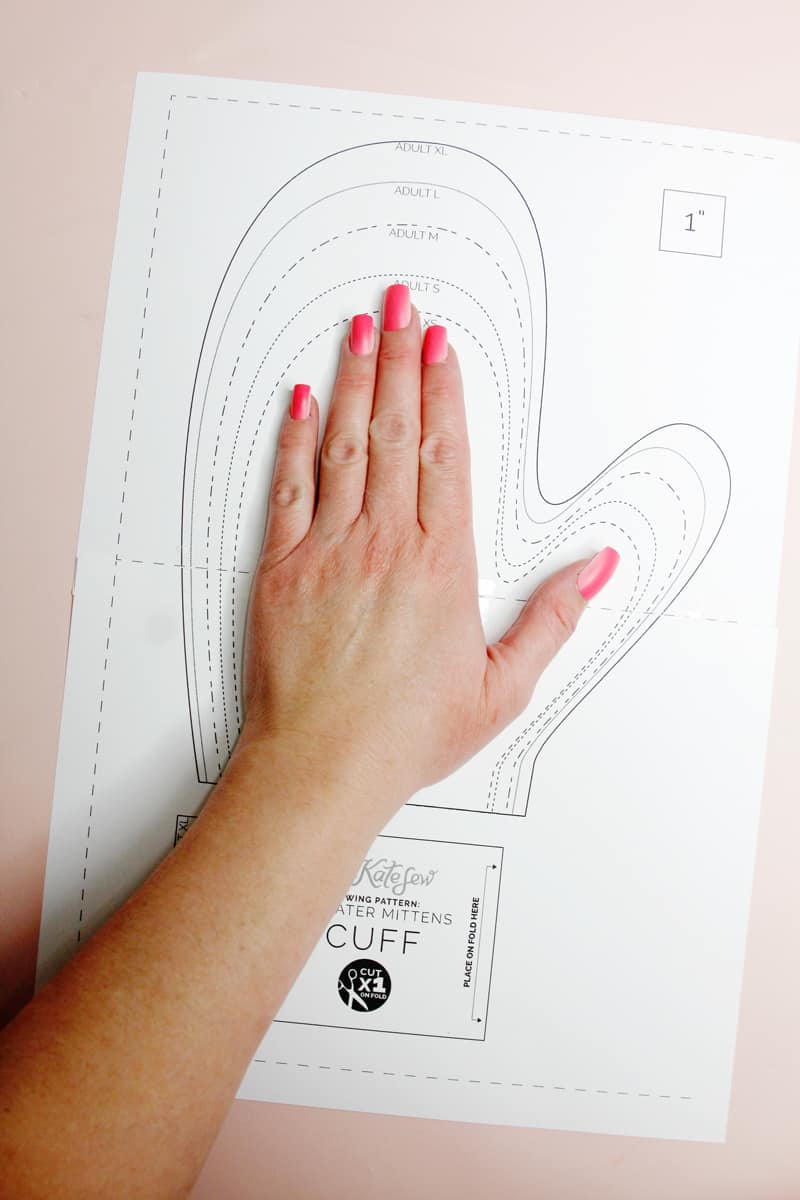 You can choose to size up or down based on the stretchiness of your fabric and your mitten size preference.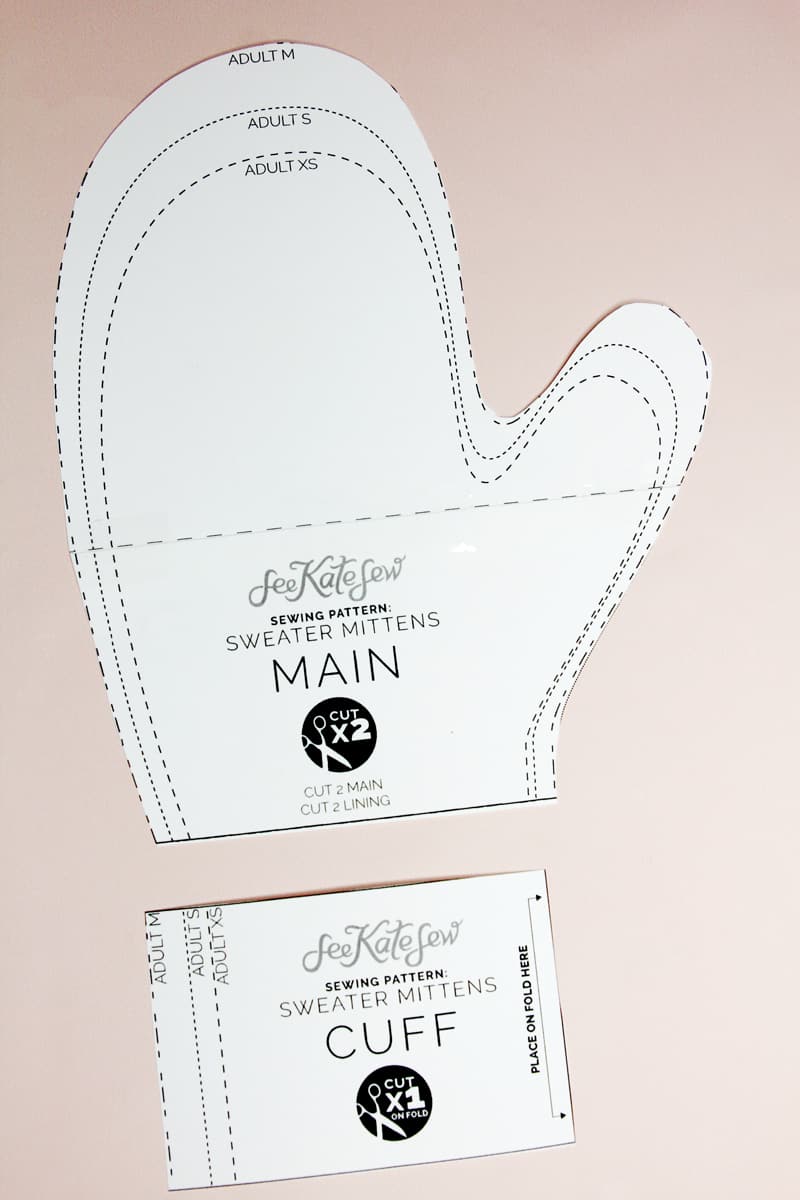 Upscyled Sweater Mittens Instructions
For 1 glove, cut out two mitten pieces mirror image of each other. If you are using the bottom edge of the sweater as your cuff, place the mitten pattern right where the cuff ends and the sweater starts. If your sweater does have a cuff that stretches and contracts, you'll want to use another part of the sweater or a different fabric for the cuff.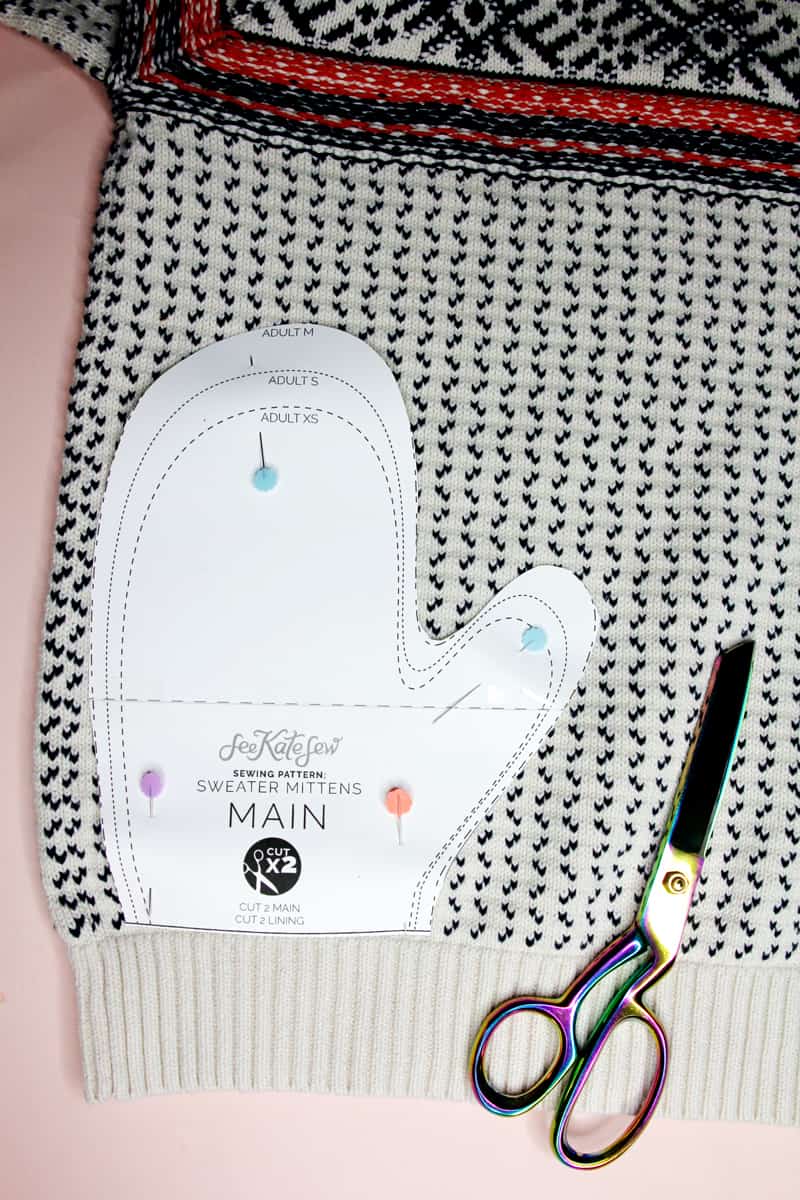 Cut through both front and back of the sweater and down straight or angled just a bit through the hem of the sweater.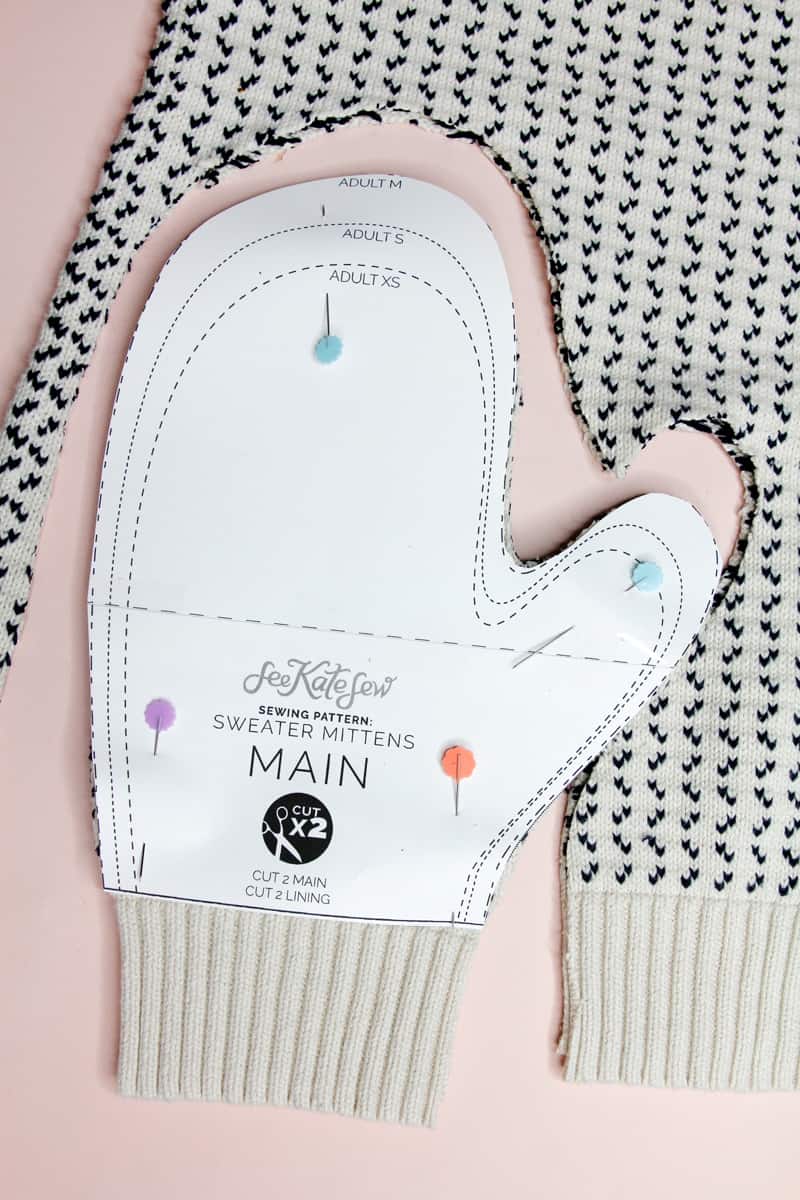 Repeat to create the second glove.
Now separate your mitten pieces and lay them together with right sides facing each other.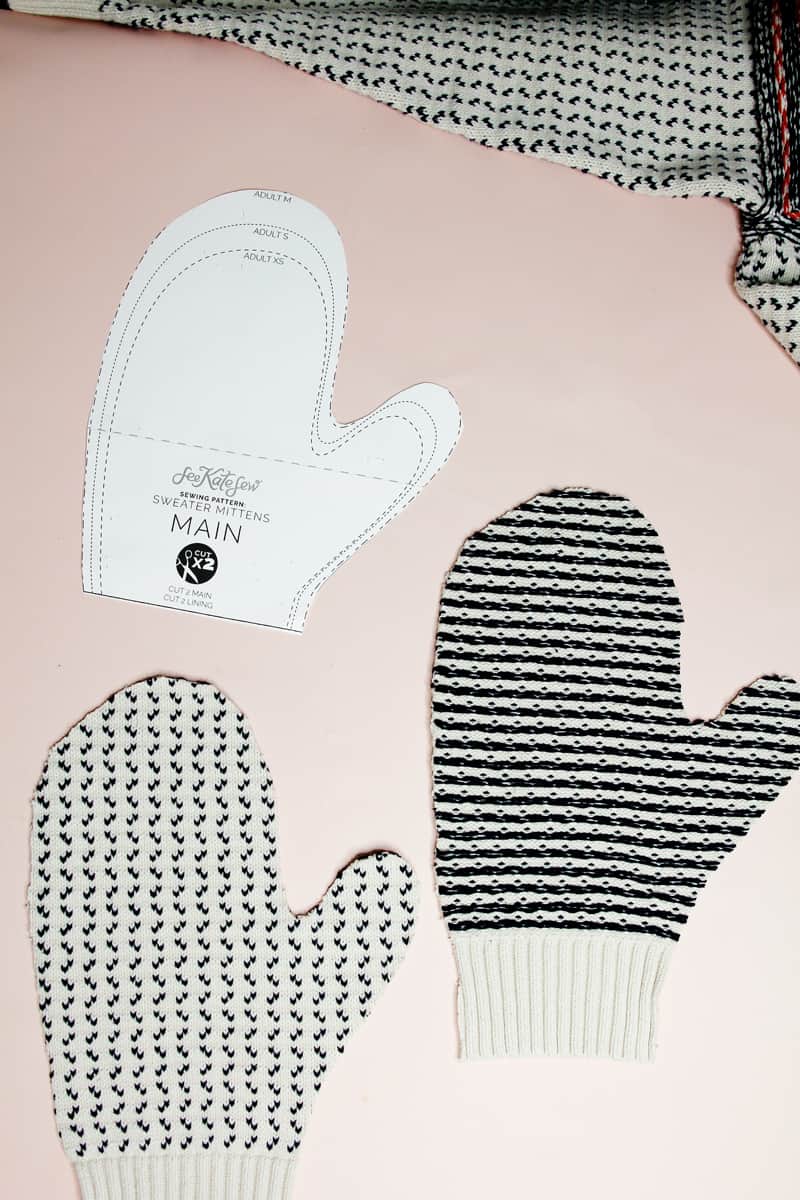 Pin together, the inside of the sweater will be showing on both exterior sides.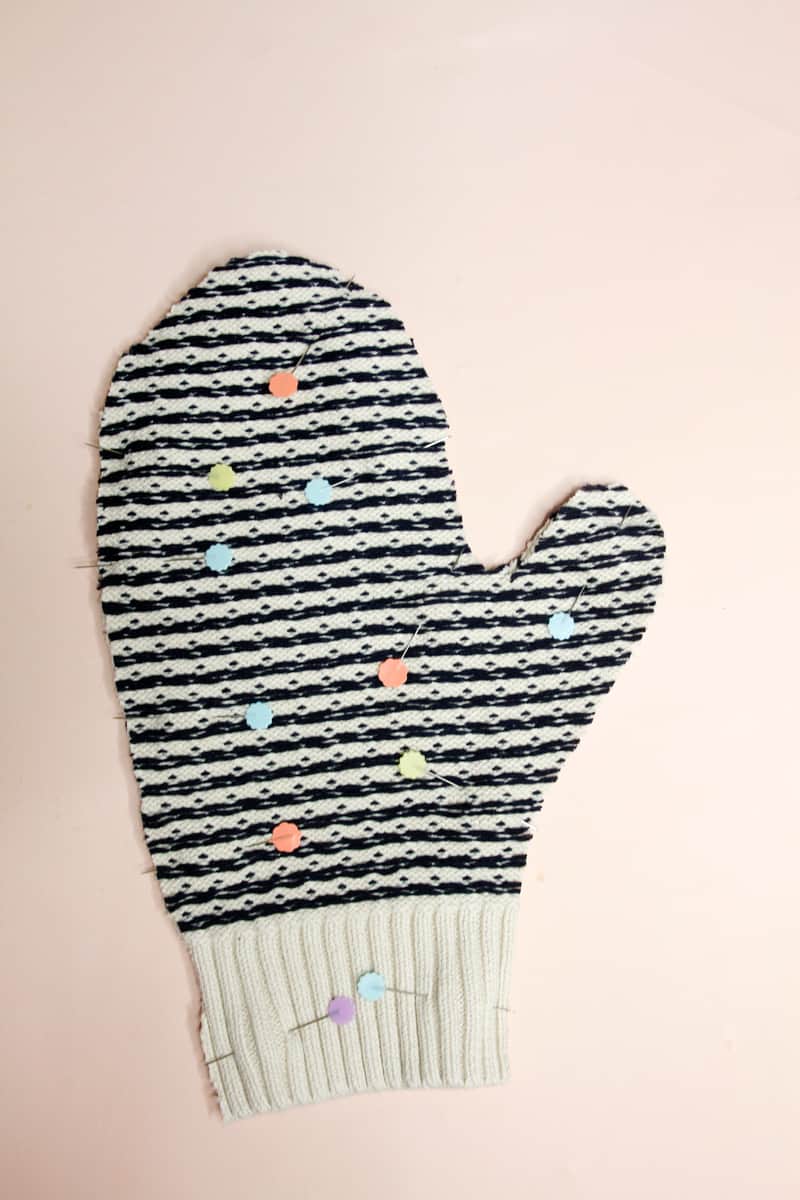 Sew around the mittens using a 1/4″ to 3/8″ seam allowance. Sew around once with a straight stitch and again with a zig zag stitch. Serge seam allowances if you want!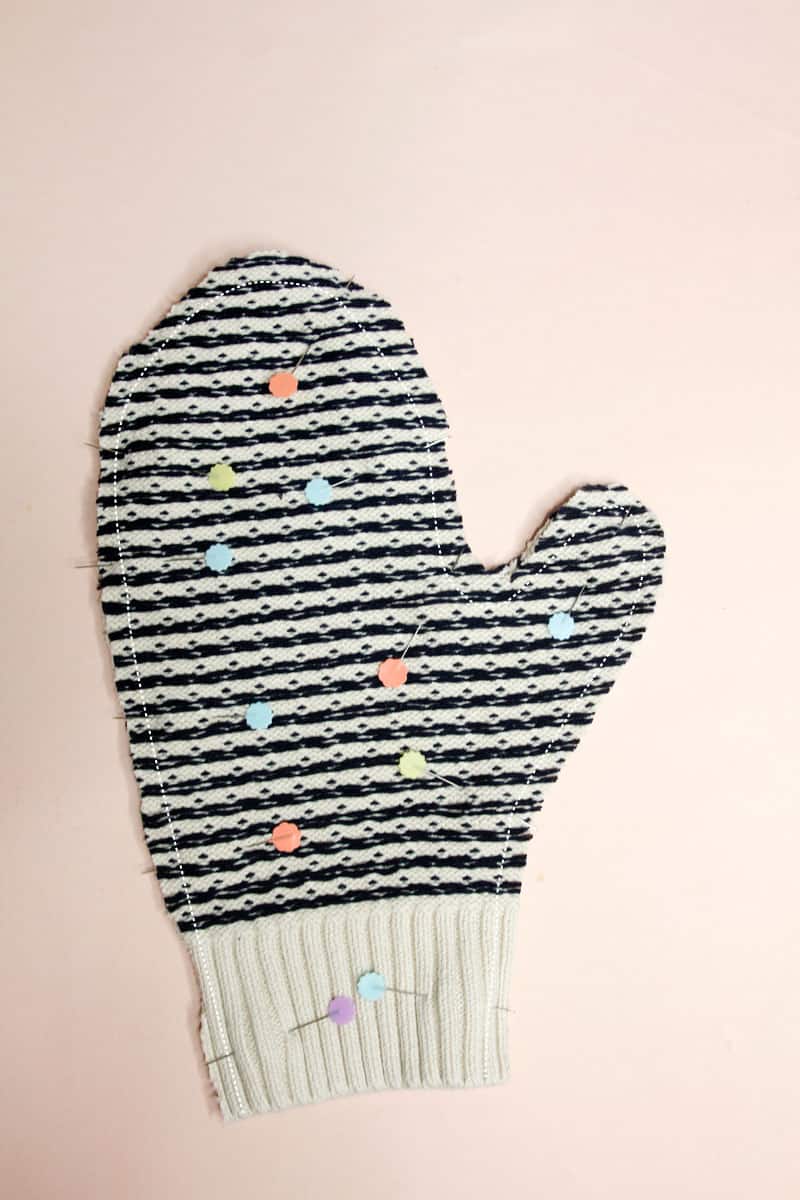 Turn right sides out and repeat for second glove.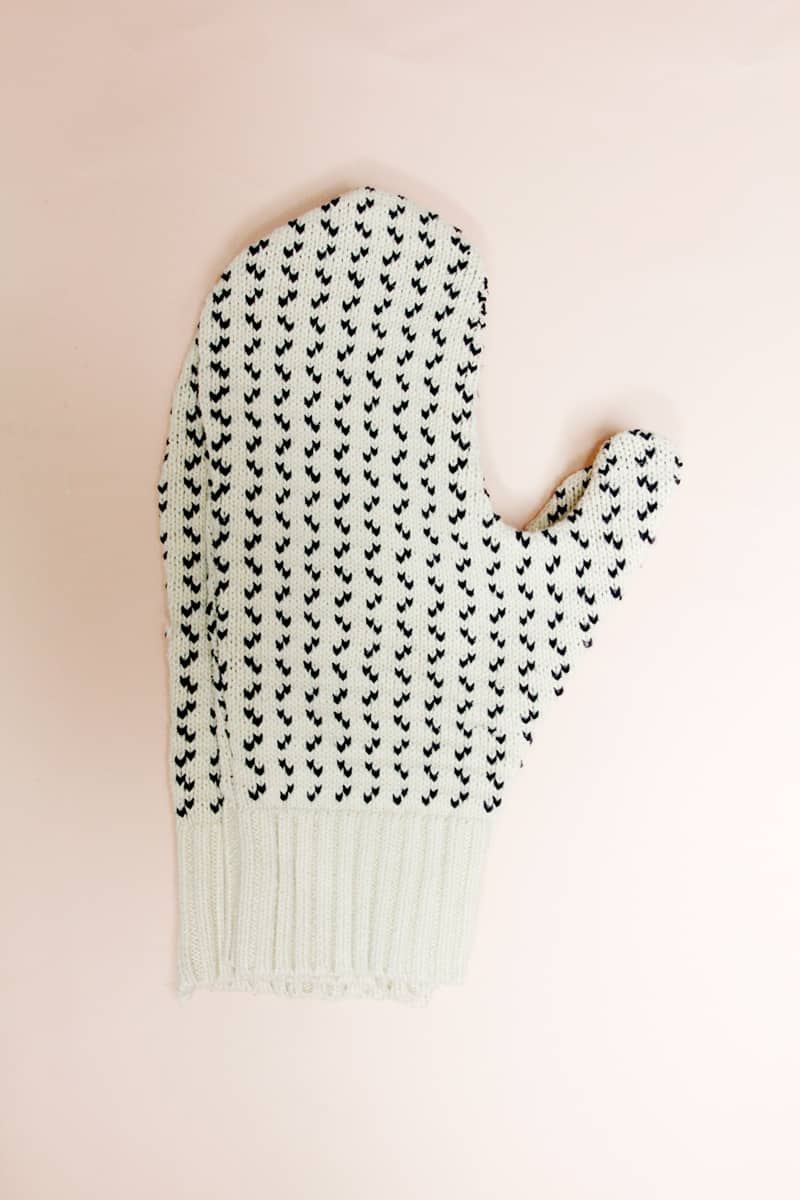 Sweater Mitten Pattern Sewing PDF Free – with cuff version
If your sweater doesn't have a built-in cuff, you can cut off the end of a sleeve and use the tube as a cuff.
Cut the mitten pattern around the paper without adding extra at the bottom as shown above. Then sew and turn right side out. Stretch the cuff around the opening with right sides facing and edges matched up. Sew and flip cuff over.
To line, cut out two layers of lining fabric and insert into glove before adding cuff.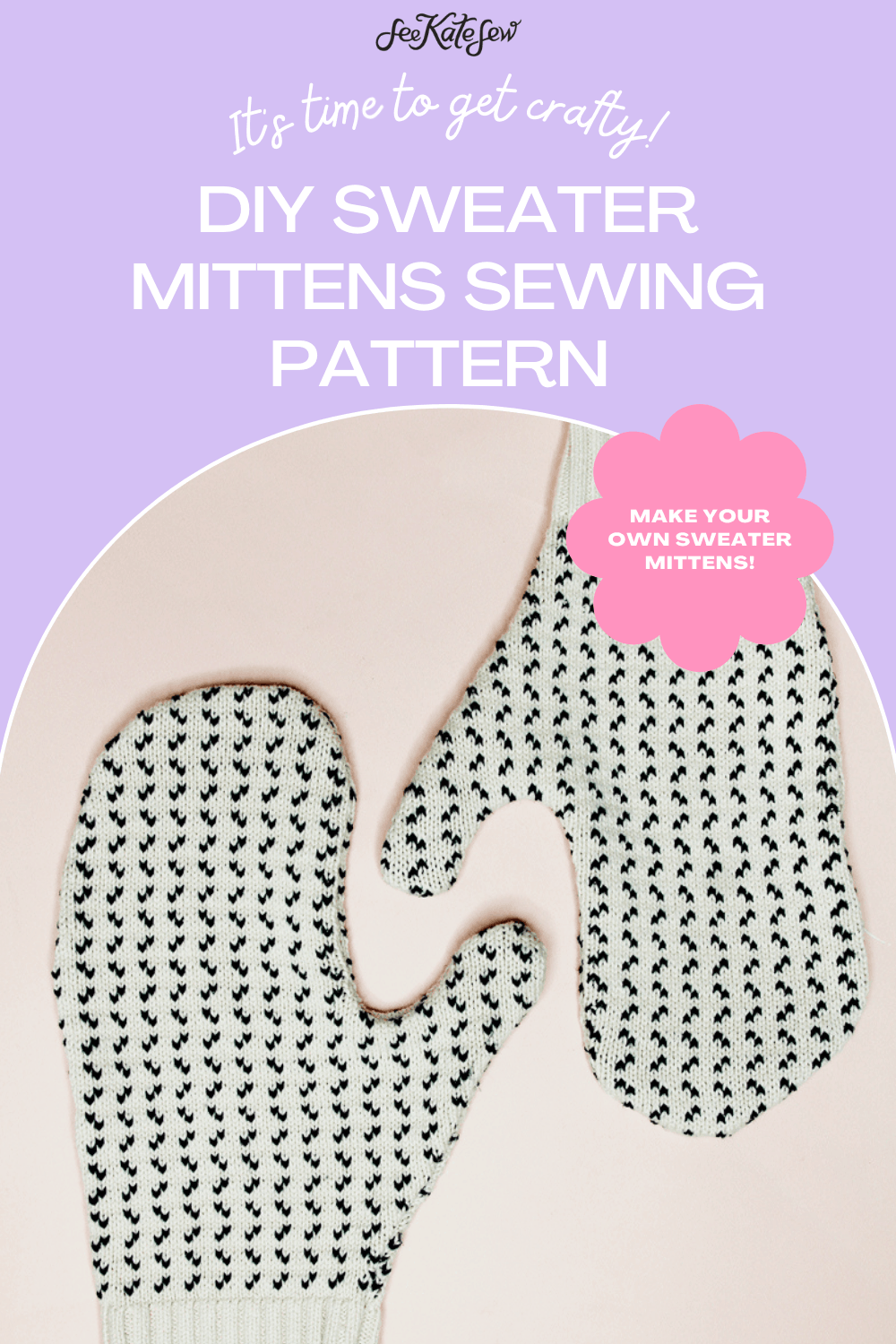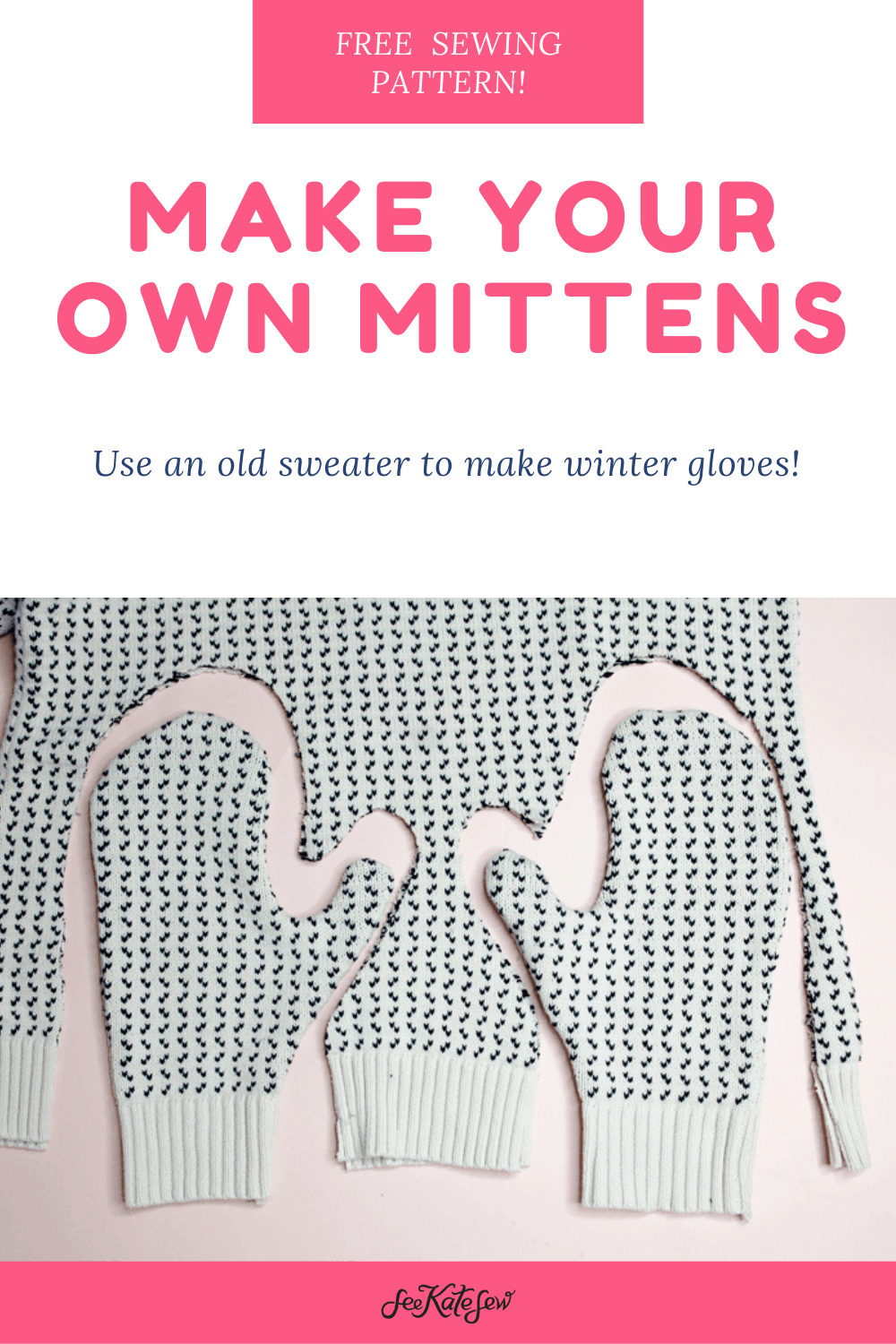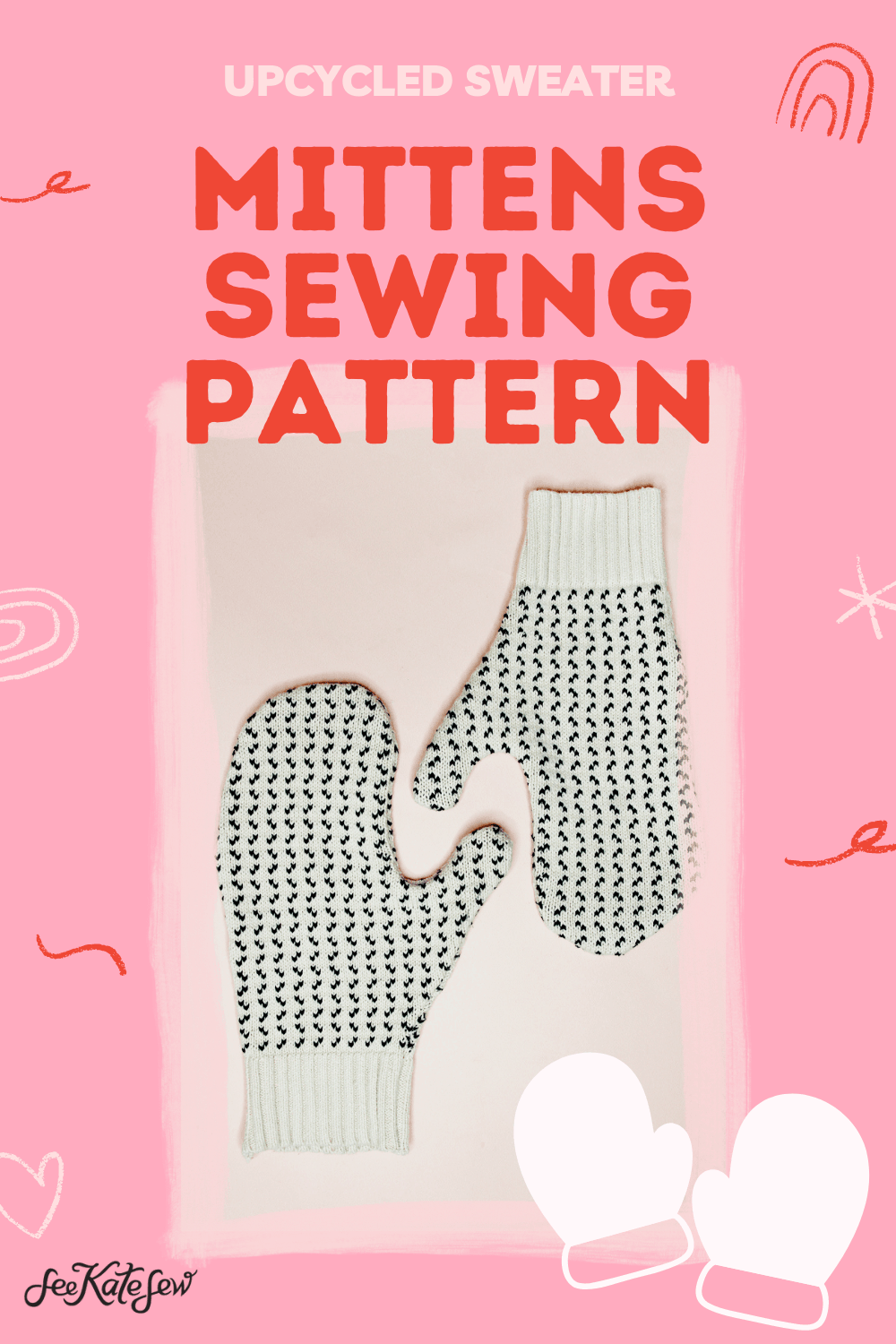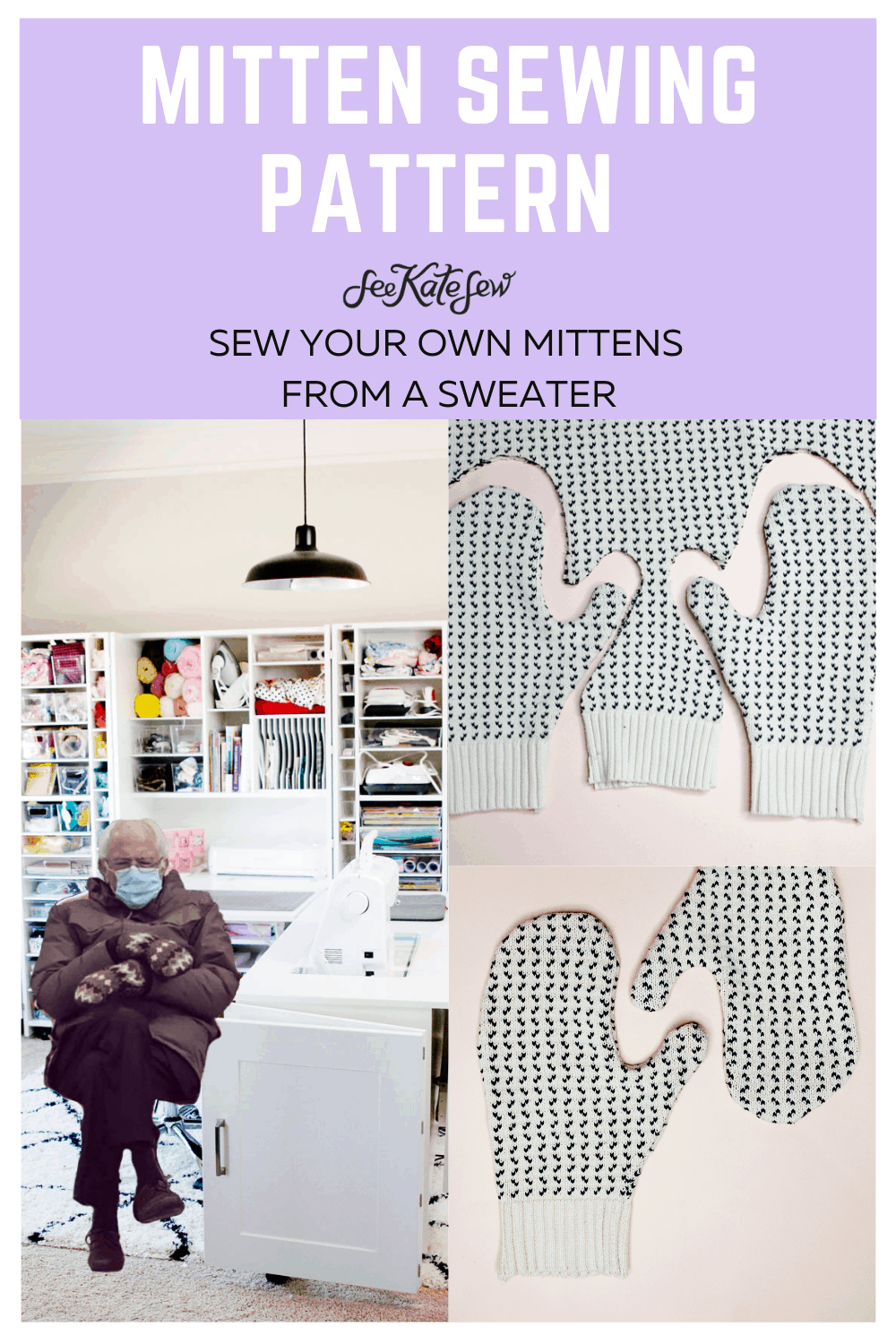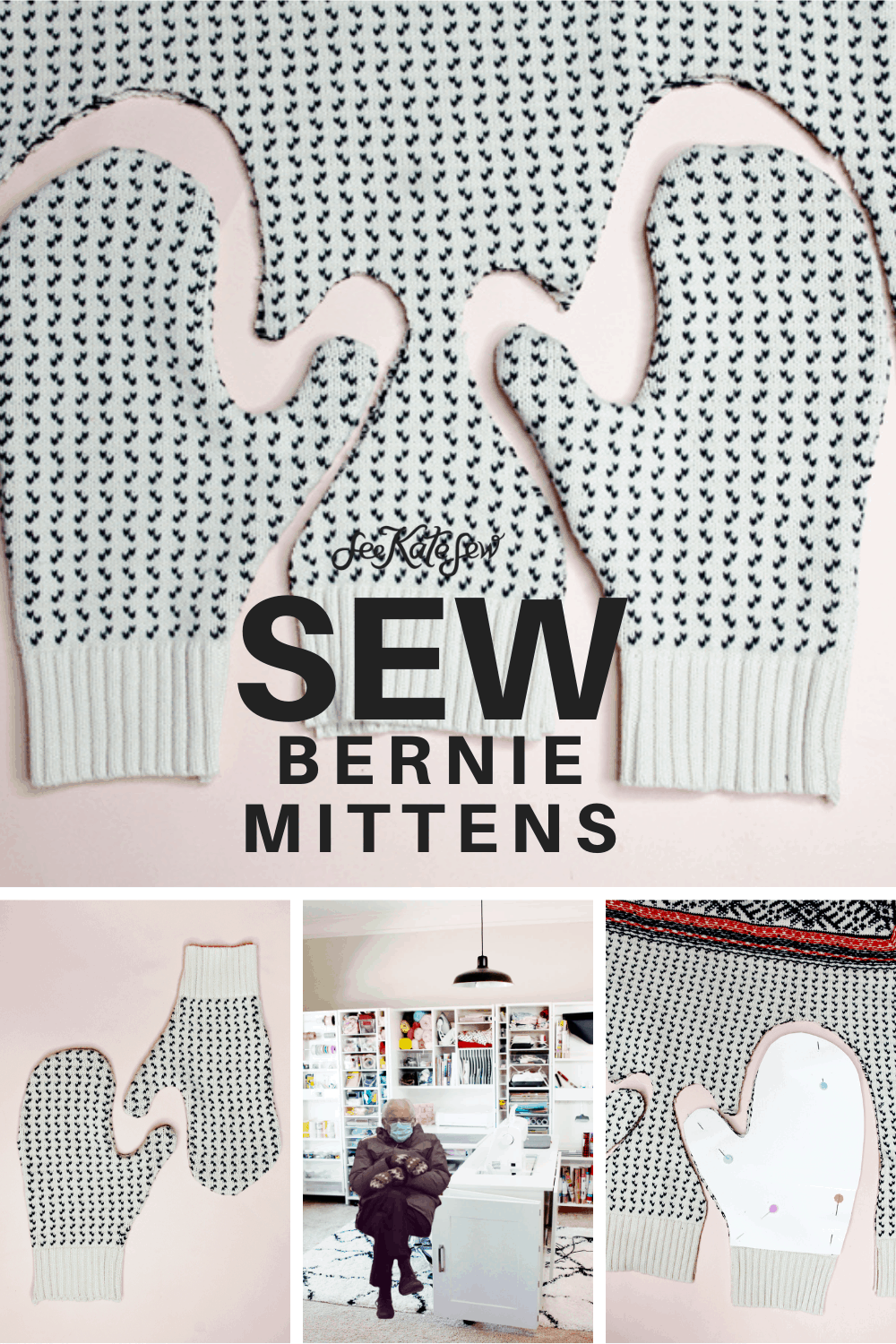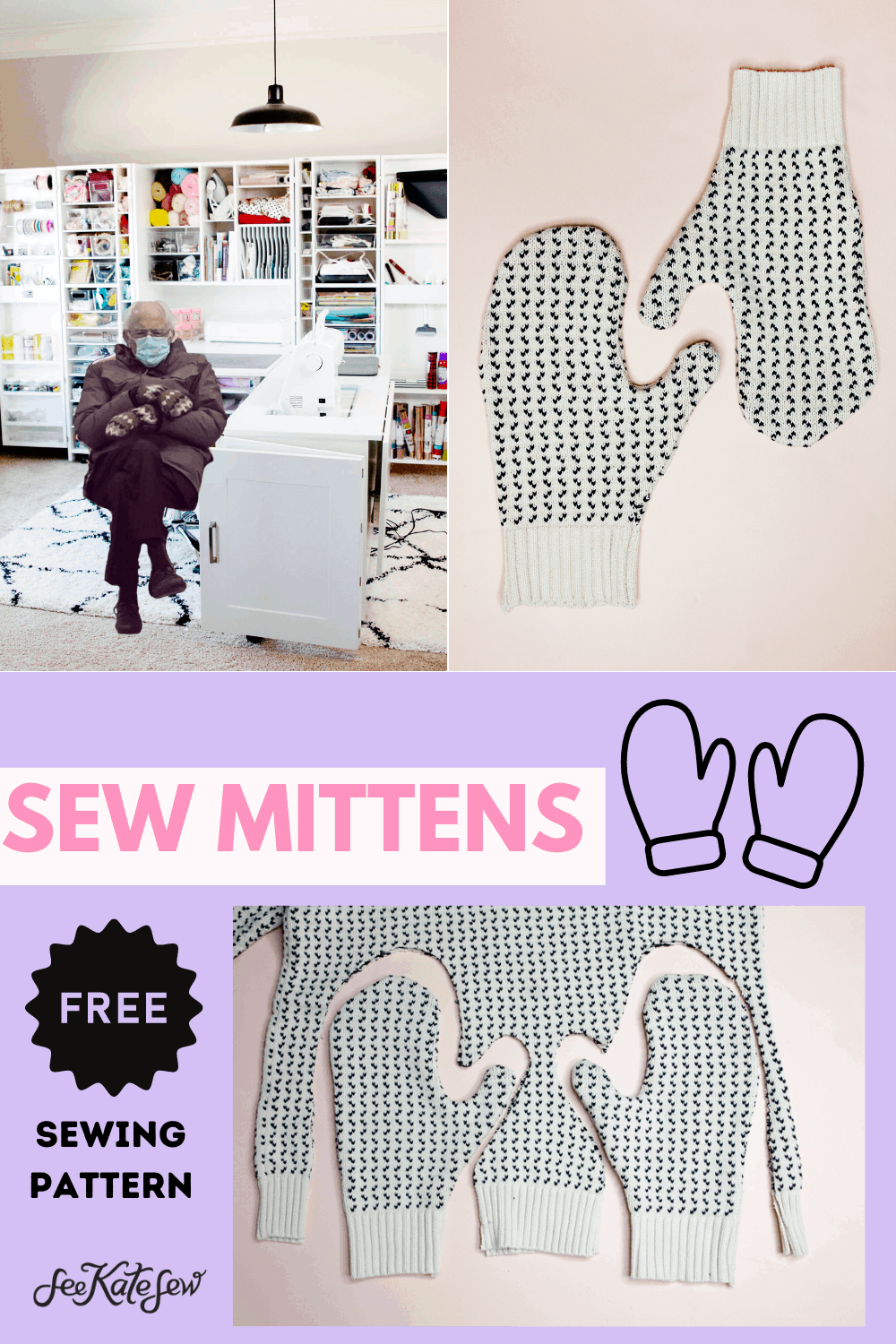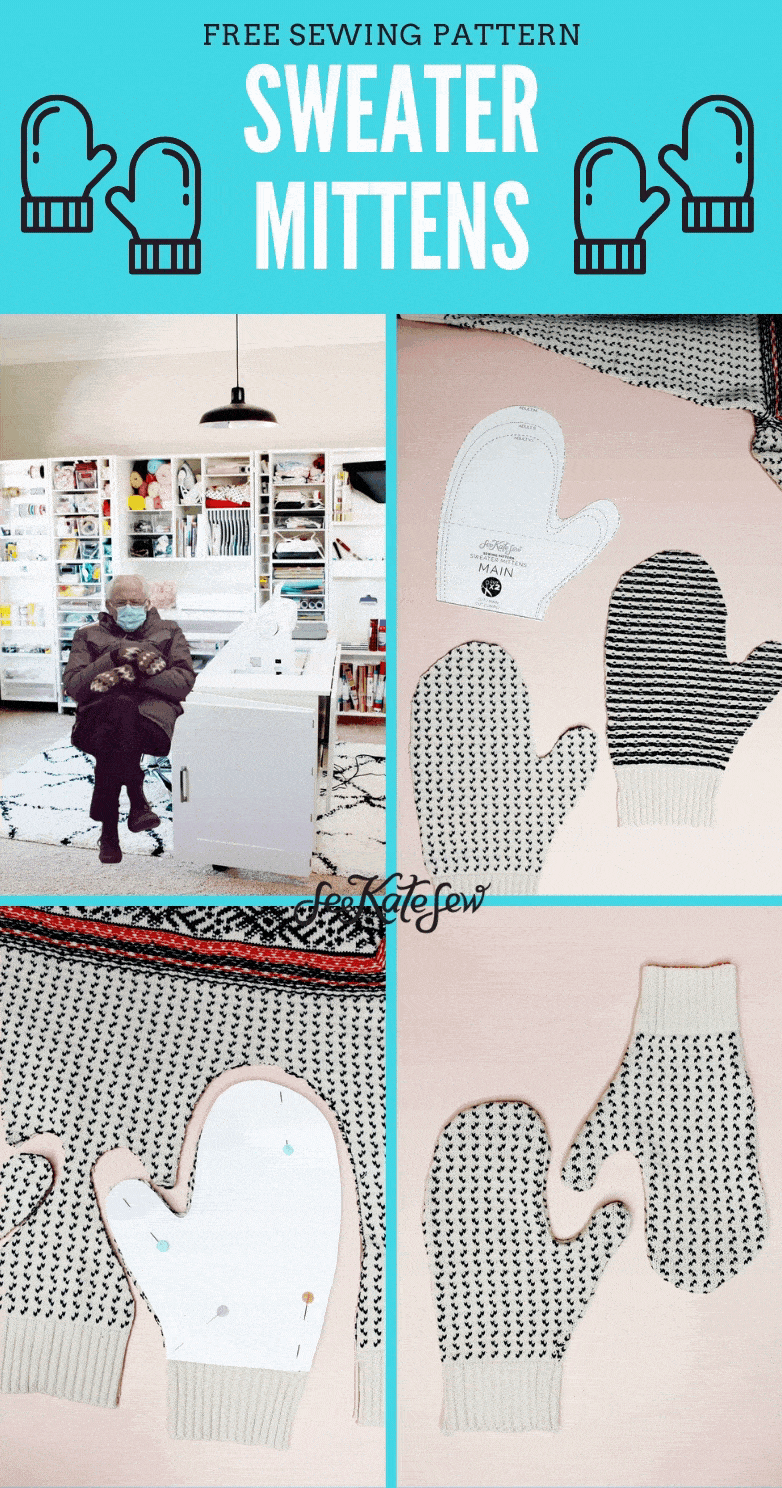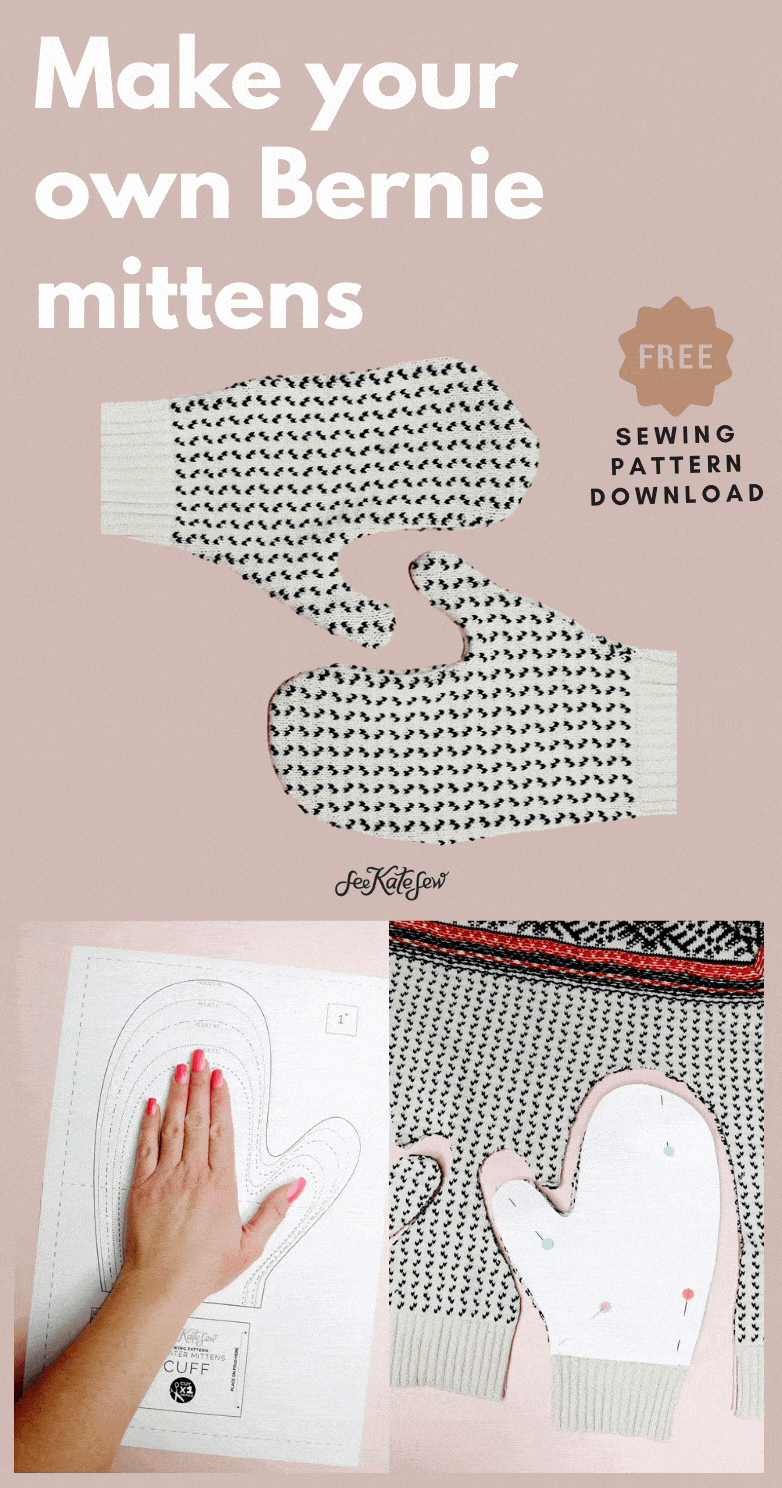 I love upcycling sweaters into new items. A few of my previous projects include: