Wide quilt backing fabric is ultra-wide fabric designed specifically to back your quilts! This fabric is so wide – usually about 108″ wide to cover your whole quilt with just one piece.
Wide Quilt Backing Fabric
Wide quilt fabric is called "wideback" fabric. Your local quilt shop probably carries some in their store! Just ask for the quilt backs or wide backs.
Want to learn quilting basics? Sign up for my video course, Learn to Quilt! The course is full of tricks for perfect points and straight squares, giving you a solid foundation as you begin your quilting journey! Use code QUILT to save $20!
Read more about Learn to Quilt here!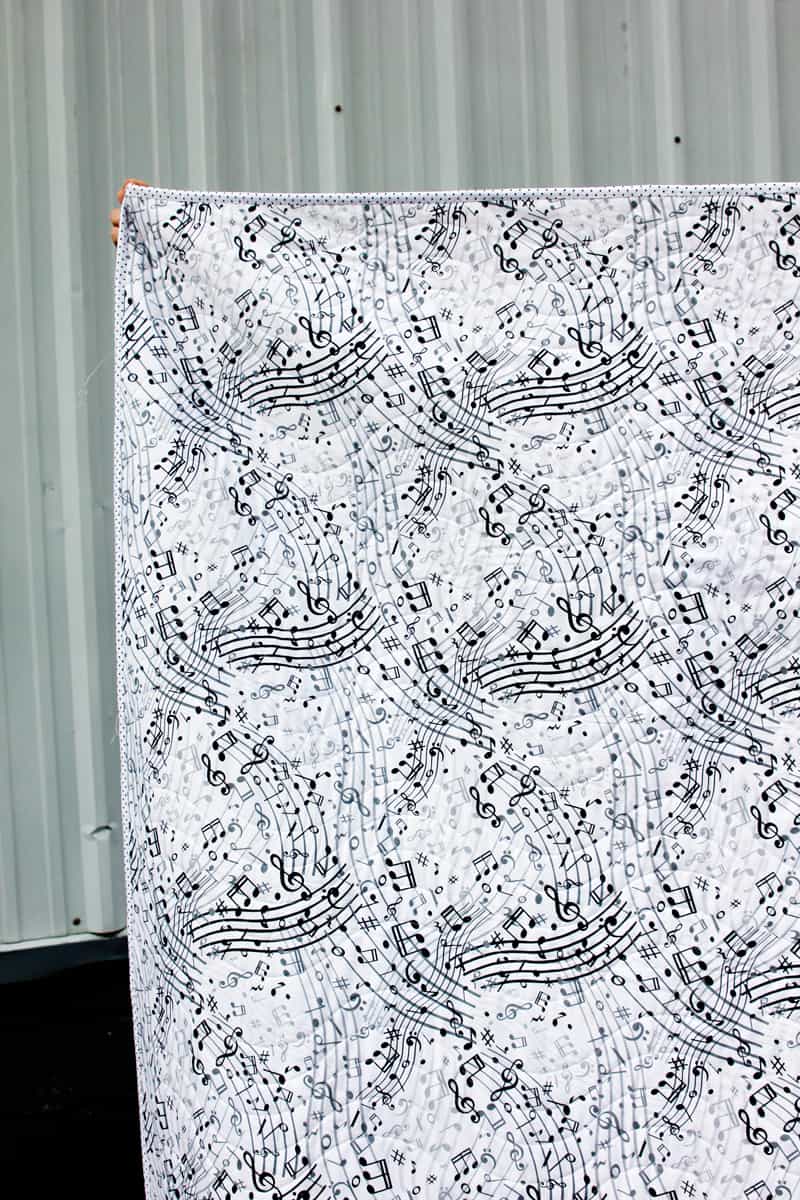 The best quilt backing fabrics
Here is a list of a whole bunch of wide backs that are ready to finish your quilt with! I usually get 2-3 yards and can squeeze 1-2 quilt backs out of it.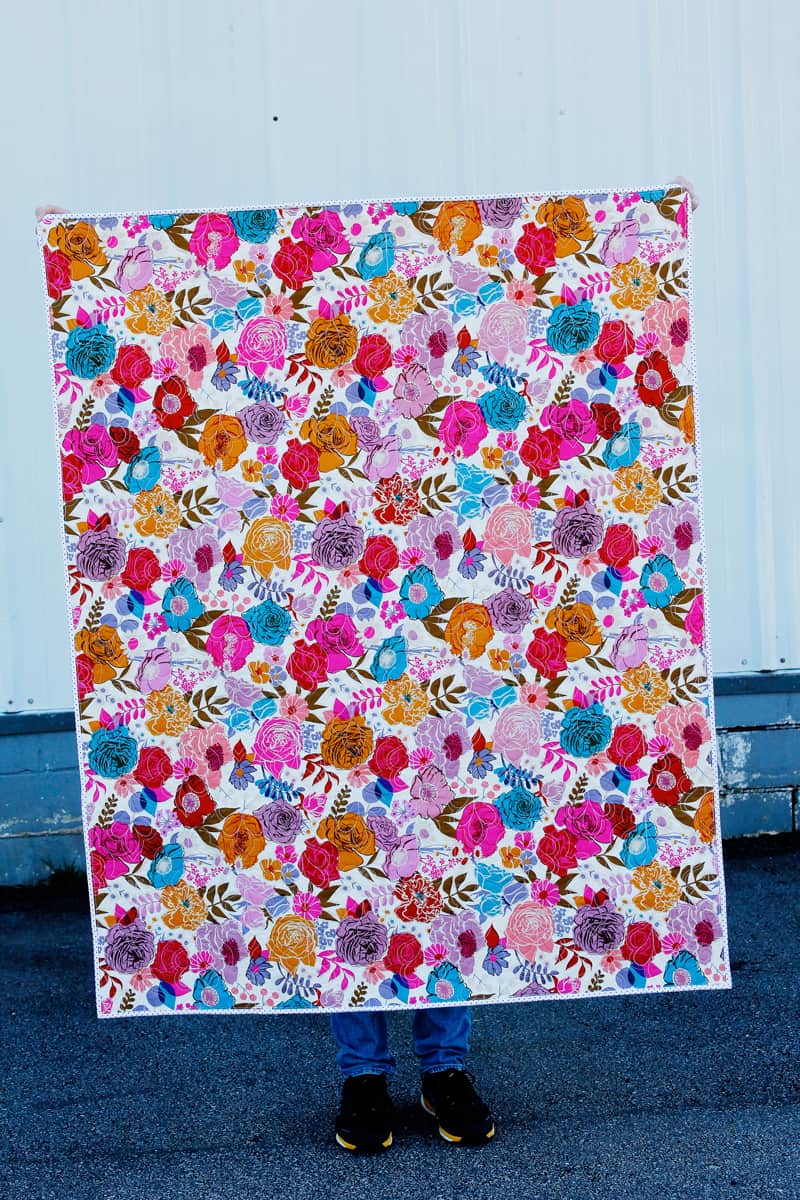 This gorgeous floral is my current favorite backing fabric. I've already backed 2 quilts with it and I'm not not going to use it again ;)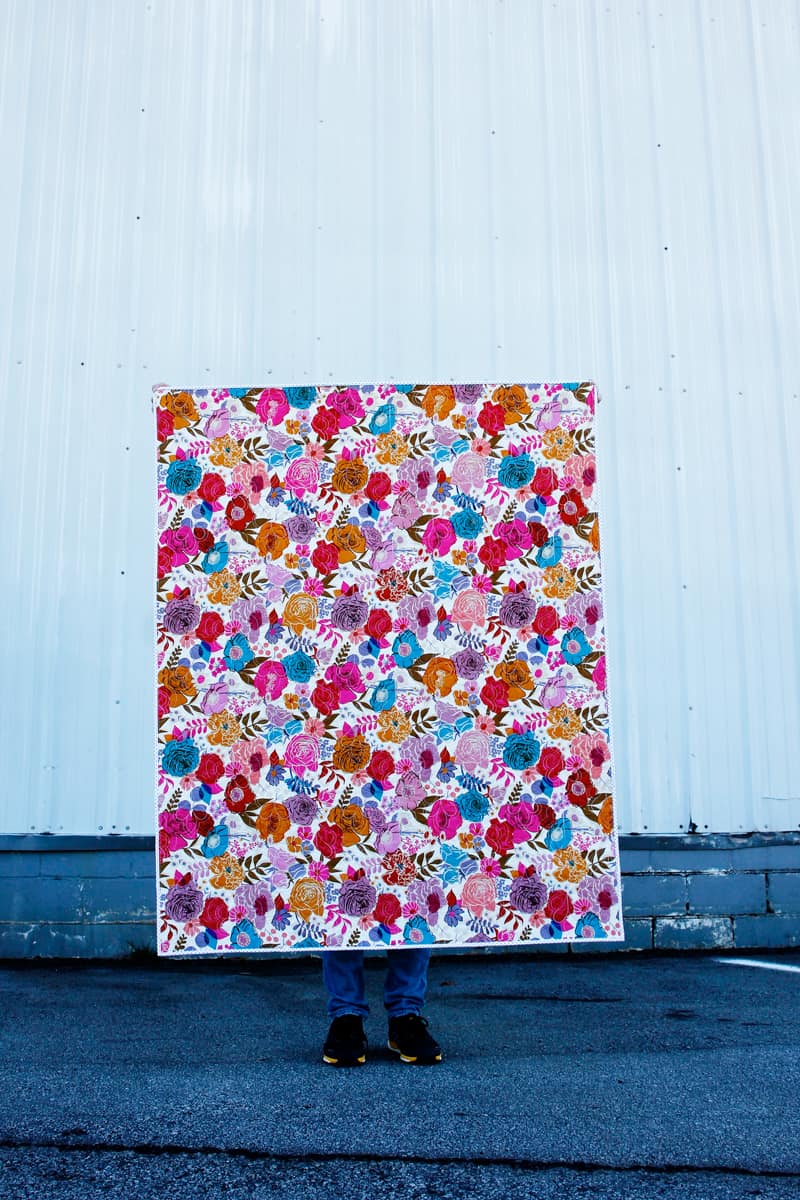 Make your own quilt backing
To make your own quilt backing, purchase enough regular width yardage to cover the back of your quilt. You will have to sew 2 or 3 pieces together depending on the width of your quilt.

I love finding a backing that matches the front perfectly without trying and that's what happened with the Summer Camp Quilt. I found this awesome floral backing with about the same colors so I went with it. I got enough yardage to sew together to cover the back.

Using regular width fabric (typically 42-44″) gives you a lot more options! Walk into a fabric store and pick anything – just remember to get enough yardage!

If you are taking your quilt to a longarm quilter – keep in mind that they usually like to have at least 6″ extra fabric around each side of the quilt.

A lot of times I will use the same fabric for the backing and the binding. I love how that looks on the Modern Arrows baby quilt above!
Quilt Backing Alternatives
One of my favorite tricks is to use a sheet as the back of my fabric. Sheet sets usually have a flat sheet and a fitted sheet. You may able to get a few quilt backs out of one sheet set, depending on the size of your quilts. I'll usually get either a twin or full sheet set for a throw size quilt.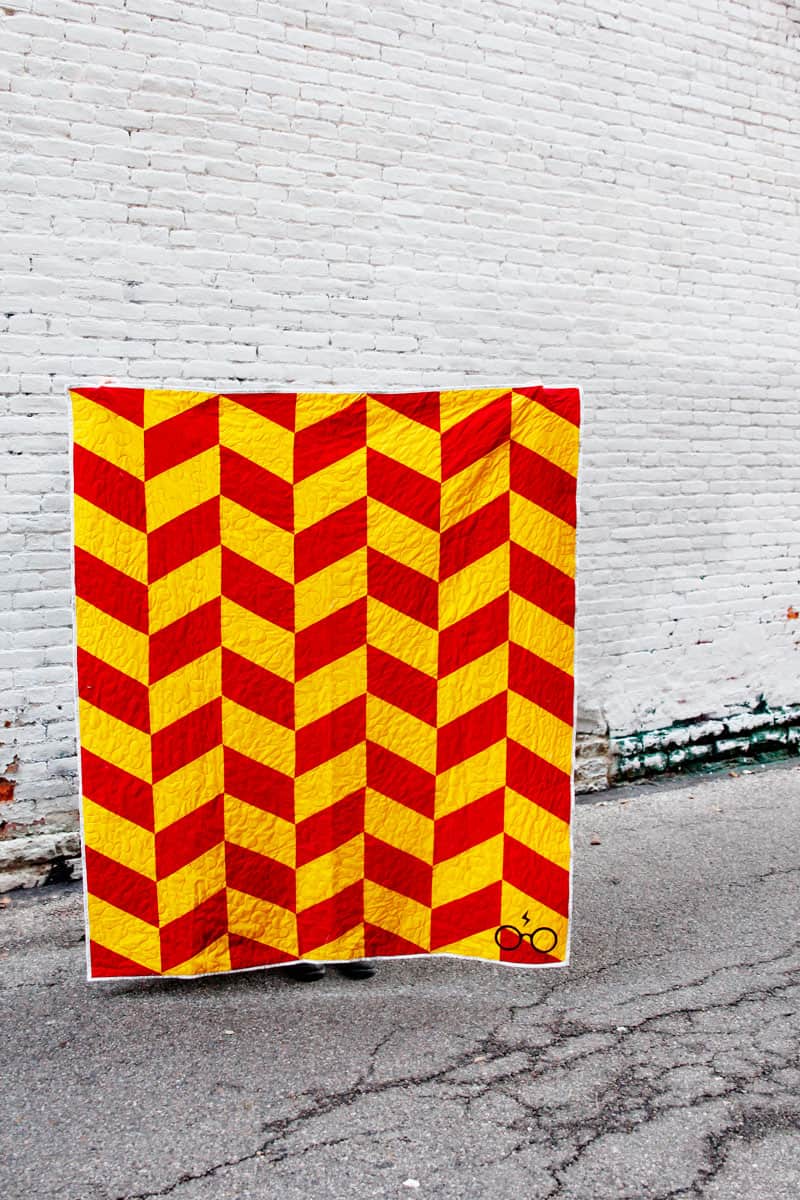 I used a fairly neutral Hogwarts sheet for the back of my son's herringbone Harry Potter quilt!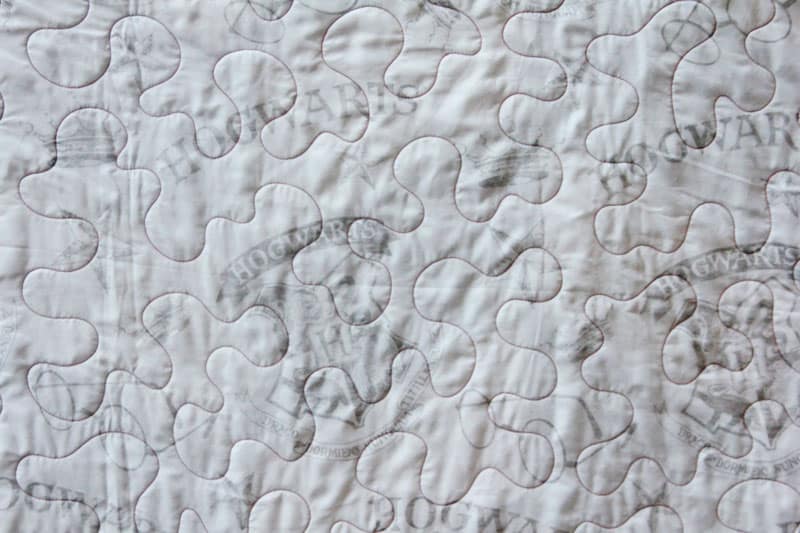 The sheet itself is pretty soft, too, making the quilt extra cozy.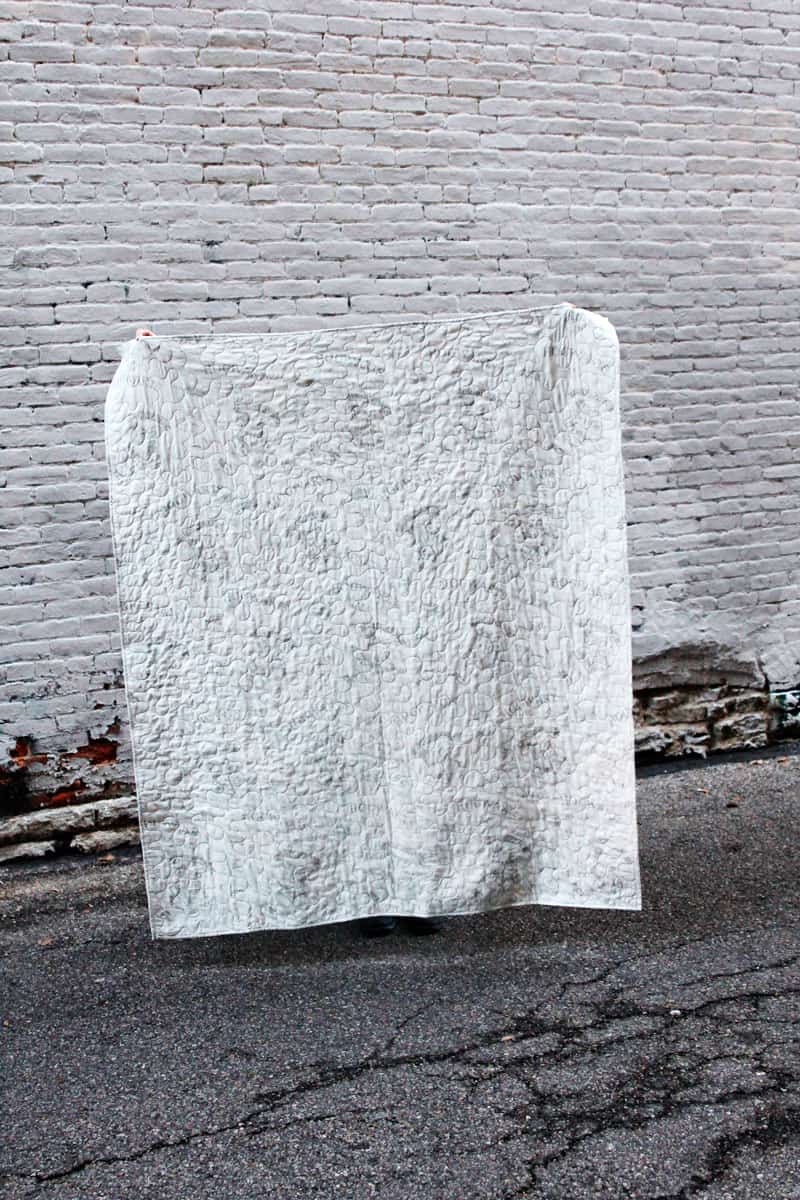 Sheets are a great option since they can be very cheap! I especially love using sheets for kid quilts, since I can pick a cute theme or favorite character. For the back of the Bow Quilt, I used an LOL doll sheet – for the front I used a color palette to match!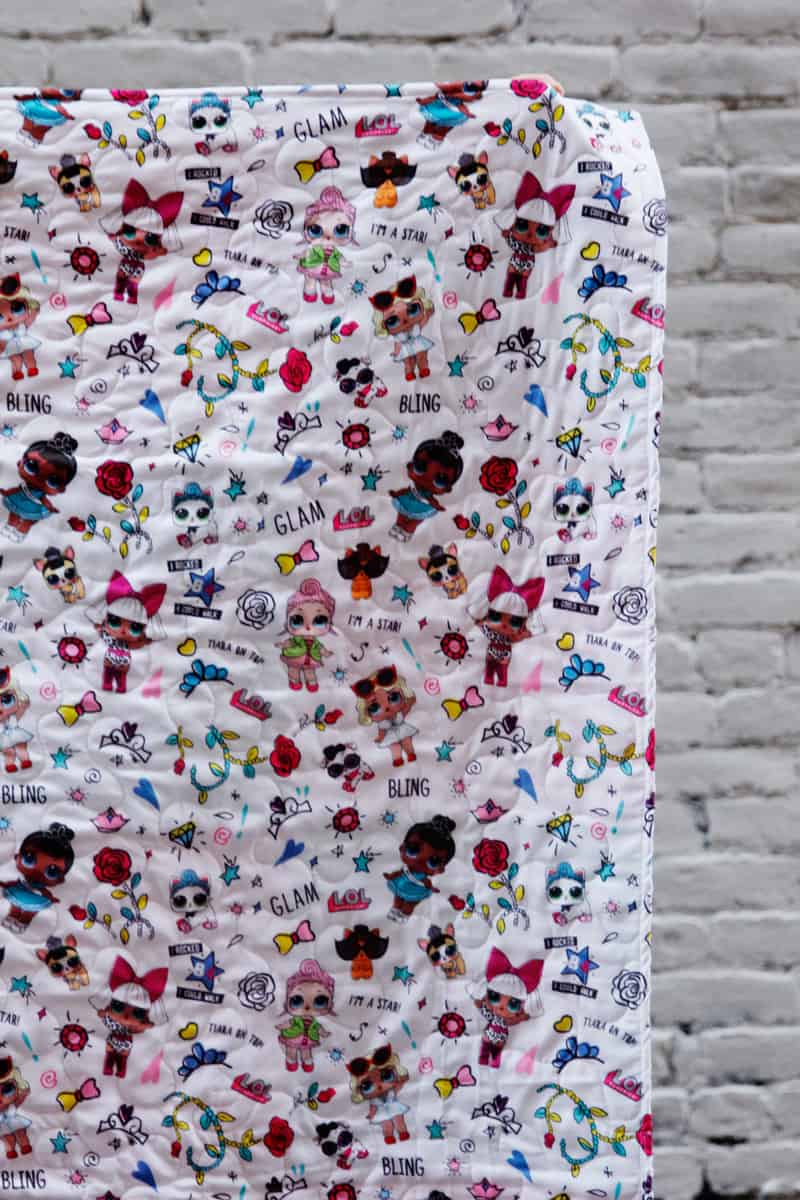 Another option is to check thrift stores for vintage sheets.
I hope this post helps you find the perfect backing for your quilt! What is your favorite way to back a quilt?
More Quilt Posts