David and Alexis is a super quick last-minute couples costume that you can throw together easily! This David and Alexis halloween costume is great for Schitt's Creek fans and will make a statement!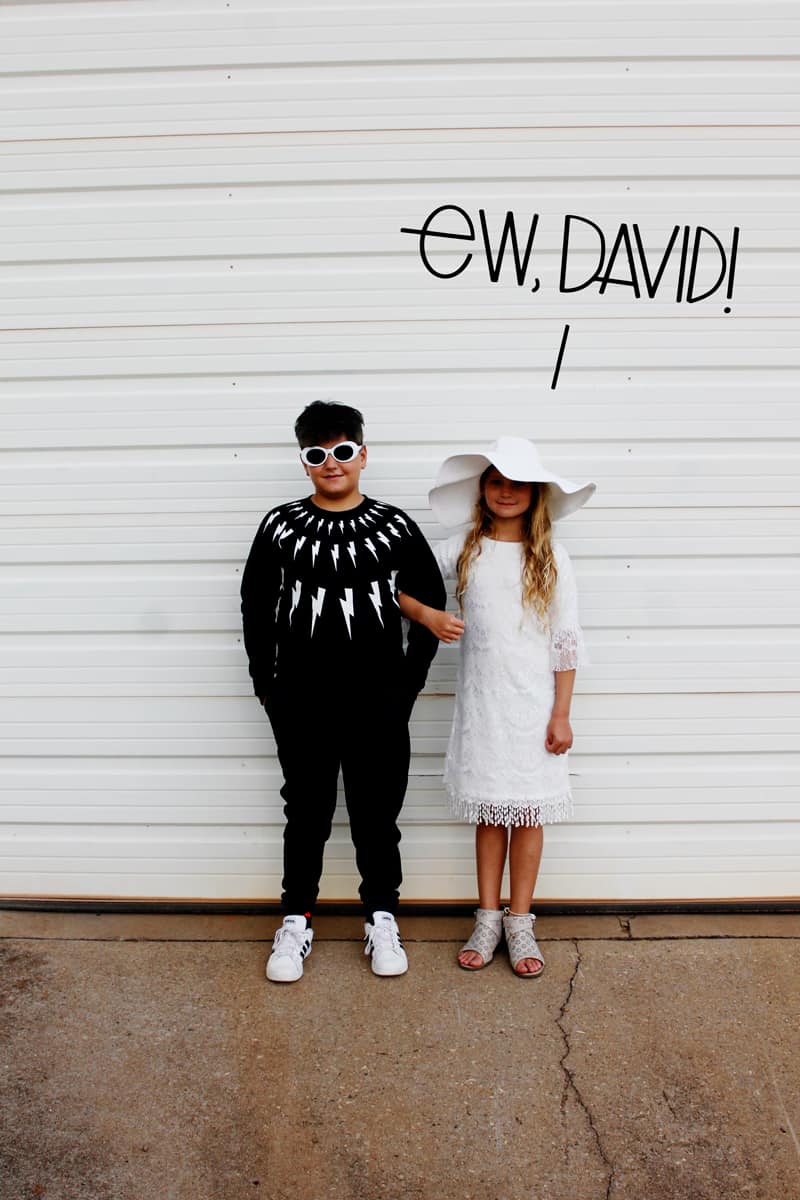 If you haven't watched Schitt's Creek yet, it is one of my favorite shows! So funny and full of great fashion.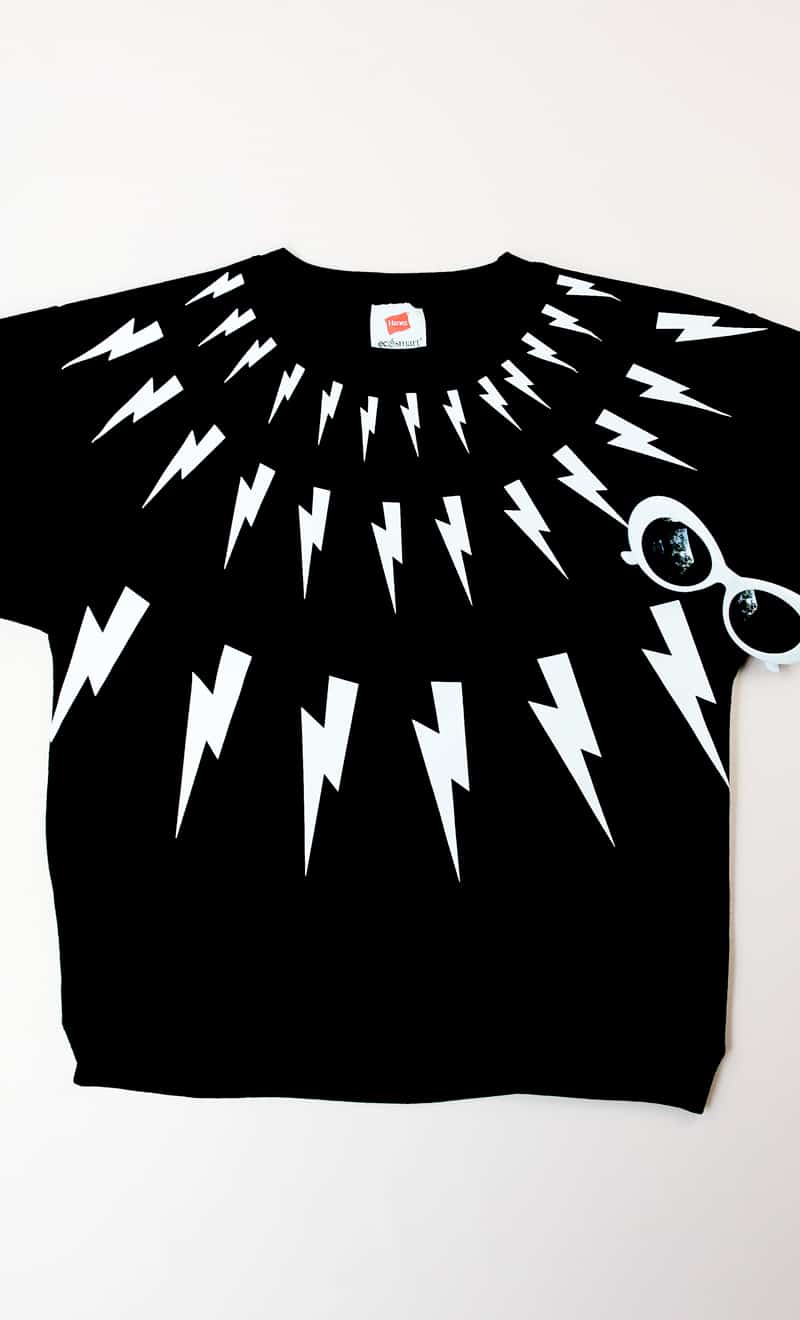 My kids are always reminding me of David and Alexis when they are fighting in the back of the car, so it just made sense to use them as models for this family costume! The pieces of the outfits are great for everyday wear, too, so you can use this costume after Halloween – that is my favorite kind of costume! I DIY'ed the lightning bolt sweatshirt and the dress and added the accessories!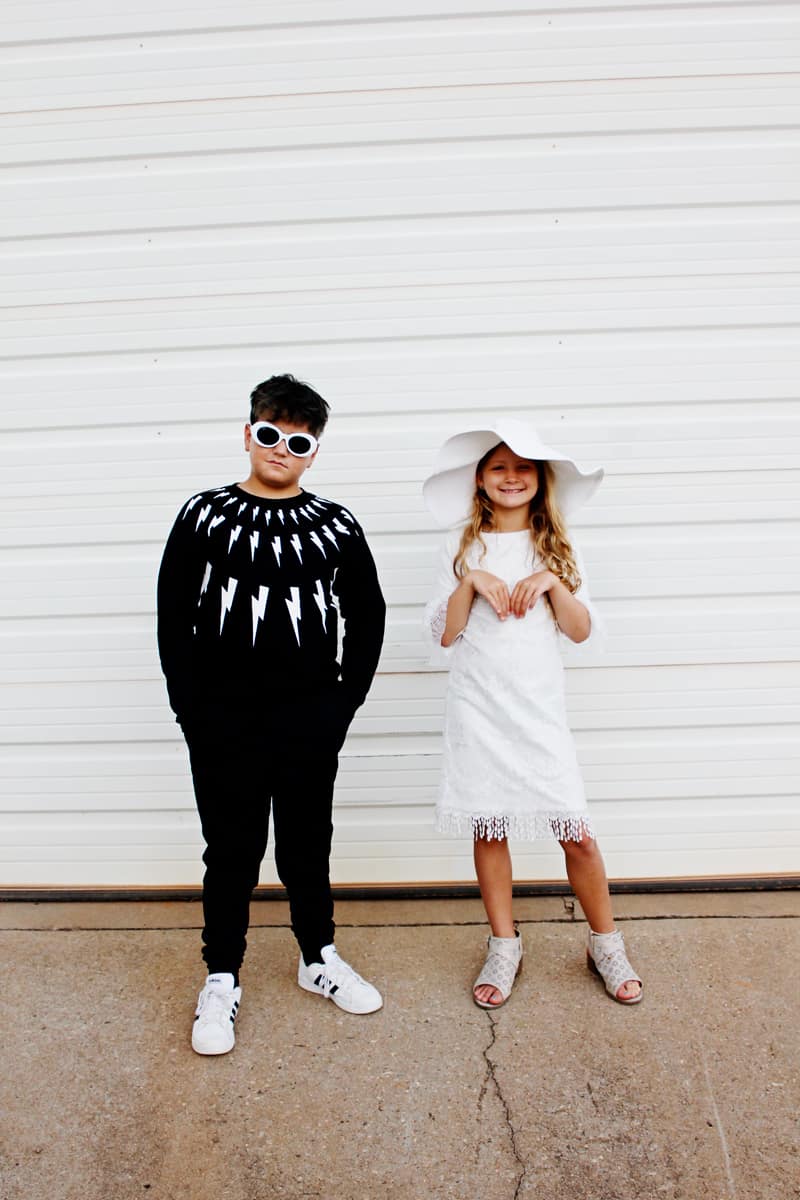 David Rose Halloween Costume DIY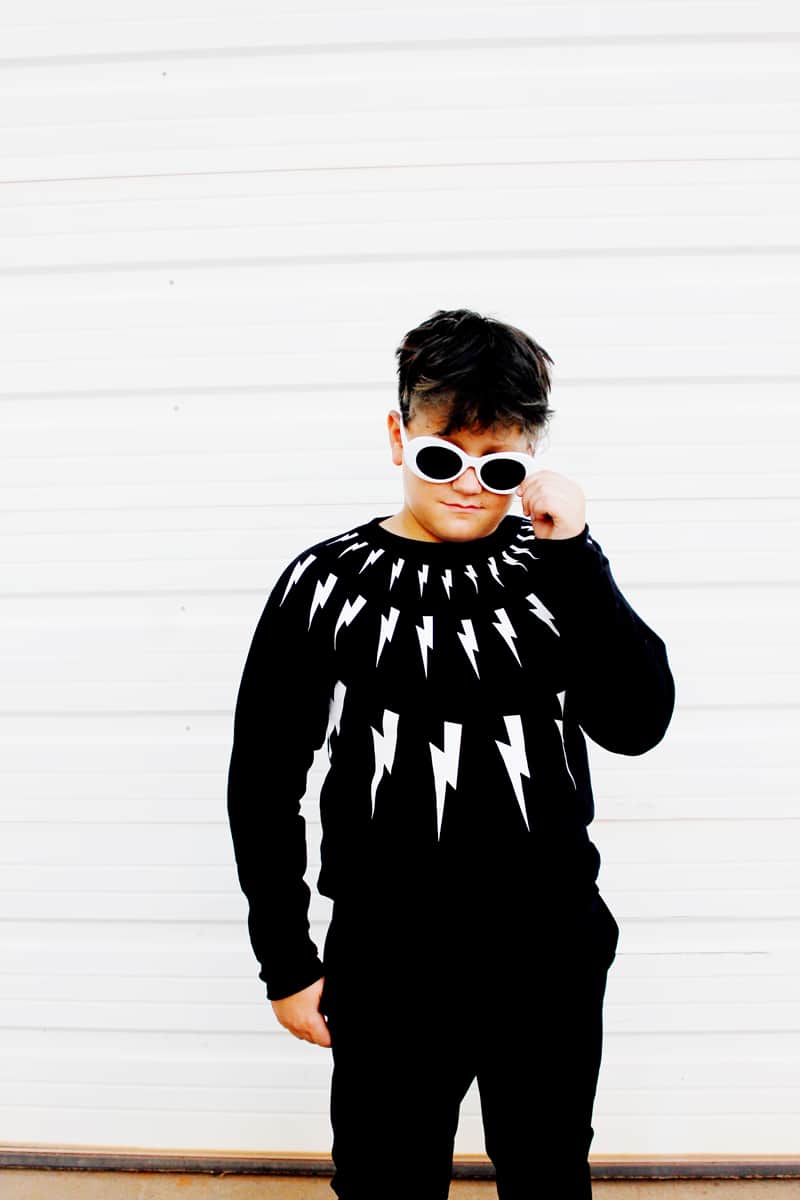 David Rose's wardrobe is amazing! It's mostly black and white pieces including a graphic tees and florals. I think his Lightening Bolt Sweatshirt is the most iconic so I recreated that for this costume.
Schitt's Creek Lightning Bolt Sweatshirt DIY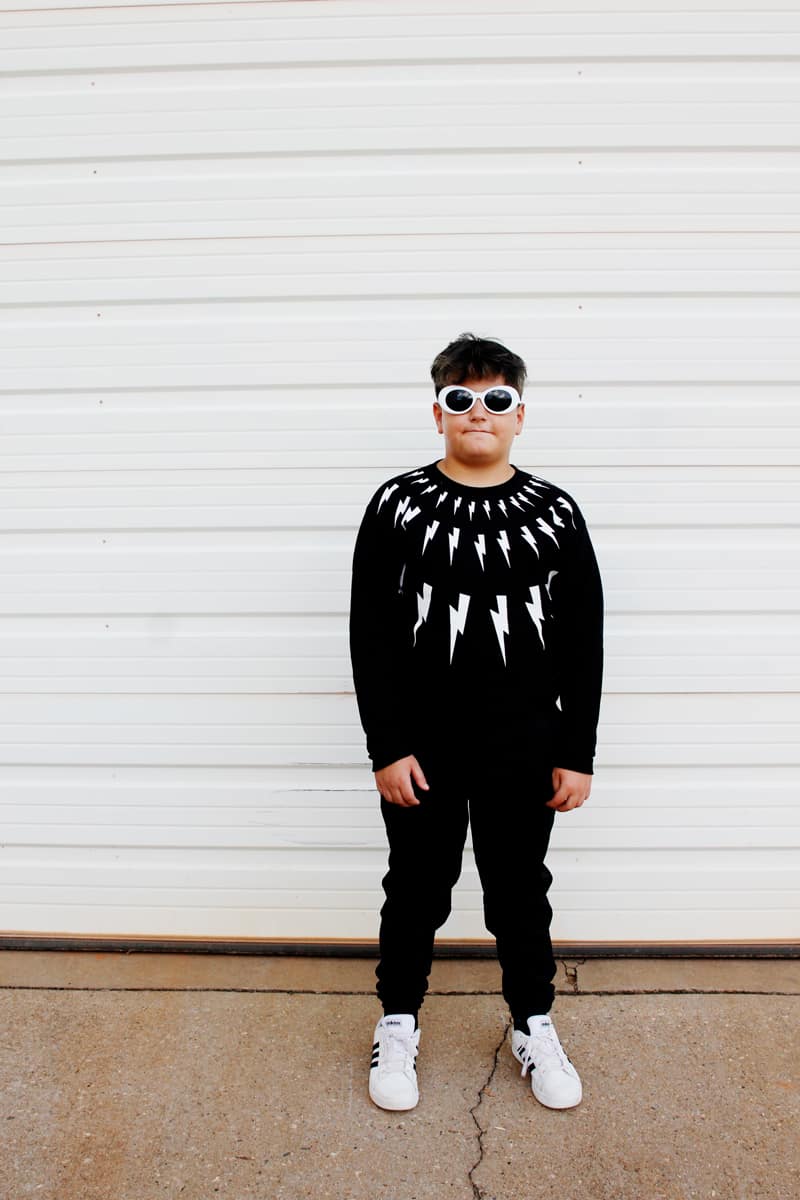 This is a simple iron-on vinyl project. You don't even need a cutting machine to replicate this since the lightning bolt is so easy to cut out with scissors. Print out the template or upload the SVG into your cutting machine software and cut out a bunch of them.
Lightning Bolt SVG file
Sign up for the email newsletter and you'll get an email with a link to download the file! It's called Lightning Bolts. Print it from your printer if you want to cut by hand.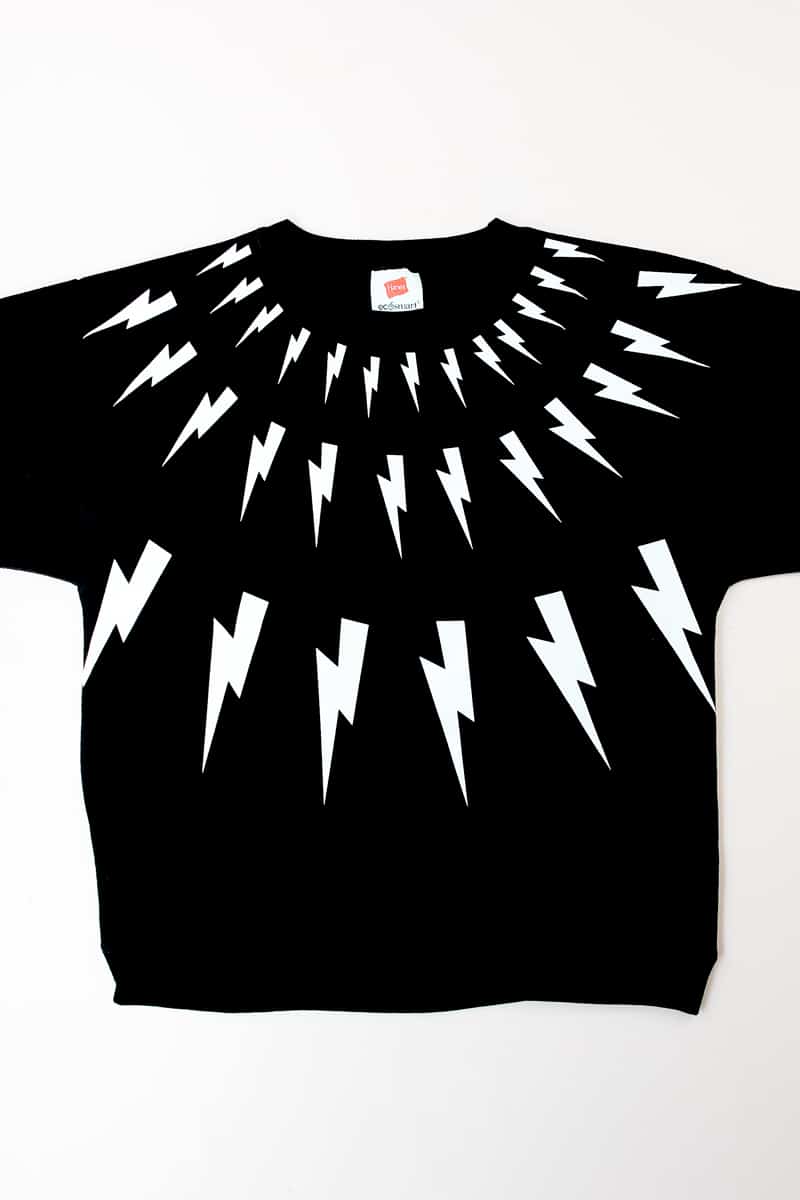 Using white iron-on vinyl, cut out about 14 small lightning bolts, 13 medium lightning bolts and 6 large lightning bolts.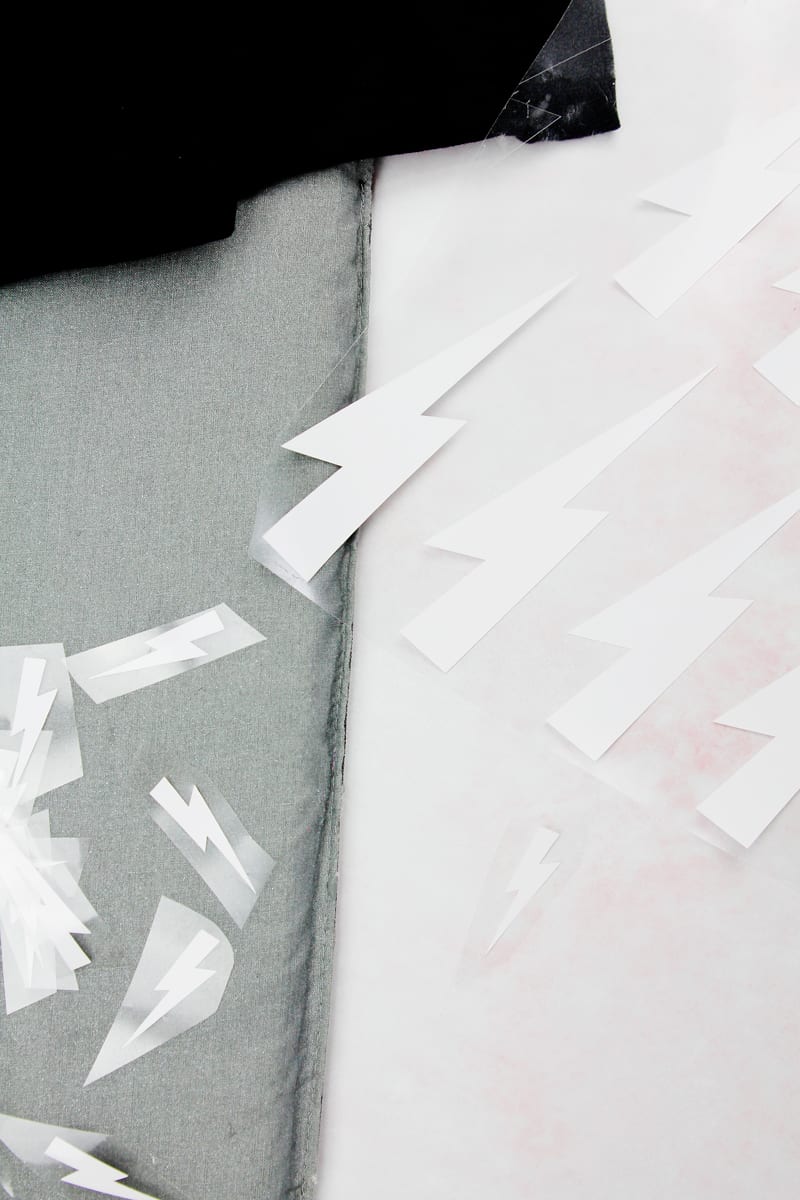 If you are using a cutting machine such as a Cricut to cut the lightning bolts out, use scissors to separate the bolts from each other. This will allow you to place them around the neckline.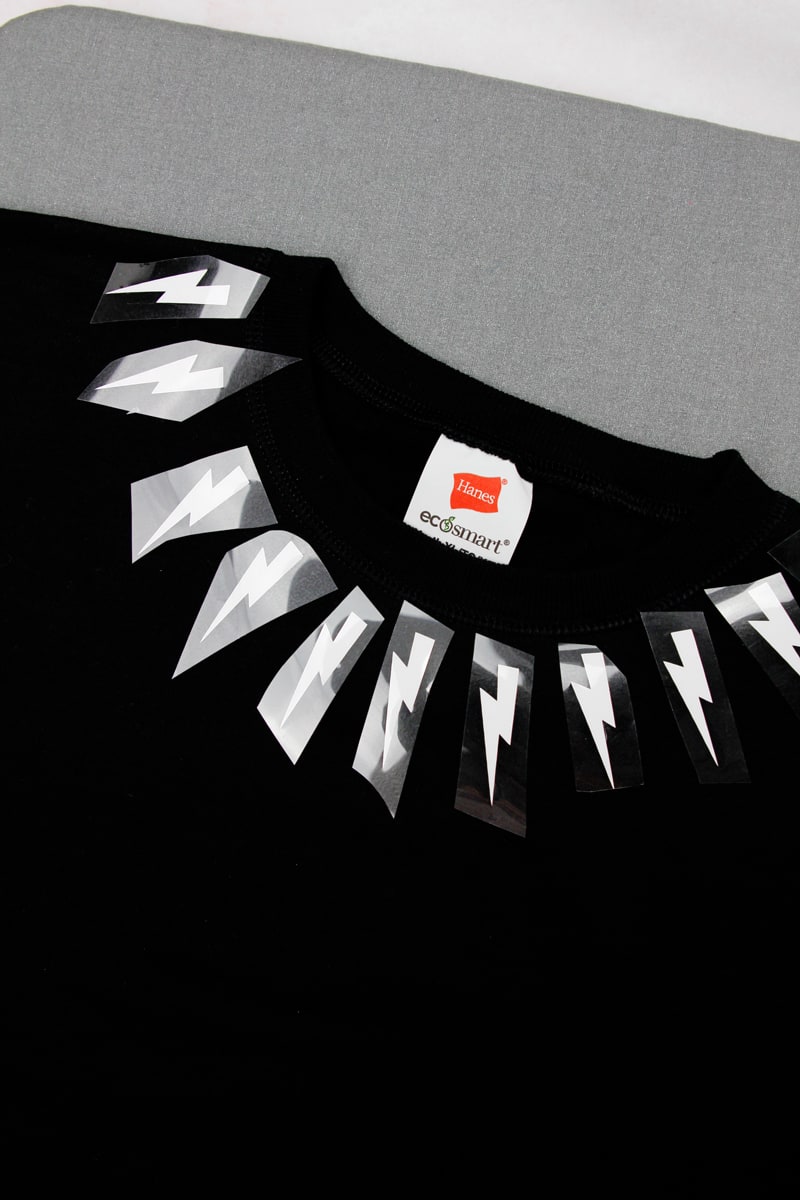 Line up the first row of lightning bolts, the small ones, around the sweatshirt neckline, fanning out. They should be about 1/4″-1/2″ below the neckline and about 3/4″ apart. Use the EasyPress or iron to apply heat.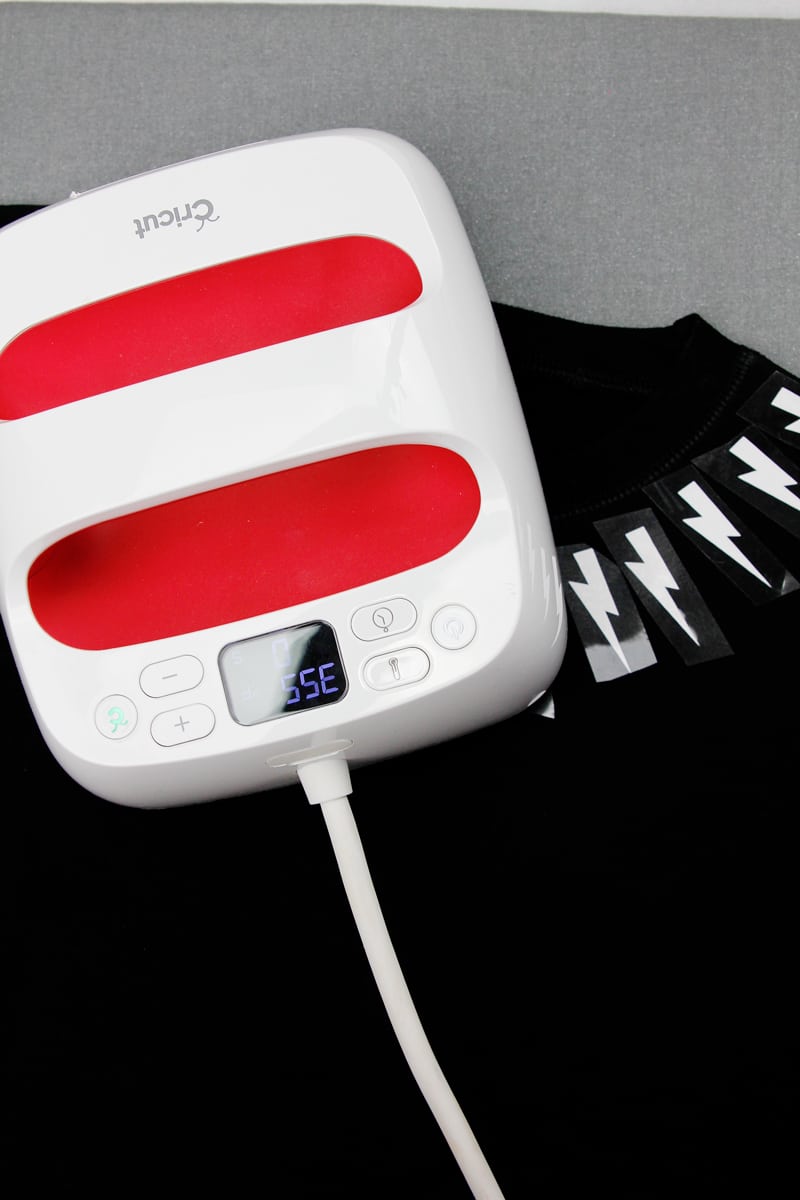 Peel off the plastic and then start the second row with the medium size lightning bolts. Put the bolts about an inch below the first row. You'll want to place the second row in line with the space between two bolts in the first row.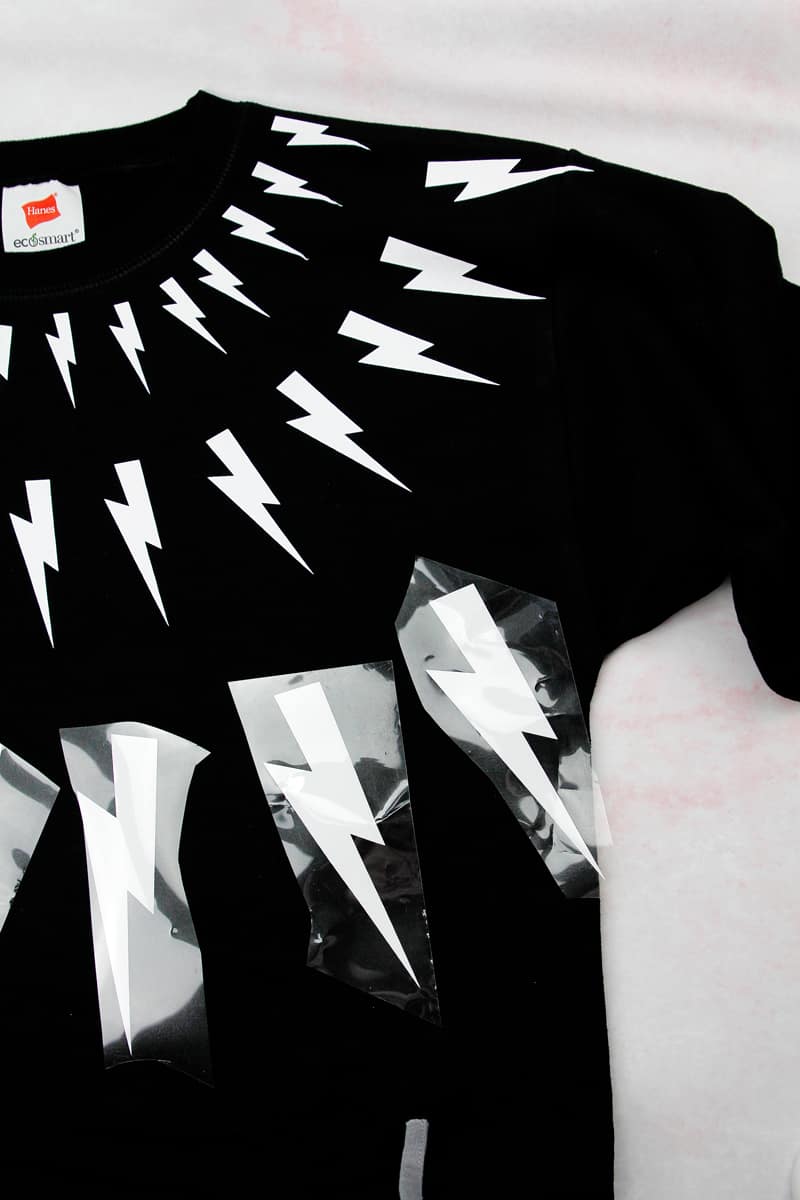 Then finally add the third row. You will only need a few of these and the two on the sides of the sweatshirt spill over a little bit. Trim the excess lightning bolt off or wrap it around the back of the sweatshirt.
All you need to add to this David Rose costume is mod glasses and black pants – so easy!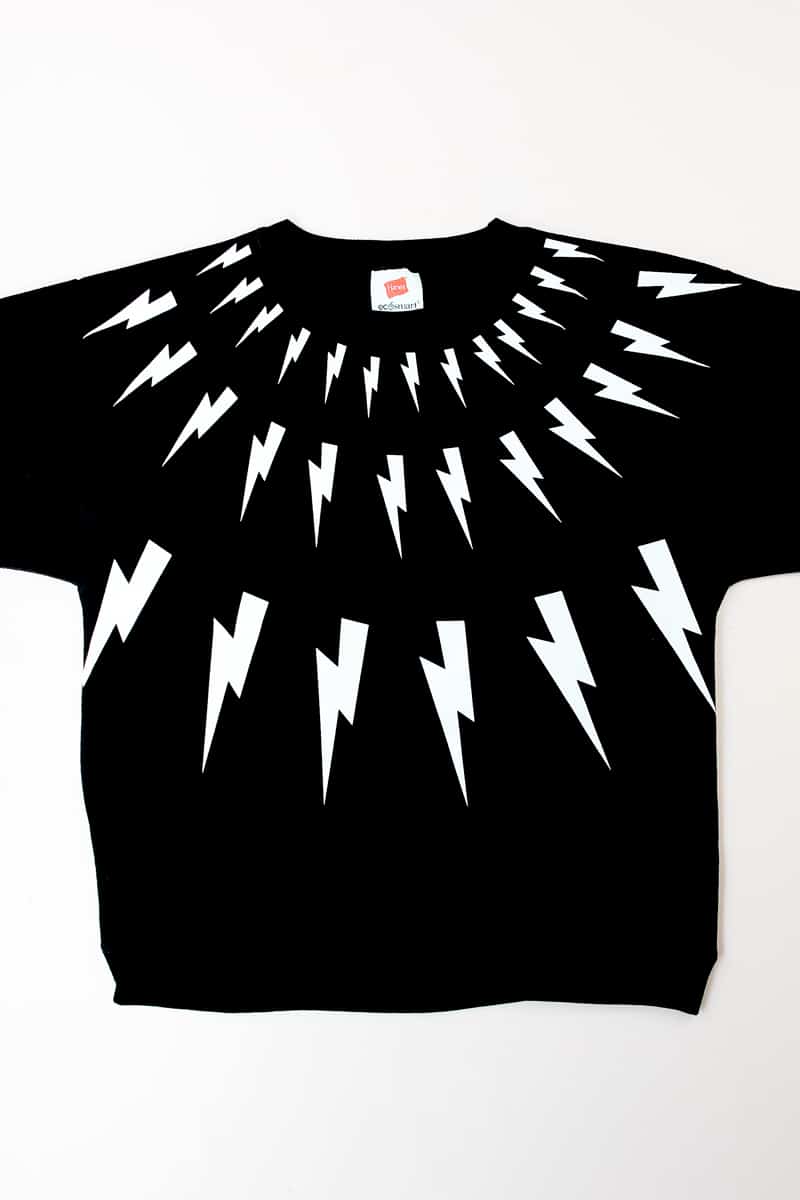 Alexis Schitt's Creek Costume
This quick David and Alexis halloween costume is the perfect last minute couple's costume! Fans will know instantly who you are!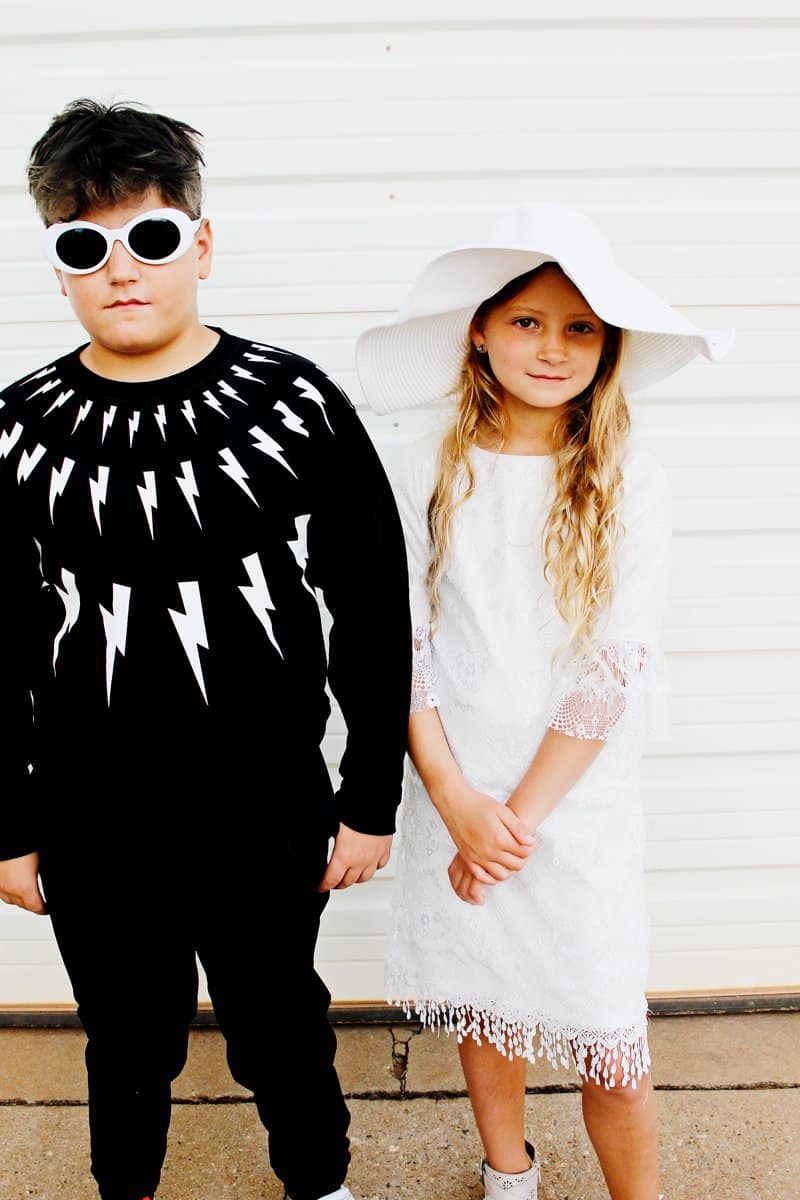 I sewed this lace dress using the Sophie Shift Dress Pattern with a lace overlay. Any boho looking dress can be used for this costume, which makes it so easy to put together!
The Rachel (women's) and Emma (girls) dress patterns also make a cute boho style dress that is easy to sew.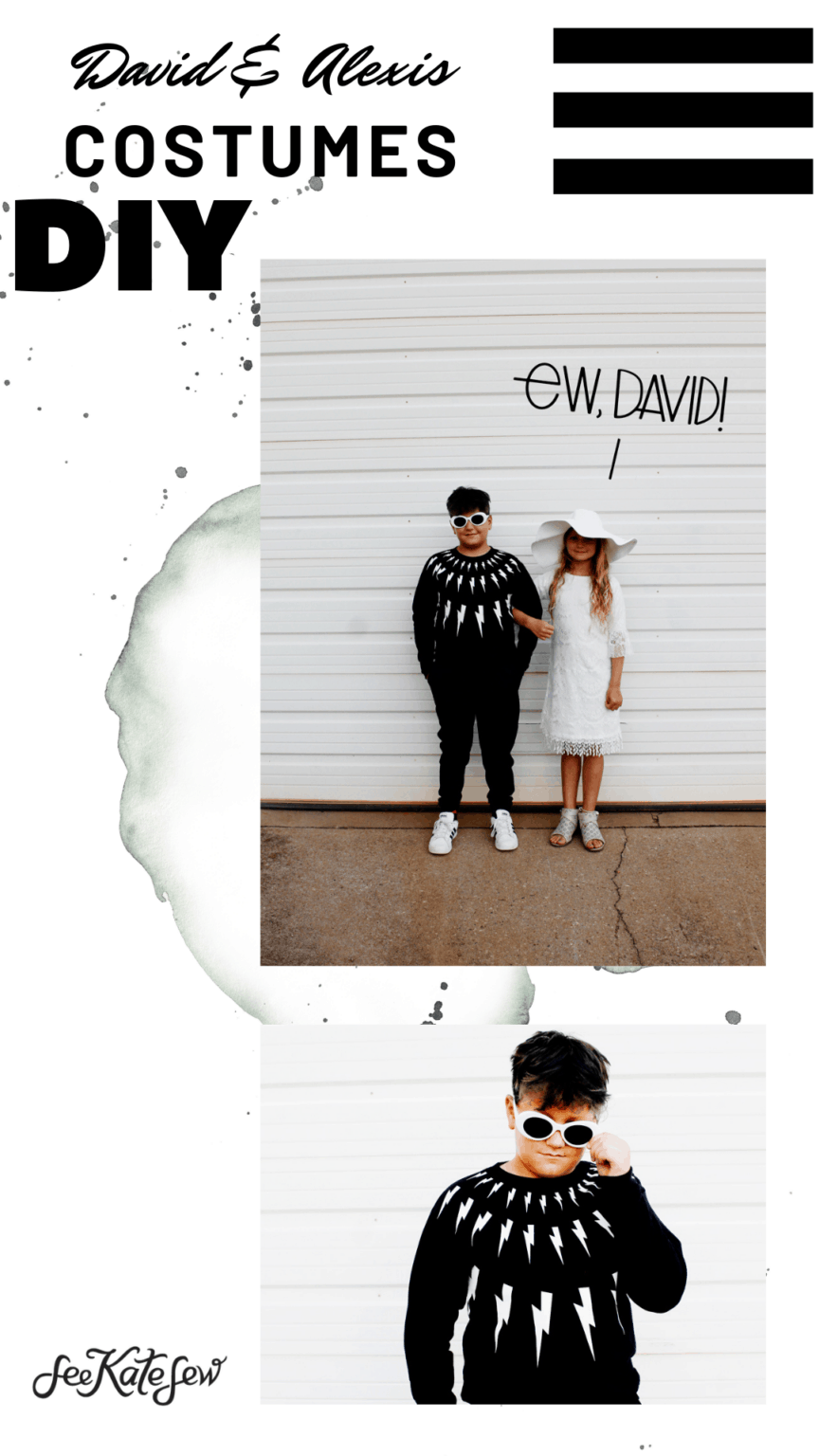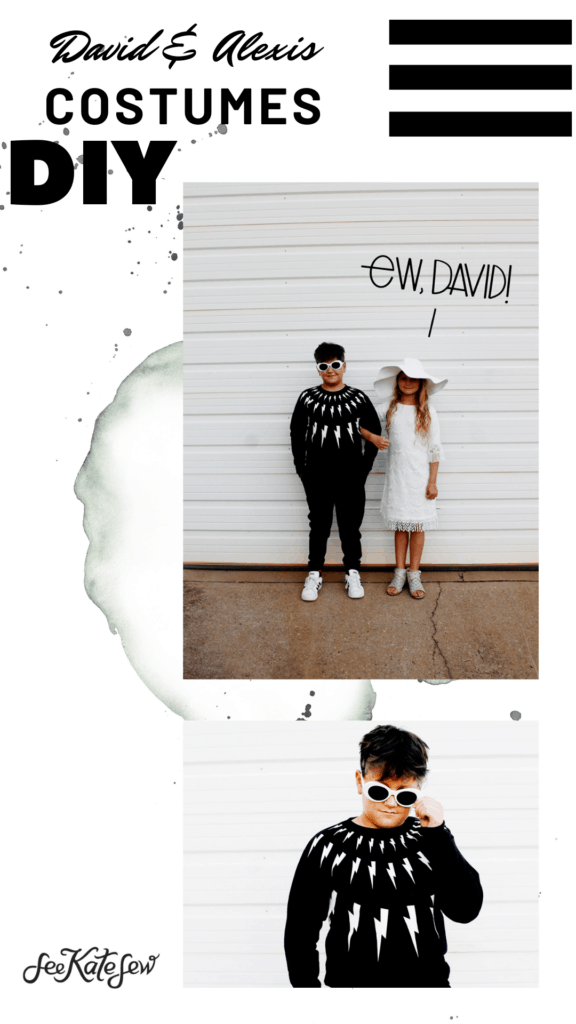 Schitt's Creek Halloween Dresses
Here are a few options for boho dresses to buy that look like something Alexis would wear. These are all under $50 (some less) and are cute for wearing after Halloween!
More DIY Halloween Costumes