If you're putting together a Harry Potter group costume you may need an easy DIY Dobby Costume! This tutorial has you covered with a Dobby dress tutorial and printable ear patterns for a headband or bonnet. This house elf costume is easy to make and so cute!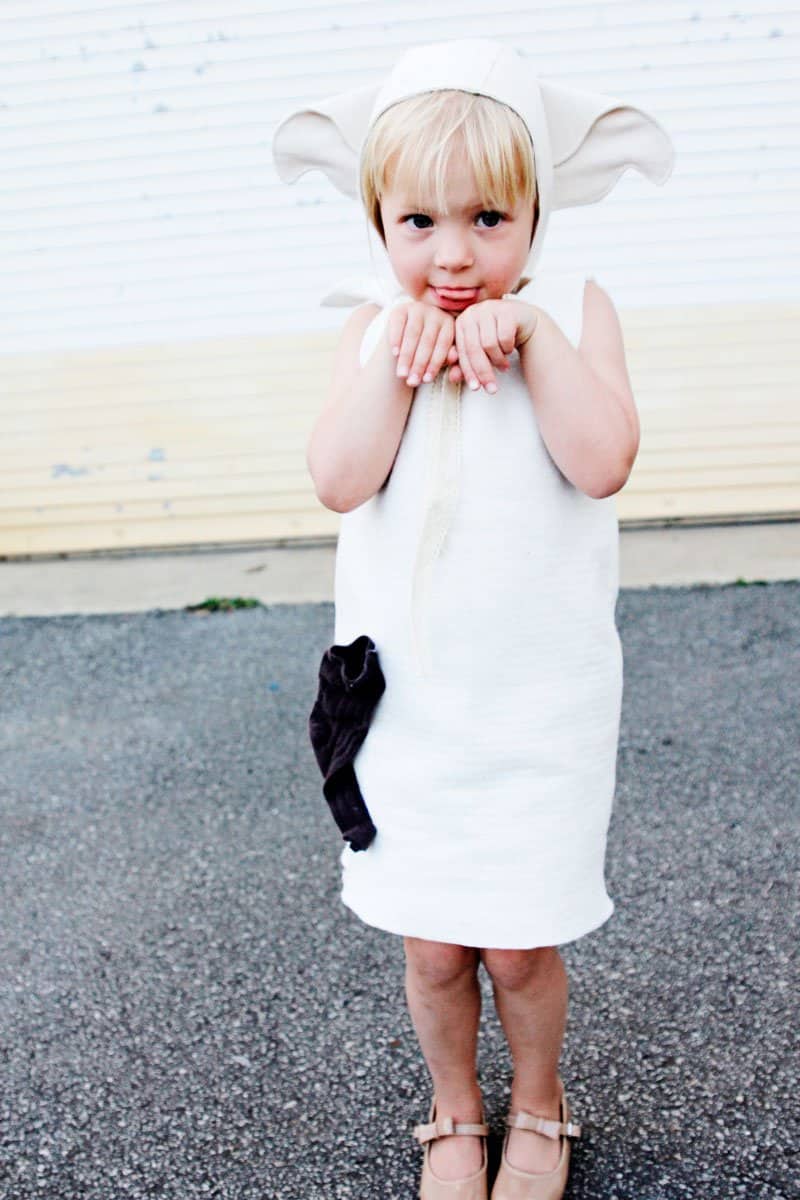 I think everyone loves Dobby even though he's sneaky! We added a spare sock to the side of the Dobby dress – this Dobby has been freed!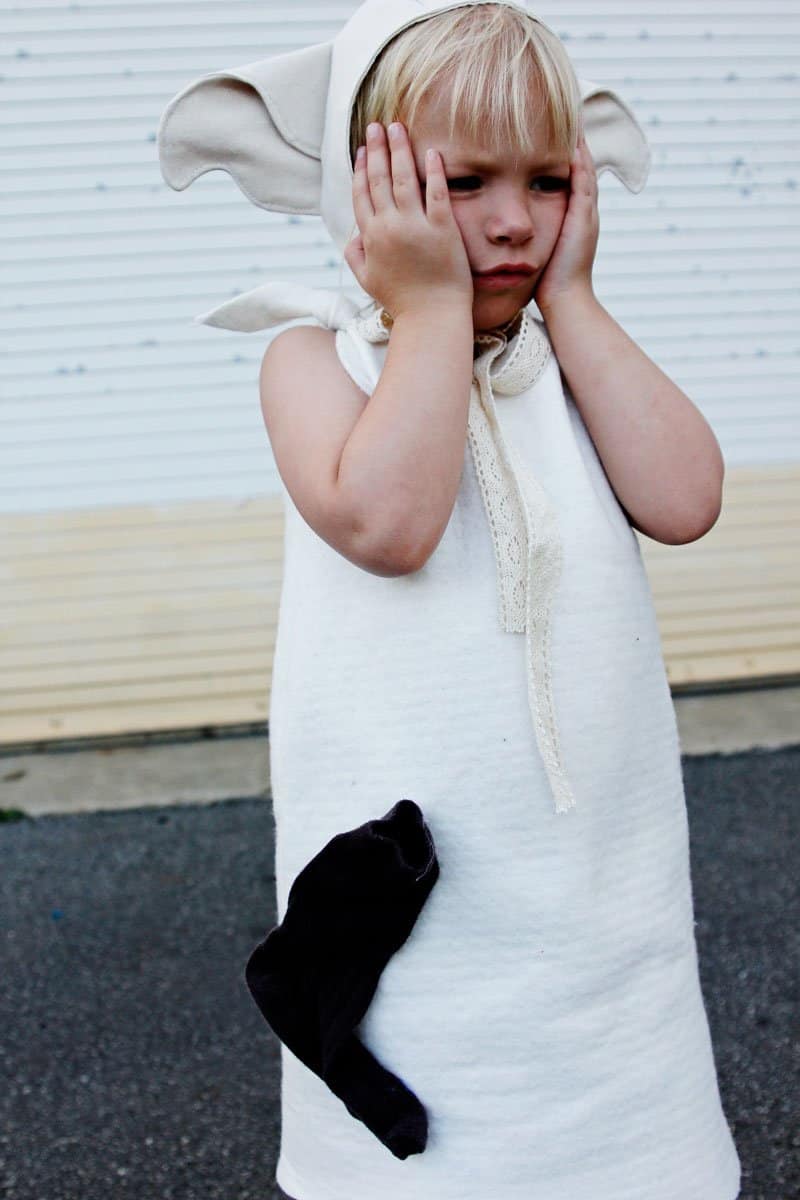 If you are looking for more Harry Potter costumes, check out this easy fleece HP robe pattern! And see the Hedwig Snowy Owl Costume post here.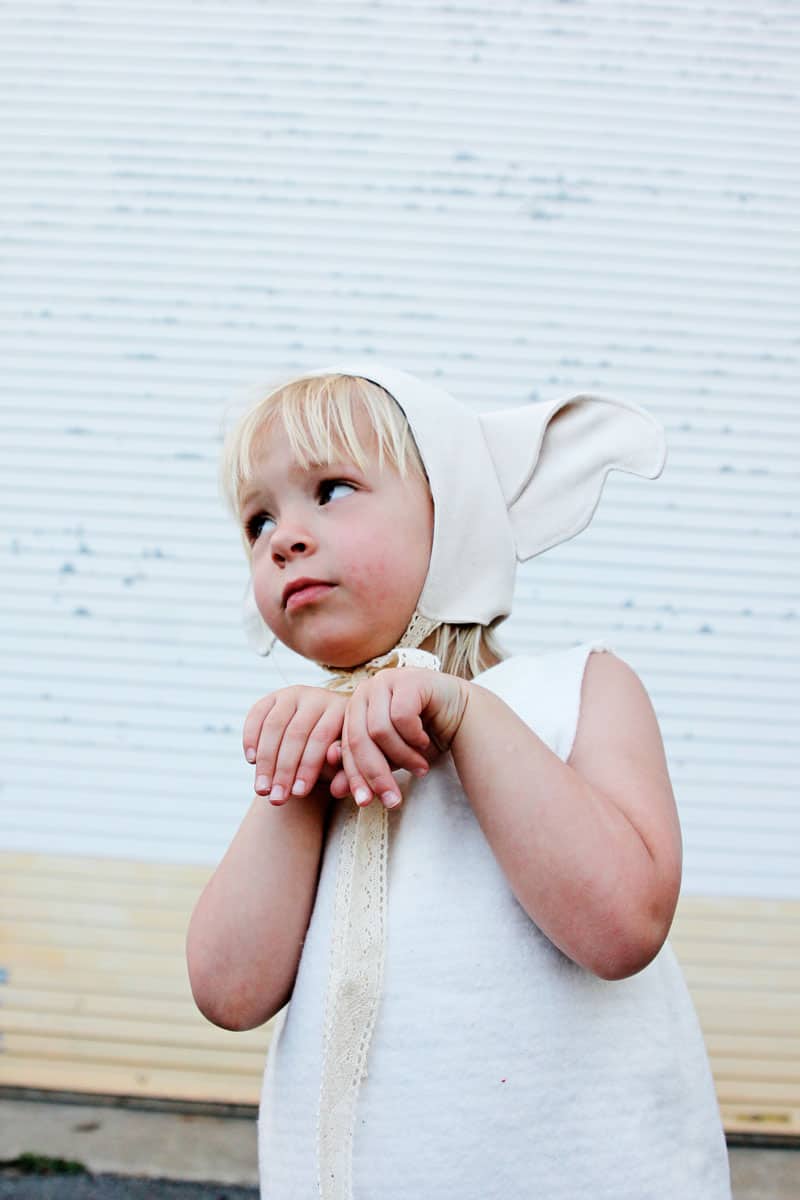 Dobby and Harry Potter can also make a great couples costume or sibling costume!
DIY Dobby Costume
This tutorial works for any size Dobby including baby and toddler. Make Dobby a part of your Halloween or dress up box! This homemade Dobby costume is simple to make. The dress doesn't even require sewing! Just glue a sock on the house elf's costume to finish it off!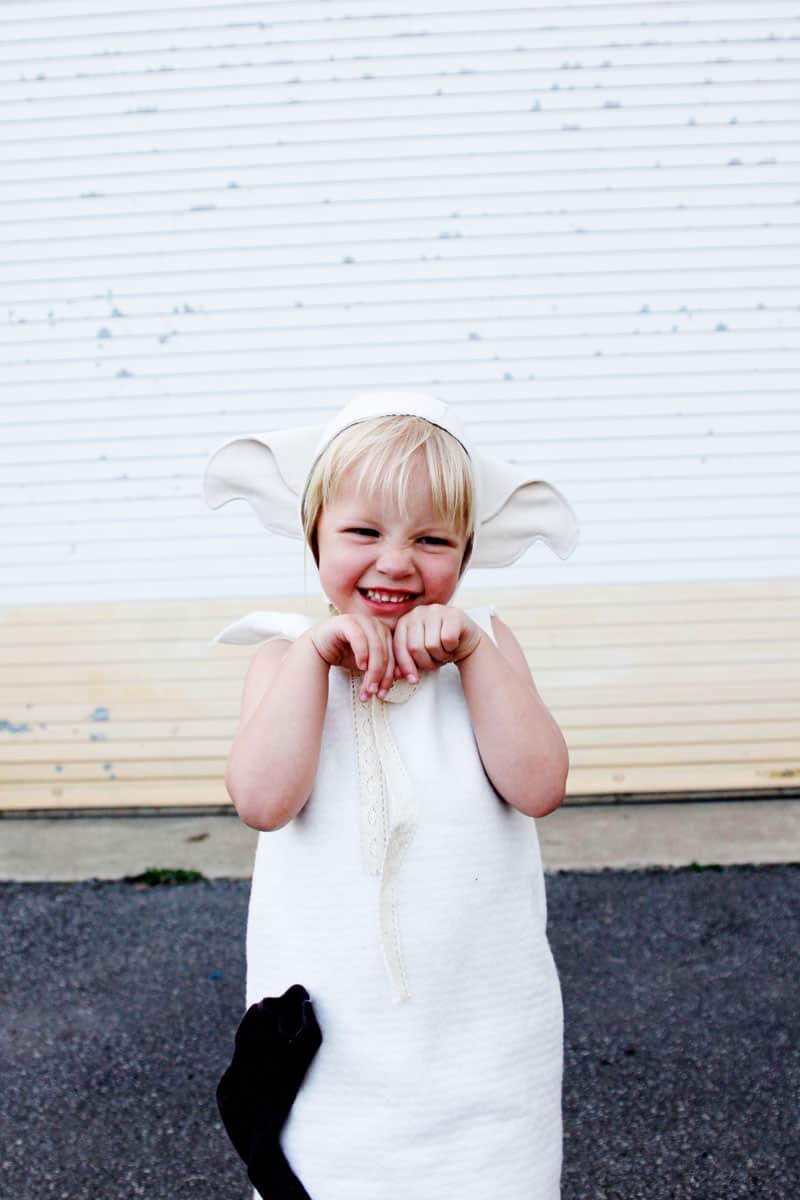 Dobby Harry Potter Costume Supplies
Printable Dobby ears template, see Ears Template below
Printable Dobby Dress, see House Elf Dress Template below
Headband blank (affiliate links) (if creating headband)
Baby bonnet pattern, baby to 2-3Y (if creating bonnet)
Beige fabric for bonnet, I'm using a midweight canvas
Fusible interfacing or felt as stabilizer for the ears
Beige or similar fabric for dress (or use a sheet)

Use cotton or fleece depending on your weather
Pick a knit fabric (such as fleece, or jersey) if you don't want to finish the edges of the outfit
Shown in photos is quilt batting fabric which worked well for this project and didn't need edge finishing

Spare sock
Hot glue gun
This is a simple wrap dress so it may be best worn over a tank and shorts.
Dobby Costume Fabrics
The Dobby Costume is basically a wrap. I recommend using a fabric that doesn't fray such as a knit or fleece. You can even use leftover quilt batting. Since this the house elf costume looks like a worn dress, so see what you can recycle before hitting the fabric store!
If you are using a woven fabric, cotton muslin in a good choice that you can find at many fabric stores. It's inexpensive and a nice color for a Dobby dress!
Fray check is a simple solution to fabrics that are prone to fraying. Just apply a small amount to any raw edges of the fabric and allow to dry before sewing. This will extend the life of your costume so you can add it to your dress-up box later!
House Elf Dress Template
You can download my elf dress template for toddler size, for about ages 2-5. If you are making a different size, use the costume instructions below to create your own similar pattern!
Print the pattern at 100% or DO NOT SCALE. The pattern will print out on 4 pages. Trim them at the dashed lines and tape together as shown below.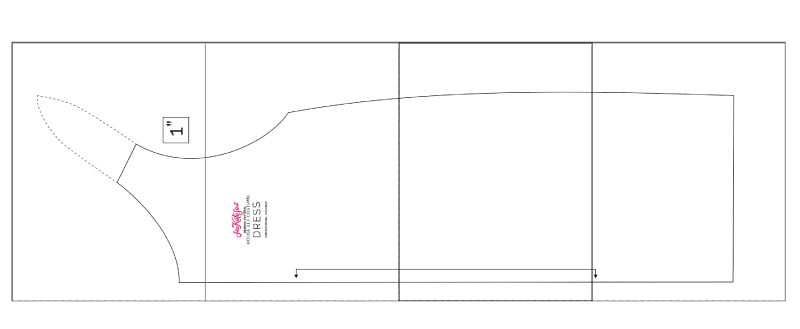 Make your own Dobby Costume Template
Use an item of clothing that fits you costume wearer to create your own pattern. These instructions will allow you to make this costume in any size!
This DIY Dobby Costume for baby or kids can be easily adapted to an adult costume. Just purchase more yardage of fabric or a sheet to create the same style wrap in your size.
To make this simple sack dress, use either a shift style dress or a t-shirt as a template. Lay your fabric down and then place the garment on top.
Cut around the garment to make simple pattern pieces that look like the template below. This is a sleeveless tank style dress with one side of the tank strap that ties at the top.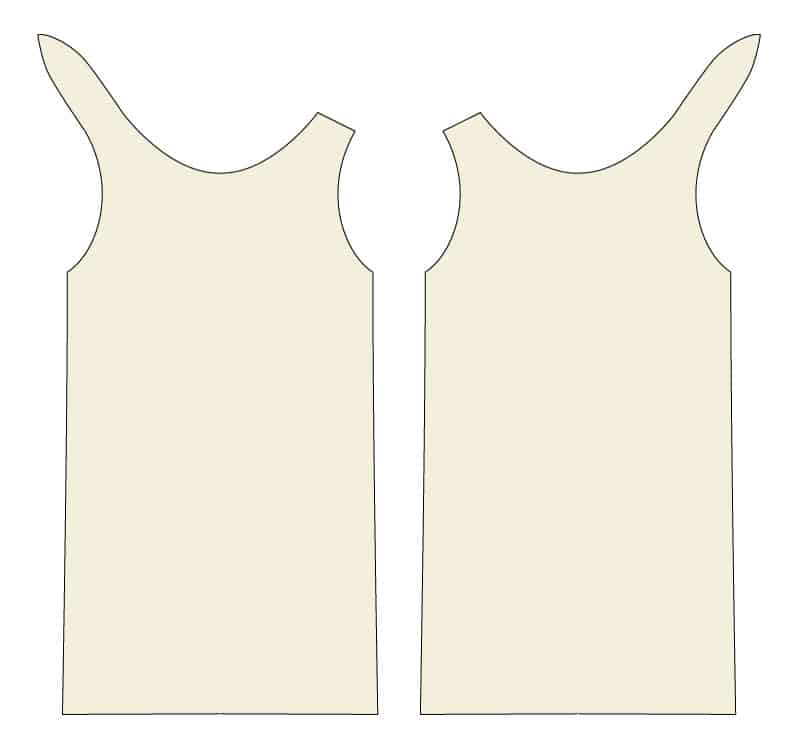 Child Dobby Costume Instructions
Lay the pieces together with right sides together (if applicable). You can either use hot glue or a sewing machine to attach the two side seams and tank shoulder seam. Do not sew the shoulder seam with the tie.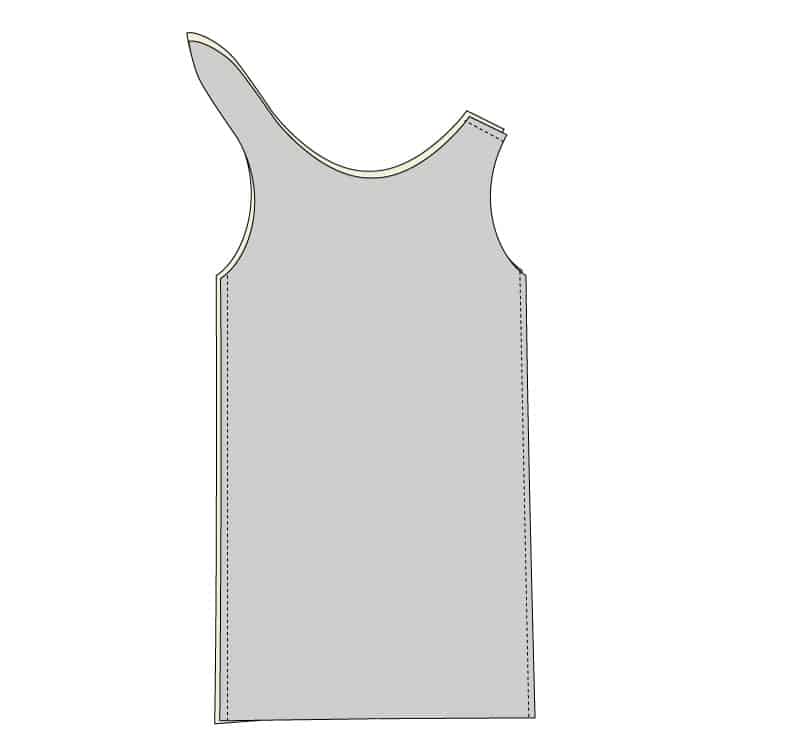 Turn the dress right side out and then tie the ties into a little knot or bow on the other shoulder.
If you want, you can cut the hem after assembly to make it asymmetrical. That will make it a little sloppier, and a little Dobby-ier!
When you're finished, hot glue a spare sock to the costume for a little extra touch!
Dobby Elf Costume Ears Template
The Dobby bonnet is perfect for a baby Dobby costume because it will stay on! The Classic Bonnet pattern is available in my shop and fits most kids from newborn to 2/3.
The bonnet pattern is the base of the house elf ear hat, but you can download the ear pattern printable below and add it to a headband if you prefer.
Dobby Elf Hat Sewing Instructions
Use the template to cut out 2 fabric layers and 1 interfacing (or felt) layer for each elf ear. If your fabric is one-sided be sure each ear has one ear piece cut with the template facing up and one with the template facing down. Or fold the fabric before cutting two layers at a time to make sure you have two pieces mirror-facing.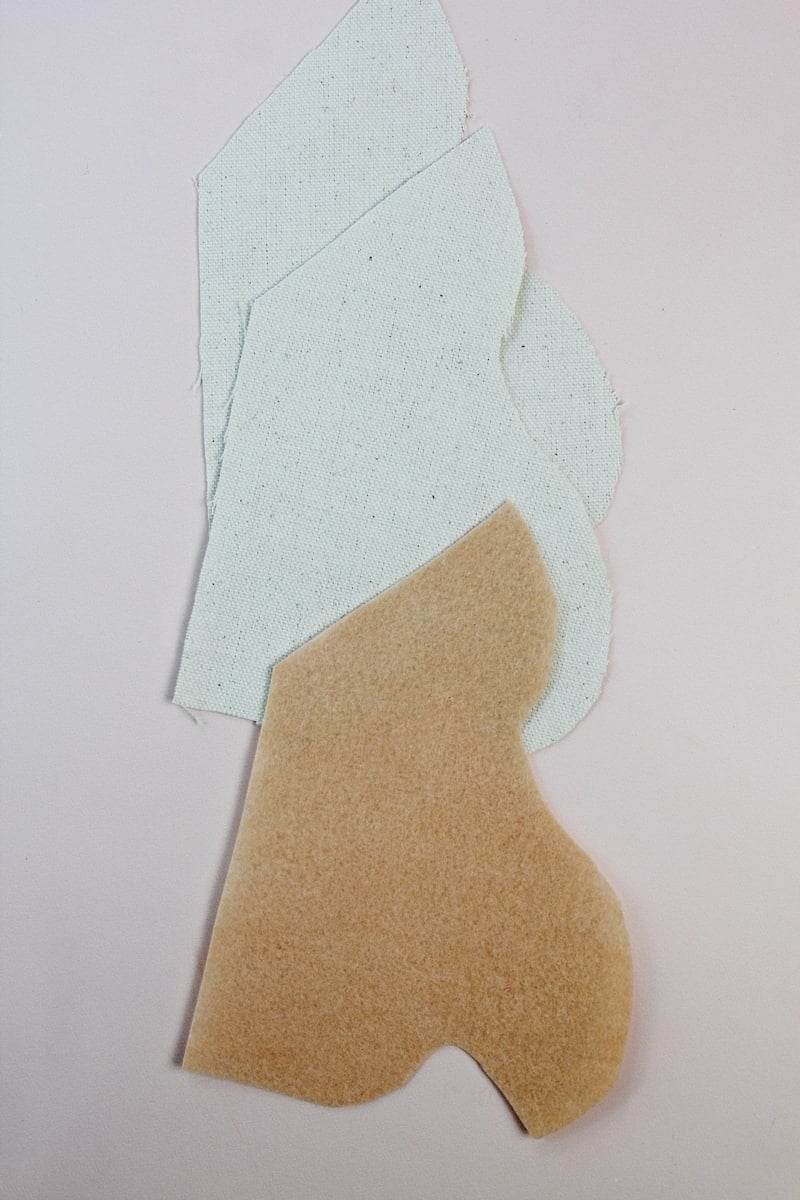 I used a sturdy felt for the ears which make them stick out nicely like Dobby's. This is from a Cricut felt pack. Pin the felt to the back of one fabric piece.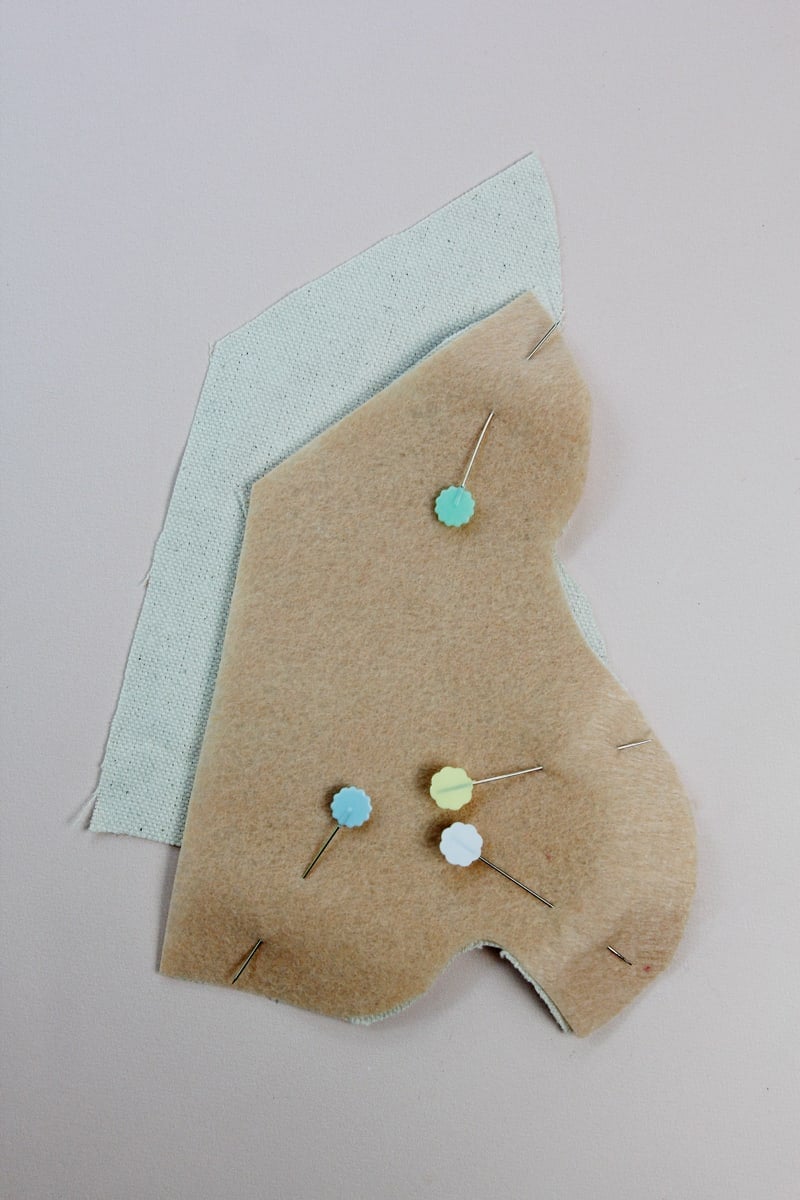 Lay the second fabric piece right sides facing to the first piece. The felt will be at the top of the stack. After it is sewn, the felt will be inside the two layers of fabric.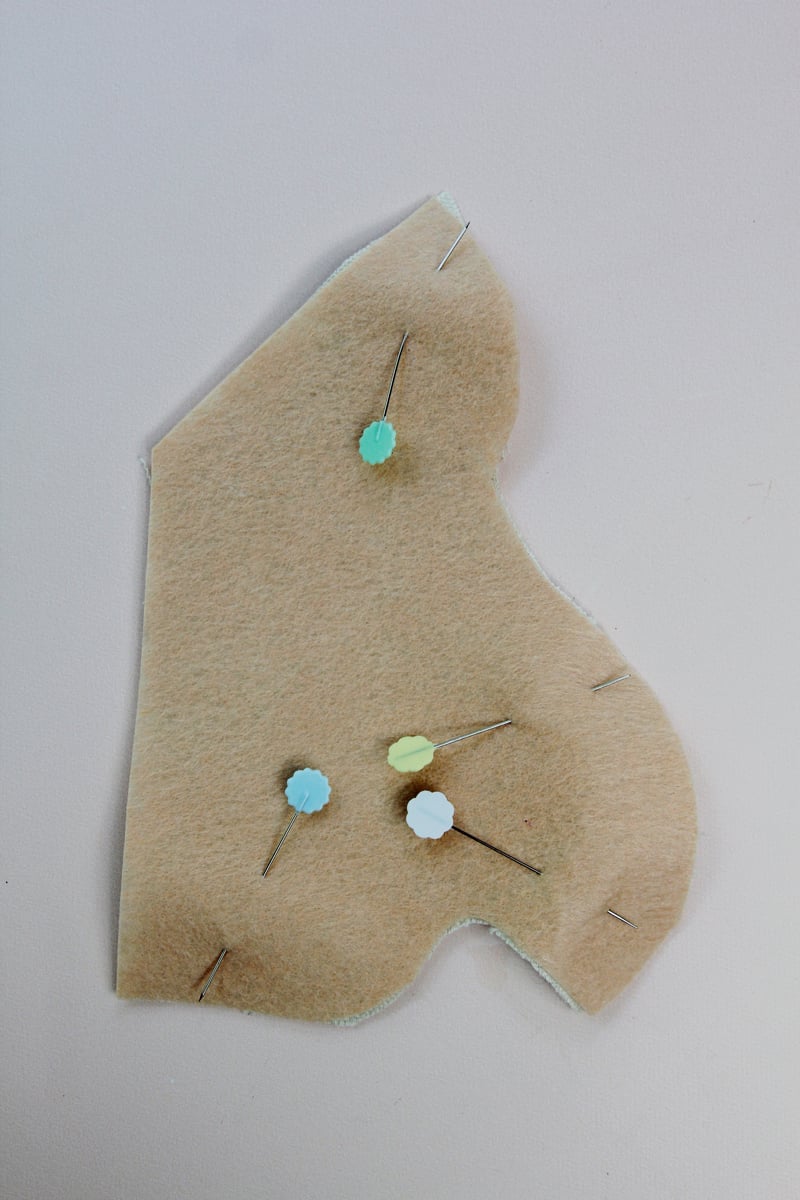 Sew around the ear with a 1/4″ seam allowance, leaving the straight and angled edges open. Backstitch at the beginning and end of your stitching so the threads don't fall out.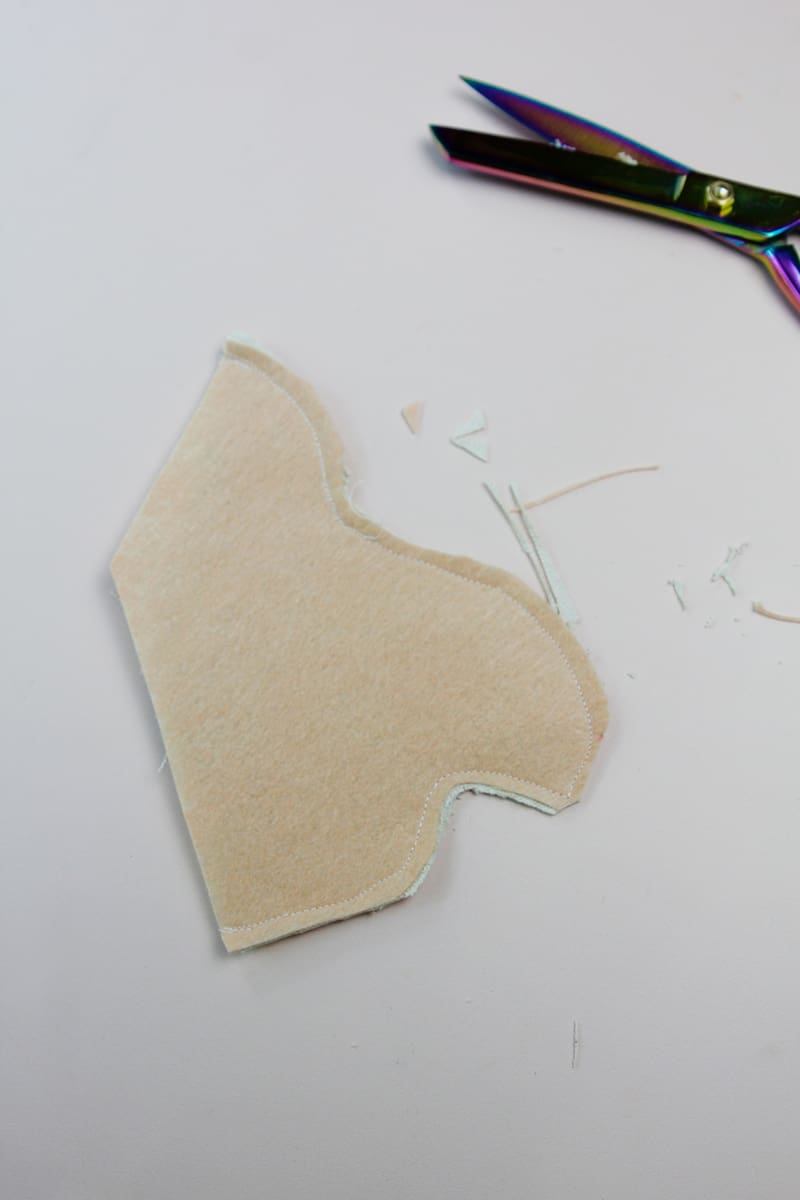 Clip the corners and edges of the seam allowance.
Turn right side out and press well.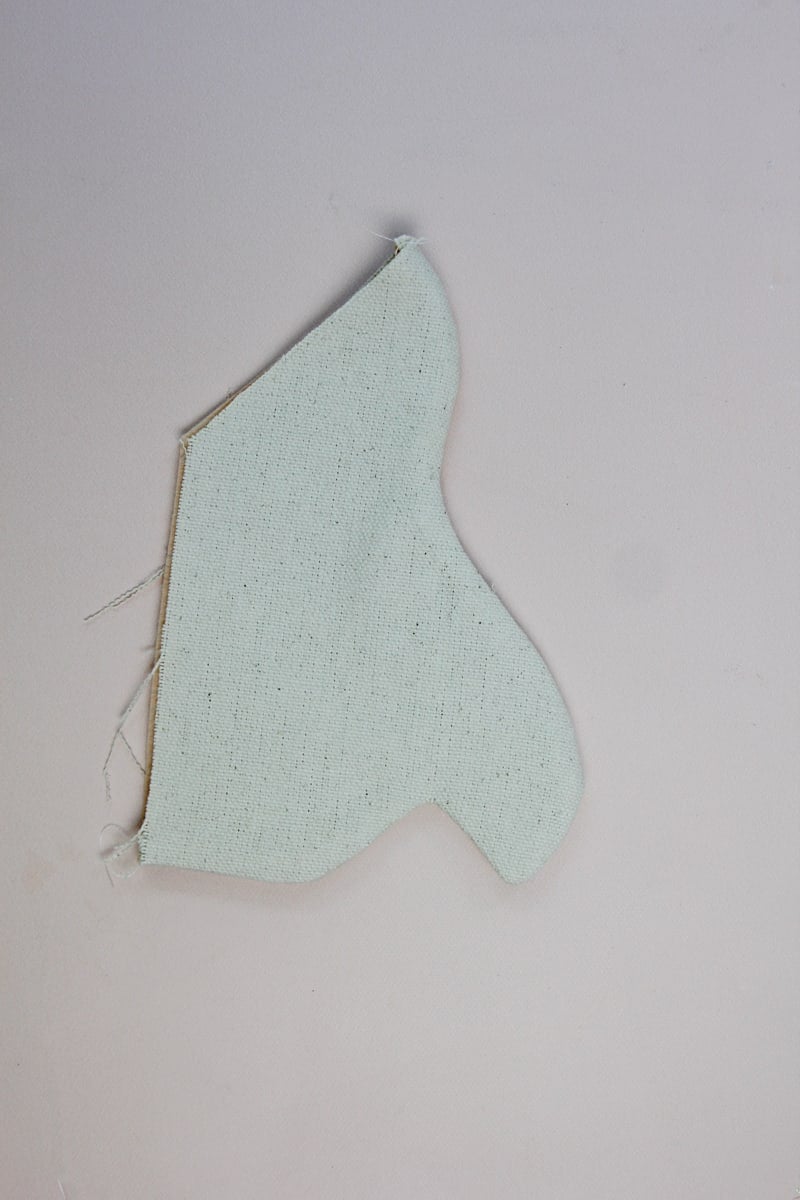 Topstitch along the curved edges, but leave the straight and angled edge open again.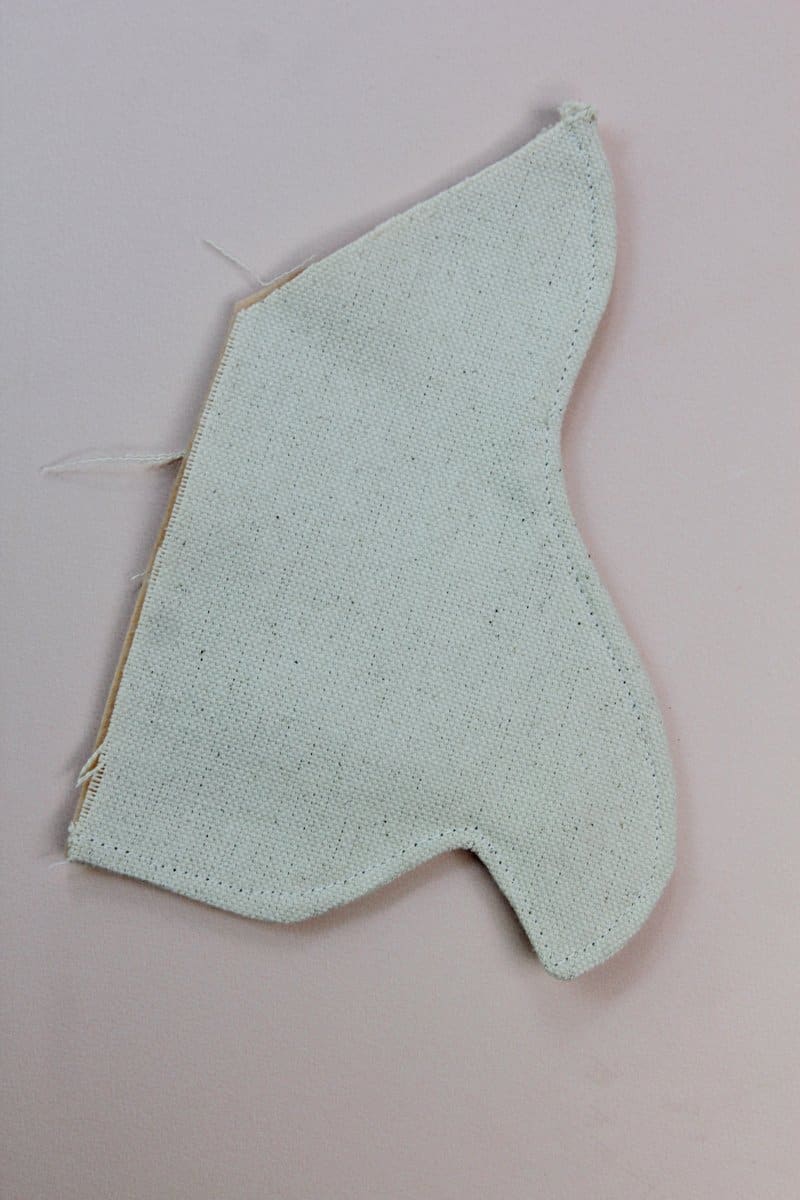 Fold the top of the elf ear down along the dashed line shown on the pattern piece. Clip or pin in place. The flat edges will line up to create a dimensional elf ear!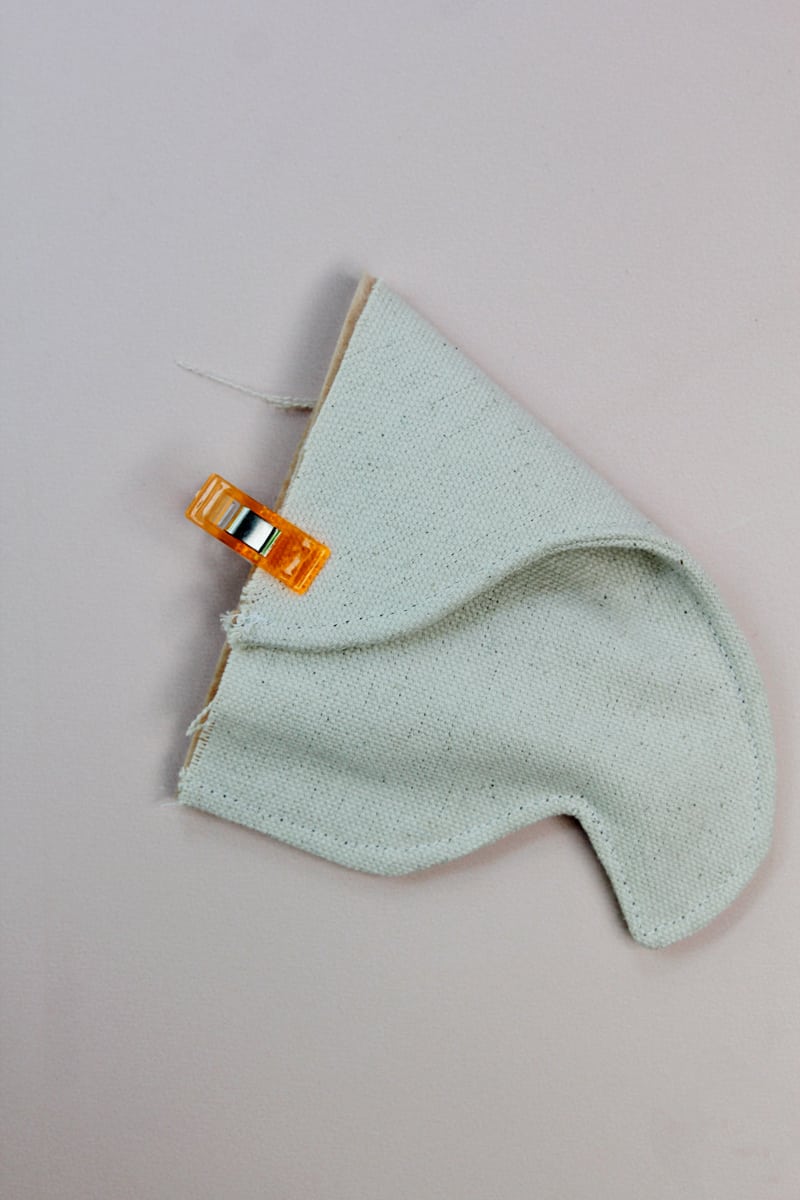 Baste in place.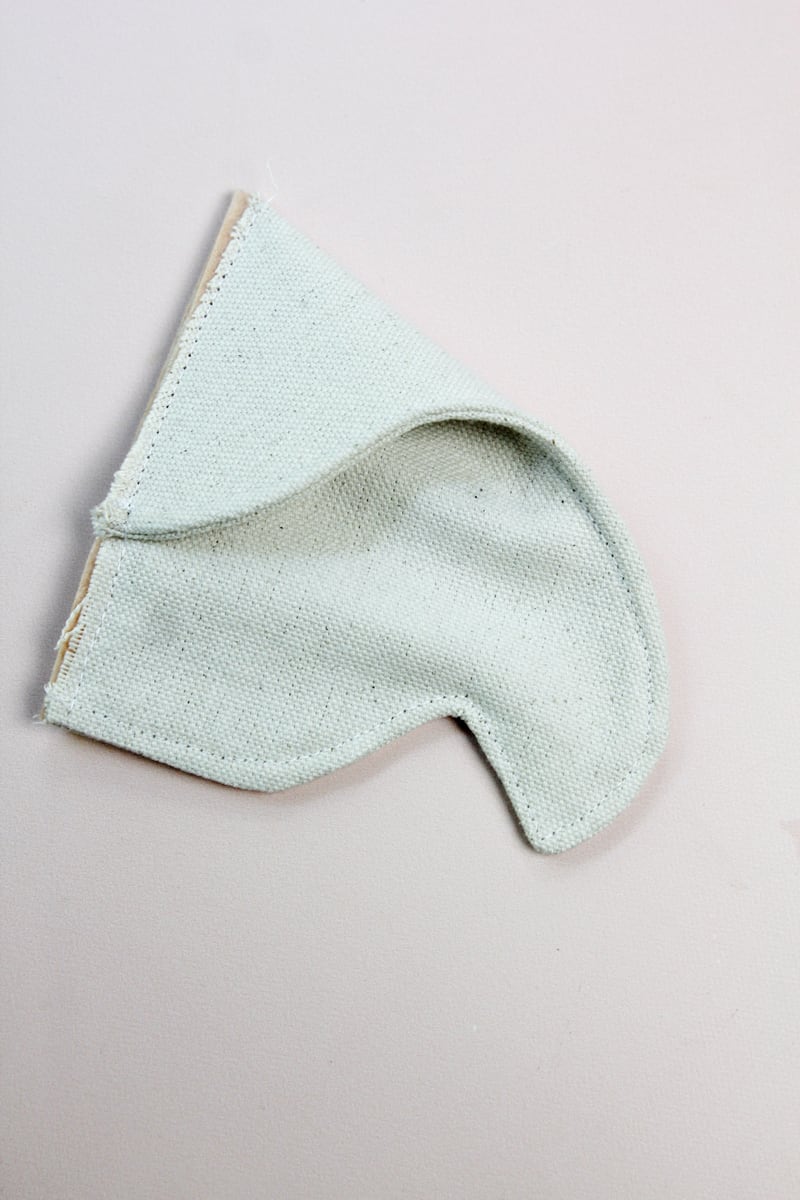 Cut your bonnet side pieces in half towards the back of the bonnet. Place the ear about 1.25″ from the top.
Fold the front of the bonnet over to sandwich the ear in place. Sew.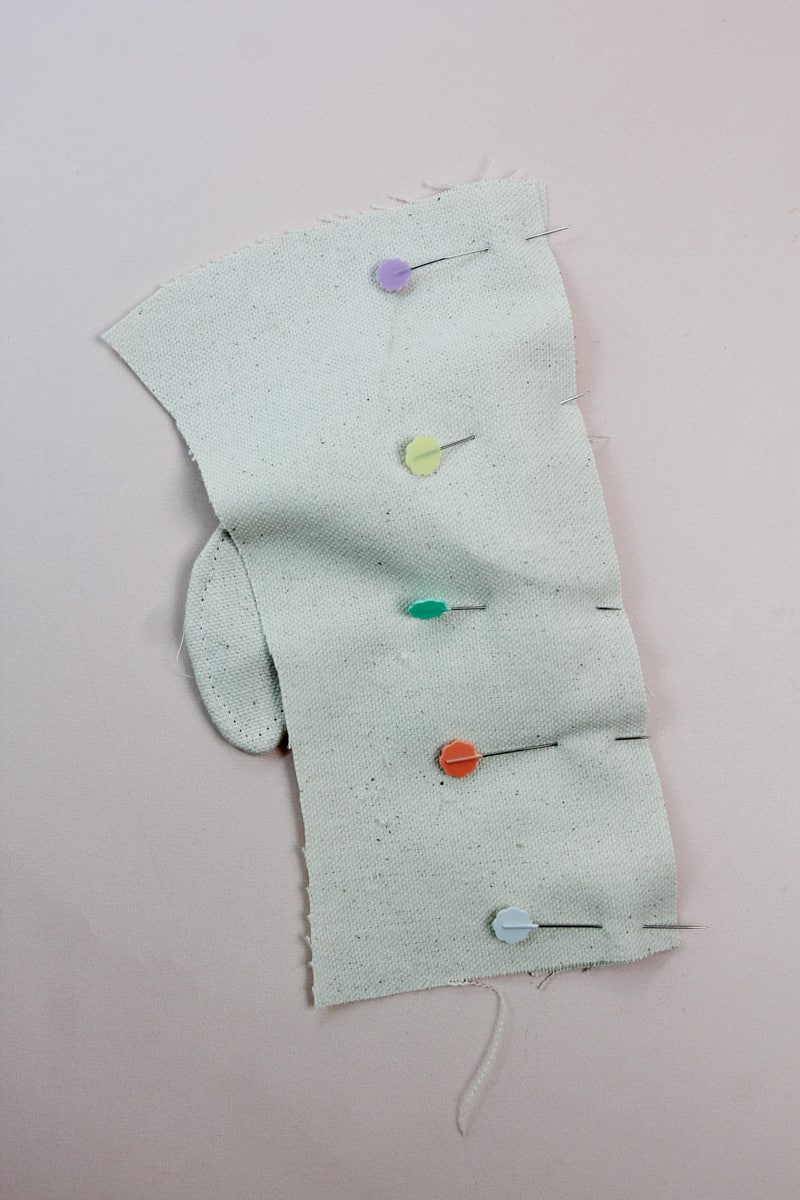 Open up the bonnet side and press. Repeat with the other side, then finish the bonnet as shown in the pattern.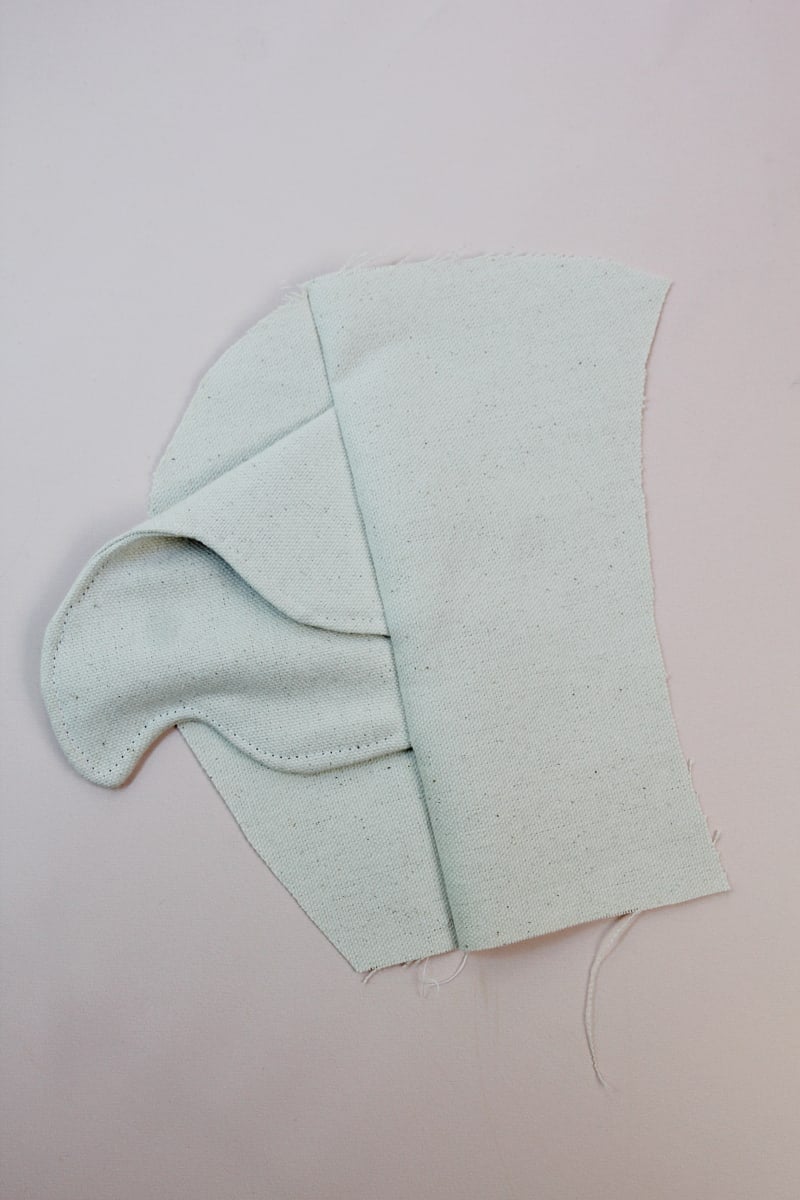 Dobby the House Elf Headband
Glue the ears to a headband blank instead of a bonnet for larger children or adults. Just trim the raw edges of the ears and use a hot glue gun with a plastic headband. Instead of sewing the ears, you can use a beige felt to cut out the template and glue it to a headband to create the exact same look without sewing!
More Harry Potter Projects
More Halloween Costumes