Make a Pebbles Halloween costume for a Flintstones Halloween! This DIY Pebbles costume tutorial includes instructions and a printable pattern for a super simple felt dress and accessories.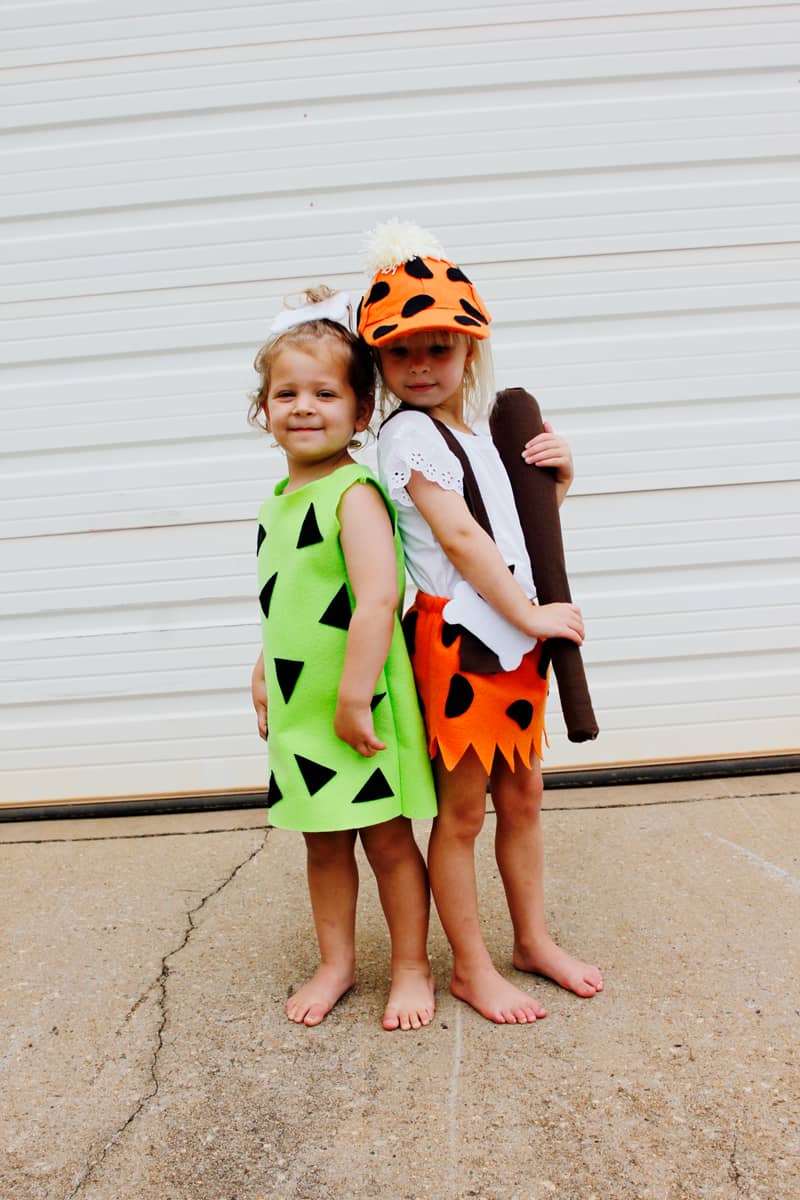 I made this Halloween costume Pebbles dress with felt yardage which made it so fast. Pebbles is so cute!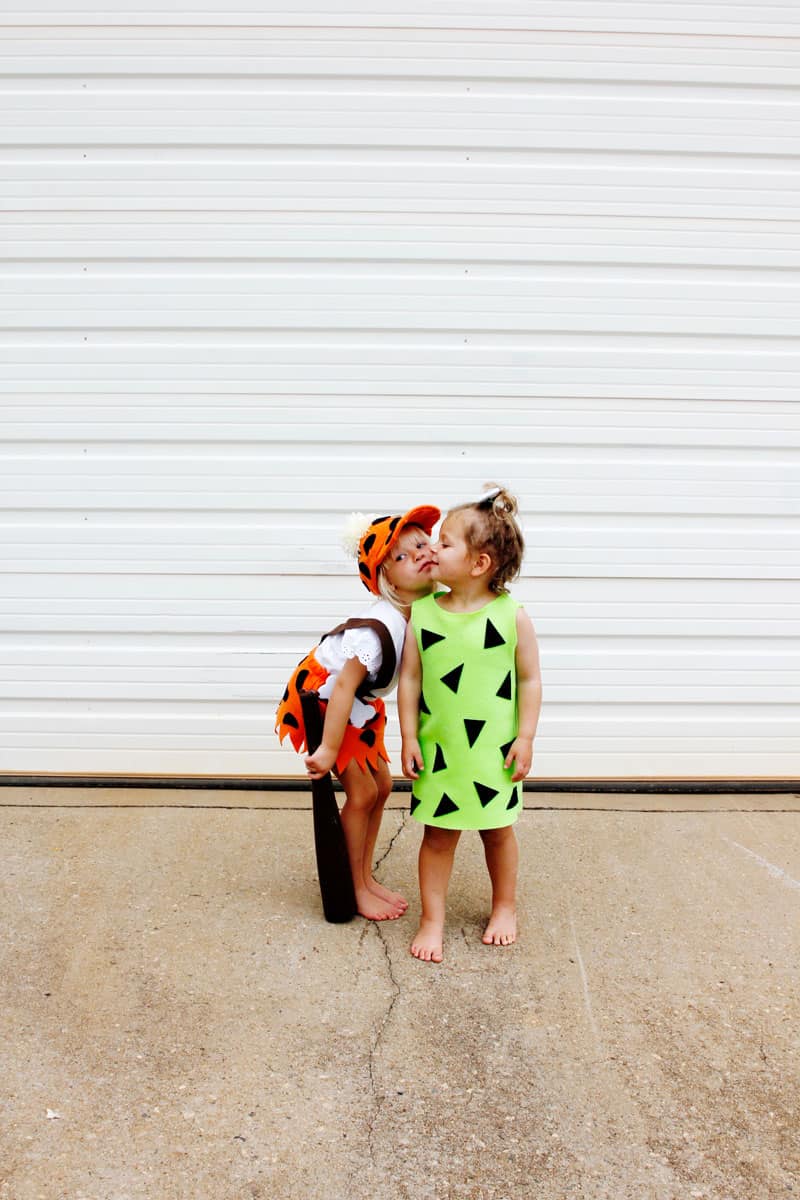 If you are making this for a baby, you can shorten the dress and then sew some blue bloomers as shorts. This free pattern is a great option.
DIY Pebbles Costume Materials
I used felt as the fabric for these costumes, that way the edges don't have to be finished making them super fast!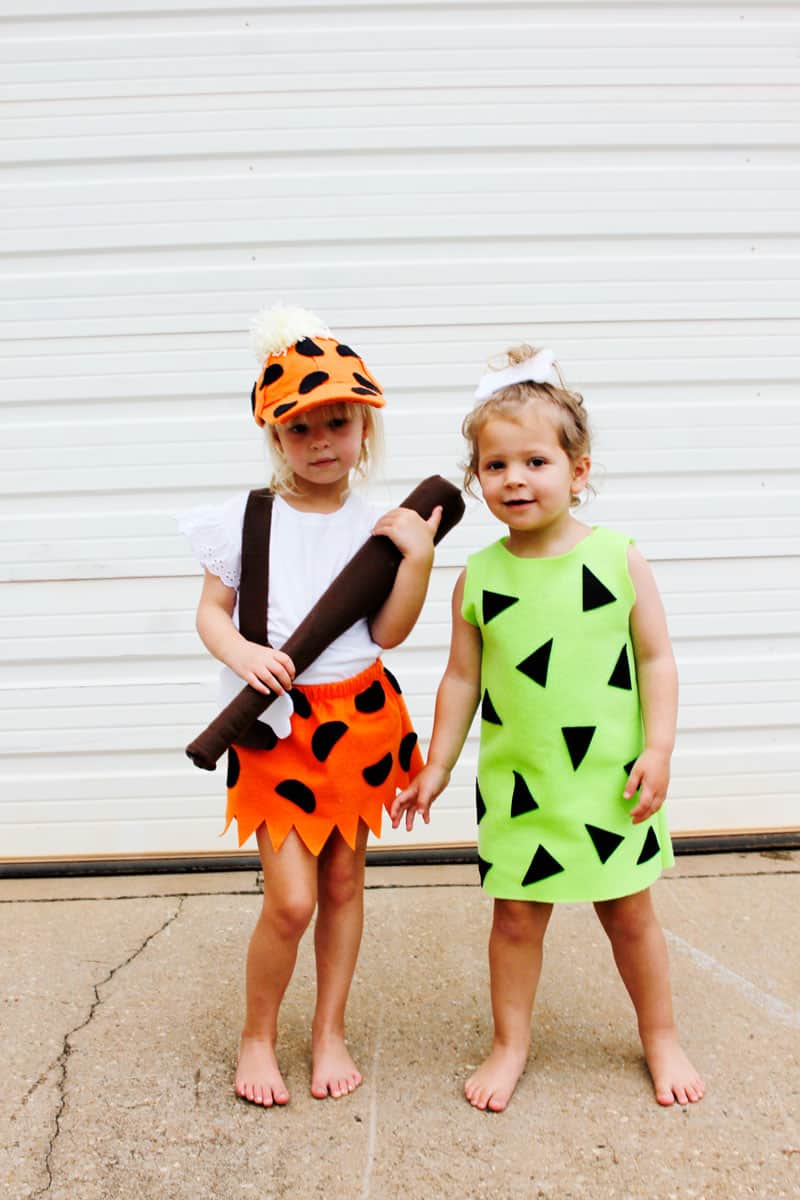 See the Bam Bam Tutorial here!
Pebbles Flintstone Costume Toddler Pattern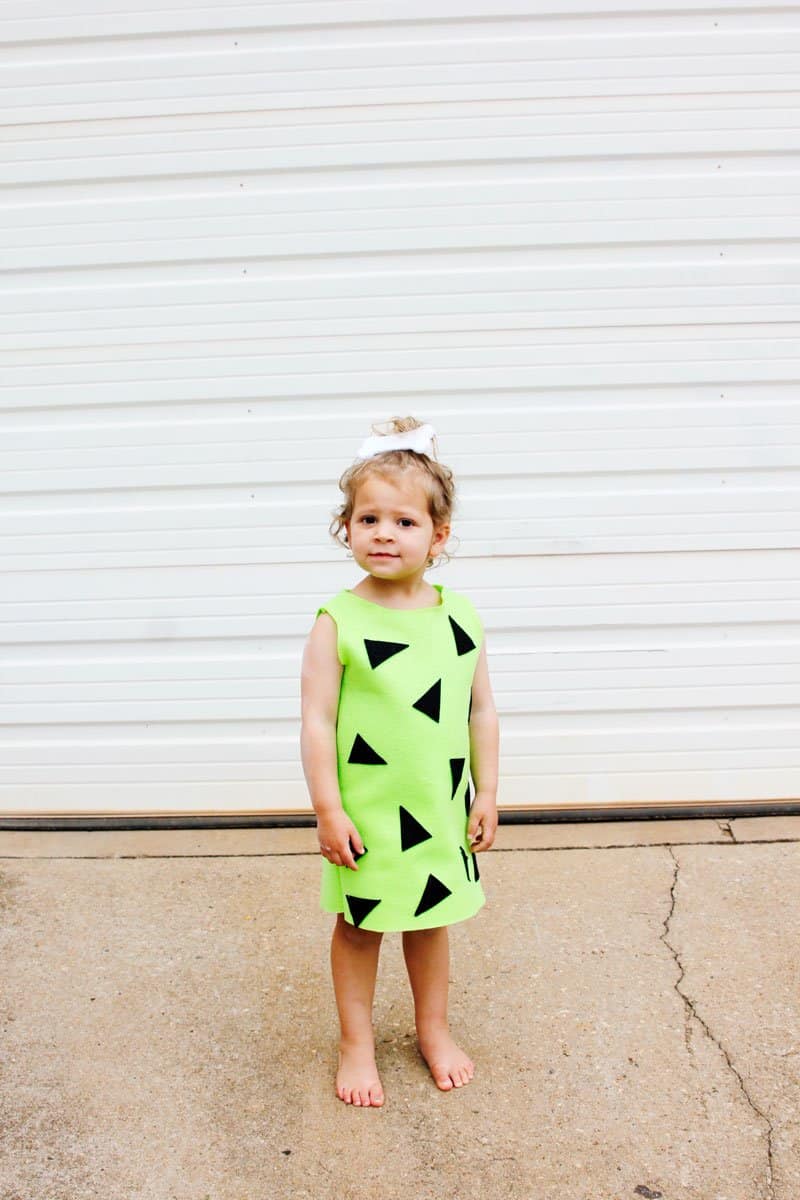 Download the Pebbles dress pattern below. This size will fit a range from about 2-5 years old. Shorten or length as needed. The dress in the photos is 2″ shorter than the pattern. Click on the link below then enter your email address to sign up for the email newsletter!
Print off the pattern at 100% or DO NOT SCALE. Then trim the paper along the dashed lines and tape the pattern together as shown below:

Cut out the pattern pieces. This pattern includes a template for the bone hair clip accessory that really tops off the pattern!
DIY Pebbles Costume Instructions
Use a 3/8″ seam allowance.
To sew the Pebbles dress just cut 2 layers from the green felt, one with the front neckline and one with the back neckline.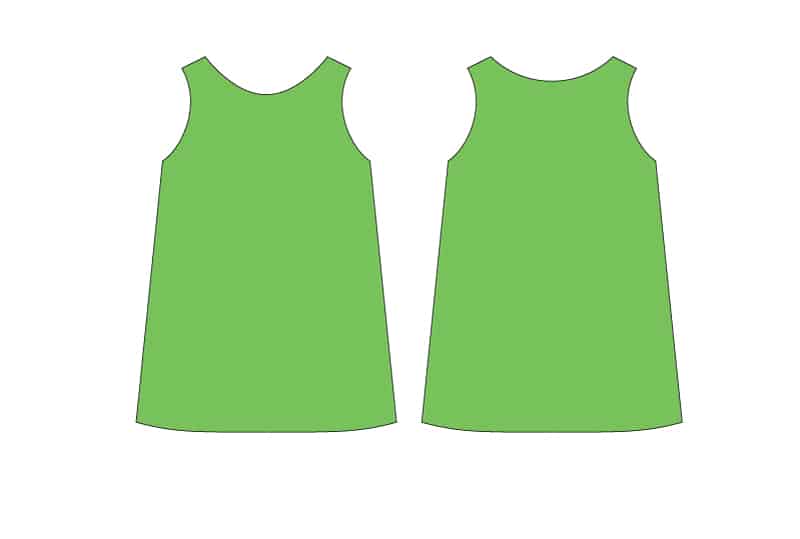 Sew together with right sides together along the shoulder seams and side seams. The edges of the felt don't need to be finished, they won't fray.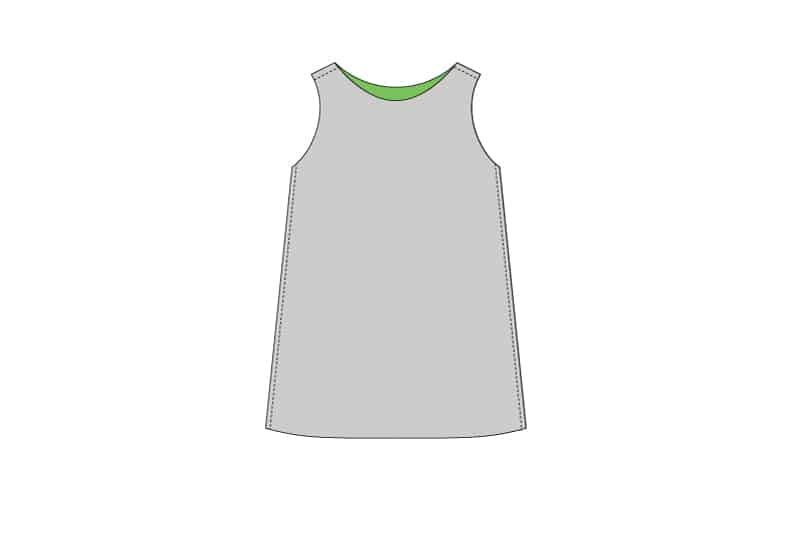 Cut out triangles with the black felt. Use a rotary cutter for crisper triangles. Use a glue gun to attach triangles all over the dress.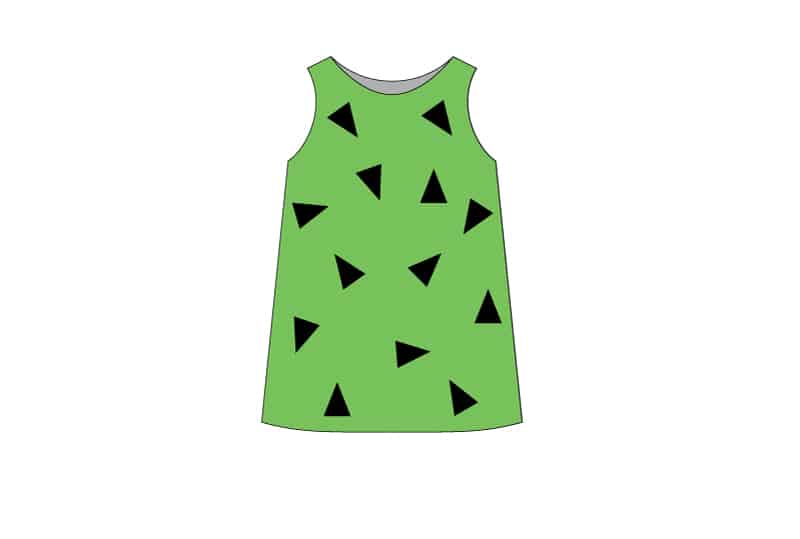 If you need to, slice a slit in the center back of the dress a few inches down to help you get the dress on and off.
Pebbles Bone Hair Clip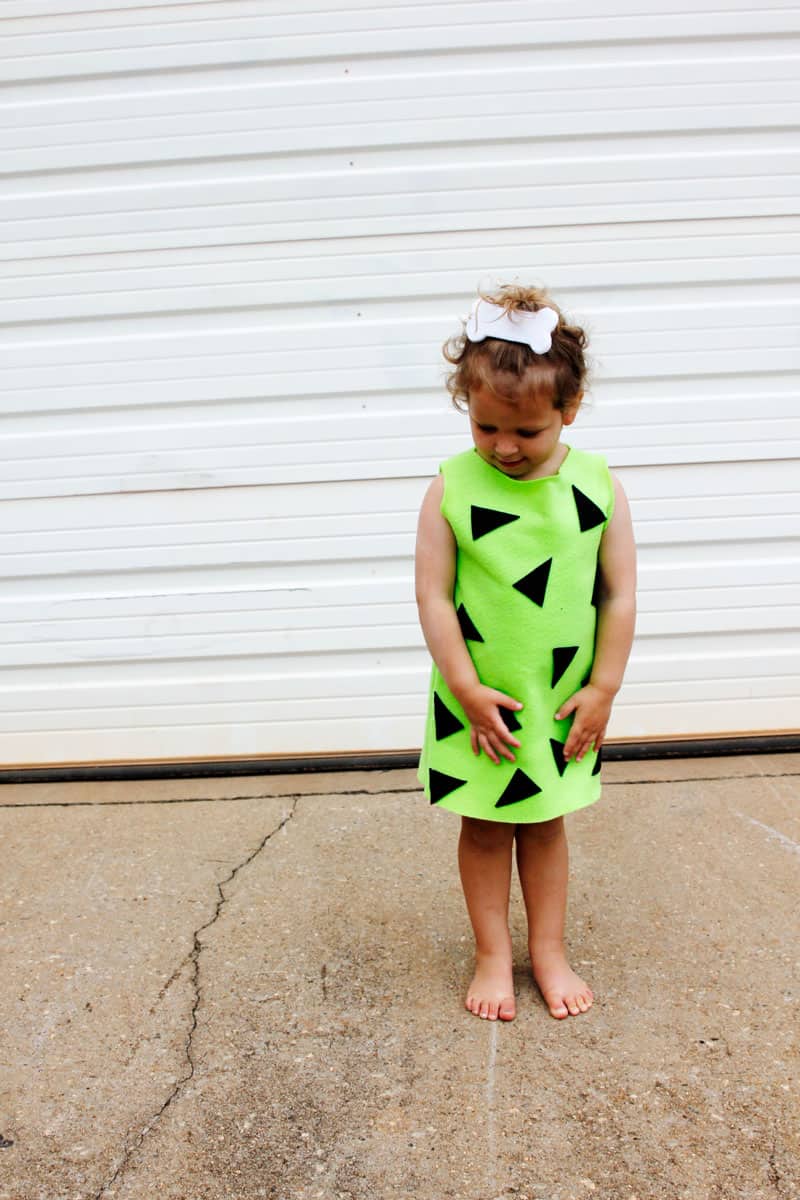 Bone pattern from Dress download
Use the bone template to create the DIY Pebbles hair bone cut out four layers of white felt.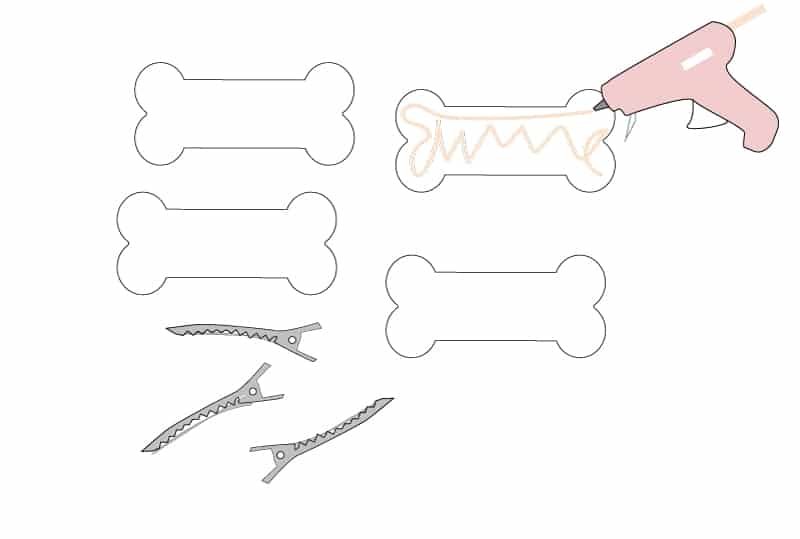 Stack the bone pieces and glue together to create a 4-layer bone. Glue to hair clip.
More Homemade Halloween Costumes